Songkran Festival- celebrating New Year in Thailand!
Info
Songkran Festival is the biggest holiday in Thailand. The event is held every year in April.
Thai people really are CELEBRATING. Seriously, we've never seen something like that in our entire life.
1-2 weeks before the Songkran Festival, people are starting to prepare for celebration. You will see big water guns in every 7-eleven store or on the street.
Your favorite restaurants will inform you that they will be closed during the holiday.
Few days before the Songkran Festival, you may be poured by water (!). For the first time, we were 'hit' on 8th April, which is 5 days before the New Year.
If don't like water fights, you really shouldn't come to Thailand during Songkran Festival.
But if you do, attending in Thai New Year celebrations, would be an unforgetable experience for you!

The meaning of Songkran Festival
Thai people put the white powder on their faces and vehicles, as a protection from the evil.
They are also pouring water on each other (and on the Buddha statues) to wash away their sins.
New Year is the new beginning, they want to start it purified. Originally, they just put some water on their heads and shoulders.

Songkran is sometimes really brutal. You will get wet, no matter if you like this tradition or not.
To make it worse, people add the ice to the water, to make it colder.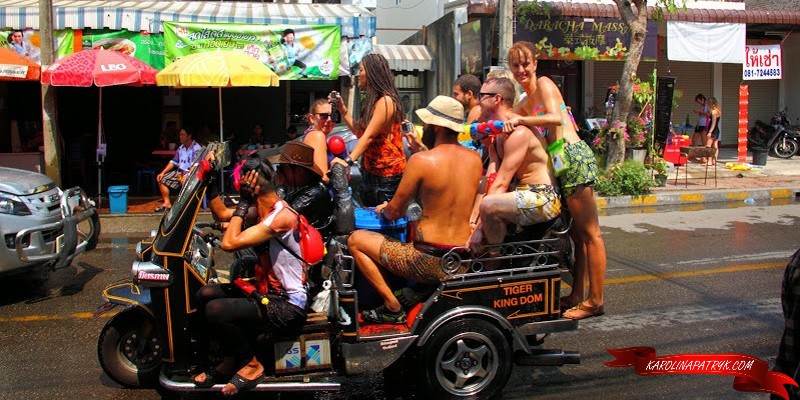 What's special about Songkran Festival?
It's really amazing that people of all ages are attending in the celebration. You will see old people and little children pouring the water on each other. It's beautiful how united Thai people are.

What to expect?
Beware of Farangs (foreigners). They are often drunk and ruthless. While Thai people will throw a little water on you, 'expacts' will make you completely wet.
That's something we didn't like. Symbolic water pouring is OK, but being soaked by the freezing water is not nice. Sometimes the water is really dirty, drawn from the river.
We were surprised how respectful Thai people are. We wanted to take many pictures of Songkran Festival, so we took our camera.
When they saw it, they didn't pour water on us.

Where to celebrate?
The best place to celebrate is Chiang Mai and Bangkok.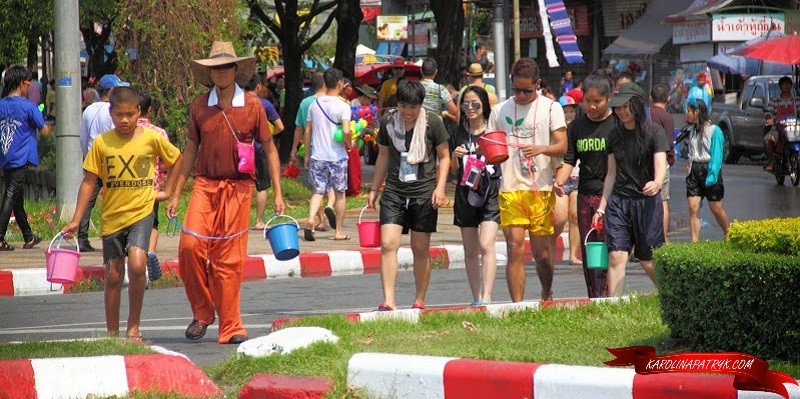 Tips
1. Be respectful. If someone don't want to get wet, leave him alone.
2. Buy buckets, water guns, hoses or super soakers before the New Year. Prices are higher during the Songkran Festival.
3. Be careful about your documents and electronic devices- they may get wet.
4. DO NOT leave your hotel, if you don't want to be poured by the water.
 Have you ever participated in festival like Songkran?