The Cape Winelands are, without a doubt, some of the best in the world. Experiencing Stellenbosch Wine and other great South African vineyards is a must for novices and wine connoisseurs alike.
South Africa's wine farms aren't restricted to the Cape, there are vineyards all over South Africa and they welcome visitors all year round. Most wine estates offer intimate wine tastings for couples, group tours, and fun picnics for the whole family.
While it's easy enough to buy South African wine online, there's nothing quite lip sipping on a Pinotage with expansive views over the vines. Here's how to enjoy the best wine farms in South Africa.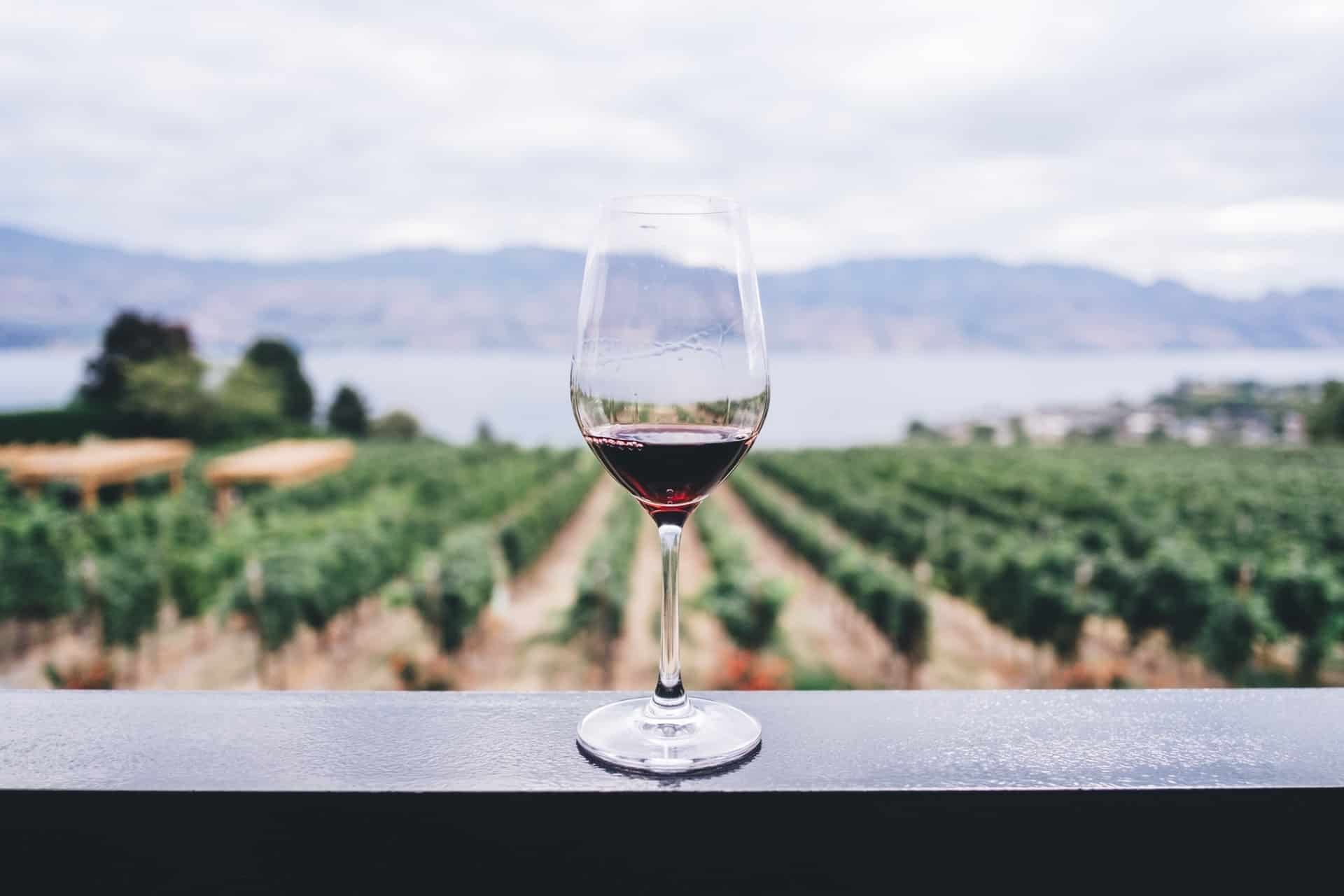 Wine Routes in South Africa
There are almost twenty official wine routes in South Africa. Each has its own charm and offers something unique. The most popular wine routes are in the Western Cape and include vineyards in Franschhoek, Paarl, and of course Stellenbosch.
No matter what time of the year you visit, the South African wine regions are beautiful. You can get a guide to the various wine routes from local tourist centers. Most of the wineries have incredible restaurants, tasting rooms and some even offer spa services.
Stellenbosch Vineyards
Stellenbosch is a small university town about an hour's drive from Cape Town. It is known for its incredible vineyards and is home to over 150 wine farms. The birthplace of Pinotage is essential for anyone who appreciates a glass of fine wine.
Stellenbosch Wine Route
The Stellenbosch Wine routes are extensive, so there are five sub-routes. You can decide whether to go on the Greater Simonsberg, Stellenbosch Valley, Stellenbosch Berg, Helderberg, or Bottelary Hills route. Or a combination of the five. Either way, you won't be disappointed.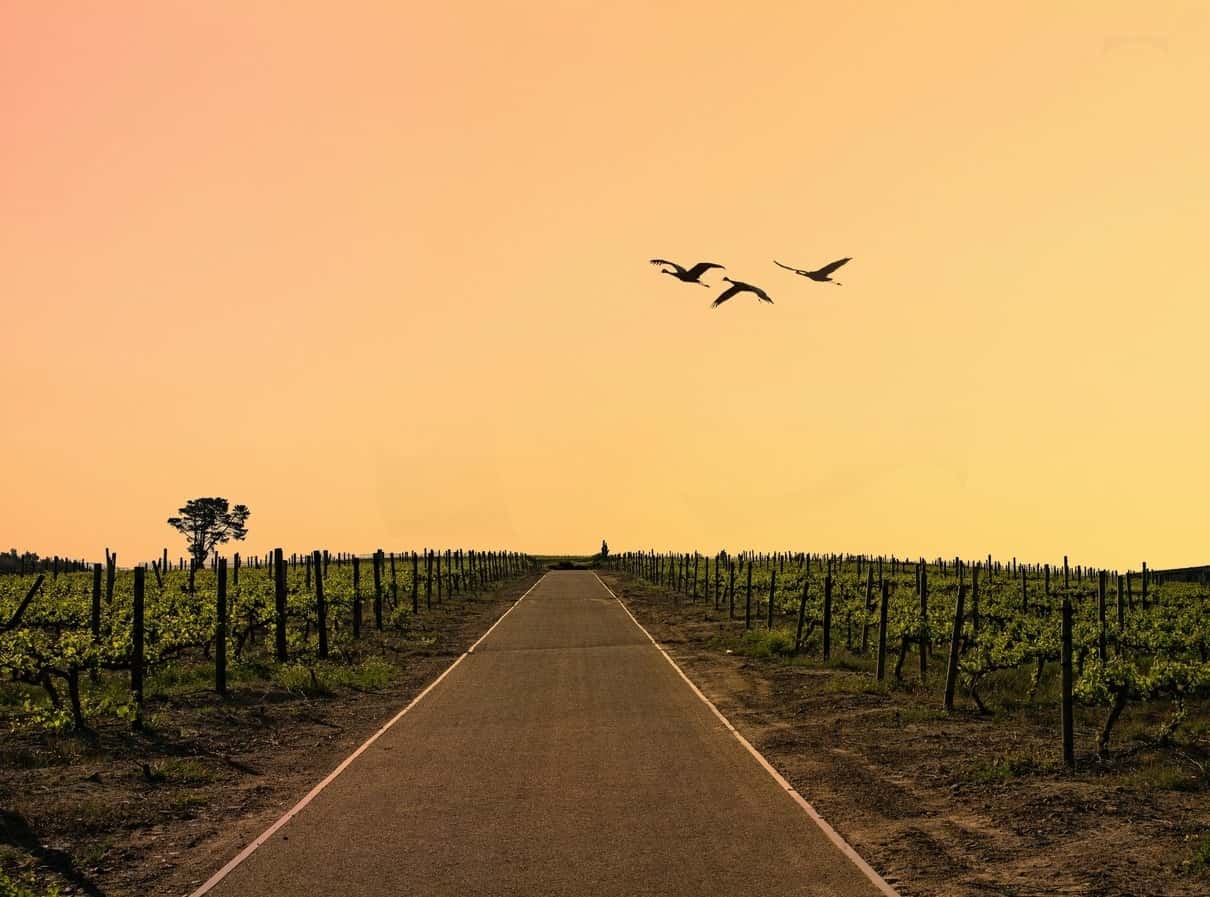 Wine Tasting Stellenbosch
In Stellenbosch, South Africa you won't be restricted to just looking at wine, you'll also be able to taste the very best that the country has to offer. Wine tastings are offered at most wine farms in Stellenbosch but some wineries prefer you to book in advance.
If that wasn't enough, many of the wine estates offer themed tastings. This means that the wine is expertly paired with foods such as cheese, ice cream, cupcakes, chocolate, and even biltong (a South African specialty).
A wine tasting usually includes a tasting of six wines and costs around $2-$6.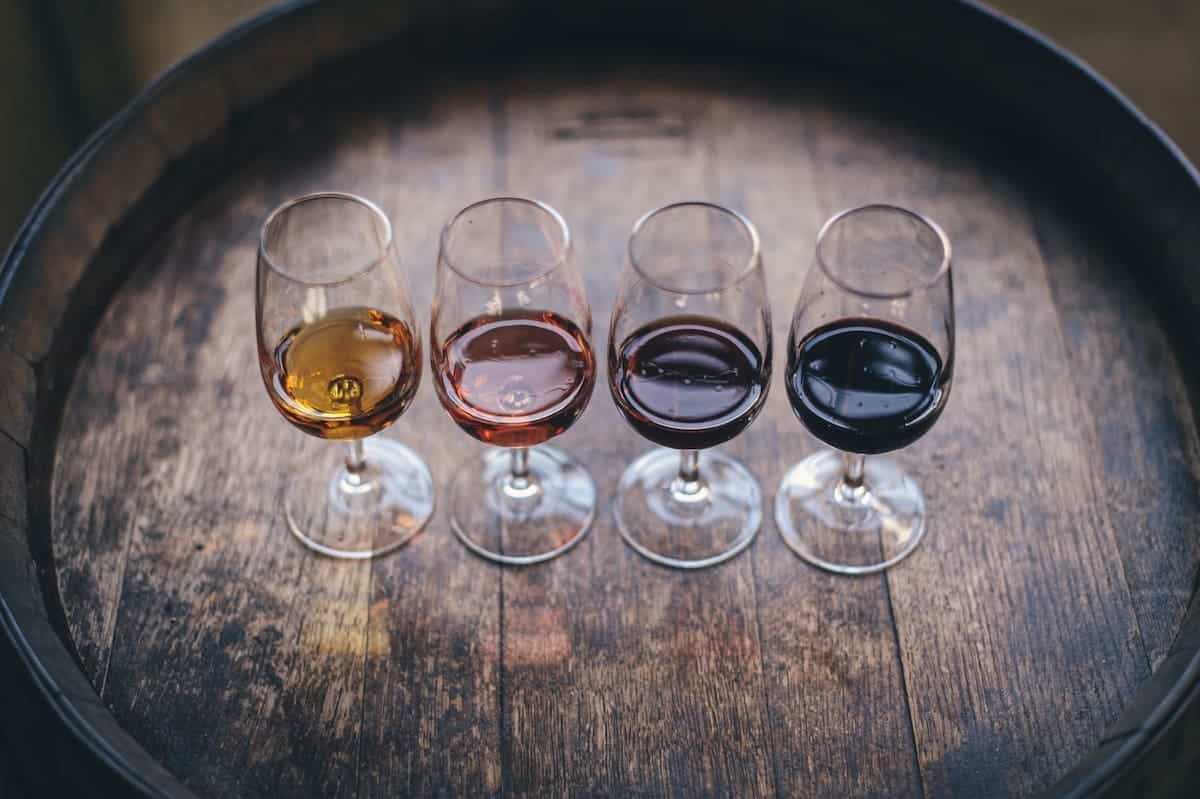 Wine Estates Stellenbosch
Stellenbosch wineries offer a variety of award-winning red and white wines. The town's famous Cabernet Sauvignon is just one of the many excellent wines on offer. You'll also be able to see grapes that will eventually become Chenin Blanc, Shiraz, Sauvignon Blanc, and many more.
Spier Wine Farm
There's nothing quite like sipping Spier's accolated vintages while taking in the incredible mountain views.
You can choose from several tasting experiences, including wines from their signature and premium wine ranges. If you've got a sweet tooth, they offer chocolate and wine pairing. They also offer grape juice tasting for children so you can enjoy the experience as a family.
Spier doesn't just have fine wine, they also offer picnics, Segway tours, a craft market, and an incredible bird experience, Eagle Encounters (which is great fun for kids). They also have one of the largest contemporary art collections in South Africa.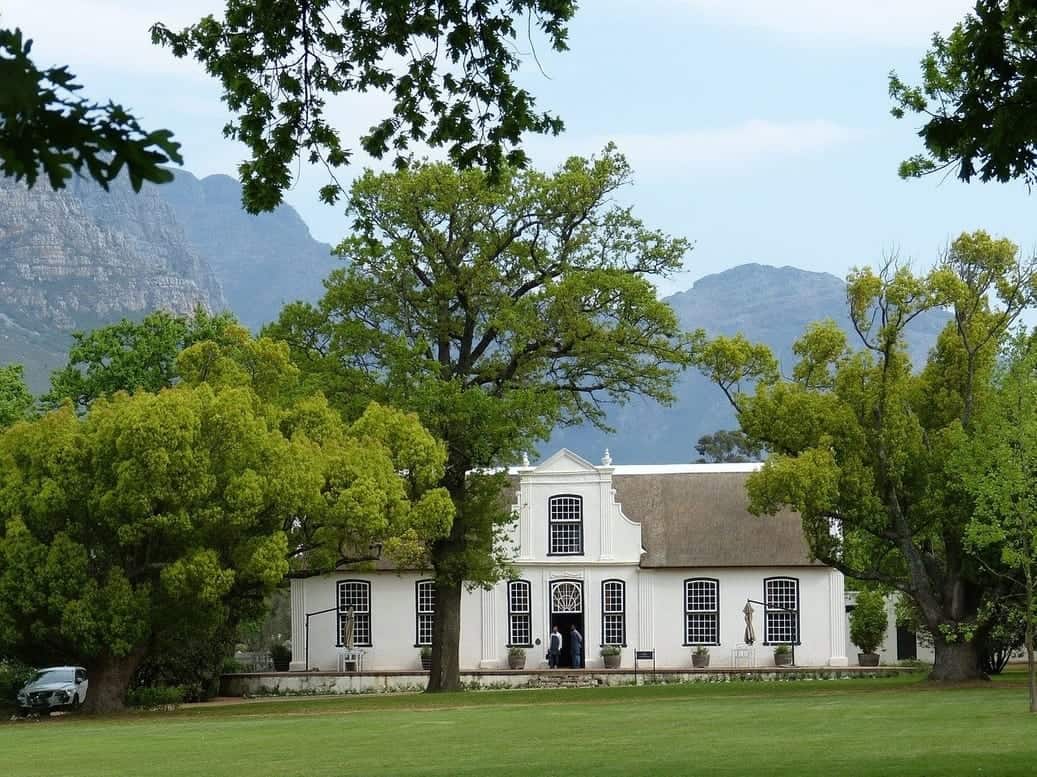 Rust en Vrede
Rust en Vrede is one of the best wine farms in Cape Town. They specialize in red wine with a specific focus on Merlot, Cabernet, and Syrah (and it's some of the best in the world).
You'll be able to taste some of their full-bodied, new-oak matured wines while enjoying food at one of the nation's best restaurants. They also offer a daily two-option menu to accompany their wines.
Vergenoegd Löw Wine Estate
Vergenoegd Wine Estate is known as one of the best wineries in Stellenbosch. They offer both red and white wine, including the country's signature Pinotage. They host wine tastings every day during which you'll be able to taste five wines. Their wine tasting will cover the five S's – sight, smell, swirl, sip, and savor.
Great wine is one thing, but Vergenoegd has cornered the market on great entertainment. The kids will absolutely love their daily duck parades. Everyday Vergenoegd's flock of Indian Runner Ducks gets ready to march and it's a sight that cannot be missed.
Stellenbosch Wine Tour
Since there are so many wine farms in Stellenbosch, it's not a bad idea to go on a wine tour. Skip the lines and book the tour—> here. This gives more time to experience the vineyards and you won't have to worry about driving after you've spent all day tasting.
Vine hopper is a hop on hop off service that offers three different routes. There are also 4X4 wine experiences, bike tours, private wine experiences as well as a Dine and Vine tour.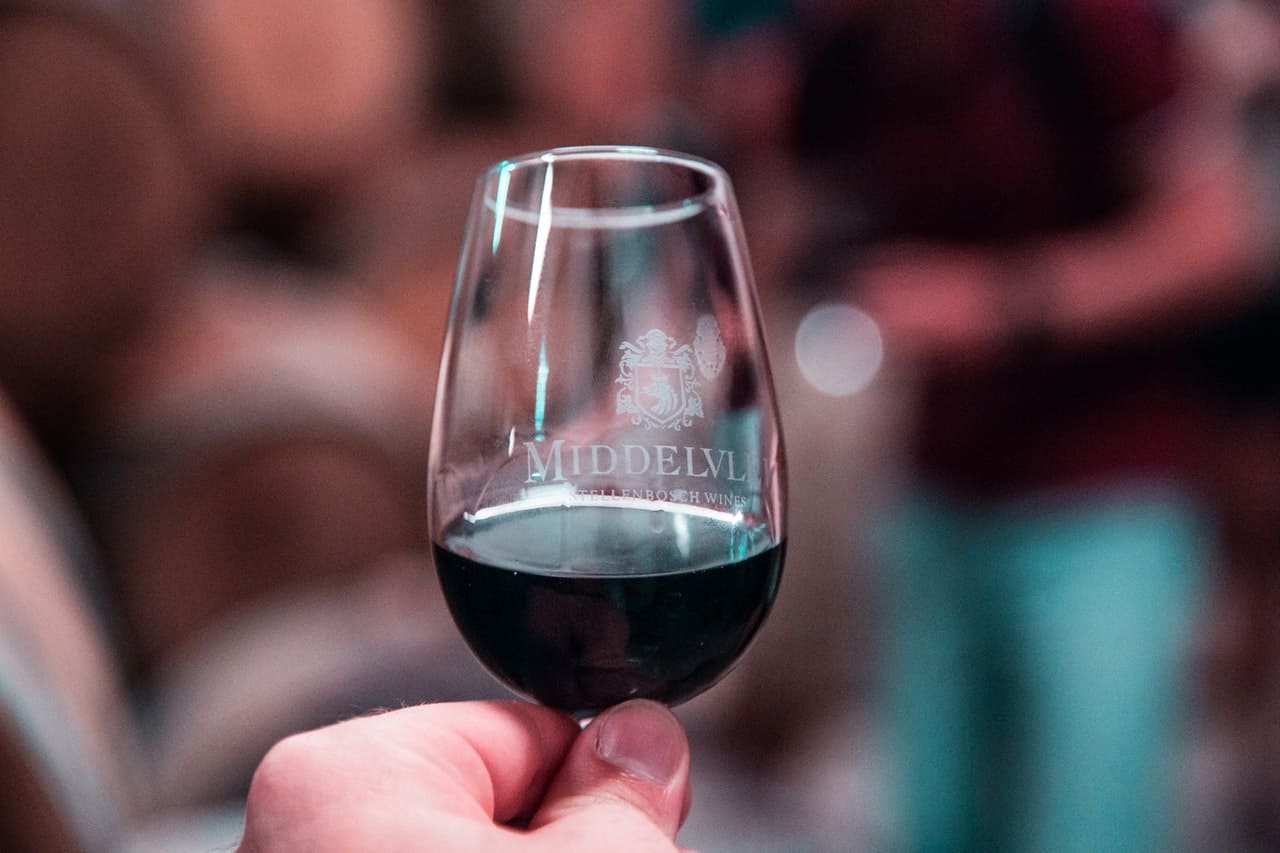 Franschhoek Wine Farms
Franschhoek is a South African town filled with vineyards and classic Cape Dutch architecture set in a mountain valley. The town is home to some of South Africa's best restaurants, offering amazing wine paired with great food and a view that will leave you breathless. It's no wonder why Franschhoek is such a popular wedding destination.
Franschhoek Wine Route
Three hundred years ago, the French first made wine in Franschhoek, now it's home to nearly fifty award-winning wineries that curate the finest wines. Whether you love a crisp white wine or a full-bodied red, Franschhoek wine route has it all.
The best way to experience Franschhoek Winelands is via the hop-on-hop-off wine tram. You'll be able to enjoy the amazing views and have reliable transport to and from your accommodation. The tram offers eight different lines that showcase all different areas of the Franschhoek valley.
Wine Estates Franschhoek
In Franschhoek, you'll find both large wine estates and boutique wine cellars that offer tours, tastings, and more.
Boschendal
Boschendal is a beautiful wine farm that offers great picnics for large groups. Their horse-drawn carriage provides the ideal way to see the property and rolling vineyards. The award-winning farm was founded in 1685 and has since invited many guests to experience their wine.
They offer horse riding, farm and cellar tours, events, and of course wine tasting. You'll be able to taste a variety of fruity wines, including Chardonnay, Sauvignon Blanc, Cabernet Sauvignon, Shiraz, and Merlot.
Haute Cabriere Estate
Haute Cabriere boasts some of the best views in Franschhoek. It was originally started to create Chardonnay, but now they make a range of fine wines including their well-known Pinot Noir.
They create wines under the name of Haute Cabriere and Pierre Jourdan and offer both dining and wine experiences. You'll be able to choose whether you want to indulge in Pinot Noir, taste a larger variety or take a tour of the cellar (featuring an incredible demonstration of sabrage).
If you're feeling peckish, they have a bakery and deli. They also offer tapas and À la carte, a French-inspired South African dinner.
Vrede en Lust
Vrede en Lust is one of the most popular wedding venues in the Cape Winelands. It's found in the foothills of Simonsberg and is owned and run by a family that's dedicated to producing award-winning wines.
You can pop in for a tasting or a cellar tour. Their tastings are led by their Red Ladies and are accompanied by a selection of Ploughmen's or cheese platters as well as freshly baked bread. They also offer a Lindt excellence pairing which includes six chocolates paired with six wines.
Paarl Wine Farms
Paarl was established in 1657 and is a great place to experience food, nature, history, and wine. This underrated romantic city is the largest town in the Cape Winelands and is affectionately known as Pearl of the Winelands.
Any of Paarl's many wine farms are a great place for a picnic. A great way to experience the town is through a full-day or half-day tour but it can also be done via car or tram. Skip the lines and book the tour—> here.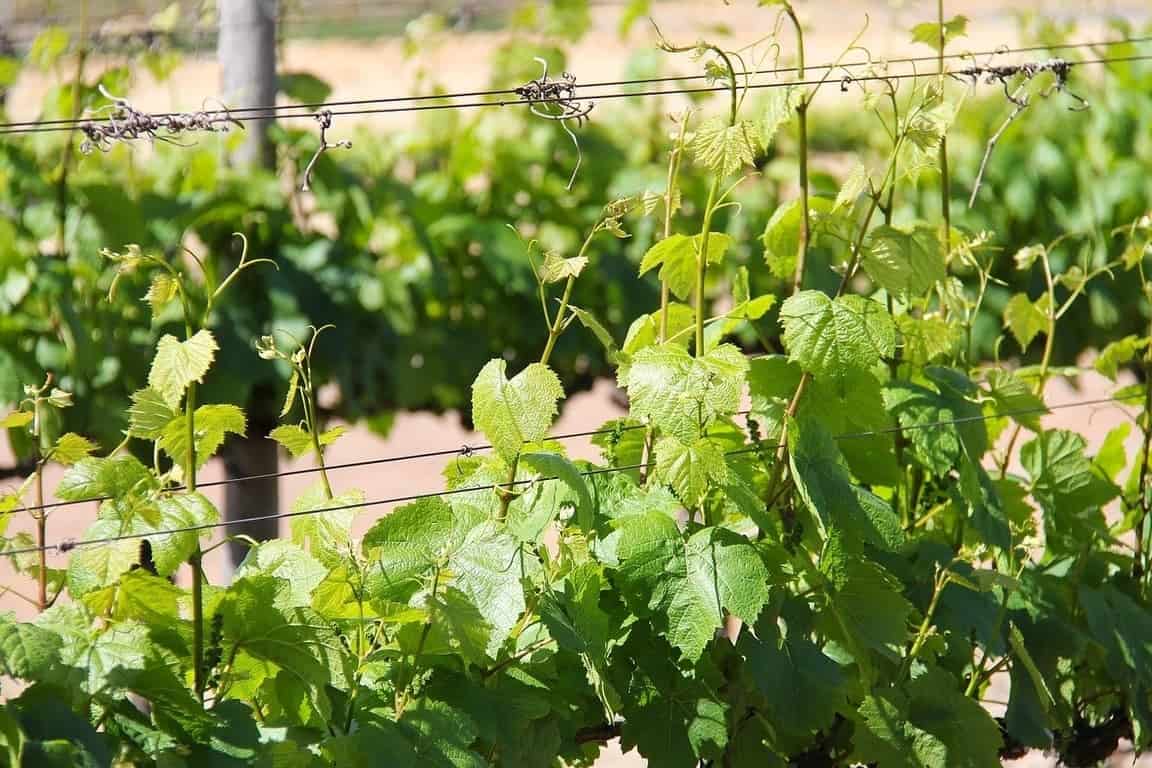 Paarl Wine Route
If you're a fan of red wine, Paarl's wine route is also known as the 'Red Route'. It's home to some of the oldest cellars in South Africa. The Paarl Wine Route includes almost fifty wine estates.
Paarl is best known for its Cabernet Sauvignon, Shiraz, and port wines. Many of its wines have been internationally celebrated and its best known for its Cabernet Sauvignon, Shiraz, and port wines.
Wine Estates Paarl
The wine estates in Paarl welcome visitors and allow you to get to know the winemakers while you participate in tastings. Plus you can take some of their award-winning wine home with you.
Nederburg Wine Estate
Nederburg is home to many award-winning South African wines which you can sip in their beautiful wine tasting room. They offer simple tastings or you can indulge in a wine pairing with foods like ice cream, sweet treats, or even goat's milk cheese.
They also offer a tasting for kids so they can join in on the fun, featuring a strawberry milkshake or hot chocolate. As well as mini marshmallows and chocolate chip biscuits.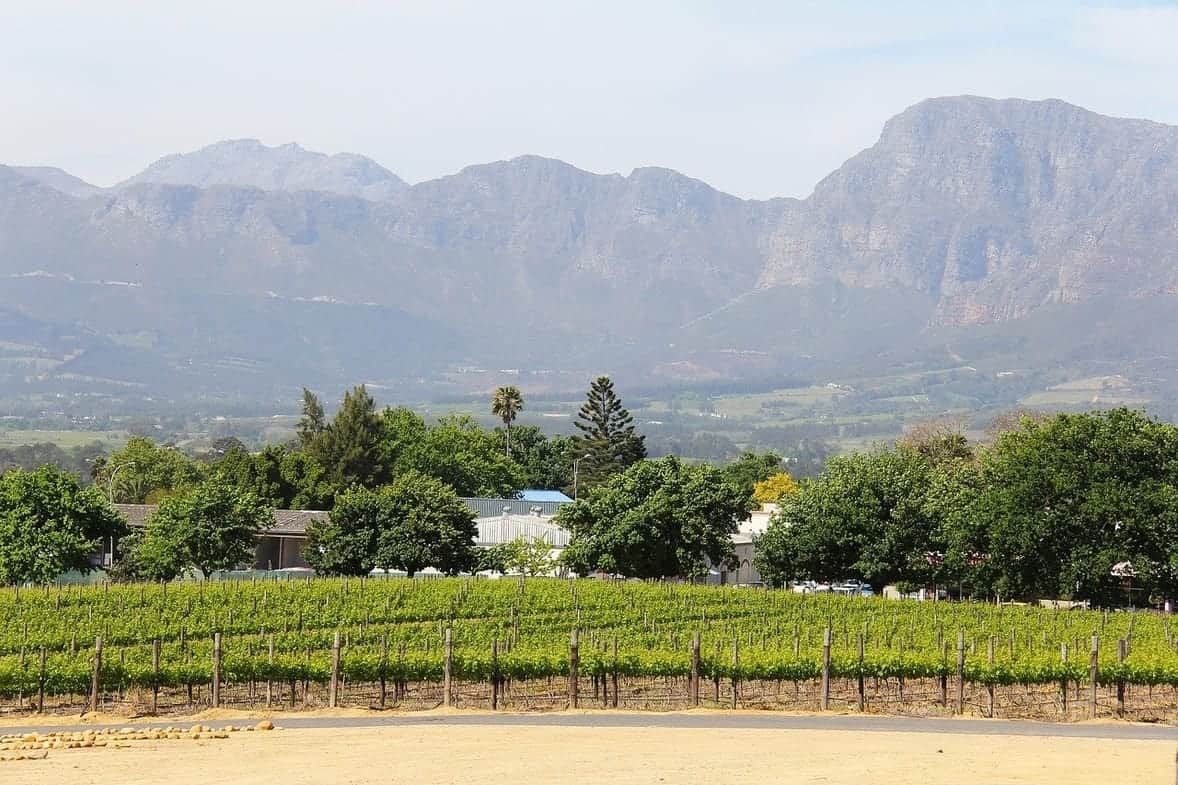 Fairview Wine and Cheese
Fairview is a working farm that aims to create artisanal and sustainable produce, but their focus is on wine and cheese. They welcome visitors to their Goatshed restaurant which serves farm-style comfort food.
Their tasting room is a must-visit for anyone touring the Cape Winelands. They offer some amazing tastings, including their Beryl Back tasting which pairs wine, olives, and cheese. They also offer a unique Farmer's tasting that includes a selection of wines, cheese, and cured meats.
KWV Vineyard
KWV is located in the heart of Paarl and carefully crafts both wine and spirits. Their Gruxland Gin is the best London Dry Gin in the world.
The Cathedral Cellar Tour invites guests to tour their cellar complex, which is one of the largest in the world. The KWV Wine Emporium offers natural wines, sparkling wines, fortified wines as well as liqueurs and brandies.
There are several tasting experiences on offer, as well as pairings of wine and brandy with cheesecake, chocolate, and pies. They also have non-alcoholic pairings of tea and chocolate. The House of Fire tour focuses on the creation of brandy, allowing guests to blend their own brandy.
Perhaps their most unique experience is a trip to the Sensorium, which houses artworks by some of the best South African artists. It's inspired by the art of winemaking and features art by Irma Stern, David Botha, and more.
Wine Farms Cape Town
High on the list of romantic activities in Cape Town is a visit to a wine farm. There are some amazing vineyards only twenty minutes away from the city center. The Constantia Wine Route is made up of nine wine estates and is the oldest wine-producing region in the country.
Groot Constantia
If you're looking for a little history, Groot Constantia is the oldest wine estate in South Africa. It's considered a national heritage site that only adds to the charm of their wine cellar. Their goal is to produce award-winning wine to please every palate.
They have three wine tasting venues on their beautiful property and believe that wine is best appreciated when it's accompanied by a meal. They offer both wine tastings and chocolate pairing.
Final Thoughts on Stellenbosch Wine Farms and other amazing South African Vineyards
From Stellenbosch to Cape Town, South Africa has no shortage of wine routes. If you have the time it's worth seeing them all. Each and every vineyard has an interesting history and something unique to offer.
Pin For Later:
Did you enjoy reading this post about Stellenbosch Wine and other Great South African Vineyards? Share your thoughts in comments!