Svalbard Travel Tips For First-Time Visitors To Make The Most Of The Trip
Did you know that there are more polar bears than people in Svalbard? It's one of the most special places in Europe, with the frozen land, the wilderness, and unique nature. Due to its remoteness, planning a trip carefully before is essential. In this post, you will find the top Svalbard travel tips, including things to do, recommended places to stay, the best time to visit Svalbard, and more.
Basic Info About Svalbard
It's located in Norway, Europe (NOT in the European Union).
Svalbard is an archipelago.
Spitsbergen is the largest island of the Svalbard archipelago.
Longyearbyen is Spitsbergen's biggest town, with the only airport in Svalbard. It's also the northernmost town of the world.
It's always cold in Svalbard, even in the middle of the summer.
You need to carry a gun if you are going anywhere outside Longyearbyen. However, you can shoot a polar bear just like that- they under the protection.
Svalbard is one of the most multicultural places in the world. Everyone can come and work there. It's a visa-free zone. That's why some people decide to live there for a while to earn enough to travel, support their family, etc.
Even though it sounds exciting, especially for those who have a hard time to get a visa to Europe, working in Svalbard is not a bed of roses. Most people can't stand staying there for more than a year. Why?
Because there are 4 months of complete darkness in Spitsbergen. The sun goes down in November and rises in March.
Then there are 4 months of daylight from June until September.
It means that only 4 remaining months of the year (April, May, September, and October) may be considered as "normal". Due to the extreme surroundings, most people can't stand staying on the island for too long. They say that winter is the worst. Seeing no daylight may be quite depressing.
How To Get To Svalbard?
Flights to Svalbard
There is a domestic airport in Longyearbyen, with flights (usually) operating daily. You can get:
to Svalbard from Oslo (check the latest prices here)
to Svalbard from Tromso (check the latest prices here)
The flight takes about 3 hours. Longyearbyen is a very small town, so the local bus will wait for all the passengers to take them to their hotels. You can either buy one or two-way ticket. The price is 75 NOK ($8) one way. More info here.
Cruise to Svalbard
Spitsbergen is sometimes a part of a cruise around Norway and Scandinavian countries. You can't really take a ferry to Svalbard, the only option is to join these one week- or two-weeks long expeditions.
What's The Best Time To Visit Svalbard?
Spitsbergen is a very specific place. As I mentioned before, there are 4 months of darkness on the islands, from November till February/ March. You have a great chance to see the Northern Lights but you will have to deal with the cold and endless snow. April, May, September, and October are the only months with the sunrises and sunsets.
Arguably the best time to visit Svalbard is summer (May-September). It is warm enough, you have a chance to see the midnight sun, and the wildlife.
Speaking of which- there are plenty of websites saying that it's quite easy to spot the polar bears in the summertime. While it may not be difficult, it's not guaranteed.
We spent a few days in Svalbard in July, with no luck of seeing the wildlife, apart from the reindeers.
Where To Stay?
There are more or less 10 hotels in Longyearbyen, so you won't have a lot to choose from. However, everyone will find something for themselves in this little town. No matter if you are a budget (travel Norway cheaply is not so easy) or luxurious traveler, there is good accommodation for you in Svalbard.
We have been staying at Gjestehuset 102 which is one of the cheapest hotels on the island. Don't think it's bad though- we were surprised how awesome it was! Our room was comfortable and spacious. Even though the bathrooms were shared, they were always extremely clean. We were traveling during high season, so the hotel was fully booked. We never felt the crowd though- there are enough bathrooms and common spaces to have the privacy.
It's very easy to get to the hotel from the airport: just take a public bus and leave at the last stop.
The best part of Gjestehuset 102 is that it's located on the outskirts of town. You will have a great chance to see wildlife. Our stay in Longyearbyen was quite short but we had a chance to see the reindeers just next to the hotel!
How To Get Around Svalbard?
Longyearbyen is really small. If you want, you can just walk everywhere. You are perfectly safe in the town. Be careful though- as soon as you leave it, you are putting yourself into the risk of meeting the polar bear.
One of the most important Svalbard travel tips is to always leave Longyearbyen with the guide or take a gun with you. Remember that you can't really shoot any wild animal, they are under protection. You can only do it in case of a direct threat to life.
The best way to get around the island is to take a taxi. The public bus goes from the airport to the end of a town before and after every flight. The timetable is different every day but you can easily check it out in your hotel or here.
What To Do In Svalbard?
Take Day Trips
The absolute best way to get to know the island is to take the trips. You will always be picked up from the hotel and driven back to the same place. We've been traveling with Hurtigruten Svalbard and we think they are awesome.
There are different things to do in Svalbard, depending on the season of the year.
Summer is perfect for hiking, kayaking and taking boat trips. It's also a time where you have the greatest chance to spot wildlife.
Winter is perfect for observing Northern Lights, dog sledding and snowmobile trips.
Search for the best trips in Svalbard here.
Visit Barentsburg
No matter if you are traveling to Svalbard during winter or summer, be sure to visit Barentsburg. It's the second largest town in the archipelago. You can either get there by boat or by snowmobile.
It's completely different than Longyearbyen. Be sure to visit the Krasniy Medved bar to try the local liquor. Russians believe that you should drink alcohol as strong as the latitude you are currently at. Barentsburg is 78° 4′ N. Yes, they do have a mix of booze that is so strong!
Have Dinner In The Wild
Another awesome, year-round trip in Svalbard is a dinner in the wild. Trying reindeer meat and listening to the local stories was the highlight of our trip to this northernmost town of the world.
Play With Puppies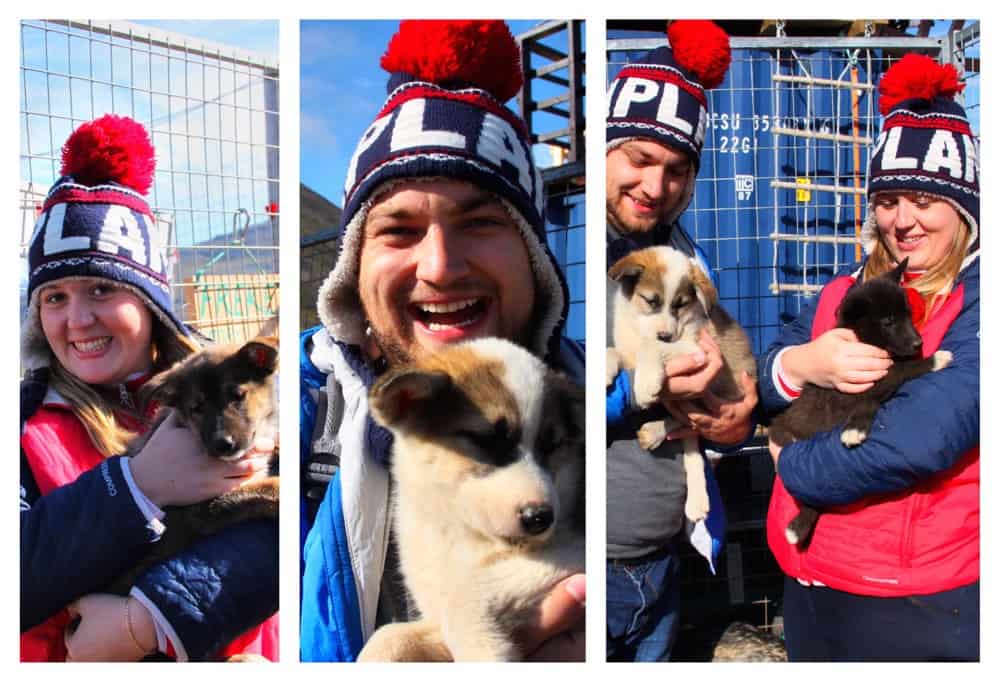 I will never forget playing with the cute little puppies!
One of the best Svalbard travel tips for the dog lovers is to visit Green Dog farm. There are more than 200 hundred animals in there, most of them are working with the tourists.
Other Svalbard Travel Tips
Dress Warm
As I mentioned before, it's always cold in Svalbard. You need a hat, jacket, gloves, and winter shoes even in the middle of the summer. All the photos that you can see in this post were taken in July. It doesn't look warm, right?
Don't Leave The Town By Yourself
Polar bears are a serious thing in Svalbard. You can't just leave your hotel and wander around in the wild unless you know how to protect yourself.
Carrying a gun is essential when you are leaving the town.
Plan Your Budget Carefully
One of the most important Svalbard travel tips is to make sure you have planned your budget carefully. Longyearbyen is quite expensive, that's why I highly recommend booking your hotel and activities in advance.
Pin For Later:
Disclosure: We want to thank Gjestehuset 102 for a complimentary stay and Hurtigruten Svalbard for the trips. All opinions presented in this post are honest and our own.