What Are The Top Things To Do in Bari Italy?
+ Best Puglia Beaches
On the Southern coast of Italy lies the region of Puglia or Apulia which forms the heel of Italy's boot. This region is rich in archaeology and olive trees and home to some of Italy's best beaches. The Apulian port city of Bari, lying on the Adriatic Coast is the entrance to Southern Italy and we found there are many things to do in Bari, from gazing in wonder at ancient basilicas and castles to visiting some of the best Puglia beaches nearby. Here is our list of things to do in Bari, Italy.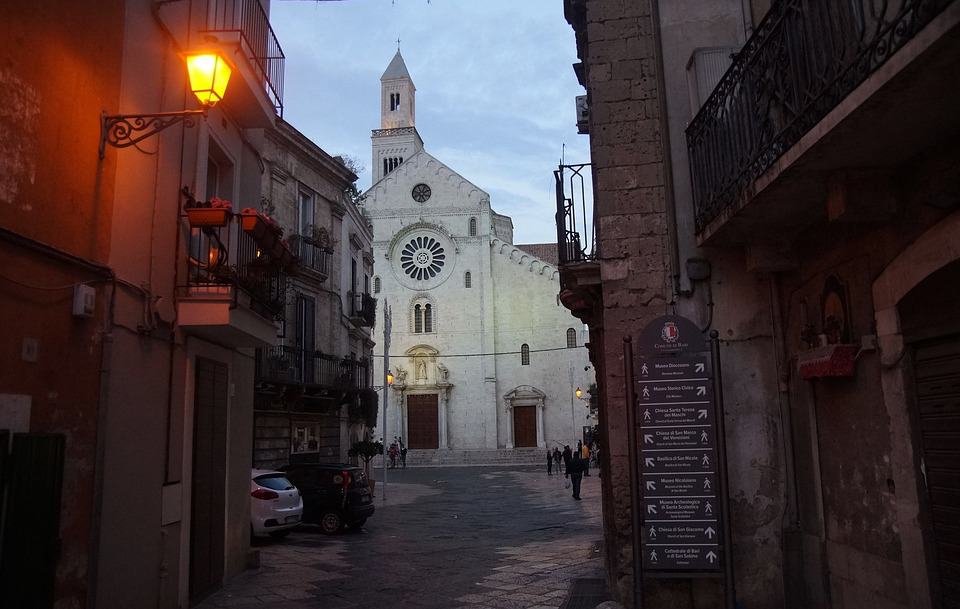 What To Do in Bari?
Bari, the city that was founded by the Iapygian Peucetii tribes over 2,000 years ago is the Capital city of the Metropolitan City of Bari in Apulia. The city gained importance under the Roman rule and has been held by different rulers over time. It's now an important center of culture and economics in Southern Italy.
Are you wondering what to do in Bari on your family holidays in Puglia, Italy? Here is our favorite list of things to do in Bari.
Bari Cathedral
Dedicated to San Sabino, construction of Bari Cathedral started in 1034 with Byzantine architecture. But it was destroyed in 1156 and a new Romanesque building was built from 1170 to 1178. The subterranean crypts are home to the remains of Saint Sabinus of Canosa. The 11th century rose window, lintel carved with monsters, and the facade are representative of Apulian Romanesque architecture.
Basilica di San Nicola
The 11th-century Basilica di San Nicola is a pilgrimage destination for Catholics and Orthodox Christians, and the crypt holds the tomb of Saint Nicholas (Santa Claus) and his miracle-working relics. The ceiling of the Cathedral features canvases with gilded frames. The most important treasure to view in the Basilica of Saint Nicholas is the "cathedra" or throne of the first archbishop Elias from 1197.
Sacrario dei Caduti Oltremare
Pay homage at the Sacrario dei Caduti Oltremare, a World War II memorial in dedicated to 75,098 Italian soldiers lost in colonial and world wars. 11 admirals and generals are buried with other fallen soldiers in this war memorial.
Barivecchia
Barivecchia, or the Old Town of Bari is a maze of cobblestoned alleys; and wander through them is one of the top things to do in Bari. When you need a break, have a snack in the Piazza Mercantile or Piazza Ferrarese as you watch the world go by. These squares are popular areas for dinner and nightlife too.
If you want to see all the important places in the Old Town of Bari, be sure to join a walking tour.
Teatro Petruzzelli
Watch a play at Bari's largest and Italy's 4th largest theatre, Teatro Petruzzelli, which was constructed in 1903. Completely burned by fire in 1991, it was rebuilt in 2008 and has continued to feature many operas, plays, and more.
Santa Chiara
An old church of the Teutonic Knights, Santa Chiara is in the Old Town overlooking the Swabian Castle. This simple looking church conceals a Baroque architecture and sometimes serves as a gallery and museum.
Foresta di Mercadante
Take a trip to go hiking or cycling in the nearby Foresta di Mercadante which was built to defend Bari from recurring floods. These 1,300 hectares have now become the "lung of Bari".
Pinacoteca di Bari
Admire the historical paintings in the Pinacoteca di Bari, Apulia's most important art gallery. Established in 1928, it's located on the 4th floor of the Palazzo della Provincia. If you want to visit Pinacoteca di Bari, book tickets online to skip the lines.
Swabian Castle or Castello Svevo
The Castello Normanno Svevo or Houhenstaufen Castle or Swabian Castle or Castello Svevo as it's popularly called was built around 1132 by King Roger II. The Aragon walls, moat, and Houhenstaufen tower are impressive to take in.
Chiesa di Santa Teresa dei Maschi
See the amazing architecture at the 17th-century baroque church, Santa Teresa dei Maschi. Now a center of art, this old chapel is a vital part of the Old Bari skyline.
Grotte di Castellana
The Grotte di Castellana is an epic karst cave system in Apulia. The first cave called "La grave" or the grave is the only one with external access and branches off into many smaller caves, including the beautiful alabaster "Grotta Bianca" or white cave. Since the cave is located outside Bari, join a guided tour to get there without any troubles.
What Are The Best Places to Visit in Puglia (Outside Bari)?
Not all of the best Puglia beaches and places to visit are in Bari. Here are some amazing places to visit and Puglia beaches outside Bari.
Alberobello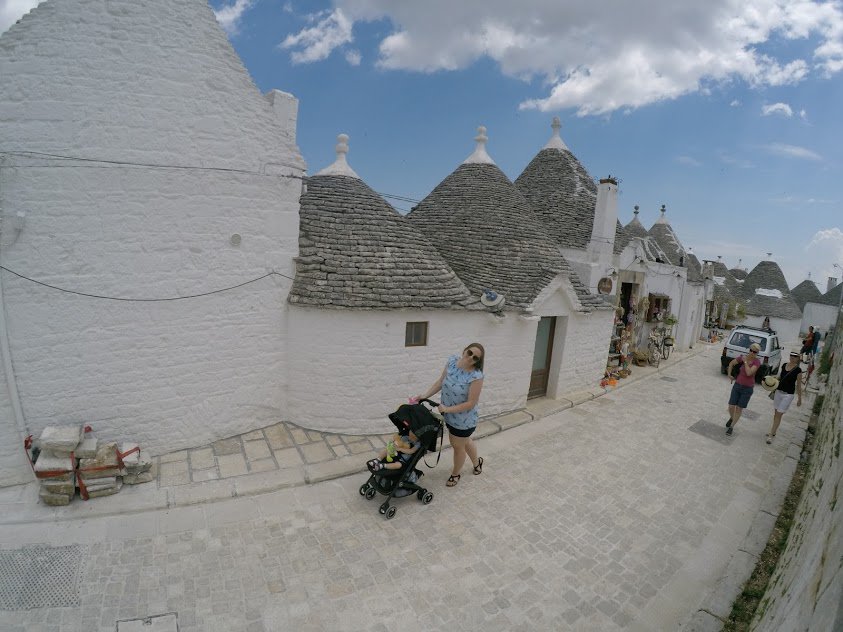 The town of Alberobello , which means "beautiful tree" is an hours drive from Bari and famous for the old trulli houses. The trulli are whitewashed huts made of stone and have conical roofs with signature decorations on the roofs.
Save your time and money and book your trip to Alberobello from Bari online here.
Castel Del Monte
The 13th century Castel Del Monte and citadel is octagonal in shape and located on a hill in Andria. It was added to the UNESCO World Heritage list in 1966 for blending different European and Muslim cultural elements.
Taranto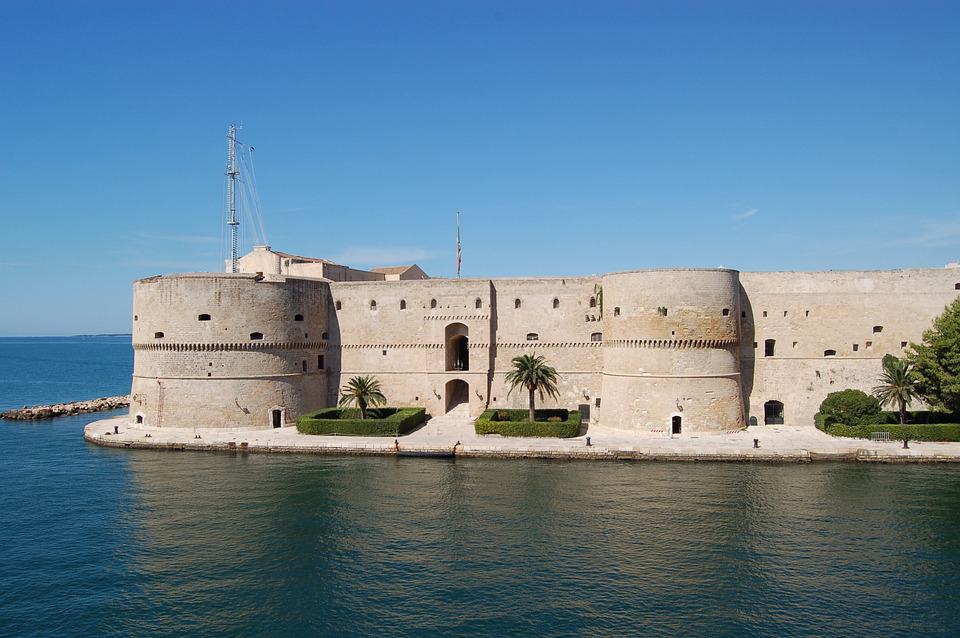 Founded by the Spartans in the 8th century, Taranto is a military and commercial port city. It is famous for the 15th century Aragon Castle built by King Ferdinand II of Aragon and the ruins of a few Greek temples. Taranto is famous for the local produce of mussels, so while there be sure to try mussels impepta, mussels alla puppitegna or mussels with spaghetti.
Beaches in Brindisi
If you're looking for fantastic beaches near Bari, the Lido Azzuro beach in Brindisi is a must visit. So are the Lido Morelli, Torre Pozzelle, Guna Beach, and Lido Ottagono. The coffee and architecture in Brindisi are amazing too.
Garango National Park
The spur in Italy's boot, the Garango Peninsula is home to the Garango National Park. It's the perfect place for boat trips, hikes, and adventures in caves. You could also try to climb the 1065 metre Garango summit in Foggia.
Sassi di Matera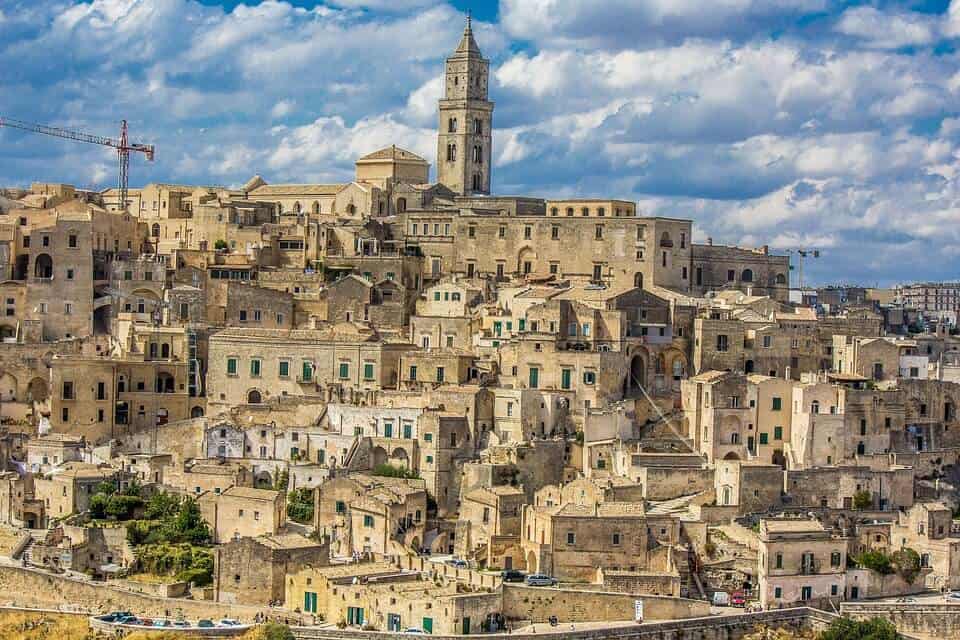 Have extra time in Bari, what to do? Drive 1.5 hours inland to Matera. The city on the top of a rocky hill is home to the world famous "sassi di Matera" caves. You can even stay in them. A number of ancient "sassi" or neighborhoods filled with homes, churches, stone walkways and more, the City of Matera both captivates and enthralls.
Lecce Coast
Rent some local Puglia villas for a stay on the Lecce coast in the Salento Peninsula. You can visit the Roman amphitheaters and cathedrals in Lecce, the 'Florence of the South'. If you visit Lecce, don't leave without trying some of the olive oil and wine they're famous for.
Polignano a Mare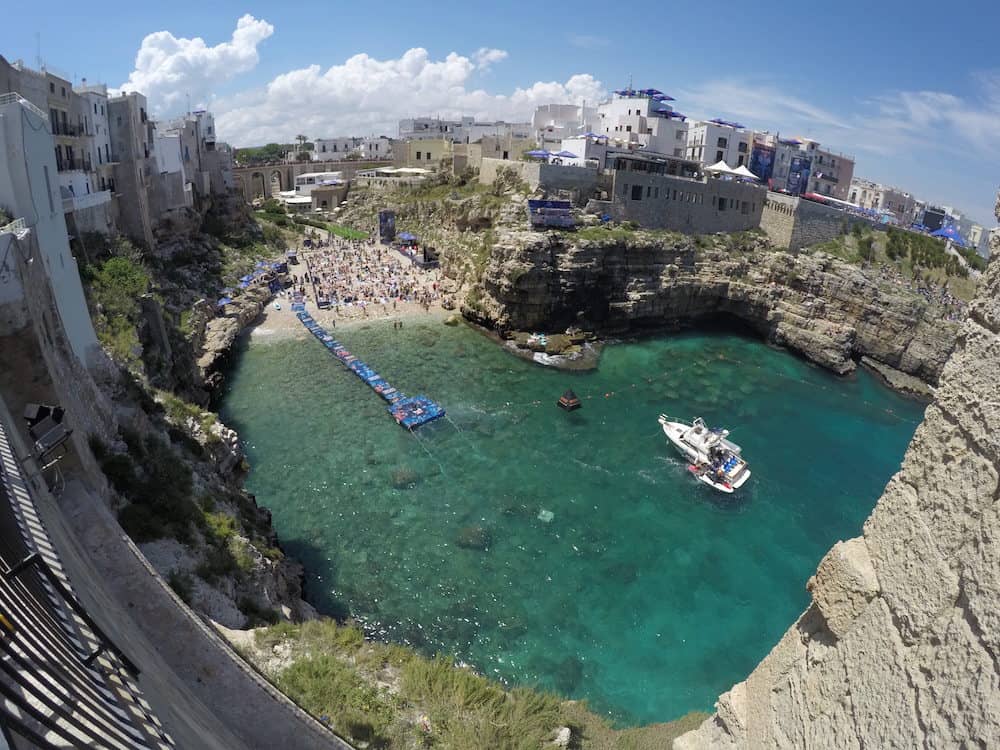 You'll find some of the best Puglia beaches and cliffs in Polignano a Mare. With houses lining the cliffs and the spectacular Grotta Palazzese that you must dine at, it is a must visit. The beautiful Lama Monachile Cala Porto bay, the Cala Paura beach, and the impressive 10th century Benedictine Abbazia di San Vito have to go on your bucket list too!
What To Eat in Puglia?
Whether you are spending one week in Puglia, or you are here for just a weekend, you need to try some local food! Food in Puglia is characterized by simple dishes that reflect the quality of local ingredients. There are a lot of things to try when it comes to the food of Puglia, from Puglia bread to burrata cheese, from seafood to street food and more.
Pane di Altamura: In Puglia, bread is a very important part of the cuisine. Puglia bread is made of durum wheat cultivated locally. Some famous breads are Pane di Altamura and Pane di Laterza.
Burratta: A fresh local cheese.
Panzerotto: A half-moon shaped bread stuffed with a filling of mozzarella and tomatoes and deep fried.
Taralli: These crackers are made with white wine, flour, and olive oil. Sweet taralli are glazed with sugar while savory are flavored with onions or garlic. Taralli is often dunked in a wine before eating.
Scagliozzi: Polenta that is deep fried after cooking.
Cecamariti: One Puglia food you must try is the "cecamariti" or "husband blinders". This simple dish is rich in taste and can be found in soup, pasta or peas form.
Scapece: Fish that has been fried and is preserved in red wine vinegar.
Pasticiotto: These delicious pastries are filled with custard, cheese, almonds or figs.
If you're up for a seaside lunch while driving along the coast, stop at a trabucco. The trabucchi are old structures once used by fishermen that have now been converted to restaurants serving weary travellers.
Also enjoy a meal at the world famous Grotta Palazzese Restaurant . This natural cave restaurant Puglia has been used for parties and banquets since the 1700's, and may just be one of the best places to visit in Southern Italy.
General Info About Puglia
With around 300 sunny days a year and summer temperatures averaging from 21 to 28 degrees, the Puglia, Italy weather is perfect for a holiday. Even the wettest month of November and the rainy winter months from December to March don't see more than 90 mm rainfall. So Puglia is a great year-round destination.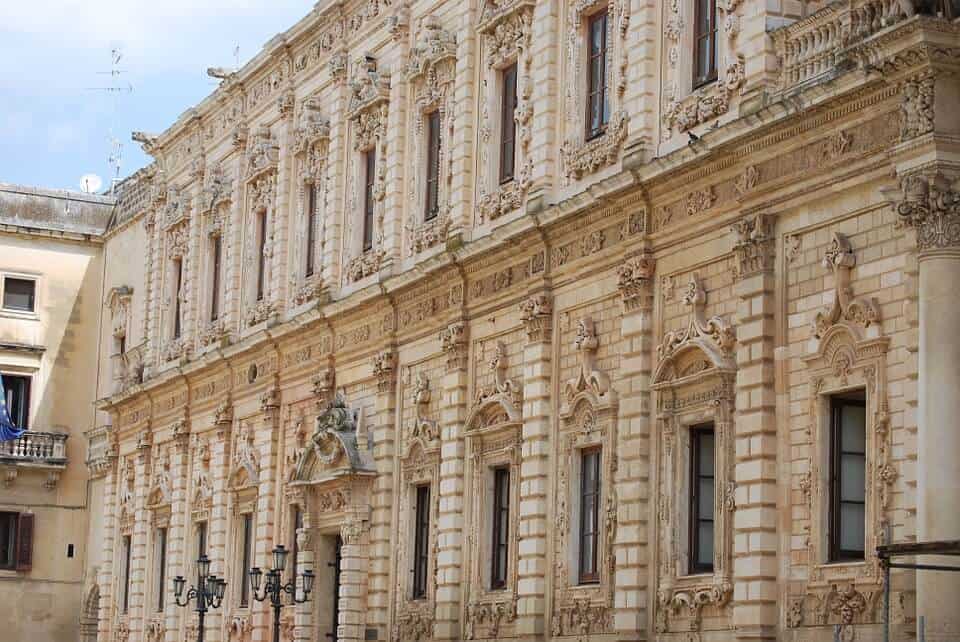 International flights to Puglia come to two Puglia airports – Bari Karol Wojtyla Airport and Brindisi Airport, Puglia. The Puglia airport at Bari is a port of entry for Bari, Foggia, Matera and some parts of Taranto; while the airport at Brindisi serves Brindisi, Lecce and other parts of Taranto.
You can also get to Puglia via ferry from Sardinia, Croatia, Corsica, Spain, Ischia, Elba island, Sicily, Mallorca, Greece, and other Mediterranean destinations. It's easy to find ferries to charming Puglia and Bari port in particular.
How To Get Around Puglia?
Once you're in Puglia, there are a few modes of transport to consider; train, bus, car, and ferry.
If you're going to the Tremiti islands to see some beautiful Puglia beaches, a ferry is your only choice, and you have a choice from the NavLib, Tirrenia and Traghetti Lines.
If you're traveling between different Puglia towns, Trenitalia and the four regional railways – Ferrovie Sud-Est, Ferrovie Appulo Lucane, Ferrovie del Gargano and Ferrotramviaria – can get you close to the best places to visit in Puglia. A large number of private and public bus networks also service the Apulian region.
But if you're like us, visiting Puglia with kids or don't like sticking to schedules, then car rentals are the best way to go. Renting a car gives us the freedom to visit Puglia on our own timetable. We loved the GoldCar rental company because of their quick and efficient service.
A breezy sign-up process, online rental agreement, easy key collection and ClicknGo options that allow you to use your mobile for unlocking car doors, GoldCar provides really excellent service. Click here to find out more about GoldCar.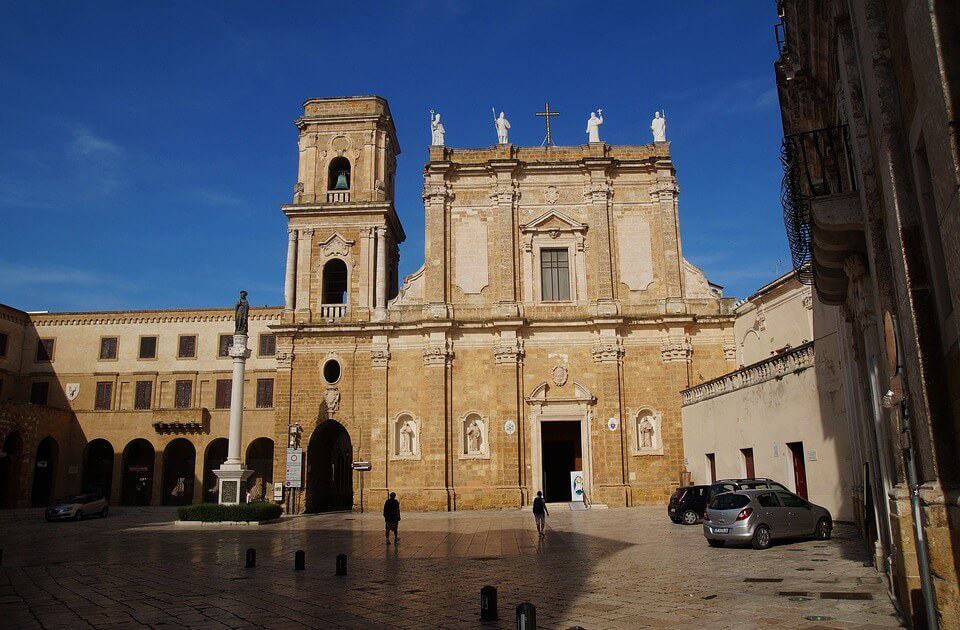 Where To Stay in Puglia?
The question of where to stay in Puglia is not easy to answer. And not because of any dearth of hotels or resorts. In fact, there are many villas in Puglia near beach or family hotels Puglia that cater to diverse needs.
In the heart of the city, is the 4-star Palace Hotel Bari, within walking distance of the Castello Normanno-Svevo and the Bari Cathedral. This hotel has it's own ballroom, rooftop terrace and a express Check-in and Check-out features which are ideal for Puglia family holidays. To read more, click here!
The chic 4-star Nicolaus Hotel is 4 km from Bari centre, close to the nightlife and shopping areas. It features an indoor pool Turkish bath and Jacuzzi. To read more, click here!
If you'd like to splurge on a stay in Puglia villas, the Luxury Villa Masseria Beneficio in Ceglie Messapica is a great choice! Find out more here!
The 5-star Grande Albergo Delle Nazioni is a perfect base in Bari City while visiting the Apulian wine region. It offers a choice of city or sea view rooms, and a great in-house restaurant called Polvere di Stelle. Read more about this luxurious hotel here!
Set on the waterfront in Taranto, the 4-star Puglia beach hotels Mercure Delfino Taranto is ideally located for visiting local attractions. Read more here!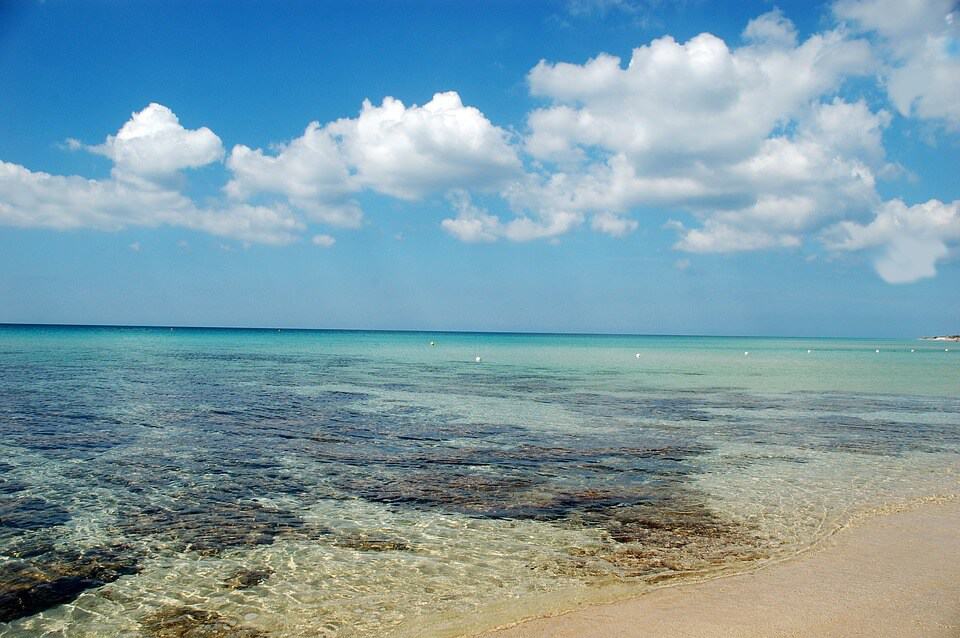 Risorgimento Resort – Vestas Hotels & Resorts is a 5-star hotel close to Lecce Cathedral and the University of Salento. There's nothing you won't love at this baroque Puglia accommodation. Read more here!
Villa Giuliana Arnesano is one of the B&B Puglia villas offering VIP rooms with a refrigerator about 45 minutes from Brindisi Airport. Click here to read more!
Pin For Later: