Best Things To Do In Cluj Napoca With Kids
Cluj is probably one of the most family-friendly cities in Romania. It's mainly because it's quite large (actually it's the second-biggest city in Romania, right after the capital, Bucharest). There are many awesome things to do in Cluj Napoca with kids of all ages! We are traveling with a toddler but the capital of Transylvania has enough attractions for infants, pre-schoolers, schoolers, and teenagers. If you are looking for a more general article about Cluj, see this post about the best things to do in Cluj for everyone.
Here is what you can do in Cluj Napoca with kids:
Old Town Fountain
Old Town has something to offer for everyone. If you are traveling to Cluj Napoca with children, they will love the fountains that are located on the market square. Our 1,5-year-old baby girl was running up and forth, laughing and having fun.
Obviously, it's a seasonal attraction, so if you are traveling to Cluj during the winter, it won't work for you.
Wind Mill (Parcul de Animale "Moara de Vant")
This park is located on the outskirts of Cluj Napoca and it may be hard to get there if you don't have a car. You will have to take a taxi. It's definitely worth it though! In less than half an hour ride, you will get to the countryside. Your kids will have a chance to hand-feed animals such as rabbits, lamas, donkeys, and more.
If your children are older, they may use the zip line park, while you can relax on a hammock.
Kiddy Park at Vivo Cluj
It's one of the best indoor playgrounds in Cluj Napoca. Located in the shopping mall, it's a place for kids of all ages. There are enough toys for children to play and have fun.
As our baby girl is still quite small, so she used only one slide. Older kids were jumping on the trampolines, climbing up the walls and driving in different kind of vehicles. There is a nanny at Kiddy Park who is taking care of older kids.
This playground is located in the biggest Cluj Napoca shopping mall. If you (just like us), traveling full-time, there are many cafes with stable WiFi to work at.
There is a free outdoor playground at Vivo as well, which may be a good option if you are traveling to Cluj in the summer.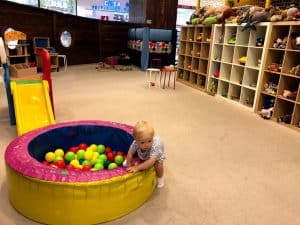 Kids Land Iulius Mall
While the playground at Cluj Napoca Iulius Mall is worse and smaller than the one at Vivo, it's still worth visiting when you are in the neighborhood. It's good for younger kids, children aged 7 or more would probably get bored there.
A plus is that it's located in the heart of Cluj, so it's quite easy to get there.
Wonderland Cluj Resort
Wonderland Cluj Resort is located on the outskirts of town and it's an interesting place to go if you are traveling to Cluj Napoca with teenagers or older kids. They have a hot-air balloon, horses that you can ride, and a pretty interesting restaurant with a view where you can have dinner or lunch.
Central Park
Parcul Central is the greenest area of Cluj Napoca. There are so many things to do with kids in there!
You can rent a paddleboat to swim around the small island in the park. Your children can workout and one of the outdoor gyms, they may play ball, relax on a hammock, or simply walk around Central Park surrounded by the beautiful and unspoiled nature.
On the side note, it's worth to know that Cluj Napoca has one of the best air quality of all the big cities in Europe.
Salina Turda
The salt mine in Turda is probably the most famous in Romania. It's really interesting! There is a huge underground entertainment center in there. It's a family-friendly place but definitely for kids aged 3 years old or more.
It's not a good tourist spot to visit with infants or toddlers. Why? There are many stairs you need to climb, and all the attractions are suitable for older kids. Even though there is an elevator at Salina Turda, you need to take about 150 steps to get there.
If you are traveling to Cluj Napoca with teenagers or children that can easily walk or run by themselves, you can't miss Salina Turda! Your kids will love this place: they may play table tennis, minigolf, they may take a boat ride, or even take a ride on a Ferris wheel.
Don't have a car? Book Turda Salt Mine tour from Cluj here.
Exploratoriu
This playground is a hidden gem of Cluj Napoca (although it's not really located in the city but about half an hour right north). Exploratorium is designed for families. Kids of all ages can play and have fun there. The playground is divided into 4 sections, according to children's age.
Area 1 is suitable even for infants, the minimum age to get inside is 6 months. Although there is not much information about Exploratoriu online, check out their Facebook for the recent updates (as for July 2019 it's only in Romanian though).
Botanical Garden
Even though there are no playgrounds in Cluj Botanical Garden, it's a nice place to have a long walk with your family.
In the summer, you can also buy ice-creams there.
Aquapark Floresti
While it's definitely not the best and the biggest waterpark in the world, it may be a pretty good place to go if you are traveling to Cluj with kids in the summer. In less than half an hour drive you will get to Aquapark Floresti, where your children can splash, use the slides, and swim.
Family-Friendly Places to Eat in Cluj Napoca
The good news is that most restaurants in Cluj Napoca are family-friendly. You can easily get a baby chair, many of them have a baby changing station as well.
If you want to try traditional Romanian food, check out Casa Maramureseana. Head to Gigi bakery to try covrigi (the visine one is the best!).
If you are looking for some vegan options, you'll love Samsara Foodhouse. They even have a small garden with a playground, and a baby sitter, so you can eat your lunch peacefully while someone else will take care of your kids.
Read more about Romanian food here.
Where To Stay In Cluj With Kids?
For home-like experience, check out Matei Corvin Deluxe Apartment. It's hard to find a better apartment located in the heart of Cluj Napoca. They don't have parking though, so if you are traveling to Cluj by car, Central River Apartment may be a better option for you. There even is a playground right next to the apartment.
If you are looking for a luxurious hotel in Cluj Napoca, Hotel Platinia is probably the best one that you can choose. It's located in the city center, within the walking distance to the Old Town and Central Park.
Pin For Later:
Have a question? Join our Family Travel Support Facebook group, we will be happy to help you!