Amazing Things To Do In Galapagos That You Can't Miss
The Galapagos islands, almost 600 miles off the coast of Ecuador, are a real "bucket list" trip for many world travelers. Because of their remoteness – and the fact that they are a world heritage site and protected National Park – the Galapagos can never be a "cheap" option. This is especially true as the best way to see everything the islands have to offer is to take one of the 80 or so approved tourist boats that offer liveaboard wildlife cruises around the archipelago.
However, if you pick the right itinerary and make sure you choose the best time to visit Galapagos you can experience some of the most memorable and unique wildlife encounters you can find anywhere in the world without busting the bank.
We've worked with independent Galapagos cruise experts to bring you a guide to the best time to go, and the best sites to see on a short visit to the Galapagos islands.
What's The Best Time To Visit Galapagos?
When it comes to choosing the best time to go to Galapagos, you don't have to worry about the time of the year. As the islands sit on the equator, there is great wildlife activity all year round, and there's no monsoon season or cold spell to worry about! Having said that, there is definitely a high and low season – and high season coincides with the North American school vacations.
If you can, avoid December through January and June through August – you'll find more options to choose from outside these dates. If you're a fan of swimming and snorkeling, then February through to May would be a great time, as the sea temperatures are a little warmer and there's usually less swell. But then again, there really isn't a wrong time to go!
Why Take A Galapagos Boat Tour?
You can certainly visit the Galapagos and stay in a hotel or guest house on one of the two main inhabited islands. The problem is that the Galapagos consists of over 13 major islands and many smaller ones spread over 23,000 square miles of the Pacific! There's no way to get an authentic Galapagos experience if you are limited by only being able to travel as far as a boat can take you from your hotel in a day and back.
Even a short four day Galapagos cruises will let you see and experience so much more than a week-long hotel stay. It's the best way for those who are on a tight schedule to get the most of their visit.
And while it's true that many of the Galapagos cruise boats are aimed at the luxury end of the market, there are plenty of budget class liveaboards that let you sacrifice some luxuries to let you see more of the islands. Using a search portal like www.galapatours.com, you can find the perfect match of dates, boat, and itineraries.
Things To Do Galapagos + Places You Need To Visit
While there are over 100 visitor sites available, we think you should pick a Galapagos cruise itinerary that meets at least some of the following "must see" Galapagos experiences:
Tortuga Bay – The Perfect Beach
Tortuga (turtle in Spanish) Bay is arguably the best beach in the whole of Ecuador. It's on Santa Cruz Island, and it's a 2.5km walk from the town of Puerto Ayora. As well as perfect sugar-white sand, if you visit the Galapagos in January or February, you can see black turtles laying eggs, and from April to May the hatchlings make their way to the sea. Outside these times you can get close to marine iguanas and Sally Lightfoot crabs, or just sit and marvel at this perfect tropical beach.
Post Office Bay and A Murder-mystery
Fond on Floreana Island, Post Office Bay is so-called because of a tradition, started in the days of the Pacific Whalers, of people leaving letters for loved ones here, hoping for someone traveling back home to pick it up for them and deliver it. The tradition continues, and if you visit, be sure to bring a postcard of your own and see if you can help someone else's message find its way back with you. Floreana is also the home of a famous Galapagos scandal from the 1930s involving sex and unexplained deaths. A trip to the Baroness Viewpoint will let you learn more about this unsolved human history!
Genovesa – Island of Birds
When your boat anchors in the almost perfectly circular Darwin Bay (the remains of a volcanic cone), you'll know why we recommend this visit! The soaring cliffs around you are home to thousands of seabirds that wheel and swoop overhead. Taking a dinghy ashore to land at the famous Prince Philip Steps or the sandy Darwin Bay Beach your naturalist guide will bring you close to feeding and nesting blue-footed boobies, their red-footed cousins, Nazca boobies, frigatebirds, swallow-tailed gulls, and more. Most of these species can't be seen anywhere else in the world than here on the Galapagos.
Mangle Point – Underwater Delight
On the east side of Fernandina island, this hidden gem locally known as Punta Mangle is a great visitor site for fantastic snorkeling. Diving into the calm natural inlet directly from your boat, you will see sea lions, green turtles, rays, and sharks, to name just a few. After time in the water, you can take one of cruise boat's small dinghies and explore the mangroves by the shore, which are home to many bird species including pelicans and the unique Galapagos flightless cormorant.
El Chato Tortoise Reserve
One of the Galapagos' most iconic species is, of course, the Giant Tortoise. One of the few places where you can still encounter them in the wild in their natural habitat, El Chato is on Santa Cruz Island, and it's a superb place to simply wander around and watch these gentle creatures go about their business. Like most of the wildlife on the Galapagos, they have no fear of people, so you will enjoy some remarkably close encounters. Definitely, don't forget your camera!
Hike Through Forests of "Giant Daisies"
A trek to Los Gemelos on Santa Cruz will see you walk through a remarkable forest of Scalesia. These are members of the daisy family that have evolved giant proportions – they grow up to 65ft or 20m in height! The forests are a haven for bird life, and you will see some of the most iconic Galapagos species, including Darwin's finches, Vermillion Flycatchers, and Galapagos doves to name but a few. The views across the lush canopy from the edge of the Los Gemelos canopies is stunning.
World-class Diving off Darwin and Wolf
If you are a scuba diver with at least 50 to 100 open water dives logged – including experience of strong currents and swell – then one of the most remarkable things to do in Galapagos is to take a dedicated diving cruise. As part of your itinerary, you will visit the remote, uninhabited islands of Wolf and Darwin, to the far north of the archipelago. These are two of the best dive sites not only in Galapagos but in the world. Renowned as a site where hammerhead sharks gather in huge numbers, you will also experience close encounters with rays, turtles, and a remarkable variety of tropical reef fish.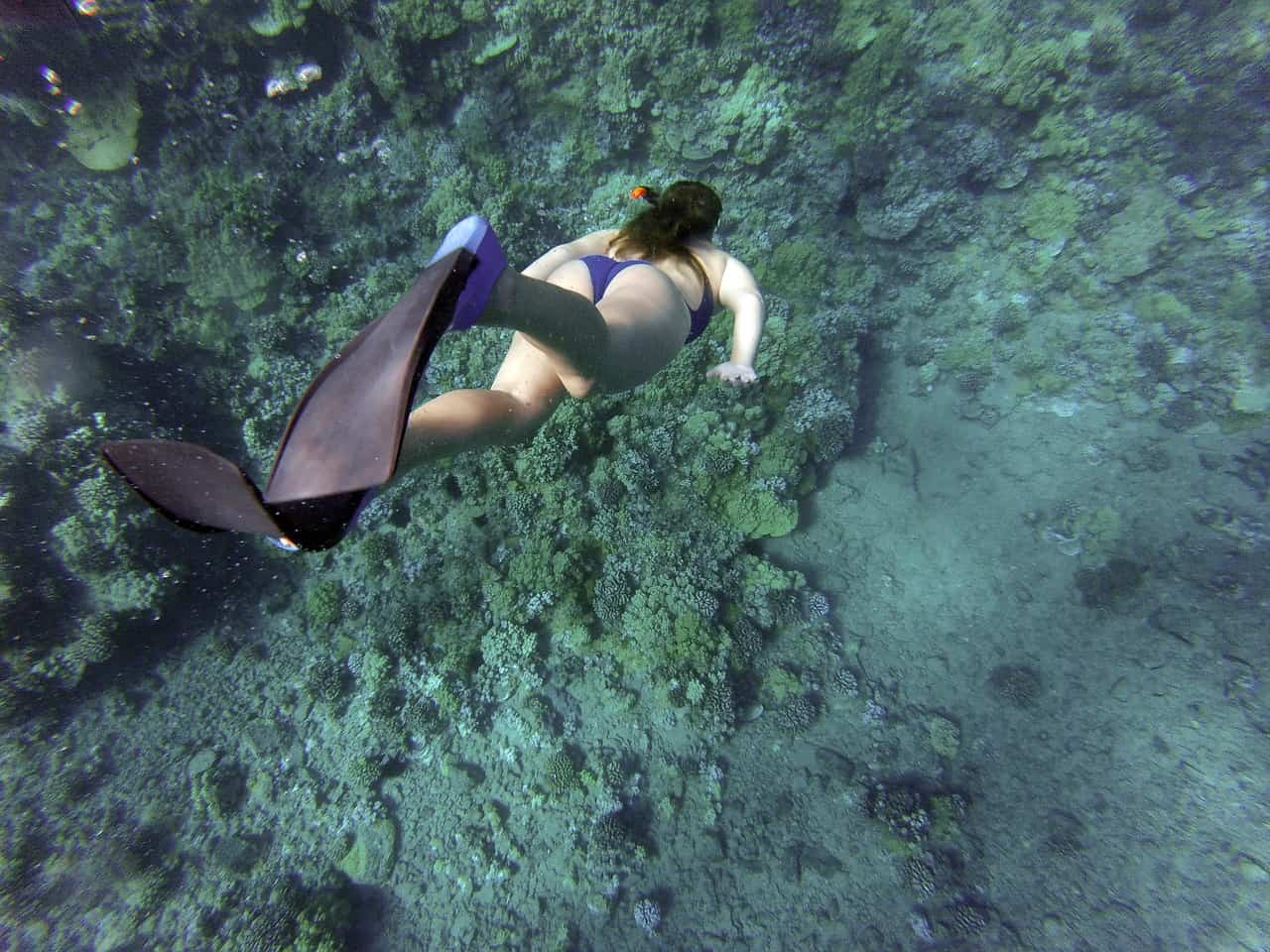 The Rarest Albatross and A Dramatic Blowhole
A visit to Suarez Point on the island of Española will let you experience the only known breeding ground of the critically endangered Waved Albatross. With fewer than 12,000 breeding pairs remaining, this species is one of the rarest seabirds in the world. Another remarkable feature to be found here is the blowhole known as "El Soplador". Here, incoming waves are funneled into a narrowing tunnel until the compressed air and water shoot up out of a small hole in the top of the rocks up to 70ft into the sky!
Watch The Mating Dance of the Blue-Footed Booby
Home to half the world's population, the Galapagos islands are the perfect place to see these remarkable birds. Until you see them for yourself in real life, it's hard to believe quite how blue their feet are, particularly the fittest males. Unfortunately for them, displaying the bright hue of their oversized webbed feet is part of their courtship ritual, and it's this comical waving of the feet to impress the girls that give the blue-footed booby its reputation for the funny, clumsy and clown-like dance. Once seen, never forgotten!
Surf With The Sea Lions
With a growing reputation as one of South America's surfing hotspots, the shore town of Puerto Baquerizo Moreno on San Cristóbal Island is a great place to learn to surf or to show off your gnarly skills. One of the only towns in the world where the beach is reserved exclusively for local sea lions, the surf scene here is based around the public beaches to the north of town. However one of the best and most consistent breaks is to be found of Tongo Beach to the west of town. There are several surf shops here where you can hire gear and take a surfing lesson. We think surfing in the "cradle of evolution" is worthy of serious bragging rights when you get home.f
Swim With Sea Lions
There are many places in the islands where you can have a close encounter with the native Galapagos Sea Lions, but one of the best and most tranquil is the beautiful sandy beach of Lobos Island, off the northwest coast of San Cristóbal. The small channel between Lobos and the main island is calm and crystal clear, the perfect place to swim and snorkel with these friendly and curious creatures. You can also see Galapagos Fur Seals basking in the sun here, as well as a small colony of Blue-footed Boobies. This is the perfect beach to simply soak up the Galapagos sights and sounds.
Visit One Of The Largest Volcanic Craters In The World
Standing on the edge of a 6-mile-wide hole in the ground is an unforgettable experience. It's definitely worth the excursion to visit the Sierra Negra volcano on the island of Isabella. Not for the faint-hearted, you will need to drive for 45 minutes and then hike for two hours to reach the crater's edge. If you do, you'll be rewarded with one of the most stunning vistas in the Galapagos, including views of Isabella's other volcanoes and even over to the neighboring island of Fernandina. The sense of scale here is breathtaking as you stand on the rim of the world's second-largest volcanic crater.
What To Pack for Galapagos?
Photo equipment
Take a good camera, plenty of memory cards, and lots of batteries. Almost all the boats have 110v outlets where you can recharge.
Sunscreen
Take enough sunscreen. Even in cooler times of the year, the equatorial sun can burn you very quickly. Slap on a lot of sunblocks, wear a hat, cover up as much exposed skin as you can.
Seasickness

Band or Drugs

If you're prone to motion sickness get a band or stock up on prescription or over-the-counter seasickness drugs or try patches or wrist-bands. The Galapagos swells can sometimes make smaller boats move around in a way that can make those susceptible feel nauseous.
Clothes
Pack cool, lightweight clothing. Everything in Galapagos is informal – there's no "dressing for dinner" on a Galapagos cruise!
Shoes
Be sure to pack the strong footwear for walking. Although you'll be "cruising", your itineraries will be active. Pack good walking shoes or boots. Some of the lava can be sharp, and some paths uneven and rocky.
Galapagos Travel Tips
Plan Your Budget Carefully
Even though it's possible to travel to Galapagos on a budget, this destination may be pretty expensive. Be sure to calculate your budget carefully before starting the trip.
Pack Light
The baggage allowance on the internal flights from Ecuador to the islands is only 20kg. If you are staying for a while in Ecuador or wider in South America consider leaving your larger cases in a left-luggage facility or hotel on the mainland.
Make Friends With The Guide
Get to know your onboard naturalist guide. Ask them lots of questions – they are all extremely knowledgeable about the islands and passionate about the habitats and wildlife. Their explanations and enthusiasm will make your trip even more memorable.
Pin For Later: