Lefkada is one of those Greek islands you just happen to fall in love with as soon as you lay eyes on it. After spending a holiday there, that love becomes even stronger because the allure it possesses evokes the feeling of wanting to come back over and over again.
This island has the full package – magnificent beaches, friendly locals, exquisite restaurants, and some jaw-dropping sceneries. In order to fully appreciate the beauty and charm of this jewel of the Ionian Sea, it is essential that you make the effort to see as much as possible because that's the only way to make your Lefkada holidays memorable.
Current time in Greece:
How to Get to Lefkada?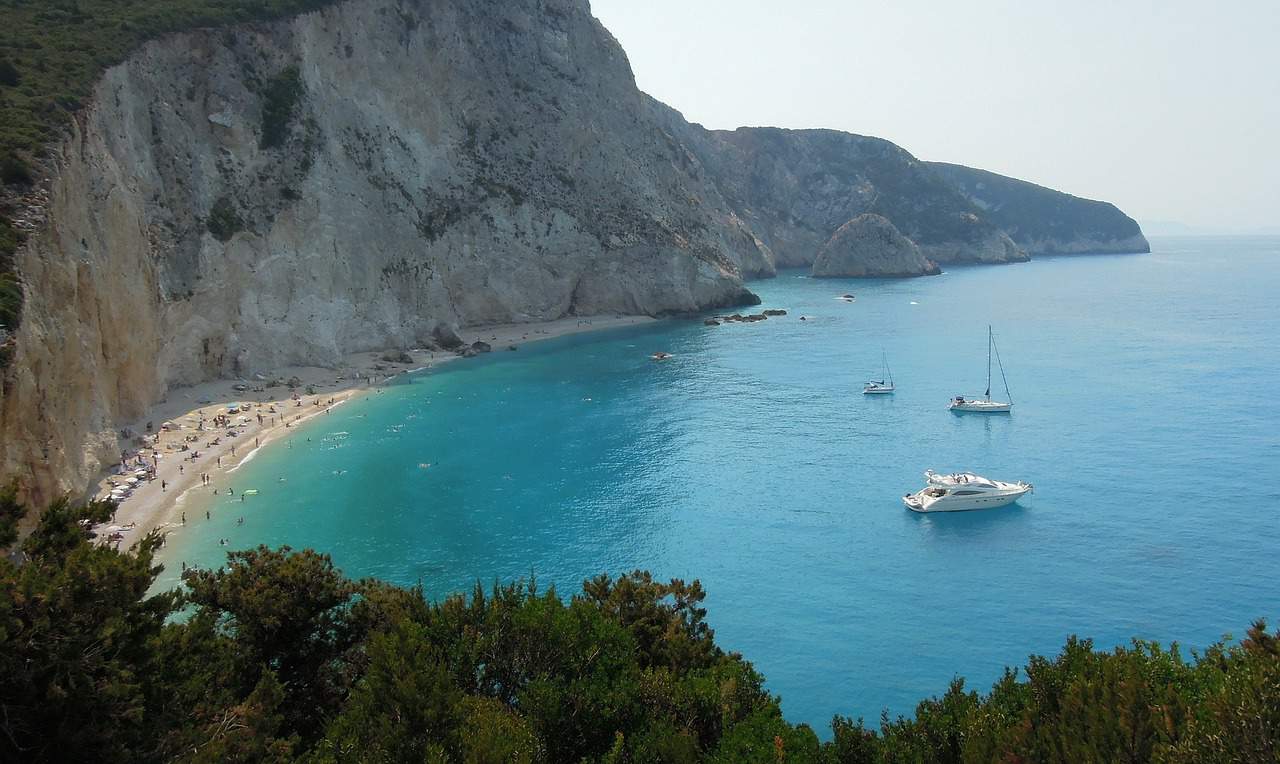 As there are no direct flights to Lefkada and the nearest airport is Aktion/Preveza, landing to the island directly is simply not an option. Still, it's possible to rent a car in Preveza and use it during your entire stay in Lefkada until you take it back prior to the flight back home. Be mindful of the fact that you will need to notify the car hire agency in case you plan to take a ferry on your day trips to the neighboring Kefalonia or Ithaca.
From Preveza, the ride to Lefkada is extremely convenient as there is only a narrow stretch of land and a swing bridge connecting it to the mainland. Upon crossing this bridge, you will immediately find yourself in the island's capital town Lefkada (Lefkas). If the time permits, you can use this opportunity to explore this 8,000-resident town, have a coffee in one of the charming cafes near the port, or go sightseeing. In addition to this, you can find several beaches in Lefkas – Agios Ioannis, Gyra, and Agios Giannis. Still, the real gems of this island await just a little further away in all directions.
How to Get to Around Lefkada?
It really makes no difference where you are based because it won't take you a long time to get anywhere by car. The manageable size of this Greek island makes it simply perfect for exploration in such a way that you will be able to visit a different beach every day. In case you haven't got your own car, rest assured you will find an abundance of rent-a-car agencies, especially in Nidri and Lefkas. Car rents Lefkada offers start at $40 a day although you can get a discount for hiring with the same agency for several days in a row. In addition to this, you don't even need to book in advance for the majority of agencies – just show up at their door and check which automobiles are available for rent. Seeing as the island is rather hilly, renting a car is the best option by far. If you feel so inclined, there are Lefkada rent bike options aplenty, too.
Gas stations in Lefkada are predominantly located in the urban areas such as Lefkas, Nidri, and Vasiliki. You have to do your calculations properly because the entire west coast virtually has no gas stations whatsoever. It is crucial that you have your reservoir full before embarking on your trips from one beach to another and stay prepared for some unpredicted kilometers you might have to cross. On a similar note, your GPS navigation might not always be very useful as some roads mapped on it are no longer in use so it's best to talk to the locals just to be on the safe side.
Where To Stay in Lefkada?
As one of the finest Greek islands, Lefkada is all about the beaches and when it comes to them, you will be spoilt for choice. Planning your itinerary will not depend on where you're based as you can get anywhere fairly easily.
Nidri, Lefkas, and Agios Nikitas
For the most part, vacationers choose to stay in towns or villages such as Nidri, Lefkas, and Agios Nikitas. There are some undeniable perks to staying in these places as there are restaurants, supermarkets, and other amenities right at your doorstep. The downside of staying there is the fact that beaches in these tourist centers are not the ones Lefkada earned its fame for. Hence, you will discover that Nidri, though charming, actually has one pebbled beach that tends to be overcrowded by kiters and windsurfers. Be that as it may, Nidri is still undeniably beautiful and it offers a significant number of souvenir shops, restaurants, snack bars with delicious gyros, and a fantastic promenade by the sea.
Generally speaking, Lefkada can be divided into two parts and the most amazing beaches are situated along its western coastline. You should really make the most of your stay and make the effort to visit at least several beaches this island is best known for.
Kathisma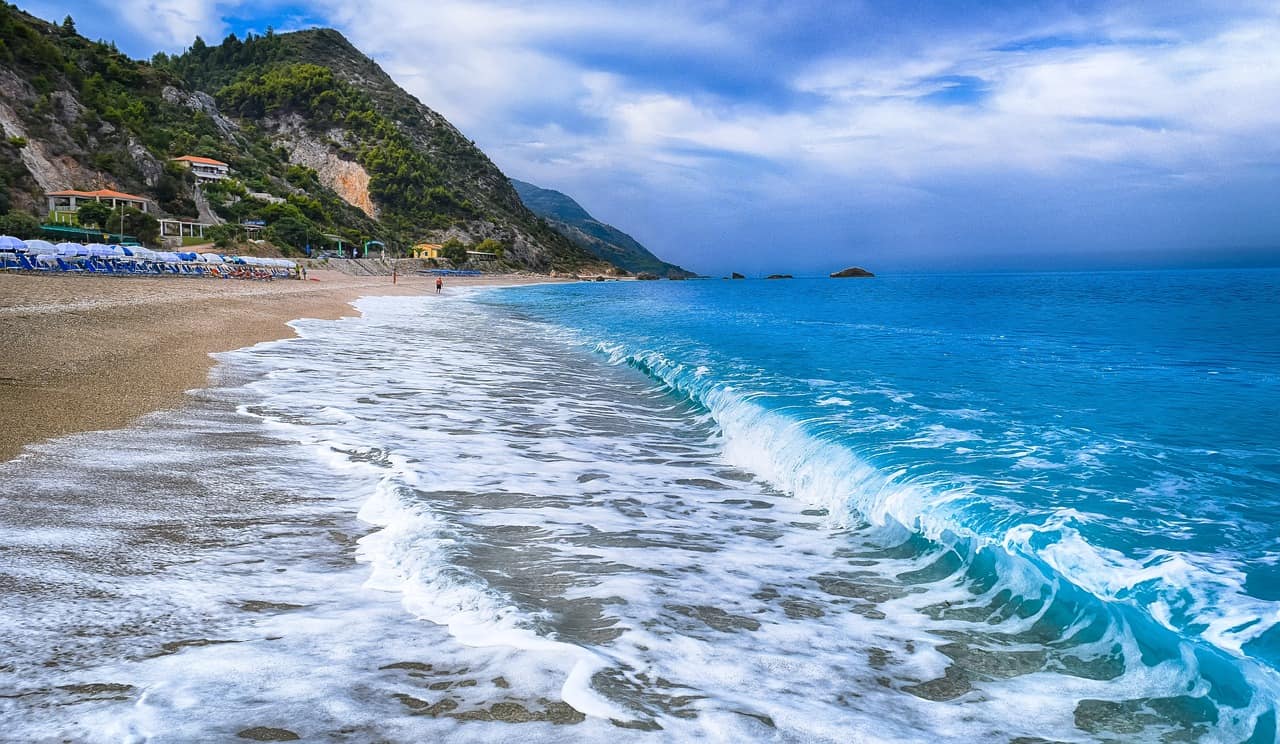 Apart from the variety of places to stay in Lefkada when it comes to the major urban areas such as Nidri or Lefkas, you can find superb lodging options right above the Kathisma beach. Sunset Studios, Panorama Villas, and Nerina Studios offer great and affordable service and they are just 10-minutes' walk from Kathisma. This beach is truly amazing, especially if you stick around long enough to catch the magnificent waves splashing several meters onto the shore. The water is pristinely clean, the white sand stretches for miles on end, and unlike some other beaches, Kathisma is well-serviced, with an abundance of sunbeds, restaurants, and bars. If you visit it, don't miss Copla Bar which is right on the beach.
Lefkada Nightlife
Within the complex, there is a spacious swimming pool equipped with sunbeds and they also cover a significant stretch of beach with their service. You can sip delicious cocktails or have a snack and during the night, they organize some of the best parties on the island so you can get a taste of nightlife in Lefkada. In addition to this, Lefkada nightlife is particularly vivacious in Nidri, where there are several bars and nightclubs, frequented by locals and tourists equally. Byblos and Excess Club stand a head above the rest and you're guaranteed to have a blast.
In case this type of party is not your cup of tea, there are several other options to enjoy a fun night out in Lefkada. Ask anyone who has ever been there and they will tell you about this amazing restaurant called Rachi, high in the hills of Lefkada. It is situated in the little village of Exanthia, just 20 kilometers away from the capital Lefkas. The drive to this restaurant is magical in its own right as you will get the chance to pass through picturesque villages and soak up the amazing scenery as you climb all the way to the top of the large mountain. Being one of the best restaurants in Lefkada, Rachi is usually full so unless you arrive there a bit earlier, you might have to wait a while to get a table. Unfortunately, reservations are still not an option and the peak hours are those around sunset, as sunsets are unforgettable to witness from up there.
Best Beaches in Lefkada
Kathisma
As it's already been said, Kathisma is undoubtedly one of the Lefkada's best beaches around, with lots of amenities and services at hand. Still, there are other beaches which are similar to it and some may even exceed it in beauty. Before venturing out to some of the next five beaches, make sure you pay a visit to the supermarket and stack up on food and refreshments as many of them are largely undeveloped and have absolutely no bars or restaurants around. Lefkas and Nidri are abundant in supermarkets and perhaps the best bargain you can get is by shopping in Lidl supermarket in Lefkas. Unlike some smaller, privately-owned supermarkets, prices in Lidl are significantly lower and the choice of groceries is great.
Egremni
First and foremost, you should set your sails toward Egremni – the real gem of the island which is unfortunately still inaccessible by car since a strong earthquake demolished the road and the stairs leading down to it. For the time being, the only way to get to this white sand beach is by organized boat tours. Due to its inaccessibility by road, there are no bars or services around so make sure you bring enough food and refreshments along with your own parasol to protect you against the sun. There is very little natural shade on Egremni and the chances are those few spots will already be occupied before you get there.
Avali
Avali is probably one of the least crowded beaches and yet so spectacular and peaceful it's hard to believe so few vacationers go there. It probably owes the lack of popularity to its hard-to-reach aspect as the road leading to it is not in the best of shapes and there is a part of the path that you have to cross on foot until you descend to it. The minute you start descending, you will encounter a picturesque little bar on the slopes where you can have a nice drink, grab a snack, and enjoy the view before reaching the beach. Make sure to bring your own parasols as there is no shade whatsoever. This is definitely one of the best beaches to relax and unwind, far away from the big tourist spots and noisy bars.
Kavalikefta Beach
Kavalikefta beach is located south of Agios Nikitas, close to the village of Kalamitsi. It's well off-the-beaten-path and rather peculiar with all those huge lying around the turquoise water with lots of crevices in between. It's a great beach to do some canon balling of those rocks or else, just relax to the soothing sound of waves splashing against the shore.
There is only one bar at the Kavalikefta beach and it only serves drinks. The parking lot is a little further up the hill so you will have to descend a bit on foot until you reach it. There are lots of winding roads and hairpin bends leading to the beach but it's definitely worth the visit. Being a small scale beach, Kavalikefta can get crowded at times so it's best to show up as early as possible. Another perk of this beach is its proximity to Avali beach, yet another spectacular stretch of Lefkada's coast.
Porto Katsiki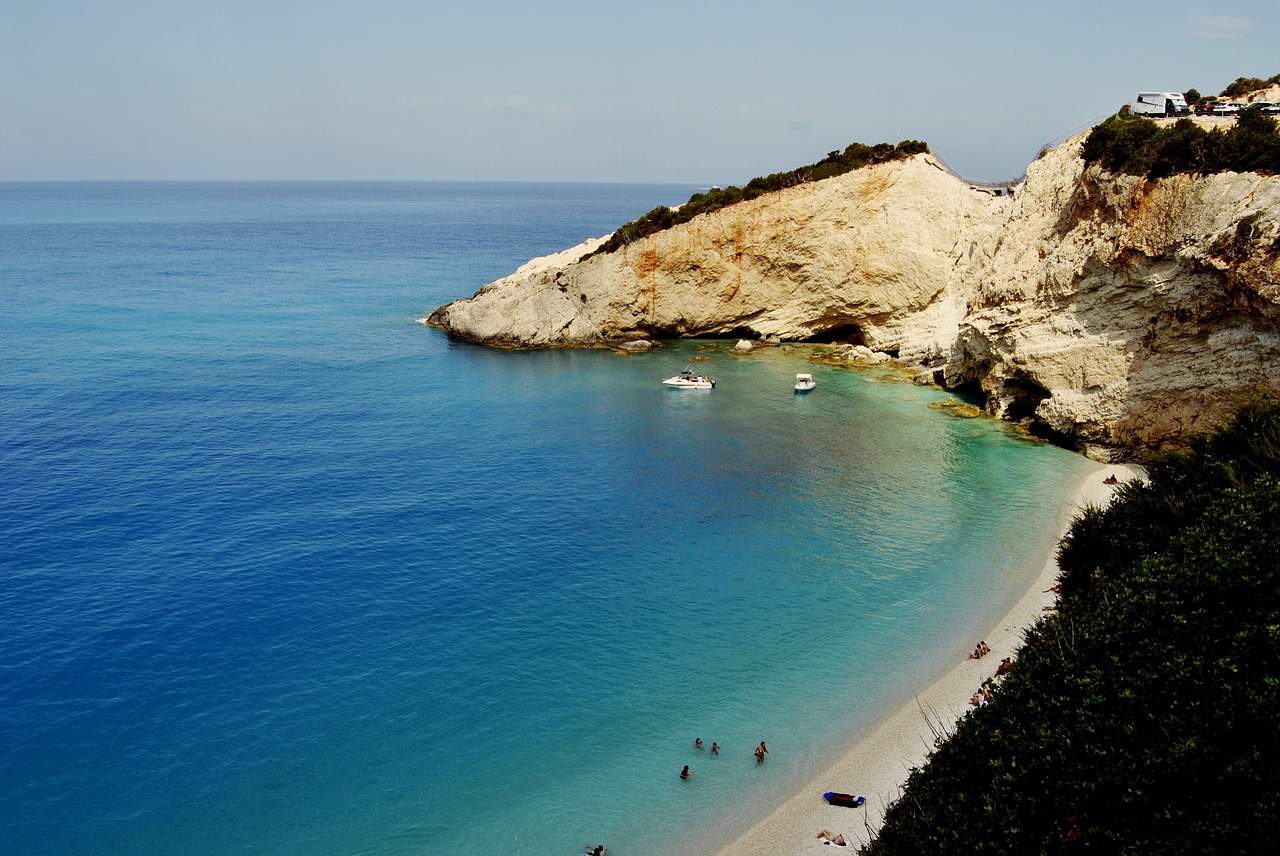 Being on the same stretch of coast as Egremni, Porto Katsiki is without a doubt a no-miss. The road leading to Porto Katsiki is a winding one and rather steep too. Once you arrive at the parking lot right above the beach, you will be charged 5 euros to leave your car there. There is also the option of leaving the car a bit further up but be ready to take a daunting stroll up once you decide to leave. It is on this parking lot that you can find two bars but they actually don't display any prices and just a little snack might cost you an arm and a leg. Porto Katsiki really makes up for all of this as this beach is probably one of the most mesmerizing beaches in the world. Though the water in the pictures seems almost surreal, you will see that it's real as it gets – the most turquoise hues you can imagine. There is one important thing to keep in mind and those are pebbles which can be very chunky and uncomfortable to walk on so it's a good idea to have a pair of beach crocks or any other appropriate footwear.
Mylos
Last but not least, you should pay a visit to Agios Nikitas not only because it has some of the best restaurants in Lefkada but also because it's really close to Mylos, a magnificent sand beach just over the hill. The only way to get to Milos is by a boat leaving from Agios Nikitas every half an hour (mostly) or to trek over the rocky hill. Be prepared for some serious recreation as this hike is not an easy one and it will take you around 30 minutes to go up and down until you reach Mylos. Working up a sweat is definitely worth it as Mylos is truly magnificent with lovely sand and crystal-clear water.
Why Lefkada Is Worth Visiting?
Generally speaking, Lefkada is one of those destinations you go to in order to enjoy its magnificent beaches. It is not one of the islands famous for its historical sites or cosmopolitan nightlife. On the contrary, its unique charm dwells on the mere fact that it boasts a dozen undeniably beautiful beaches, characterized by their laid-back atmosphere and extraordinary natural setting. If you're looking for a place to get away from it all, make no mistake – Lefkada is a godsend.
Pin For Later: