Rome Off The Beaten Path
There are many beautiful and well-known sights to see in Rome. These touristic spots are usually really crowded all year long because of millions of tourists that come to the Eternal City to spend their holidays. These places such as Colosseum, Vatican City, The Trevi Fountain, and The Spanish Steps are amazing to say the least (of course), but Rome has even much more to offer. If you want to explore Rome off the beaten path, keep on reading.
Things to Do in Rome Off the Beaten Path
Visit Mercato Testaccio in the morning
Mercato Testaccio is a food market and a truly local place. With all the fragrant and fresh food, you can feel the real atmosphere of local Roman life. It is also an orgasmic experience for your eyes, nose, and mouth.
There is a wide variety of things to buy and taste there, such as fresh fruits and vegetables, fish, meat, homemade pasta, baked goods, and more.
You can also find there a variety of kitchen appliances for sale. Mercato Testaccio is one of these best places in Rome to have a traditional Italian breakfast or lunch. It is open every working day from early morning till siesta after lunchtime.
Spend time at Lungotevere (Tiber Waterfront)
If you are into outdoor activities, Rome has plenty of options to offer you. There are many outdoor public exercise facilities located in different parks.
Arguably the best one is the walking and jogging path along the Tiber River where the cars are prohibited. If you want to explore Rome off the beaten track, it's your place to go.
The scenery is fantastic -it will offer you a different view of the Eternal City. Lungotevere is really popular, especially in the hot summer period, as it is always a little bit cooler at Tiber Waterfront.
Go to EUR (Esposizione Universale Roma) district
Where else should you go if you want to avoid the crowds of tourists in the city center and explore Rome off the beaten path?
There is a nice neighborhood called Esposizione Universale Roma (EUR) just a few metro stops from the city center. This area was built in Mussolini's era.
It is full of modern architecture. The streets in EUR are quite wide compared to the narrow ones in the city center. You can also find many bars, restaurants or outside places to relax there. EUR is totally different than the old town of Rome, it's a truly local spot.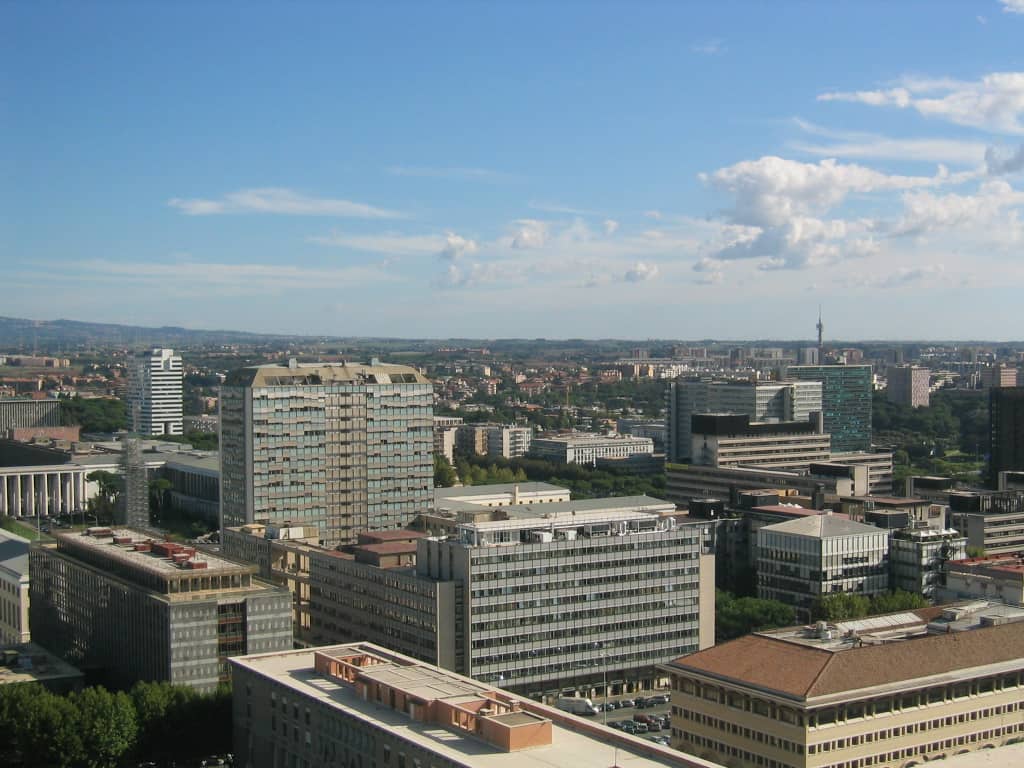 See Rome's main attractions from a different perspective
What should you do if you get bored and tired of walking but still want to see the most important sights in Rome? The solution is to see the Eternal City from a different perspective, and at a different time than all the tourists.
You can try biking, or a joining a Segway tour.
You will see many places that you don't even know existed. It's one of the things to do in Rome off the beaten path. Of course, you will also be able to see all the main touristic attractions of Rome as well, such as the Castle of Saint Angelo, Piazza Navona, Campo Dei Fiori, Vatican City, The Pantheon, The Spanish Steps, Trevi Fountain, The Roman Forum, The Coliseum and more. These places have totally different atmosphere by day and by night though.
Have fun at Trastevere
Where should you venture off next after the tour? Arguably the best place for a drink or aperitivo would definitely be Trastevere.
It is such a historic and cozy area not far from the city center that is full of friendly bars and restaurants with reasonable prices.
During the warm night, the streets get full of people drinking, laughing, talking to each other, and simply having fun. There are also many street musicians and artists to entertain tourists and locals. You will definitely feel the spirit of this amazing city!
In case you want to see the most frequently visited places in the Eternal City, check out the list below:
Popular Things To Do In Rome
Who hasn't heard of Colosseum? It's a place all Rome guides will take you for sure. This antique amphitheater and the cultural center of ancient Romans is one of the most famous places in Rome
It's also where thousands of people and animals were brutally killed in the past… Have you seen Gladiator movie? It shows bloody fights that took place in the coliseum.
Palatine
It's really close to the Colosseum, just across the street.
Palatine is one of the seven hills of Rome, considered as the oldest Roman settlement called Roma Quadrata.
Roman Forum
Forum Romanum is right next to the Palatine. It was the center of Roman public life for centuries.
It was there that speakers gave talks, sellers offered their products, locals hanged out to talk and criminals were tried.
San Marco (St Mark Church)
It's a really beautiful basilica and a national church of Venice in Rome.
Castel Sant'Angelo
Did you watch or read Angels and Demons? It was Castel Sant'Angelo where Illuminati had their hideout!
It's really close to the Vatican City, just behind the bridge.
Pantheon
Pantheon is so old that it was built before the formation of Christianity. It's located at the Piazza della Rotonda.
It was built in honor of the gods and later converted into a Christian church. The interesting fact is that Pantheon's dome is the world's largest unreinforced in the world!
Santa Maria Maggiore Basilica
Also known as Our Lady of the Snows, Basilica of Saint Mary Major or Basilica Sanctae Mariae Maioris.
It's the largest church in Rome. Located at Piazza di S. Maria Maggiore, it's one of the best Rome tourist attractions.
Right next to it, there is the tomb of Gianlorenzo Bernini, one of the best Italian architects ever. He designed, among other things, St Peter's Baldachin, famous St Peter's Square in Vatican city and Fontanna della Barcaccia just below the Spanish steps in Rome.
Piazza Navona
It is known of three beautiful fountains: Fountain of the Four Rivers, Fountain of Neptune and Moor Fountain.
They are really beautiful! Piazza Navona is one of the most famous cultural centers in Rome.
Spanish Stairs
It is a landmark of Rome and a meeting place of locals.
St Paul's Basilica
Basilica of St. Paul is quite far from the other Rome tourist attractions. You can't walk there, either use a metro or take a taxi.
It's worth to go there though. The basilica is really beautiful and impressive. You can find it there at the tomb of St Paul.
Inside the Basilica there's a wall with portraits of all the popes. There is a superstition saying that if all the wall space will be filled with images of popes, the world will end. Don't worry though! There's still a lot of empty circular medallions on this famous wall :).
Pin For Later: