When choosing a romantic holiday destination, many couples automatically think of Paris, Venice, or Santorini. Taiwan is not a place that usually springs to mind. There are many romantic things to do in Taipei Taiwan for couples though.
For people seeking culture and outdoor experiences, there are countless things to do in Taiwan. The island nation's capital, Taipei, is a bustling metropolis known for its night markets overflowing with people and scrumptious eats.
Beyond the constant activity and scooter-filled streets, the city can in fact be romantic; you just have to know when and where to look.
My wife (who is Taiwanese) and I actually first met in one of the least romantic of places: the Taipei MRT. That was 10 years ago when I was teaching English in Taiwan, and since then, we've managed to find more than a few romantic spots in our beloved city. The following are some of our favorites!
10 Romantic Things to Do in Taipei For Couples
Current time in Taipei:
Soak In A Private Hot Spring In Beitou
Beitou Hot Spring is Taipei's own hot spring village, accessible by MRT in half an hour from the city center. Over 20 hot spring hotels in the verdant, steaming valley offer private hot spring rooms for couples to enjoy for 60-90 minutes.
Cheaper options are small rooms with stone tubs, while a little more money can get you a hotel-like room that comes with a bed, in case you are feeling particularly romantic.
Many of the hotels also offer deals including a meal after you soak, rounding out your date. Most center on Japanese food, as Beitou was first developed by the Japanese when they colonized Taiwan.
Beitou will always be special for my wife and I, as we had one of our first dates there!
Find the best hotel in Taipei close to Beitou Hot springs–> here.
Book your Taipei Hot Spring tour online here.
Celebrate One Of Taiwan's (THREE!) Valentine's Days
Yes, you read that correctly. Taiwan has not one but three Valentine's Days. The first is the usual one, on February 14. The second, called White Valentine's Day, is borrowed from the Japanese and comes exactly one month later, on March 14. Basically, it's a day for women to reciprocate and give chocolates of gifts (often wrapped in white) to their partners or love interests.
Last but not least, Chinese Valentine's Day, called Qixi, comes on the 7th day of the 7th month on the lunar calendar (usually in August). Qixi is tied to an ancient legend of the God of Heaven's seventh daughter and her lover, who were banished to opposite ends of the Milky Way and only able to reunite once per year on that day.
Celebrating one or all of Taiwan's Valentine's Days can be fun, but be warned that it can be tough to get a dinner reservation at Taipei restaurants on those days!
Check out more things to do in Taipei:
Go Cycling or Tie a Lover's Lock at Rainbow Bridge
In recent years, a pretty pedestrian bridge spanning the Keelung River has become a hot spot for couples. It's one of the most romantic places in Taipei. The bridge is red (symbolizing love?) and is lit up with rainbow-colored lights in the evening.
On one side, large red letters spell LOVE, and couples have begun attaching locks to the mesh around the letters to stand for the eternal partnership. It's also just a romantic place for a riverside stroll in the evening, or a good point to start a riverside cycling trip in the daytime.
If you get hungry, Raohe Night Market, one of the city's best, is a few steps away.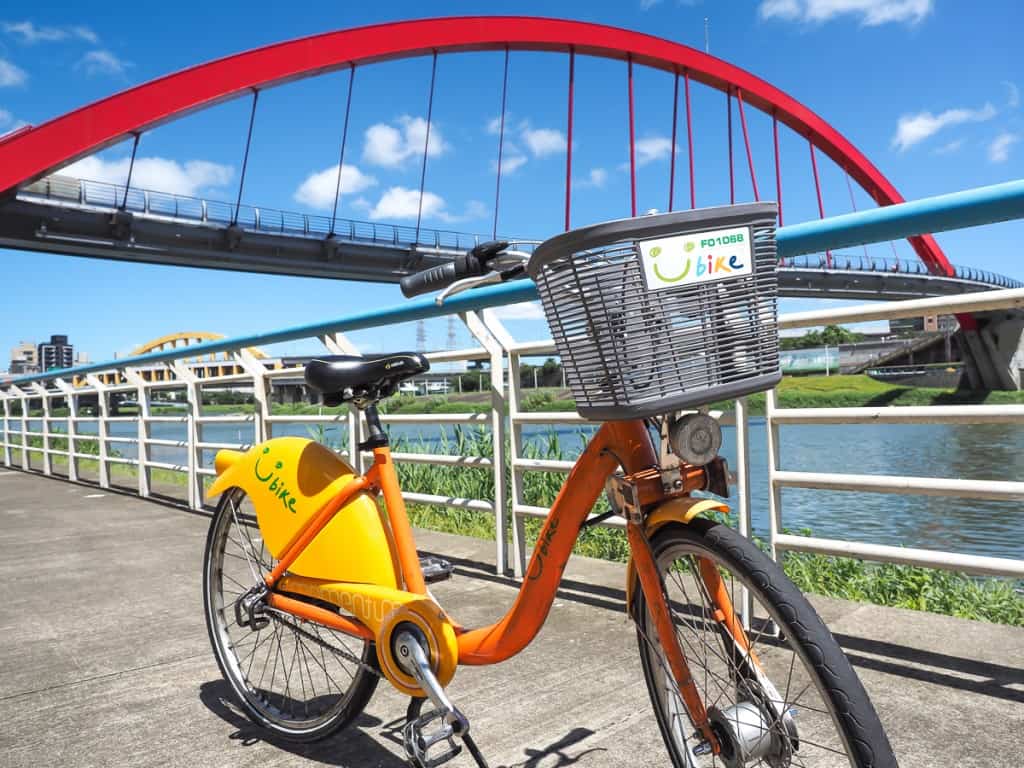 See the Sunset at Danshui
Another popular place for a riverside stroll is Danshui, the northernmost stop on the Taipei City MRT. A popular promenade follows the Danshui river, but lovers should proceed to Fisherman's Wharf, a short ferry or bus ride downstream, overlooking the point where the river meets the sea.
The quiet docks are great spot to gaze at the sea, while sunsets from Lover's Bridge, which connects the docks to the mainland, are unbeatable.
Stay in a Love Hotel
Don't know where to stay in Taipei? While cheap hotels may have a bit of a negative reputation as venues for cheating, spending a few more dollars on a nicer one can be a fun or even romantic couple's experience.
Some offer secret entrances with concealed elevators, so you can pretend you really are doing something naughty. Meanwhile, the interiors can range from cheesy romantic to full-on luxury.
Wego Boutique Hotel is a popular chain of tasteful love hotels in Taipei, with the original location near Jiannan Rd. MRT Station. Like all love hotels, they offer separate prices for "taking a break" (2 hours) or spending the night.
Book your stay at Wego Boutique Hotel—> here.
Get a Private KTV Room
If you're used to Western-style karaoke, KTV in Taiwan is a whole different thing. Here you get your own private room and singing equipment, often featuring hilariously cheesy videos to go along with the songs. You can also order snacks and drinks, including alcohol, to the rooms.
Hitting the KTV bar is not only popular for groups of friends but also couples. Just put on your favorite love ballads and let the magic flow. PartyWorld and Holiday KTV are the two most popular KTV chains.
A similar activity is called MTV, in which you get a private room with a large screen to watch a movie of your choice U2 is the most popular chain. Since it is cheaper, it is a popular choice for teenager couples to get some private time.
Fall in Love over DIY hot pot or BBQ
One of the most common Taiwan couples activities is to eat out, and DIY hot pot and BBQ are extremely popular choices. Since you choose and cook the items yourself, you can feel like you are preparing the meal together, or take turns tending to the ingredients and serving your partner. It's more fun that just sitting and waiting for your meal to arrive.
These restaurants are usually all-you-can-eat, with dishes either ordered from a menu or selected from a buffet-style area. Beer and high quality ice cream such as Haagen Daz is often included. It's tough not to stuff yourself, so going for a leisurely stroll after you dine is a must.
Check out recommended tours in Taipei:
See the Cherry Blossoms in Spring
Late January to early March is cherry blossom season in Taipei, and witnessing this stunning natural phenomenon is truly romantic, if you don't mind the crowds.
For a convenient option, there are some cherry trees at Chiang Kai-Shek Memorial Hall in the city center, but for a more spectacular display, head to Yangmingshan, the mountain overlooking the city, Tian Yuan Temple in Danshui district, or Wulai, an aboriginal village south of the city.
The dates of blooming vary by location and by year, so make sure you look to check out updated blooming forecasts before you go or see recent photos posted from those spots on Instagram.
Book your Yangmingshan National Park tour online here.
Find a Lookout Spot Over the City at Night
We can all agree that there is something very romantic about looking out from a quiet vantage point over a large metropolis when it lights up at night. Fortunately, as a city surrounded by hills, Taipei has several options.
The most popular (and therefore, least romantic) is Elephant Mountain, which offers incredible views of Taipei with towering Taipei 101 in the foreground. It's easy to reach by MRT and only requires about 20 minutes uphill. It can be packed with people, but if you follow the trails further, you can escape the crowds and enjoy views in silence.
Another good option is Jiannanshan in Neihu District, while Yangmingshan is famous for its restaurants (try Chousan 草山夜未眠 or The Top 屋頂上) offering romantic, panoramic, nighttime views of Taipei. Last but not least, try Couple's Hill at Chinese Culture University 文化大學後山情人坡 on top of the mountain.
Sip Custom-Made Cocktails in a Speakeasy-Style Bar
In recent years, "secret" speakeasy-style bars have been a big trend in Taipei. These and regular cocktail bars make great post-dinner date venues for couples. Most bartenders are happy to craft a custom cocktail based on your tastes, or you can choose from the extensive and often creative menus.
Alchemy, Ounce, and R&D Cocktail Lab are some of the best, but there are new ones popping up all the time. For something more fun, try Hanko 60 in funky Ximending neighborhood, which is designed to look like a movie theater, and one cocktail is even served concealed inside a bag of popcorn!
Pin For Later:
The post is written by Nick Kembel, the creator of Spiritual Travels, a site focused on mindful travel, Taiwan and East Asia. He is the author of Taiwan in the Eyes of a Foreigner and has called Taiwan home for 10 years. Most of the photos are Nick's as well.