10 Tips For Planning Your Stay in Israel Like a Travel Pro
Israel is one of the newest (and the oldest!) countries in the world. It was a very powerful state hundreds of years ago. And then it has been destroyed. Jewish people emigrated to different places all over the world (diaspora). They managed to rebuild their country in 1948. Due to the amazing location, between Europe, Asia, and Africa, Israel became a hot tourist destination. In this post, you will read the best tips for planning your stay in Israel like a travel pro.
#1 When?
Israel is great to travel all year round. However, the weather in the summer may be really tiring. The temperature of 31℃ (88℉) may make the sightseeing quite challenging.
The high season in Israel starts on April, ends on October/November and has its peak on July and August. Because of great religious importance, the Holy Land may be quite crowded in the Christmas time.
When is the best time to travel to Israel? January, February, and March seem like the best time. The temperature is mild and perfect for sightseeing. You won't spend much time in the queues to the most important sights, like Church of the Holy Sepulchre or the Western Wall. The prices are lower and it's easier to find good accommodation in the wintertime.
#2 Where?
That's probably one of the most difficult questions to answer! Israel is FULL of amazing places to visit. It's really hard to choose the best of them. Some of the tourist sights that you simply can't miss are:
Dead Sea
Jerusalem (the most important place to visit in Israel, great to go if you are traveling with a family, you will have lots of fun in Jerusalem with kids)
Nazareth
Caesarea
Israel is as well a perfect base for a trip to Petra in Jordan and Bethlehem in Palestine.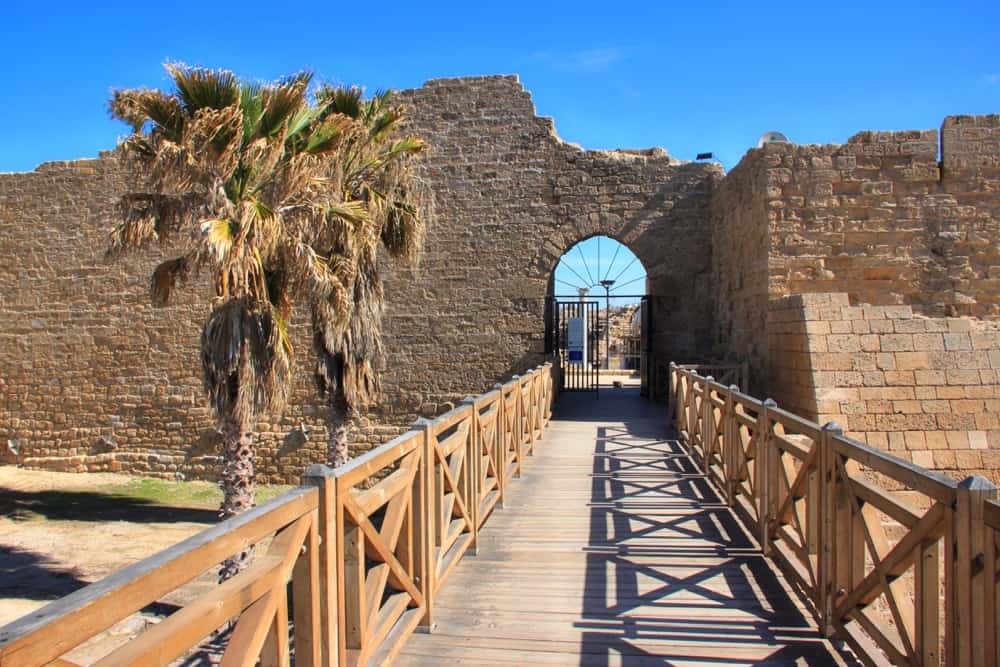 #3 Why?
Before you visit Israel, it's worth to think about why you want to visit this country. Is it because of religious reasons? Or you simply want to explore a new country? Maybe your main dream is to swim in the Dead Sea?
Setting up your goals will help you plan the perfect trip. Northern Israel will be better for those who want to see the churches or follow Jesus's Trail. Those who want to have fun or ride a camel on the desert, Southern Israel seems like a better idea.
#4 How?
There are many ways to explore Israel. If you like being independent, you may think about renting a car. Public transportation is really good in this country, so traveling by buses and trains is very easy. The third (and in our opinion the best) option is to book a tour.
#5 With whom?
We spent 14 days in Israel and our entire stay in this country was amazing. The main reason is that we found a company that was just perfect for us. Abraham Tours organised trips for us and Abraham Hostels were places that we've been staying in. Why we loved it?
Most of the trips were self-guided. The driver took us to 3-7 places a day and gave us time to explore each of them independently. We didn't have to rush or follow the guide. We were traveling in a group but we also felt like we were there by ourselves.
The other awesome thing about Abraham is that they have hostels network all over the country. They organise transfers between them everyday, so you travel from door to door, without carrying a heavy luggage or worrying about getting lost in a new place.
Abraham has 1, 2, 3, 4, 5 or even 10 days trips! You can spend your entire time with them (like we did) or just book a daily trip to the sight you want to visit the most.
We've met many people on the road that book a 10 day trip called Best of Israel & Jordan. They loved it.
Last but not least- travelling with Abraham is a perfect way to meet new people. We will never forget Claudio from Brasil, Jennifer, Esther and Theo from the States, Gosia from Amsterdam, Genevieve from Jisr az Zarka, Steven who quitted his job to help people in the Middle East and fellow travel bloggers: Maya from Trust Me Travel and Katherine & Romeo from Travel the World.
#6 How much?
Israel is not the cheapest countries in the world but it's quite affordable. An average dinner costs 35 NIS (US$10), accommodation in a dormitory room 90 NIS (US$25), accommodation in a private room 400 NIS (US$108).
If you are traveling on a budget, you will spend about 250 NIS a day (US$68). Average daily spendings in Israel are 350 NIS (US$95) per person.
#7 For how long?
If you want to see all the main sights, you should spend at least a week in Israel. We've been in this country for 2 weeks and we didn't have a chance to see everything. The perfect time to explore Israel is 3 weeks.
#8 What to pack?
The most important is to pack comfortable shoes! You will walk a lot to see all the important sights. No matter when you will travel to Israel, it's worth to take the sun cream, sunglasses, and the swimming suit. For more packing tips, check out this post.
Disclosure: We want to thank Abraham Tours & Hostels for a complimentary stay. All opinions presented in this post are honest and our own.
Disclosure: Yay for transparency! Some of the links in the article are affiliate, which means that if you book something by clicking on them, we will get a small commission with no extra cost to you. Your support helps this blog going.