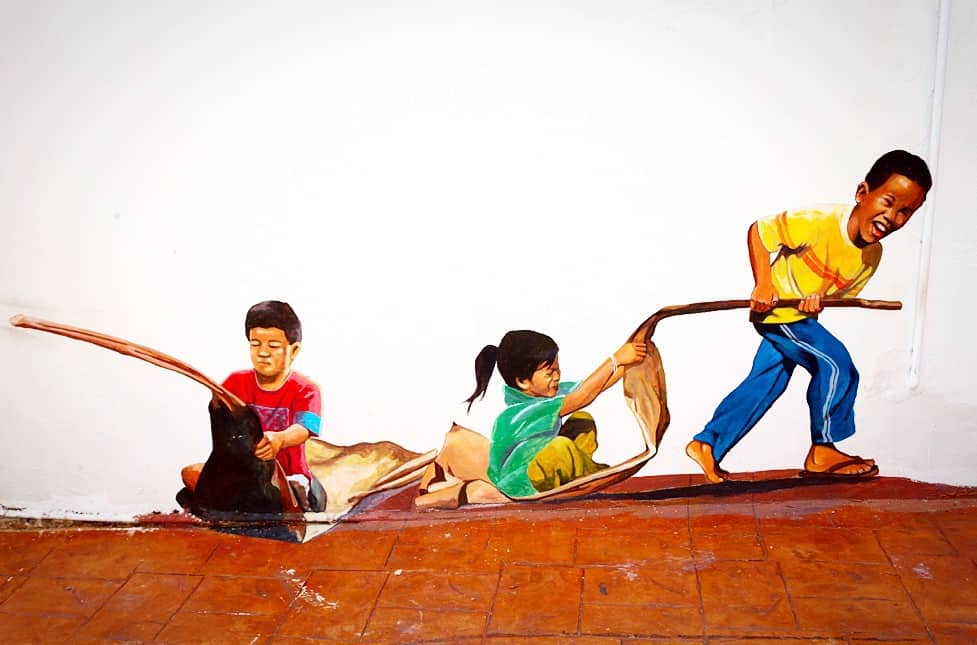 Malacca (also known as Melaka, Malaka or Melacca) is one of the most beautiful places we've seen in Malaysia. It's a peaceful town, situated only 2 hours drive for Kuala Lumpur that recently became one of the Unesco World Heritage Sites. It has awesome street art, amazing architecture and a river. Narrow streets and bridges make Melaka similar to the famous Venice. There are many places to visit in Malacca and we believe that it is the best city break destination from KL!
Malaka is a colonial city, during the centuries it belonged to Great Britain, Portugal, Netherlands and Japan.
There's a strong European influence in Malacca's architecture. We've spent the last 5 months in South East Asia and we really had a blast in Melaka! We felt almost like home. If the temperature and humidity were lower, we would have thought that Malaka is situated in Europe.
Top 10 places to visit in Malacca
Jonker Street
The most famous street in Malacca. You will find many awesome shops and restaurants there.
Jonker Street is the best to visit at weekends, after the sunset. Why? Because of the walking street. Every evening from Friday to Sunday Jonker Street transforms into even more colorful place. You can try there local food, buy a souvenir and even get a henna tattoo! Below, there's a picture of me with traditional Indian Mehndi on my hand. Isn't is beautiful? 🙂
2. Malacca River
River is the most beautiful thing in Malacca. Without it, this town wouldn't be so charming.
Photos taken at the riverside are amazing, no matter if you are taking them during a day or at night. Most tourist take Melaka River Cruise to see the town from the ship. Ticket for the cruise are really cheap, only RM15 ($4) for adults and RM7 ($2) for children.
What we loved about Malacca River is that it's so peaceful. We spent hours sitting at the coast and watching the water. It was a very relaxing experience, something that we really needed.  The hustle and bustle of Kuala Lumpur may be really overwhelming, that is why Malacca is a perfect city break from KL.
3. Dutch Square (Red Square)
Square full of colourful trishaws, stalls with souvenirs and red buildings (including Protestant Christ church, the oldest one in Malaysia).
Dutch Square is one of the best places to visit in Malacca, it's the most touristy place in the whole town. It's situated just across the street from the River.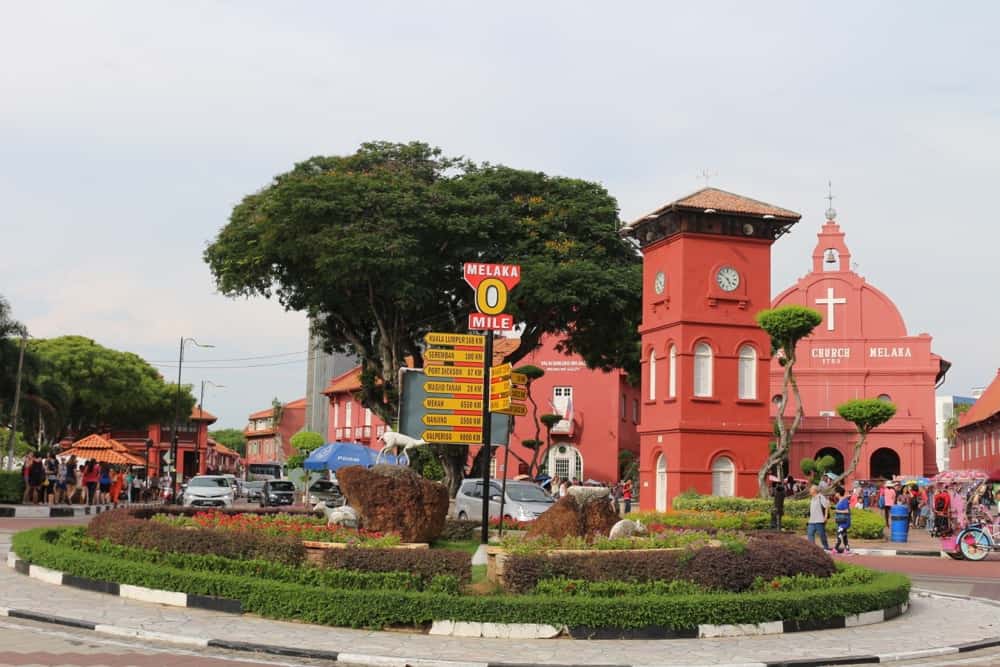 4. Street art in Melacca
Melacca has an amazing street art, the best that we saw in Malaysia. Even better than in famous Penang.
We couldn't understand why Jonker street, full of shops and restaurants is always crowded, and little streets with beautiful street art are empty. Maybe it's because most people come to Melaka for a weekend city break. They are tired of hustle and bustle of big city (Singapore, Kuala Lumpur), they are not interested in art and taking photos.
For us, discovering street art in Melaka was amazing. The paintings on the wall are colourful and funny. We were wandering around the town and taking photos of Malaka's street art. Even though we've been there at weekend, we were almost always alone. There were no people around us, which was awesome.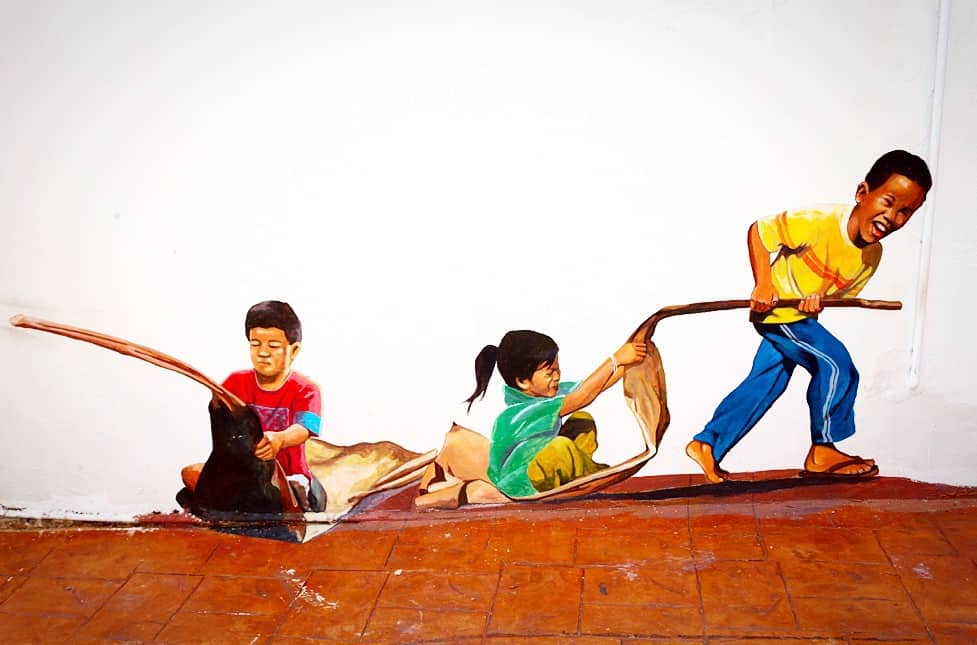 5. St. Francis Xavier Church
The most famous Christian church in Melaka. It is active, so there are masses there almost every day.
We've attended one on Sunday and we were quite disappointed. It was crowded and a sound system in the church was terrible. We couldn't hear anything. So it's not the best place to pray but definitely great to take photos!
6. The Orangutan house in Melacca
Something for art lovers! The Orangutan House is a place where local artist, Charles Cham, sells his artwork (including fancy t-shirts).
Why we think it's one of the best places to visit in Malacca? Mostly because of the building itself. The big Orangutan street art looks really impressive and it just can't be missed.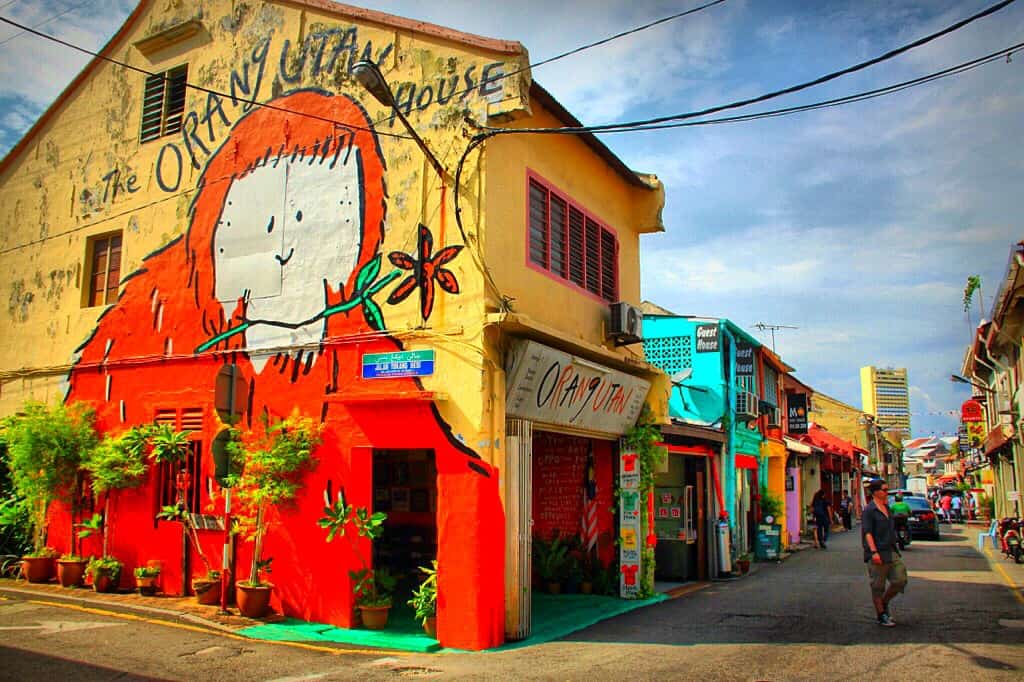 7. St. Paul's Hill
Also known as Bukit St. Paul. In the past, the hill was famous because of the St. Paul's church, the sacred places for all Christians living in Melacca.
Now the church is not active any more and St. Paul's hill became a historical place. If you are lucky enough and the weather is good, you will be able see the sea from the top of the hill.
8. Queen Victoria's Fountain
Beautiful fountain situated in the heart of Dutch Square. It was built at the beginning of XX century by British colonisers.
it's a monument worth seeing because it's one of the last traces of the British colonial era not only in Melacca but also in the whole Malaysia.
9. Chinatown
Something for foodies! The most delicious and also the cheapest food in Melaka, you can find in Chinatown.
If you want to get there, the best is to rent a bike and ride. Bikes for rent are available almost everywhere in Malaka. Prices are really low, about RM30-40 ($8-$11) for the whole day or RM6-8 ($1.5-$2) for one hour.
10. Menara Taming Sari
Menara Taming Sari is a 80 metres high tower. It is the only place, where you can see Malacca town from the above.
Ticket price is RM20 ($6) for adults and RM10 ($3) for children.
Have you ever been to Melaka? What's the best street art that you've ever seen? Share your thoughts in comments!
Disclosure: Yay for transparency! Some of the links in the article are affiliate, which means that if you book something by clicking on them, we will get a small commission with no extra cost to you. Your support helps this blog going.