Best Places To Visit In Myanmar
The main reason why it's worth to travel to Myanmar is that it's probably one of the less-visited places in South East Asia. Most tourists that are traveling to this region, choose other countries like Thailand, Vietnam, the Philippines, and Malaysia. It's so refreshing to explore the rural areas where you can see the everyday life of local people. They are friendly, smiling, and willing to talk to you (even if they can't speak English sometimes). With the help of our blogging friends, I've created this list of the most beautiful places in Myanmar.
Is It Worth To Spend Holidays In Myanmar?
Before showing you all of these amazing tourist attractions in Myanmar, let's go back in time. I want to show you how it is to actually be in this country. After traveling around South East Asia for a long time, we didn't really have many places yet to discover. We wanted to go somewhere new so after a quick discussion, Burma won with Laos and we booked our tickets. When we get into the taxi in Yangon, our jaws literally dropped.
The old car took us through the rainy streets of a big city. You could tell that it's neither in Europe nor the US because of the architecture that is specific only to Asia. The random people walking on the streets were SO different to all that we've ever seen. They were beautiful. Both men and women were wearing long skirts, some of them were splitting with red mucus that looked like blood. It sounds disgusting but the truth is, we couldn't stop looking at them. We could tell that Burmese embrace their culture and that they didn't really care about adjusting to the Western world. It was so refreshing. When we got to our hotel we were really hungry, so we went to the local restaurant. And that's where we hopelessly fell in love with Burma. My mouth literally waters right now, only by thinking of Burmese food. We've always thought that Thai food is the best in the world. It turned out Myanmar is a runner-up. Or maybe even a winner.
Anyway, let me take you to Burma, one of the best countries in the world. I really hope the beautiful places in Myanmar that you can see below will inspire you to visit Burma!
Yangon
Heading to Yangon? Check out the best tours in the city!
Shwedagon Pagoda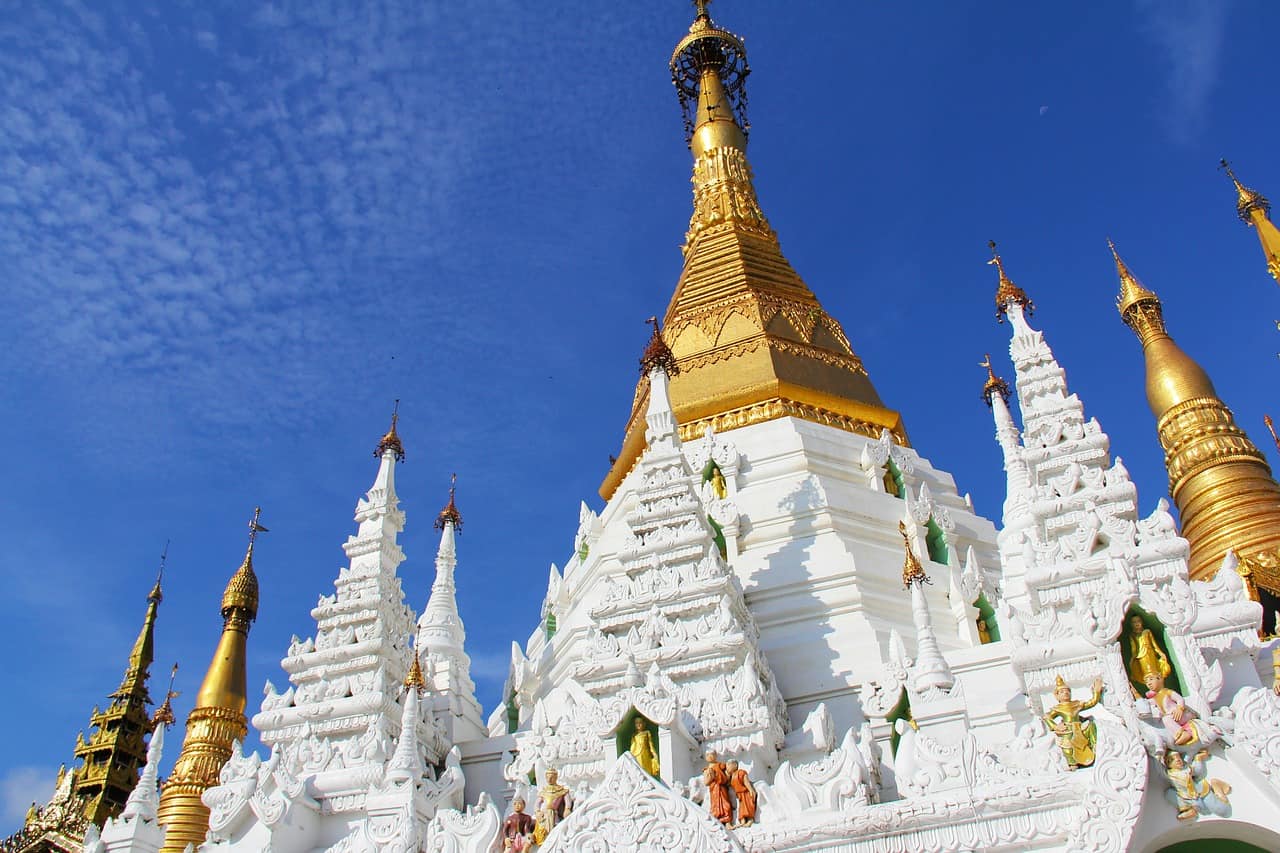 I had been told Shwedagon Pagoda was not only one of Myanmar famous places but also the best thing to see in the country, and I have to agree – it's amazing!
Shwedagon is a big site with many pagodas and images of Buddha. The centerpiece is a 325-foot zedi, adorned with gold and gems which is believed to enshrine hairs of the Gautama Buddha. It's a spectacular sight but it's also just a nice place to wander, sit back and take in the relaxed and unique vibe. No wonder why it's the famous pagoda in Myanmar – this place really is special.
Sule Pagoda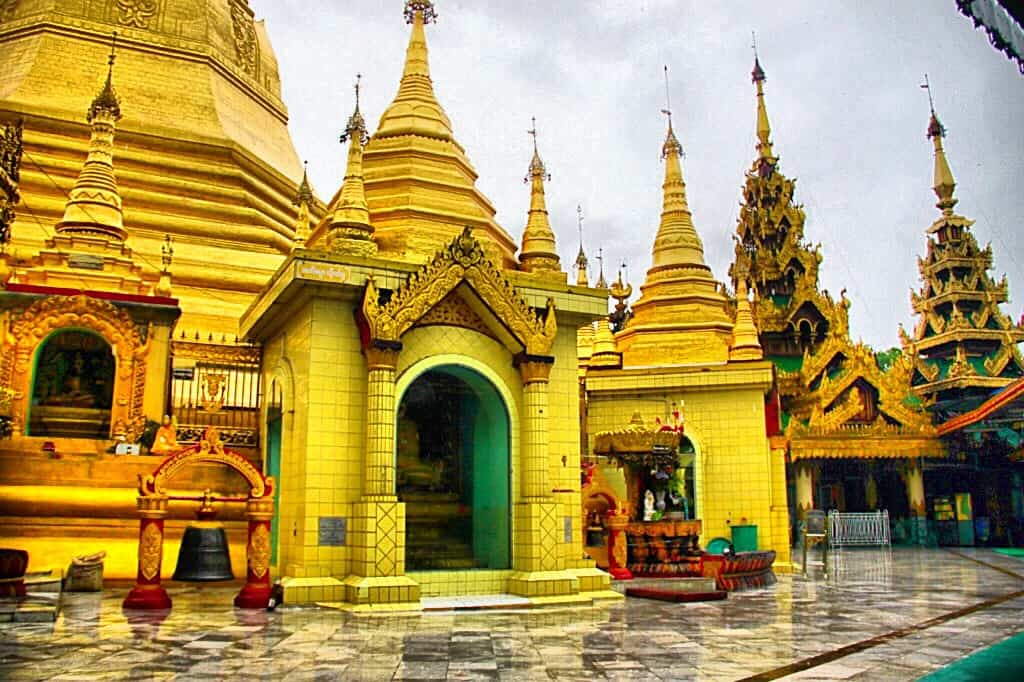 It is believed that Sule Pagoda is one of the oldest temples in the world. Burmese people claim that it was built more than 3,000 years ago! It is situated in Yangon, just like the Shwedagon Pagoda.
Why I loved it? Mainly because it was peaceful and quiet. Not many tourists visit Sule Pagoda and that's what makes it beautiful. We spent more than an hour there, sitting and watching local people praying. It was an amazing experience!
The architecture of the Sule Pagoda is great as well. Almost everything has a golden color and it's shining beautifully in the sun. If you are looking for Myanmar beautiful places, that is your place to go!
Inle Lake
Check out the best Inle Lake tours here.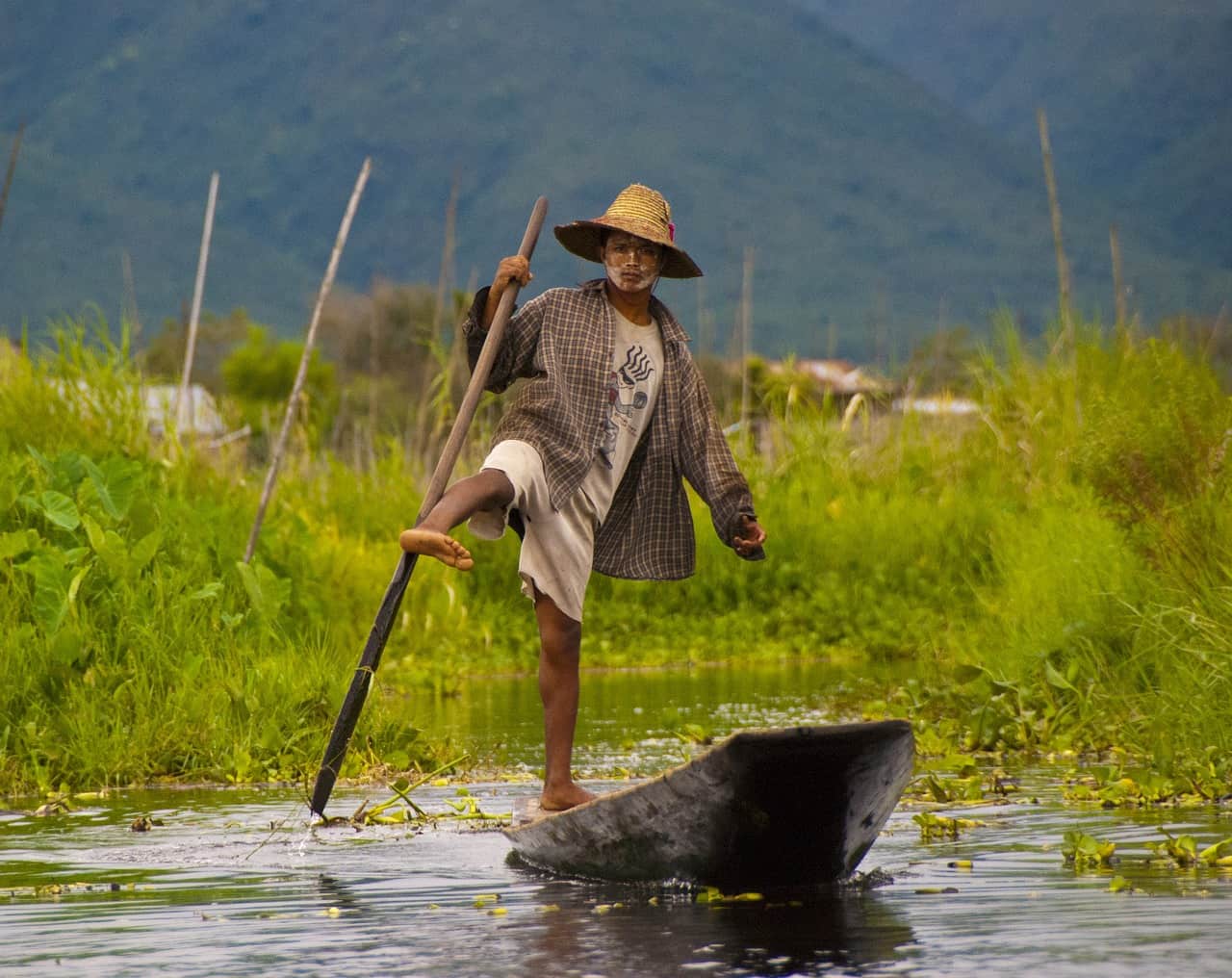 Hire a wooden boat for the day and prepare to be amazed. You will travel back in time on Inle Lake where fishermen are known for their unique one-leg rowing technique. Watching them beat the water with a paddle and move about with one leg is a sight to behold. I was more captivated by daily life on the lake though.
Mix with locals stocking up on wood at the weekend market and wave at villagers washing, cooking, and playing soccer along the shores. Pop into the many traditional craft shops on the lake where friendly villagers and long neck women will demonstrate techniques they have practiced for centuries. You'll leave Inle Lake with hundreds of pictures, handcrafted souvenirs, and a memory to cherish for a lifetime. Be sure to add this place to your bucket list, as it's one of the best Myanmar destinations to go.
Long Neck Tribe
Myanmar is comprised of many different ethnic groups and tribes, each with their own unique traditions. One common one is to safeguard their women from neighboring tribesmen who may try to steal them away. The answer? Ugly-fy them to make them less appealing. For example, in the Northern Chin states, women used to have their faces tattooed, but this practice was banned in the 1960s.
Also, the long-necked women of the Kayan tribe in East Myanmar, wear brass neck coils around their necks from a young age. Over the years, the weight of the brass pushes the women's collar bone down, compressing their rib cage. Some of the women of the Kayan tribe gather at the very tourist Inle Lake where you can meet them in person.
Kalaw
Kalaw is a beautiful mountain town in the Shan State of Myanmar and the starting point for many popular multi-day treks that regularly leave for Inle Lake.
Even if you're not doing a trek, this spot is worth a visit.
For one, besides the local trekking tourists that come through, Kalaw shows a more local side to Myanmar that you won't find in Bagan, Mandalay, or Yangon.
There's a bustling market where you can find clothes and local handicrafts. At 4,330 feet in elevation, it gets colder in Kalaw than other parts of the country, so this is where you can find warmer clothes that you might not have packed and interact with locals.
One of the best experiences in Kalaw is hiking up to the Thein Taung Monastery to explore the Buddhist architecture and take in the expansive views over Kalaw and its enveloping nature below.
There's a lot to love about this small mountain town, it's one of the most beautiful places in Myanmar. It's worth the journey if you're looking for a relaxing place to spend time in nature, get to know locals, and enjoy the best parts of Burmese culture.
Kalaw is still relatively unknown by a lot of travelers so enjoy its non-touristy nature while you can. And, don't forget to try a big heaping bowl of delicious Shan Noodles while you're in town!
Trekking from Kalaw to Inle Lake
While most of the world's great hikes end with a high-altitude summit, a trek from Kalaw has an endpoint of an entirely different kind.
After 61 kilometers of trekking through remote villages, becoming immersed in local life, and sleeping on monastery floors, you'll wind up at the spectacular Inle Lake. You won't miss the scenic overlook at all! The lake is one of the Myanmar landmarks so it's hard to be missed when you are traveling to this country.
Red Mountain Winery
The pagodas and temples of Myanmar are absolutely breathtaking but we found ourselves in need of a down day in between busy sightseeing days. Enter Red Mountain Winery in Inle Lake!
The winery is set on a beautiful hillside with sweeping views of Inle Lake and the nearby town of Nyaung Shwe. Plus, you can ride a bicycle right up to the winery, passing through the vineyards on the way. We chose to do a tasting and found a white we loved! So we ordered a bottle and relaxed on the terrace overlooking the vineyards. A great way to spend a relaxing day during your vacation in Myanmar!
Pindaya
Not many people have heard about Pindaya, Myanmar. When I mention the most famous attraction in the area, the Pindaya Caves, a series of caves where you can find a collection of more than 8,000 Buddha sculptures, it rings a bell, followed by "Is that the only thing to do in Pindaya?".
Well, definitely not, Pindaya is one of the most beautiful places in Myanmar, a place that is off the beaten path with a different vibe than the other areas in Myanmar.
You will be mesmerized by the unique sights and gorgeous agricultural landscape of Pindaya. Patches of various greens, browns, and yellows are woven together into a marvelous natural quilt. Boys riding their buffalos on the way to the field, motorbikes passing with huge piles for straw, rags and other miscellaneous.
Other than the Pindaya Caves and the beautiful sights in the area, be sure to visit the local artisans and family-owned workshops around Pindaya. They are much more authentic than the ones you'll find at Inle Lake.
From drying the leaves with which the famous cheroots cigars are made to watching the different phases of making rice-paper umbrellas, we had a taste of the more authentic side of Myanmar. So if you are looking to see one of the most beautiful areas in Myanmar, where you'll get a taste of the real rural Myanmar without the crowds, put Pindaya on your bucket list!
Golden Rock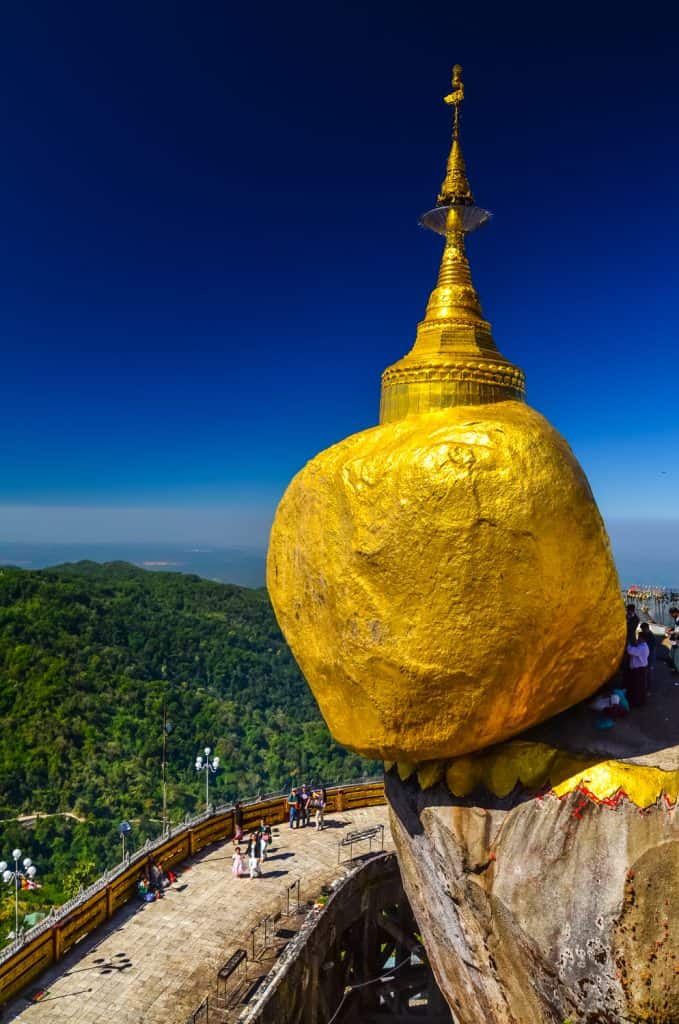 Kyaiktiyo Pagoda (also known as Golden Rock) is a giant rock covered in gold which balances at the edge of a cliff. It is a popular pilgrim site, thousands of Buddhists come to this place from all across Myanmar. According to the legend it is defying gravity thanks to Buddha's hair. Pagoda is located at the top of Mount Kyaiktiyo, 1,100 meters above the sea level.
The Golden Rock is the holiest place of the whole complex, where you can find several temples, smaller pagodas, and other institutions. Ladies are unfortunately not allowed to enter the inner sanctuary directly by the Golden Rock but don't worry, you'll get close enough to take great photos of the pagoda.
As a foreigner, you are required to pay an entry fee. As the Golden Rock complex is a place of worship, prepare to walk the last 450 m to pagoda barefoot.
How to get to Golden Rock?
You need to get to Kinpun village, where is Golden Rock base station located. You can get there from Yangon by direct bus or by train to Kyaikto and then take a shared pick-up to Kinpun.
There are local trucks going from Kinpun to the Golden Rock. Ride up takes about 30 minutes and it might feel a little bit like a roller coaster. It's 1 more kilometer by walk from the upper truck station.
Bagan
Have you heard of the ancient city of Sukhothai in Thailand or Angkor Wat in Cambodia? Burma has a UNESCO World Heritage Site like this as well. The ancient city of Bagan is one of the best places to visit in Myanmar.
Watching the sunrise over Bagan is one of the bucket-list experiences in Burma.
Secret Temple
UPDATE: The temple Is Not Accessible Anymore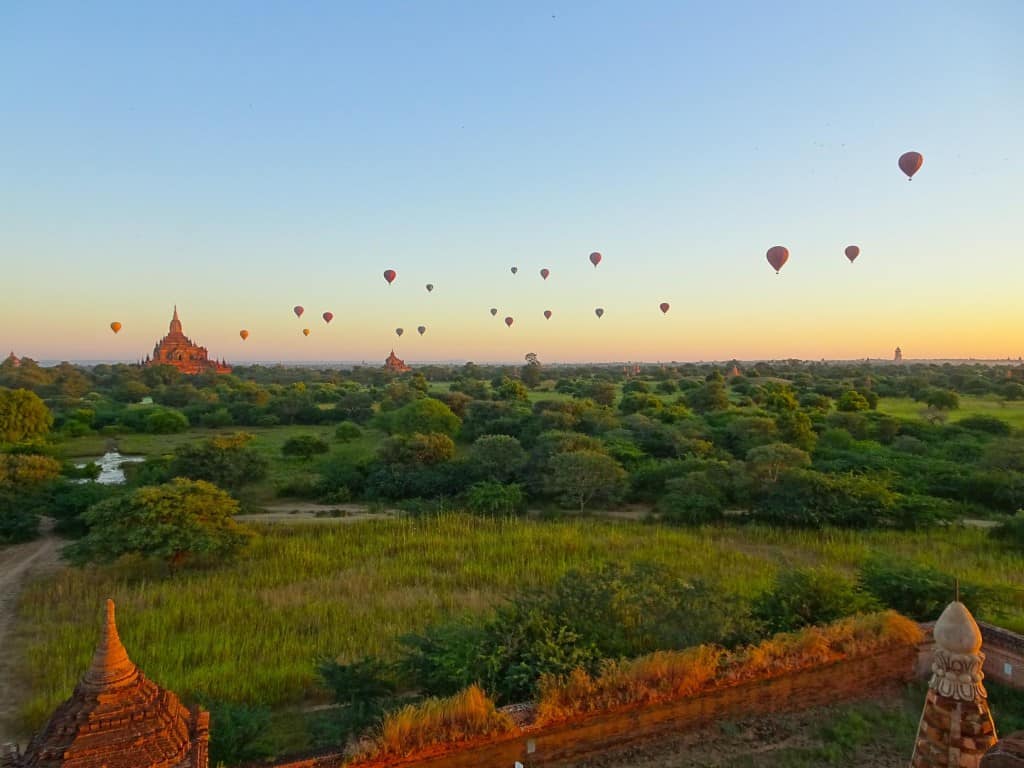 If you wonder what to do in Burma, travel to Bagan to watch the sunrise. Getting up at the crack of dawn isn't for everyone but you need to do it while in this ancient city. It's an experience of a lifetime!
While some choose to watch the sunrise from a hot air balloon, I chose to watch from the top of an ancient temple. Bagan is filled with thousands of temples. Of course, this means they are filled with tourists; making the moment more crowded and less magical than one would hope. However, thanks to a tip, I managed to find a 'secret' temple. The one that doesn't appear on the maps and is known only by locals and those of us who were lucky enough to be told about it.
With any luck you (and your friends) will be the only ones there; watching the sky change colors as the sun bursts over the horizon, air balloons floating overhead. No crowds, no unwanted noise, and no pushing and jostling to get a photo. Just you and your friends, and maybe a local or two, watching the start of a new day.
My secret temple is located just outside of Old Bagan, close to Sulamani temple. For more about the experience and directions click here. It's really worth to go to one of these Myanmar visiting places that no one knows about!
The Many Thousand Temple in Bagan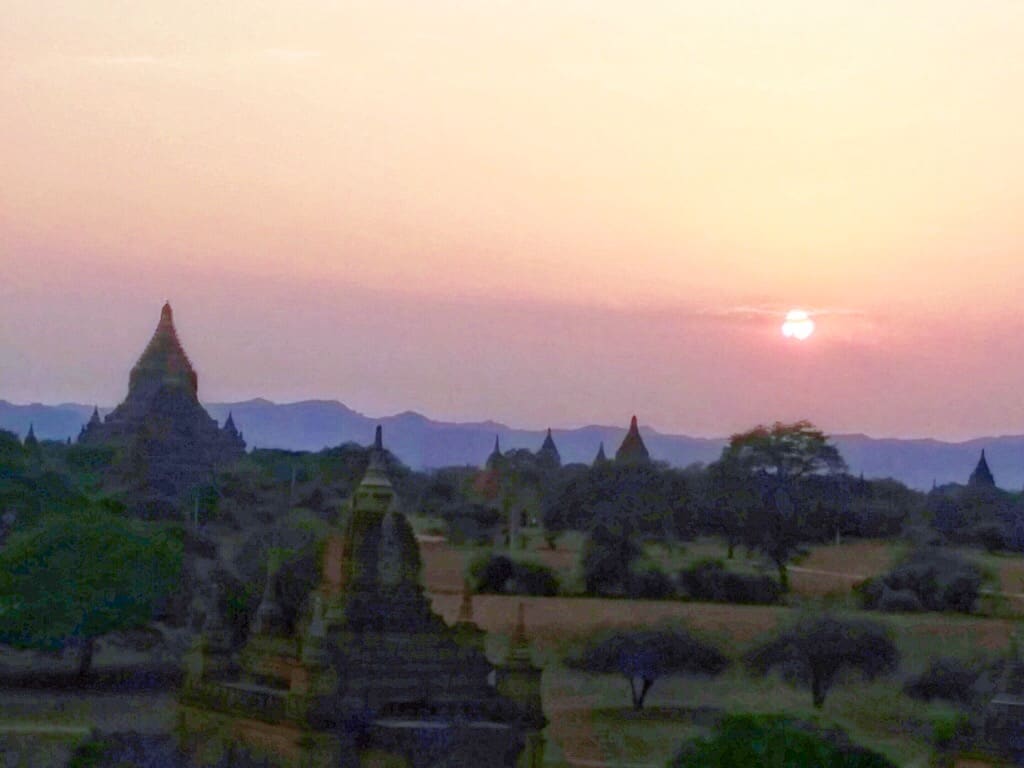 With more than 1,500 Pagodas in Bagan, I'm privileged to climb the 10th century-old Pagoda that is surrounding the beauty of this town. This experience will forever be locked into my memory bank. That feeling while waiting for the sun to set around a very peaceful afternoon with the musty smell of the sand, and solemnly hears the blow of the wind.
It was an opportunity, not all have experience and I'm lucky to have traveled that far and be in that moment. For I've heard after that time, climbing the many century-old Pagoda in Bagan has been prohibited until at present. Never miss visiting Bagan when you are in the country. It's one of the most beautiful places in Myanmar.
Nyaung U Market Bagan
The Nyaung U Market in the Old City of Bagan was one of the highlights of my trip to Myanmar.
I loved how everything was so cheap, and the people were friendly (even if you didn't buy anything). You can find everything from clothes, to food, and even household appliances at this market. Most of the tourists don't think of shopping while visiting one of the top Myanmar attractions, still, it's a good place to buy some souvenirs.
Ngwe Saung
A white beach, a sandbar, and delicious seafood – Ngew Saung has it all! To make things better, there's a spot on the beach with two little pagodas to make your sunset viewing epic! The name Ngwe Saung means silver beach in Burmese and is an apt description.
The main beach of Ngwe Saung appears to be "endless" because it stretches for many kilometers. When the tide is low, a little sandbar emerges that leads to Lovers' Island. Ngwe Saung is easy to reach from Yangon by an overnight bus and is a destination that should not be missed. It really is one of the top Myanmar beautiful places.
Mandalay
U Bein Bridge
Not to be missed when you are in Mandalay is the world's longest teakwood bridge, one of the best tourist attractions in Myanmar. Made up of 1.2 kilometers of teak planks salvaged from an old Amarapura palace, U Bein Bridge is still very much used by the locals today.
It is also not uncommon to see saffron-robed monks walking with tourists and locals alike. The best time to go would definitely be sunset and you can opt to hire a boat to capture the bridge with the sunset.
While Bagan is famous for the sunrise, U Bein Bridge is one of the best places to visit in Burma to watch the sunset.
Mingun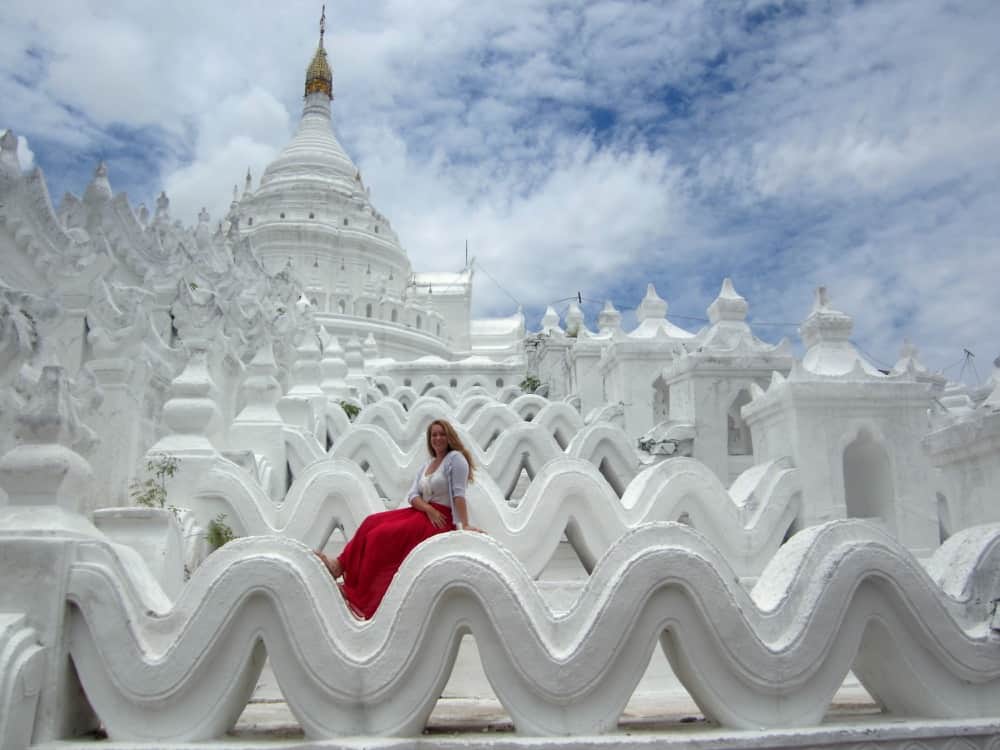 Take a tour, hop on the back of a motorcycle taxi in Mandalay and spend a half-day in magnificent Mingun, one of Myanmar must-see spots.
Mingun is about 40 minutes drive from Mandalay, or you can get a boat down the Irrawaddy River which takes approximately an hour and costs only a few dollars. I recommend getting the boat, as its a nice cruise down the river. We were unable to do it due to time constraints.
Mingun is best known for the Mingun Pahtodawgyi, an immense, unfinished pagoda commenced in 1790, had it had been finished it would be the biggest pagoda ever built. Standing at 50m high its mind boggling to think this is only one third of its intended height. The pagoda suffered significant damage from an earthquake in 1839 causing large cracks in the surface of the structure. The pagoda is still used as a place of worship today.
The Hsinbyume Pagoda is another famous pagoda in Mingun, the Hsinbyume Pagoda was built by the Bagydaw prince as a way to show his love for his first wife, Queen Hsinbyume, who unfortunately lost her life during childbirth. Its beautiful architecture and terraces which appear like white waves, you're free to explore and take photos while posing in the waves. Our tour guide took his drone and we had fun creating videos, the stark white structure against the bright blue sky was spectacular.
Make sure you visit King Bodawpaya's gigantic bell. The Mingun Bell, weighs in at 90 tons, and remains the second largest ringing bell in the world today.
Kya Hnyat
The small village of
Kya
Hnyat
is located along the
Irawaddy River
in the far northern reaches of Myanmar. This is a simple place where people are desperately poor but reveals the joy of life and the endearing hope of young children.
I visited an orphanage where the children happily played soccer and rode bicycles, as well as a monastery filled with young monks learning the ways of a Buddhist life yet still filled with playful and mischievous charms.
Mrauk-U
Mrauk U, the once-prosperous capital of the ancient Arakan Empire is now a sleepy little town in northwestern Myanmar. But it hides many secrets among its ruins and age-old temples.
Take a trip to Mrauk U if you are looking for stories from a glorious past and willing to discover them on your own. Yes, that's right. A good part of Mrauk U still lies in ruins. Many pagodas are covered by thick layers of vegetation. Some of them are mounds of stone waiting to be put together. Try discovering some of these ruined pagodas while hiking up a hill in Mrauk U. You will not come back disappointed.
Apart from these discovery hikes, there are plenty of other things to do in Mrauk U. Many of the temples that have been restored look forward to welcoming tourists. The most remarkable among them are the Shittaung, the Dukkathein, and the Andaw Thein pagodas. And the best part is there are no tourists here. Mrauk U gets less than 5000 travelers every year while Bagan, its more famous counterpart, gets more than 250,000.
Therefore, if you are looking to do something really offbeat in Myanmar, head to Mrauk U. You can get here by car from Sittwe, the nearest city with an airport. The journey takes about 3 hours. And once here, do not forget to try the delicious Rakhine shrimp curry at a local eatery after your discovery hike.
Mawlamyine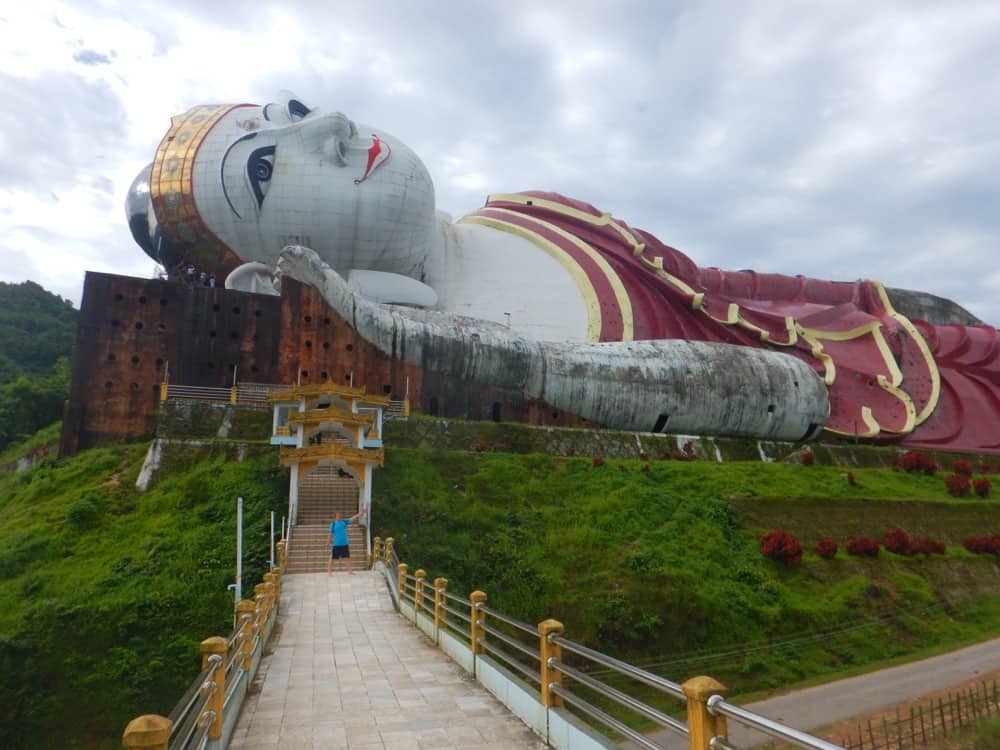 If you like nature, getting off the beaten path on a motorbike, and giant Buddhas, Mawalamyine needs to be on your radar when you are looking for Myanmar places to visit. Located 300km Southeast from Yangon, this gorgeous coastal city has a fascinating history with so much to explore. One of the highlights of our time there was riding a motorbike to the Win Sein Reclining Buddha.
At 180 meters long and 30 meters high, it is the largest reclining Buddha in the world. Inside the Buddha is a museum featuring life-sized models depicting the life of the Buddha as well as graphic scenes of hell, death, and destruction. It's a bit freaky at times, so bring a flashlight and a friend! Besides exploring the Buddha, you can ride your motorbike along the surrounding roads leading to many other impressively large statues.
The higher up the hills you climb, the vaster the views become of green trees, mountains, and the ocean in the distance. Up on the hills, there are killer views for the sunset! We were fortunate to meet and be blessed by U Myint Oo, the then 94-year-old monk who spearheaded the building of the Buddha back in the 1990s. We also met a large group of pilgrims who were making their annual visit to work on the construction and maintenance of the Buddha. They invited us to join them for dinner in the temple where they were all sleeping for the night.
That's what we love about this country; wherever you go there are incredible sights and kind strangers waiting to become friends. Plus, there are so many Myanmar interesting places that it's hard not to love Burma.
Thanbyuzayat War Cemetery
A popular day trip when in Bangkok, Thailand is a visit to the Bridge On The River Kwai and Kanchanaburi. It's one of the famous places in Myanmar that are located close to the Thai border.
This is where the Thailand- Burma railway line that was constructed by Allied prisoners of war during WWII begins. What is considerably less visited is the other end, 415km away in Thanbyuzayat, Myanmar. Around 12,000 Australian, British, Dutch and American POW died during the construction of this railway. Many of them were never repatriated so cemeteries in Thailand and Myanmar were created as a final resting place. Having been to Kanchanaburi and visiting the cemetery there I felt it was my duty as an Australian to pay a visit to the Thanbyuzayat cemetery when I was in Myanmar.
Located approximately 90 minutes south of Mawlamyine the drive takes you through small Burmese villages. As is the case with all Commonwealth cemeteries around the world the Thanbyuzayat cemetery is immaculately kept and well maintained. It looks completely out of place along a dusty road with livestock and street vendors surrounding it. Grave plaques provide names of soldiers, their ages, where they're from and perhaps a short quote from a loved one. There are rows upon rows and it's quite overwhelming to know that most of these men didn't make the age of 30. Thanbyuzayat is a really moving place, and when reading the guest book of visitors who have come and found the graves of their relatives it's enough to bring tears to your eyes.
Pin For Later:
Which of these places would you like to visit the most? Do you know any other Myanmar beautiful places? Remember, sharing is caring. Share your thoughts in comments!