The Philippines is one of the most amazing countries in South East Asia. It is like heaven on Earth. Some landscapes and photos in this post look too good to be true! What are the most beautiful places in the Philippines? We've spent less than 3 weeks in this wonderful country that's why we asked our friends and fellow travel bloggers to help us in writing this guide. Each of them chose their favorite travel destination in the Philippines.
Here is the map of the most amazing places in Philippines:
Romblon Island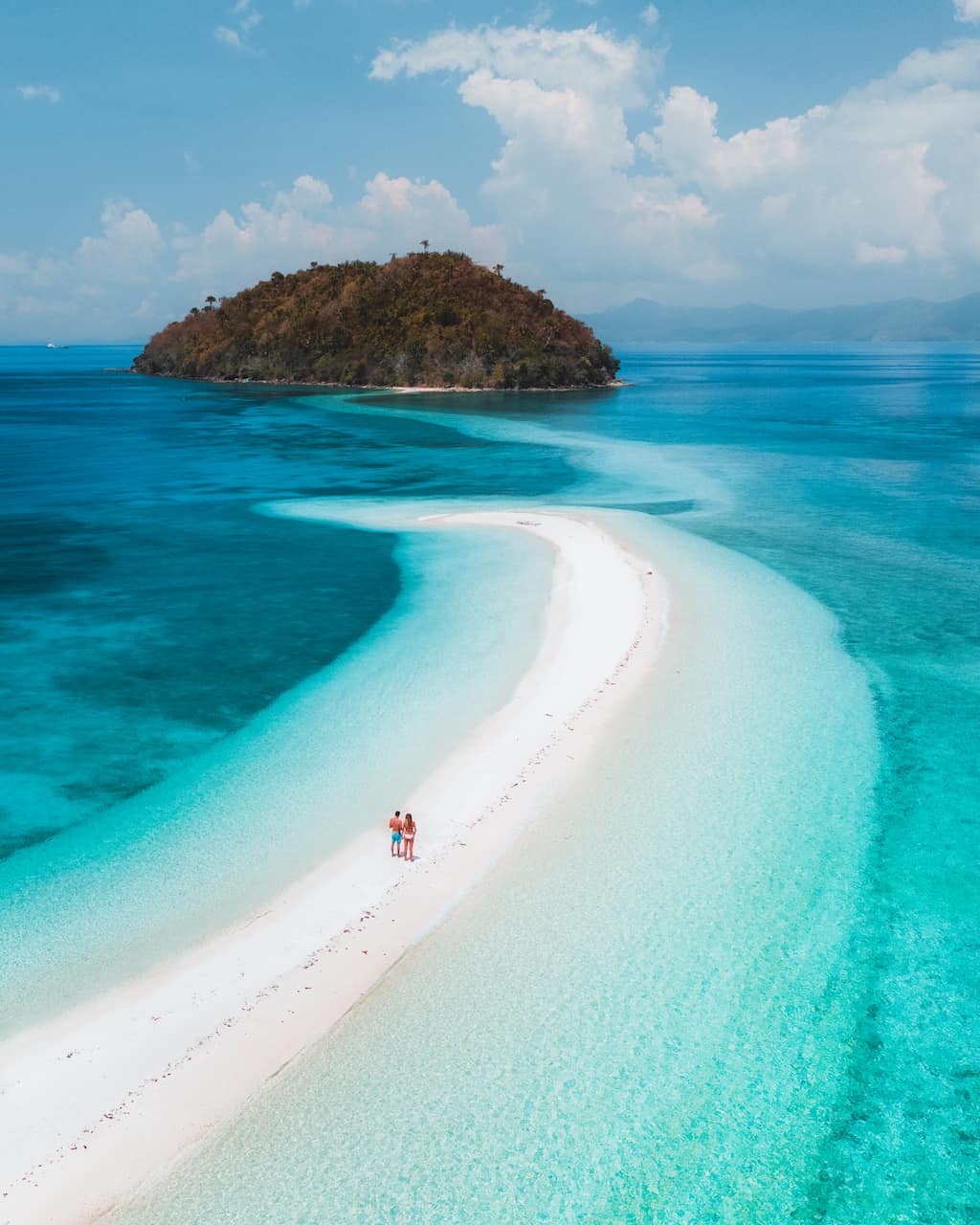 When it comes to finding one of the most beautiful places in the Philippines, you have to put the effort in to get there. It took an internal flight and 3 local ferries for us to reach Romblon Island but every second of that journey was worth it. If you spend the time to get here you will be richly rewarded with amazing beaches, friendly local people, and almost no tourists.
The main reason that we traveled all the way out here was to visit Bonbon Beach, which has a long sandbar that extends out into the beautiful blue water. We hopped on a scooter and made the short journey out to visit this amazing beach.
Bonbon Beach is one of the most beautiful beaches in the Philippines. It is absolutely stunning and what made it even better was that we had it all to ourselves for over an hour in the middle of the day. It was a special moment walking along the sandbar with nobody else around.
There were plenty of other amazing places to visit on Romblon Island and we spent a few days riding around on a scooter to see all the island had to offer. We also rented a private boat for the day from a local fisherman and spent the day exploring the neighboring islands.
Our few days here were awesome and getting to see places this beautiful with almost no other tourists is what motivates us to keep exploring!
Palawan
Flower Island
Contributed by Stefan from Nomadic Boys
Flower Island is a hidden island gem about an hour away from Tay Tay on
Palawan
. It's one of the most beautiful places in the Philippines and the tourist spot you can't miss.
Located in the heart of a huge privately-owned pearl farm, the island only ever has several people on it at once.
Flower Island is surrounded by untouched coral which makes it perfect for snorkeling. The best thing to do there is to just grab a coconut, lie on a hammock on the beach and enjoy life in paradise!
Culion
Contributed by Lina from Divergent Travelers
Easily overlooked and hard to get to, the island of Culion offers an intimate look into the history of the once largest Leper Colony in the World. It's one of the beautiful places in the Philippines you should add to your bucket list.
Tour the old hospitals, meet the descendants of the original population, and learn about the World's efforts of containing this once misunderstood condition.
When you're not doing that, grab a kayak and paddle over to Crowning Glory Reef, arguably the best snorkeling spot in SE Asia where you can gawk at Nemo in waist-deep water. The best part of visiting Culion, there are no crowds of tourists and it is very off the beaten track.
Coron Island
Contributed by Breanna Smith from Chalkie and The Chippy.
Coron Island is one of the best places to visit in the Philippines. It is located south of Manila and is easily accessed by either taking a ferry or by flying from other major airports in the Philippines.
It can sometimes be confusing as to where "Coron" is. There is the Coron Town located on Busuangan Island, and then there is Coron Island just a 30-minute boat ride from Coron Town.
Coron Island is where you will find all the exquisite beauty. However, as it is private land owned by a local tribe, you cannot stay here. Therefore, Coron Town is where you will find plenty of accommodation options and restaurants.
Just like El Nido, Coron offered plenty of dramatic landscapes and epic day trips! The most popular thing to do here is to take one of the many boat tours to sunken shipwrecks, reefs, islands, beaches, lakes, and lagoons.
You can either take a group tour or a private one to plan your own route. The most popular locations for a day trip to Coron Island are Kayangan Lake, Barracuda Lake, Twin Lagoon, Banul Beach, Malwaey Coral Garden, and Skeleton Wreck.
Dumunpalit Island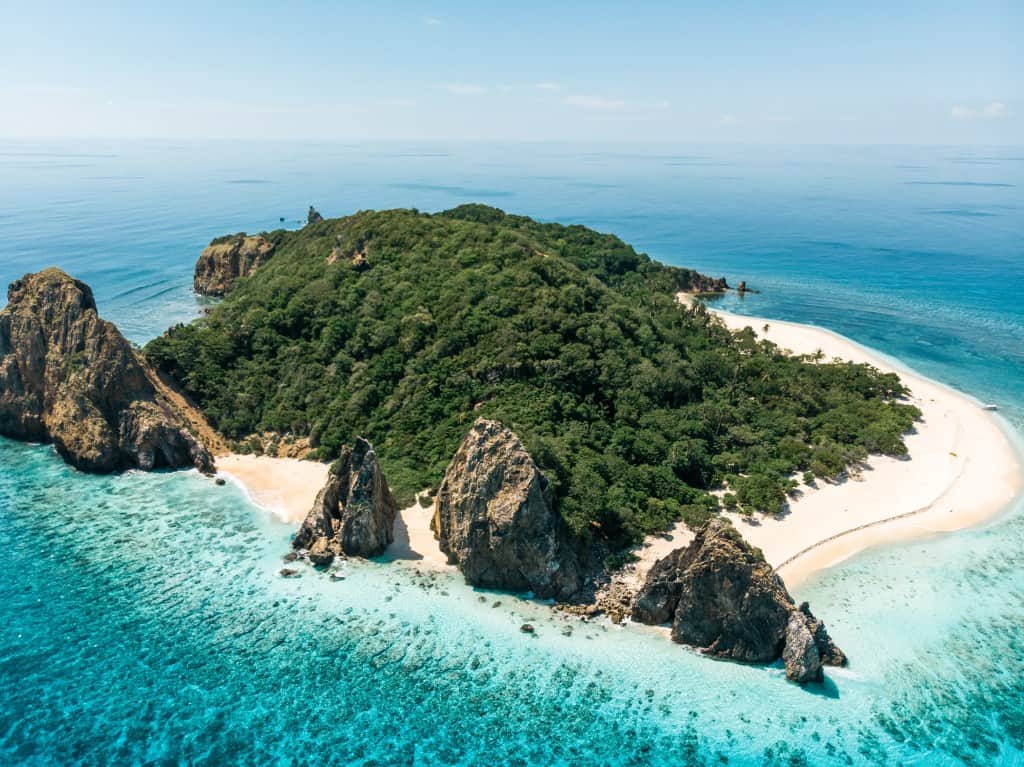 Dumunpalit Island isn't the most popular of Coron tourist spots but still, it may be considered as one of the most beautiful places in the Philippines. This remote island is located in Coron, in the province of Palawan.
If you want to get to Dumunpalit Island you have to go to Marican Port close to B. Reyes Airport in Busuanga an hour by van from the Coron town. Once you are there rent a boat is one hour and a half ride to get there. You can only go when the weather is good since on the way back to the island in the afternoon will be wavy.
Once you are there you have to pay an entrance fee of $4 USD per person. There is no electricity and you have to bring your own food and water. The snorkeling is amazing since the sea is so clear.
There are caves but the water is so calm and you can swim around. During our stay there, we didn't see anyone on the island apart of the family taking care of it. We spent the whole day and for us, it was the most beautiful island in the Philippines so far.
El Nido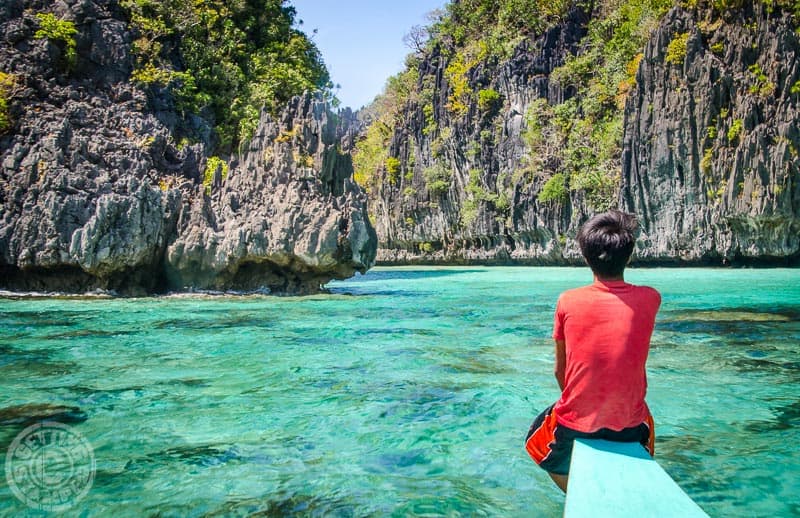 The Philippines is a whole is an amazing country and should be on every traveler's bucket list but if I had to pick one specific tourist destination in the Philippines it would be El Nido.
It is a journey in itself to get to but well worth it. There are tons of things to do in El Nido but for sure you can't miss the day trips my personal favorites were
Tour A
and
Tour C
.
Every night I loved to head to the beach for happy hour and watch the sunset. Another awesome but odd thing about El Nido, head to Altrove for the best pizza we had in all of Asia. No matter what you do in El Nido you'll have a blast it's magical.
Go to El Nido Resort on Pangulasian Island, which is an eco-luxury resort with bungalows on a white-sand beach.
What is their not to like about it? Fly into a private airport, take the Jeepney bus to the Banca boat and enjoy the magical breezes as you glide into a cove facing the emerald-colored Bacuit Bay on the South China Sea.
It is luxury, eco, and beach perfection all rolled into one. You can thank me later!
Port Barton
Port Barton is one of these beautiful places in the Philippines you cannot miss. It's yet to be discovered beautiful little sister of the famed El Nido on Palawan island.
It is not easy to get to, there are no fancy resorts, power is restricted to a few hours per day and wifi is spotty at best.
These are just a few of the reasons that Port Barton is one of the must see places in Philippines. Add to that the fact that the streets are not paved, the beaches are pristine and unmarred by development and absolutely nobody is in a hurry to get anywhere and you have pure paradise.
Days are enjoyed by lounging in a hammock, doing yoga on the beach or island hopping on a longboat. Nights are spent dining on the sand by candlelight and listening to soft live music or simply staring up at the stars. It's a perfect place for a relaxing getaway…but please don't tell anyone!
Cebu
Cebu Island
Cebu Island is one of the most beautiful places in the Philippines. It's an amazing island with a huge variety of things to do, perfect for any type of traveler. Whether you're looking to hike to beautiful viewpoints, to snorkel with all sorts of marine fauna, or swim in cool waterfalls, Cebu has it all.
Most of the main attractions are located in the southern part of the island, so I recommend making the cute seaside town of Moalboal your base for your time in Cebu. In Moalboal you can snorkel with turtles and sardines, and enjoy some beautiful sunsets on the beach.
Moalboal is also close to the popular Kawasan Falls. These are a series of waterfalls, famous for the bright turquoise water of the river and pools. Kawasan Falls is also a popular canyoneering spot. Loads of travelers come every day to slide and jump into the clear water of Kawasan Falls, or even just to float about and enjoy a day in the jungle.
Another popular spot near Moalboal in Cebu is Osmena Peak. The hike up to Osmena Peak is pretty short, just over 20 minutes, and the views you will be rewarded with are well worth it. Osmena Peak is surrounded by jagged rocks, and has 360 views from which you can see the sea and all the surrounding hills.
Cebu Island offers loads of fun activities for the adventurous travelers, but also loads of relaxing opportunities if you're looking for a quiet island break. It's one of the best islands to visit in the Philippines.
Camotes Islands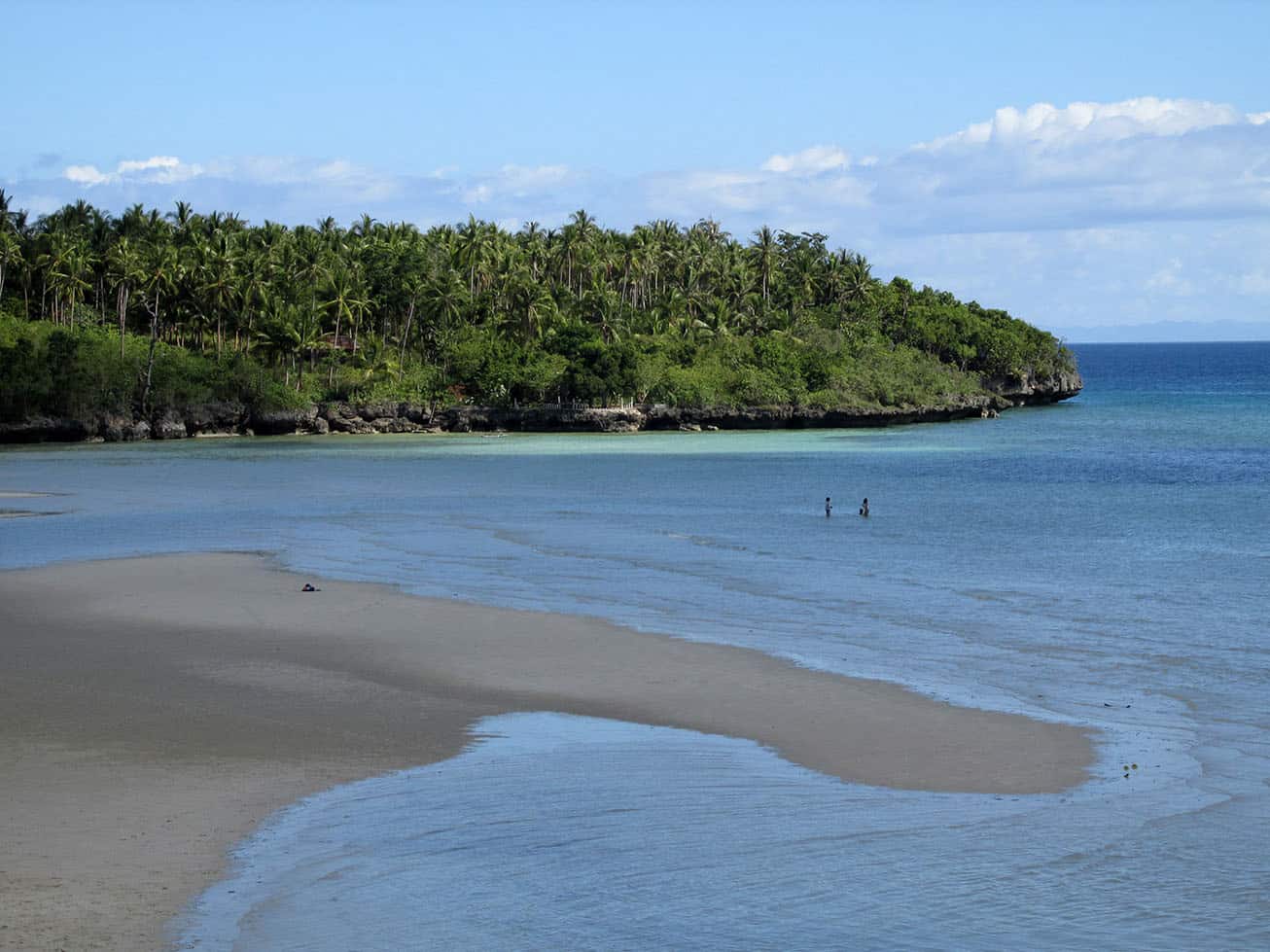 If you are looking for less popular Philippines destinations, visit Camotes islands: Pacijan, Poro, Ponson, or Tulang Diot. They are a 2-hour ferry ride across Cebu and yet so pristine.
From Pacijan, you can go to Poro crossing a bridge through lush mangrove forests.
You have to take a boat to go to the other islands. Take note that there are no sandy beaches on Poro or hotels in Tulang Diot. Consequently, it's best to stay in Pacijan or Ponson.
The islands are scarcely populated and have no proper medical facilities or public transport. The good thing is you won't find huge hotels, food chains, malls, or any western style sameness.
Nature rules here! All you have to do is bring a smile, admire the beauty of our planet, and let the Filipinos pamper you. They are as nice as their country!
Malapascua Island
contributed by Justin from True Nomads
Whether you are an avid scuba diver or not, if you look up "Paradise" in the dictionary, Malapascua would be its first example. White sand beaches, palm trees, friendly people, not overcrowded, year-round warm waters… This is how paradise should be. It's one of the best places to go in the Philippines.
And if you ARE a scuba junkie like me, Malapascua also happens to be listed as one of the best dive locations in the world. Besides the countless opportunities to see unique and exotic macro critters that we all love, from minute frogfish to colorful Nudibranch to tiny seahorses, Malapascua's other claim to fame is Monad Shoal, where you can see the ultra weird thresher sharks.
For these reasons and so many more, Malapascua is still one of my favorite places to visit on Earth!
Siargao Island
Siargao Island is one of the beautiful places in the Philippines you cannot miss. Covered in an abundance of palm trees lining bright white sand beaches, it is guaranteed to steal your heart. Siargao is famous for its excellent surf break around the aptly named Cloud Nine, with swells to suit anyone from a beginner to professional surfer.
However, beyond this, Siargao has so much more to offer in terms of immense natural beauty and awesome activities.
After a few days of catching waves, hire scooters to explore the islands' well surfaced and quiet roads – perfect for less confident drivers. Moped rental is notoriously cheap, at just 400 Pesos (approximately $8) per day, including two helmets. In just one day of adventuring, it's possible to see incredible coconut forests, beautiful crystal clear rock pools, and rivers with swing ropes, all often with no other visitors.
It's also possible to use Siargao as a base to embark on day trips to one of the many surrounding pristine islands. Siargao is on the brink of breaking through with tourism, with more and more visitors every year. For now, it still holds its stunning authentic charm and therefore must be high on your list of places to go in the Philippines.
Jomalig Island
If you're looking for a not-so-touristy Philippines places to visit I recommend Jomalig Island in Quezon province.
Going to this island is not that easy. It will take 4-5 hours bus ride and another 5-7 hours boat ride depending on the weather and wave. The best time to visit the island is during the summer season. Once you arrived on the island, you will step on the golden sand of Salibungot Beach. Local homestay owners will also welcome you with a smile and will assist you in the registration and fees.
Since this is a province area, expect to stay in a hut with an electric fan, mat, and a pillow. But what's best is staying in front of the beach. Electricity is also very limited so bring a power bank with at least 20KmAh. Mobile signal is 3G only or at times no signal at all. For the food, you can ask your homestay owner to cook for you with an additional fee. They also serve fresh lobster and crab. There is also a mini store nearby where you can buy basic needs during your stay.
On the next day, hire a habal-habal or motorcycle driver to tour you around the different beaches of the island. My favorite is the Alog White Sand Beach that can be compared to Boracay's sand and crystal-clear water.
Albay
The province of Albay rhymes with adventure! Even if the area is not well known in terms of tourism, it's one of the most beautiful spots in the Philippines.
Picture Mount Mayon, a volcano, surrounded by palm trees, waterfalls and chili peppers. If you dare try something different, you should also try their famous chili ice cream!
While you're around Legazpi city, you should go on a raft on Sumlang Lake, hike the seven Busay Falls, and drive a quad bike around the volcano.
Donsol
Donsol is a small town located in the eastern point of Luzon Island in The Philippines.
Until recently the town was not well known to tourists but has newly become famous due to its eco-tourism endeavors. Whale Shark conservation has increased tourism and provided jobs to local people in the area, and now Donsol is one of the few places in the Philippines where you can experience an ethical encounter with these gentle giants while helping organizations like WWF and LAMAVE with their conservation efforts.
You can get to Donsol on an overnight bus from Manila or fly into nearby Legazpi airport and take a bus for the rest of your journey.
Relax in this quiet seaside town, swim ethically with Whale Sharks and visit beautiful waterfalls and caves that surround the area. You will soon discover that Donsol is one of the most beautiful places in the Philippines.
Bohol
Panglao Island
A tiny island attached to the southwest tip of the main island of Bohol, Panglao surprises with its beauty. This place has a typical laid back "island vibe" which may not be that easy to find in El Nido or Cebu.
The most popular beach here is Alona beach which has sugar-white sand and the clearest blue water.
However, if you explore further, you can find a few more beaches that are as beautiful as Alona beach but usually empty.
One of the best things about this island is that you can explore it on your own for cheap without taking any guided tours. It's one of the amazing places in Philippines that shouldn't be overlooked.
Bohol
It's not easy to choose only one reason to explain why Bohol is one of the best Philippines tourist attractions.
Some people might find the white sand beaches the best reason to visit Bohol. Or the unique Chocolate Hills, over 1,000 hills that during dry season turn brown like chocolate cakes. What about the man-made forest and the Loboc river? And let's not forget the Balicasag Island, one of the best snorkeling spots in the Philippines.
The combination of the stunning nature and the lovely people is what makes Bohol a special place to visit.
Boholanos are super friendly and happy, after 2 minutes of conversation they will invite you to meet their family, try some home-cooked food, or sing together in a karaoke. That all make Bohol one of the top destinations in the Philippines.
Batanes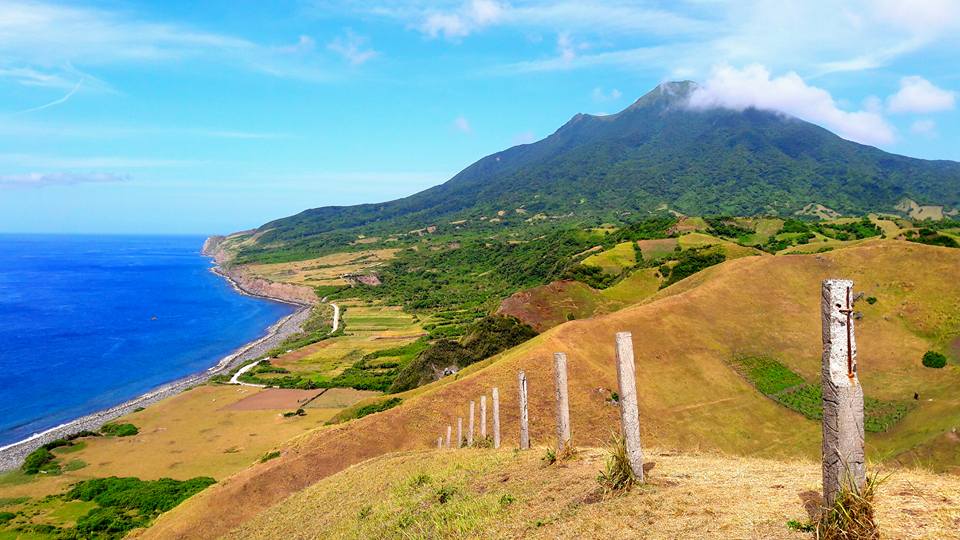 Called as the 'Home of the Winds', the islands of Batanes are must-add to your list of must see places in Philippines.
This northern group of islands holds a kind of beauty that is truly unrivaled and it remains to be a serene hidden paradise that can instantly capture anyone's heart.
Besides, with its dramatic coastline, white sandy beaches, lush forests, and picturesque hills, you'll be magically drawn into its unique tranquility and allure.
The top 'must-dos'? Frolick around the sweeping hills of Naidi in Basco and Marlboro in Mahatao, laze around the picturesque beaches in Sabtang and Valugan, immerse yourself in the Ivatan culture (food, art, music, festivals) hike up the majestic Mt. Iraya, among many others!
The Cordillera Region
Ifugao
Ifugao is known for its native villages and for its famous rice terraces. It's one of the amazing places in Philippines everyone should visit. This destination is the ideal spot if you enjoy trekking. Picture the Cordilleras, which are already stunning, and add many rice fields around.
The area is protected by the UNESCO, so be ready to get lost with an amazing 500 shades of green. You'll be crossing the rice terraces, many waterfalls and you'll be surrounded by hard workers, cute kids, chickens, and dogs.
Once you'll reach Banaue, prepare yourself for many more divine landscapes. These tiny villages at the bottom of the mountains will make you realize how lucky you are and how you have nothing to complain about.
Sagada, Banaue, Batad
If you were to ask me about amazing places in Philippines, I'd be stuck between El Nido and the Cordillera Region in North Luzon. While I'm a beach girl at heart, if I REALLY had to choose, I'd pick the Cordillera region. Sagada, Banaue, and Batad left an everlasting impression on me, and the energy experienced was truly magical. I'm pretty sure it's the stunning mountain scenery that keeps everyone in the most wonderful mood with smiles plastered on their face and chillaxin vibes felt throughout that's to blame.
I explored Banaue and Batad together.
Banaue
was a stunning sleepy village tucked away between hills and rice terraces and going just beyond this area, you'll see the majestic views offered. Hazy mountain tops, cascading rice terraces, little clusters of shacks and tin roofs, and small roadways winding through it all.
Taking it a town over to Batad, you'll see this tenfold. The rice terraces are grander and the roadways have become small narrow walking paths. One misstep and you could end up amidst the rice field. Hiking through the rice fields is incredible and going down further into them will reveal a phenomenal waterfall.
After this experience, I thought why not chill out in Sagada before going back to hectic Manila? I'm so happy I left time to experience this little spot. The charming village is a hilly quiet spot to seek refuge.
However, if you want to be a bit more adventurous, I suggest climbing through the long cave connection. When else can you say you've hiked and swum through a cave lake for hours through dark caverns and down holes with nothing more than a latern? Don't forget the creepy, yet intriguing hanging coffins as well!
Boracay
Boracay is one of the most beautiful places in the Philippines and my new favorite place in the whole wide world and there so many reasons to visit.
The perfect white sand beaches, the clear blue waters, and of course it's very cheap to travel within; accommodation can be as cheap as 300 PHP at The Boracay Treehouse. One of the best hotels in Boracay is the Shangri-La Boracay which has its own private beach! prices start at approx. 18,000 PHP per night.
Make sure to gorge yourself on some delicious chili chicken for approx. 120 PHP at a restaurant called "smoke" or enjoy happy hour at any one of the many many restaurants along the beach!
Activities in Boracay are also very affordable such as ATV riding, parasailing, Fly Fishing (not with a rod), Island hopping, or helmet diving (and so many more!), all for less than 1000 PHP.
Last but not least, the sunsets are not only free to look at but they are also incredible and different single every day. To sum up, Boracay is definitely the best travel destination Philippines!
Caramoan Islands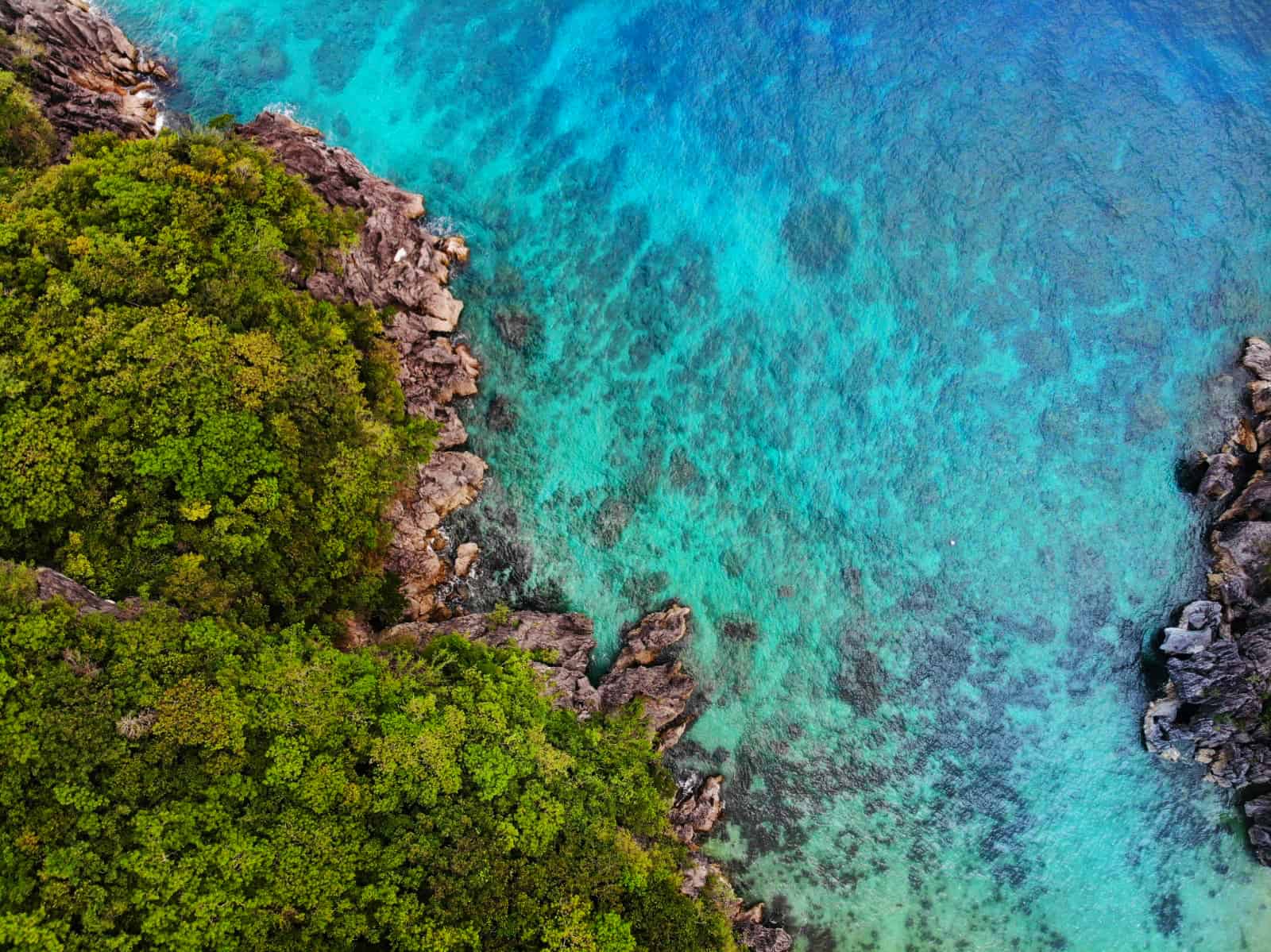 Secluded
Caramoan Islands
can be listed as the hidden tourist spot in the Philippines. They are largely unexplored and found on the edge of the Camarines Sur in the Bicol region of the Philippines.
If you're looking for the pristine Philippines beaches, powdery white sands, spectacular marine life, and stunning rock formations, then this far-flung jewel is your ideal tropical destination.
Though the inaccessibility ensures the islands sandy beaches and turquoise waters remain a secret Filipino paradise, so it's worth staying 3 or 4 days to make the long journey worthwhile.
The best way to spend your day is to island-hop from one serene spot to the next. You'll be blown away by the beauty. Not to mention the fact that apart from a few local fishing families, the islands are deserted, and it's easy to see why this location has been used to film the hit TV show 'Survivor'. It can be easily listed as one of the most beautiful places in the Philippines.
Siquijor island
Siquijor is an island associated with mystic traditions, thus, designated as "The Island of Fire". It's one of the top destinations in the Philippines not only because of its mysteries that have been averted by most of the Filipinos for a long time, merely because of the horrific stories about shamans, folklores, and black magic.
The island's continuing popularity nowadays was derived from its sorcery, magic, and enchanting nature that had made its success when local tourism pushed their limits to let the nation know what this island can offer.
This is an isolated island that has its own gem, the alluring exotic beauty had recently captured the heart of the tourists, not to mention, it's clear blue water surrounding the peninsula fulfills the desire of the visitors to enjoy.
Pin For Later:
Which of these places would you like to visit the most? Do you know any beautiful places in the Philippines? Remember, sharing is caring! Share your thoughts in the comments!