The Most Christmassy Places in The World
Christmas is the most amazing time of the year. During this special wintertime, you can really feel the love and magic in the air. There are two ways to celebrate Holidays: stay at home, decorate it, bake gingerbread cookies and checking if you were naughty or not on the Xmas morning. The second way is just as interesting: you can travel to one of the most Christmassy places in the world!
We asked our friends and fellow travel bloggers to share with us their favorite Xmas destinations. We also added a few that we like the most. Hope they will fuel your wanderlust and inspire to make this Christmas unforgettable.
Most Christmassy Places In The United States
The North Pole, Alaska
The North Pole is a sleepy suburb of Fairbanks, Alaska. In the wintertime, a blanket of snow covers the peaceful town, giving visitors the feeling of stepping into a winter wonderland.
The North Pole was given its holiday-themed name in 1944, in a bid to attract a toy manufacturing company to the town. The hope was that the company could advertise toys as being made in the North Pole. Though the company never materialized, the name stuck.
Today, the North Pole takes advantage of its name and location to draw visitors to its landmark Santa Claus gift shop and holiday-themed streets. Notable street names in town include Santa Claus Lane, Snowman Lane, and St Nicholas Drive.
Each year, thousands of children write letters to the town's post office in hopes that Santa will answer their Christmas wishes.
Check out the latest hotel prices for Alaska—> click here.
New York City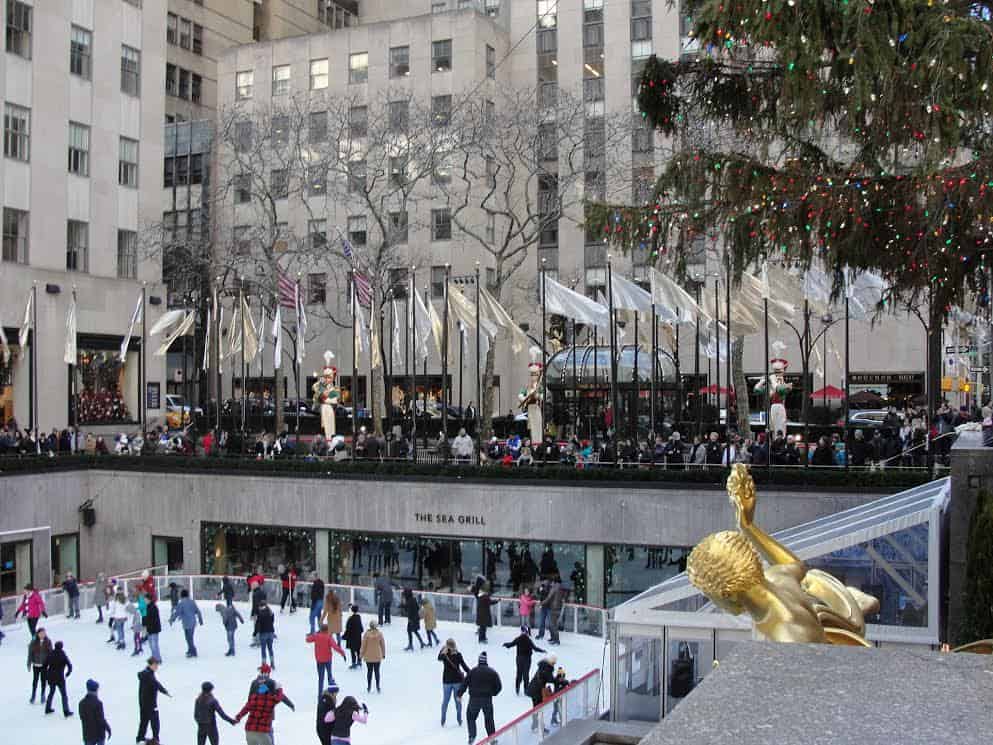 NYC rolls out the red carpet for Christmas. And it usually has the weather going for it, sometimes with snow and always with crisp nights making the lights look extra bright. Be sure to see the Rockettes kick up their heels at Radio City Music Hall and admire the famous tree decorated with 45,000+ lights at Rockefeller Center.
After that, walk south along Fifth Avenue to look at the magnificent window displays in the big department stores.
Check out the latest hotel prices for New York City—> click here.
Santa Fe
Christmas in Santa Fe, the second oldest city in the USA, is special. Downtown lights up with fauxlitos (plastic versions of farolitos, bags filled with sand and a lit candle). The historic Plaza is ablaze with colorfully lit trees.
The Christmas Eve Farolito Walk on Canyon Road attracts tens of thousands. Farolitos line pathways and adorn adobe walls along the narrow old street. They're there to lead the Christ Child on his way. Piñon wood luminarias (small bon fires) are ablaze along the road. High energy revelers abound; some sing carols, others are festooned blinking lights. If it happens to snow, it's magical!
Check out the latest hotel prices for Santa Fe—> click here.
Most Christmassy Places in Canada
British Columbia
Want beaches in summer but mountains in Winter? Look no further than Canada's British Columbia. This province comes alive at winter when everyone hits the slopes at Whistler, taking on one of the world's best ski resort at Blackcomb mountain. However, BC is more than just skiing and snowboarding during the colder months, ever heard of snowshoeing?
Me neither, until I lived in Vancouver last winter! We took a trip to Joffre Lakes, clipped tennis rackets to feet (pretty much) and shuffled our way around two of Joffre's three lakes. Heading to Canada's better side? Don't miss our Vancouver guide and I'll hopefully meet you there soon!
Check out the latest hotel prices for British Columbia—> click here.
Quebec
I always thought old European cities were the best for celebrating Christmas because of their often cozy vibe, but Quebec in Canada
is definitely a good competitor.
The old town consists of small hilly streets with beautiful brick houses. The snow that's been shuffled from the sidewalks is stacked high wherever there's room and the subzero temperatures make sure you really get that winter feeling. Lots of places serve hot chocolate for those who want to warm up and then there's the typical Canadian poutine, a hearty meal of fries covered in gravy and cheese.
Check out the latest hotel prices for Quebec—> click here.
Most Christmassy Places in Europe
GERMANY
Nuremberg
Text by Lance & Laura from Travel Addicts
The place where we feel the Christmas spirit the most is Nuremberg, Germany. Every December, for four short weeks, over two million visitors come to this town in the Franconia region of Germany to feel the essence of the season.
For nearly 500 years, the citizens of Nuremberg hold the best Christmas market in all of Europe. Row upon row of stalls selling traditional wooden Christmastoys for kids and handcrafts for adults. But the best part is the food ! We enjoy eating the local Nuremberger sausages (eaten three in a roll) and drinking gluhwein (hot mulled wine). We cherish our December trips to Nuremberg and it always puts us in the spirt!
Check out the latest hotel prices for Nuremberg—> click here.
Warsaw
The capital of Poland is one of the most Christmassy places in the country! Warsaw is always beautifully decorated and there is a lot going on there during Christmas time.
There is more than one Christmas market in the city, where you can buy gifts and souvenirs. More than 90% of Poles are Christians, so the birth of Jesus is the biggest holiday of the year. You really can feel the Xmas spirit in the air in Warsaw! If you want to know how Polish people are celebrating Christmas, check out this post.
Check out the latest hotel prices for Warsaw—> click here.
Wroclaw
Wroclaw is one of the most popular Polish cities and much like everywhere in Poland it has a vibrant old town square with colorful houses and historic buildings. It sounds like the perfect setting for a Christmas bazaar and some winter magic and I can assure you that it's just as good as it sounds if not better!
Poland's close proximity to Germany is probably the reason why there are big Christmas bazaars in almost every town in the country. It is indeed the most beautiful time of the year to be in Poland. Lovely music, happy people and the smell of chocolate, wine and cinnamon is in the air! Merchants offer a wide range of products including traditional food like the Polish gingerbread called "pierniki" and smoked cheese with jam from the Zakopane area.
What is a Christmas bazaar without mulled wine? Of course, you can enjoy a cup of warm mulled wine with different flavors from plums to aronia with a pinch of cinnamon. I am sure this drink in addition to the beautiful buildings of the central square in Wroclaw can really warm your heart!
Check out the latest hotel prices for Wrocław—> click here.
Krakow
Krakow is our personal pick from all the Christmassy places in the world. It is the most vibrant city in Poland. There is one big Christmas market at the Old Town, where you can try traditional Polish mulled wine, called Grzaniec Galicyjski. It will warm you warm even on the coldest day of the year!
The other, smaller Christmas markets are located at Mały Rynek and close to Galeria Krakowska.
Krakow is always beautifully decorated and it is famous for the Nativity Scene competition. You can see there the best birth of Christ's presentations in the world!
Check out the latest hotel prices for Kraków—> click here.
SWEDEN
Umeå
Experiencing delicatessens like coffee with cheese and dry reindeer meet while getting to know the Sami culture just outside Umeå's city boundaries where reindeers roam free.
Or alternatively, walking among an outdoor museum made exclusively of ice sculptures at Radhusesplanaden, is possible in Umeå the Swedish door to Lapland.
Along with Latvia's capital, Riga, Umeå became European city of culture two years ago. We had a chance of visiting it in Winter, how it should be done the first time to just find out you need to come back in summer too.
Check out the latest hotel prices for Umea—> click here.
FRANCE
Visiting the famous Christmas Market at Champs Elysee, trying roasted chestnuts and drinking French mulled wine is one of the best experiences that you can have in Europe during Holidays!
Check out the latest hotel prices for Paris—> click here.
Rovaniemi, Lapland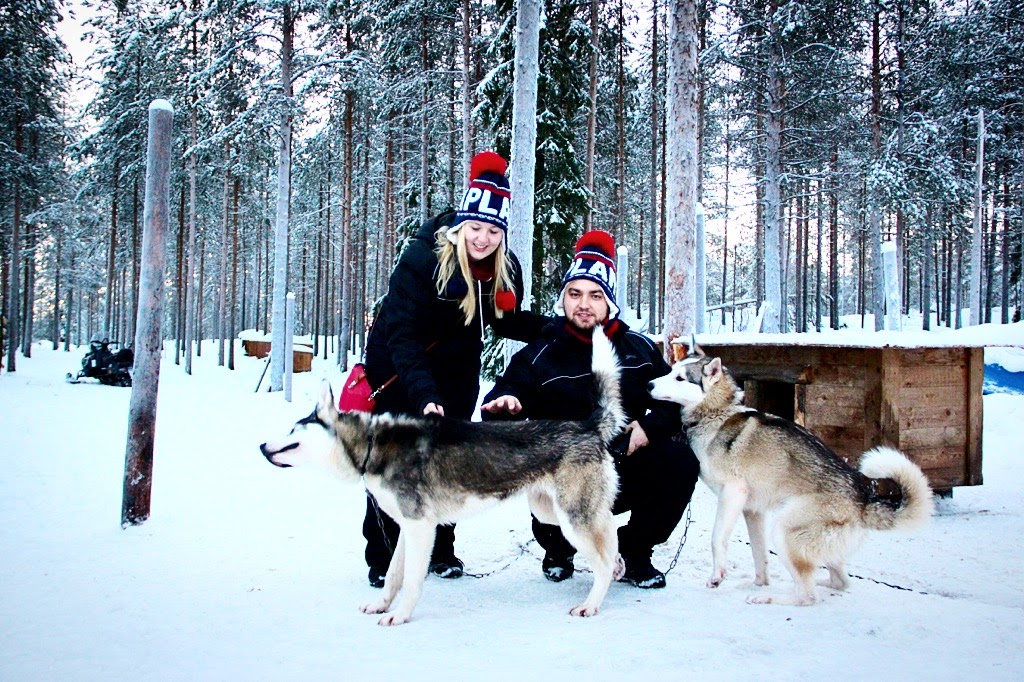 Can you imagine more Christmassy places than the hometown of Santa Claus? Rovaniemi is located in Lapland, at the Arctic Circle.
We've been there a few years ago and even though we were quite disappointed by the commercial atmosphere of Santa Claus village (more about it here), we absolutely loved Lapland! We have seen reindeers in the wild, took photos of the Northern Lights and could really felt the winter spirit of Christmas.
Check out the latest hotel prices for Rovaniemi—> click here.
SPAIN
Ibiza
Surprised? Ibiza seems like a perfect summer destination, not a place to go in the winter. If you love Christmas but don't like being cold, this Spanish island maybe your next holiday destination.
It's great for families but also for singles who go to Ibiza to run away from the overwhelming atmosphere of Christmas. Sun, beach and relax are the things that make this island an interesting holiday choice.
Most Christmassy Places in South America
COLOMBIA
Medellin
While summer in Colombia might not immediately fit your idea of Christmas, Medellín has a way of getting you into the spirit. Each December, Medellín is covered with nearly 30 million lights for El Alumbrado.
Swap the hot chocolate for a michelada and take a seasonal stroll along the Medellín River where tremendous light displays are suspended over the river and set up along the banks. There may not be chestnuts roasting on an open fire, but you can order up one hell of a tamale. If you're looking for something unexpected this December, Medellín is definitely the spot to get you into the Christmas spirit.
Check out the latest hotel prices for Medellin—> click here.
Pin For Later:
Which of these Christmassy places do you like the most? Share your thoughts in comments!