To start with, you need to know that traditional Romanian food is absolutely delicious! It's based on organic and fresh ingredients, and you can feel the quality with every bite you take. Even though there are some vegetarian options available, Romanians love eating meat, especially pork, beef, and lamb. Romanian desserts are one of the best we have had in Europe (fun fact- did you know that pancakes actually come from Romania?). When it comes to alcohol, beer and wine in Romania are the most popular.
Traditional food in Romania is not only delicious but also pretty cheap. You will pay less than $10 for a meal in a good restaurant. The snacks cost less than $1, so this country is definitely is a perfect destination for foodies traveling on a budget!
Enough about the basics, let's talk about the dishes! Here is the most famous Romanian food:
Romanian Soups And Appetizers
The soups in Romania are one of the best in Europe. They are all unique and delicious! No matter if you order a simple veggie or the one with meat, you can be sure it will be delicious.
Ciorba means soup in Romanian, so if you don't know what to order, go with any ciorba and you probably won't be disappointed.
Ciorba De Burta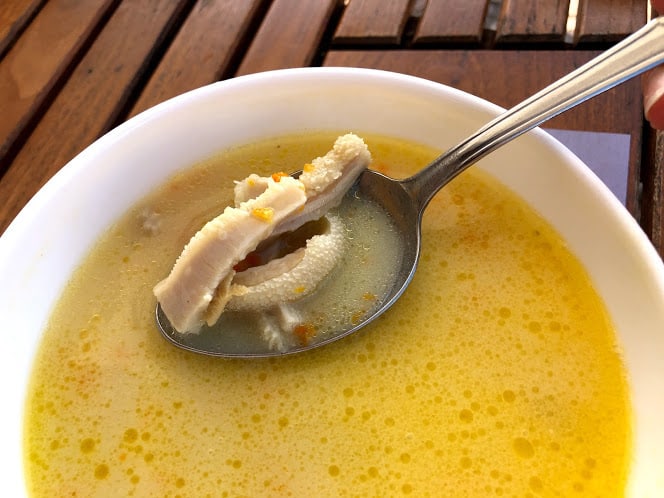 Never in my life would I expect that I will fall in love with… the tripe soup. It sounds quite disgusting but trust me, it's one of the best Romanian food!
This sour, creamy, Romanian beef soup is full of flavors and it's surprisingly delicate. In fact, you wouldn't guess that you are eating cow's stomach unless someone told you. It is served with bread and it's filling enough to be the only meal eaten for a dinner or lunch. The cost of ciorba de burta is typically between 10 to 25 RON ($3-$7).
Ciorba De Fasole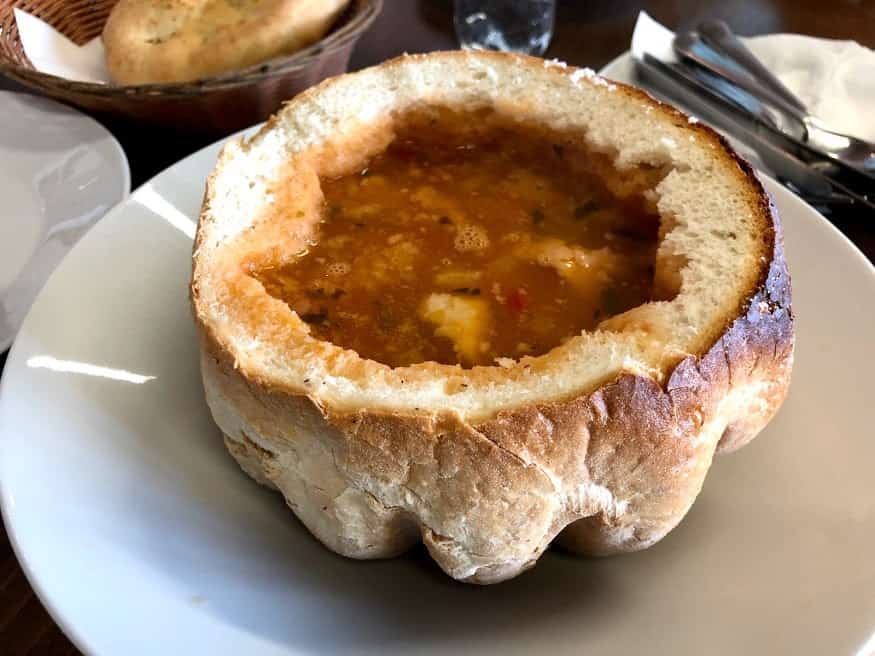 This Romanian soup is Patryk's favorite. He's been eating it for lunch almost every day. It's made of beans, meat, tomatoes, and other veggies. Sometimes it's served in bread.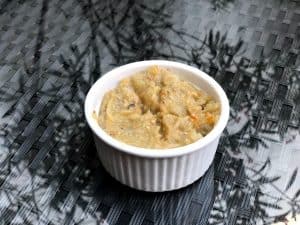 Salata de Vinete
Even though it's called a 'salad', it's actually an eggplant spread. It tastes best with bread.
Salata de Vinete, one of the most popular Romanian food, is made of onion (sometimes garlic is added as well), that's why you will be left with bad breath after eating it! Still, this spread is worth trying as the taste is quite unique.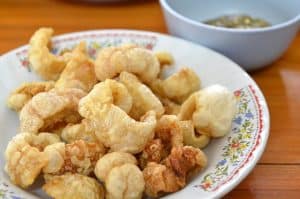 Jumari
If you dine in a traditional Romanian restaurant, you will probably get jumari as an appetizer.
It's deep-fried pork rind (pig skin), usually served with green pepper, and red onion.
Romanian Dinner Food
Sarmale
This Romanian cabbage dish is pretty similar to Polish golabki. The minced pork and rice are wrapped in cabbage leaves.
They are often served with mamaliga, Romanian cornmeal porridge and sour cream on top. This dish is called Sarmalute Cu Mamaliguta.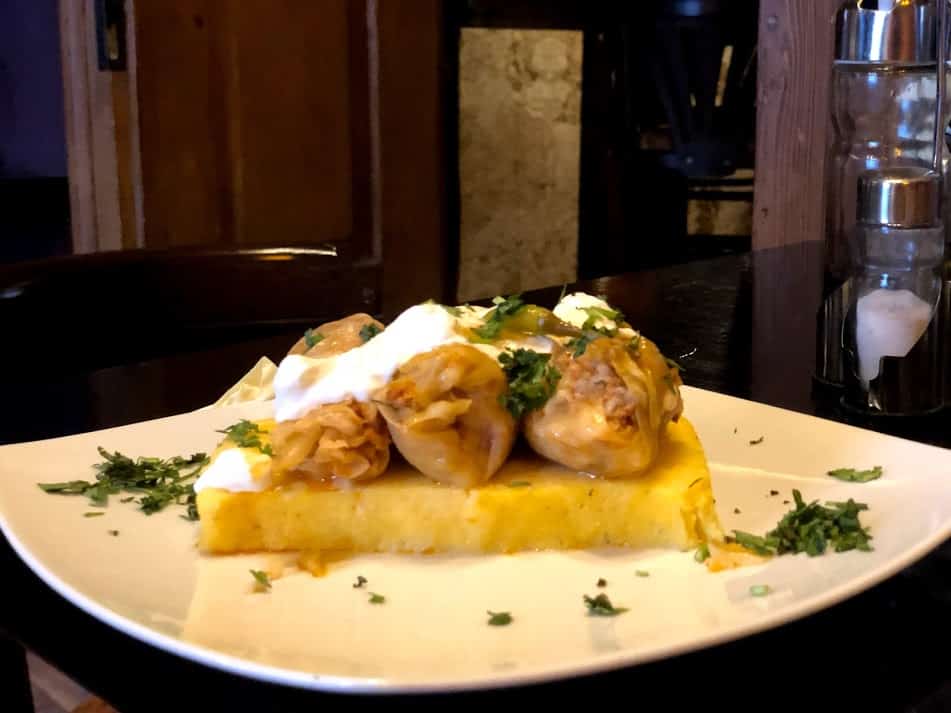 Tochitura
The weird combination of meat, egg, cheese, veggies, and sausage make a surprisingly good dish! Tochitura is Romanian pork stew (sometimes it's beef and pork mixed together), served with mamaliga (cornmeal porridge), tomato sauce and an over-well sunny-side egg.
Easy to guess, once you have it all, you won't be able to eat anything else this day. It's really satiating.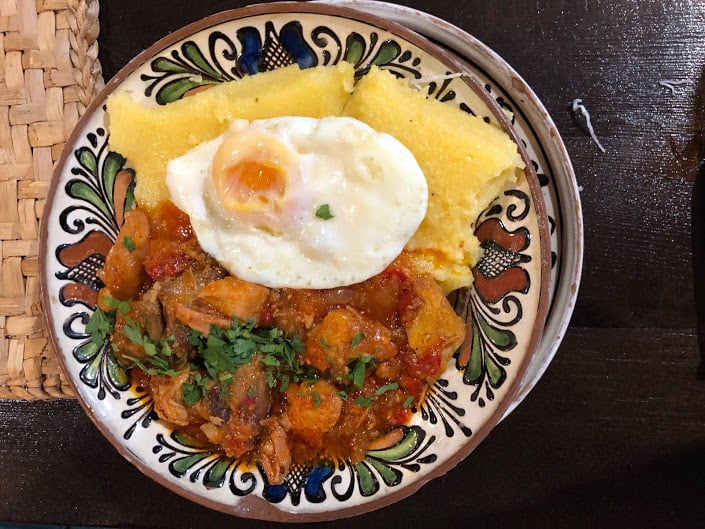 Mici (Mititei)
You can feel a Turkish influence on Romanian cuisine while eating Mici. These small grilled sausages are made of different kinds of meat, including lamb, pork, and beef.
They may be served with french fries or bread. Mici is the most famous Romanian sausage, however, the others are worth trying as well. The quality of Romanian meat is really high.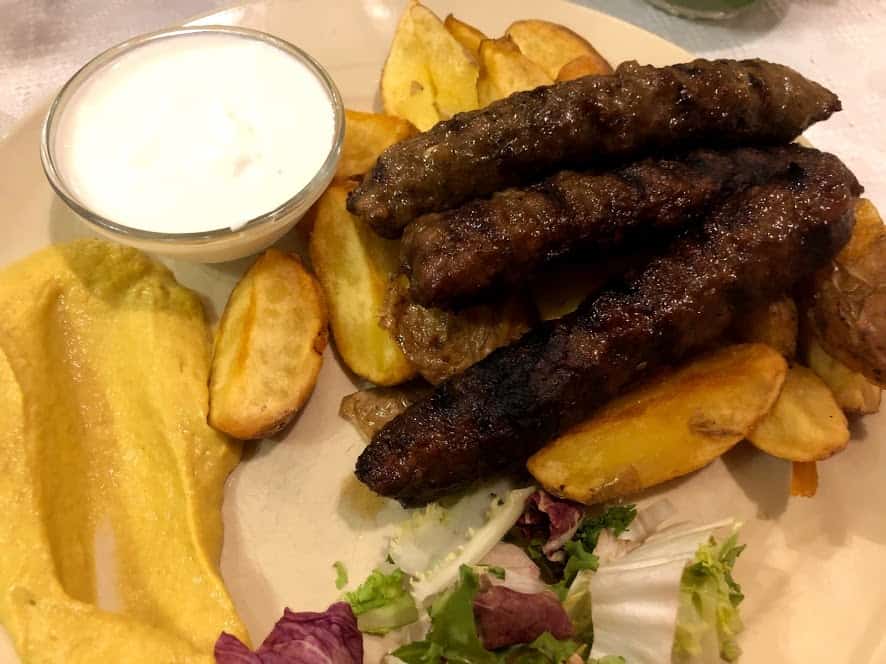 Traditional Romanian Breakfast
If you wonder what do Romanians eat for breakfast, here are their most popular choices:
Romanian bread
If you want to try traditional Romania breakfast, the first thing you need to have is bread. To be honest, Romanian bread is one of the best we have ever had. It's fluffy, made of white flour, and it tastes best when it's fresh. Many restaurants have their own unique bread recipes. No matter where you have it, it's always yummy.
Eggs
Like in many other countries, eggs are popular for breakfast in Romania as well. What's interesting, you can't really have scrambled eggs in here. You will get an omelet that is cut into pieces.
Romanians eat boiled and fried eggs as well.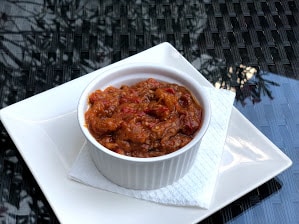 Zacusca
Romanian vegetable spread called zacusca taste best when served with fresh bread.
Every housewife has her own zacusca recipe: some of them use mushrooms, some celery, some carrots.
The basis of this Romanian vegetable spread are eggplants, onions, red peppers, tomatoes, oil, and of course salt.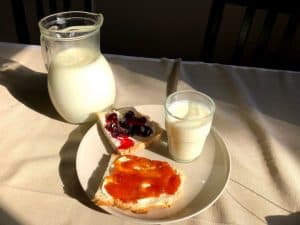 Homemade Jam
Traditional Romanian breakfast can sometimes be sweet. Some people eat bread with butter and homemade jam.
The most popular is gem de visine (cherry jam). Romanian jam is really sweet. It tastes best served with fresh milk.
Cheese (Branza)
Romanians love their cheese. There are usually salty and made of cow or sheep milk. If you are interested to read more about Romanian cheese, check out this post.
The cheese is usually served with vegetables, such as cucumbers, tomatoes, pepper, or red onion.
Mamaliga
It is a Romanian national food. Traditionally, polenta was served for breakfast. It's simply because this dish is cheap, so even the poorest could afford it. Right now, it's too basic to eat, so it became one of the most popular Romanian side dishes.
Romanian Pastry
Covrigi

It's one of the best snack EVER! This ring-shaped Romanian pastry may be plain or go with a filling (cherry, cottage cheese, chocolate, vanilla, and more).
The absolute best we have had can be purchased at Gigi. It's a Romanian bakery chain, be sure to check if there is any Gigi around you and get their warm covrig cu visine!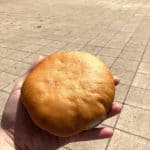 Varzari
This roll filled with cabbage is a perfect snack for those who don't like sweets. It's savory and quite similar to other cabbage pastries that you can find in Eastern European countries.
The only difference is the shape- you can't really guess what's inside until you take the first bite.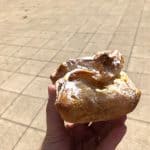 Poale-n Brau
This pastry is actually a sweet cottage cheese covered with a thin layer of soft dough.
Even though poale-n-brau is quite small, it is really satiating because of the enormous amount of filling inside. Yummy!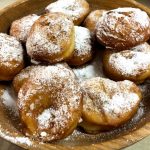 Gogosi
These round donuts usually come with filling inside. Sometimes they are plain. They usually have a powder sugar on top.
Gogosi are very similar to donuts in other Eastern European countries, like for example paczki in Poland.
The other famous Romanian pastries that are worth trying are cozonac and pasca tanti vali.
Palacsinta
Did you know that pancakes are originally from Romania? They are so delicious! Palacsinta are crispy, sweet and they have different fillings.
The most popular are the ones with nuts, poppy seeds, fruit jams, or sweet cottage cheese.
Romanian Desserts
Romanian sweets are really good. There is one thing Romanians can't do right though- it's the chocolate. No matter if we tried Romanian street food, dine in a fancy restaurant, or buy a candy bar in a shop, the chocolate was always bad. The main reason is that the percentage of cocoa was always low, while there was a lot of sugar and fat.
Chocolate is probably the only thing we didn't like about Romania food. But you are not traveling to this country to eat chocolate, right?
Salam De Biscuiti
Romanian Salami Cake is made of cookies, cocoa, and a bit of rum (or rum aroma).
One of the reasons why it became one of the traditional Romanian desserts is because it doesn't require baking. All the ingredients should be mixed together in a pot and then placed in the fridge to cool off.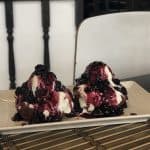 Papanasi
The Romanian desserts list won't be complete without mentioning papanasi. They are so good! It's actually our favorite Romanian dessert.
These fried donuts are usually filled with soft cheese and served with sour cream and fruit jam. The combination of warm pastry and cold sauces make it a perfect dessert.
Clatite Brasovene
This dessert can actually be an entire lunch meal. Clatite Brasovene are warm pancakes filled with sweet cottage cheese.
They are either placed in a pot or on a plate. Sometimes they are served with powder sugar on top.
Other Traditional Food of Romania Worth Trying
I am not mentioning these dishes in the previous paragraphs on purpose. They are simply difficult to find in the ordinary Romanian food menu. We've been hunting for them all over Romania and either they were not available in menu or we needed to order them 24 hours in advance. If you are lucky enough to spot them somewhere, you should definitely try them!
Salata Boeuf (Romanian beef salad made of meat, veggies, and eggs)
Drob de Miel (it's quite similar to the Scottish haggis; it's made of lambs' guts and egg)
Julfa with walnut or hemp mousse (Romanian cake made of thin layers of dough)
Pin For Later: