[Total: 3 Average: 4.3/5]
Top travel tips for visiting Druskininkai – best spa town in Eastern Europe
We didn't think about visiting Druskininkai when we were planning our trip to the Baltic countries. To be honest, we didn't even know that the town like this even exist. We have heard of Vilnius, Kaunas and Klaipeda but never about Druskininkai. We've stumbled upon this town accidentally, when we were searching for the best places to visit in Lithuania.
Druskininkai seemed to be really interesting- it is the best spa town in the entire country, famous from the fresh air, healing mineral waters and relaxing atmosphere. We though it would be perfect place to stop by on our way back to Poland.
It really was a perfect decision! After busy month of sightseeing and road-tripping, we really needed to relax. Druskininkai turned out to be even better than we expected. This lazy, small town is so gorgeous that we were really sorry that we had to leave after 3 days.
There are not so many information about Druskininkai in the Internet- it is still undiscovered, hidden gem of Lithuania. We really hope that our post will be helpful for those of you who like going off the beaten path and exploring non-touristy places.
Druskininkai travel tips:
#1 Take a walk around the town.
Even though Druskininkai is the small town, it has a lot to offer. The thing we liked the most is the Church of Saint Mary's Scapular. It is huge and monumental. We love old and historical spots like this… We will never forget the smell of wood inside the church and the spiritual atmosphere that you could feel there.
Just 5-10 minutes walking from the St Mary's, there is another lovely church with a beautiful name- Joy of All who sorrow. It is all blue and really old.
There are few parks close to the churches with many amazing sculptures. The one we liked the most is J.ir B. Arcikausku statue.
It is situated right next to the Museum of Druskininkai Town (Druskininku Miesto Muziejus).
#2 Visit Aqua Park.
Aqua Park is the most famous tourist attraction in the town. It is also the oldest water park in Lithuania!
It is really huge, with countless swimming pools, waterslides and saunas. Druskininkai is a peaceful town, so if you really want to have fun there, Aqua Park is the only place to go for you.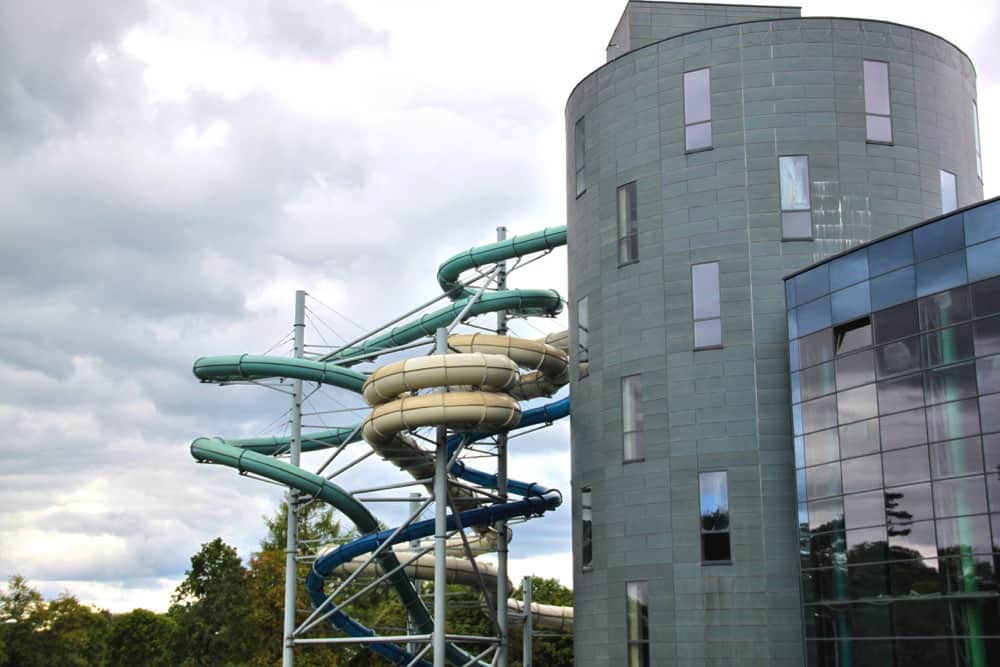 #3 Choose the right place to stay
We've been staying in Spa Vilnius, which is the best hotel in the town. It has pretty big wellness area, with indoor swimming pool, saunas and jacuzzi.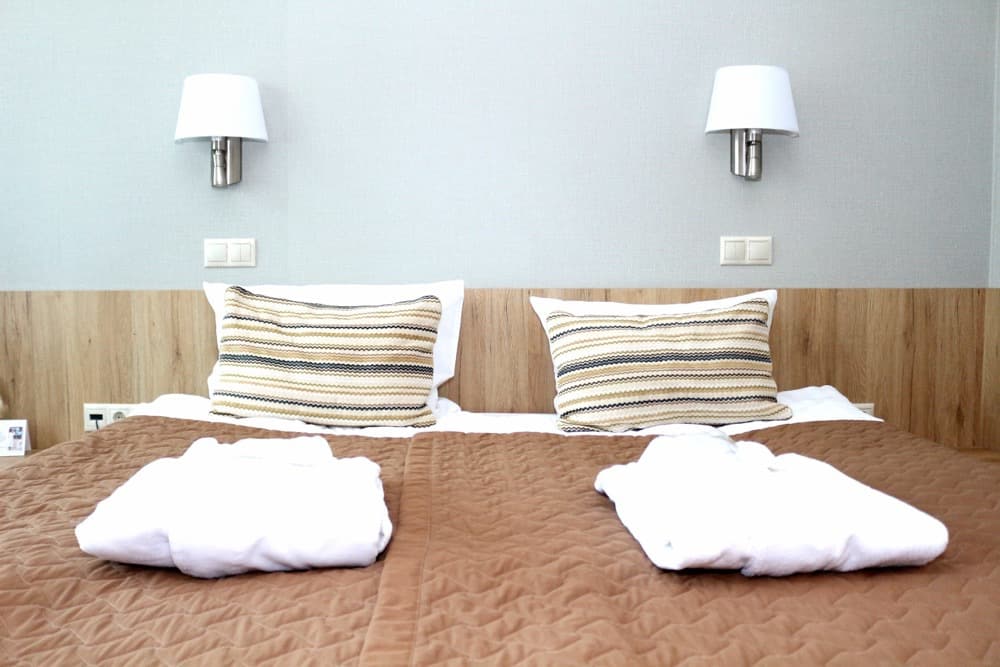 We really LOVED this hotel. It has some very relaxing atmosphere. There are many resting areas in the building, so you will have beds and chairs to sit down every few steps.
Spa Vilnius's main goal is to take care of its guest and their healthy relax. That is why you will find water dispensers on every floor and you will know how many calories each food on buffet breakfast have. How awesome is that?
Speaking of breakfast- it is really delicious. You can see it on the video below.
The location of hotel is great, within the walking distance to the heart of the town and all the monuments that we have mentioned before.
Check out the latest prices for Spa Vilnius—> click here.
#4 Go to Snow Arena
Something for winter sport lovers! Snow Arena is the only object like this in the Baltic states. It is open all year round, so you can skiing or snowboarding there even in the middle of the summer.
#5 Watch the light and water show.
Have you heard of the dancing fountains? They are popular tourist attractions all around the world… including Druskininkai!
Musical fountains are situated right next to the Aqua Park and operates only when it is warm enough outside, from April to October.
You can see the show every hour from 11 am till 11 pm.
Which of these places in Druskininkai would you like to see the most? Remember sharing is caring! Share your thoughts in comments.
Disclosure: We want to thank Spa Vilnius hotel for complimentary stay. All opinions presented in this post are honest and our own.
Disclosure: Yay for transparency! Some of the links in the article are affiliate, which means that if you book something by clicking on them, we will get a small commission with no extra cost to you. Your support helps this blog going.