Romantic Warsaw Guide: Best Things to See in Warsaw for Couples
Warsaw is the capital of our homeland, Poland. To be honest, we've never really liked this city. It was too big, too busy and too overwhelming. Every time we traveled, we met some people who were telling us how awesome Warsaw is. They said it's better than Kraków or Zakopane. We decided to give it a try (again!) and discover the beauty of Polish capital. We are proud to announce that we've made it! It was surprisingly easy to fall in love with this city. All we needed to do is to find some things to see in Warsaw for couples. The capital of our homeland has so many hidden gems that we can't wait to come back there to discover more. We've created this Warsaw romantic guide to show you all the places we have visited this time.
We don't like to party hard in the clubs or visit hipster spots. We like to travel off the beaten path, being close to nature and learn something new about the place we are visiting.
This romantic guide to Warsaw is perfect for the couples, families and all the other tender-hearted souls who want to discover the idyllic side of the Polish capital.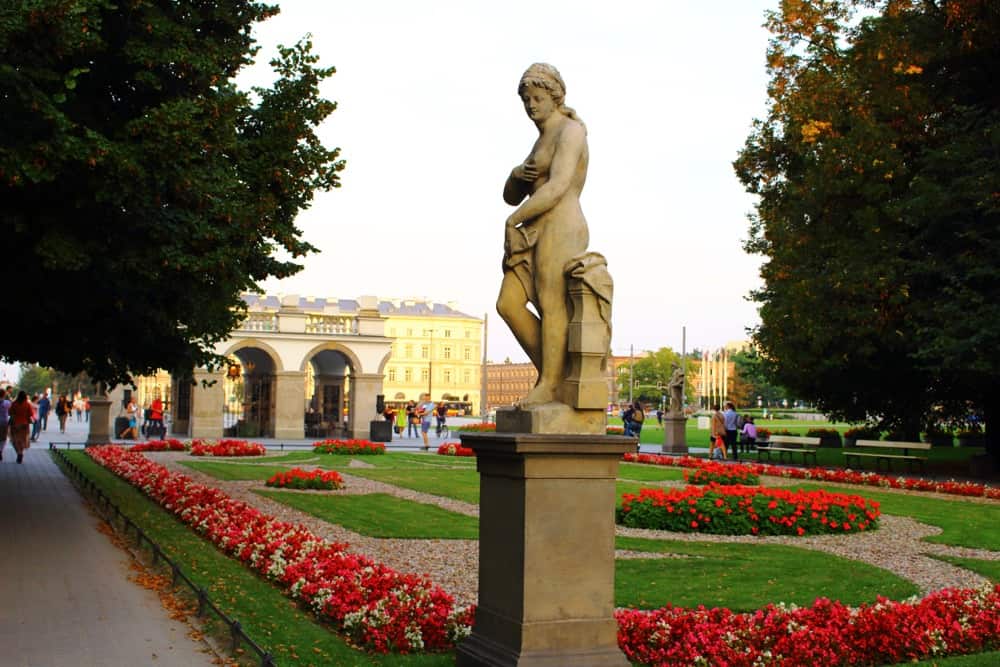 Warsaw romantic guide: Best things to see in Warsaw
#1 Warsaw romantic guide
Wilanów
Stanisława Kostki Potockiego 10/16, 02-958 Warszawa
The Wilanów Palace is one of the few buildings that survived two World Wars. Most of the amazing architecture of Warsaw was totally destroyed. This beautiful baroque castle was built in 17th century by one of the best Polish kings: Jan III Sobieski. Not only was he the great ruler but also a loving husband. The romantic letters that he has written to his wife, Marysieńka, are famous to this day. It makes Wilanow one of the most romantic things to see in Warsaw.
The palace is surrounded by the beautiful garden. It is a great place to relax and unwind in the capital of Poland. What can be better than a romantic walk with someone you love?
If you want to get the most of your visit in Wilanow, book a private tour.
Warsaw travel tips: Most tourist don't know that there is a lake close to the palace. You can rent a boat there and take a romantic Warsaw cruise with your partner.
#2 Warsaw activities for couples
Love Heart Bridge
Wilanowska and Przyczółkowa intersection (Potok Służewiecki)
This cute love bridge is the most romantic hidden gem of Poland! It is located quite close to the palace in Wilanow and it's the best to visit at night. The three hearts that you can see on the picture below are beautifully highlighted after dark.
Like in most other places in the world, lovers are hanging the padlocks on the bridge, promising each other the eternal love. According to the tradition, they need to throw away the key to the river afterwards. Visiting Love Heart Bridge is one of the best free things to do in Warsaw for couples.
#3 Warsaw romantic guide
Fotoplastikon
Aleje Jerozolimskie 51, 00-001 Warszawa
It is one of the most romantic places in Warsaw. Fotoplastikon was very popular in the past, especially in the short period between the First and the Second World War. Couples were going there for a date. They could see the places that weren't available for everyone. Where else could you watch wild African lions or the modern landscape of New York City?
Fotoplastikon is a place unique on a global scale. It has a specific atmosphere that cannot be compared to anything else. If you want to read more about this amazing spot, check out this post.
TIP: One of the most popular Warsaw shopping mall is located across the street from Fotoplastikon. Go to Zlote Tarasy, if you want to buy some Warsaw souvenirs.
#4 Warsaw activities for couples
Łazienki Królewskie
Aleje Ujazdowskie, Szucha, Armii Ludowej, Myśliwiecka, Gagrina; more info here
Łazienki Królewskie is the biggest park in Warsaw. Surprisingly, it's located in the city centre, so it's like a green oasis in the heart of the Polish capital.
You can spend hours walking around Łazienki. There are many beautiful monuments, restaurants and a lake at the park, so you won't get bored there.
#5 Travel blog Warsaw for couples
Copernicus Science Centre
Wybrzeże Kościuszkowskie 20, 00-390 Warszawa
Centrum Nauki Kopernik is a perfect idea for a romantic date in Warsaw! It is an interactive museum where you can learn a lot about the science and the world in general. You can check how you'll look when you are old or fight the mental battle with your partner (using the willpower).
It's so much fun! We've spent few hours at Copernicus Science Centre. For us, it is one of the best museums in Warsaw and the top tourist attraction in the capital of Poland.
TIP: With Warsaw city pass, the admission to Copernicus Science Centre, as well as to many other tourist attractions in the city, is free. You can buy Warsaw travel card online or in any Tourist Information Points in the city.
Check out also: Neon Museum in Warsaw.
#6 Warsaw things to see for couples
Old Town
For us, Old Town is number 1 of all the cool places in Warsaw. It is perfect to visit all year long. No matter if it's cold or hot outside, there are always many people at Krakowskie Przedmieście street.
The beautiful architecture, awesome restaurants & cafes and the unique atmosphere are only some of the things you can experience there. Walking around the narrow and empty streets of Old Town is one of the most romantic things to do in Warsaw.
If you want to see Warsaw at night, there is no better place to go than the Old Town.
#7 Warsaw romantic guide
Pałac Kultury i Nauki
plac Defilad 1, 00-901 Warszawa
Palace of Culture and Science is a landmark of Poland. It is located in the heart of the city, close to the main bus & train stations. Some people love it, some hate it. It is the remain of communist time in Poland. The specific stalinist architecture of this building can also be found in other post-communist countries like Riga or Moscow.
What's interesting, Pałac Kultury is the tallest building in Poland. You can get almost to the top of it to see the beautiful aerial view of Warsaw. The admission is 20 PLN ($5.5) per person.
#8 Warsaw travel blog for couples
E.Wedel Chocolate Store
Szpitalna 8, 00-031 Warszawa
Wedel is the most famous chocolate brand in Poland. They have the old-fashioned store in the heart of Warsaw. It's definitely one of the best cafes in Warsaw for a date in this city! The old-fashioned store and cozy interiors make you feel like you would go back in time.
The intimate atmosphere guarantees the successful date, as it's one of the best restaurants Warsaw.
#8 Warsaw itinerary for couples
Couples Massage
While it's not one of the most unique things to do in Warsaw, it's always a great idea for a date. If you are looking for best massage Warsaw to go with your partner, consider visiting Tajskie Spa. There is nothing better than a Thai Massage!
If you are looking for something more regional, go to My Masujemy. They even have a lesson for couples on how to give each other the best massage!
Where to stay in Warsaw?
If you want to find the best place to stay in Warsaw, be sure to choose the hotel in the city centre. It's good to have all the tourist attractions within the walking distance.
If you are looking for a romantic hotel at an affordable price, check out Mercure Grand located on Krucza street. The modern rooms are fully equipped and have all the facilities you need like fast WiFi and a comfy bed.
Check out the latest prices for Mercure Grand—> click here.
If your budget is a bit higher, consider staying at another romantic hotel Warsaw, Sofitel Victoria. It's definitely the best Warsaw spa hotel. Located just a few steps from the Presidential Palace and Krakowskie Przedmieście is a perfect accommodation even for the most demanding customers.
Check out the latest prices for Sofitel Victoria—> click here.
Map of hotels in Warsaw:
How to get around?
The easiest way to get around the city is by Warsaw taxi. It's not the cheapest option though, Warsaw taxi fares may be high. Be sure to set the price before the ride to avoid being ripped off.
Check out the table below for Warsaw taxi number:
| Name of the provider | Warsaw Taxi Number |
| --- | --- |
| Sawa Taxi | +48 22 644 44 44 |
| Glob Cab Taxi | +48 1 96 68 |
| Eko Taxi | +48 22 644 22 22 |
| Taxi Plus | +48 22 196 21 |
If you care for your budget, it's better if you choose taxi alternatives in Warsaw like Blacklane, Warsaw Uber or Taxify (click to get a free ride). You will be sure you are not overpaying for your ride.
Check out the table below for Warsaw taxi app:
You can also choose Warsaw public transport. There are only two tube lines in the city, so you'll probably be traveling by buses or trams. It's OK though: they are very convenient, cheap and well-organised.
Last but not least: car rent Warsaw. It's not a good idea if you want to stay in the Old Town area for the entire time. If you want to see more, go to the outskirts of the city or even travel to another region of Poland, then finding a cheap car rental Warsaw company may be a good option for you.
Follow this link to find the best car for you.
TIP: If you decide to buy a ticket for Warsaw sightseeing bus, you will easily get to all the important tourist attractions in the city.
Best tours in Warsaw for couples
If you are visiting Warsaw for just a couple of days you probably want to get the most out of your time. There are many awesome tours in Warsaw for couples. The most popular is of course Warsaw bus tour. Hop on hop off buses are popular all around the world, we love them, especially if our time in the specific place is limited. Here are the other great Warsaw excursions:
Warsaw Walking Tour
The centre of Warsaw is closed for the cars, that's why the best way to see everything is to join Warsaw walking tour.
This 2 hour tour is perfect for everyone. You will see all the important places of Warsaw's Old Town (and you will have a chance to try traditional Polish cake). The price is really affordable, see more here.
Check out more recommended Warsaw Walking Tours here:
Warsaw Food Tour
Polish cuisine is much more than pierogi! If you want to taste the local dishes and get to know the rich Polish cuisine, join Warsaw food tour.

Warsaw Concert Tour
Did you know that one of the greatest musicians of all time, Frederic Chopin (Fryderyk Szopen), was actually Polish? He moved to France to grow his career.
Warsaw's main airport was named after him.
While in Poland, it's worth to go on Warsaw Concert tour to listen to the piano music he composed.
Check out Warsaw Concert tour here.
Alternative things to do in Warsaw
A good way to explore Warsaw is joining alternative Warsaw city tours by Odd Urban Things. They'll bring you around Warsaw on a cult fire truck from Communist times and they'll cover the main attractions as well as some hidden gem!
If your time in Poland is limited and all you have is Warsaw layover, check out this tour. They will pick you up at the airport, show you all the important places in the city and drop you off anytime you want.
Have a question? Join our Poland Travel Support Facebook group, we will be happy to help you!
Check out more recommended Warsaw tours:
Pin For Later:
Disclosure: We want to thank Mercure Grand and Sofitel Victoria for complimentary stays. All opinions presented in this post are honest and our own.