How To Make Money As A Couple?
Best Online Jobs for Couples
Looking for ways for couples to make money online? There are thousands of ideas and tips on how to become a digital nomad on the internet. It is easy to start traveling and working abroad when you are young and single. For some people though, being in a relationship is a big obstacle. But I can't understand why! There are so many ways couples can make money.
We both have been working online for more than 6 years. For a big part of it, we've been traveling the world and lived a location-independent lifestyle. When we started, what we were doing was pretty unusual. Thankfully, it's getting more and more popular every year. We are meeting digital nomad couples all over the world.
In this post, I am giving you the best ideas on how to make money online as a couple. I am also recommending sites with job offers for couples.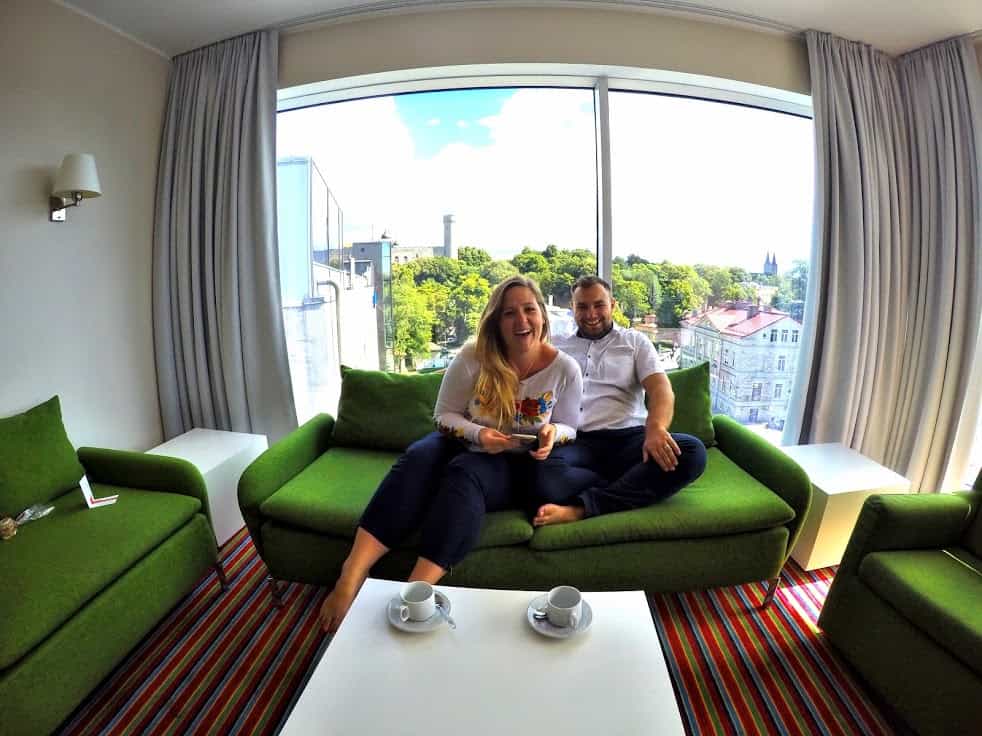 Ways to Make Money Online for Couple #1
Freelancing
It's one of the most popular ways for couples to make money together. You both can do freelance jobs! There are many websites on the Internet where you can find online jobs for couples. Here are my favorites:
This is one of the biggest and most famous freelance websites in the world. It's available not only in English but also in many other languages. Thousands of new job offers appear on Freelancer.com every day, so we are pretty sure you and your partner will find something for yourself fast.
Set up you free account at Freelancer.com—> here
Fiverr is a great runner-up. We love Fiverr because it's simple and perfect for beginners. You can learn your first dollars there on your first day!
Set up you free account at Fiverr—> here
This if the last one from top three freelance websites. Upwork is where we personally earn the most money. It is one of the easy ways to make money legit.
Set up you free account at UpWork—> here
Check out more freelance websites here.
Are you wondering how to search for job offers for couples?
You and your partner can either do the same things or can each specialise in something completely different. Here are the most popular examples of freelance jobs: writing, copywriting, graphic designing, web designing and programming.
Basically, all the skills you have may be used in your online work. The most crazy freelance job offers that I've seen on the Internet are: making a video of your own dog who plays outdoors, testing games and recording your voice while reading various texts.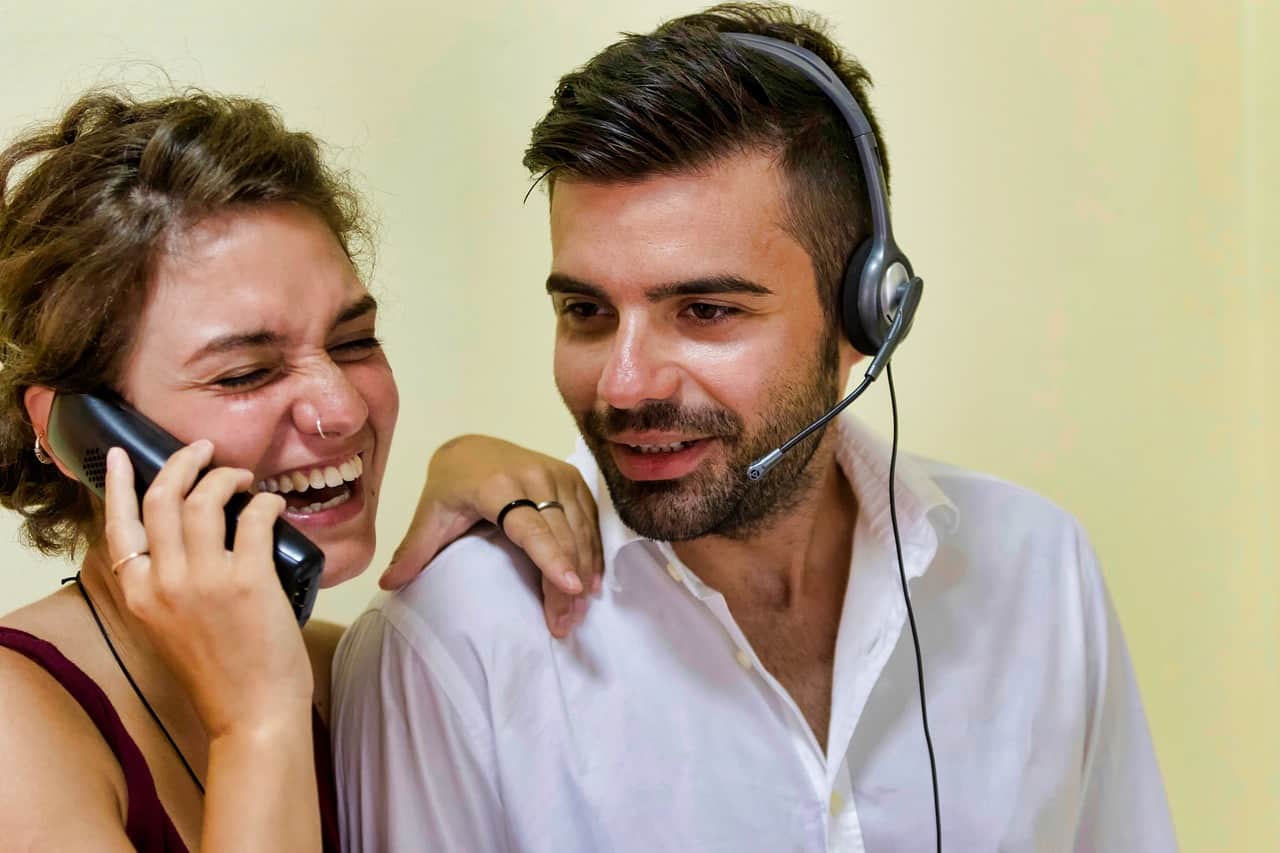 Ways to Make Money Online for Couples #2
Blogging / Influencing
This is who we are- professional travel bloggers. Even though being a blogger or influencer is getting harder every year, it's still one of the most creative ways for couples to make money together.
How exactly do bloggers earn? They are getting paid for going on the trips, publishing sponsored posts on their blogs, promoting brands or companies on their social media, displaying advertising on their websites, and many more.
Becoming professional blogger is a long process: you need to work for free for some time until you start earning money. But, honestly, I don't know a better way for couples to make money together. When your blog is big enough, you will earn a passive income.
What does it mean in practice? Making money while you are sleeping. Or while lying on the beach in Thailand. With affiliate programs, you will have to do nothing to earn.
Starting your own travel blog is really worth it. This may surprise you, but it costs almost nothing to start. The most basic hosting plan costs is less than $4 monthly (USD). Everything is included in that price, even registering your domain name (web address)!
If you have some money to invest, we recommend that you buy Nomadic Matt's blogging course. He's one of the most famous travel bloggers in the world, so you won't regret a single penny you spent on his course.
Check our Matt's course–> here
For us, blogging is the most rewarding thing we have ever done. It's a hard and time-consuming job but we really feel that we are creating something unique that helps a lot of people travel. It's one of the top jobs for couples who wants to work on something together.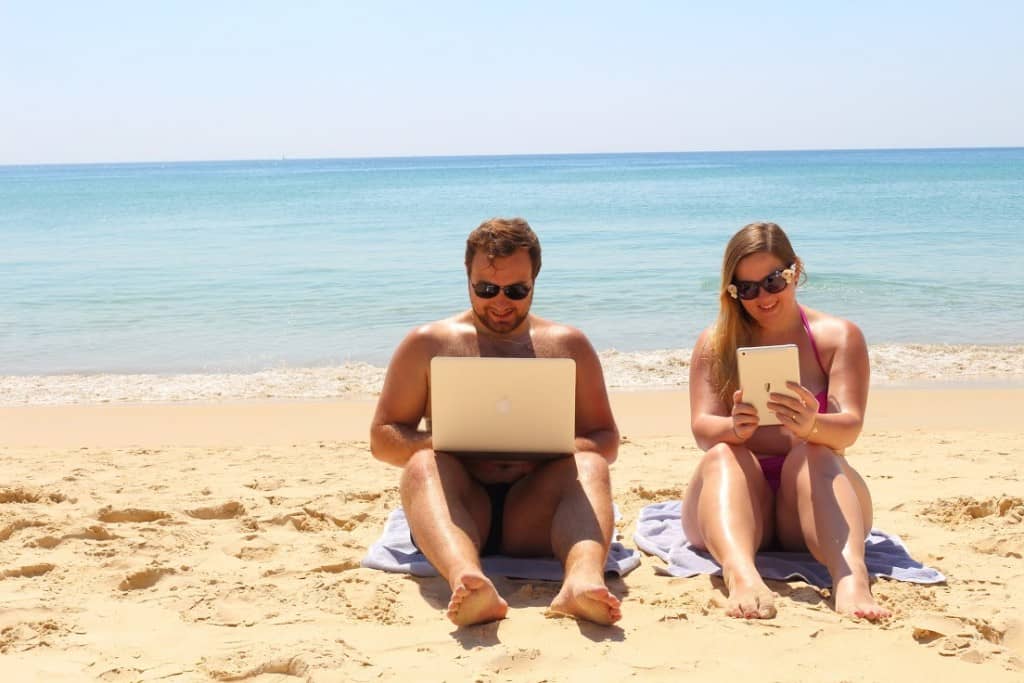 Ways to Make Money Online for Couple #3
Tutoring
Think about all the skills you have, either individually or as a couple. You can use them by becoming online teachers! If you love kids and are wondering how can couples make money online, you may have found your calling!
Tutoring is a great way to make money on the Internet. You can teach foreigners your language and help students with maths, physics or anything you are good at. The best part is that you don't necessarily need a degree to start. Let's take the English language as an example: in many countries in the world, being a native speaker is enough to become a tutor. This is so simple that's it's even how teens make money online. How awesome is that?
Ways to Make Money Online for Couples #4
Selling Products
Selling products online in Poland was our first job. I think it's a great thing to do for couples: you can find innovative ways to sell the products by brainstorming and coming up with creative ideas together. It's up to you whether you chose to sell on your own online store or on the platform like Amazon.
You can either sell your own products, work in a dropshipping business model or sell someone else's products as a freelancer. Any way you choose, you can make money, travel, and have fun all at once!
Keep in mind that you don't need to sell physical products. Those may be virtual products (ebooks, courses), or services (website's audits, etc.) as well.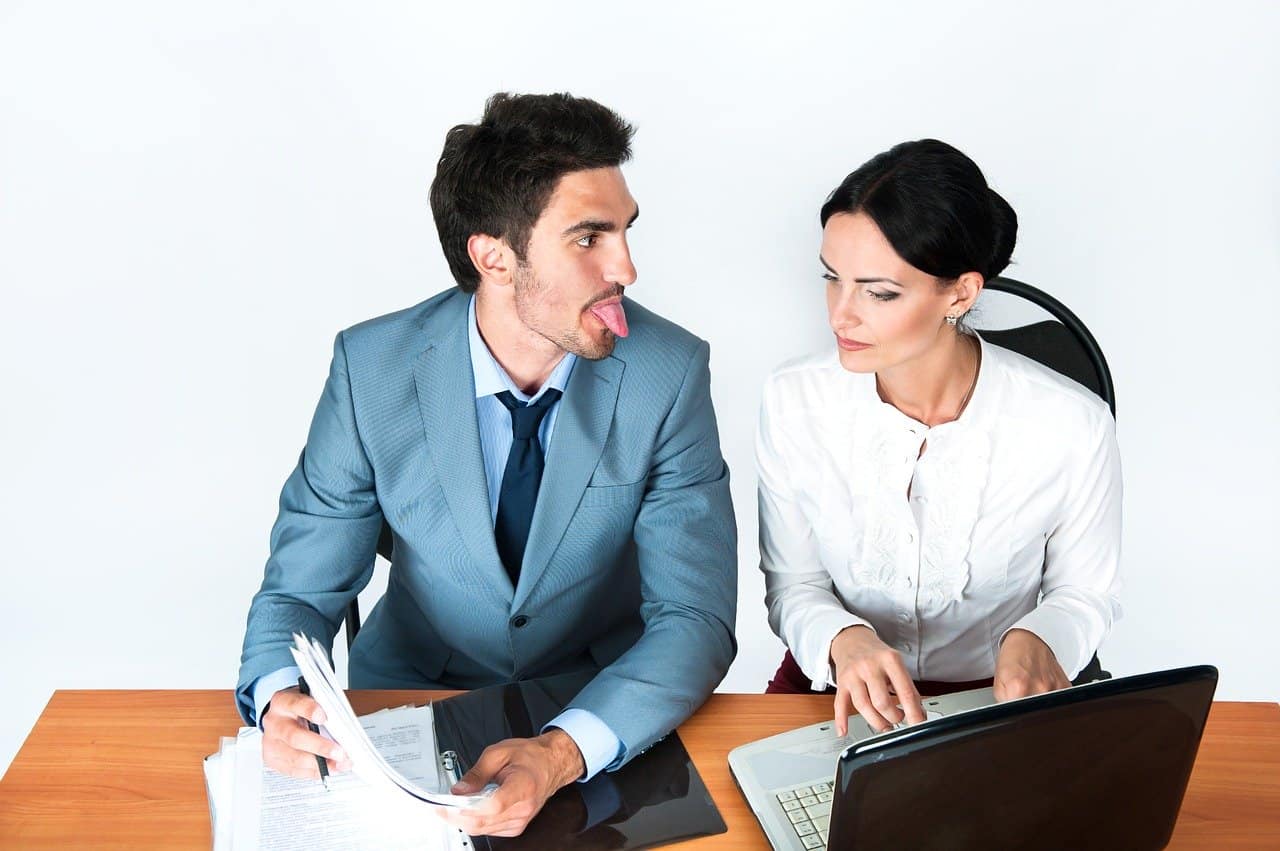 Ways to Make Money Online for Couple #5
Digital Marketing
Online marketing is strongly connected to selling. At the end of the day, no matter how good of a seller you are, you need to attract customers to your website first.
This is what marketers do: they try to promote products and services in the best possible way. The idea is simple: spend the least amount of money and get the maximum sales score.
Online marketing is a vast field, so it's better if you specialise in one thing at the beginning. Some examples are: SEO (mastering search engine optimization), e-commerce and email marketing.
In my opinion, digital marketing is one of the best careers for couples. It's developing really fast, so you can learn new things about it everyday!
Ways to Make Money Online for Couples #6
Consulting
Again, you can use the skills that you have with this job. The sky is the limit in the consulting. This is one of the best ways of making money for traveling and working abroad if you are a master at what you do.
When you master your skills, you can get paid to teach people how to do it. You can become a social media consultant, sales consultant, hotel marketing consultant or even… relationship consultant. It all depends on you! Think about the skills that you already have and try to find customers who want to pay for your knowledge.
Simply by teaching others how to go from thinking about how to make money to travel to actually making money while traveling, you can earn a living! This is a great way to make money online for couple.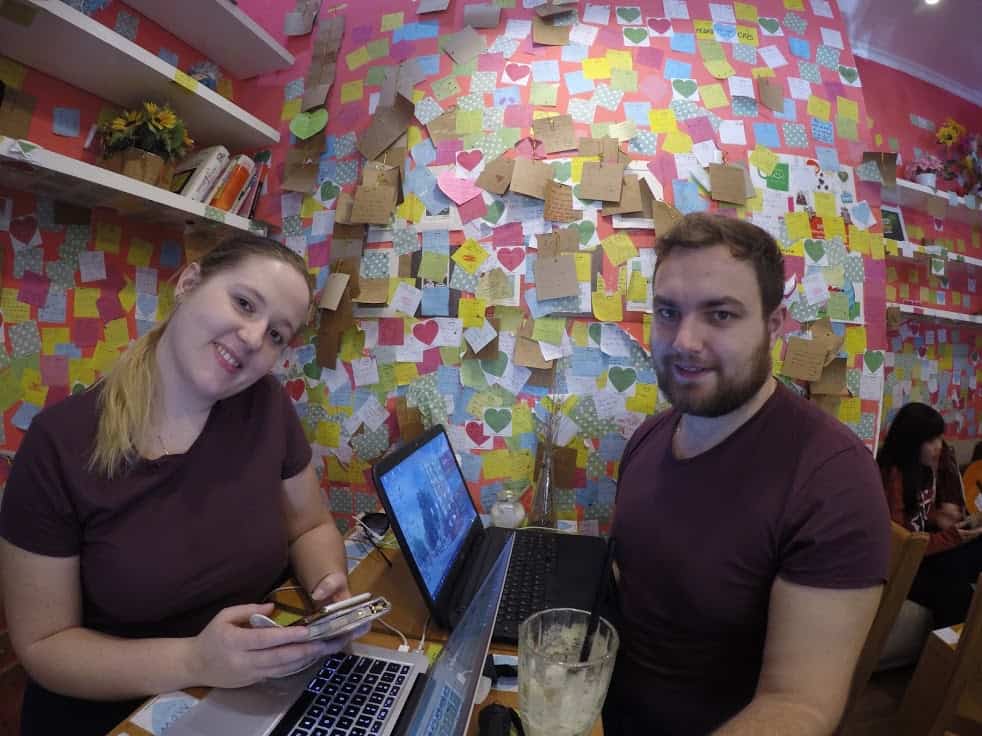 Ways to Make Money Online for Couple #7
VA & Social Media Management
A virtual assistant is a person who can do… anything. Depending on the requirements, you can help with replying to emails, managing social media channels, scheduling appointments or organising meetings. VAs are the closest aides to the person that hired them. Their job is to help their employer in various tasks.
What's absolutely awesome is that you don't need many skills to become a basic virtual assistant. This is one of best ways of making money online for couples if you both love to support others.
It's a great job to start your adventure as a digital nomad couple!
Ways to Make Money Online for Couples #8
Running A Business Together
If you are brave and entrepreneurial enough, you can start a business online. If you want unlimited independence, it's definitely the best way to earn money for couples. You will be the masters of your own time and you'll create your own tasks.
What's beautiful is that it's a great opportunity for you to grow as a couple. Your business may be your mutual passion. We have been running a company together for almost three years, and we treat it as our baby. We think this is one of the most ideal jobs for a couple who are traveling and working abroad.
Of course it will be also a big test for your relationship. We have noticed that most couples who work together have a great relationship, but spending so much time together may kill the romance, so think twice before starting a business. For us it was great, but some people have the completely opposite experience. If you are both independent-minded, this is probably the best way to make money online.
Speaking from the experience, you won't be able to do everything on your own. Running your own business is pretty challenging, so you may need to outsource some things.
If you need help with finance, go to Money Brighter, for help with your WordPress site go to
WpServed
, for help with apps you use for your business go to
Softgoza
, and finally find an accountant that knows your local law and taxes.
Ways to Make Money Online for Couple #9
Translating
If you are reading this article, it means that you speak English. Do you know any other language? If so, you can make money as a translator. It's a great example of how make money online without investment.
If you are good, you can earn a few thousand dollars monthly. How awesome is that? Bilingual speakers will find that this is an easy way to make online for couple.
Ways to Make Money Online for Couples #10
Trading & Investing
I am not an expert in this field but I know some couples that are earning money online by trading and investing.
The most popular platform for beginners is Forex.
Pin For Later:
Can you think of other easy ways of making money online and jobs abroad for couples? Let us know in the comments!