Thailand is a country full of surprises. Seeing the family of five riding the small scooter? Spotting a dog with eyebrows painted with a pen? Noticing that the Thai man next to you has super long nails? Realizing that the smartphone of your taxi driver is actually bigger than your tablet? It's all possible in The Land of Smiles. In this post, you can see another odd side of this country: the weirdest temples in Thailand that you won't believe actually exist.
From the extremely visual representation of hell to the temple of… David Beckham. With the help of our blogging friends, we've covered it all!
Here's a map of the most unusual temples in Thailand that you can find in this article:
The White Temple
The White Temple (or its traditional Thai name, Wat Rong Khun) in Chiang Rai is one of the weirdest temples in Thailand. And although it's a strange, even creepy place, it is also a stunningly beautiful privately-owned art exhibit, created by the famous Thai artist Chalermchai Kositpopat. The art exhibition started over 20 years ago and there are still ongoing works to expand this temple complex.
With glistening silver skulls adorning gates, haunting hands that emerge from the ground, through to famous characters displayed on the walls (think Angry Birds, Keanu Reeves through to Spiderman), this temple will keep you fascinated for hours. Not to mention there are loads of other interesting exhibits and buildings to explore within the grounds. One thing to look out for; the most intricate gold toilet block you'll ever see, I guess it gives a new meaning to the golden throne.
If you're wanting to capture those picture-perfect Instagram moments, then make sure you're there just before closing time – being the last to enter at around 5.30 pm will give you time for the walkways to clear. It's such a popular tourist destination now, that even at opening you'll find queues waiting. There is an entry fee of 50 THB.
Location: Pa O Don Chai, Chiang Rai 57000, Thailand
Open: Daily 6.30 am to 6 pm
The Blue Temple
Chiang Rai Blue Temple or as commonly known in Thailand, Wat Rong Seua Ten, is situated in Rimkok district a short distance from Chiang Rai. Unlike many temples in the area, Blue Temple is still new and partly under construction. Its blue interior features a white Buddha and the paintings evoke the feelings of the White Temple, also in Chiang Rai.
The great Buddha stands in front of the back section of the temple.
The site of the temple used to be another temple, which collapsed around 100 years ago. The current Blue Temple was first idealized in 1996, and the actual construction began in October 2005.
The Blue Temple is not yet as popular as other temples in Chiang Rai because it is fairly new, but with its magnificence, it will soon become famous.
We visited the temple when we were exploring Chiang Rai with kids. We loved the deepness of the blue color connected with gold, glass balls at the end of the staircase where you can see the picture of yourself or temple upside-down.
The worst thing about the temple is getting there since there are no public means of transportation. You will need to hire a tuk-tuk or if you have your own scooter it is even better.
The Black House
One of the most wonderful and the weirdest temples in Chiang Rai is the Black House, an enormous wooden building holding a bizarre collection of art. The black buildings that make up the temple site are undeniably gothic, built on stilts and flanked by animal skulls and crossbones.
Belonging to Thai artist, Thawan Duchanee, this impressive site is set amongst relaxing green gardens and surrounded by shady trees is a must-visit while in Chiang Rai. It's high in the quirkiness stakes: as soon as you step inside and leave the peaceful gardens behind, you'll be surrounded by a crazy collection of items from around the world. These include an entire elephant skeleton and various other animal bones and snakes' skins. Apparently all the animals died from natural causes, a fact that makes a visit to the Black House slightly less creepy.
Other buildings dotted around the garden of the Black House are less gothic and more Buddhist. One particular Buddhist shrine boasts elaborate carvings and resembles many others in Thailand. But of course the interior contains furniture made of animal remains and crocodile skins. What else would you expect from the Black House?
To visit the Black House, take a taxi from Chiang Rai center. It's easy to hail a cab or you can call one via the Grab app. For more details, check out Where Goes Rose?'s Chiang Rai travel guide.
Wat Sri Suphan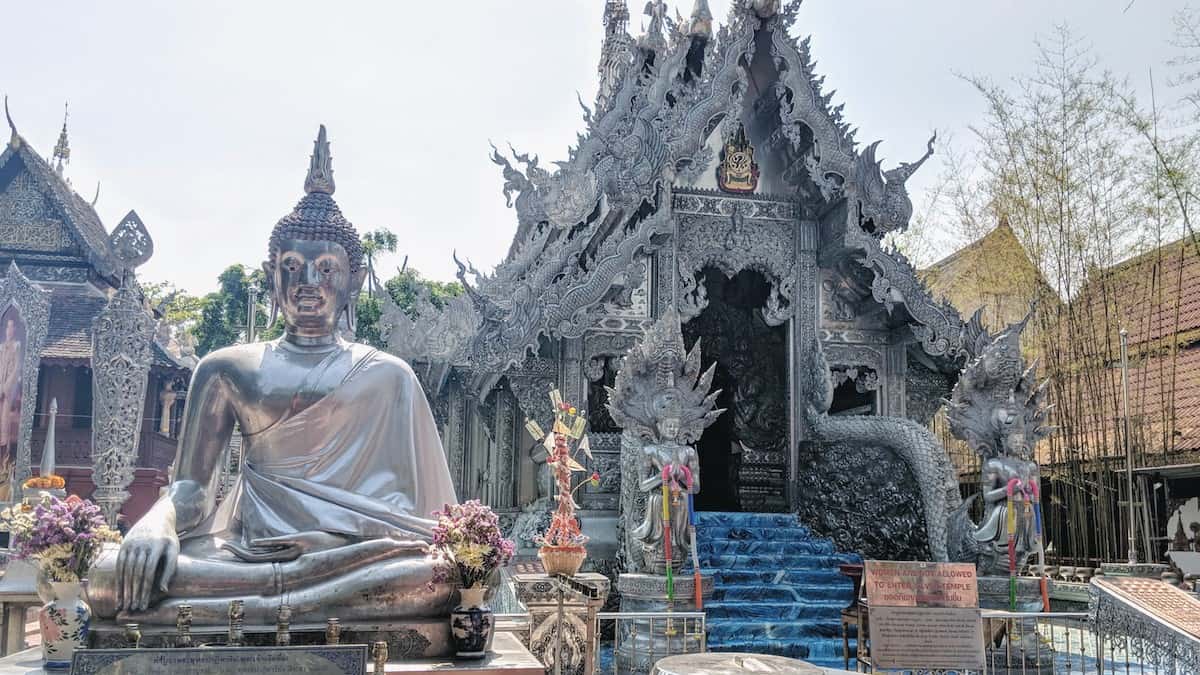 Wat Sri Suphan, also known as the silver temple, is located in the silversmith district of Chiang Mai and is unique in that it's crafted entirely from silver and aluminum. The temple dates to around 1500, making it one of the oldest temple in Chiang Mai.
Most of the temple is made from aluminum with key sentimental features such as the Buddha statues crafted from silver. The level of detail is exquisite, right down to the meticulous carvings depicting the Buddha's life. The temple is best viewed during the middle of the day when the sunlight's reflection adds a beautiful sparkle to the temple.
Due to a centuries-old tradition, women are not allowed to enter the temple but it's the craftsmanship of the outside that makes this temple so special.
Within the complex of the temple, there is also a small museum, art education center and opportunities to buy souvenirs from the local silver workshops. The complex is located just outside of the walled city and is easily walkable from the night market, there is a 50 baht charge for entering the complex.
Wat Tham Ta Pan Temple
This is arguably one of the weirdest temples in southern Thailand (if not the entire country). Wat Tham Ta Pan is usually referred to as "the heaven and hell temple" due to its main exhibition depicting the Buddhist ideas of heaven and hell in a rather peculiar way.
At first glance, Wat Tham Ta Pan looks a little abandoned and decayed, which only adds to its already eerie atmosphere.
There is a fountain with statues of five monks at the entrance, each holding a bowl. They stand for beauty, happiness, intelligence, wealth and health. Try tossing a coin into the bowl of your choice; if you succeed, you will get the associated desire.
Next to the snack shop, there is a large Chinese dragon whose jaw serves as the gateway to heaven. As you venture through the tunnel with only a few tiny windows, you'll soon reach a cave that contains Buddha statues that grant entry into the eternal kingdom.
On your hike through the cave, you will cross underground rivers and in the end, you'll find an outdoor area filled with statues of sinful Buddhists being tortured in hell.
Buddhist hell really has it all! The creators of Wat Tham Ta Pan really went to great lengths to portray the torture and suffering that sinners expect in hell as detailed and as vivid as possible. The gigantic dog that chews with pleasure on the hand of a sinner is still the most harmless!
Wat Tham Ta Pan Temple is located about one kilometer south of Phang Nga city center. It is open daily from 8.30 a.m. to 6.30 p.m. Admission is free, but it's always nice to make a donation. Please be advised, the ornate statues are extremely detailed – so Wat Tham Ta Pan temple can hardly be called a kid-friendly destination.
Wat Tham Ta Pan is certainly not for everyone, with its explicit depictions of violence. But if you are looking for atmospheric and weird locations for photoshoots in Thailand – or just want to immerse yourself in the pictorial world of the Buddhist heaven and hell, a trip to Wat Tham Ta Pan is an absolute must!
Wat Ban Rai
Isaan is a relatively untouched tourist area in Thailand due to its massive size and lack of tourist infrastructure. But there will always be the odd attraction for local tourism that just looks completely out of place in the seemingly endless backdrop of rice fields.
To reach Wat Ban Rai it is a 3hr 30-minute drive from Bangkok (267miles) and the nearest major city of Korat (Nakhon Ratchasima) is still a good 70km and a 1-hour drive, which kind of adds to the weirdness.
Korat as well is well worth a visit as one of the main hubs on the new highspeed rails and there's just plenty of things to do in Korat.
Otherwise, Wat Ban Rai is far-flung but it is also very contemporary when it comes to temples. Other than the sculptures found throughout the park, the interiors (of the elephant) are contemporary in design with paintings, sculptures, and modern art depicting traditional Buddhist teachings.
As well as the rather amazing views (over rice fields) from the top floors of the temple. Wat Ban Rai is a newish attraction (2013) but it has become a pilgrimage of sorts for local tourism in Northeastern Thailand.
Wat Saman Rattanaram
Temples are known to be yawn-inducing places filled with similar statues one after another. It is rare to find a temple that is exciting and keeps me on my toes.
That is why when I was in Bangkok, I wasn't looking to seeing the fifth reclining Buddha anymore. I wanted something different. That is how I found out with Wat Saman Rattanaram.
Thailand is mostly a country influenced by Buddhism but Wat Saman Rattanaram is a temple with Hindu deities. The most famous of which is the largest Ganesh statue in Thailand. This pink deity posture is similar to the reclining Buddhas in Thailands and its vibrant colors contrast with the beautiful blue skies.
Located next to Ganesha is the four-faced Phra Phrom, the Thai representation of the deva Brahma. My favorite thing about the Wat Saman Rattanaram is that it is just so colorful and lively.
If it is not on your Instagram-worthy list in Thailand, then it has to be. Inside the establishment itself is also a huge outdoor market that has countless varieties of products. Visitors can sample the local delicacies while admiring the uniqueness of this temple.
Located 1.5 hours
away from Bangkok
, the Wat Saman Rattanaram gets a fraction of the tourists of the other temples. It is a hidden gem that you should definitely add to your
Thailand itinerary
!
Wat Pariwat David Beckham Temple
Wat Pariwat is one of the weirdest temples in Thailand.
After you get inside, look at the altar closely. You will soon realize that one of the guardian demons that are carved into altar is actually… David Beckham!
The relief of this famous football player has been placed there in 1998 as a part of the World Cup celebrations.
You can read more about this odd temple here. If you want to discover Bangkok off the beaten path, you should visit Wat Pariwat!
Wat Yannawa – Bangkok's Boat Temple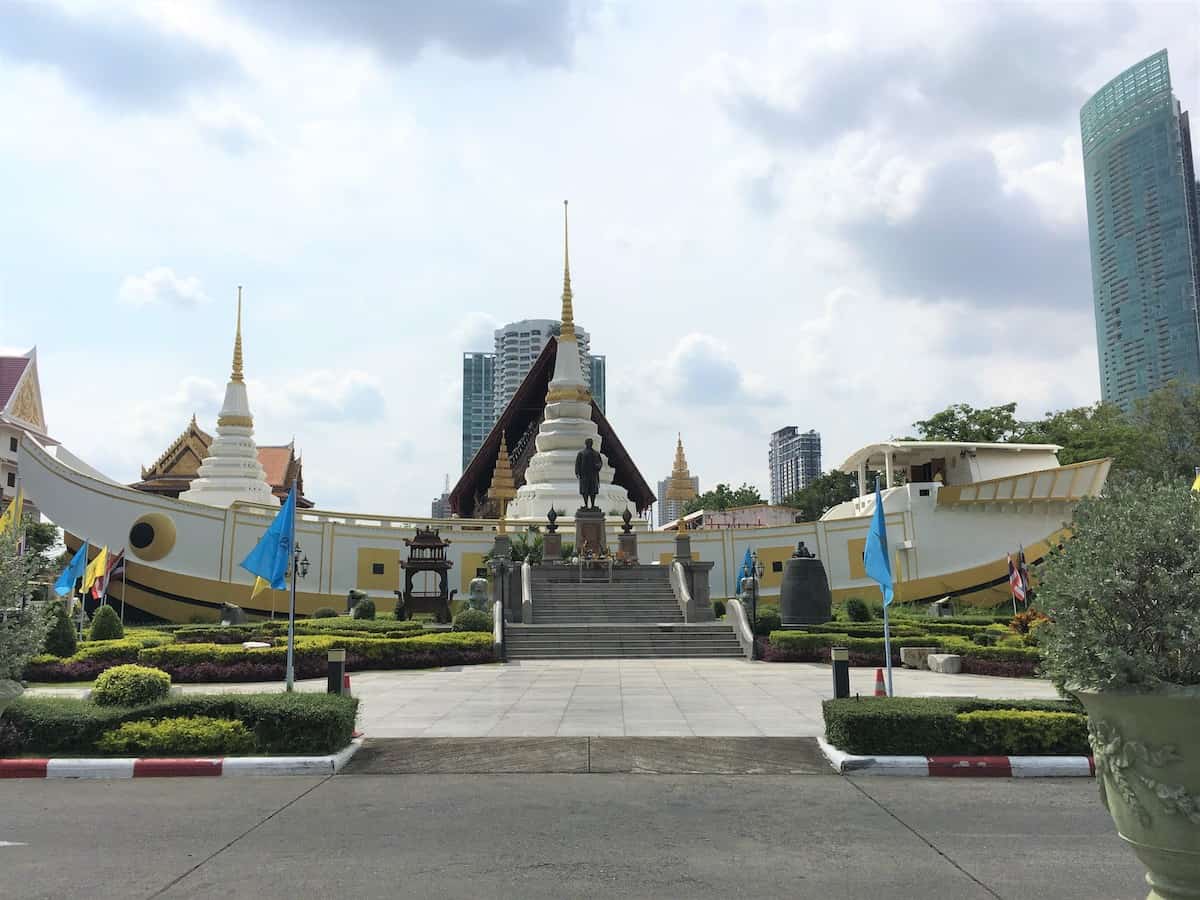 Hidden from the road by tall white walls you could easily walk past this quirky Bangkok temple and not realize what was inside – but wander in through the gates and you'll be treated to the sight of one of Bangkok's oldest temples – and, bonus, it's shaped like a boat!
The temple was built in the 19th century and legend has it that King Rama III, king at the time decided that the boat should be added to give thanks to the foreign ships helping Bangkok prosper.
You can enter the boat part of the temple, but, compared to most Bangkok temples, it's more charming than ornate – just two white chedis and a small altar. You do however get a great view of the abandoned Sathorn Ghost Tower, one of Bangkok's most fantastic buildings, from up here. If you're short on time though, you won't miss out on much just checking the temple's shape from a distance. The best view is probably from the east side where the boat shape becomes most apparent. Go early if you don't want cars spoiling your picture. The temple opens at 8 am.
Wat Yannawa is located at 40 Charoen Krung Road just a short walk from Saphin Taksin BTS and you could easily fit in a quick visit before you just on one of the riverboats up to the Khao San Road or Grand Palace. Or, head west down Charoen Krung and you'll find Bangrak, one of the best districts for street food and cheap places to eat in Bangkok.
Erawan Temple And Museum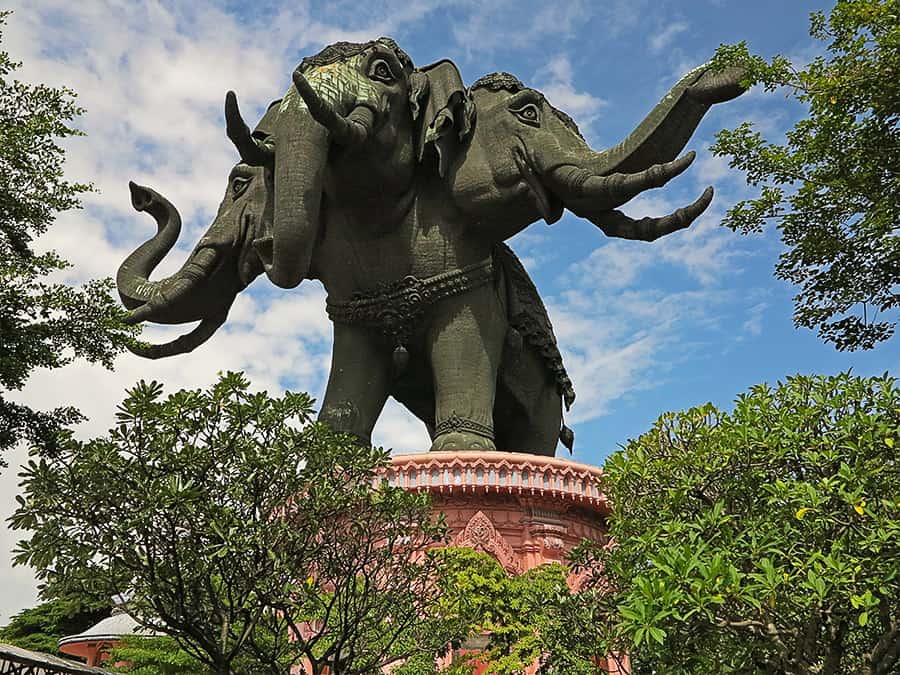 Did I climb a spiral staircase inside an elephant's leg to look out over Bangkok from its belly and visit a cave-like Buddhist shrine in one of its three heads? Or was it a surreal dream? I've had some weird dreams, but photos prove the elephant experience happened for real.
The
Erawan Temple and Museum
took nine years to construct and the three-headed elephant, propped up by four pillars inside a circular pink building, is the biggest hand-carved sculpture in the world according to the museum.
Inside, it's more impressive than the outside. Winding stairs lead through three main floors showing the Hindu representation of the universe; Underworld, Earth, and Heaven. Earth's sumptuous colors are like something out of the Guardians of the Galaxy films, with intricate carvings and porcelain mosaics depicting Thai mythical creatures alongside mermaids and dragons. There's also a stunning stained-glass ceiling by a
German
painter.
The temple doubles up as a museum with Asian art and ceramics from the private collection of Lek Viriyaphan, a millionaire businessman who died (aged 85) three years before the temple was finished. The gardens are interesting to wander too, with water features and more sculptures.
Bangkok's BTS Skytrain runs to Chang Erawan Station, from where the temple is a 10-minute walk. The Skytrain didn't run this far when I visited, but now you can get a great view of the temple as the Skytrain passes by it.
Pin For Later:
Would you add something to this list of the weirdest temples in Thailand? Share your thoughts in comments!