Yangon (also known as Rangoon) is one of the most important cities in Myanmar. It was a capital of this country for many years (until 2006). We didn't have any expectation for Yangon. We bought tickets to Burma spontaneously and knew almost nothing about this country. Now, after coming back, we have many Yangon travel tips.
Myanmar turned out to be extremely fascinating country, the most interesting of all ASEAN. We have visited Thailand, Malaysia, Philippines, Singapore, Indonesia, Vietnam and Cambodia. And they can't be even compared to Burma!
You won't see many tourist in this country. Burmese people look very original with whitish-yellow paste called thanaka all over their faces. It was a huge surprise to us that men in Burma wear skirts! There were so many fascinating things about this country that we wrote a separate post about Interesting facts about Myanmar.
Anyways, this post is about Yangon travel tips and things to see in this beautiful city. Below, we are giving you a list of 10 best places to visit in Rangoon!
Yangon travel tips – what to do & see
Shwedagon Pagoda
It is the most important temple in Myanmar. Shwedagon Pagoda is huge and it is visible from many places in the city.
After visiting hundreds of temples in South East Asia, we didn't expect anything special from this pagoda. And we were wrong! For us, it was the most beautiful Buddhist temple we have ever seen!
Shwedagon is huge and monumental. We spent more than 2 hours to see everything inside. The main pagoda is 99 metres tall (325 ft).
Burmese people believe that it was built more than 2,600 years ago but this information is not confirmed by historians. Archeological investigations showed that Shwedagon Pagoda is  1,000- 1,500 years old.
Over the centuries, the temple was damaged many times. But it was always rebuilt bigger and stronger.
Burmese people believe that this temple contains relics of the 4 previous Buddhas, that's why it is the most sacred place in the whole Myanmar.
IMPORTANT YANGON TRAVEL TIPS: In Myanmar, you have to be barefoot to get to the temple. You can't even wear socks!
Shwedagon Pagoda is open everyday from 4 am until 10 pm. Ticket price is 8,000 Kyat ($8) per person.
2. Sule Pagoda
This temple is much smaller than Shwedagon Pagoda but we really liked it! There are no foreigners there, so you can actually see local people praying and spending time in a pagoda. It is a very peaceful and relaxing place.
Burmese people believe that Sule was built before Shwedagon Pagoda. So it must be more than 2,500 years old!
We haven't found any information whether it's true or it's just a legend. But it really doesn't matter- this temple is beautiful and it is definitely worth visiting, no matter how old it is.
Sule Pagoda is open everyday from 6 am until 10 pm. Ticket price is 3,000 Kyat ($3) per person.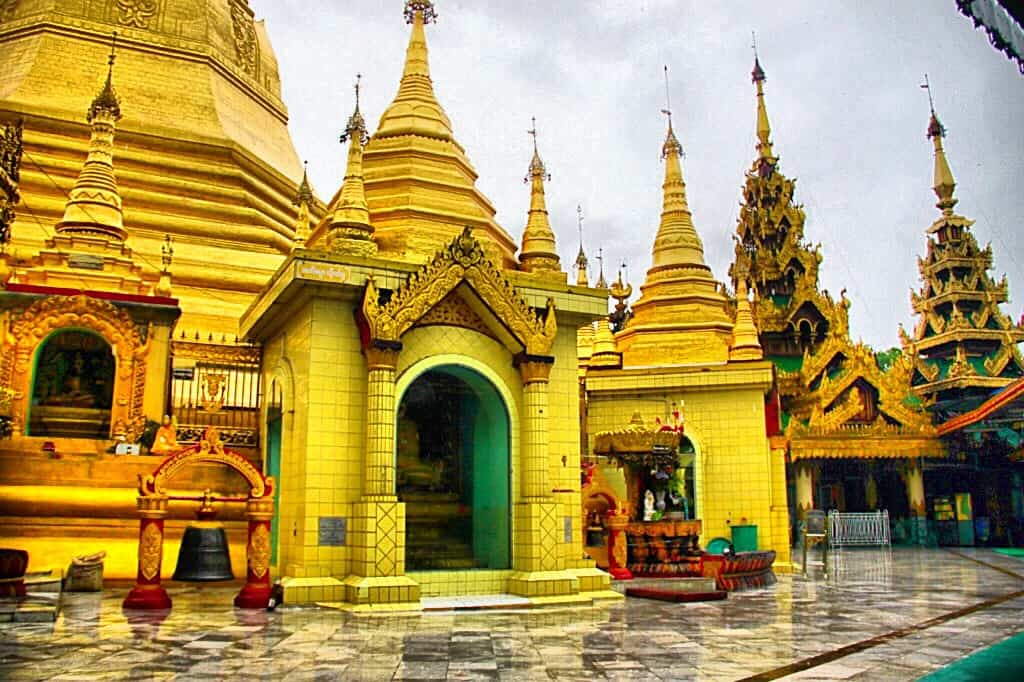 3. Night market at Maha Bandula road.
Maha Bandula is the main road leading to the Sule Pagoda. It is always crowded, noisy and full of of smells.
If you like the night life, you should definitely visit Maha Bandula after sundown. You can drink traditional Burmese bear (called Myanmar), eat local food and even try fried insects!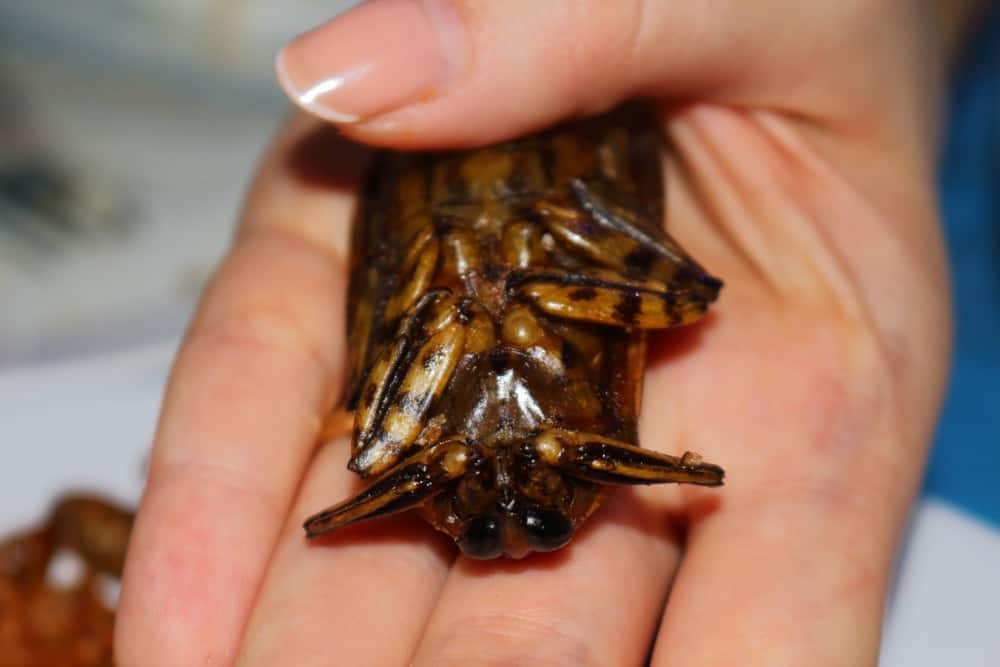 4. Yangon Zoo
It is the oldest zoo we have ever been to. It's more than 100 years ago! It's also very controversial place- some people accuse that the animals have very poor condition of living there. And that it's not very safe place because of lack of bars and cages.
It's true that in this zoo you can be really close to deadly animals like hippos. If you lean out, you could even touch them. No one is there to take care of the safety of tourists.
It is good and bad at the same time. Good, because you can take really awesome photos and hand-feed the animals. Bad, because if you are not careful enough, you can hurt yourself.
After visiting Yangon zoo, we don't have any opinion about it. It was just… weird. But in the end, that's why we travel, to experience something unique. We are still not sure if visiting Yangon zoo was good or bad experience for us.
Yangon Zoo is open everyday from 8 am until 6 pm. Ticket price is 3,000 Kyat ($3) per person.

5. Kandawgyi Lake
Kandawgyi Lake and Nature Park is the most peaceful area of Yangon. It is so quiet and lovely, that we could easily spend the whole day there (if we had enough time).
The Great Royal Lake is one of the biggest lakes in Yangon and it is situated really close to the Shwedagon Pagoda and Yangon zoo. So after visiting the pagoda, you can walk to Kandawgyi Lake and then to the zoo.
IMPORTANT YANGON TRAVEL TIPS: There are few restaurants in Kandawgyi Nature Park, so it is a really good place for a lunch or dinner.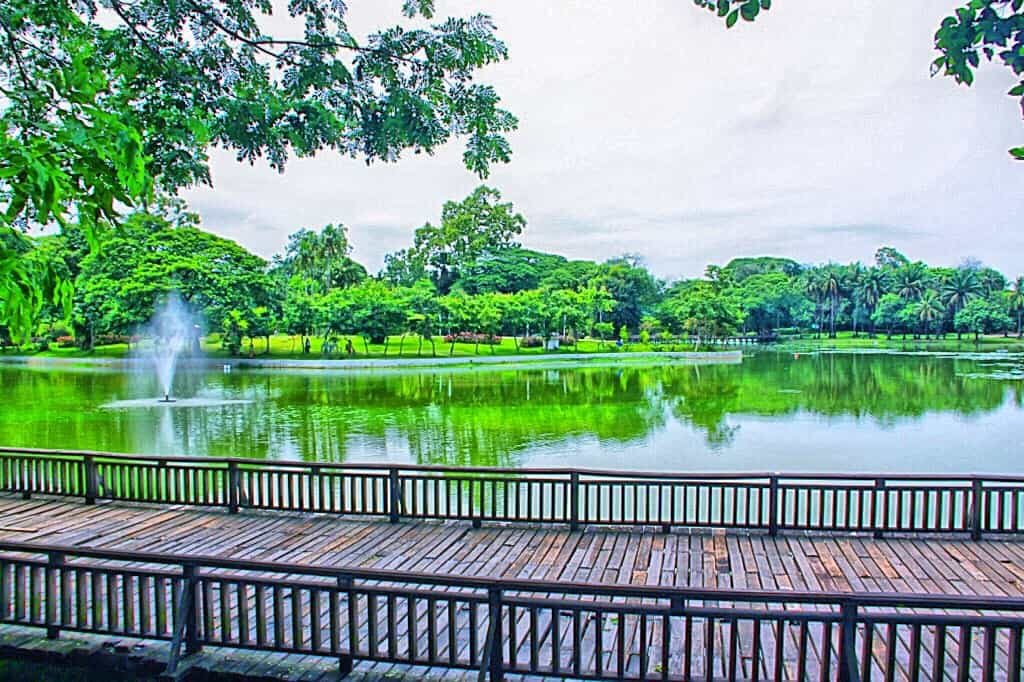 6. China town
Something for foodies!
China town is the most interesting area of Yangon. You will find many restaurants and bars there with very cheap food and drinks.
The Night market at Maha Bandula road, Kheng Hock Keong Temple and Sule Pagoda are situated in the China Town area, so it's worth to visit all these places during one day.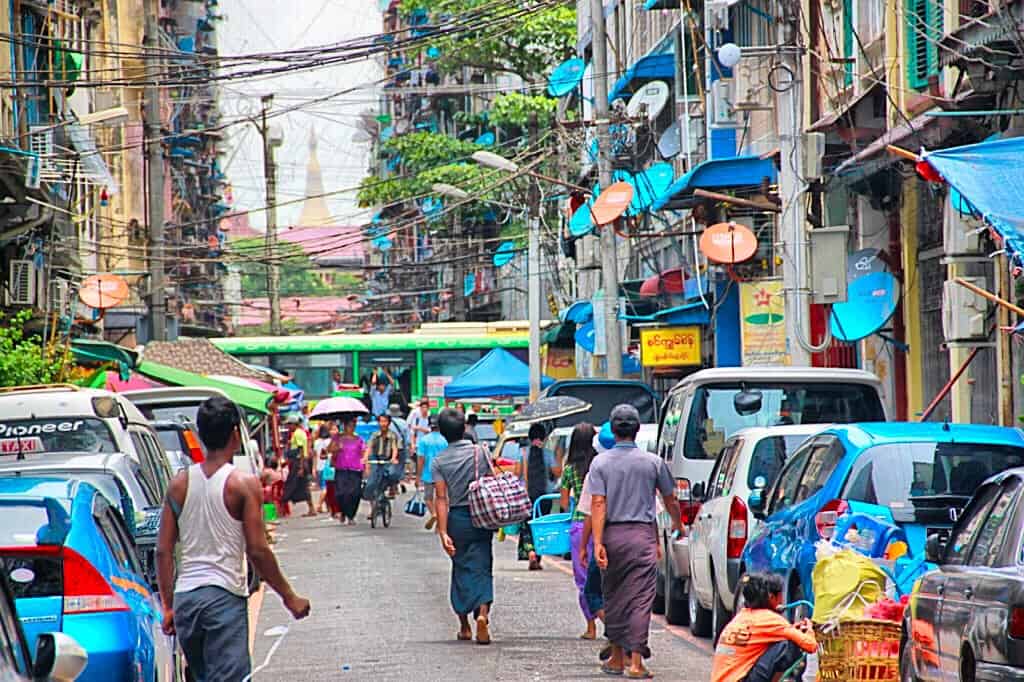 7. Kheng Hock Keong Temple
The most important, the oldest and the largest Chinese temple in Yangon.
The temple is really small comparing to Shwedagon or Sule Pagoda but it is still worth visiting. We really like the peaceful atmosphere of this temple.
The admission to the Kheng Hock Keong Temple is free.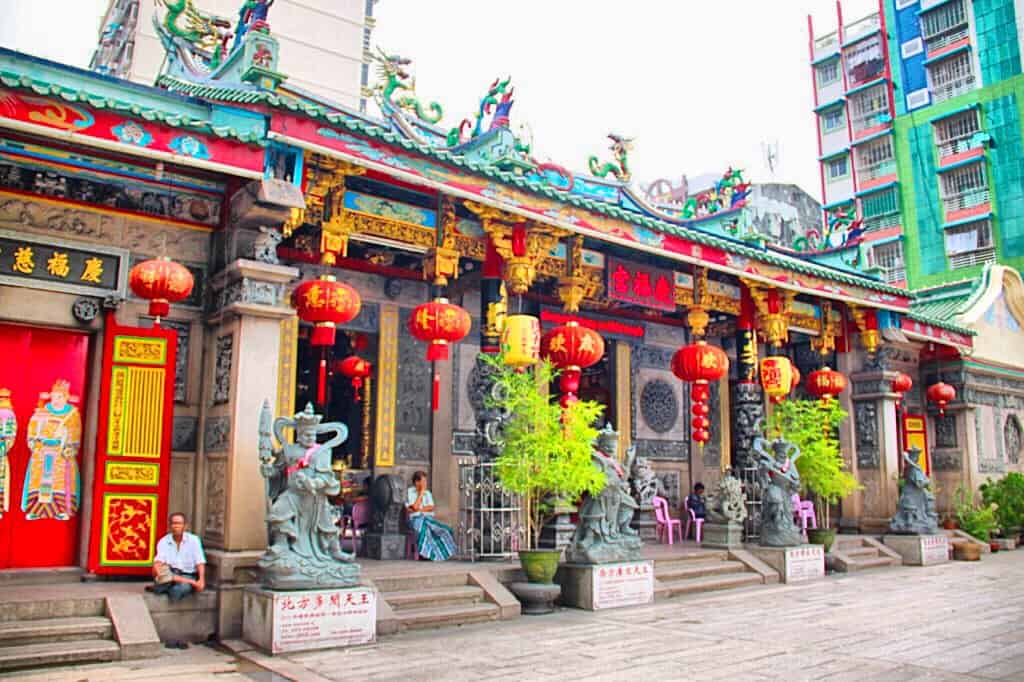 8. Bogyoke Aung San Market
Best place for shopping in Yangon!
If you want to buy yourself some clothes (including a traditional longyi), you will love this place. Bogyoke Aung San is a big market with really low prices. The thing that we like the most about it is that it is roofed. No matter what the weather is, you can always go shopping there.
IMPORTANT YANGON TRAVEL TIPS: Don't forget to bargain! The first price you will get is always too high.
Bygone Aung San Market is open from Tuesday to Sunday from 10 am until 5 pm. 
10. Botahtaung Pagoda 
It is believed that Botahtaung Pagoda is as old as Sule and Shwedagon Pagoda (more than 2,500 years old).
It is a peaceful temple situated on the riverside. An interesting fact about it is that it was completely destroyed during World War II.
Burmese people started rebuilding it in 1948, after they gained independence from the United Kingdom.
Botahtaung Pagoda is open everyday from 6 am until 8 pm. Ticket price is 3,000 Kyat ($3) per person.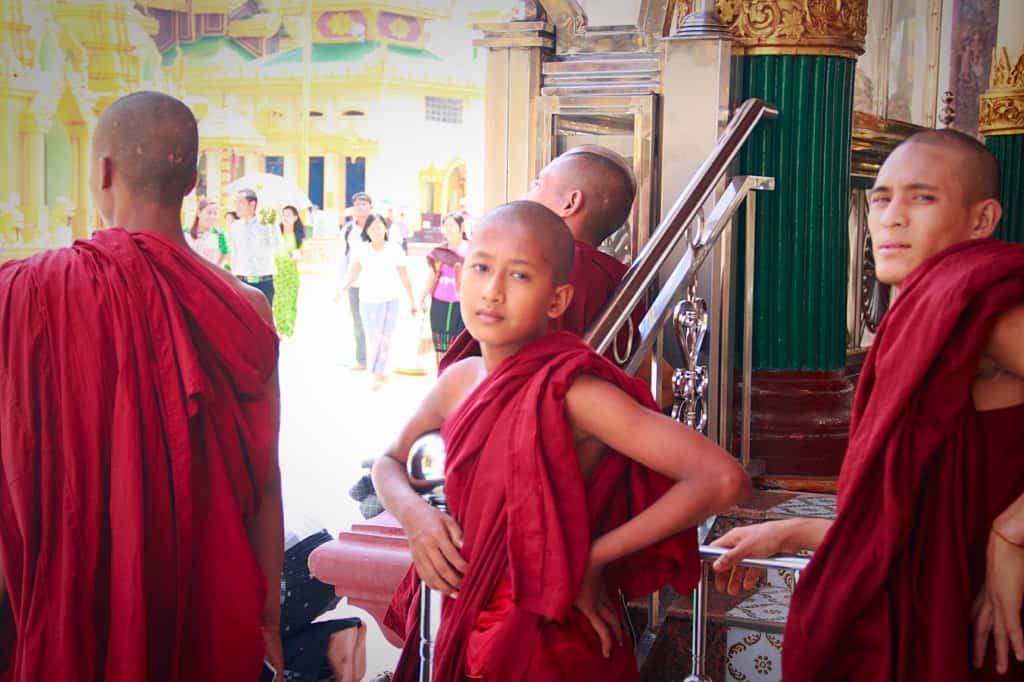 Was this post useful to you? Remember, sharing is caring! Let us know what you think in comment 🙂
Disclosure: Yay for transparency! Some of the links in the article are affiliate, which means that if you book something by clicking on them, we will get a small commission with no extra cost to you. Your support helps this blog going.