Best hotel Estonia – the most luxurious hotels review
Estonia is a hidden gem of Europe. It is a tiny country situated at the Baltic sea. 50% of its territory is covered by forest, so it is a perfect tourist destination for every one who loves nature! Just like we do- we felt in love in this country right after we crossed its border with Lithuania. Even though we spent only 2 weeks in Estonia we know we will come back there soon. We will miss wandering around Tallinn's Old Town, driving though an empty roads of Estonian highway and… staying in awesome hotels! We were surprised by the quality of accommodation that we found in this country. They were world class and luxurious. In this post we are reviewing three of the best hotel Estonia. We hope you will like them as much as we did :).
Best hotel Estonia
Toompuiestee 27, 10149 Tallinn
About the hotel- best hotel Estonia
We absolutely love Park Inn by Radisson Meriton! Why? It is located within the walking distance to the Old Town, it has awesome spa, fast WiFi and professional staff. There is literally nothing more we could expect from the great accommodation. Park Inn is a big hotel, so there is always a lot going on there. We love places like this. We can eat something delicious, relax in a jacuzzi or enjoy the evening cocktail without necessity to leave the hotel. How awesome is that?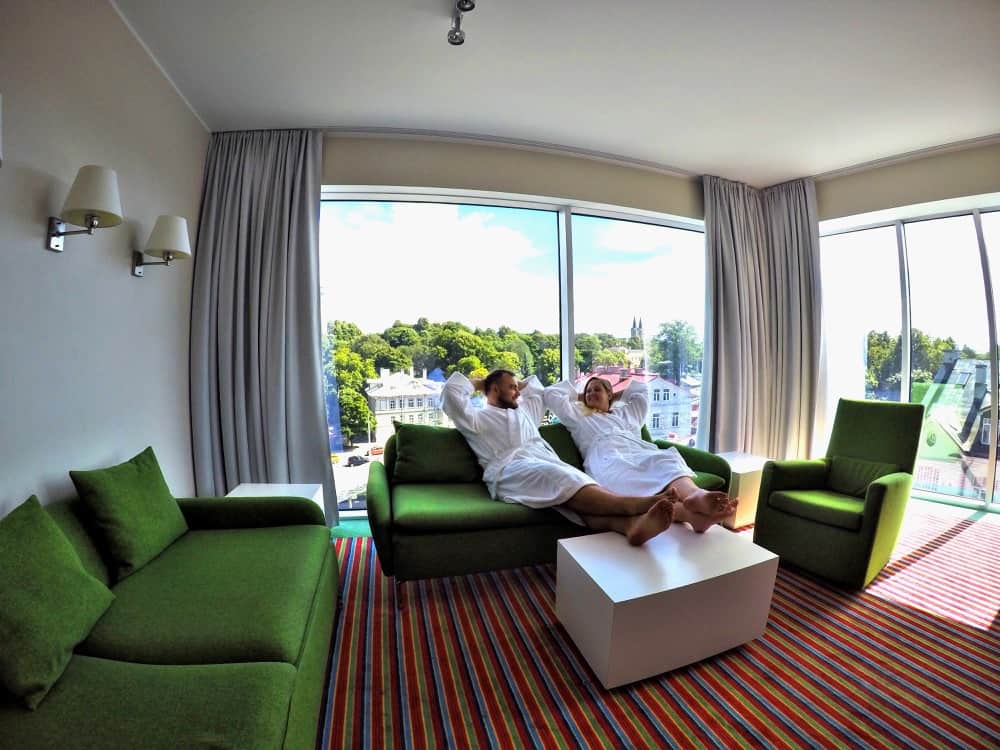 Rooms at best hotel Estonia
All rooms at Park Inn by Radisson Meriton has an access to the Aqua Centre & Sauna, Air Con, work desk & chair, TV, safety deposit box, kettle and free WiFi.
Depending on your requirements, you can choose from:
Standard room
Traditional (19m2) room with double or twin bed. Great if you are traveling with children or family- you can ask for the connecting room to stay close to each other.
Superior room
It's very similar to standard room but it's a little bit bigger (20m2).
Family Room
If you feel that connecting room is not good for you, you can choose the family room. It is spacious (23m2) and comfortable!
One-bedroom apartment
Super comfy and spacious apartment (40m2) with a sofa and queen-size bed.
Two-bedroom apartment
Luxurious and spacious apartment (42m2) with two rooms & two TVs.
Junior Suite
Something for those of you who like the luxury. Junior suite is spacious (40m2) and beautifully designed.
Sauna Suite
Spacious suite (46m2) with private sauna and jacuzzi!
Grande Suite
The best that Park Inn Meriton has to offer- huge (60m2) apartment with private sauna, jacuzzi, separate bedroom, dining & living room. Pure luxury!
Restaurants
As we mentioned before, Park Inn by Radisson Meriton is a huge hotel! It has 5 restaurants & cafes. We are writing about three that are the most popular. The other two are Russian Restaurant Balalaika and Bistro Mary.
1. Grill 250°
Love this restaurant! This is were the breakfast is served for all the guests. Below you can see the video of all the delicious food you can eat there in the morning. What we liked the most was the coffee- it was the REAL coffee that tasted like the one from Starbucks. Yummy!
In the afternoon and in the evening, Grill 250° turns into a high-end restaurant. They serve delicious steaks, sausages, salads, soups and drinks. Everything is fresh and so tasty that you simply can't get enough of it :).
2. Cafe Mademoiselle 
Cafe Mademoiselle is a perfect place for brunch & lunch. Everybody can find something for themselves there. You can choose from the delicious & fresh cakes, salads and soups. And of course drinks like coffee, tea or cider.
3. Cubano bar
We can't imagine better place for an evening drink than the Cubano Bar! It is an awesome bar with a variety of snacks, alcoholic and non-alcoholic drinks to choose from. If you are bored, you can play the billiards or table football.
Wellness & spa
There is a big spa and wellness area in Park Inn by Radisson Meriton hotel. Aqua Centre with swimming pool, jacuzzi and 4 saunas (salt, Finnish, steam & samarium) are available for all the guests.
In the spa you can choose from the variety of treatments,. You can also go to the fish spa, the hair salon or the sports club.
Check out the latest prices for Park Inn by Radisson Meriton—> click here.
Best hotel Estonia
Viru 8, 10140 Tallinn
About the hotel- best hotel Estonia
CRU is a boutique hotel situated in the heart of an Old Town in Tallinn. We absolutely loved it! The intimate and cozy atmosphere and the fact that there are only 15 rooms in the hotel, made us feel special and significant. And the location… can you imagine staying in one of most beautiful streets of the entire country? Viru is always full of people, musicians and artists. Even though it is crowded, you won't hear the noise in your room at night. The old walls of CRU's tenement house isolate all the unnecessary sounds and voices. The other thing that we really liked about this hotel are the organic blackcurrant shampoo and shower gel that we had in our bathroom. They were made in Estonia and smelled really lovely!
Even though CRU is a small hotel, most tourists and locals have heard of it. Why? Because of its restaurant! It is one of the best places to eat in Tallinn. An award-winning chef, Dmitri Haljukov, serves delicious and unique food that can't be compared to anything else in the city.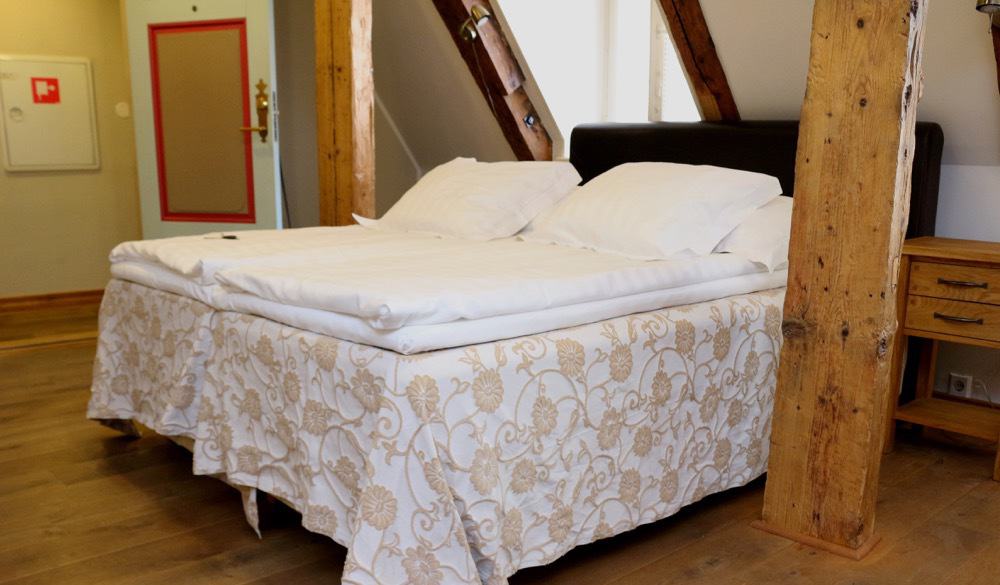 Rooms at best hotel Estonia
As we mentioned before, there are only 15 rooms in the CRU. We love boutique hotels like this, staying there can really make you feel special.
Standard single room
Great choice for solo travellers. Even though the room is quite small (12m2), you will find there everything you need: luxury interiors, big bed (140cm), TV, closet, free WiFi and private bathroom.
Standard Double Room
Perfect choice for those of you who are traveling as a couple or a family. You can have one 180cm wide bed or two 90cm beds that are connected. The interiors of the room are luxurious, the room is equipped with TV, free WiFi, closet, bathroom and more.
Double Deluxe Room
This is the room that we were staying in. We loved it! It is spacious (19-30m2) with one double bed or two separate beds and the sofa. Liked in other rooms, the interiors are luxurious and it is equipped with closet, bathroom, TV, free WiFi, desk with a chair and more.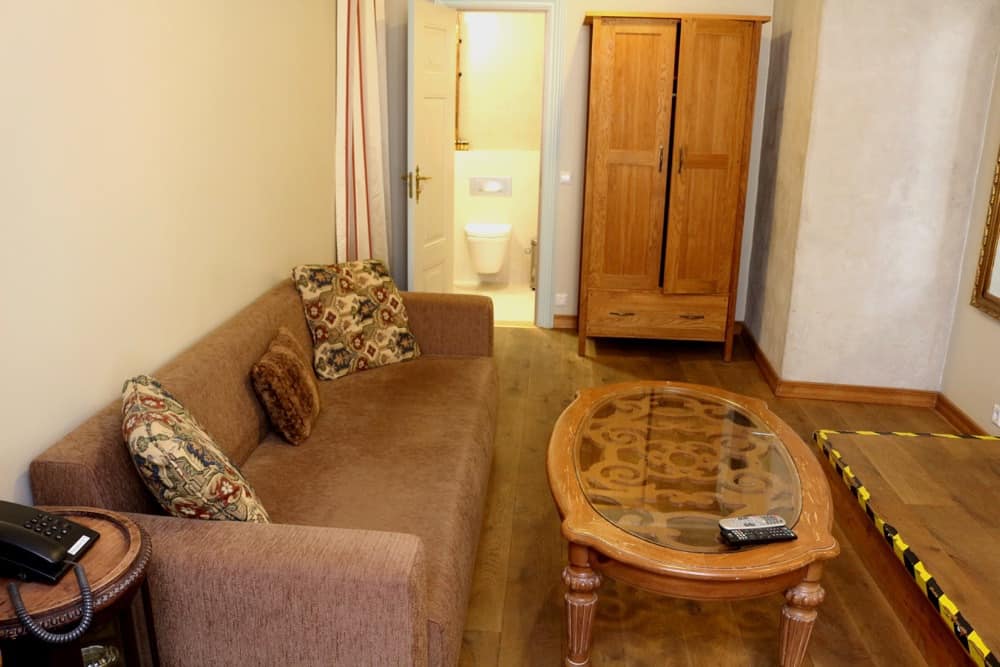 Suite
Suite is the most luxurious and the biggest (40-45m2) room at CRU hotel. It has one king size bed or two single beds to choose from. Apart from that, you will find there sofa, closet, cabinet desk, bathroom, free WiFi, TV and more.
Restaurant CRU
Let's start with the breakfast- it is complimentary for all the hotel guests. There is a variety of food and drinks to choose from, so everybody will find something for themselves there. You can see the short video from the CRU's breakfast below.
Most guests visit restaurant CRU for a lunch or dinner though. World class chef, Dmitri Haljukov cooks tasty and high-end food that attracts Tallinners and tourists.
We had a romantic dinner at CRU restaurant on Saturday night. The portions of meals are quite small and we really liked it. We could easily have 3 course meal. What we liked the most was the Chocoholic X.O. dessert. It was out of this world!
Check out the latest prices for CRU Hotel—> click here.
Best hotel Estonia
Tennisevälja 1, Otepää, 67405
About the hotel- best hotel Estonia
GMP Clubhotel is a lovely place to stay in. It is located in the small town of Otepaa (Southern Estonia) that is called the Winter Capital of the country. Right next to the hotel there is a Puhajarve- The Holy Lake. We absolutely love the location of GMP! It is peaceful, quiet and great to run away from the hustle and bustle of the city.
We were surprised by the quality of everything that we found in our apartment. The faucet and lamps had GMP engraver and logo that looked really luxurious. We are full-time travelers. This year we have visited more than 50 hotels and it is not easy to surprise us. GMP Clubhotel did. They thought about EVERYTHING. They gave us all we needed like for example 4 towels, bathrobes, umbrella, slippers. The kitchen in our apartment was equipped perfectly: we had dish-washing sponge, dish soap, dishwasher tab, matches, coffee maker machine (with capsules), salt, pepper, tea and even the paper towels! Not to mention the cutlery, dishes and pots. The quality of everything in the apartment was the highest that we could possibly get- the bedding and every details were perfect.
This is how you can truly recognise the luxury. Not by the general overview of the place but by the small details like the double mattress, extra rolls of toilet paper or the super soft touch of your bed linens.
Rooms at best hotel Estonia
GMP Clubhotel is not a standard hotel- this is a perfect place for travelers who like to feel like home. All rooms are actually apartments, with kitchens, bathrooms, wardrobes etc. They also have an access to sauna and gym.
One room apartment
The most basic but still very comfortable room. It can accommodate up to 3 people. All rooms come with balconies.
Two room apartment
Great for families and those who travels in a group. Two room apartment can accommodate 4 people. Two can sleep in a bedroom and two in a living room.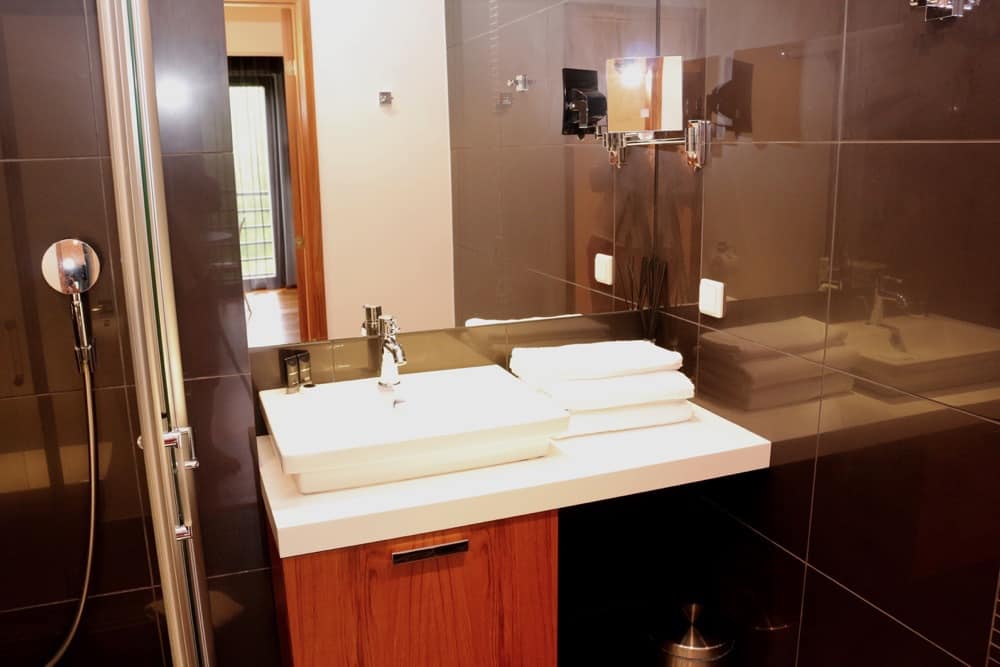 Saku Kuld suite
We were staying in Saku Kuld suite. It was great for us, as a couple. We had one big living room with bed, table with three chairs and kitchen. It was really comfortable to live there, we had all we needed!
Two room suite with a sauna
There is only one 2-room suite with a sauna in GMP Clubhotel, so staying there is a truly luxury experience! It can accommodate up to 4 people and has separate bedroom and living room just like in a two room apartment.
Three room suite with a sauna
The biggest apartment in GMP Clubhotel. It can accommodate up to 6 people: there are two bedrooms and one living room to stay in.
Pühajärve Restaurant
There is a restaurant in GMP Clubhotel that is one of the oldest in the country. In the past it name was Puhajarve Restaurant and right now it is also known as GMP Clubhotel Restaurant. It has been selected to top 50 restaurants in Estonia (2013-2016).
We've been eating there breakfast every morning. You can see it on the video below.
We absolutely loved this restaurant! They serve delicious and high-end food. What we like the most though is the view. You can eat amazing meal and watch the Puhajarve lake. How awesome is that?
Check out the latest prices for GMP Clubhotel—> click here.
Disclosure: We want to thank Park Inn Meriton, CRU hotel and GMP Club Hotel for complimentary stays. All opinions presented in this post are honest and our own.