Montenegro's jaw-dropping natural landscapes really make it a place that is worth traveling to. Located in the southeastern part of Europe, Montenegro is part of the Balkans. The country has it all. From rugged mountains to gorgeous sandy beaches, from medieval towns to the fortified town of Kotor, there is no shortage of places to visit in Montenegro with kids and enjoy the country.
We've been to Montenegro in May 2023 with two kids aged 2,5 and 5 years old. Here's a video from our trip:
Useful Info And Tips For Visiting Montenegro With Kids
There Are Not Many Facilities For Kids In Montenegro
When it comes to traveling the country with kids, it is certainly doable but you will definitely face some challenges along the way.
Take playgrounds for example. If you travel with a child, you know that you really have to stop at a playground every once in a while. The kids love it and it is an easy way to keep them entertained.
Many parents even plan their trips around the best playgrounds. In Montenegro, this isn't an option. This is because the country has almost no playgrounds. This is in reference to both indoor and outdoor playgrounds. The significant lack of playgrounds is a common theme across the country and is something that you should keep in mind.
When it comes to indoor playgrounds, there are some in the capital city, Podgorica.
Outdoor playgrounds are available in some other places but most of them are old and small. The best one that we saw was in Perast.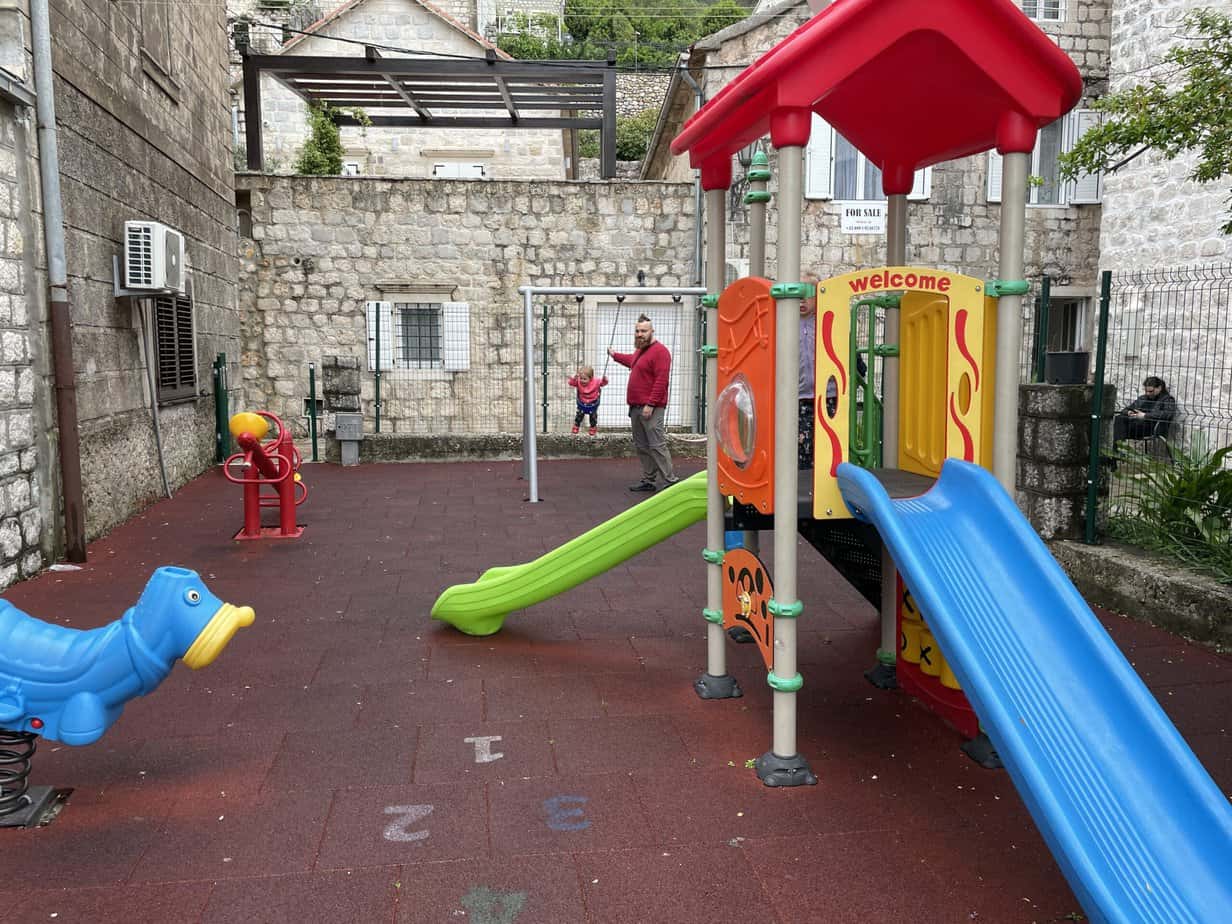 Another hurdle that you will find is the lack of baby changing stations. This makes it extremely difficult if you are traveling with a baby or a very young child. On the other hand, high chairs are available whenever required which is a major relief.
The Best Way To Get Around Montenegro Is Renting A Car
The best way to travel through the country is to rent a car. This is because it is very cheap. We paid a rental of 30 euros per day for the car. The car seat rental was 50 euros per seat. This was for the whole trip!
The downside when it comes to driving in Montenegro is that there is only one main road. As can be imagined this means that traffic jams are a big problem. Despite this, driving is still the most recommended way to see the country.
On a side note, another problem that you will notice that the country faces is in relation to garbage disposal. Despite the gorgeous natural landscape, the streets are an eyesore. They don't really care about keeping the streets clean which is sad because the country in general is really beautiful.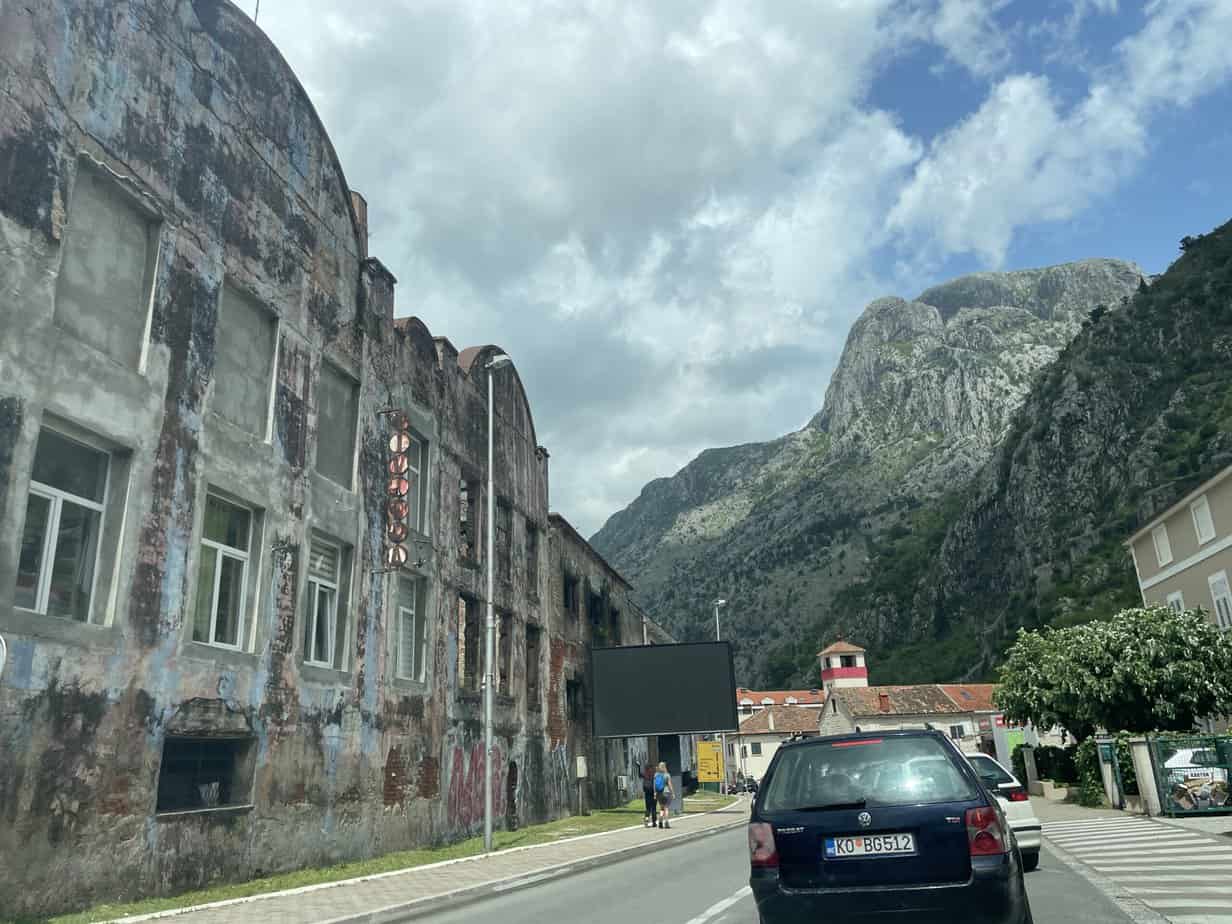 There Are Many Cats In Montenegro
You will find that cats are a common sight. You will see a lot of wild cats roaming around the country. The locals love their cats and they are tied into many of the local folklore. This is especially true in Kotor.
Currency In Montenegro Is Euro
Montenegro is not a part of the European Union (EU). Despite this, the currency used is the Euro. When it comes to budgeting for your trip, know that the country is cheaper than Croatia. So you know exactly what to expect.
TIP: We visited Montenegro in May and it rained every single day. The weather can be pretty unpredictable so check the forecast before your trip. Ensure that you pack waterproof clothes if necessary. We were lucky that we did this because it saved our trip and we were able to spend a good deal of our time outdoors even though it was rather wet weather
Things To Do In Montenegro With Kids
Spend A Day In Perast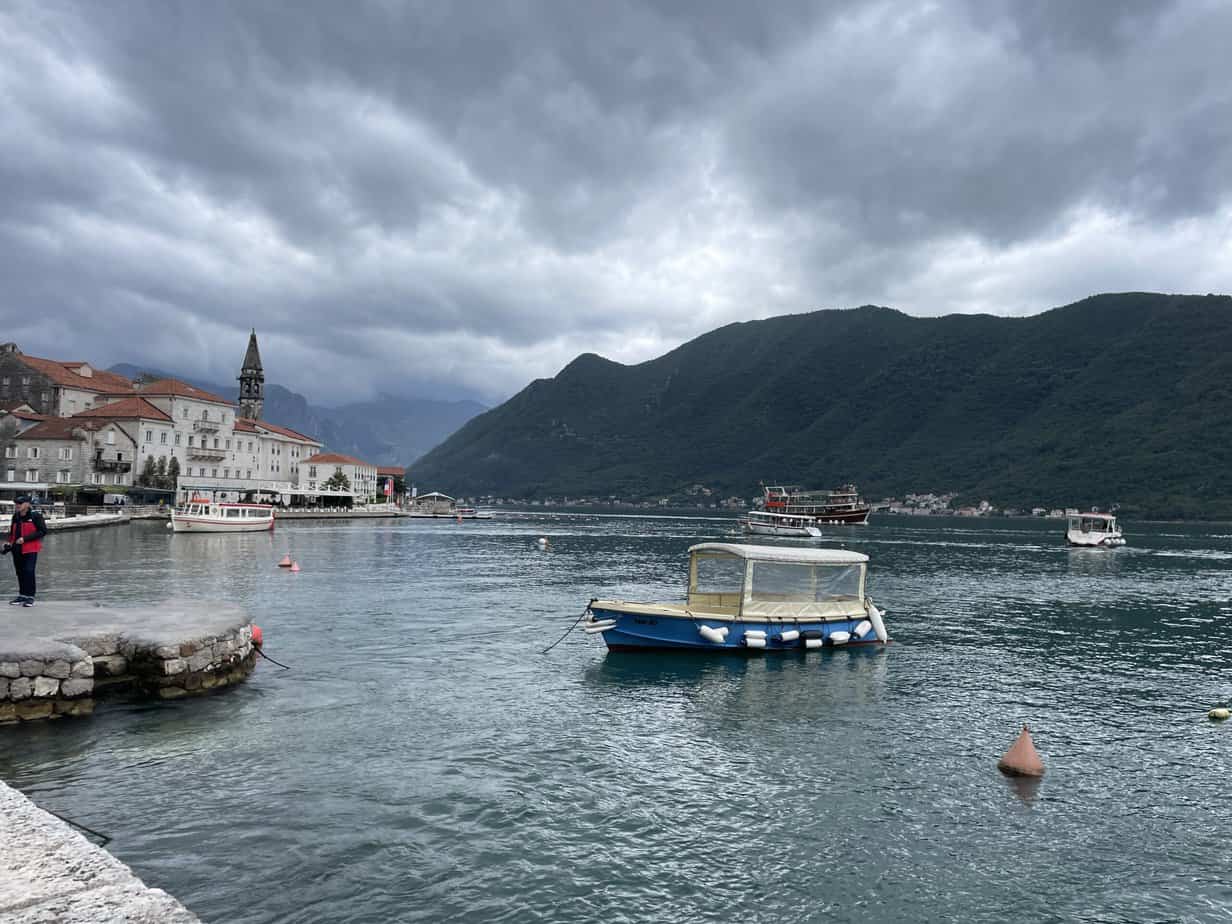 I think that Perast is one of the best places to visit in Montenegro with kids because there is a small but well-maintained playground by the sea. There is also a fire station with huge fire trucks that our kids loved.
Perast is beautiful, clean and is, without a doubt, one of the most beautiful places in Montenegro.
An important point to note is that Perast is also car-free. This means that you will need to park on the outskirts of town and then walk. This isn't a big issue because Perast is stroller-friendly. It is a great break from the traffic.
Take The Skadar Lake Cruise
The lake is ABSOLUTELY BREATHTAKING!
Obviously, everyone thinks so too! Luckily you can choose to move away from the rush. To avoid the crowds, set navigation to "Traditional boat trip on Skadar Lake with local fisherman". The private cruise for our family of four was just 40 euros for one hour.
It was so good that we extended it to 2 hours and paid 70 euros. The kids loved it and we did too. Just remember to take some snacks because the kids may get hungry (and a bit bored) on the boat.
Visit Sveti Stefan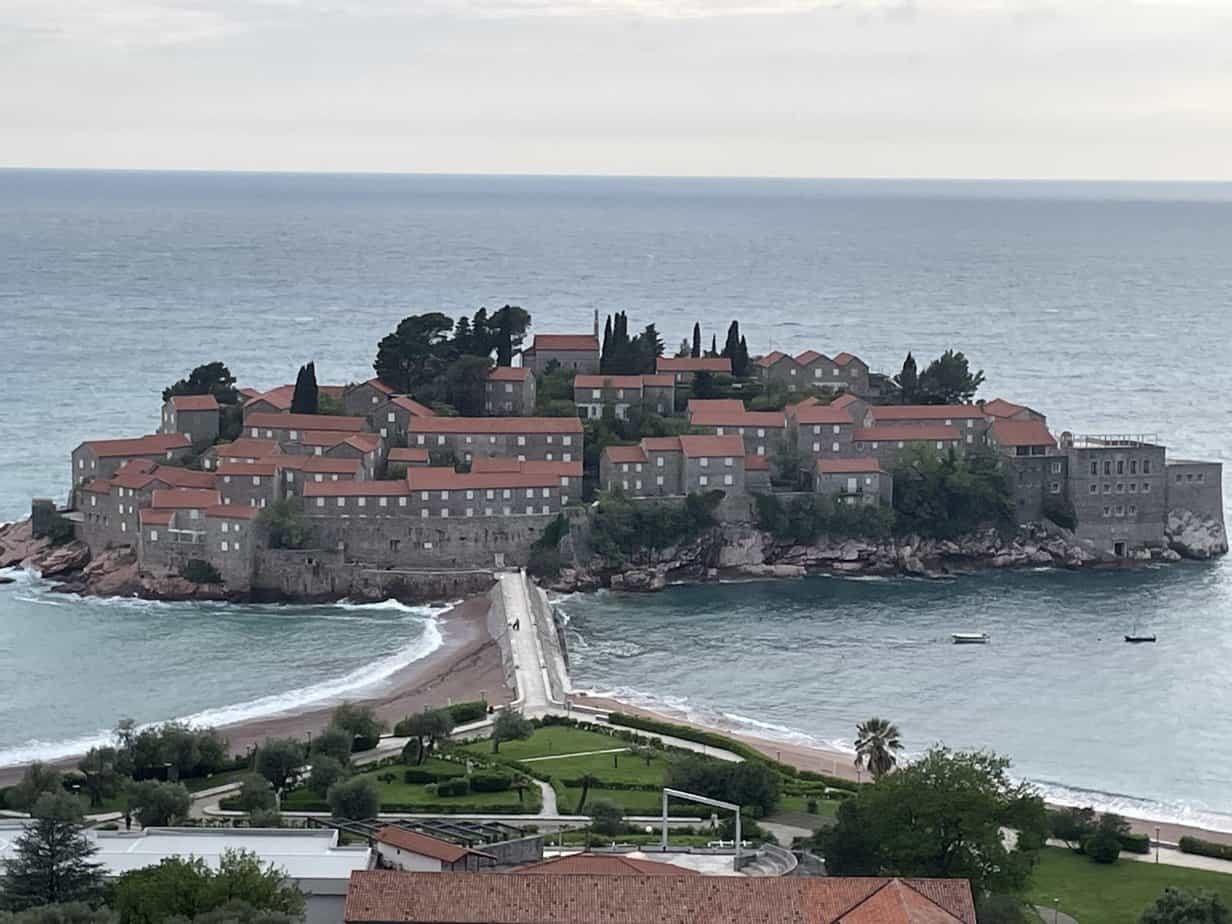 The islands in Sveti Stefan is one of the landmarks of Montenegro. It is closed to the public unless you have a hotel booked on the island. As of May 2023, the hotel was closed but they plan on opening it this year.
Sveti Stefan is still worth visiting to spend a day on the beach and stroll around the lovely and hilly town.
Wander Around The Old Town Of Kotor
It is not a wonder that Kotor is considered the most beautiful place in Montenegro! It's absolutely stunning.
The old town surrounded by high cliffs is a must-see. Unfortunately, Kotor gets crowded often and traffic jams are a huge problem since most people travel by car.
Apart from visiting the Old Town, other things that kids enjoy include visiting Cat Museum or Maritime Museum in Kotor.
Watch The Sealife At Aquarium Boka
On the way from Kotor to Perast is the Aquarium Boka. This is a fun place to stop especially with kids because it gives you a chance to show them marine life up close. The aquarium is divided into two parts. One house is the public aquarium. The other is a rescue center for sea turtles.
The unique part about Aquarium Boka is that it combines both research and education in a bid to help people understand the need for the conservation of marine life. It is very interactive too so the kids can see the fish move about in tanks which is something they will enjoy and learn from.
Spend A Day In Petrovac Na Moru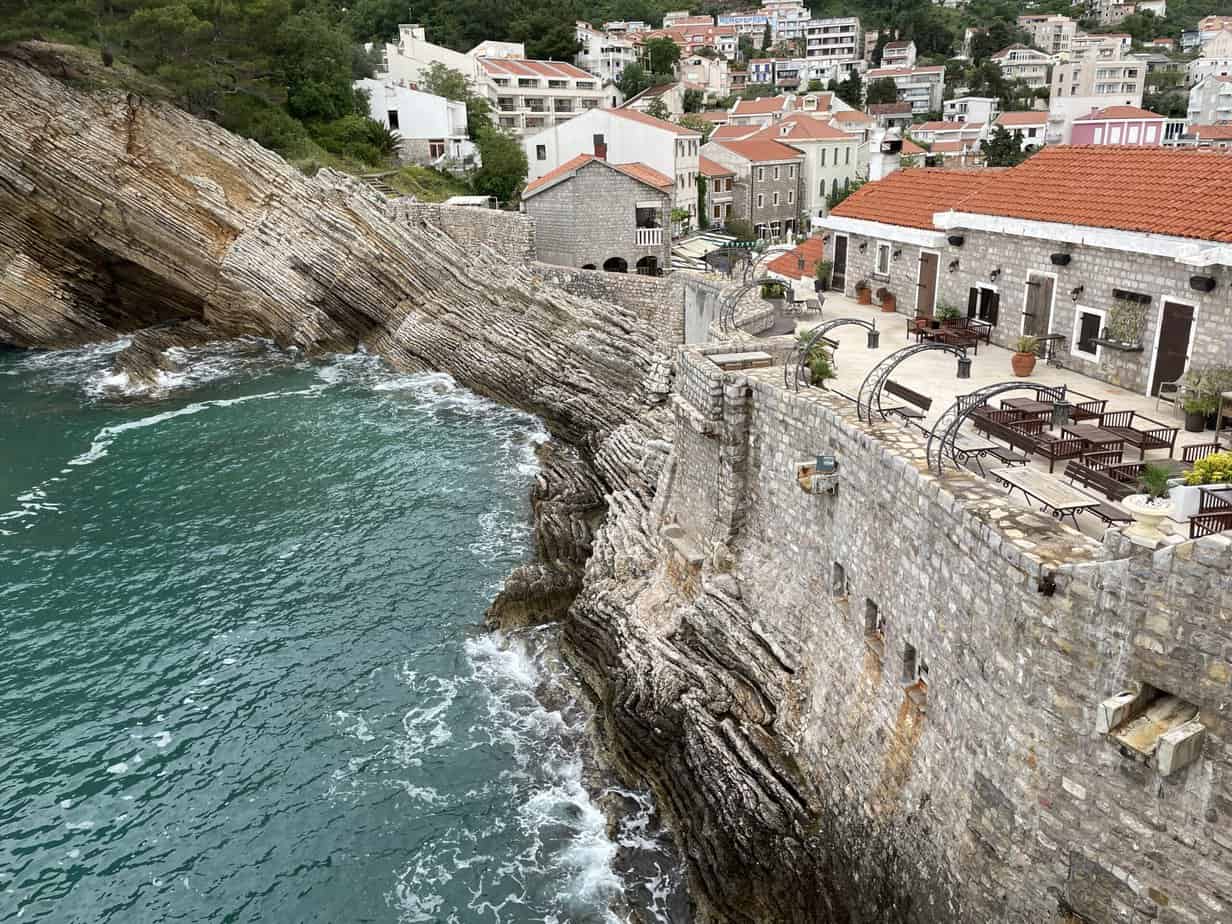 We stayed in Petrovac na Moru. The town is lovely with a nice beach, many restaurants and shops at the shore. This means that there is no shortage of places to sit and relax.
The best part is if you want to take the cruise, the prices are very affordable. Renting a private taxi boat for our family of four was just 20 euros for one hour.
Explore The Lipa Cave
It is the only cave open to the public in Montenegro. It is important to note that you can visit it only at the scheduled time, so check the website first to see the current visiting times.
Another thing that you should keep in mind is that it is quite cold and wet in the cave so dress up.
In order to reach the cave you first have to ride a train to the cave and then walk for about 45 minutes. It is very easy so kids of all ages can do it. Strollers are not allowed in the cave.
Try The Local Food
You can't visit Montenegro without trying the local cuisine.
Our kids loved the black rice the most because it made their tongues black :) They also loved the buns that we bought at local bakeries. Ice cream as usual was a big hit!
Play In The Sand On Ricardova Glava Beach In Budva
Visiting the beaches in Montenegro has to be a part of your itinerary if for no other reason than for the fact that kids love it. The Ricardova Glava beach is quite unique because it's right next to the old town so it is easily accessible.
Visit Aquapark Budva if you are traveling in the summer. It has attractions even for the younger children which is why it is popular.
Walk Down The Porto Montenegro
Porto Montenegro is the most "western" place in Montenegro. It has a lot of expensive shops and restaurants everywhere. Here you will find a large marina and you can see all the super yachts that are parked.
Chill At Buddha Beach Bar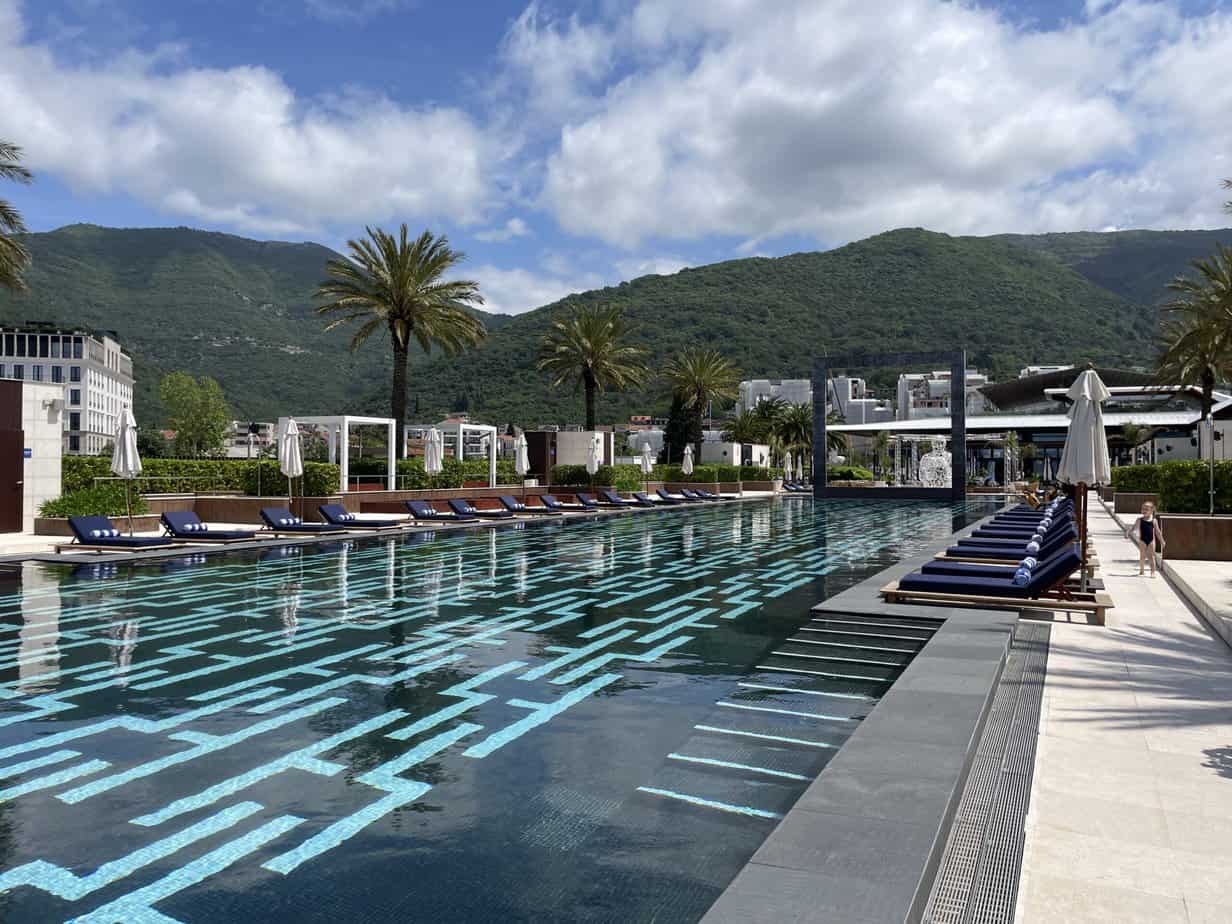 The Buddha Beach Bar is hands down the best place to relax in Montenegro.
You need to spend 25 euros pp in the restaurant (kids are free) and you can enjoy the beautiful pool, sun chairs, and towels. The panoramic views that it has to offer are really something that has to be seen to be believed.
Plus, there are some fine dining experiences to be had here. You will even find live music and DJs on some days. The club transforms at night and gives you the night club vibes which is pretty cool too.