Visiting Universal Studios Orlando can be the highlight of your vacation in Florida. With almost 50 rides and shows making you feel like you dropped into your favorite movies, it's a top attraction for all movie buffs. But getting to the theme park and resort or finding parking there can be really daunting!
Rather than spending your time trying to find a spot or looking for the nearest or cheapest place to park, follow these top Universal Studios Orlando Parking Tips!
Driving To Universal Studios Orlando
If you're driving down, you simply add the address 6000 Universal Blvd, Orlando, Florida into your GPS, drive there, pay the toll, and park.
However, if you're flying into Orlando, you can rent a car at Orlando Airport and drive down to Universal Studios. Choosing a car rental in Orlando is a good option with the cost varying from $30 a day for compact cars to over $100 a day for Premium cars.
You can also book the car for more days to travel to other attractions across Florida with affordable prices and the peace of mind of having your luggage with you.
Parking At Universal Orlando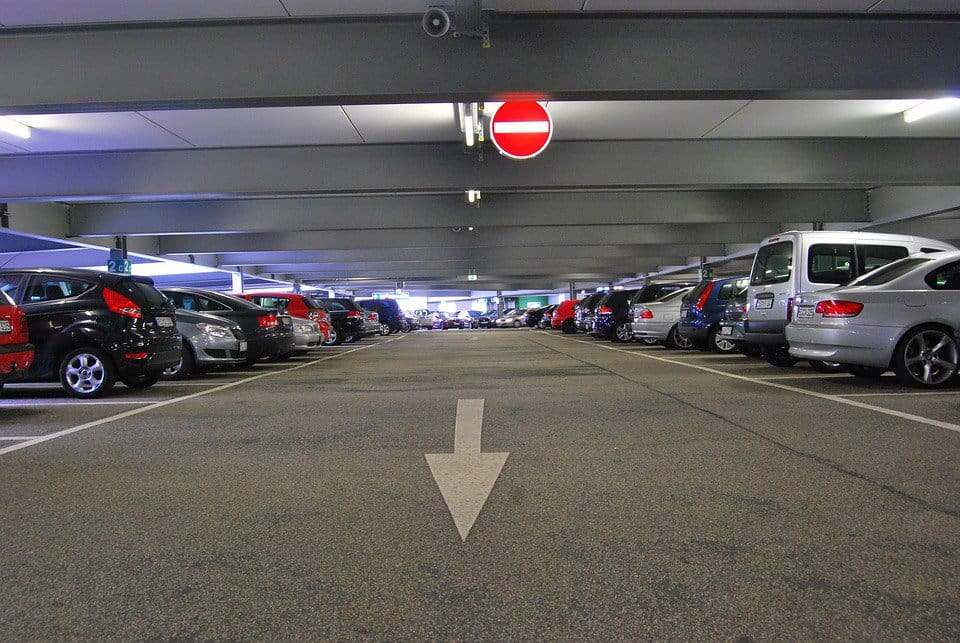 With a capacity of 10,200 cars and one of the largest parking lots in the world, Universal Studios has made parking there a breeze!
If you're disabled or handicapped, you'll be allowed to park on the ground floor. If you're driving an RV or campervan, the parking attendants will direct you to a separate parking area. All of the parking is within a five to ten minutes walk from the park gates, and gets plenty of sun, so if you are relying on a campervan solar panel, you should have no trouble.
You have to remember though, that if you're planning on staying at one of the resorts in Universal Studios, you'd have to park in a different area than the day-only visitors. For example, the Endless Summer Resort is at 7000 Universal Blvd, and so on.
How Much Does Parking At Universal Studios Orlando Cost?
Parking depends on the amount of ease you want. Of course, the lowest level is for handicapped parking. The next few levels after that for Prime parking. You can opt for this if you want easier access to the exits and the park. regular parking is on the higher levels of the car park.
The daily parking fees are as follows:
Regular Parking: $27
Prime Parking: $60
Prime Upgrade: $32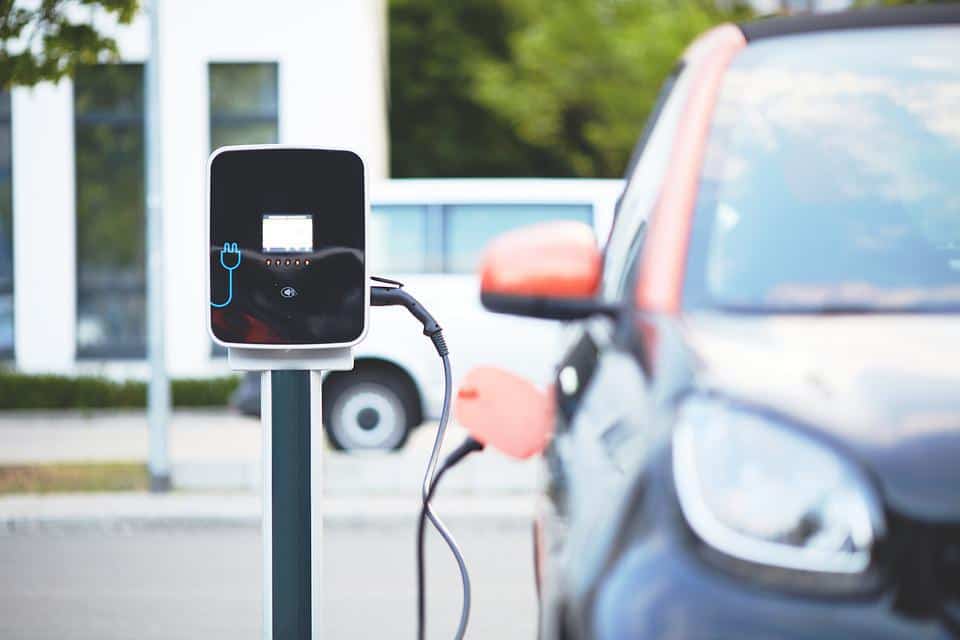 Parking for RVs and buses is $32, but you're not allowed to park overnight. So it's better to park at other local parks if you're staying the night in Florida. You can always take an Uber, rideshare, or cab to the park.
There are also options for valet parking that start at $27 for 2 hours and upwards. If you're driving an electric vehicle, there are free charging stations within the valet parking sections of the car park.
Save Money By Staying At The Hotels
Parking at the Universal Studios studios varies from around $15 overnight at Endless Summer to $45 overnight at Royal Pacific. So if you're on a budget, stay at the Endless Summer Resort – Surfside Inn and Suites where the parking is hardly $15 a night and the shuttle to the park is free.
Another great option is to stay at a hotel that's off the property and offers free shuttles to the park. There are quite a few of them!
Can You Get Free Parking At Universal Studios?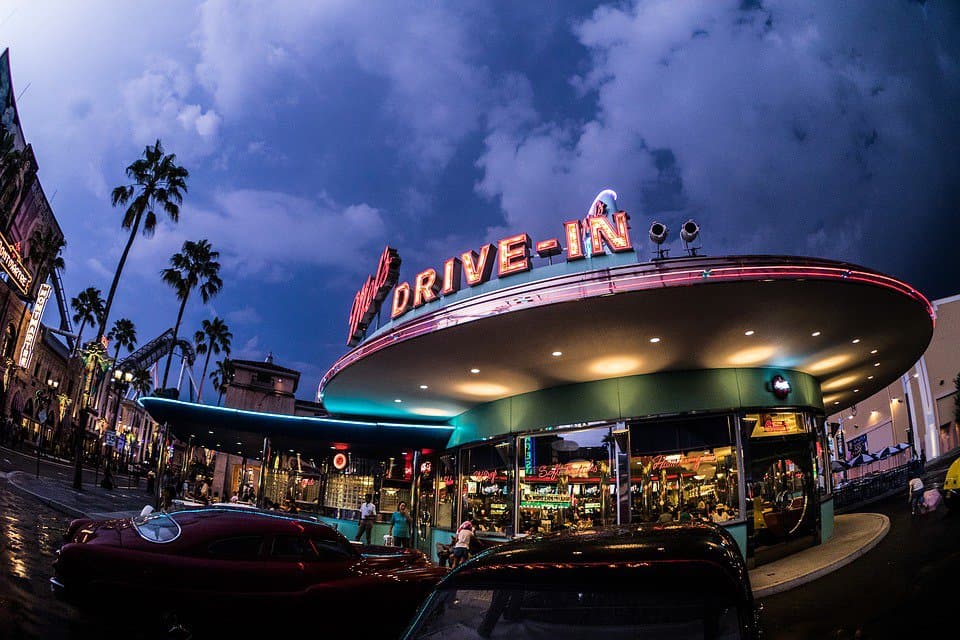 Yes, if you reach the parking section after 6 pm, you get free parking on most nights except Halloween Horror Nights.
You can also get your parking reimbursed if you watch at least two Universal Cinemark movie shows between 11 am and 6 pm. You simply pay the toll first, then take the receipt to the box office and get it reimbursed when you buy your movie tickets.
Don't try to look for an empty road to park outside Universal Studios. Vehicles are actively towed and yours won't be there when you get back!
What If I Want To Only Visit Citywalk At Universal Studios?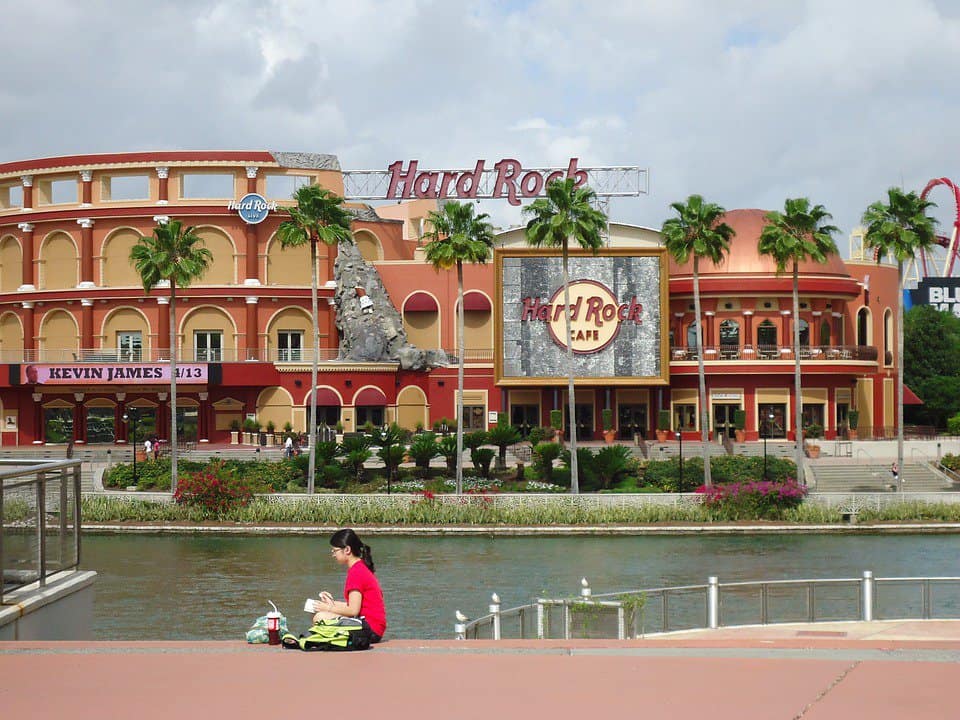 Citywalk which opened in 1999 is at the entrance to Universal Studios. Everyone who visits the theme park Citywalk while entering. With an array of dining, entertainment, and shopping options, you could spend the day here itself. Or a few days!
But if you want to only visit Citywalk you still have to pay for a regular parking ticket at the garage. The only way to get free entry to Citywalk is to reach the car park after 6 pm.
How To Visit Universal Studios Hassle Free?
The best way to have a hassle-free trip to Universal Studios in Orlando, Florida is to decide everything in advance. Plan on how you're getting there – what type of rental car in Orlando you prefer, what type of parking you need, and also check if you are eligible for free parking. Don't forget to check ride timings so that every family member gets at least some of their favorite rides so everyone can have an amazing time!