Portugal Holidays for Couples
One of the most beautiful and underrated countries in Europe, Portugal is the perfect destination for anyone planning a romantic getaway – or even a honeymoon! A Portugal honeymoon might be just what you need to create the trip of a lifetime. There is no shortage of romantic things to do and see here. If you're looking to bring along your loved ones, too, Portugal family holidays are becoming increasingly popular. With a gorgeous Atlantic seaside, picture-perfect towns, and tasty cuisine, what else could you possibly want?
Here, we will tell you all about some of the most romantic Portuguese regions, cities, and beaches. If you want to know about Madeira holidays or all inclusive Algarve trips, we've got you covered there, too. Additionally, you won't go wrong with any of our tips to finding the best deals and cheap holidays to Portugal.
Keep in mind that the ideal time of year to visit depends on what you're looking for. If you want to spend all your time at the beach, the summer season from July to September is your best bet. If you want to avoid the crowds, visit during late spring or early autumn. And if you want to stick to the north, the autumn season provides comfortable temperatures during the day and cools down at night, just in time to warm up with some food and wine.
Best Portuguese Honeymoon Destinations
With so many regions and cities to choose from, it can be hard deciding where exactly to plan your romantic trip to. Luckily, we're here to help. From north to south, Porto to Faro, let's discover some of the best honeymoon destinations in the country. And make sure to check out these interesting Portugal facts before you go.
Porto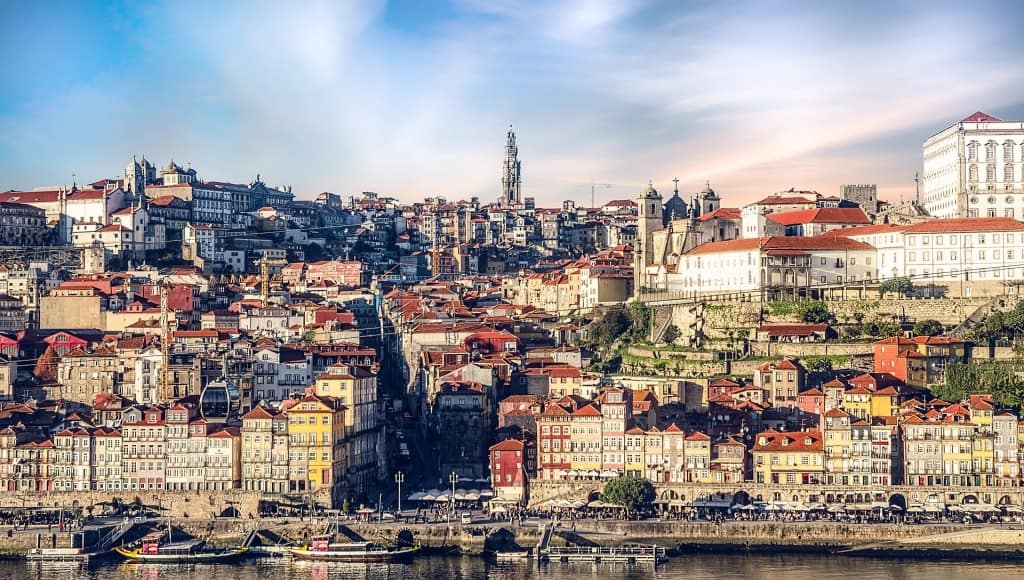 North of the country's capital, Porto is an idyllic coastal town famous for its port wine and the Douro River, which separates the town from its neighbor city Vila Nova de Gaia. The laid-back atmosphere is perfect for your romantic Portugal honeymoon. Intricate traditional tiles and mosaics can be seen all around Porto, lending an old-world nostalgia to the city. Stroll around and soak up the charming vibe of the city, and take a wine cellar tour (or three). Then, end each day with an intimate dinner for two as the sun sets on the Douro River. Click here for more interesting reasons to visit Porto.
Where to stay in Porto
For a budget romantic getaway, Porto is a great pick when looking for cheap package holidays to Portugal. Check out latest prices for—> Moov Hotel Porto Centro.
 [thrive_leads id='17883′]
No need to fear if you're looking for something a little more luxurious, such as a hotel spa Portugal package. Porto has it all. Check out latest prices for—> Sheraton Porto Hotel & Spa.
Lisbon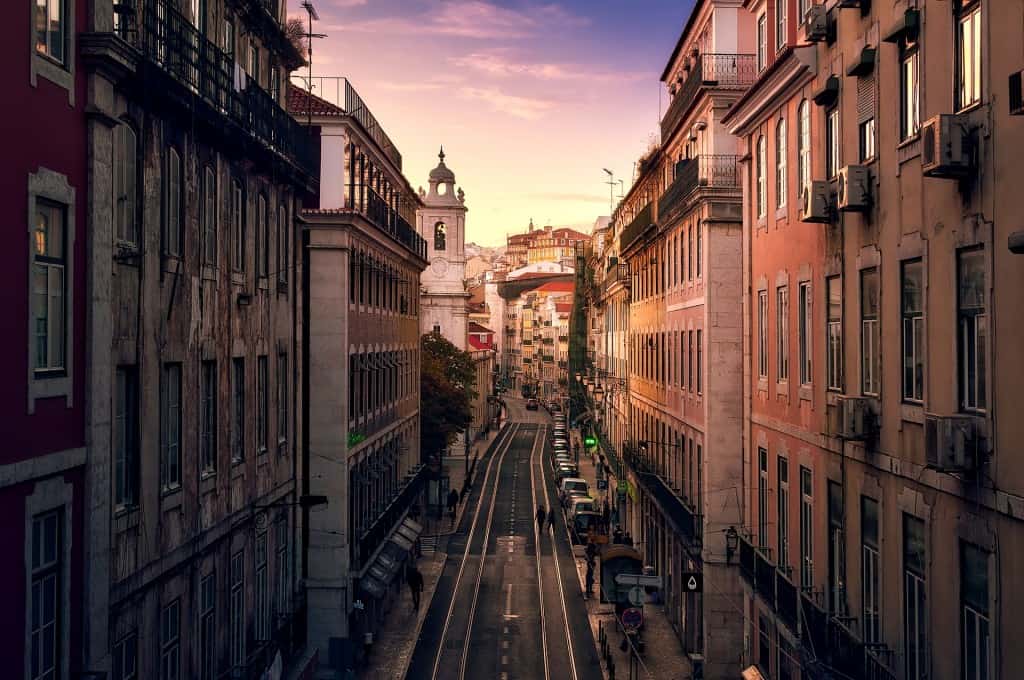 Lisbon: the capital of Portugal and one of the country's most popular holiday destinations, for good reason. The intricate architecture and romantic atmosphere make this city a great choice for a Portugal honeymoon. The Alfama district is the best place to listen to live fado music, the tragically romantic folk genre that Portugal is known for. The banks of the Tagus River are full of great restaurants and the famed historical monument of Belém is there, too. And don't forget to visit one (or all) of the viewpoints, such as Miradouro de Senhora do Monte, to watch the sun set over the city and into the Atlantic.
Where to stay in Lisbon
 No need to stress if you're looking for romantic last-minute holidays to Portugal. Check out the latest prices for—> Real Palacio.
Madeira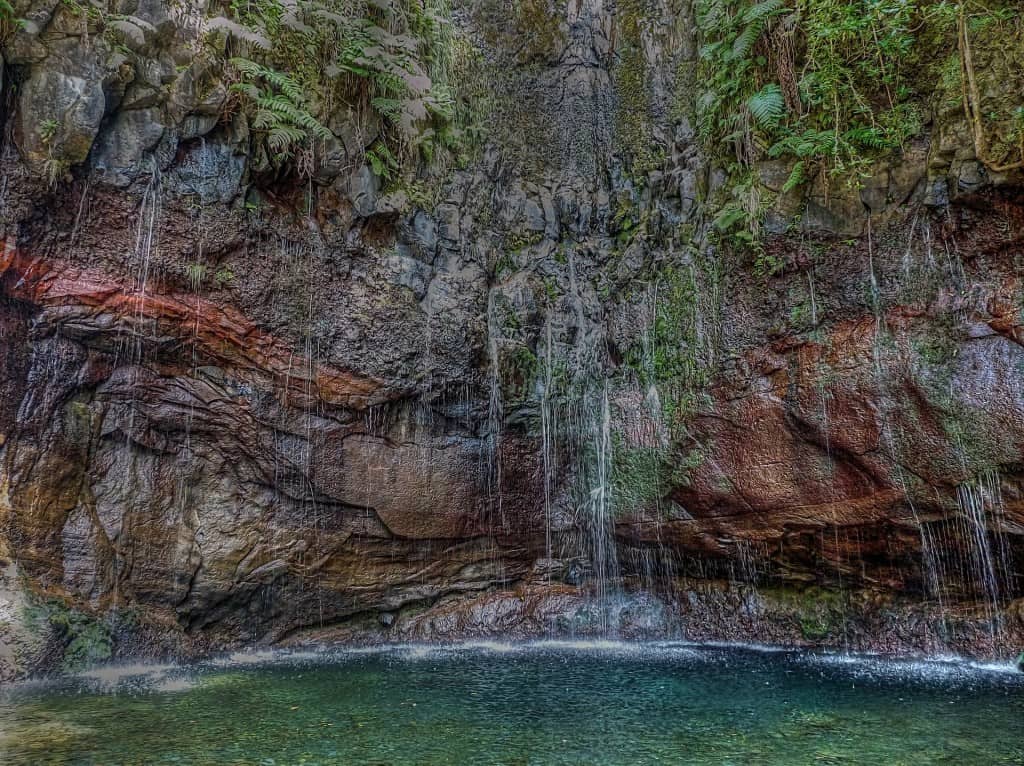 One of the most luscious areas of Portugal, the archipelago is comprised of four sun-soaked islands. Thanks to the subtropical climate, romantic Madeira holidays are an option for spring, summer, and fall. The main island, also called Madeira, is home to the breathtaking Ponta São Lourenço Nature Reserve, the perfect place for a romantic breakfast picnic during sunrise. It's worth going to Madeira to experience a romantic adventure. Explore the UNESCO World Heritage Laurissilva Forest, full of tranquil waterfalls and lush valleys. During your holidays in Madeira, make sure to enjoy a candlelit dinner by the sea at one of the many "quintas", or traditional restored manor houses.
Where to stay in Madeira
Why not treat yourself to a 5 star all inclusive Portugal experience during your holidays in Madeira? Check out latest prices for—> Pestana Porto Santo Beach Resort & Spa – All Inclusive.
São Miguel Island
This gem of an island is no doubt one of the loveliest places to have your Portugal honeymoon. You won't run out of fun, romantic things to do here. Take a dolphin- and whale-watching tour off the coast for an up close view of the adorable sea mammals. For a natural spa experience that's sure to heat the blood, visit the geothermal pools of Terra Nostra Botanical Park. In fact, São Miguel is full of similar thermal pools and is just dripping with lush green hills and crystalline lakes to explore, creating a romantic backdrop for your holiday.
Where to stay in São Miguel Island
On the lookout for Portugal vacations all inclusive? Check out latest prices for—> Pedras Do Mar Resort & Spa.
The Algarve Region: Faro, Salema, & Tavira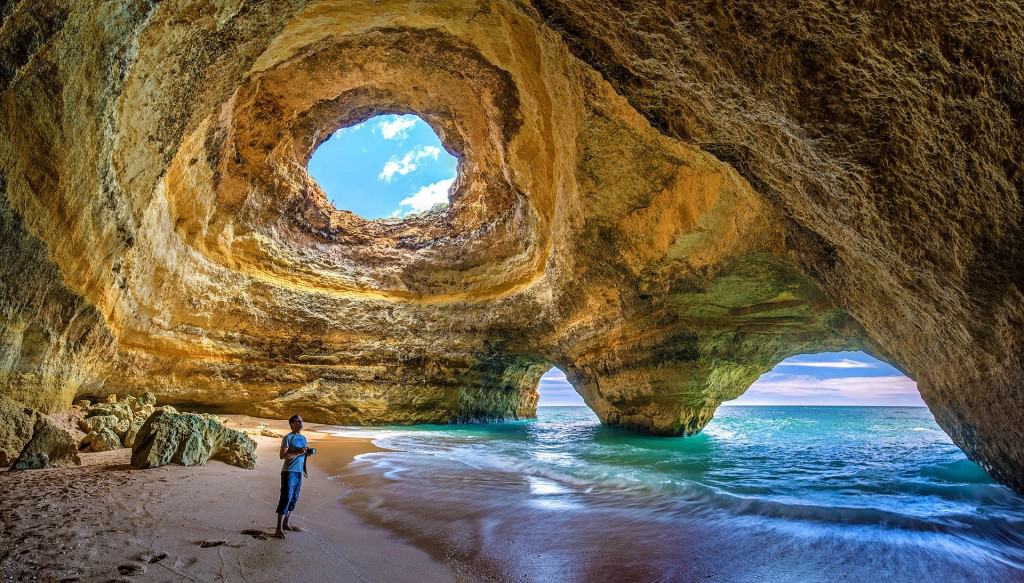 Probably one of the first places that comes to mind when you think of Portugal, this southernmost region is home to endless stretches of soft sand and bright blue waters. Perfect for your romantic honeymoon or any of your Portugal family holidays, it boasts many lovely towns along its coast. Its a must-visit region, even for short breaks to Portugal. You can find a trip for any budget, from small villas in tiny towns to the all inclusive hotels Algarve has to offer. In this section, we'll let you know about the nicest towns to visit, the must-see sights, and some of the best resorts in Algarve for families to make your Algarve Portugal holidays fantastic:
Faro
Faro is the capital of the region and one of the southernmost towns. Calm and breezy, its an ideal place for a honeymoon. Whether you're looking for a romantic all inclusive Algarve vacation or you're more focused on having the most fun Portugal family holidays possible, this city and the surrounding areas are diverse enough that you can find both. Lounge on the sand with your sweetheart while the young ones frolic in the waves at the famously beautiful Praia da Rocha beach. Book Faro taxi to the village Estoi, only 10km north, with its pink, intricately tiled Palace and preserved Roman ruins. For a truly unique experience, take a boat trip to the Ilha Deserta, an isolated island with a nude beach (maybe leave the kiddos behind for this one).
Where to stay in Faro
For your honeymoon, why not stay in a romantic Faro boutique hotel? Check out latest prices for—> Aqua Rio Boutique Hotel.
For a worry-free trip, stay at one of the nicest Algarve family resorts. Check out latest prices for—> Pousada Palacio de Estoi.
Salema
Located east of Faro, Salema is a wonderful destination for your Portugal honeymoon. With plenty of Algarve all inclusive resorts in the surrounding area, you won't regret spending some relaxing time in this quaint romantic town. Spend your time soaking up rays at the quiet, unspoiled coast. If you're feeling adventurous, go kayaking up and down the beach with your partner, or take a day trip to the gorgeous Costa Vicentina national park.
Where to stay in Salema
There are plenty of romantic Salema Portugal hotels on the beach, including Salema Beach Village. Check out latest prices for—> Salema Beach Village.
For some of the most luxurious accommodation Algarve Portugal has to offer, consider staying at Santo Antonio Villas Golf & Spa. Check out latest prices for—>  The View – Santo Antonio Villas Golf & Spa.
Tavira
Tavira Portugal is a sweet historical town east of Faro, both romantic and family-friendly. Although its a resort town offering Algarve holidays all inclusive, its normally relatively free of overbearing touristic crowds. It boasts a rich past, a beautiful Old Town, and the near-perfect beaches of the Ilha de Tavira, a small island just to the south of the Tavira coastline. Walk arm in arm along the Gilão River and visit the Pego do Inferno, one of three waterfalls in the region. As evening approaches, head to the beach and dine on fresh seafood and white wine as the sun winks out over the ocean.
Where to stay in Tavira
Make your holiday perfect by staying in one of the cutest villas in Portugal Algarve. Check out latest prices for—> Villa Balsa.
Or, take a look at Cabanas Resort Park for any Algarve family holidays. Check out latest prices for—> Cabanas Resort Park.
From sun-soaked Madeira holidays to all inclusive Algarve resorts to budget getaways in historic Porto, Portugal is a wonderful destination for any romantic Portugal honeymoon. However, if you want to keep your options open, have a look at some of the other romantic destinations we've covered, such as Spain, Budapest, London, Switzerland, Hawaii and Warsaw.
To get a taste of the food from each of these countries and more, delivered directly to you, click here.
If you have any suggestions, questions, or comments, let us know below! We would love to hear from you.
Disclosure: Yay for transparency! Some of the links in the article are affiliate, which means that if you book something by clicking on them, we will get a small commission with no extra cost to you. Your support helps this blog going.