The Absolute Best Romanian Castles To Visit
The landmark of Romania, one of the reasons tourists are visiting this wonderful country is the famous Bran Castle, home to the legendary Count Dracula. There are many more Romanian Castles than just Bran though! In fact, beautiful medieval (and modern!) buildings are spread throughout the country. This post includes the full list of the best castles in Romania, including photos and maps.
Bran Castle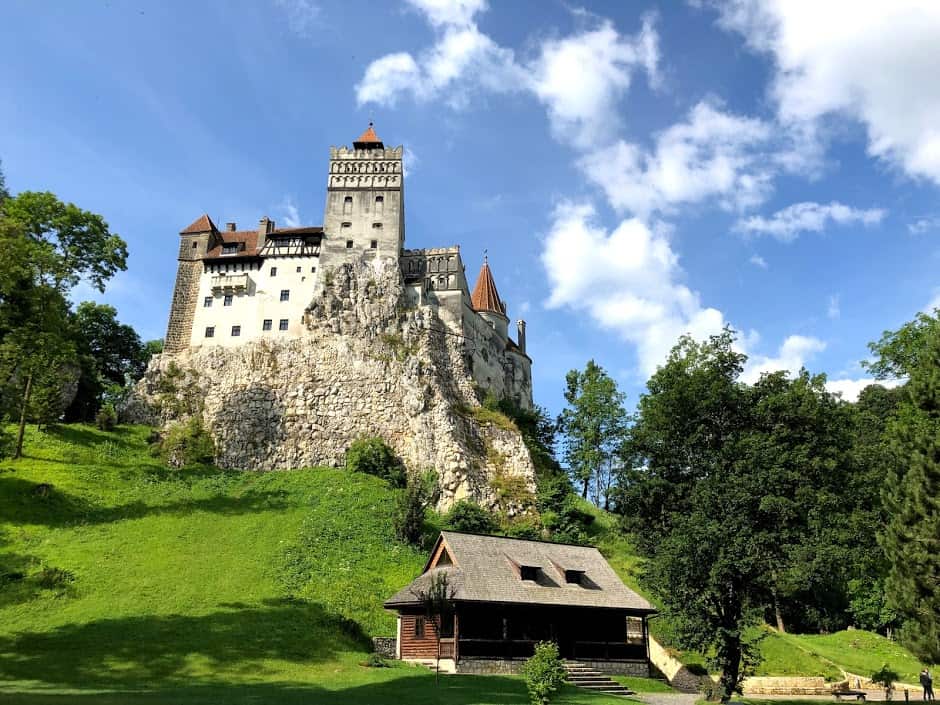 Located just south of the quaint city of Brasov in central Romania is the stunning Bran Castle. The imposing castle is nestled on top of a rocky pillar above the Tulcul river in the historic area of Transylvania and was made famous by Bram Stoker as the home of the mythical Dracula.
It's believed that Stoker based the Dracula character on the 15th-century Transylvanian ruler Vlad III, also known as Vlad the impaler for his brutal acts of war, although it is commonly acknowledged that Vlad never actually visited Bran Castle itself.
Vampire Castle is one of the best places to visit in Romania. It is really beautiful and can be seen for miles around. It's possible to tour the castle and we also had fun exploring the surrounding areas for great vantage points from which to view Bran Castle.
The castle is most easily reached from Bucharest by car and the journey takes around 2.5 hours. The nearby city of Brasov is definitely worth visiting for a few days and can be combined with a visit to Bran Castle.
Skip the lines and book your Bran Castle tour from Brasov online.
If you are staying in Bucharest, book the Dracula Castle tour from Bucharest.
Fairytale Clay Castle
This Romanian castle is not that obvious to put on this list. Why? Because it's really modern, it's actually still under construction. I believe it's pretty amazing though! Made 100% from eco-friendly organic materials, such as hay, clay, and wood, it's one of the best castles in Romania to visit.
Right now, the Fairytale Clay Castle is open to the public but you can't stay there. It will become a hotel soon.
Peles Castle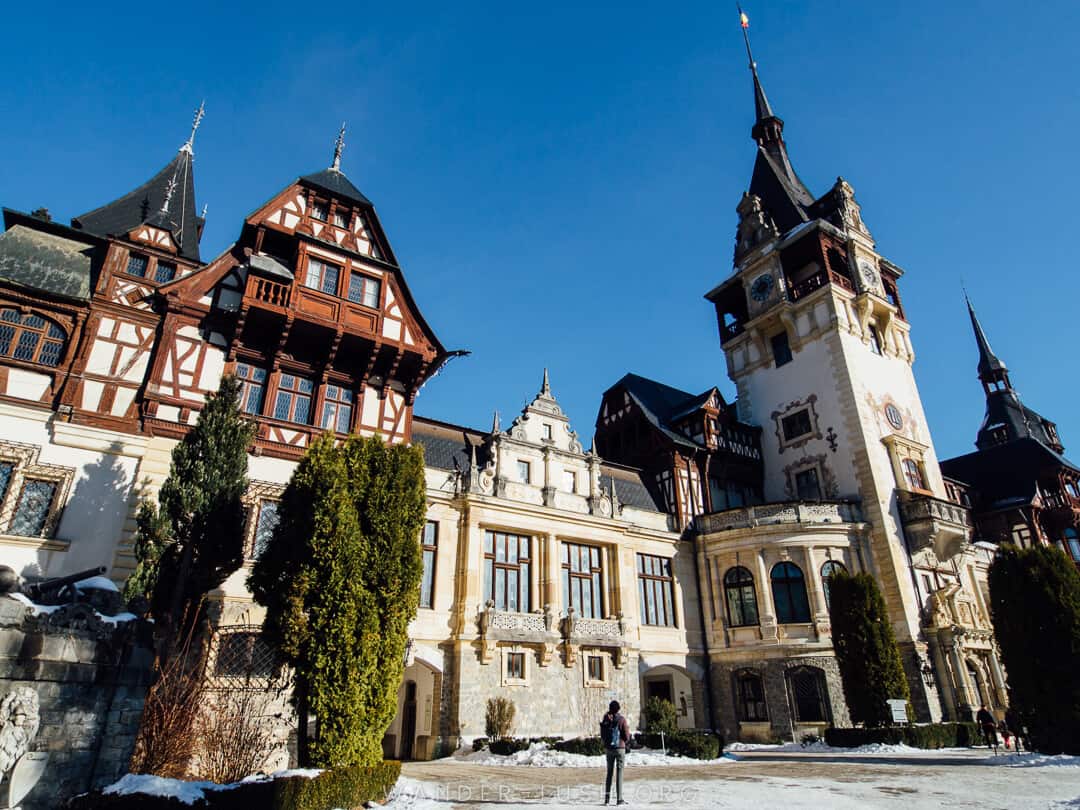 When it comes to beautiful Romanian castles, Peleș is in a league of its own. Often counted among Europe's most impressive fortifications, it's a must-see if you're traveling in the region.
Built in the Neo-Renaissance style, Peleș is nestled in the Carpathian Mountains on the outskirts of the town of Sinaia. Construction was completed in 1914 and overseen by a team of architects from Hamburg and Vienna. In its heyday, Peleș served as a summer residence for Charles I and successive Romanian kings. Peleș looks luxe now, so I can only imagine what it was like back then. It was the first European castle with electricity and deemed comfortable enough to accommodate guests of the highest order, including Franz Joseph. After a period of dormancy during Romania's communist period, Peleș was returned to the royal family in 1989 and re-opened its doors as a museum in 1990.
Peleș contains 160 rooms, each more decadent than the last. Inside the walnut-paneled Hall of Honor, it's hard to know where to look: Every single painting, carving, and piece of stonework is absolute perfection. Photography is usually not permitted inside – not that it matters, because the exterior of the castle is just as detailed, especially when viewed on the approach from Sinaia by foot.
Entrance to Peleș includes a guided tour by one of the museum's curators. (Tip: Not many people pay the extra fee to tour the top level of the castle, which means you'll probably get the guide all to yourself if you buy the extended ticket).
Located roughly three-quarters of the way between Bucharest and Brasov, Peleș is the perfect place to stop off on your way to Sighisoara and the rest of Transylvania. Trains connecting the capital with Brasov stop off in Sinaia, so you can store your luggage at the station and spend a few hours in town before continuing on. Other things to see in Sinaia include the lesser-known Pelisor Castle and the Sinaia Monastery. If your time is limited you can also book a day tour to Peles castle from Bucharest.
Contacuzino Castle
It's one of the most recent Romania castles, as it was built in the 20th century. Recently, it became famous on Instagram because of the lovely swing that you can take a photo on.
Contacuzino is actually a name of Romanian royal family that has been living in the castle until 1948.
Corvin Castle
In the heart of Transylvania, near the edge of the Poiana Ruscă Mountains, is one of the most spectacular sights in all Romania. Castelul Corvinilor, Corvin Castle Romania, or Hunedoara Castle Romania is found on the outskirts of Hundeoara; a small city an hour west of Sibiu. Initial construction of this architectural beauty began in 1446, with its current form built in four stages spanning as many centuries!
Tall orange spires rise above the mighty stone fortress, against a backdrop of rolling green hills. It's truly a fairytale scene. Transport yourself to another era as you cross the impressive wooden bridge over the moat, and explore the well-maintained interior. Take a stroll through the courtyard and wander the great halls. Peek inside the former dungeon and torture chambers, where the legendary Vlad the Impaler was said to be held for several years.
The simplest way to visit Corvin Castle Romania is by staying in Hunedoara, or the town of Deva, a few kilometers north. Regular buses connect Sibiu and Deva, where a quick connection to Hunedoara can be made. From Bucharest, trains and buses each take roughly 6 hours to reach Sibiu, or you can fly directly to the Sibiu airport.
However, for the full experience, we recommend visiting the castle as part of an epic road trip through this region of Romania. Renting your own vehicle gives you the freedom to explore all that Transylvania has to offer! If your time is limited, you can book a day tour from Cluj to Corvin Castle.
Banffy Castle
Often called the Versailles of Transylvania, this medieval Romanian castle located in Cluj Napoca county, was almost completely ruined until recently. Thankfully, it's changing now, mainly because of Prince Charles of Wales who is supporting its restoration.
It's a long process so the interiors of this Romanian castle are still not impressive. Still, this place is worth visiting, even just to make a picnic nearby and watch the majestic building that was once home to royal families.
Rasnov Fortress
While Bran Castle and Peles Castle tend to take up much of the spotlight when it comes to castles, don't overlook the beautiful Râșnov Citadel just outside of Brasov. It's just a few kilometers away from Brașov, so it's an easy addition to a day trip around the castles of Transylvania. To get there from Bucharest, you can combine Râșnov with a day trip to Bran Castle. First, take the train to Brașov and then take a local bus or taxi to Râșnov. There's also an elevator you can take from Râșnov up the hill to the citadel if you don't feel like taking the stairs, but it costs 12 lei.
The Romanian castle was built defensively to protect the villages of Transylvania from invasions – namely, the Ottomans who had conquered much of the Balkan Peninsula and were an ever-present threat to Transylvania. It was built specifically along the Bran pass along the same route as Bran Castle. The original fortress dates back to the 13th century but it has been renovated and repurposed frequently. It's not in the best shape, certainly not compared to Bran or Peleș, but it's still certainly worth a visit for its impressive views over Râșnov, its impressive and long-lasting fortification walls, and the way that it looks stuck in time centuries past.
Don't have enough time in Romania? Book a day trip to the 3 best castles in Romania: Peles, Bran, and Rasnov! Click here.
Sturdza Palace
In contrary to most of the Romanian castles that you can see in this post, this one is not medieval. It was built at the beginning of Baroque Epoque, that's why it's way more decorative than the other palaces in the country.
Sturdza is also called Miclauseni Castle and it's a part of a bigger complex of monuments that include a church and a park.
Fagaras Fortress
This medieval fortress was once home to the members of the Royal family. Today, you can find a Fagaras County Museum with the exhibition of local arts.
This Romanian castle is still surrounded by water which makes it a very picturesque place.
Rupea Citadel
It's one of the oldest monuments in Romania. Located up the hill, it's visible from most of the places in the neighborhood.
Even though the fortress was built in the medieval ages, the first signs of human settlements in this place are dating from 5500 BC–3500 BC!
Porolissum Castle
The ruins of the castle are one of the best archeological sites in Romania. The fort was built in 106 AD!
If you are looking for a nice photography spot in the country, head to Porolissum Castle. It's pretty magical in there.
Wonderland Cluj Resort
It's a modern castle that you can actually stay at. If you are traveling to Cluj Napoca with kids, you can't miss it! It's a great place to spend the entire day. They offer horse-back riding, hot air balloon flight, and more.
Check out the latest prices for Wonderland Cluj Resort.
Bethlen Castle
This Renaissance Romanian castle is a true gem. Still not very touristy, yet beautiful and recently restored.
Bethlen Castle is located just 20 minutes driving from the famous Sighisoara, that's why it often overlooked. If you want to escape the crowds and see something unique, be sure to head to Deva to see this impressive building!
Miko Castle
Located in the heart of the country, this Romania castle was built in 17th to serve as home to Ferenc Miko, one of the most important politicians during that time.
Today, the castle is open to visitors. You will find an Ethnography Museum inside.
Neamt Citadel
This monumental medieval Romanian castle is located in the northeast part of a country, close to the border with Ukraine. You can take a day trip from Iasi to see this impressive citadel from the 14th century.
Neamt Fortress was recently renovated and it's now open to the public.
Poenari Castle
If you want to see the real Vampire Castle, head to Poenari. It's where the famous Vlad The Imparel has been living (his life inspired Bram Stoker to create Count Dracula character).
Historians agree that it's very likely that Vlad III has never even been at Bran Castle. Why do people believe that it's his home then? Well, the reason is simple. Bran Castle looks similar to the one described in Bram Stoker's book.
The real (and the only) building that can be called The Vampire Castle is Poenari Citadel. It's located in the heart of the country, less than 3 hours driving from Bran. If you want to get there, you need to climb 1,500 steps.
Interested in the history of Count Dracula? Book this tour from Bucharest to follow his footsteps!
Savarsin Castle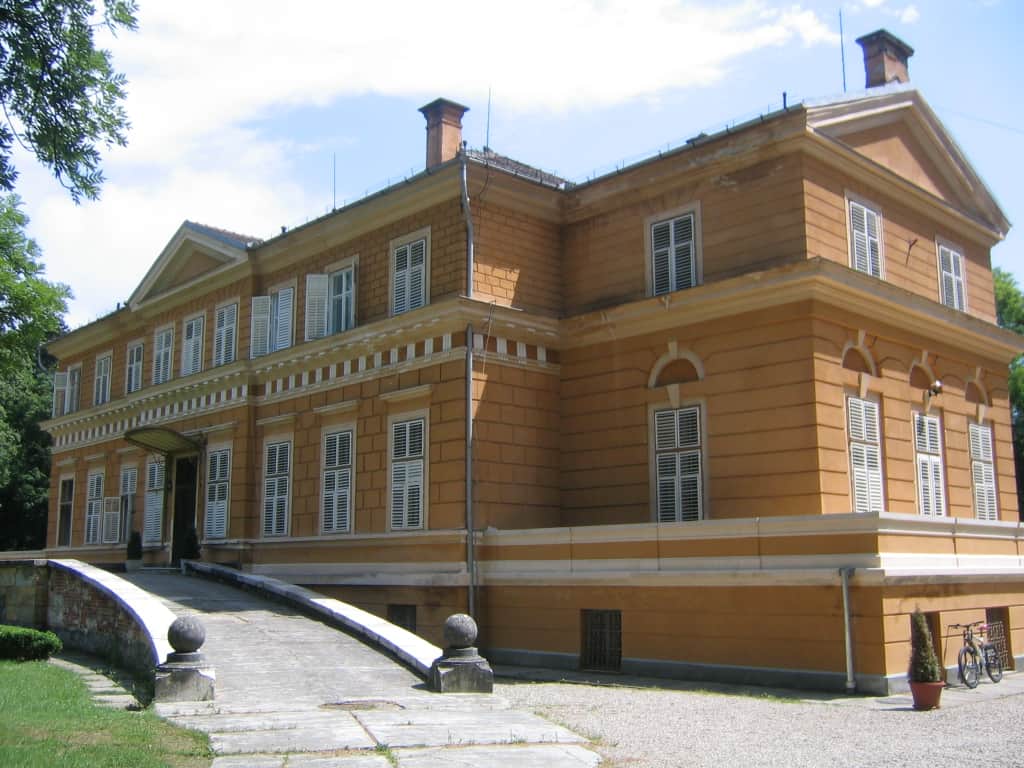 Surrounded by the park, this Neoclassical yellowish Romanian castle belongs to the Royal Family. It's usually not open to the public, however, it's worth seeing when you are in the neighborhood.
Pin For Later: