India is a country of amazing highs and crushing lows. One moment you will find yourself surrounded by naturally astounding beauty and the next minute you will smell the foul odor from the nearby dumping area. Such is the contrasting nature of most cities that you can never really predict the experience you will have on your travel to India with a toddler.
When in India you get to soak up on all the cultural diversity, rich heritage and man-made marvels but all that with a side of the challenge. Yes, the most mesmerizing experiences in India with a toddler come with a pinch of salt.
It's all thanks to constant honking on roads, traffic jams, ever-jostling crowds, selfie requests, the littering, and mosquitoes. Think of the Taj Mahal – one of the Seven Wonders of the World that attracts millions of tourists every year to the famous city of Agra in Uttar Pradesh. If you've ever had the chance to visit the Taj Mahal, you'll know that while the monument is magnificent and well-maintained, the claustrophobia-triggering narrow lanes and annoying travel guides leave no stone unturned to ruin your experience.
Undeniably, traveling to India can be challenging and more so with a toddler or baby. While young families do enjoy sharing a relaxed time abroad, it is not so easy and manageable when it comes to India. Even if you've been to this country as a single backpacker or a couple, your time here with a kid will be vastly different from anything you've experienced before in this country of diversity.
We do understand that parents are always excited to travel to their favorite holiday destination with their young toddlers but being prepared stands at the top of the list. Holidaying in India with your child can be either horrific or smooth as silk. At the end of your vacation, you will either g back home with a suitcase full of memories and joyous family time or leave with a scarred impression of the country that you once loved.
Like every other destination, India has its good, bad and ugly which should be identified before you book the flight tickets of the hotel for your little family. You'll get ample opportunities to let your kids immerse in the natural beauty of beaches in Goa or Kerala, soak up the architectural renaissance in Jodhpur or Udaipur and experience the natural wonder like the Himalayas or Jim Corbett National Park.
You need not worry about the endless ways to keep your toddler entertained, educated and occupied throughout your time in India. Besides, such pronounced diversification will be an eye-opening and memorable experience for the little one too who's always been protected and pampered in the concrete jungle of the cities in the States.
In this travel guide, we will put out all the knowledge that you should gather before planning your trip to colorful India with a toddler. Hopefully, by the time you finish reading this, you'll be ready to pop out your Credit Card and book the next flights to India for a vacation.
Tips For Travelling To India With Toddlers
India has to be the single-most challenging and yet unbelievably beautiful country to travel.
For first-time family travelers, the cultural-vibrancy, aromatic food, colorful attires of the ladies, the noises of folk music playing loud in the streets will be quiet overwhelming. Fortunately or unfortunately, this is what India is in a nutshell. It is not for the faint-hearted and especially the ones with difficult kids.
It takes more than a stroller, soother and baby tranquilizer to get you through a seamless holiday trip to India with a toddler. Most people claim that India is anything but a place to travel to with toddlers but in this blog, we will divulge out some never-talked before details about planning a trip to India with toddlers.
Vaccination
See your friends raising eyebrows when you tell them about your travel plans for India with a toddler. Given the image of the country abroad, India is often considered the last one in the list of destinations that are ideal for traveling with toddlers.
There are way too many prejudices and false portrayal of India that it certainly gets intimidating to plan a vacation in the Asian country. Some parents are attracted to India like a magnet and others get caught up in unfathomable anxiety at the thought of stepping foot in India. Unhygienic air and water levels in India are indeed quite daunting for families with toddlers.
To prepare your kids for the rough and challenging adventures that are about to begin, getting them vaccinated well in advance. It may seem like an over-do for but once you exit the Indian airports, you'll pat yourself on the back for staying ahead of the caution curve.
The corners of the streets are small dumping grounds, dirty water puddles in the middle of the road are quite common and nothing is stopping a cow from taking a dump on the sidewalks in New Delhi. So, it is advisable to get your kids armed for the unhygienic conditions they'll be exposed to during their stay in India.
Before your travels, get your children vaccinated for:
chickenpox,

Hepatitis,

Tetanus

Typhoid
More info here.
Flights And Services
Whether you're flying in from Europe or the United States, you're bound to get on 14+ hours of flight with a halt at one of the Middle Eastern countries.
When booking, thoroughly research on airline best suited for toddlers traveling longer distances. You can check for non-stop or one-stop flights with minimum travel time, extra baggage check-in at no cost or priority access for families with toddlers.
We would suggest you look at Air France and Lufthansa to India with toddlers. The flights are always on time and you can check an extra bag plus a portable crib for no extra charge. The cabin crew is sweet enough to provide children with toys and entertainment options on request. Besides, the security check and boarding queues are also separate for families with younger kids.
For local air travel within India, you can check out:
Vistara,

JetAirways

AirIndia

Air Costa

Air India Regional

SpiceJet

AirIndia Express

IndiGo

GoAir

Air Pegasus

AirAsia India

TruJet
If you want to expose your children to train travel in India, then consider these 5 options:
Express (fast and expensive)

Rajdhani (On time, affordable with AC and sleeper beds)

Shatabdi (Super fast, on time, AC and sitting chairs)

Duronto (long-distance and on time)

Garib Rath Express (poor people's affordable chariot)
Where To Travel In India With A Toddler?
One look at the map of India and you'll know that the country has pretty much everything from snow-capped mountains to warm sunny beaches, bustling metro cities to a quaint village in the north. You may have backpacked through Himachal Pradesh or surfed at Goan beaches but this time your travels will look slightly different with a baby on board.
Considering accommodation facilities, transportation within the city, food choices, hygiene levels and local support as some of the factors, we've picked up five cities that you can breeze through while on a vacation with family to India.
Rajasthan
It's one of the best places to travel in India with a toddler. Go there for majestic forts, vibrant festivals, interesting folk dances and soul-fulfilling music troops singing by the road. You can check the best time to visit Rajasthan here.
Kerala
You will be treated with untouched natural beauty coupled with contemporary modern infrastructural brilliance. Go there for Canoe and houseboat adventures, surf beaches, Arabian Sea sunsets, snake-boat races, and wildlife spotting.
Uttar Pradesh
Taj Mahal is the sole reason why you should be in this state of India with a toddler.
Himachal Pradesh
Shimla, Manali, Tosh, Auli and many other marvelous hill stations can be explored on your journey through this part of the country
Varanasi
Take on the holiest city of India for the pure cultural diversity and vibrant colors that engulf the city. Although very crowded and dirty sometimes, you cannot deprive your child of an epic experience like this one.
Weather conditions in India care quite predictable which means you will be packed as per the season. January-February is colder up North but moderates down South, March-April is Springtime with warmer days and colder nights, May-June is bitterly hot in all of India.
The temperature peaks up to 50 degrees in the states of Rajasthan, Haryana, and Gujarat. July-August experiences a good amount of rainfall throughout the country with Mumbai rains being the most beautiful f them all. October-December is cold but bearable in north and south gets quite comfortable at this time.
Where To Stay In India With A Toddler?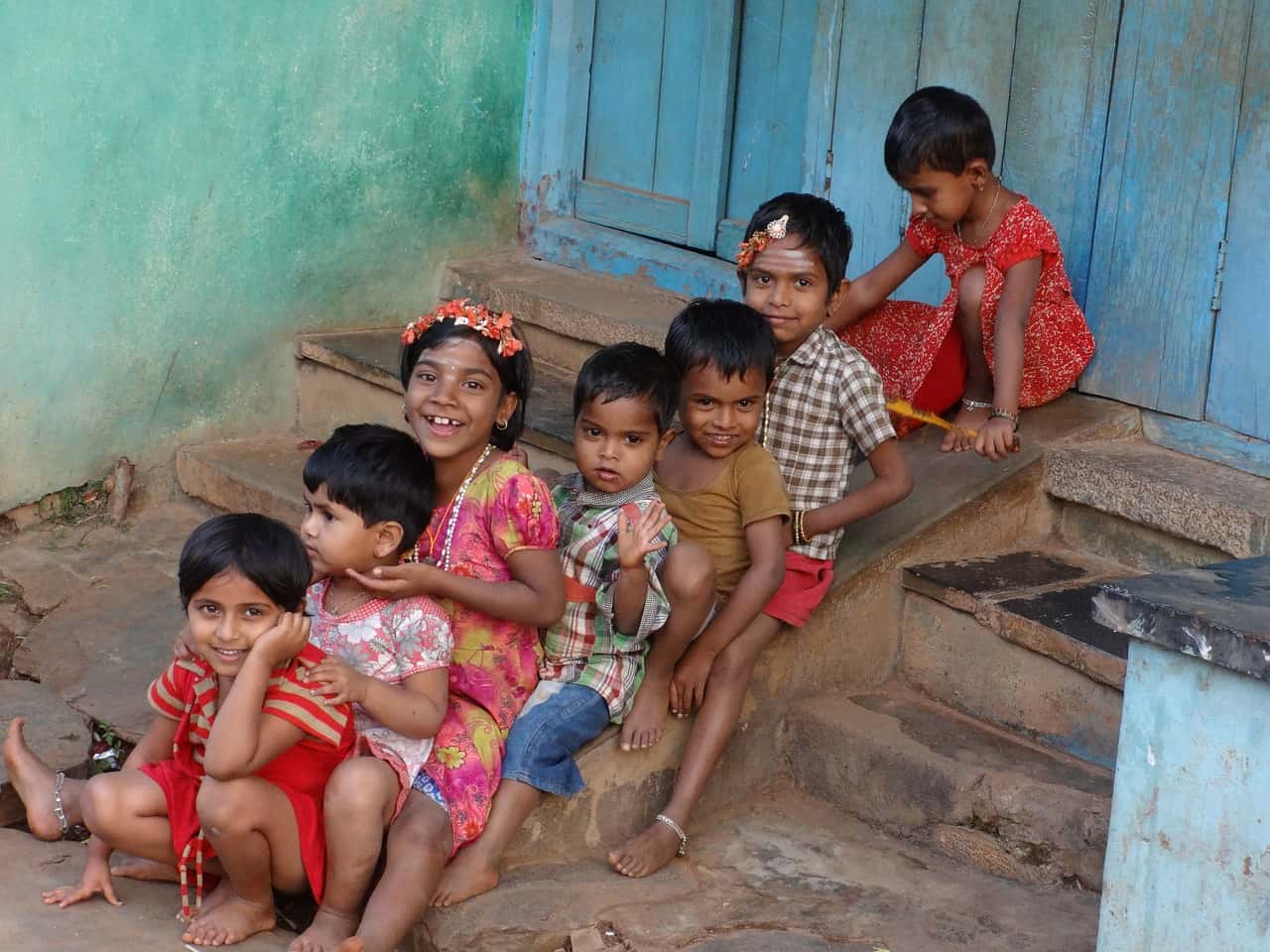 When traveling with kids, always book yourselves at the high-end or at least 4-star properties because the hostelling experience in India can get a whole lot worse than you expect.
The most high-end hotel provides family rooms with free accommodation for children under six years of age and baby cot on request. If not, you can always book an extra room or sharing a bed with your toddlers. The better hotels have swimming pools, children play areas, baby chairs, high chairs, and even paid babysitting facility for times when you want to get a little adventurous.
Openly ask for concierge services because they will come in handy when you ask for mashed fruits or pasteurized milk in the middle of the night for the baby. Since most of India is chaotic and busy, at least your time at the hotel should be calm and blissful with sanitized conditions.
For experience seekers, there are treehouses, beach huts and luxury camping choices that will offer you and your family a one-of-a-kind experience. Rest you can be assured of a hassle-free stay at your hotel as long as the little traveler is entertained and amazed by what he sees.
What To Eat While Traveling To India With A Toddler?
Indian is befittingly called the land of spices and curries where the aroma of delicious food fills every neighborhood. Most of the food you order in India will come with a hint of spice which may be troubling for your child who has zero tolerance for spices and salt. Upon entering amid-ranged restaurants check for cleanliness and basic hygiene like clean tables, gloves and mosquito repellants. Many travel bloggers claim that their child rejected the curries but plain naan, no-salt rise and vegetable omelets impressed the kids in this part of the world.
At most up-market cafes, you can order pizza, pasta or fries with a coffee that'll keep the baby and mommy, both in good spirits. You can buy uncut, fresh fruits from nearly any corner of the city that is loaded with fruit stalls at ever roundabout. Strictly use bottled water, unlike Europe where tap water is unsafe for drinking especially for your little one.
To avoid falling sick with food poisoning in India, eat only at places where the food is prepared hot and fresh. The places with moving food have good hygiene arrangements and can prove to be your go-tos when you're in the city another time. Although tempting, avoid feeding your children the lip-smacking street food of Delhi, Mumbai, Lucknow, and other popular metros.
For a taste of home, McDonald's, Domino's and other well-known fast-food chains are always an option. You can also order excellent food even in the wee hours of the morning with mobile-based apps like Zomato and Swiggy.
Transportation in India With A Toddler
Your little munchkin will be bewildered at the sight of innumerable public transport options available in India. Besides the usual cars, motorbikes, trains, and airplanes; you will get to see an array of interesting travel means like the Auto rickshaw, e-rickshaw, elephants, donkeys, camels and many more.
While air travel is the fastest way to get moving between cities in India, you can also take up train rides or road trips just for fun's sake. Essentially the biggest railway network in the world, the Indian Railways accommodates nearly 20 million passengers every day between the length and breadth of the country.
With numerous train travel choices available you can choose the one that suits your budget and schedule. For summer months, we recommend Shatabdi, Rajdhani or Express trains with AC facility. Other coach options are nightmare-ish and must be avoided at all times.
Driving in India is a different ball game altogether. So do not try driving around the city for yourself. Instead, hire a professional driver in all the cities that you'll be traveling to. Besides, there is no 'car seat for children' concept in India which means your little one will be in your arms throughout.
For fun sakes, take up auto-rickshaw or e-rickshaw rides in metro cities where shorter distances are best and cheapest when traveled through these. You can also enjoy a houseboat ride in Kashmir, canoe or kayak in Kerala backwaters, toy train in Darjeeling, camelback rides in Rajasthan and horse rides in Himachal Pradesh.
Packing List For India With A Toddler
Your travel plans to India will be good/bad depending upon how well you packed for a trip with toddlers. For your convenience, here is a list of all the items you must pack in your travel bags especially when leaving for a long vacation in India with a toddler.
Disposable diapers and swim nappies
Food for your baby:

Powdered milk formula that your child is accustomed to may or may not be available in India

Canned snacks and drinks

Baby toys, activity books, colors and paints (follow the link to read the post about the best travel toys for toddlers)
Light-weight baby and baby carrier pack
Thermos flask to keep boiling water handy
Swimming jacket, wings, and glasses
Sturdy footwear
Sunblock and mosquito repellant ointments
Baby care products like shampoos, soap, and creams
Basic medical kit for toddler
See also: best travel gifts for toddlers.
Do not be intimidated with all the daunting stories you've thrown at about India. Go with an open mind and let your children soak up the 'different' culture that will probably have a great impact on their minds later on. Be cautious do not limit your toddler's experience in this land of surprises.
The post is written by Sydney Edward who loves dancing, history, beer and exploring the hidden places.
Traveling is her life as it always gives her a new experience and makes her stronger. To date, she has traveled to more than 25 countries and her favorite one is India.
Follow her on her blog, Pinterest, and Instagram.
Pin For Later:
Did you enjoy reading this post about traveling to India with a toddler? Share your thoughts in comments!