Fat, Poor, Insecure… Screw It and Let's Travel The World!
Let's travel the world! Do you think the perfect life is only for the perfect people? We thought that for a long time, too. We were looking at smiling faces on the cover of the magazines and thought that we could never be like them. We are so imperfect.
When we first met we were both overweight, poor and very insecure. We didn't believe in ourselves. Of course, we had big dreams but also absolutely no strength to fulfill them.
We fell in love and decided to have fun in our life!
We realized how fragile and short life is. And that we have limited time on this Earth. And that we will never be perfect. And that we should STOP hating ourselves and start loving everything about us unconditionally.
We don't look or behave like stereotypical travelers. We are plump, quite lazy and love the comfort. We hate hitchhiking, backpacking or sleeping in a tent. We like to eat well, sleep only in luxurious hotels and travel comfortably in a private car.
Let's Travel the World!
Before we started traveling, we were reading books and blogs of the people who are full-time travelers.
They seemed all so perfect and flawless! We were nothing like them. We looked and behaved like average people and we actually felt like them.
And then, one day, we decided to screw it! Screw all the stereotypes and beliefs about the people who make their dreams come true. We decided to be like them, no matter how we look and what we think about ourselves.
And here is what we think:
FATTIES
We weight much more than average people. We are not skinny and we often have difficulties in finding the right clothes for us.
We are fighting every day to lose weight. REALLY. We do sport every day, we eat healthy food and avoid sugar. And so what? We are still not skinny.
We tried dozens of diets including Copenhagen diet, high-protein diet, vegetarian diet, vegan diet, keto diet, and many more! With little result, haha.
We both have some health conditions that make weight loss a bit difficult. But we don't complain and we stopped giving a s**t about that. We eat good and work out and that's all that matters!
The way you look shouldn't stop you from travel around the world. You can be fat, ugly or even crippled. It DOESN'T matter. Travelling is for everyone, you just have to find your own way of doing this.
FREAKS THAT BELIEVE IN LIFELONG LOVE
Oh wow, we are so sorry that we didn't record all the awesome advices from more experienced people!
They said that we are dumb to get married so fast (we were 23 and 24 years old), they said that we should have fun, go wild and do crazy things before settling down.
WHY MARRIAGE IS CONSIDERED AS AN EXHAUSTING COMMITMENT?
Are we the only people who believe that the best thing in life is to go wild TOGETHER with someone you love?
We don't believe in 'personal space' and 'passing love' b******ts. The last time we were apart was 7 years ago. And our love is now stronger than ever.
Real men stay faithful. They don't have time to look for other women because they're too busy looking for new ways to love their own.
We really don't understand the people who claim that they are scared of commitment. Or that they are not ready to get married. If you really, really love someone, you will enjoy every second you can spend together. And lifetime won't be enough for you.
Traveling as a couple is easy. Spending a lot of time together can't destroy your relationship. It can only check whether it's true and if you chose the right person to spend your life with.
NON-NATIVE ENGLISH SPEAKERS
English is NOT our first language. We were born and raised in Poland and we communicate with each other only in the Polish language.
At the beginning, we thought it is crazy to travel the world and write a blog in English. But we knew it's the only way to reach the whole world, to connect with people from different countries.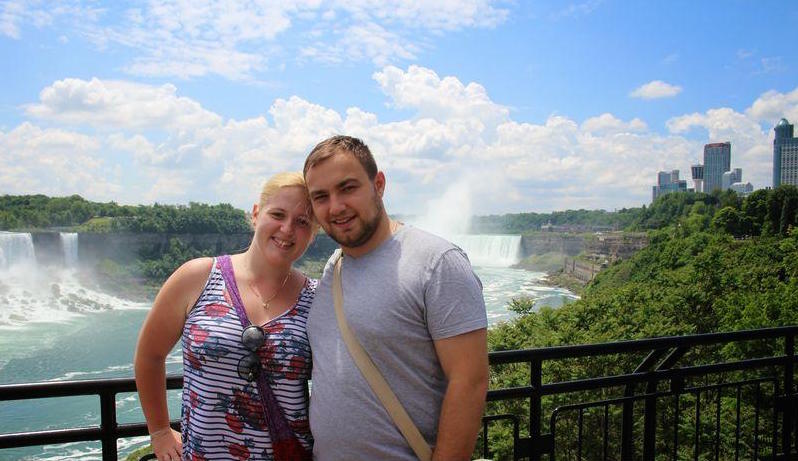 Oh God, if you'd only know how insecure we felt (and to be honest we still feel) about our English! We are always afraid to make a mistake and we are pretty worried that our posts will be worst from native English bloggers.
We are always nervous before recording the video when we speak in English.
But again, we don't give a s**t! We are improving our language every day and we know that one day we will be just like native English speakers.
Your English doesn't have to be perfect to travel the world. You just need to know the basics to communicate with other people abroad. Words like 'drink', 'food', 'bed', 'toilet' are often enough!
BROKE ALL THE TIME
No matter how much we earn- we are always broke!
We spend all our money on travel, so the more we have, the more places we are visiting.
The worst part of it is that we love luxurious travels. So our budget is always very high. And to be honest, there are always better hotels to choose or more expensive tickets to buy.

We still don't fly in the business class but we know it's only a matter of time.
We are poor compared to millionaires we want to be in the future. But we work hard every day to get richer!
Travelling is for everyone. You just need to plan your budget carefully and stick to it. You will probably never had enough money to finance all your dreams. So fulfill them step by step!
INSECURE AND SHY INTROVERTS
We are not outgoing, cheerful and sociable people. In fact, we are rather shy and we like to spend time together instead of meeting new people.
We like silence, the sound of waves and the wind. We don't really like parties and loud music.
We are introverts and have difficulties in trusting someone we don't know.
Sometimes we want to talk with a stranger because he seems to be interesting. But usually, we are too shy to start a conversation.
And so what? That's who we are! We are trying hard every day to overcome our shyness. Blogging is a great way to increase our self-confidence.
You don't have to be extrovert to travel the world. Travelling is for everyone no matter how shy or insecure you are!
TERMINALLY ILL
We live with a very serious illness. I mean, one of us is terminally ill but it affects both of us.
This disease requires periodic testing and checking if it's not getting worse. Usually, it ends with cancer and the people with this illness don't live long (they live for approximately 50-60 years).
We don't think it's necessary to write what exactly this illness is. All you need to know is that it's possible to travel with health problems!
You don't have to be healthy to travel the world. Being terminally ill shouldn't stop you from fulfilling your dreams.
CONSTANT LOSERS
We had so many failures in our lives that we can't even count them. Our company was in trouble many times. We periodically have debts and financial problems.
We were sick many times or had some family issues to solve. Most projects that we started didn't succeed. Out of 10 attempts we have taken, 9 of them are usually failures. And only 1 is a success.
Winning is great, sure, but if you are really going to do something in life, the secret is learning how to lose. Nobody goes undefeated all the time. If you can pick up after a crushing defeat, and go on to win again, you are going to be a champion someday.
We are constant losers. Life is beating us down but we NEVER give up. We get up stronger after every hit.
What you can see on our blog looks like a fairytale. We are young, in love, rich and travel the world. It's not the whole truth about us but we don't like to write about problems. Because we really don't see the reason why! Everybody has enough struggles to endure, so why sharing it in public?
The world has a permanent shortage of positive information, inspirational people and motivational content. So we share only positive information because that's what we all need! Happiness.
It doesn't matter how many times you fail. All that matters is how many times you get up to fight for your dreams.
We use 100% of the time we have and we don't waste it on stupid things like watching TV series or following Kim Kardashian on Instagram.
It doesn't matter how bad your life is right now. All that matters is that you have your dream. Make it your life goal, work hard and you will succeed- let's travel the world just like us!
Pin For Later:
What do you think about this post? What is stopping YOU from travel the world? Share your thoughts in comments!