Phuket
) as their holiday destination.
I and my husband have been looking for a good place to settle in Thailand. Our criteria were simple. We wanted to stay by the seaside, in a place big enough to have cafes, playgrounds, and at least one shopping mall.
We didn't want the city to be too big though, we wanted to drive around easily, without getting stuck in the traffic or getting lost at the huge crossroad.
Our list has been narrowed down to 2 places- Koh Samui island and Hua Hin. We've been to Koh Samui a few times before and we've loved this island.
Since we were traveling with 2 small kids, we've decided to settle in Hua Hin. It was just a 3-hour drive from Bangkok. If we had chosen Koh Samui, we would need to take another flight and we really didn't want that after a long journey.
So Hua Hin it was! We weren't sure what to expect but we just felt it was the right place to go. After 3 months here, we are now sure it was the right decision.
The town is lovely and there are so many great things to do in Hua Hin with kids!
General Info About Hua Hin
Hua Hin is a very popular holiday destination for people living in Bangkok.
That's why the town is getting busy on weekends.
Most of the tourist attractions are located along the main road, that's by the beach. Don't think you will be driving along the palm trees though!
Hua Hin is not that small and you won't see the beach from the car. You need to stop the car and walk for about 5 minutes or simply turn to get to the beach.
When in Hua Hin (and in Thailand in general), you will need to learn the word soi. Soi is a side-street branching off a major street. When traveling from Bangkok (north), the sois will begin. The further south, the greater the number of the soi.
For example, Hua Hin airport is close to Soi 2, at the beginning of the town. Bangkok Hospital is at soi 94.
The odd numbers of the sois are located by the beach, while the even numbers are opposite the street. It's really easy and that will make it easier for you to navigate around the town!
Hua Hin and another seaside town, Cha- Am are often considered one place. The distance between these two towns is about 30 kilometers (30-40 minutes drive).
If you need something and you are not sure where to get it, go to the Market Village. It's the biggest shopping mall in Hua Hin and I'd say it's one of the most important places in the town.
Want to grab something to eat? Go to the Market Village. Want to get a tattoo, cut your hair, or get your nails done? Go to the Market Village. Want to watch a movie in the cinema, or buy some gifts from Thailand? Go to the Market Village!
It's literally the only place to go if you want to run some errands.
Where To Search For Info About Hua Hin Online?
I found the Facebook groups really helpful anytime I wanted to ask about Hua Hin.
If you are in a town and want to connect with other expats and locals, add yourself to these groups:
Things To Do In Hua Hin With Kids
This post is all about things to do in Hua Hin with kids. To make it more helpful, I've made a video of all the places that I have visited with my family.
Watch it below.
If you are staying in Hua Hin longer, you may consider sending your kids to school. There are many international schools in Hua Hin. Some of the bests are BECC and Beaconhouse Yaamsard.
We decided that the best option for our 3-month stay in Hua Hin would be homeschooling.
We found a wonderful art teacher. She was taking care of our kids every day and we think it was the best decision ever. Yaya is trusthworthy, creative, and she just love kids. Our kids love her too and they did from the very first time they meet her.
If you are in Hua Hin, you can contact Yaya through her fanpage. She is organizing weekly art classes, so you may consider enrolling your kids too.
Yaya has many friends in Hua Hin, if she is not available for some reason, I am sure she will recommend someone else.
Anyway, let's get back to the best things to do in Hua Hin with kids!
Let's start with the map of all the places you can find in this article:
Play At Kids Fantasia (Playland Kidz)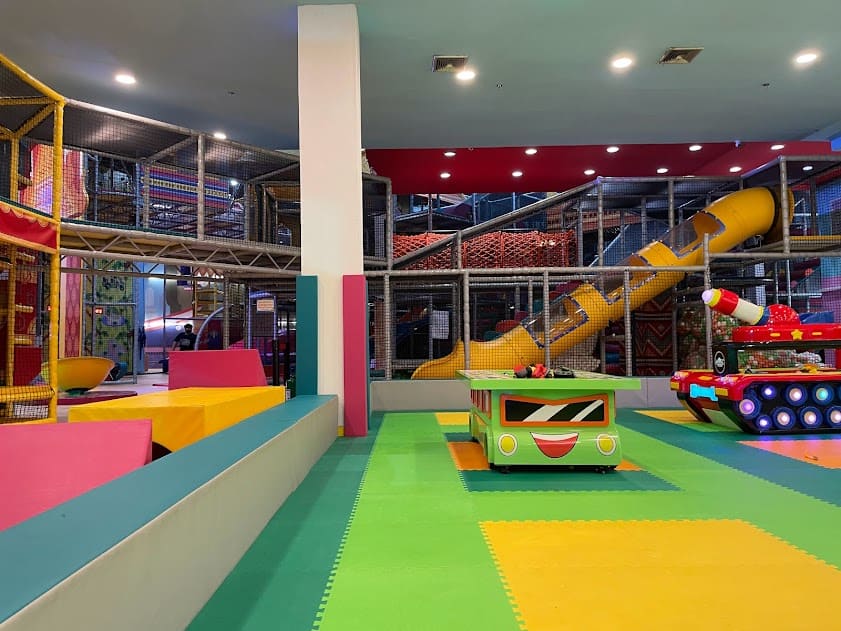 This is the only open indoor soft play area in Hua Hin so far. Kids Fantasia is located on the 3rd floor of Market Village.
There are many toys available to play with, as well as some amazing slides.
Right next to the Kids Fantasia, you will find the arcade machines that are as interesting for kids as the soft play area! The third attraction is the cinema where you can go watch a movie.
Go To The Beach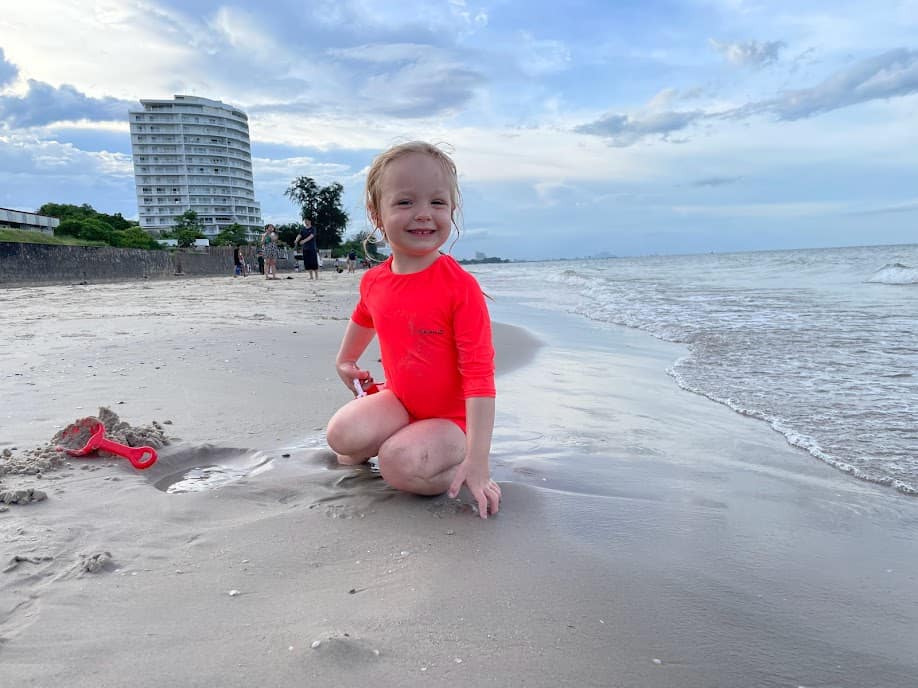 One of the reasons we all are visiting Hua Hin with kids is to enjoy the beach!
Take the sand toys and spend a wonderful time with your little ones.
Sand toys can be purchased in many places in Hua Hin, you can get them for sure in Market Village.
You can also take a horseback ride on the beach.
Take A Tuk Tuk Ride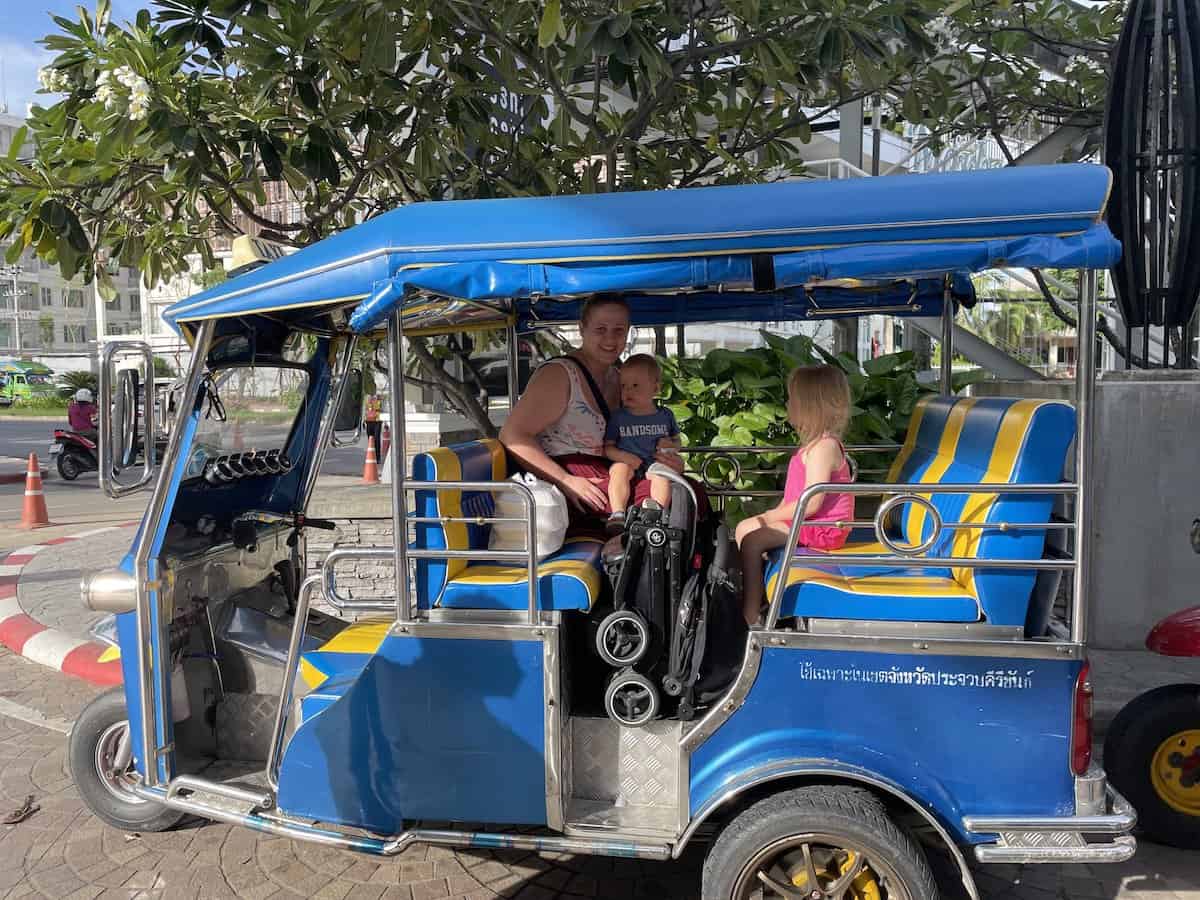 That may be too obvious for some but trust me, our kids LOVED taking the tuk tuk rides.
There are many tuk tuks available to catch in Hua Hin. Some places that you can always find them is in front of the Market Village and on weekends near the Tamarind and Cicada Markets.
Play With Elephants At Hutsadin Elephant Foundation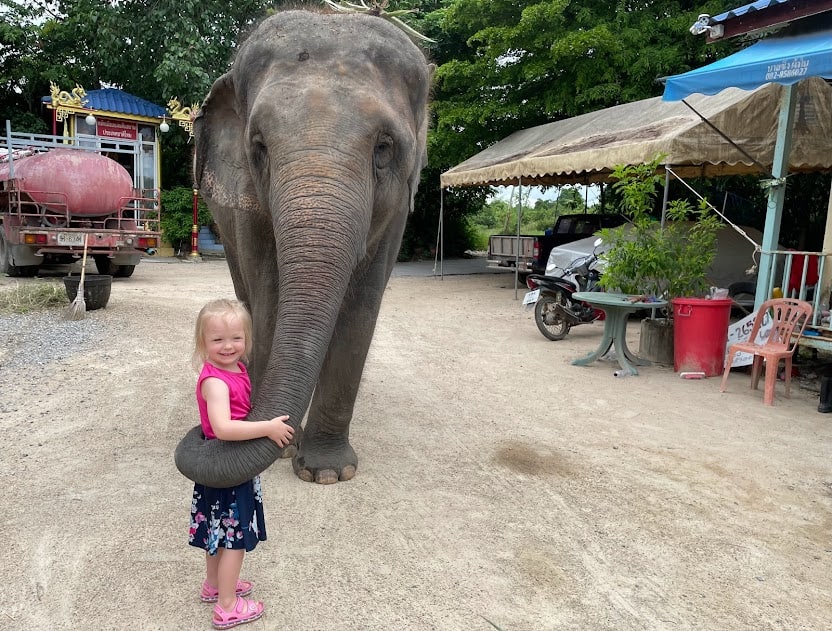 Hutsadin Elephant Foundation is considered one of the ethical places to meet with these giant creatures.
They only have elephants that are rescued. Some of them are ill, and some of them are old and tired.
When we were there (June 2022), there was only one elephant that was ok to play with. The others didn't trust humans that much.
You can choose from various activities, including walking, washing, and feeding the elephants. Check out the current opening hours and prices on Hutsadin's website.
Have Fun At Bryde's Kids Club
This soft play area is located inside the Holiday Inn hotel. It's open for outside guests but you need to book in advance. The price is 250THB for 1 hour per child so it's quite pricey.
However, my kids loved it!
Visit Hua Hin Zoo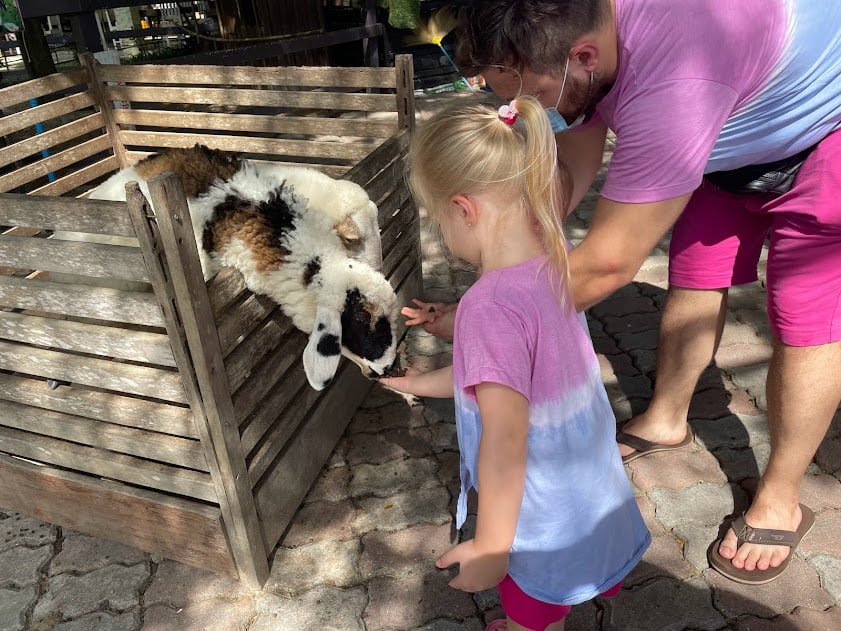 Many animals in Hua Hin zoo are walking freely. You can hand-feed them with snacks you can buy on spot.
To be honest, I was quite scared of the chickens and other animals that were literally chasing us in search of food!
If you love animals, you will probably enjoy your time in the zoo. On the other hand, wild animals such as crocodiles or lions are not treated well enough there (in my opinion!).
Hua Hin zoo is definitely not the best place to visit in Hua Hin with kids but it may be a good spot for some. I wouldn't come back there for sure.
Hua Hin Safari is an alternative to Hua Hin zoo. When I saw the photos of poor tigers that are drugged only to be calm, I knew we won't go there! It's not an ethical place but I am mentioning it here on purpose. It's your call whether you decide to visit or not.
Play At Queen's Park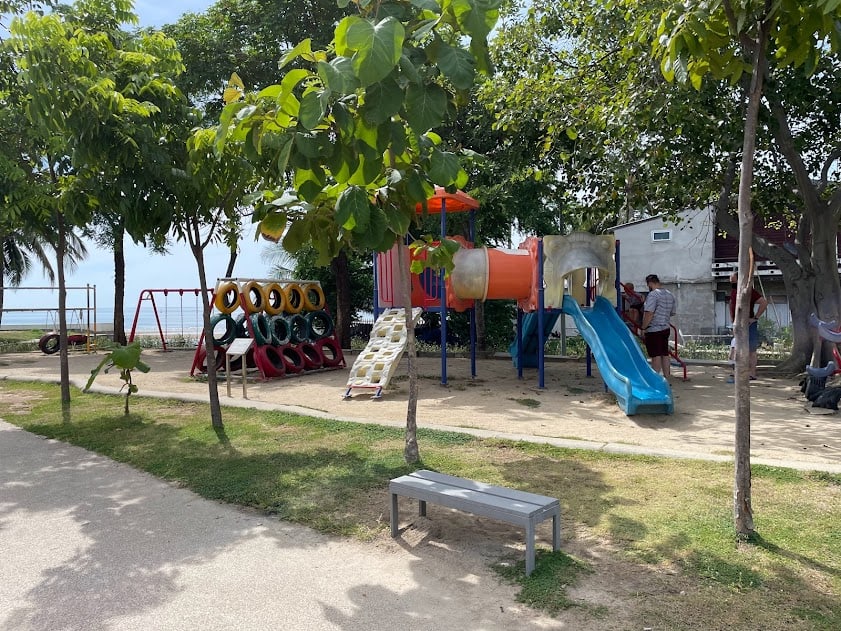 This is one of the things to do in Hua Hin with kids that are completely free!
The Queen's Park is located by the beach, so the kids can have fun on the playground, then you can go swimming in the sea.
There is a nice shadow area right next to the playground, as well as some stands where you can buy drinks, ice cream, and some snacks.
What I loved the most is that there is a public shower in Queen's Park, so you can wash after leaving the beach and don't bring all the sand back to your car.
Go Shopping At Hua Hin Floating Market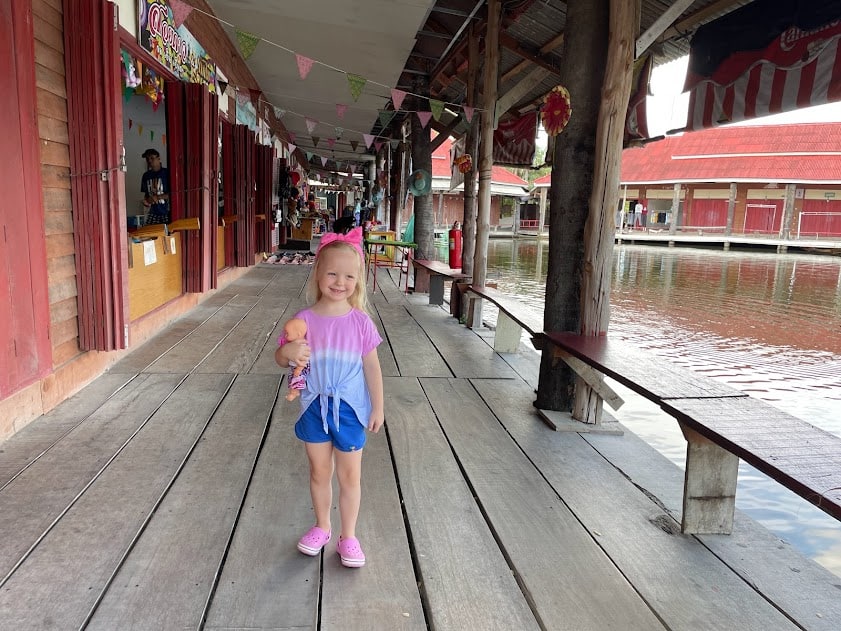 My kids loved our visit to the Floating Market!
Even though we've been there early in the morning and most shops were closed, we still bought some gifts.
There are many attractions available for kids in the floating market including:
feeding the fish
feeding the bunnies
feeding the goats
taking a boat ride (if available)
seeing and sitting in the old train
Have Fun At Black Mountain Waterpark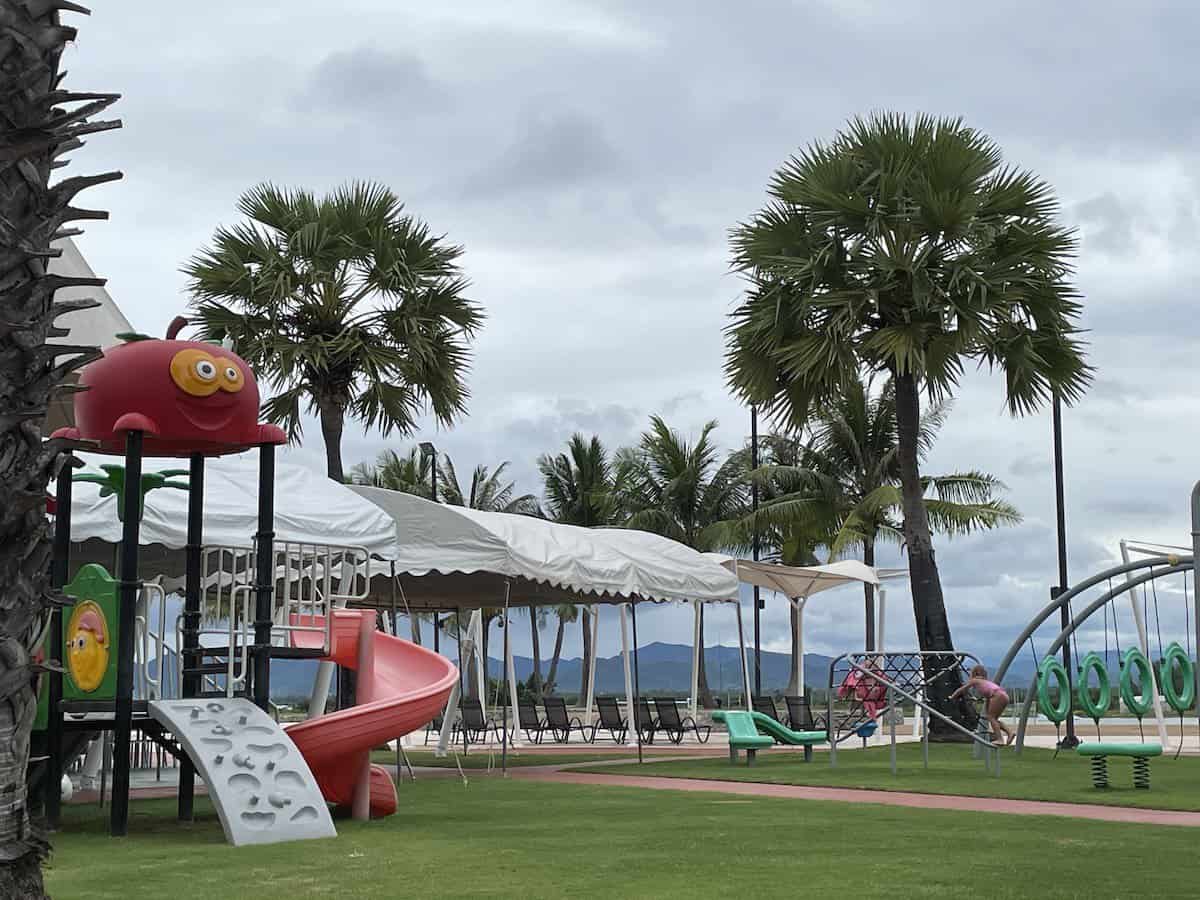 There are 2 waterparks in Hua Hin.
I recommend Black Mountain Waterpark for families traveling with smaller kids (infants, toddlers, pre-schoolers). It's a peaceful place surrounded by beautiful landscapes.
The entire water park is visible within the eyesight, you can truly relax there.
There is a nice restaurant inside where you can have lunch and get some drinks and snacks.
Spend A Great Day At Vana Nava Water Park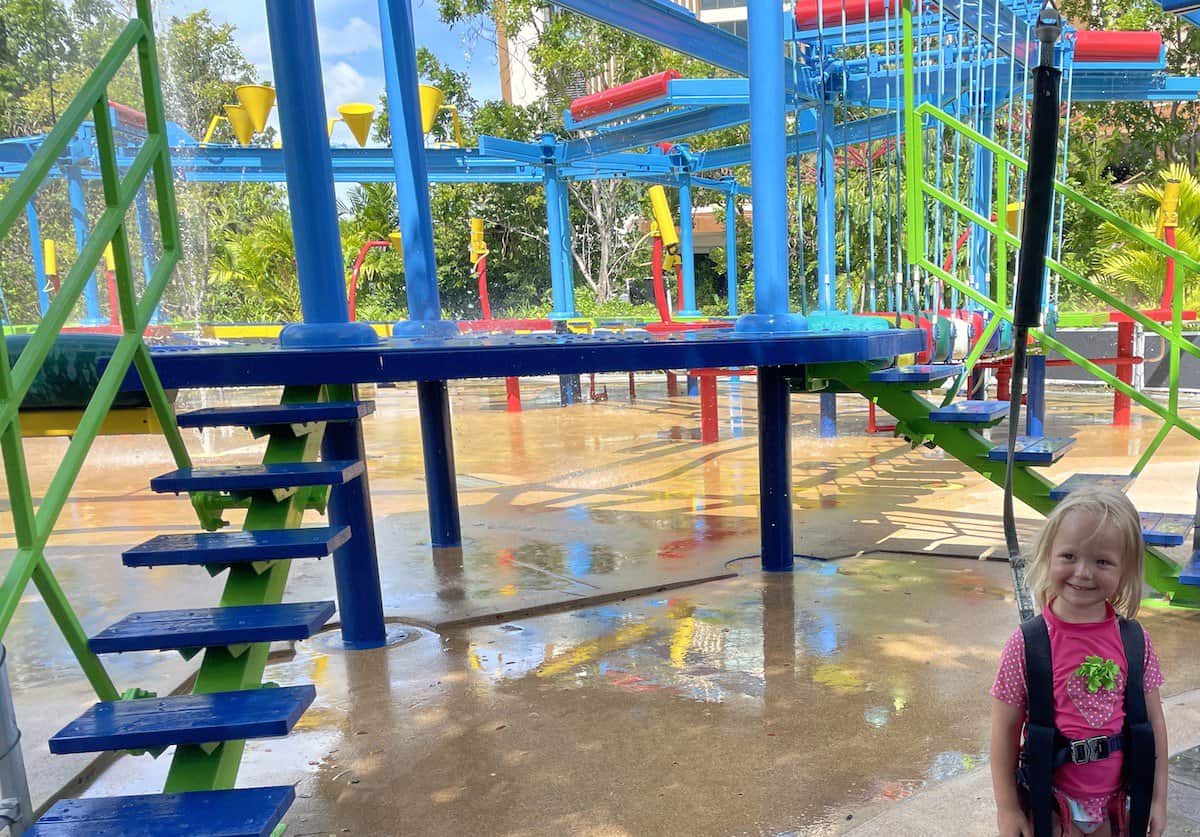 The second water park, Vana Nava is located right next to the Holiday Inn hotel. It's great for families traveling with school-aged kids. They can have lots of fun because there is always a lot going on in the park!
It's loud, busy, and full of fun activities.
There are many restaurants, stalls, and shops inside the park, where you can buy almost any food, drink, and snack that you like!
Make A Fun Hairstyle!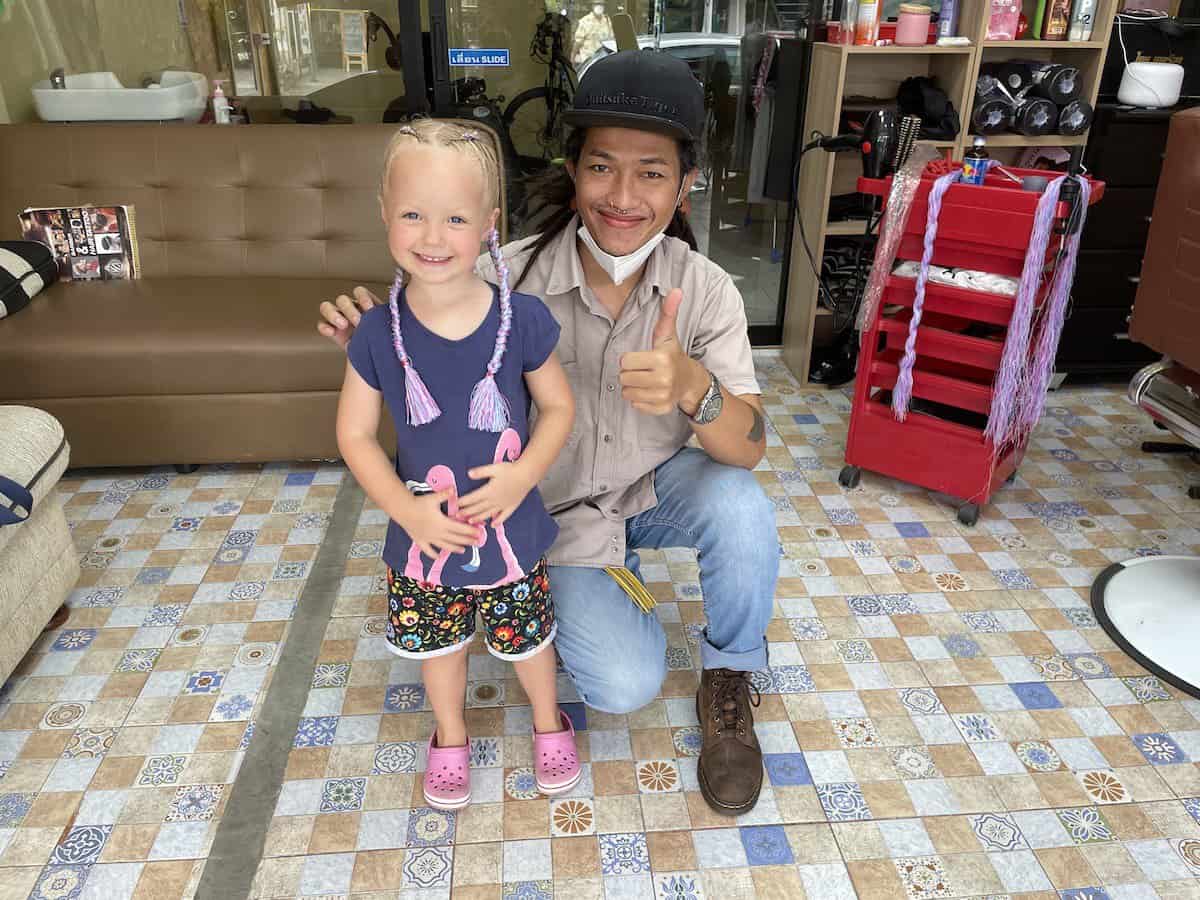 You are on holiday, so why not make a fun hairstyle for you and your kids?
I and my daughter have been to Dome Dreadlocks Barber Shop (recommended by Yaya!). I've messaged him on Facebook and scheduled an appointment. The price for this hairstyle is just 250 THB!
Drive Up To Wat Khao Takiab To See Wild Monkeys
If you want to see wild monkeys in Hua Hin, Wat Khao Takiab is your place to go. We've been
traveling around Thailand
many times but we've never seen THAT MANY monkeys in this country!
Visit Swiss Sheep Farm
The farm is located just a 30-40 minutes drive from Hua Hin but it's definitely worth visiting!
You can not only hand-feed different kinds of animals but also enjoy the colorful statues, houses, and vehicles that every child will love!
It's like a place taken from a fairy-tale. In my opinion, the Swiss Sheep farm is one of the best places to go if you are in Hua Hin with kids.
Tip: Be sure to bring sunscreen because the attractions are not in the shadow!
Spend A Great Time At Venezia Hua Hin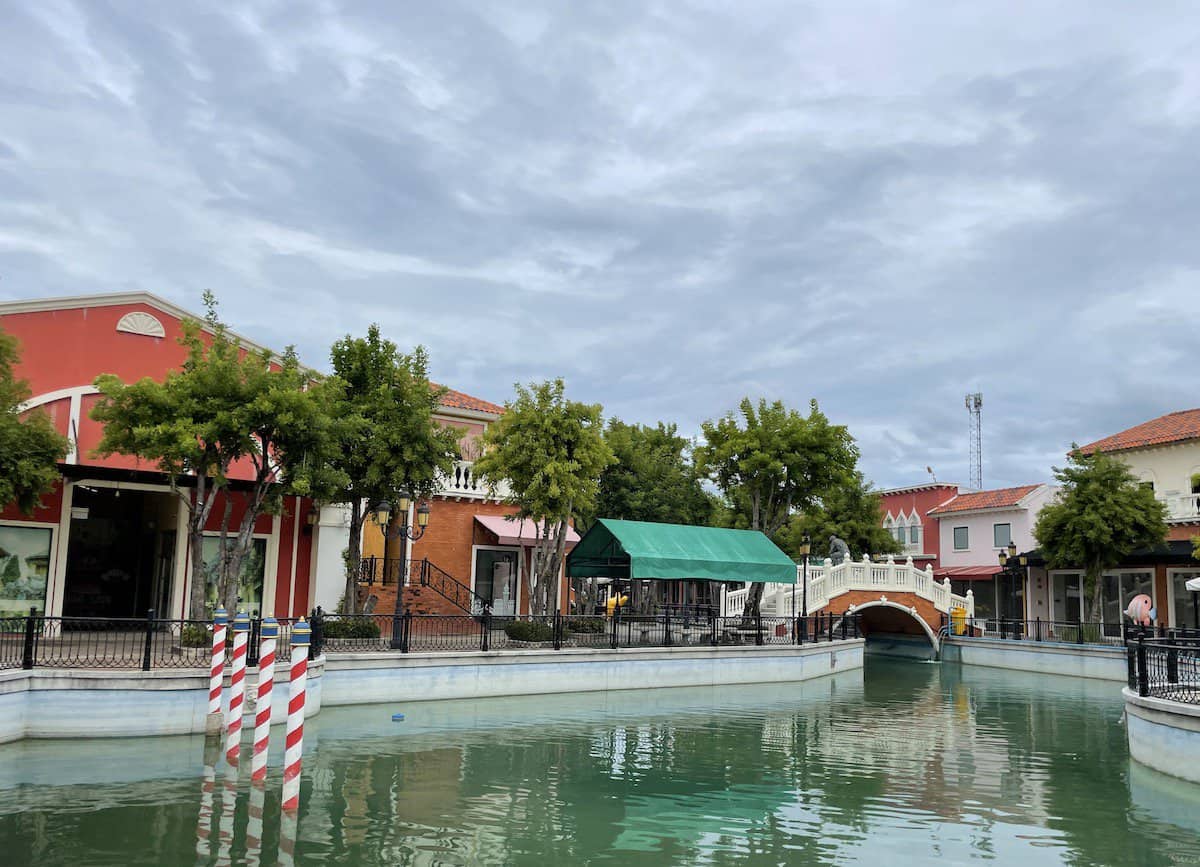 We didn't really feel like visiting Venezia Hua Hin as we've been to the real Venice twice.
After visiting all the family-friendly places in Hua Hin, we've decided to give it a try. And it was amazing!
Venezia is not only a colorful town but also a great place to go in Hua Hin with kids. They offer many attractions including:
mini-train ride
large outdoor playground
amazing photo spots
mini-zoo (closed now after the pandemic)
soft play area (also closed)
restaurant
shop with pretty great clothes and souvenirs in good prices
Upside down house
Take A Peaceful Walk Through The Pran Buri Forest
I had a long list of things to do in Hua Hin with kids. Pran Buri forest was on it but we didn't really feel like walking when it is always so hot outside.
We've left the mangrove forest for the last days of our stay in Hua Hin. When we finally went there we were SO SURPRISED how amazing it was!
First of all, the Pran Buri forest is all in the shadow. So it's not that hot when you are walking. Secondly, the entire path is stroller-friendly, so we avoid listening to our kids complaining that they don't want to walk anymore.
Last but not least- the walk is really short! You will go through the entire route in less than 30 minutes.
If you are lucky, you can catch a boat on your way (1-4 people 450thb, 1-6 people 500thb).
When we were in Pra Buri forest with kids, the boat was unavailable.
Just before the end of the route, you will have a chance to climb up the viewpoint to see the amazing mangrove forest from above.
Honestly, it was one of the highlights of our trip to Hua Hin with kids.
Family Friendly Cafes And Restaurants In Hua Hin & Around
Welldone
Hands down, this is our favorite kid-friendly restaurant in Hua Hin!
They have an indoor, air-conditioned kids' corner right next to the tables where parents can eat. If you want to spend a nice afternoon without worrying that your kid is running around in random directions, that's your place to go.
You will be able to eat your lunch peacefully and relax even for a few hours.
Welldone is a Russian restaurant but they have some Asian and Western food available as well (for example french fries and homemade nuggets).
Zabwer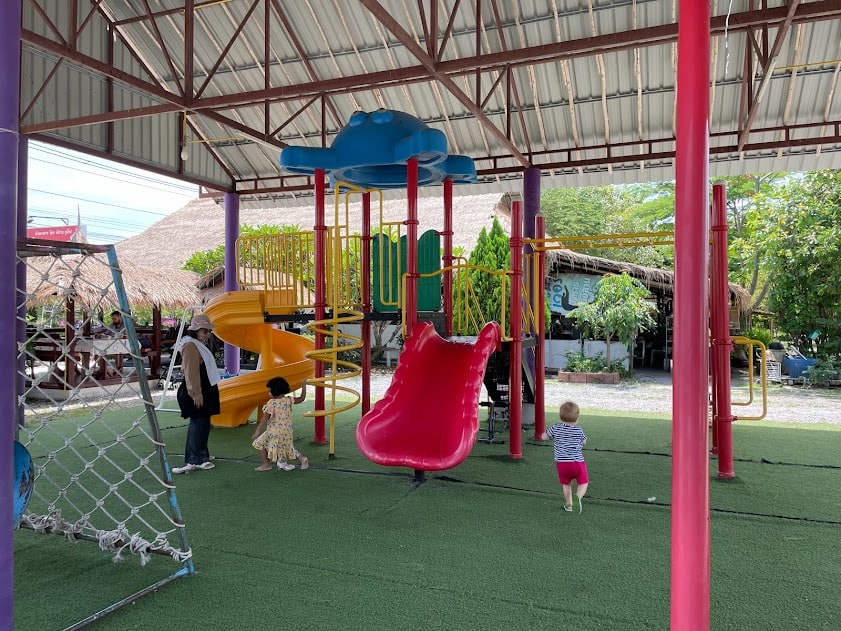 This restaurant has a nice outdoor playground area as well as a variety of Thai and Western food to choose from.
I recommend visiting before noon or in the late afternoon as it's really hot in there during the day.
Sabai Cafe & Bistro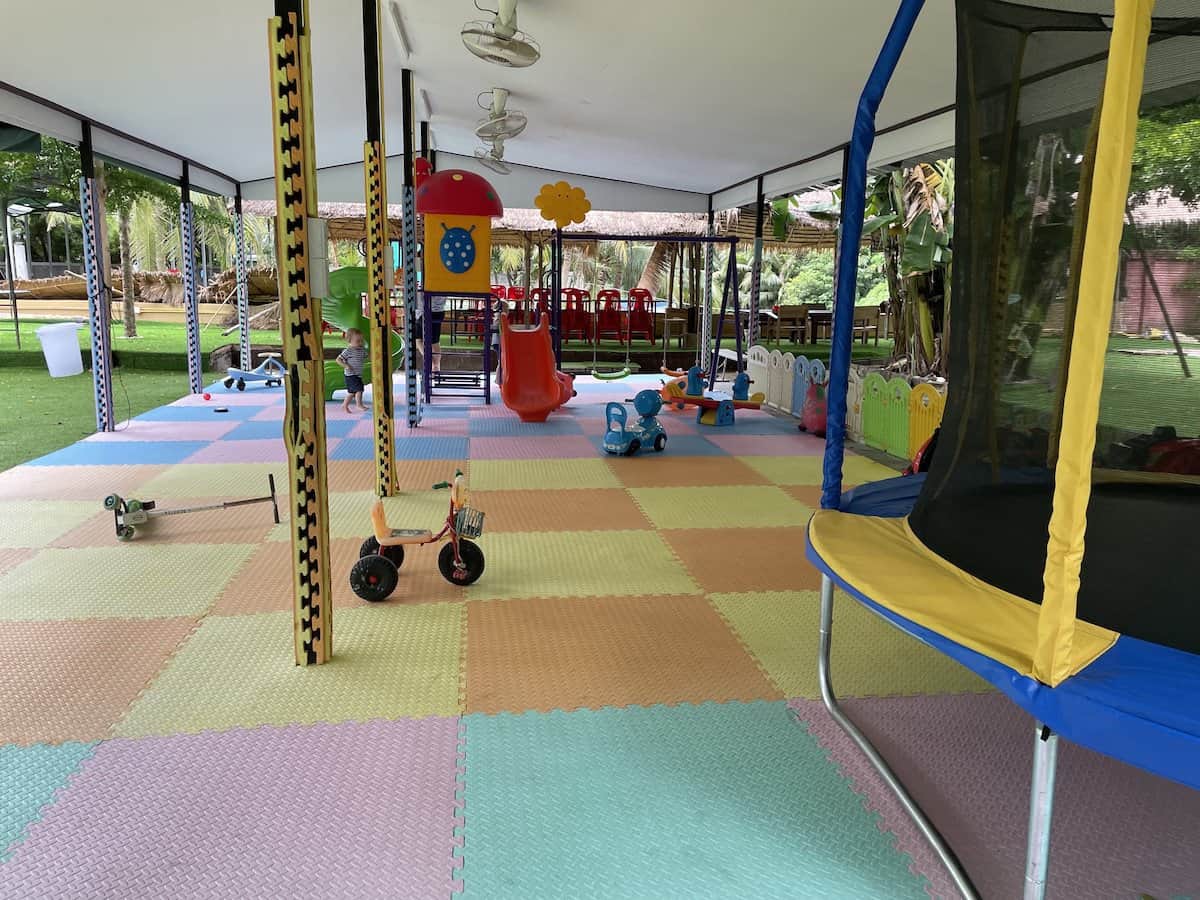 This cafe has a playground area just like Zabwer.
It's located by the river and there are many plants and trees around. Because of that, it's not that hot in the playground. I think it's the biggest advantage of Sabai Cafe.
The entire floor is covered with foam tiles, that's why I think it's the best place to go in Hua Hin with infants and toddlers.
Memory House Cafe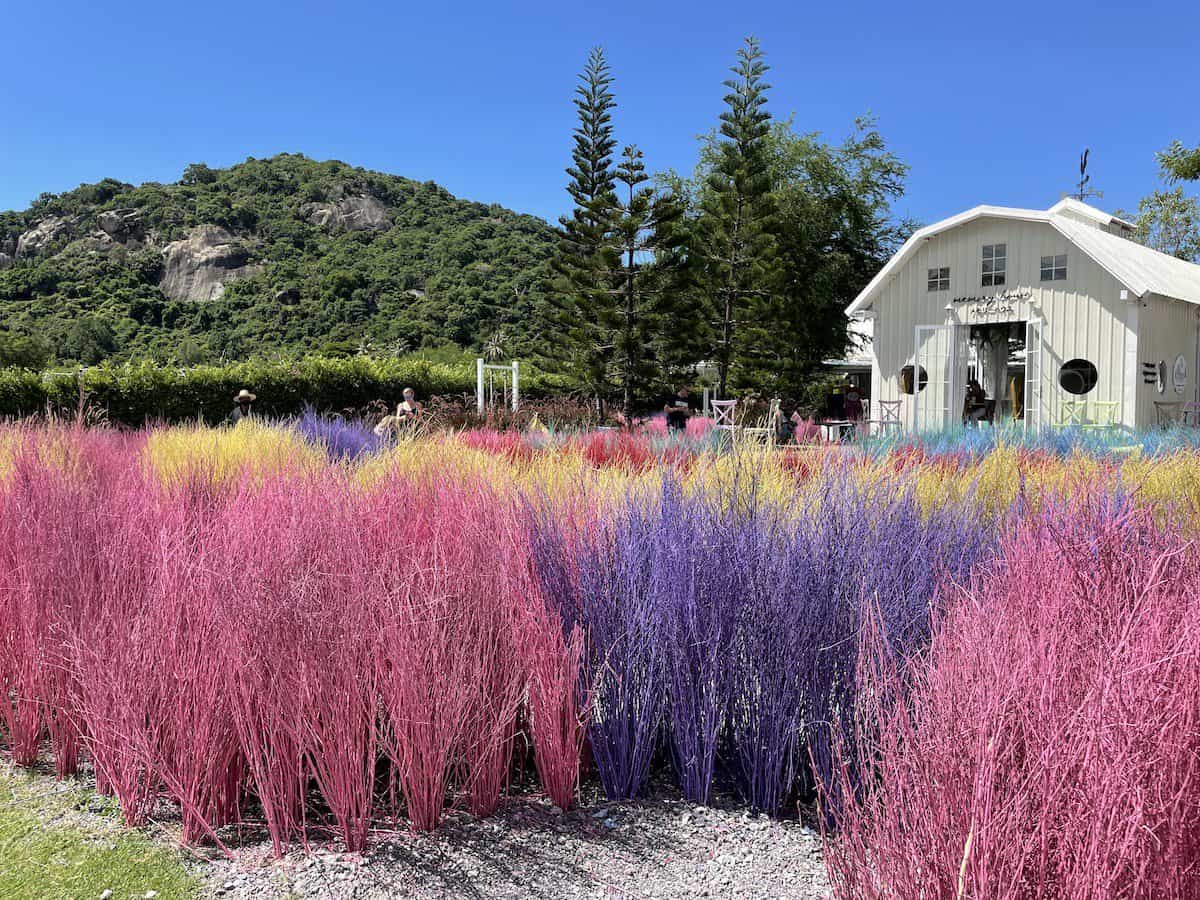 This colorful cafe is a place every child will love!
It's full of amazing photo spots. They serve some interesting food and drinks too, for example, coffee with a jelly teddy bear.
Kiss Cafe & Beach Cuisine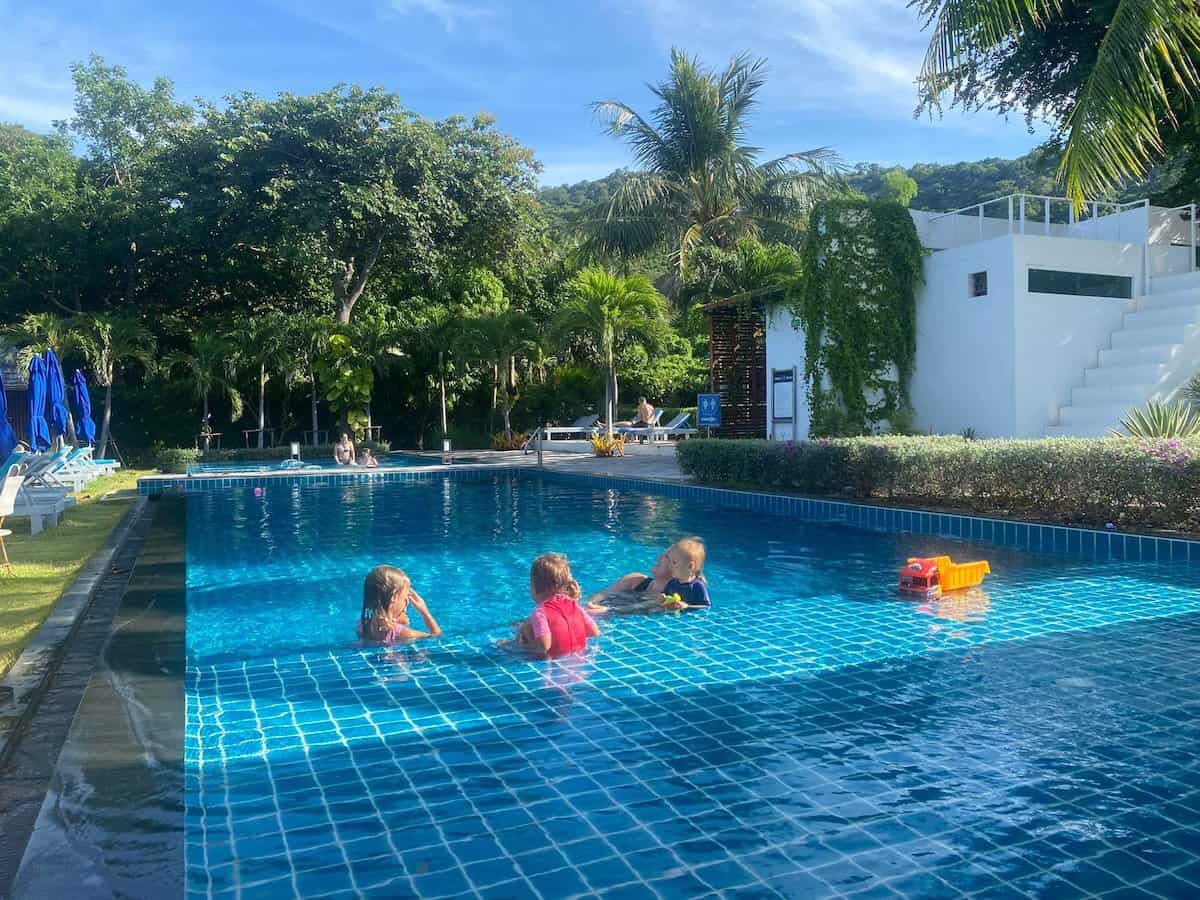 It's one of our favorite restaurants in Hua Hin to go with kids!
Kiss cafe is located right on the beach. They have 2 swimming pools that you can use for free if you dine in the restaurant!
One swimming pool is shallow, so our 1,5yo boy could freely walk inside.
The other is divided into 2 parts- one deep where you can swim, and the other shallow where even infants can crawl.
The Kiss Cafe has a variety of Thai and Western food to choose from, as well as alcoholic and non-alcoholic drinks.
Dolphin Bay Resort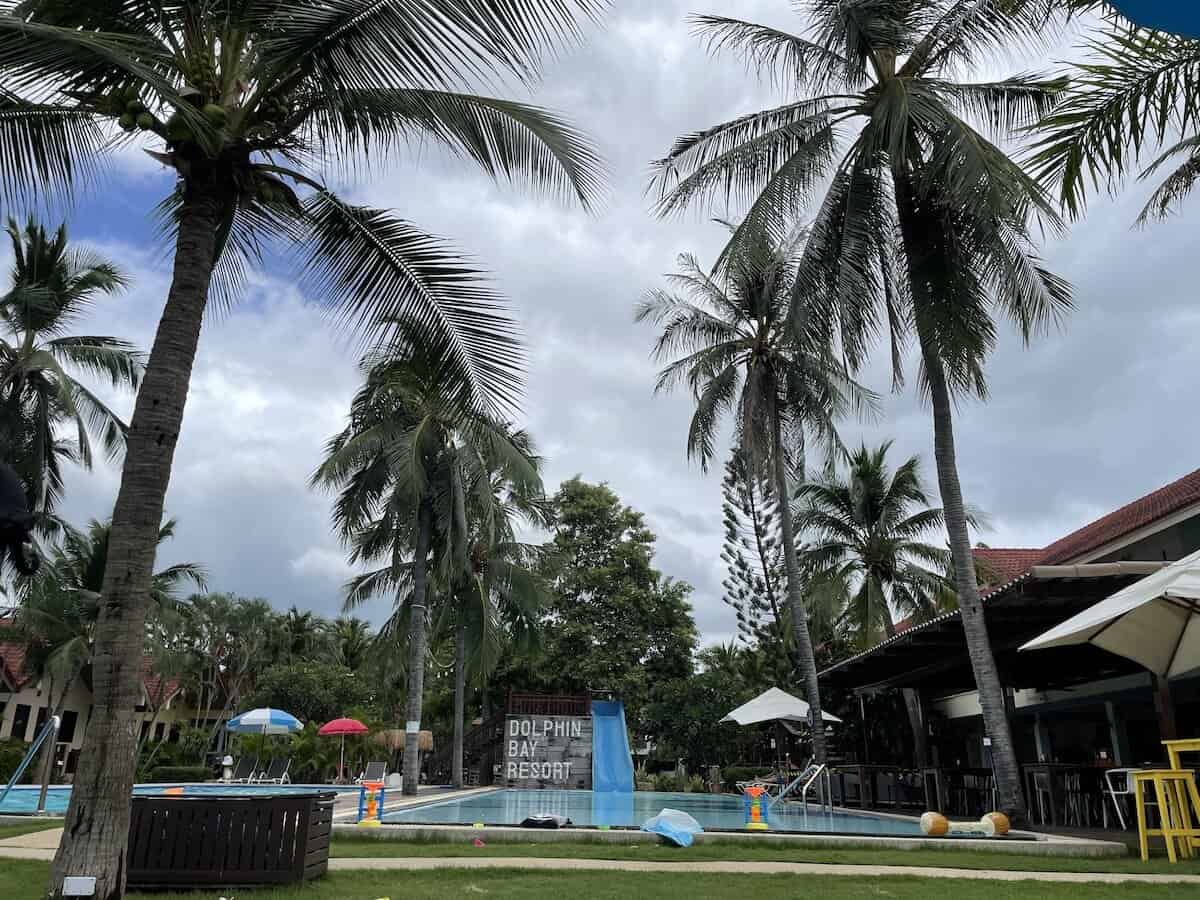 This place is absolutely wonderful! Located about 40 minutes drive from Hua Hin, it's a perfect destination for a day trip with your kids.
Dolphin Bay Resort has two swimming pools with toys, a large playground area as well as an indoor kids' club with lego. The hotel is located by the beach. You can rent bikes (for adults and kids) on the spot if you want to go cycling with your little ones.
Dolphin Bay Resort is open for outside guests. You should either pay 200THB per person to use all the facilities or simply dine in the hotel's restaurant.
Chocolate Factory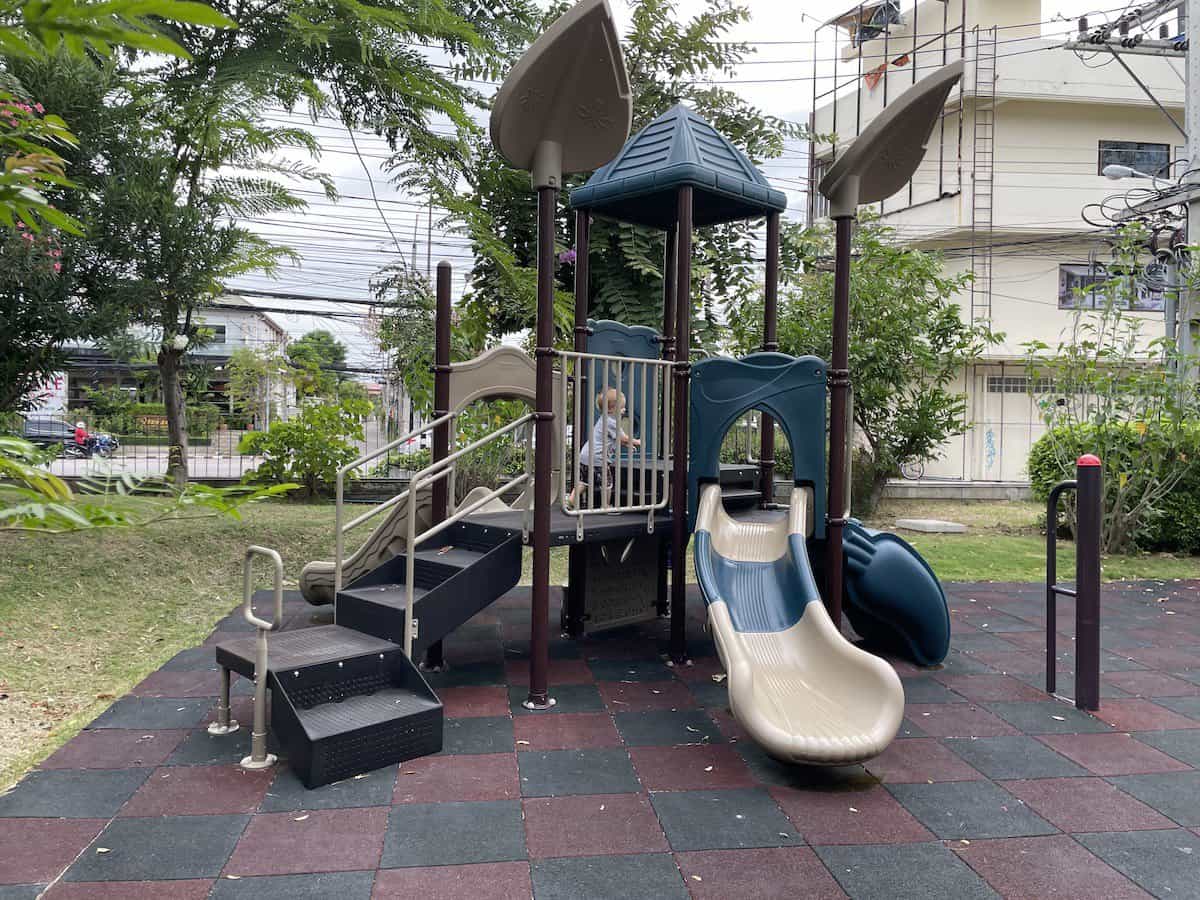 I would call it a "cocoa factory" because the quality of chocolate is far from European standards. It's still a place worth visiting in Hua Hin with kids though!
They have a nice outdoor playground and many sweets made of chocolate that your children will love.
It's worth knowing that there is a restaurant inside the Chocolate Factory so you can have a proper lunch there.
Four Four Nine (449)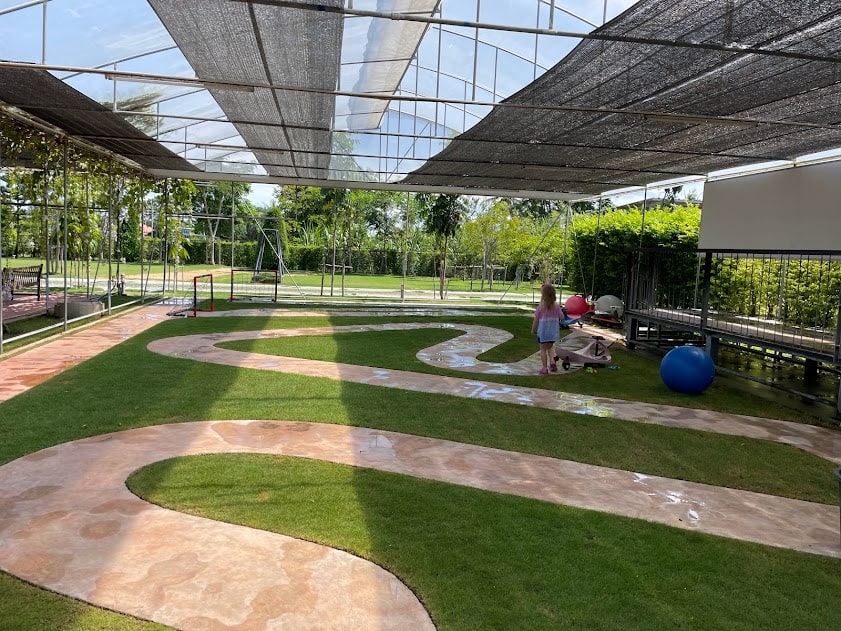 It's one of our favorite restaurants in Hua Hin to go with kids!
They have a large green area where kids can run and have fun. Because the grass needs water, you will often see water splashing around.
There are some kids' vehicles available at 449 as well as the sand with toys.
We really enjoy the food 449, especially the pizza, it's one of the best we've ever had in Thailand.
I-Tim Station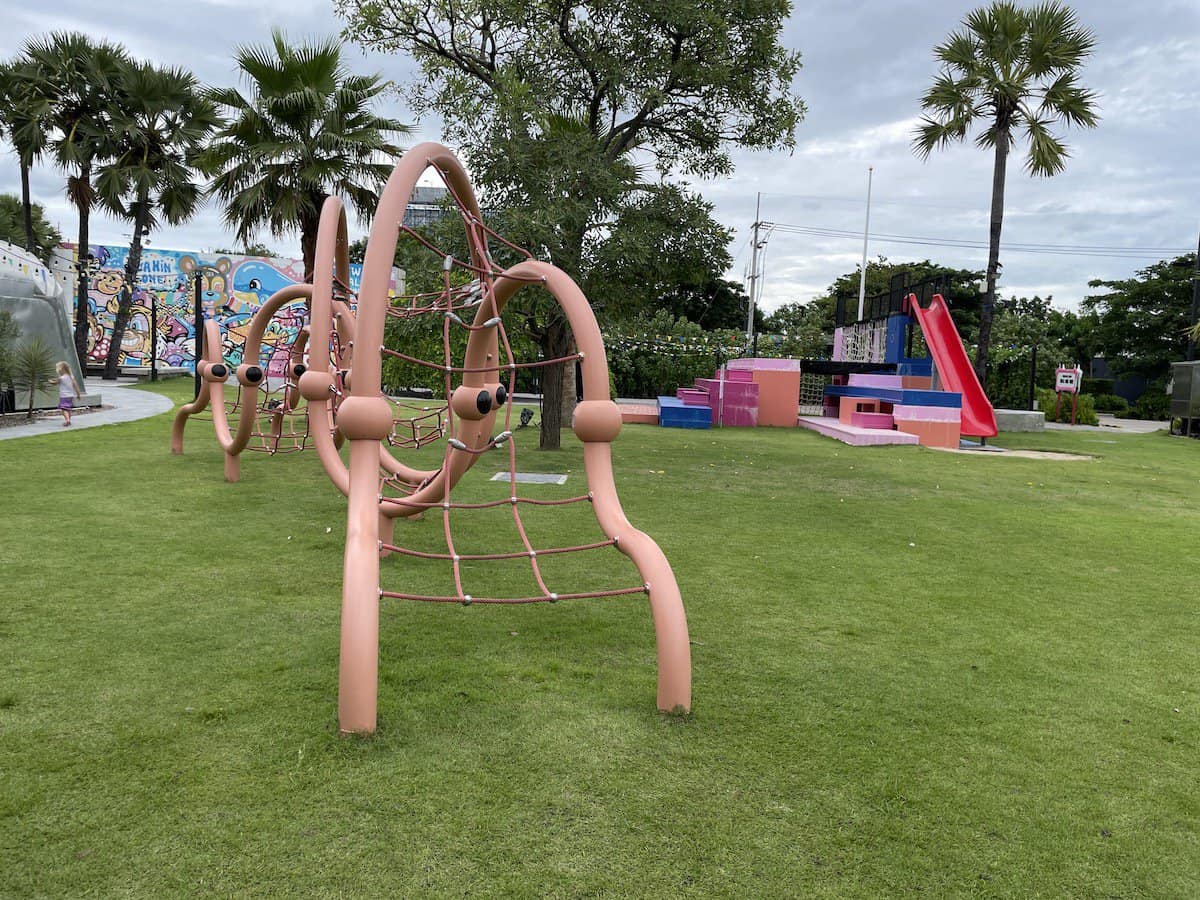 Located about 30 minutes drive from Hua Hin, I-Tim Station is a great cafe to go to have some desserts.
There is a playground area available outside. I-Tim Station itself is pretty unique, as it's a cafe inside the old train. They serve sweet snacks, ice cream, and drinks only.
Your Neighbor's Restaurant and Gallery by Bakery Terrace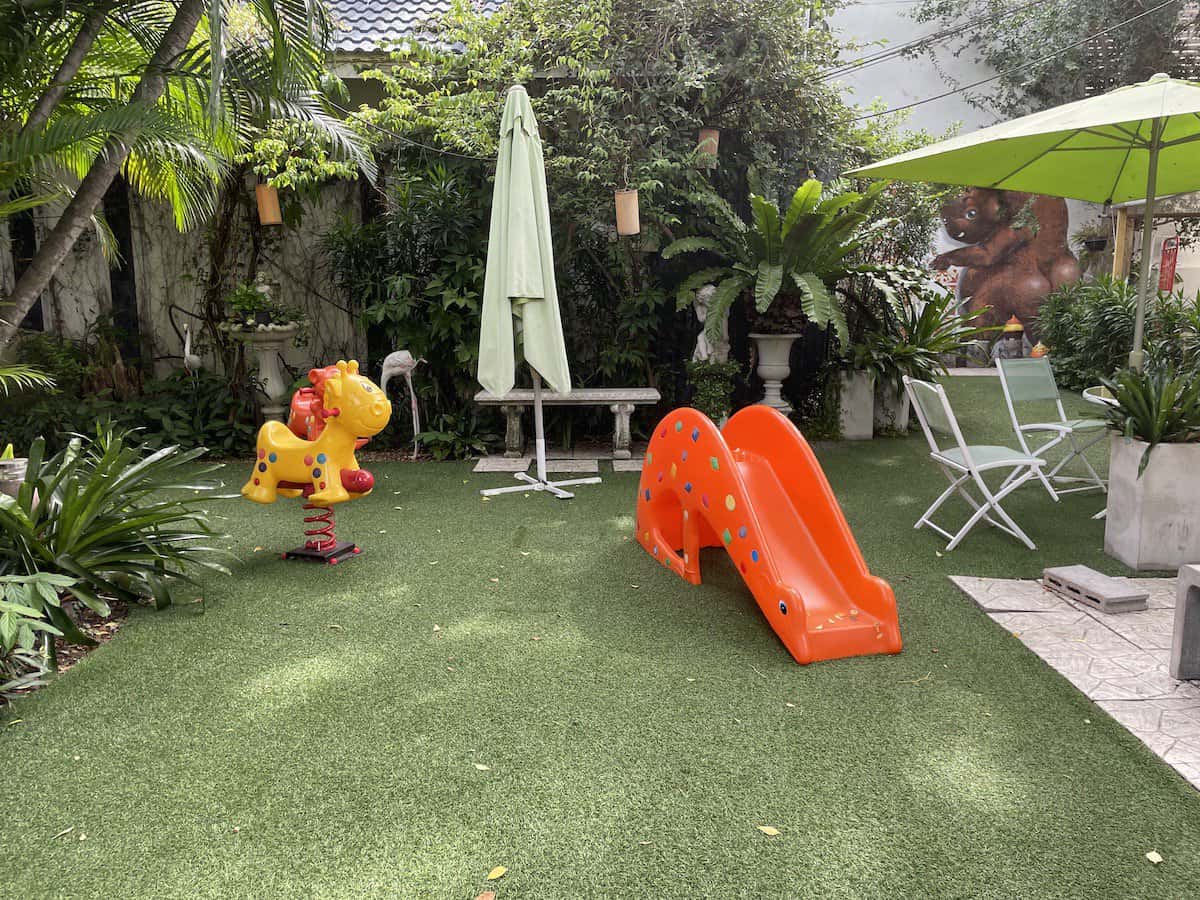 It's a nice cafe with a small playground for kids. Nothing fancy but it's worth stopping by if you are in the neighborhood!
There is a Cat Cafe right next to the Bakery Terrace so you may visit these two cafes in one go.
Bamp Beach Cafe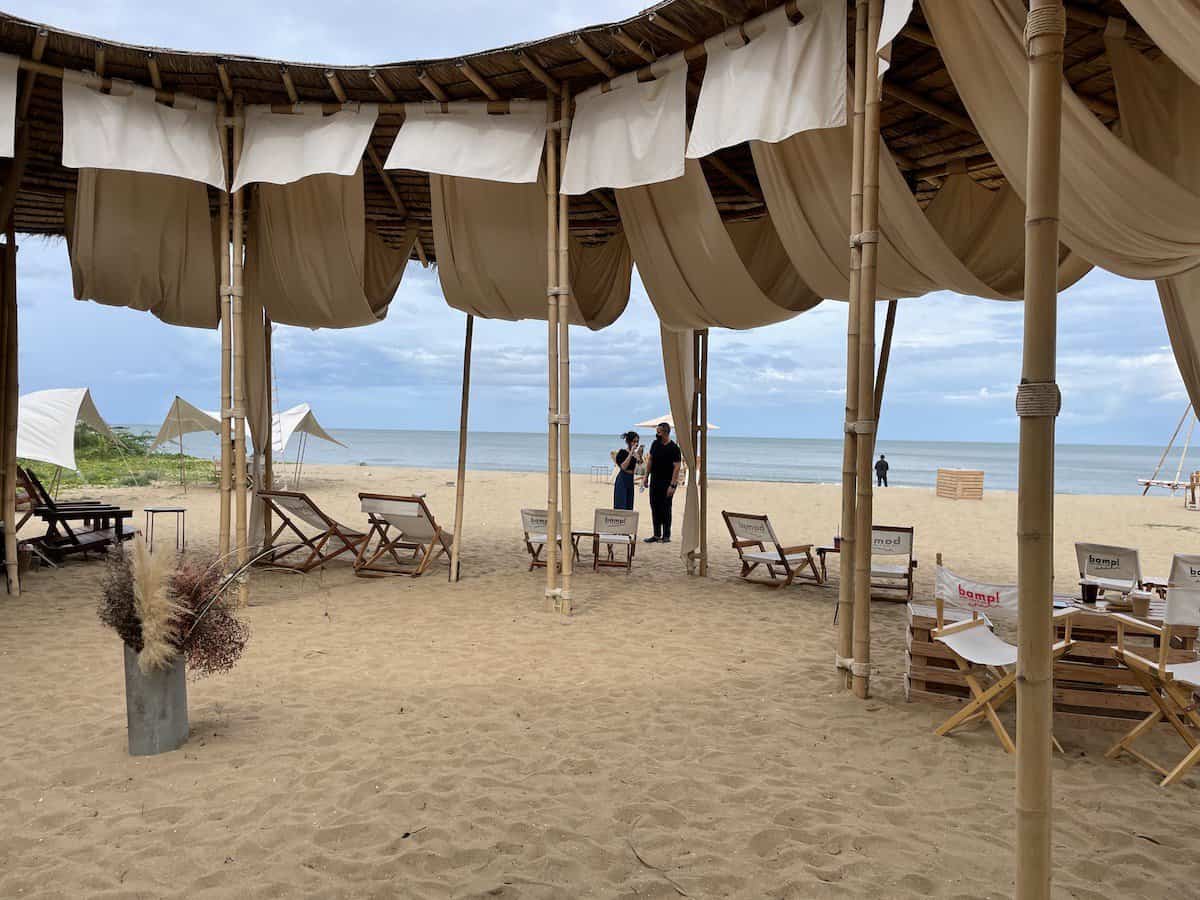 I was hesitant whether to write about this place or not.
I didn't really like it because the beach was quite dirty and there was no shower to wash.
On the other hand, I know some Hua Hin residents love Bamp Cafe, that's why I decided to mention it in this article. If you bring some toys, I am sure your kids will have fun there.
I wouldn't come back to Bamp Cafe, however, I really loved their chocolate cake. It was one of the best I've had in Thailand!
Bamp Cafe is very close to Pran Buri forest, so you may visit these 2 places in one go.
KK Garden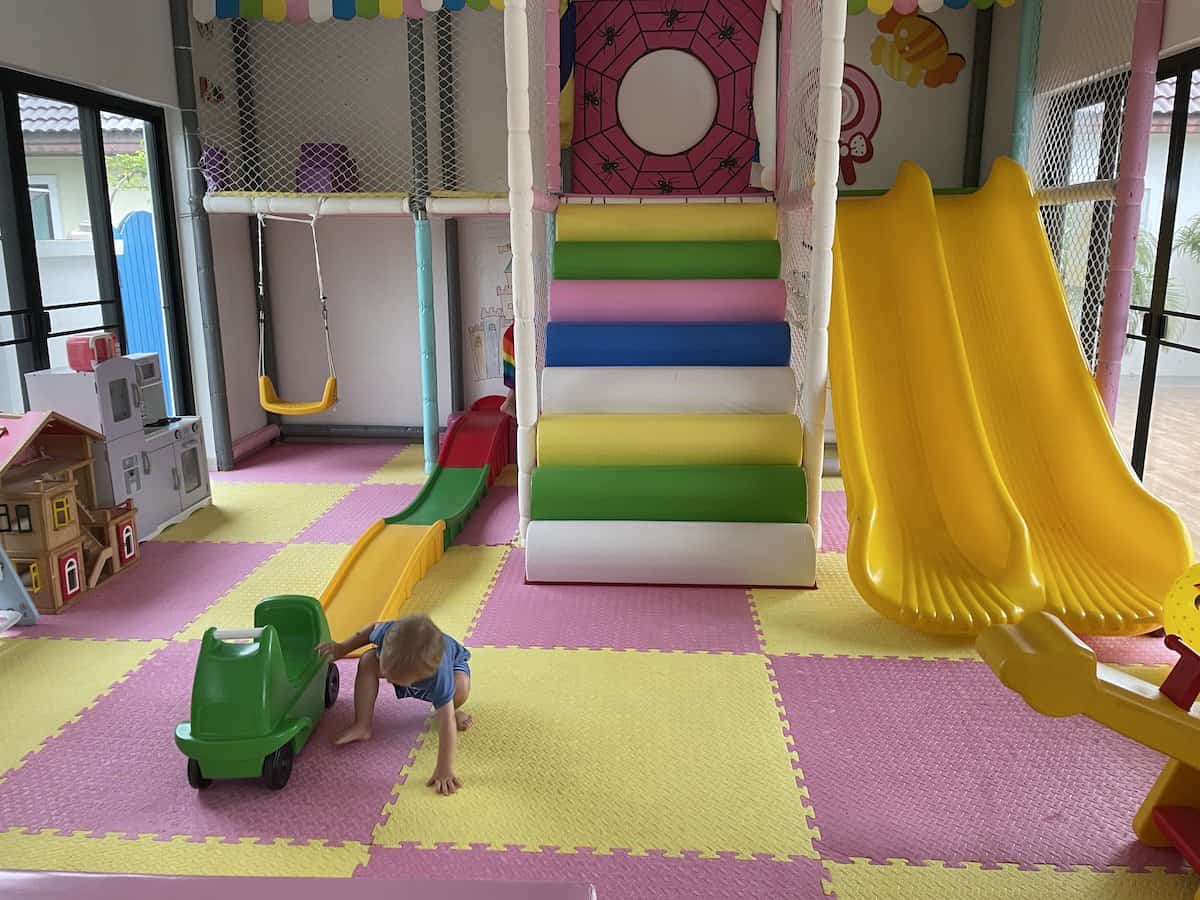 This place is a hidden gem of Hua Hin! KK Garden is located close to Black Mountain Waterpark.
It's a boutique hotel, however, they allow outside guests to use all the facilities, as long as they order something from the restaurant.
You can spend the entire day in the KK Graden, because there are so many things to do with kids in there. They have:
a treehouse
large garden with a small river
mini golf
animals (a goat, and chickens)
many toys to play, including a big car that my son loved
indoor soft play
indoor gym
outdoor swimming pool
outdoor water mini playground
BaanTuaYen
That restaurant was a BIG SURPRISE. It wasn't easy to find but I am so happy we went there.
BaanTuaYen has a nice farm with chickens, ducks, and other birds that you can feed. You can buy food for them for 10THB.
The restaurant has a large garden with big trees that give the shadow. There is a small playground with a mini-slide and a rocking horse, mainly for toddlers and smaller kids.
BaanTuaYen has a great kids menu, the meals are served on the kids' plates which my children loved.
We had a chance to talk with the owner who asked us for permission to post the photos of our kids' feeding ducks on their Facebook fan page.
When we told him that we are going to write about his restaurant on our blog, he was really happy and offered a discount for our readers.
So if you go there, just use the code BTY-LTB to get 10% off.
FYI, we are not affiliated with BaanTuaYen in any way.
So Sofitel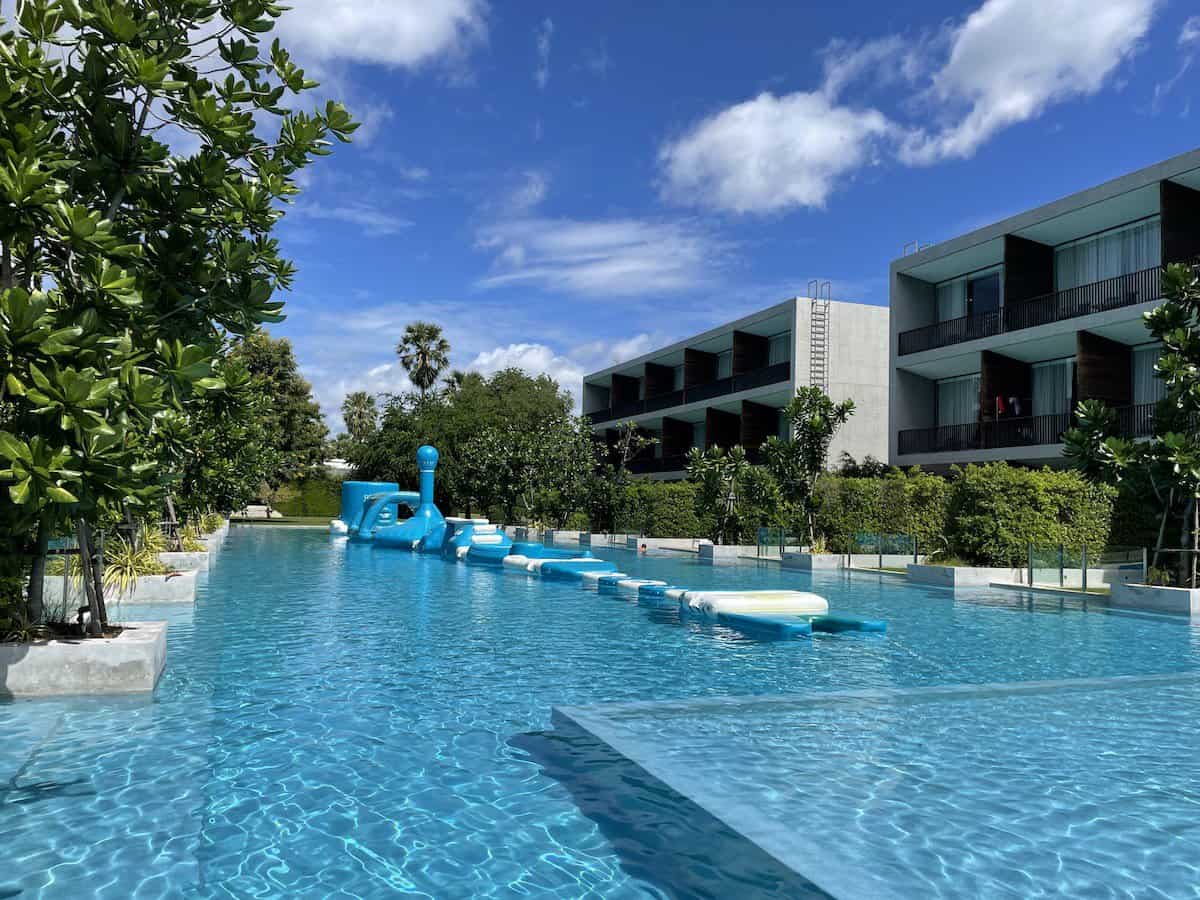 If you are in Hua Hin with kids for a short time,
So Sofitel
is probably one of the best places to stay.
They have SO MANY attractions for kids of all ages!
If you are a resident, you can use the facilities as well. They have a pretty awesome
Eat&Play offer
.
If you spend at least 1,000THB at their restaurant, you will use most of the hotel attractions for free. That applies to a group of up to 6 people, so if you are in Hua Hin with a family, you can spend the day in the luxurious resort for just 1,000THB for the entire group.
Be sure to book your visit in advance to make sure they have free tables available.
The hotel's attractions include:
swimming pools including the one with Wibit Adventure Float
Mini Golf
outdoor playground
indoor kids' club
large garden with huge chess and playing field
tennis and bicycle rental for cycling tracks
So Sofitel is located in Cha-Am, about half an hour drive north of Hua Hin. It's the only place in the article that we didn't need to pay for, they invited us over. We wanted to write about it anyway because this hotel is definitely worth recommending!
Final Words
I tried to make this post as in-depth as possible, I hope you liked it!
I wished I could find an article like this before my trip to Hua Hin with kids, that would be so helpful.
One last thing that I want to add is to recommend a place we've been staying at. It's called My Resort and you can easily rent a condo there for 20-30K THB a month.
We've just booked it on Airbnb. My Resort is located close to Cicada Market and has a pretty awesome indoor playground, as well as a water playground and swimming pools. We really enjoyed our stay there.
If you have any questions, feel free to comment below, I will be happy to answer!