Located in Southeast Asia, Thailand is known for its elegant royal palaces, ruins, tropical shores, and not to mention the beautiful Buddhist temples. The capital of Bangkok is an ultra-modern city that rises over quiet canal-type communities and temples such as Wat Arun, Wat Pho, and Wat Phra Kaew (the Emerald Buddha). Adjacent beach resorts include the popular and busy Pattaya, crowded Phuket, quiet Koh Samui, and the stylish Hua Hin. The official language of the country is Thai and the monarch is King Vajiralongkorn (the previous king Bhumibol Adulyadej passed away in 2016). There are many fun Thailand facts that are surprising for tourists. Let's talk about Thailand culture.
The following pieces of information will help you get better acquainted with the country's landscape, people, and cultural leanings. We will also mention some of the most interesting facts about Thailand.
Freedom Is The Most Important For Thai People
The name of the country can literally be translated as "The Land of The Free". One of the most interesting Thailand facts is that it's that the country is the only one in South East Asia that has never been colonized.
You can really feel the freedom in Thailand. No matter what is your gender and age, you will be welcome in Thailand with a smile.
Thailand is World's Leader In The Sex Reassignment Surgeries
Many people that don't feel comfortable with their gender, travel to Thailand to get sex reassignment surgery. Why Thailand?
First of all, the prices for such an operation are low comparing to the western countries. Secondly, the standard of medical care is really high. Last but not least- tolerance. It's perfectly normal and acceptable in Thailand for people to change sex. If you don't feel comfortable in your body, you can change it. No one will judge you.
Bangkok's Official Name Is Hard to Pronounce
One of the Thailand fun facts is that Bangkok's official spelling was clearly established before the founding of such media sites like Twitter.
While it is known in its shortened version as Krung Thep Maha Nakho, its entire ceremonial name is
Amonrattanakosin Mahintharayutthaya Mahadilokphop Noppharatratchathaniburirom Udomratchaniwetmahasathan Amonphimanawatansathit Sakkathattiyawitsanukamprasit.
This Tweet buster of a name contains 156 characters.
Bangkok Is One Of The World's Most Visited City
Although it may take you a long time to pronounce the ceremonial name of Bangkok, it still won't keep you from visiting this fascinating landmark. According to statistics, the Thai capital sees about 16 million people cross its borders annually.
Depending on the year, it's either number 1 or two in the world's most visited cities rank.
The World's Smallest And Biggest Mammals Live in Thailand
One of the fun facts about Thailand is Kitti's hog-nosed bat that is found in the country of Thailand. The little bat weighs in at only two grams!
The country's waters are home to the largest marine mammal, the whale shark.
A "Face" Is Very Important In Thailand
It's very important for Thai people to be respected by others. When they are embarrassed or humiliated they are "losing the face" which can have serious consequences for some.
You can read in the newspapers every now and then about the murders that were caused by losing the face.
The best way to show respect is to stay friendly, smiling, and never shout or offend the Thai people. More about the "face concept" here.
Thailand Is One Of The World's Friendliest Country
Everyone knows that Thailand is a land of smiles!
It is not sure how researchers obtain their data when creating the friendliest country rank. However, the information reveals that Thai people are one of the most welcoming and helpful in the world.
Some other countries that you can find in the rank are Iceland, Canada, and the Philippines.
Why Thai people are so friendly? It's all because of the kreng jai, a part of Thai culture that requires keeping everyone happy, even if that means giving up on one's own desires.
There Are More Than 40,000 temples In Thailand!
Big, small, famous, and less-known- temples are all around Thailand. Some of them are really weird, like for example David Beckham temple, Penis Shrine, or privately owned White Temple in Chiang Rai.
Thailand Plays Host to the Annual Monkey Buffet
Monkeys have their own fete each year and are regularly invited to a festival in their honor. The 600 attendees get to gorge on all sorts of fare in honor of their ability to draw in many tourists.
The Country Is Home to the World's Ninth Tallest Statue
The Great Buddha at the Wat Muang Monastery in Ang Thong province is the world's ninth-highest statue at 127 meters or 416 feet high. The tallest building in the country (that is also the world's 80th tallest building) can be found in Bangkok. The Baiyoke Tower II stands at 304 meters or 997 feet high.
Check out best tours in Thailand:
A Popular Pastime Is Elephant Polo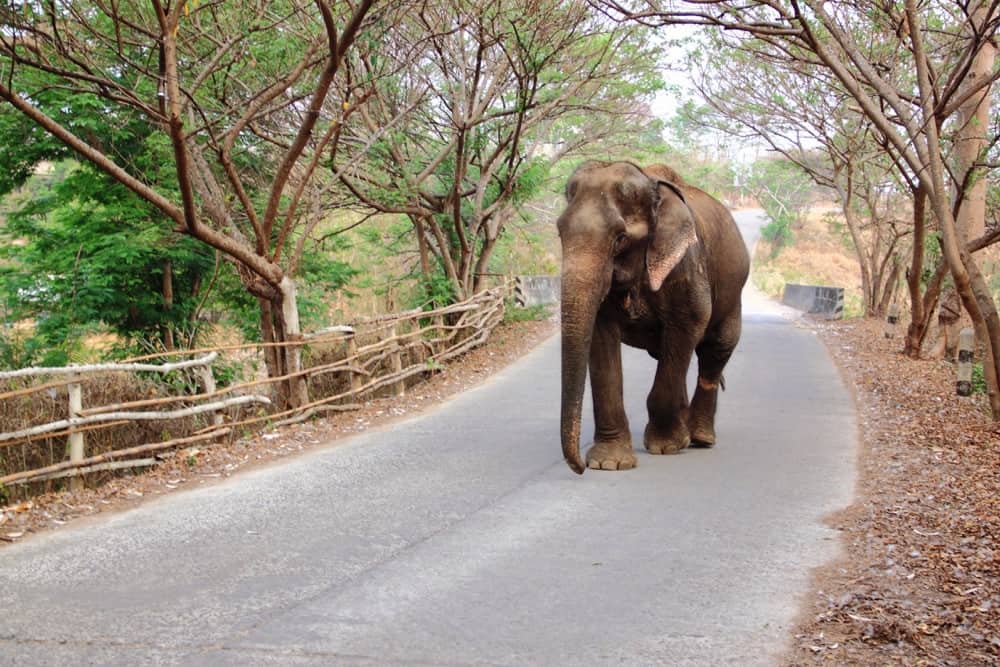 Thailand is also a host country for the King's Cup, also known as Elephant Polo. The game, which normally features horses, features players that are experienced in riding elephants.
While the game is not fast-paced, it does provide a certain amount of excitement nonetheless. The Thai people are notably concerned about the animals' well-being as a warning is issued in the game rules. Any abuse is considered an offense worthy of strict repercussions and penalties.
Bangkok Was Once Known as the Venice of the East
At one time, Bangkok was home to a large number of khlongs or canals.
The canals were a part of the overall landscape as homes accommodated the watery terrain by being built up high on poles. Eventually, the city became more land-based with expansion and population growth.
There Are Many Reasons Why People Are Visiting Thailand
If you think the beautiful landscapes of Thailand are the only reason why people are traveling to this country, you are wrong.
Sex tourism is very common in this country. That involves LGTBQ+ tourism and prostitution tourism (sadly, child sex traffic in Thailand is one of the highest in the world).
Another reason to travel to Thailand is medical tourism that I mentioning earlier in this post.
Only a Small Portion of Thailand's Forests Remain
While people often marvel at the jungles and forests in Thailand, there used to be more in the way of bushes and trees. What most people do not know is that most of northern Thailand was once covered in forest.
Now, only about a quarter of the trees are left. Only the country of Singapore has lost more trees. As a result, logging is banned in Thailand.
"The King and I" Never Appeared in Thai Theaters
It is against the law in Thailand to say anything derogatory against the monarchy. That is because the Thai people love their king and therefore show him great respect.
In fact, the well-known classic movie "The King and I" never appeared in theaters in Thailand as it was considered disrespectful to the king. Thailand also features a lese majeste rule, meaning that any disrespectful acts toward the monarch can lead to imprisonment for treason.
Showing Respect for Another Individual's Head Is Important in Thailand
The head is considered to be the most important part of the human body in Thailand. Therefore, Thai culture forbids touching anyone on the head even if he or she is a child.
Should you meet someone who is more important in status or older, you should bow your head in deference.
The Former King of Thailand Was Born in Cambridge, Massachusetts
His Majesty King Bhumibol Adulyadej was born in the U.S. in Cambridge, Massachusetts. Although he passed away recently, people still worship him.
He was the grandson of the monarch King Chulalongkorn (Rama V), furthermore, his grandfather is credited with bringing modernism to the country. Highly educated, the King possessed an engineering degree from Switzerland.
The Orchid Is Thailand's National Flower
If you appreciate exotic flowers, orchids, in particular, you will like to hear that Thailand is home to 1,500 species of orchids, all of which can be found growing in the Thai forest. That is why the country is one of the largest exporters of orchids.
At One Time, Over 100,000 Elephants Inhabited Thailand
There is a reason people often associate elephants with Thailand. Today, you can find 5,000 of them in the country. About half that number are domesticated. However, over a century ago, the country was home to approximately 100,000 elephants.
Bangkok Was Named the World's Hottest City
If you do not mind the heat, you will not mind Bangkok, which carries the distinction of being the world's hottest city.
Probably the best time to visit the country is in November or December. The heat is not as great during this time as the rainy season has subsided and it is drier. However, even if the climate is a bit more temperate, you will still have to contend with the crowds or the fast metro pace.
The Country Is Made up of Almost 1,500 Isles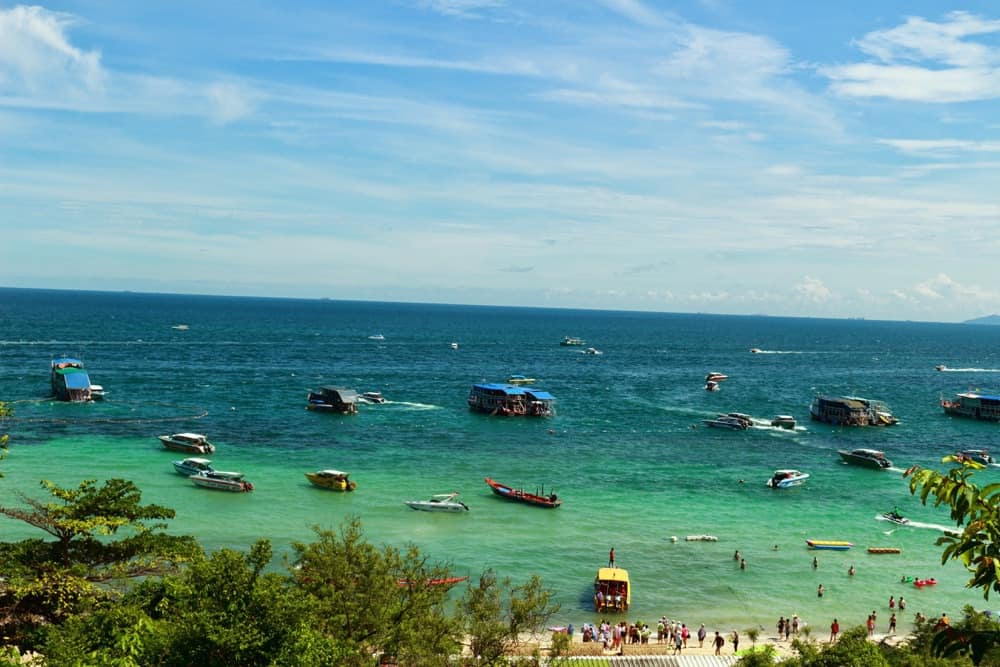 One of the fun Thailand facts is that the country is home to about 1,430 islands, many of which have become famous in Hollywood films (such as Shutter Island). The most famous Thai islands are Phuket, Koh Samui, Koh Phangan, and Koh Phi Phi. All of them have wonderful beaches and plenty of things to do.
Speaking of beaches, if you'd rather stay on the mainland, you could visit Pattaya. There are many points of interest there that should be on your Thailand itinerary!
Siamese Cats Originated From Thailand
Siamese cats first called Thailand home and are esteemed animals to present to brides as they are considered to be good luck.
While the number of species has dwindled down to about one-fourth of their original number, they are still highly regarded animals among the Thai people.
Men Were at One Time Required to Become Buddhist Monks
At one time in the country's history, all men should become Buddhist monks, even the members of the royal family. They were required to take on the role before they turned 20 years old.
The Most Important Mineral in Thailand Is Tin
You may see stunning jewelry made of gold on display in Thailand, especially when viewing the country's statues. However, the most important mineral economically is tin. While jewels may sparkle on Buddhist temples, tin is a sparkling gem in the local economy.
The Mekong River Is Home to Over 1,300 Species of Fish
Another interesting fact about Thailand is that located on Thailand's eastern border, the Mekong River supports 1,300 fish species.
The river also holds some of the largest fish in the world including a giant freshwater catfish that is 10 feet in length and can weigh up to 660 pounds. So, if you want to go fishing, the Mekong River is an interesting place in Thailand.
Swiftlet Nests in Thailand Are Made of Strands of Saliva
Swiftlet nests collected from Thai caves fetch a great deal of money. The nests are one of the most coveted and expensive food items in the world.
The SkyTrain May Stop for No Apparent Reason
In downtown Bangkok, the SkyTrain may stop for no reason which means that it's one of the annoying but interesting facts on Thailand.
When any member of the Royal family travels downtown, the train will stop so it is not above the royal member. Basically, you should not have your head directly above a member of the royal family. That rule applies when walking on overhead passes as well.
One of Thailand's Fish Can Walk on Land
One of the most interesting facts about Thailand is the mudskipper that is indeed a curious type of fish as it can walk on land and climb trees.
The fish uses its fins to walk and absorbs oxygen through the lining of its mouth and skin. It spends most of its time in the water, however, consuming algae in tidal pools.
Dogs Act Like Cats in Thailand
The weird thing about Thailand is that dogs act like cats in this country. They are so lazy and calm… They sleep all day and do everything that usually cats do. Maybe it's because of the heat- the temperature is simply too high for them to run around.
There are many stray dogs in Thailand. Most of them are easy-going and won't even bark. However, some of them may become more active at night.
Thai People Believe In Ghosts
Thai people are really crazy about ghosts! They believe they can haunt them unexpectedly.
That's why they place little houses close to big buildings (homes, offices, shops, etc.) When the ghost is around, it stays in this little house and won't haunt their homes.
Thais are extremely superstitious. Every time something weird happens, they think it's because of ghosts. They bring drinks for them, especially red Fanta.
So don't be surprised if you see many bottles of red Fanta in front of the little house in Thailand. It's for the ghosts.
You Should Take Off Shoes When Entering Buildings In Thailand
Thai people consider feet as clean and shoes as dirty. That's why they take off their shoes before entering temples, houses, stores, etc.
If you go to Thailand, you need to behave like locals. So don't be disgusted to walk barefoot in some buildings. You'll be just fine. It's clean everywhere.
Intimate Hygiene Is A Big Thing In Thailand
Like in many other countries in Asia, you can find water sprayers and automatic toilets in Thailand as well.
Toilet guns (that you can see on the photo on this photo->) are used to wash after poo or pee. Toilet paper is there only to dry the body out of water.
When you think about it carefully, taking care of your hygiene this way makes more sense than what we are used to.
We loved it so much that we actually installed toilet guns in our home in Poland.
Women Are Usually Less Respected Than Men
If you are traveling to Thailand as a couple, you may experience a culture shock. Some people will only talk with men, completely ignoring the woman. Men will get food first in the restaurant.
In Thailand, men are just respected more than women. It's strange but that's how it works in this country. It's like that in many other Asian countries.
Pin For Later:
Do you know any other fun Thailand facts? Share your thoughts in comments!