Pictures From Thailand That Will Make You Want To Travel There Right Away!
Thailand is in the top 10 most visited countries in the world. No wonder why! Everything about it is perfect from the delicious food, always smiling people, to the stunning nature and low prices. In this post, I am giving you the best photos of Thailand. It's always good to see something we know well through someone else's eyes. Even though I've been to this country countless times, traveling back and forth, I've asked my blogging friends to share their favorite pictures from Thailand with my readers.
You can see them all below: from Thailand beach photos to the famous festivals and mountainous landscapes. I hope they will inspire you to visit Thailand for the first time or travel again if you've already been to the famous Land of Smiles.
Pictures Of Thailand Beaches And Sea
Sunset in Phuket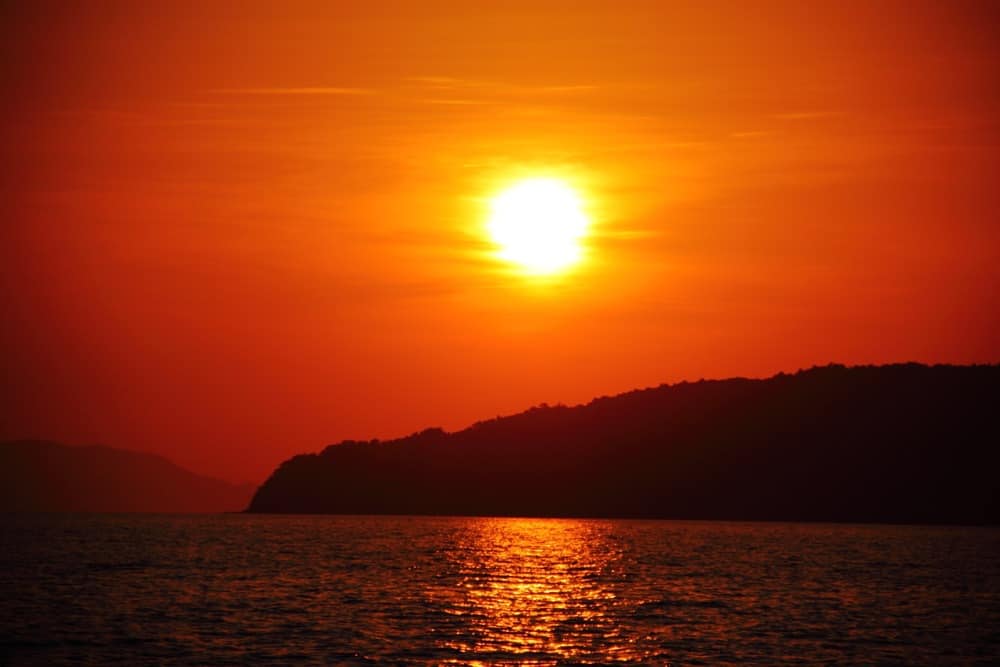 Doesn't it look amazing? I have captured this burning sky in Phuket. I can't say we have been lucky- it is quite easy to spot a sunset like this in Thailand nd to make your photos look more colorful and amazing you can use photo editing apps!
This country really is a heaven on Earth. All these photos of Thailand that you can see on the Internet are real. You don't have to be a skillful photographer to take amazing pics of Thailand!
Sunset at Railay Beach
Isn't this view heartbreakingly beautiful? We have spotted this amazing sunset at the famous Railay beach. It looks almost unreal!
It is one of the best photos of Thailand that I have ever taken. The boat on the calm Andaman sea bathed in pink sunshine looks more than amazing.
Crystal Clear Sea Water of Koh Larn island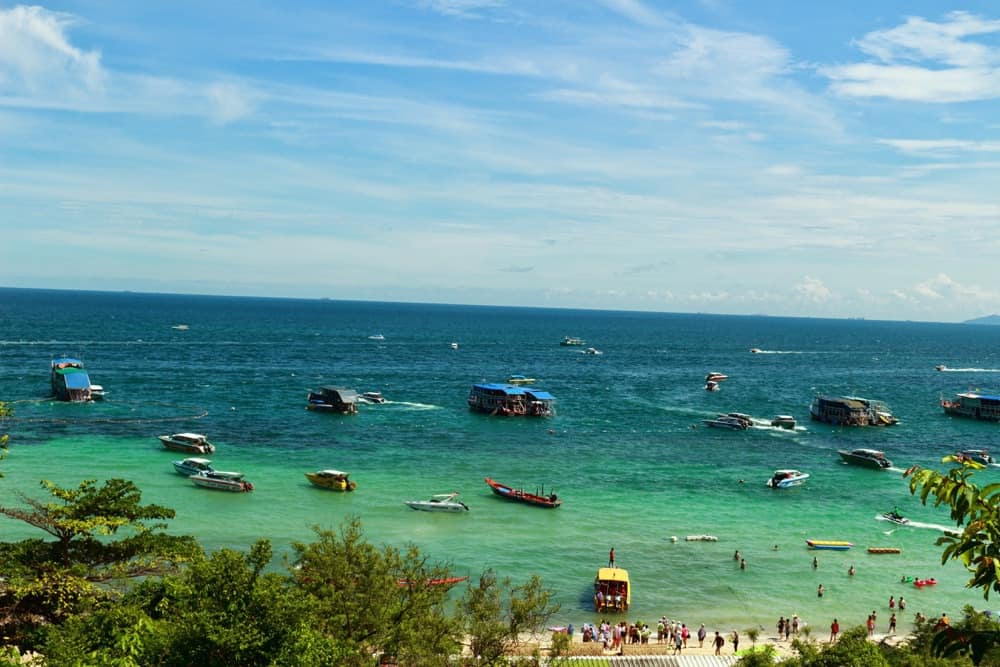 Wow! Even though I have been there, I can't stop looking at this picture.
I took this photo at Koh Larn island, close to Pattaya. We still can't believe how clear is the seawater in this area of Thailand. Looks like a paradise, huh?
Paradise Beach in Phuket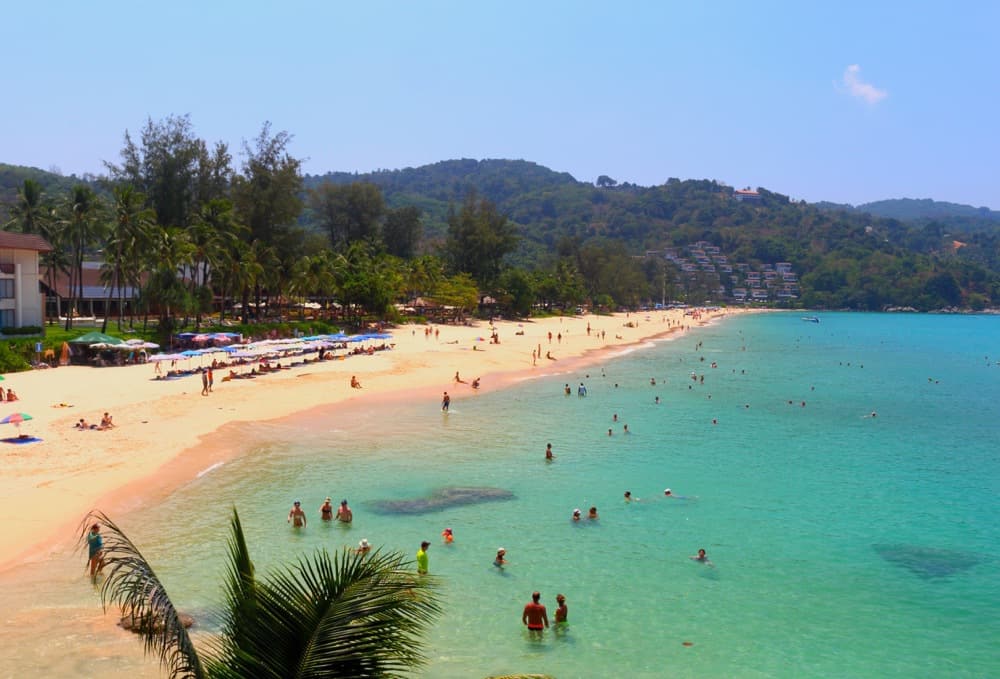 Phuket island is the most popular place in Thailand. Even though it is sometimes too commercial, you still can find the paradise beaches with the crystal clear seawater there.
This photo was taken in Kata Noi. Isn't it awesome?
Pigs in Koh Phangan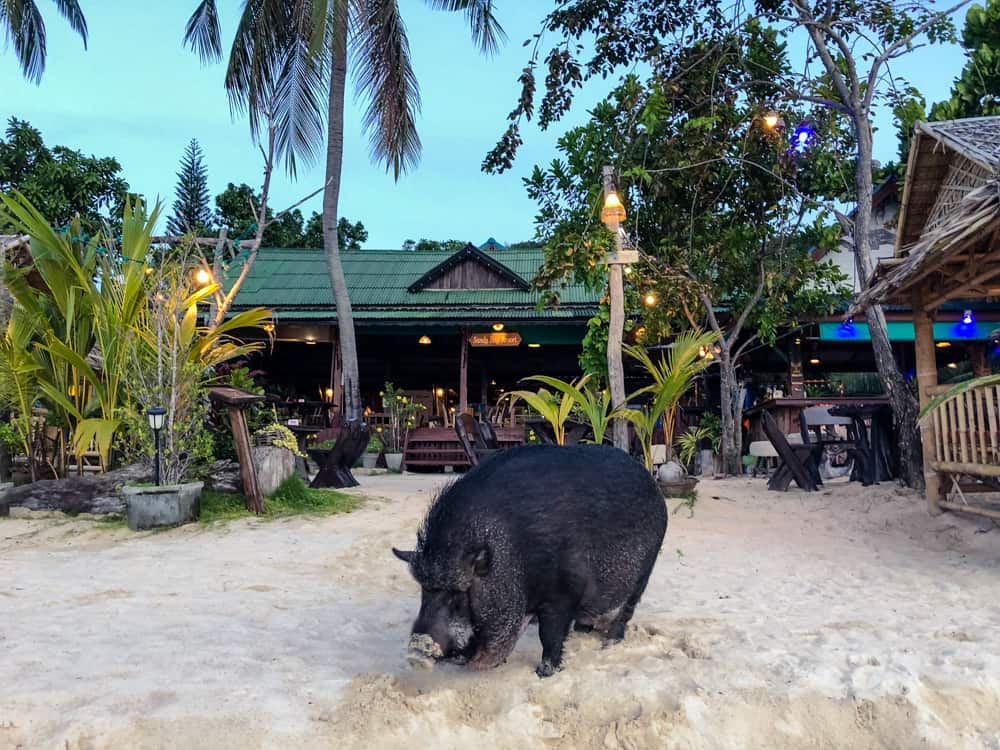 It's one of the unusual Thailand pics! Many people living in Koh Phangan love animals and keeping a pet can go well beyond a dog or a cat. Enormous pigs could be such pets to love. They often live near the beaches. So what does a pig on a beach do?
Dukdik, a happy fat pig living in Coral Bar located in the North of Koh Phangan, just right by the Haad Khom beach, spends her days lying around in the sand and scratching her butt on the bar's wooden columns. She loves rubbing and will grunt with joy if you give her a few rubs. Having a foreign owner, Dukdik even has her own Facebook page!
Another pig lives just off the Haad Yao beach (pictured). His owner sometimes walks it on the beach, helps it find yummy seaweed to munch on and doesn't mind at all when excited tourists take photos. This pig is lazy too, so he has to encourage him all the time to walk just a little further for another delicious seaweed to dig out with his sandy snout.
Limestone Cliffs in Krabi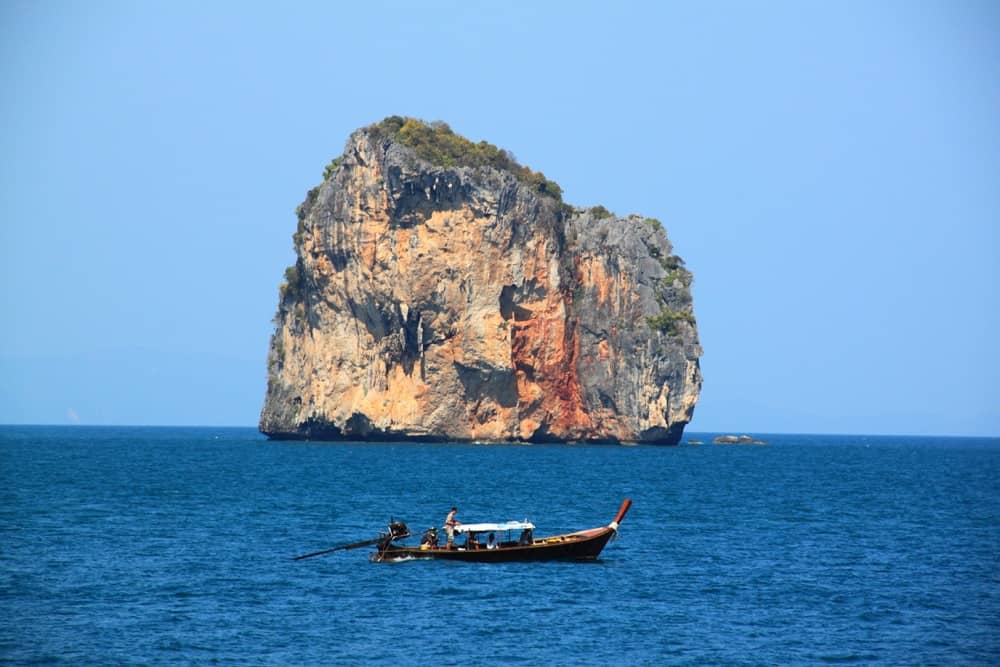 Yes! It's one of these Thailand photos that will convince everyone to travel to this country. Krabi's limestone cliffs pointing out from the sea are unique on a global scale.
They can be only found in few places in the world: Guilin in China, Halong in Vietnam, El Nido in the Philippines, and of course Krabi in Thailand.
These limestone formations look almost unreal! In places like this, you can truly admire the beauty of our Earth.
Sealife of Andaman Sea
The water of the Andaman sea is warm, that is why it is home for some amazing and colorful creatures!
One of the best water sports in Thailand are diving and snorkeling. Don't worry if you can't swim though! The seawater is clear enough to watch the fish from the shore or a boat. And of course, take photos of Thailand that you will never forget!
Koh Phi Phi Island
Almost all the gorgeous photos of Thailand that you can see on the Internet are taken at Koh Phi Phi island.
The crystal clear water, amazing sea life, and white-sand beaches make this place look like a heaven on Earth! It is almost too beautiful to be real.
Koh Tao's Snorkeling Spot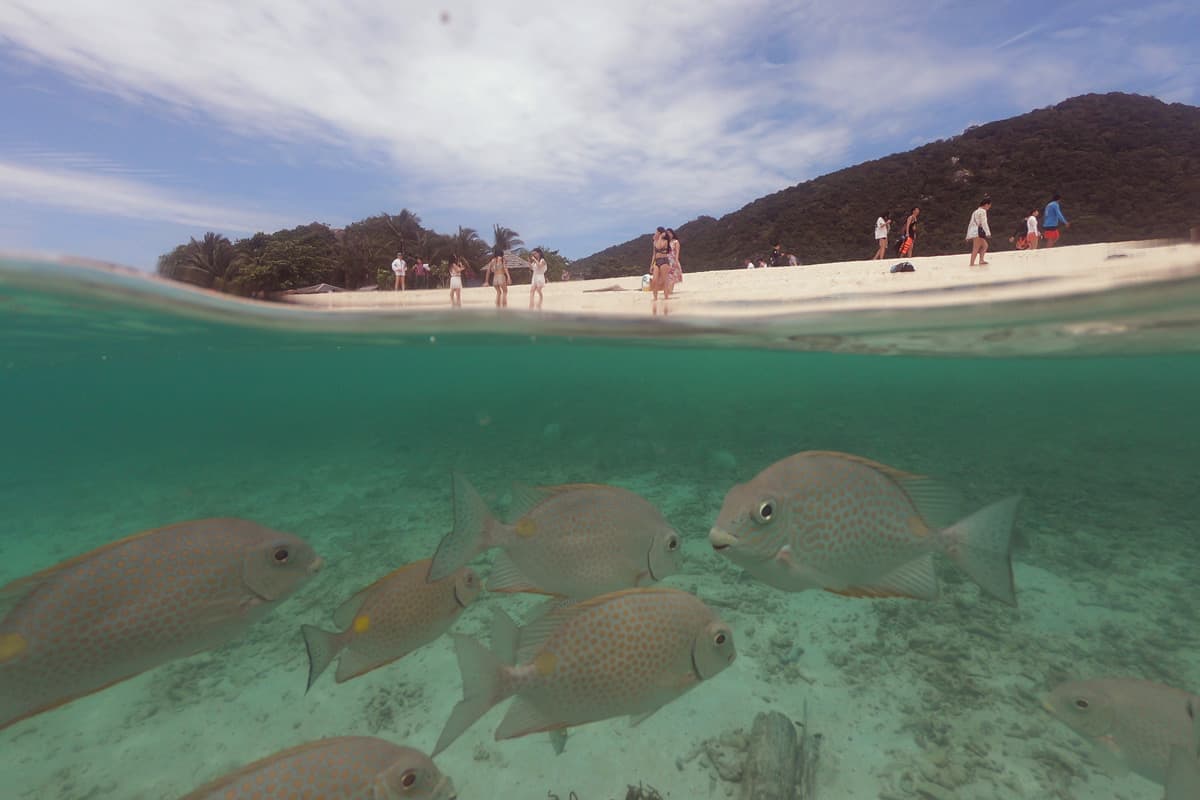 Koh Tao is where you can take some of the most beautiful images of the Land Of Smiles. You can find there the best dive schools in Thailand. There is an abundance of dive sites close to the island and boats from nearby islands drive all the way to Koh Tao to dive. In season you can see more than the stunning coral reefs and tropical fish around the island, the world's largest fish, the whale shark, frequents this part of Thailand. It is a beautiful island with a relaxed lifestyle; living on the beach in the hot tropical weather, eating excellent Thai cuisine and exploring the beautiful island by scooter is some favorite pass times.
The island is surrounded by some beautiful beaches and excellent snorkeling spots. The tiny island Nang Yuan is known as one of the most beautiful little islands in Thailand with good snorkeling. In this photo, you can see a school of Gold saddle rabbitfish while snorkeling with Nang Yuan island in the background.
Photos Of Thailand Temples and Historical Sites
Sukhothai Historical Park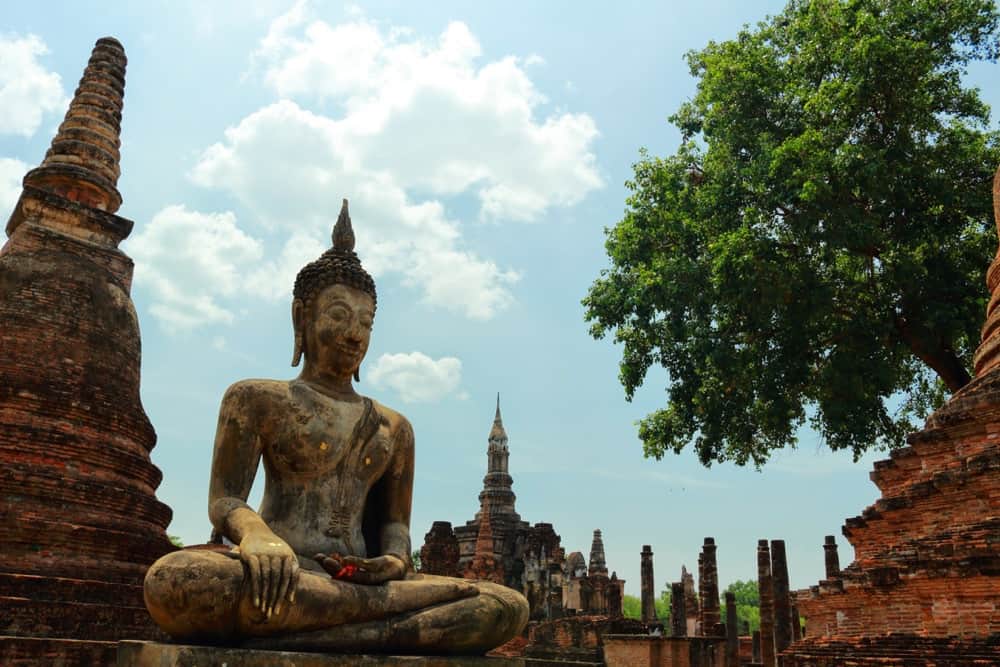 Situated between Bangkok and Chiang Mai, Sukhothai Historical Park is definitely not the most famous place in Thailand. Too bad! It's one of the most beautiful spots we've seen in the country. It's pretty similar to Angkor Wat in Cambodia.
The ancient sculptures and temples of Historical Park are just amazing. Sukhothai is also a great photography spot. We took there one of the best photos of Thailand that we have in our collection.
Marble Temple In Bangkok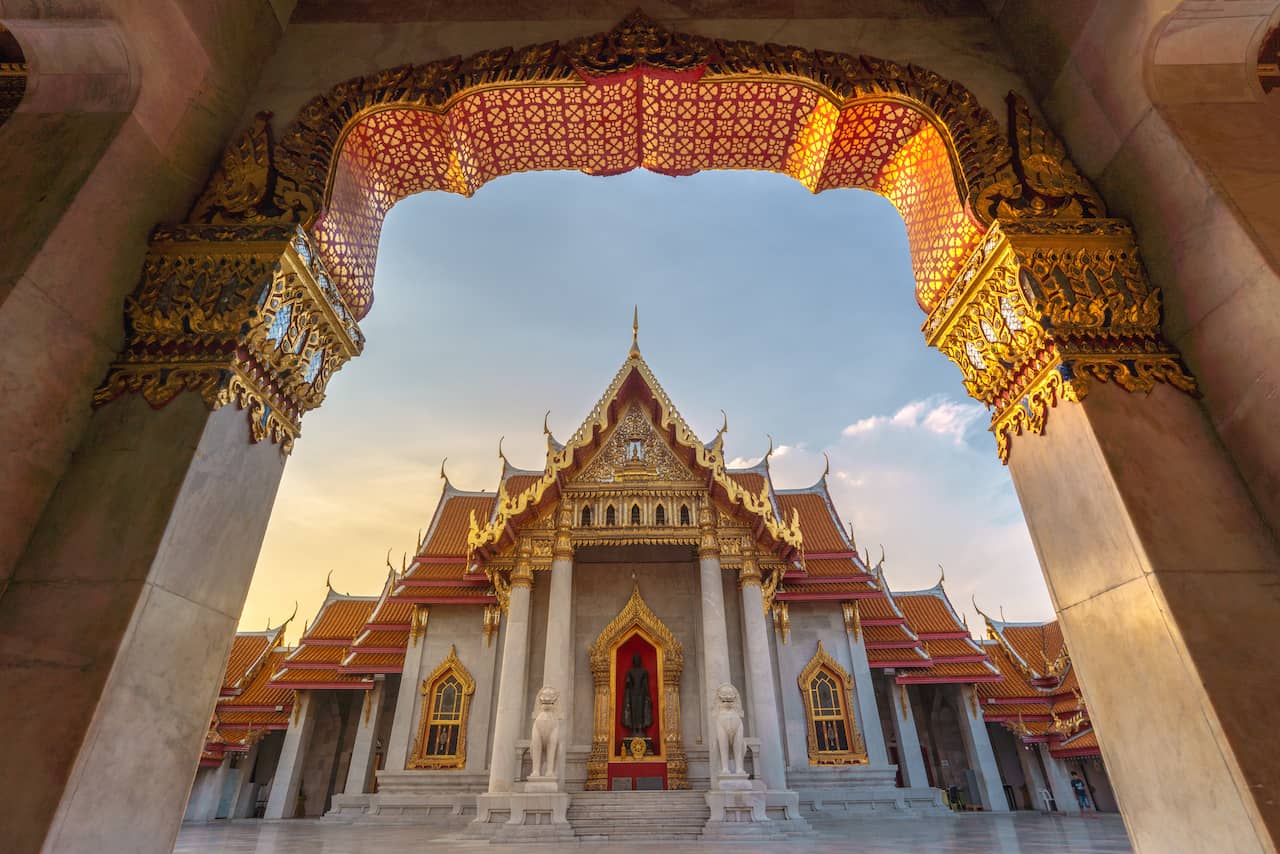 When talking about pictures of Thailand, there's no doubt that the number one thing that immediately pops to mind is their magnificent temples – otherwise known as "wats" in Thai. Wat Benchamabophit is one of Bangkok's most well-known ones and absolutely deserves a spot on your bucket list.
Also known as the Marble Temple, this Buddhist temple was designed by Prince Naris and built out of Italian marble. (Hence its name.) It is recommended to visit during sunrise so you can see the gorgeous morning light shine and reflect upon the gold embellishments. From 6:00 am to 7:30 am, you can even observe monks lining up with their bowls in hand to receive local donations such as incense, lotus buds, and rice just to name a few.
Another great thing about visiting early in the morning is being able to escape the hoards of tourists. You can listen to the music of birds chirping and fully experience Wat Benchamabophit's calmness and serenity. Do be careful though and don't fall victim to the infamous gem scam here.
Doi Suthep Temple in Chiang Mai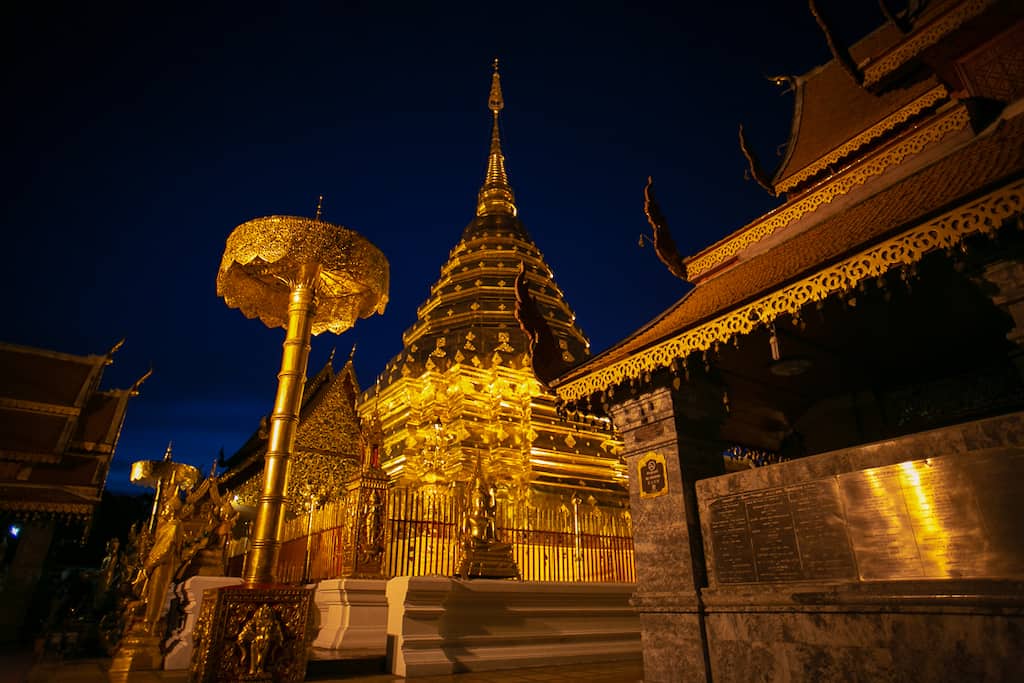 Mesmerizing temples are on the most famous Thailand photos. That's why they are probably one of the first things that come to mind when you think of this country. With more than 41,000 temples, choosing which ones to visit can be a daunting task. When you're in Chiang Mai, though, there's one temple that is a must-visit: Wat Phra That Doi Suthep.
Sat on a hill high above the city, getting to Wat Phra That Doi Suthep is a small adventure in itself. The drive up offers some incredible views, so schedule in some photo stops if you're driving yourself.
Wat Phra That Doi Suthep is one of the best temples in Chiang Mai. It is open from 6 am until 6 pm every day, and the best time of day to visit is just before closing. Not only will you get to watch the temple light up as the sunset lights up the sky behind it, but you'll be able to witness the daily chanting/meditation ritual that takes place at this time.
Just make sure you leave enough time to explore the many other areas before then – around an hour should be about right.
White Temple in Chiang Rai
Wat Rong Khun also is known as The White Temple looks like it was the part of the fairy tale! You can see it on some of the best pictures of Thailand.
It is situated in Chiang Rai and it is one of the weirdest temples of Thailand. Doesn't it look amazing?
Phanomrung Temple in Buriram
Thailand is very much a culturally diverse Kingdom, with unique and interesting cultures found mostly around the country's borders. But some of the more prominent influences throughout would be from the old Khmer empire found mostly along the borders of Cambodia.
There is a kind of line, known as the Ancient Khmer Highway, which crosses into Thailand, and leads through from many of Cambodia's revered temples such as the ancient city temples of Angkor and Angkor Wat. The most prominent site being the rather magnificent temple of Phanomrung found along the Cambodian borders of Buriram.
The prominent religion of the region is Buddhism while these days, the Khmers were more influenced by Hinduism, and, in particular at Phanomrung Temple, the God Shiva. Every year there will be a rather fascinating celebration for the local phenomenon when the morning sunrise aligns with the fifteen doorways of Phanomrung's upper sanctuary of the temple. A festival which showcases a parade of traditional dress, cultural markets, and a dazzling night performance set beneath the backdrop of the temple ruins.
Ayutthaya
You can see Ayutthaya on the best pictures from Thailand. It is the historic capital of the country and a popular day trip to make from Bangkok. It was founded in 1350 and was a thriving city for some 400 years until the Burmese came in 1767. Today, visitors can see well-preserved temples and buildings that are part of the UNESCO World Heritage Site.
The carved Buddha head in a tree inside Wat Mahathat is one particular place of interest. The best way to experience the historic site of Ayutthaya is to rent a bike or hire a tuk-tuk driver to take you between the temples. The distance isn't really walkable, but with a bike or tuk-tuk you can easily explore the most significant temples of Ayutthaya in one day.
Day trips are available from Bangkok, and if you book a tour, there will often be a tuk-tuk or some transportation included in the price. Furthermore, there are several restaurants where you can stop to get something to eat during the day.
Images of Thailand Festivals, Activities, And Markets
Monk Procession in Chiang Mai
I have stumbled upon this amazing procession in Wat Chedi Luang temple in Chiang Mai. It is pretty unusual to see monks dressed in white robes. They usually wear orange color. You can see them walking barefoot every morning, gathering food, money, and blessing local people.
After reading about it on the Internet, I found out that white robes are worn by boys who are preparing to become monks.
Yi Peng in Chiang Mai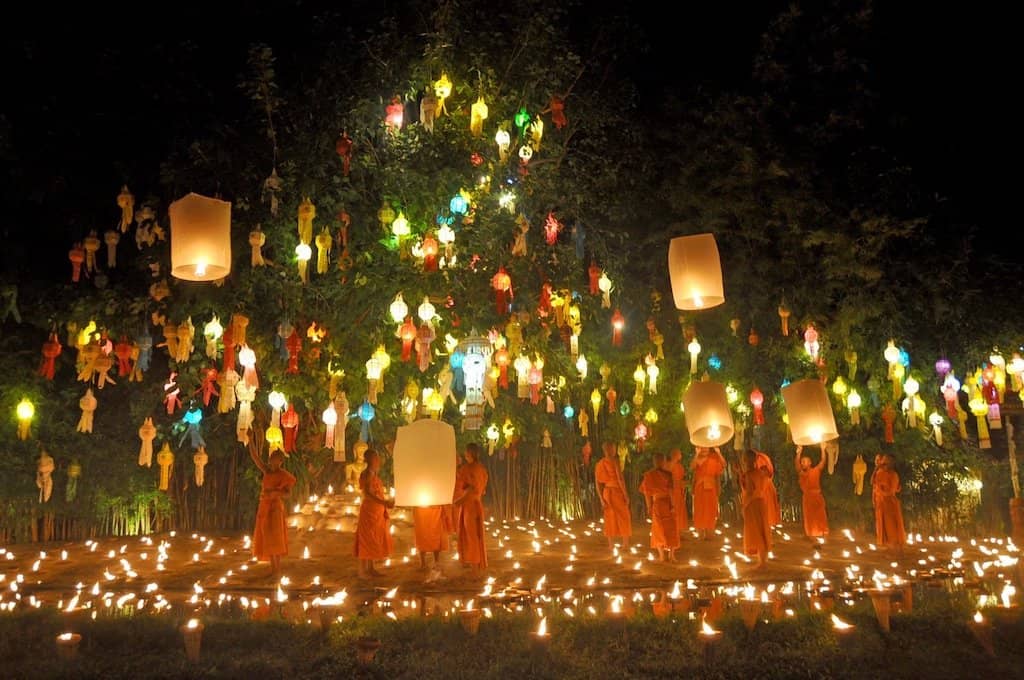 Yi Peng is one of the most famous festivals in Thailand, and for good reason. Lanterns are released into the sky in a beautiful illumination of wishes of a bright future. Yi Peng actually falls at the same time as another celebration, Loy Krathong, where observers release a floating vessel made from plants and flowers into the river, again, with a wish. Both holidays are best celebrated in Chiang Mai.
The city streets become crowded with locals and tourists alike, all wanting to glimpse the masses of flickering lanterns floating up into the sky and along the banks of the river. You can also attend ceremonies around town, such as the one captured in this picture where young monks go through a series of rituals while onlookers observe.
The festivals of Yi Peng and Loy Krathong follow the lunar calendar, so the exact dates change each year, but they are typically celebrated in November.
Insider Tip: If you plan to visit Chiang Mai for Loy Krathong and Yi Peng, be sure to book your accommodation well in advance, because the city completely fills up. It's definitely worth it because that's when you can take some of the best pictures of Thailand!
Poy Sang Long Ceremony in Pai
Although there are many things to do in Pai, Thailand the most epic memory from our trip was entirely unplanned and we stumbled upon it by accident – Poy Sang Long ceremony. This ceremony celebrates the ordination of novice monks and takes place in Northern Thailand towards the end of March to Mid April.
The vibrant procession involves boys ages 7-14 who are paraded through the town on the shoulders of older male relatives. The tradition is that during the 3-5 days of Poy Sang Long, the boys are treated as princes hence the extravagant outfits and cosmetics and the fact their feet shouldn't touch the floor. This opulence is encouraged before their life as a monk begins.
Not only was it a vibrant and joyous procession to witness, but locals excited locals encouraged us to join in and photograph the celebrations as they proudly showed off their boys. From the celebration of religion to the splendor color and friendly locals, the Poy Sang Long celebrations truly capture the spirit of the country. Plus, it's when you can take pretty awesome Thailand pictures to put in your photo album!
Sak Yant Thailand
Receiving a Sak Yant tattoo from a monk may be one of the most unique and memorable experiences you can have in Thailand. The tradition of tattooing a sacred yantra (mystical diagram) is many centuries old and is usually performed as a blessing or for protection. There are many different designs and traditionally one is chosen for you based on your aura or specific needs.
The Sak Yant is done by a Thai monk or ajarn (Thai tattoo master) using a long bamboo stick and needle which is dipped into a special ink made by the ajarn himself. The ink is then tapped freehand into the skin and blessed by the monk. Is it painful? Yes! It's definitely more painful than a traditional gun tattoo but it's also much quicker so it's over before you know it. Plus, the experience is so unique that the minor pain far outweighs the special memory of your time in Thailand.
There are temples where monks perform Sak Yants for the public but if you're concerned about going alone there are some companies that provide private guides to vetted ajarns.
Or Tor Kor Market in Bangkok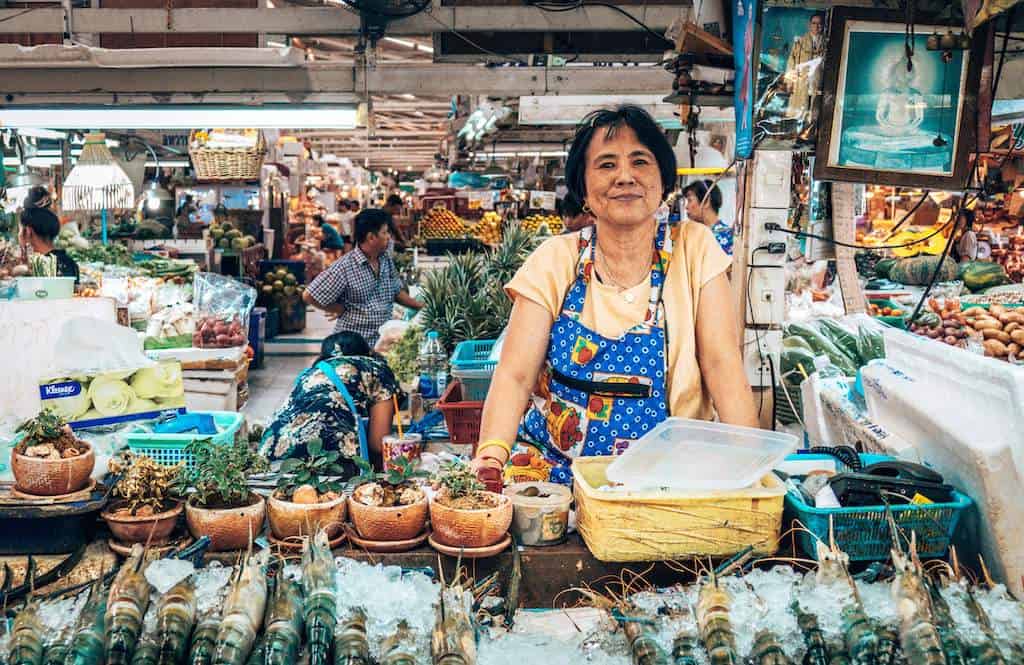 The list of best Thailand images won't complete without talking about eating! This country is known for its food; steaming pad thai noodles, fragrant green curry and saccharine mango sticky rice to name just a few of its signature dishes. Many of these are on display at bustling markets across the country, as hawkers serve up delicious fare to happy patrons walking the aisles. One such market that is well worth the visit is the Or Tor Kor market in Bangkok.
Or Kor Tor is nestled right next to it's more famous cousin, the Chatuchak weekend market, which sees thousands of tourists descend each weekend to snap up bargain wares and crafts. This lesser-known market, however, is a lesson in quality: Or Tor Kor will show you the finest food that Thailand has to offer, and some of the friendliest market vendors.
The idea behind the market is simple. The previous king set it up to support farmers from the north of Thailand in promoting their goods: mainly fruit, vegetables, fish, meat and spices. In exchange, the farmers have to serve up their produce in ready-to-eat cuisine in a central food court. The result? Some of the best food in all of Thailand.
Strolling the walkways of this market is a highlight for any foodie: not only will you find the finest ingredients in all of Thailand, but the market sellers here are very passionate about their produce, spending many a moment talking about the origin of their spices or coffee, time showing you how to properly eat a mangosteen or commiserating with you over the pungent smell of the much-lauded durian fruit. If you want to explore Bangkok off the beaten path, Or Tor Kor is a must-visit. For the friendliest people in what is already the Land of Smiles, and food that will satisfy any appetite.
Damnoen Saduak Floating Market
There are many markets in Asia that offer a colorful, picturesque slice of daily life, but none can compare to Thailand's floating markets. At Damnoen Saduak market, for example, all the activity takes place on and around a canal that winds through a bucolic agricultural area. Farmers use the canal to irrigate their crops, and also to transport them.
It's best to arrive early like the locals do. You can expect to see vendors in long-tail boats selling fruits and vegetables as well as cooked Thai foods that they prepare right on the boat. The photo opportunities are great even if you just wander along the side of the canal.
To be right in the middle of the action and capture the best Thailand photos, though, the best option is to hire a boat driver to take you around. It's possible to visit Damnoen Saduak on a
day trip from Bangkok
but to beat the tourist crowds and have a more authentic local experience you may want to spend the night in the area and hit the market first thing in the morning.
Thai Cooking Class
Food— like life— is about balance.
Thai cuisine
mixes the sweet and sour with the bitter to create something completely unique each time; you just need to salt to taste.
From lemongrass and kaffir lime leaves to galangal and bitter eggplant, Thai food truly utilizes flavors from all levels of nature. The eclectic mix of dishes found in Thailand's four regions are best summed up in a choose-your-own-adventure cooking class, and preferably one in each area: Issan, the North, the Center, and the South. In such courses, you can pick an appetizer, a soup, a main meal, and a dessert. Then as a bonus, you fall into a food coma for a few hours afterward!
Since Thai food is all about freshness, after a visit to a local market, your teacher helps you prepare the ingredients. You chop, mince, smack, slice, and saute your way to a meal, likely stopping halfway through to wipe your brow & steal a spoonful of curry. It's tough being a taste tester, but someone's gotta do it. After class everyone sits down to eat together, communing over the attainment of a new skill set, and a bundle of new recipes.
Pictures From Thailand With National Parks and Natural Wonders
Elephant in Pai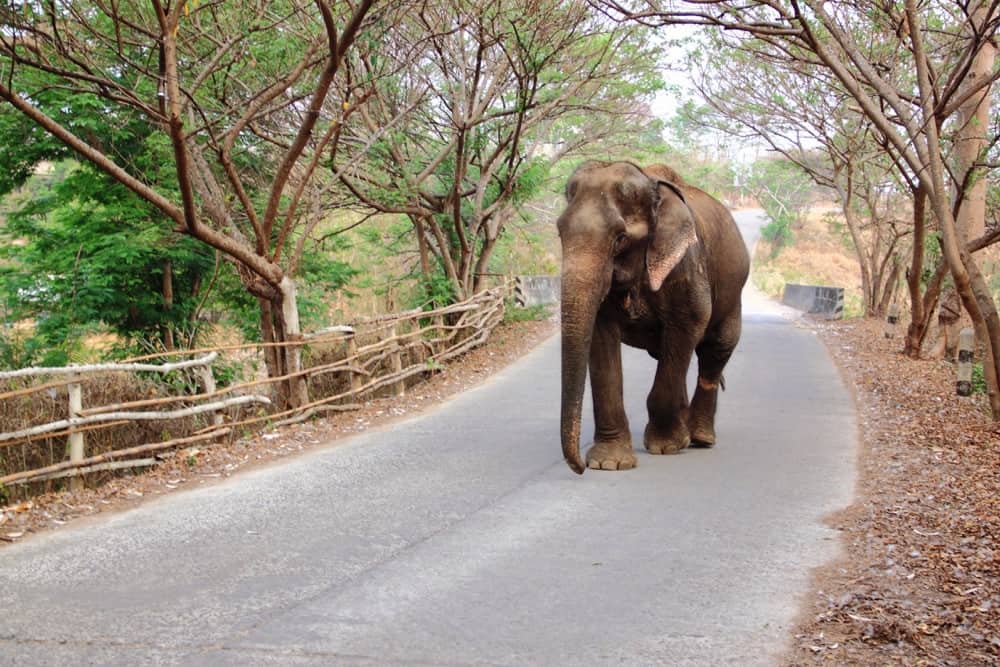 We met this guy on the way from Pai to Chiang Mai. He was walking on the street just like that, with no chains, leashes or anything that would constrain his moves.
It is terrible that the view like this is so unusual though… Most elephants in Thailand are treated badly and they are only used as tourist attractions.
We should all remember to visit only happy elephants and never support the exploitation of these beautiful animals.
Mork Fa waterfall
One of the best waterfalls in Thailand! Mork Fa is situated about 50 kilometers (32 miles) north from Chiang Mai.
The waterfall is 60 meters high and it is more than amazing. You won't see many tourists there, so it is very likely that you will be able to swim in the cold spring water all by yourself! What can be better than enjoying a quiet moment close to nature?
Not to mention taking one of the best photos of Thailand that will always remind you of the beauty of Mork Fa.
Country Cottage in Chiang Rai
If you are looking for Thailand village photos, check out Chiang Rai province. That's where you can spot the beautiful country cottages with the straw roofs.
Most houses like this have a hammock on the front. The residents of the cottage are always friendly, smiling and curious. You will never know if you are a greater attraction to them or they are to you!
Huay Mae Khamin Waterfall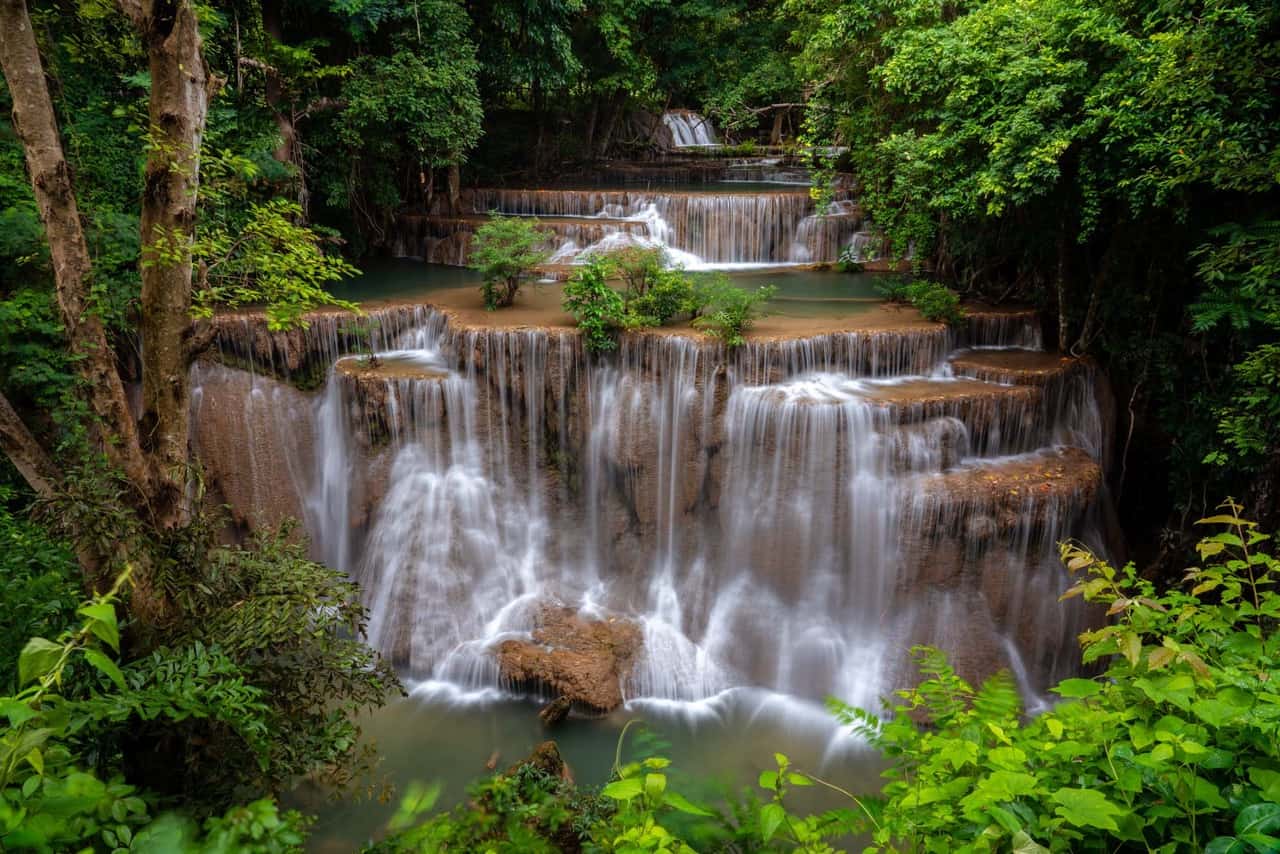 Huay Mae Khamin Waterfall is one of the most beautiful waterfalls in Thailand. It is located within Khuean Srinagarindra National Park, 110km from Kanchanaburi. It still remains a local hidden gem as there is no public transport to the waterfall. Instead, tourists only go as far as the more famous Erawan Waterfall.
However, with a little effort, you can reach this incredible 7-tiered waterfall on a day trip from Kanchanaburi and even combine it with a trip to Erawan Falls. The easiest way to get here is by scooter and the roads are very well maintained. A day trip to Huay Mae Khamin from Kanchanburi is well worth the effort!
The beauty of this waterfall is that you're likely to only find locals here. At the weekend it is a popular camping spot for local Thais, however, during the week it's quite possible to have this striking falls to yourself.
Huay Mae Khamin is known as the "Emerald River" due to its unique green coloring, unlike the azure water of Erawan Falls. You'll find this stunning water cascading down a natural staircase of limestone formations. While it is known to have 7-tiers, realistically there are more than 7 waterfalls here and you could easily spend an entire day photographing all the different tumbles, with each having its own character and charm.
Khao Sok National Park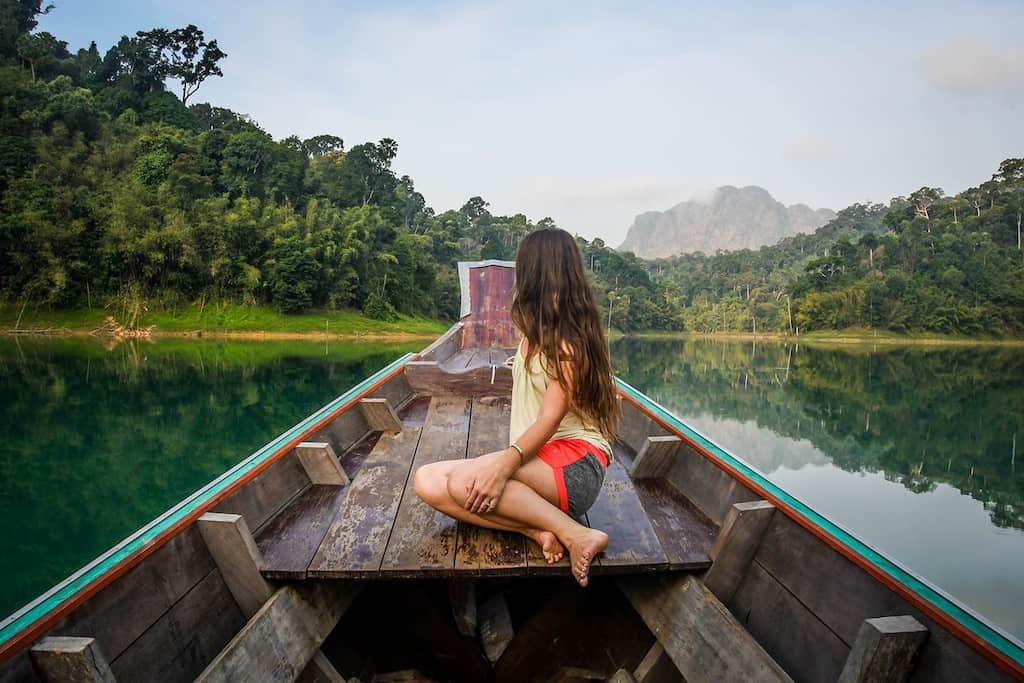 With towering cliffs, centuries-old rainforest, diverse wildlife, and a mesmerizing lake, Khao Sok National Park is one of the most underrated places in Thailand. With far fewer crowds than many other parts of the country, adventurous travelers will fall in love with the tranquility and beauty of this park.
Staying at one of the floating bungalows is a must for most visitors, and waking up on the water as the sun rises is an experience you're sure never to forget. Take a kayak out on the lake, swim in its tepid waters, go on a sunset wildlife-spotting boat ride and cross your fingers that you'll see a wild elephant or monkeys playing in the treetops. Be sure to take enough pictures to add it to your Thailand photography album afterward. There are also opportunities to go hiking, wade through a river inside a cave, and waterfalls to chase.
While getting to Khao Sok requires a bit of time and planning, travelers that make the slightly cumbersome journey to Khao Sok will be rewarded with incredible views, few crowds, and an adventure that will likely be a highlight of their trip.
Mu Ko Ang Thong National Park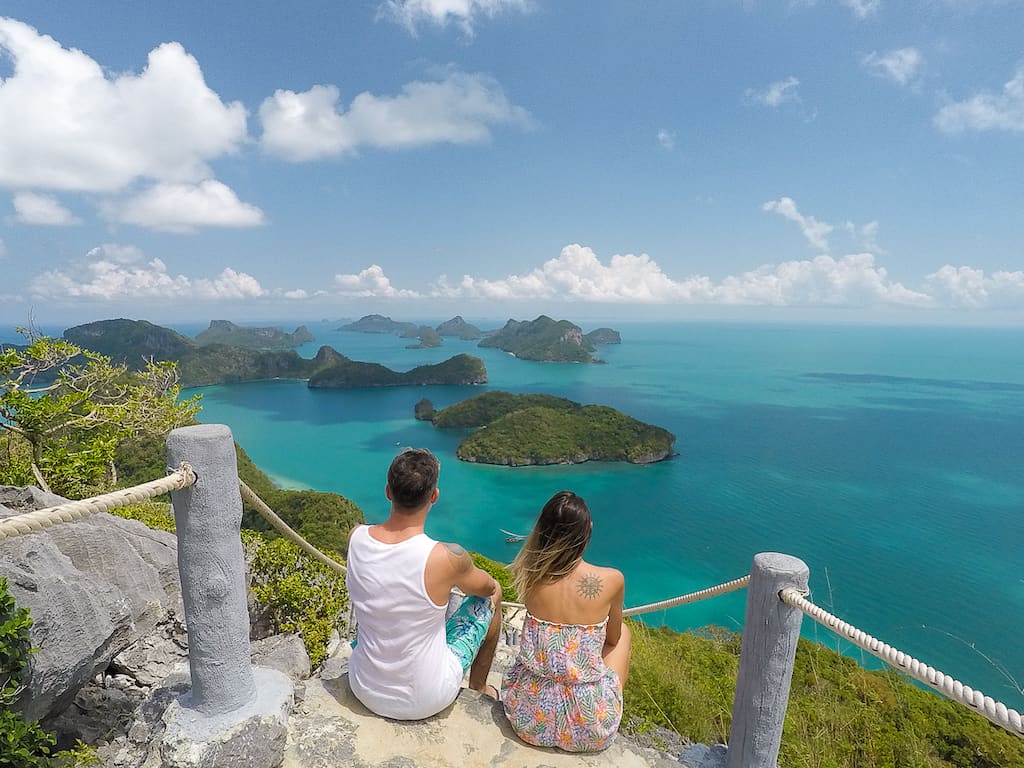 One of the first images of Thailand that come to mind when we think about this country is lush green forests and turquoise water. Mu Ko Ang Thong National Park is the place to go for this perfect tropical landscape, a natural oasis about one hour sailing from Koh Samui. In the park you can go swimming in secluded beaches, snorkeling with friendly fish, kayak around the islets, visit a stunning blue lagoon and hike for gorgeous views.
This is a protected area so don't expect fancy facilities or restaurants. There are a few tents in one of the islands where you can camp, but you need to book your spot way in advance. There is also an information center, and a little shop selling refreshments.
Don't forget to bring your waterproof bag with Thailand snacks, sunblock, hats, and sunglasses. A visit to Ang Thong National Park is one of the top things to do in Koh Samui as there are many boat tours to the park leaving from there. My recommendation is to choose an experience that fits your style of traveling and adventure level. Some of the tours offer kayaking, snorkeling and free time for hiking to the viewpoints. Others offer a boat ride around the park with a stop at the beach. The price will vary according to the activities included on the trip.
If you are traveling in the Gulf of Thailand you must visit Mu Ko Ang Thong National Park as you won't see any other places like this in Thailand. Take as many photos as possible, soak up the beauty, the salty hair, and sun, then go back home with a real taste of tropical Thailand.
Other Interesting Thailand Pictures
Koh Panyee's Woman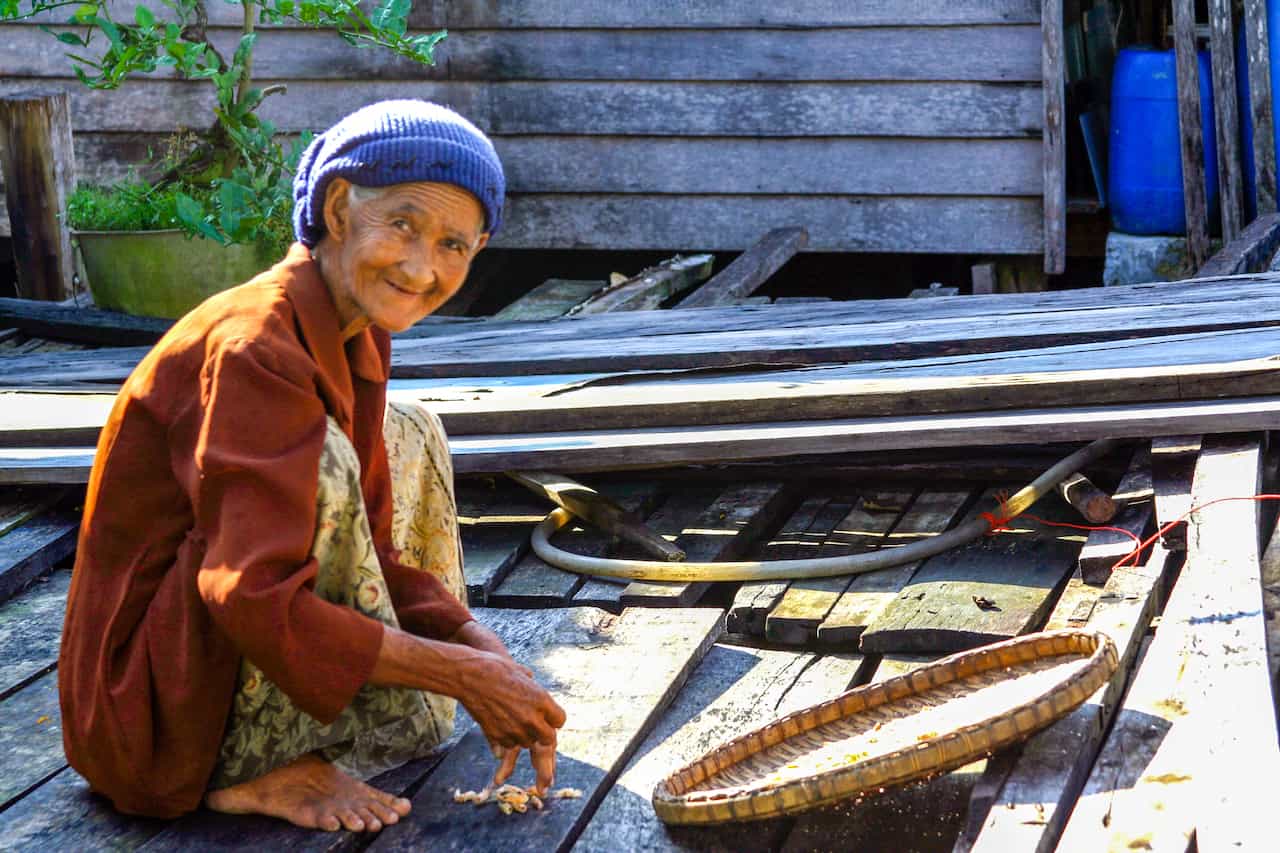 This woman lives on the island of Koh Panyee in Phang Nga Bay, not far from Phuket.
She was sorting vegetables and welcomed us with her smile. This predominately Muslim island is famous for being built almost entirely on stilts over the water. The villagers mostly fish for their livelihood, although tourists can visit the island as well.
The residents also build colorful boats which are not just for fishing, but also for racing, as they can be very small and very fast. The population of this island mainly goes about their daily lives even though tourists come to the island.
Visiting Koh Panyee is a chance to see how some of the Thai people have lived for centuries in harmony with the sea. The villagers also enjoy playing soccer on their makeshift floating soccer pitch. Because the children have learned to play soccer on the water, they have become very skilled over the years. Teams from Koh Panyee have even won many championships.
Long Neck Tribe in Chiang Rai Province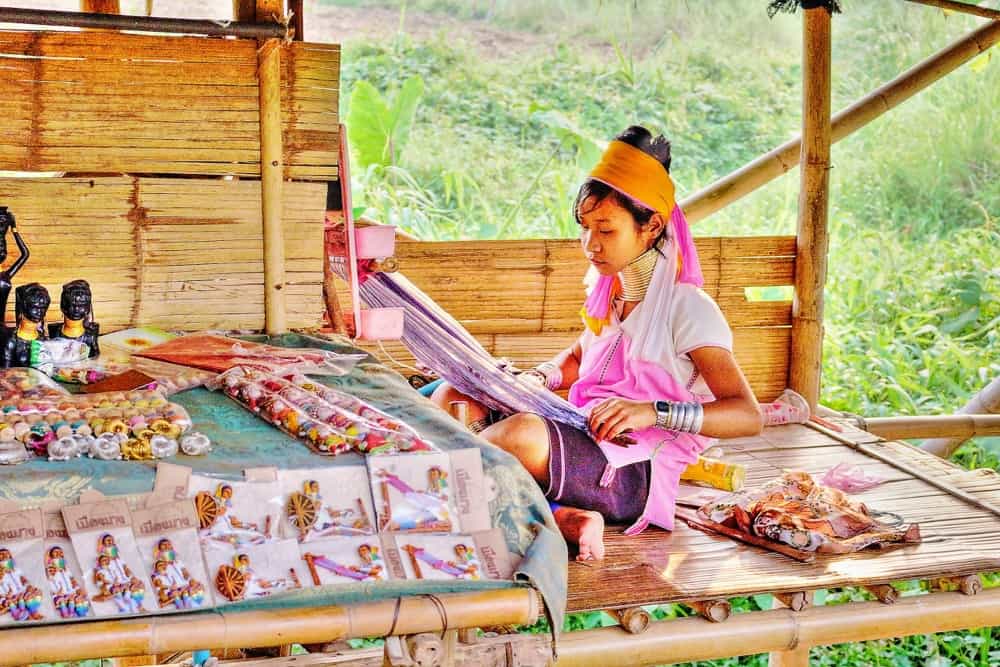 Hands up who have heard of the Dragon Women and the Long Neck Tribe? They are Burmese refugees living in Thailand.
Kayan Padaung tribe has its home in Chiang Rai province. Padaung women wear brass coils around their necks to look more beautiful. There are many theories about their style. Some people said that this metal is protecting them from wild animal attacks. And some that it just a part of the culture.
Maeklong Railway Market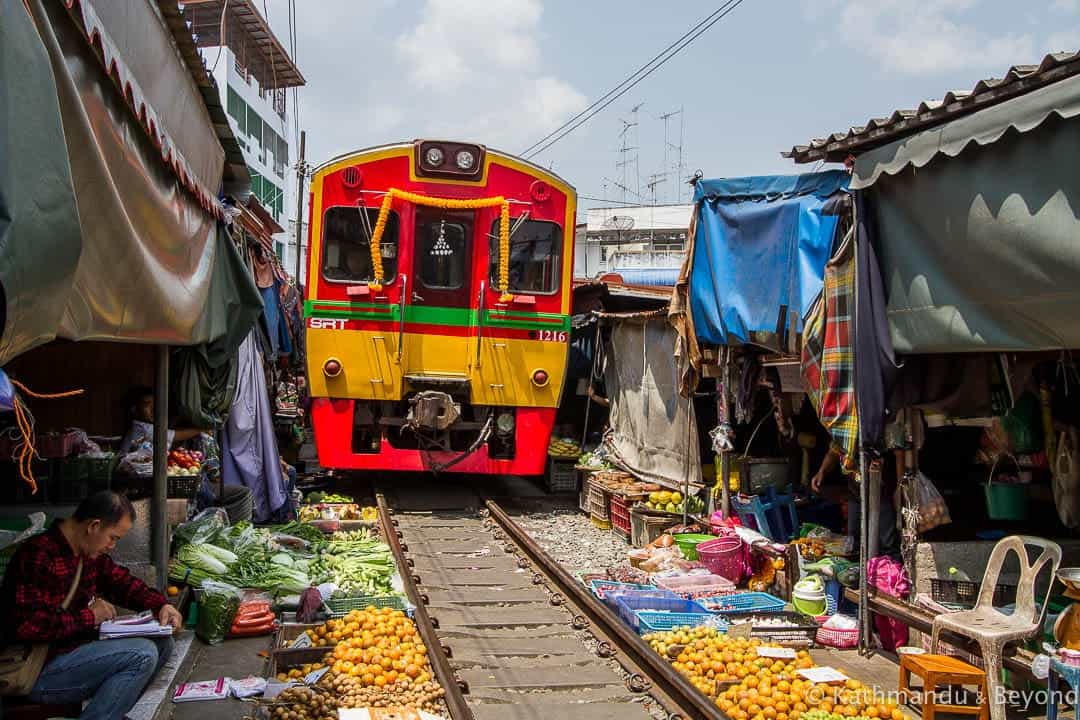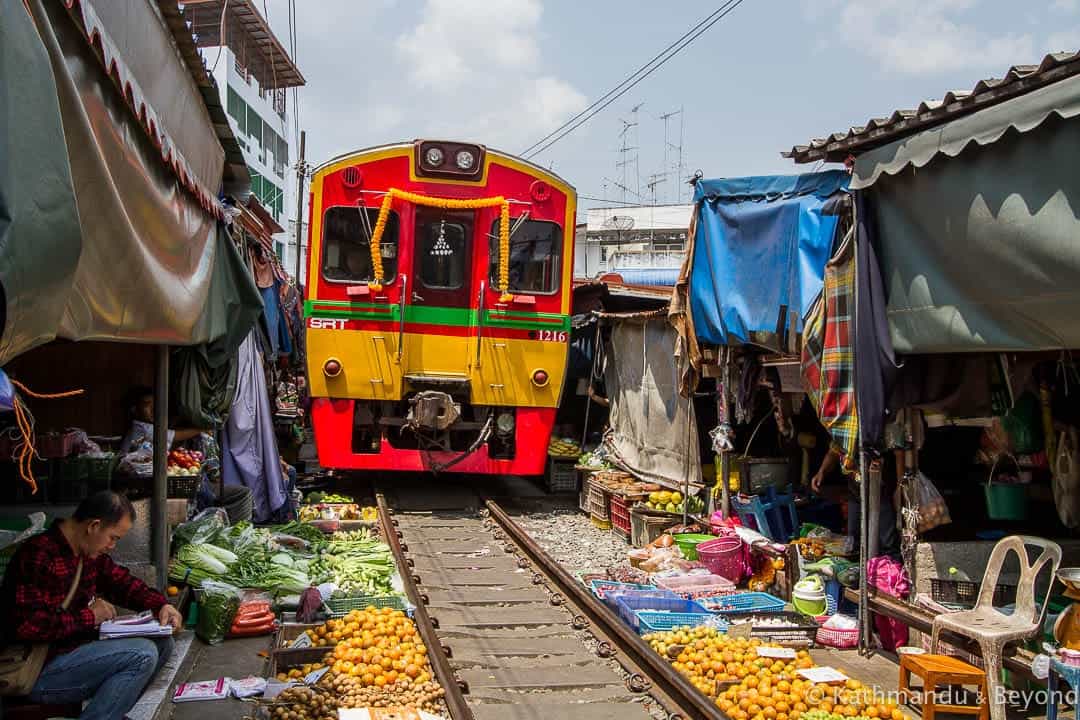 Markets are synonymous with Thailand – lively, colorful and aromatic; they are vibrant slices of Thai life that you won't want to miss. You can see them on some of Thailand best pictures. One of the most captivating markets you can visit in Thailand is the Maeklong railway market, a short distance from Bangkok.
Several times a day local train trundles along the tracks towards the market town of Maeklong. What makes this marketplace different is that the railway line runs right through the middle of the covered market, and goods are neatly laid out on the track itself, just millimeters from the rails. As the train approaches, the vendors move quickly to take down the awnings that shade them but leave their goods where they are. Although it appears that the fruit and vegetables will get crushed, the moving train passes smoothly over the top. The second the train has passed by, the awnings are put back up.
It's an incredible sight to observe how efficiently everything is done. It also makes for great photo opportunities, but don't take any risks when it comes to the railway tracks. First and foremost this is a working market, not a tourist attraction, so take extra care not to get in the way of the vendors.
Pin For Later:
Did you enjoy reading this post? Show me pictures of Thailand that you have taken or simply comment below! I'd love to hear from you.