Unusual Things To Do In Bangkok
To the tourist, Bangkok is a must-visit in Thailand. The capital is replete with monuments, temples, and palaces to see. And the spicy and sweet Thai food is just delicious! But there is more to Bangkok than what the ordinary tourist sees. If you've already seen the regular Bangkok attractions, and are looking for different things to do in Bangkok off the beaten path on your holiday, we've got the perfect list of Bangkok off the beaten track attractions for you.
Must Visit Off The Beaten Track Bangkok Attractions
Read also our itineraries: 2 days in Bangkok and 3 days in Bangkok
See Art inside a 3-headed Elephant
One of the unique things to do in Bangkok that's hidden in plain sight is the Erawan Museum. This art museum is housed inside a tall 3-headed copper elephant that weighs 150 tonnes and is 29 meters tall and 39 meters wide. As you enter the elephant, you'll feel as though you've stepped into an ornately designed art world.
Everything from the world map on the roof to the art sculptures and Buddhist shrine on the higher floors has been either designed or hand-painted.
The three different levels of the museum depict the underworld, the earth, and heaven. After seeing everything in the Erawan museum, you can spend some time wandering in the lush tropical garden outside.
Location: 99 Bang Mueang Mai, Samut Prakan 10270, Bangkok
Visiting Hours: Daily from 9 AM to 7 PM
Fees: 300 THB, skip the lines and book your tour here
Ride on the Asiatique Sky Ferris Wheel
One of the different things to do in Bangkok is to get a view of the city from up above. Most people flock to the Sky bars, but the Asiatique Sky Ferris wheel that's set on the banks of the Chao Phraya River has fabulous views of the city at day or night.
It's located just in front of the 'Asiatique The River Mall' that's famous for its cabarets, night markets, shops, and restaurants. You can even choose to ride in one of the 42 gondolas privately.
Location: 2194 Charoenkrung Road, Wat Prayakrai District, Bangkok Laem, Bangkok 10120
Visiting Hours: Daily from 5 PM to Midnight
Fees: Ticket prices vary as follows:
Adult ticket 400 THB
Child ticket 250 THB (height under 120cm)
Senior ticket 250 THB (Over 60+ years)
Disabled ticket 200 THB
Private Cabin 1,700 THB (2 persons)
VIP Cabin 2,500 THB (2 – 5 person)
Take a boat ride on Khlong Saen Saep canals
Instead of taking a dinner cruise along the Chao Phraya River, explore the canals of the 72-mile Khlong Saen Seap in a boat. The picturesque canal is connected to over 100 smaller canals that are far less crowded and offer a unique view of local life passing by; one of the unusual things to do in Bangkok for regular tourists. The canal boats are also a great way to move between some parts of the city and avoid traffic in the 21 districts.
Location: Different stops between Bang Kapi in the East and Pom Prap Sattru Phai in the West. Some of the stops include the Phanfa Bridge, MBK, CentralWorld, and Pratunam.
Visiting Hours: Daily from 05:30 AM to 08:30 PM
Fees: 8 THB to 20 THB based on the distance
Amble through the Old Farang Quarter
The Old European Quarter or Old Farang Quarter is where the first foreigners in Bangkok lived, mainly the French, Italian and Dutch, along with a few Portuguese. Homes here reflect Colonial Architecture and are a melding of old and new in Bangkok.
The quarter has a Malay Haroon Mosque, the Sri Mariamman Hindu temple, the Portuguese Holy Rosary Church, and other shrines. Some of the oldest buildings to look at are the Portuguese Legation from the 1700s, the Old Customs House from 1880, the East Asiatic Company building form 1901, the Holy Rosary Church built by the Portuguese in 1786, the Assumption Cathedral built by the French in 1910, and the Old China Customs house that is now a restaurant. If you love walking through history, you'll love these hidden gems of Bangkok.
Location: It's a large area, so there's no specific address. But these are a few of the main attractions you could start from.
Holy Rosary Church: 987 Soi Wanit 2, Talat Noi, Samphanthawong, Bangkok 10100
Old Customs House: 37 Charoen Krung Rd, Bang Rak, Bangkok 10500
East Asiatic Company Building: Charoen Krung 40 Alley, Bang Rak, Bangkok 10500
Visiting Hours: All-day
Fees: None, if you explore on your own.
Visit Little India
Just a short 5-minute walk from the infamous Chinatown is the Phaturat Market, that's locally known as little India because of all the Indian stores here.
Stroll in here and you'll find stores selling curries, restaurants serving Indian dishes, textile shops, and spice warehouses that will tantalize your senses and noses, and give you a small taste of the real India. The Sri Guru Singh Sabah Temple is also here. It's golden in color, free to enter, and serves free meals to morning visitors.
Location: Little India Bangkok, Phahurat Road, Phra Nakhon, Bangkok 10200
Visiting Hours: Daily from 09:00 AM to 06:00 PM
Fees: Entry is free. What you spend depends on you!
Eat your way through Little China
One of the more interesting things to do in Bangkok is shopping and eating your way through China town. This section of the city is full of stalls selling Chinese dishes and exotic food. It's also the world's largest Chinatown and one of the most vibrant places to be. If you're doing Bangkok off the beaten track, get lost in the maze of streets here and take in the flavors, smells and noises.
The main street where all the action is, is called Yaowarat Road of Chinatown Street. Street vendors sell everything from duplicate clothes to replicas and antiques to electronics. And if you need a break while shopping, there are the many Chinese food stalls selling fried pork, barbecued seafood, prawn dumplings, tom yum soup, soy sauce ice creams, shark fins, char kway teow, and of course the classic Thai snack– mango sticky rice.
Location: Yaowarat Rd, Khwaeng Samphanthawong, Khet Samphanthawong Krung Thep Maha Nakhon 10100
Visiting Hours: All day, but most of the street food vendors come out after 6 PM and stay till midnight!
Fees: Entry is free, however it's worth booking a guided Chinatown tour to get to know more about this area.
Visit the creepy Museum of Dead Bodies
The Congdon Anatomical Museum is dedicated to understanding human anatomy. And since you can't have live human specimens in a museum, it's full of dead ones. The museum makes you feel like you've entered into a Frankenstein movie and maybe one of the craziest things to do in Bangkok.
Over 2000 organs and body parts are on display here; from the biggest to the smallest hand, the smallest eyelashes, parasitic worms, fetuses in different stages of birth, dissections of the anatomical structure, and more.
The Congdon Anatomical Museum can be visited along with the Parasitology Museum, Ellis Pathological Museum, Songkran Niyomsane Forensic Medicine Museum and the Sood Sangvichien Prehistoric Museum that together form the Siriraj Medical Museum.
Location: Siriraj Museum 2 Wanglang Road, Bangkok Noi, Bangkok 10700
Visiting Hours: 10 AM to 5 PM from Wednesday to Monday (Tuesday closed)
Fees: Adult ticket 200 THB
Child ticket 25 THB
Thai citizens ticket 80 THB
The ticket is only valid for the 5 museums in the Siriraj Medical Museum. (For entry to the Siriraj Bimuksthan Museum another ticket has to be purchased.)
Phra Sumen Fort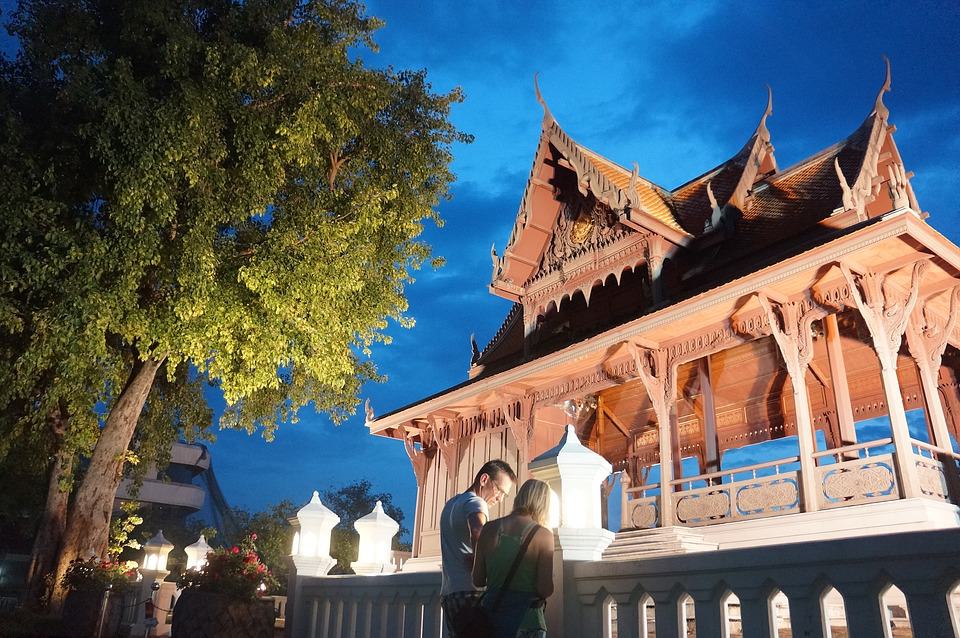 King Rama I built 14 forts to protect Bangkok from invasions, and Phra Sumen was one of those. Built in 1783, this off the beaten track Bangkok site is located right next to the Chao Phraya river near the Khao San food street.
The three-tiered Phra Sumen Fort is nearly 45 metres wide, 20 meters tall and is painted fully white. It has a hexagon-shaped tower where soldiers could keep watch and 50-centimeter thick walls that housed 38 ammunition storage rooms.
There is a museum on the upper floors where items found in the fort are displayed. This hidden place in Bangkok is part of Santichaiprakan Park which is a great place to have a picnic by the river.
Location: Phra Athit Rd, Chana Songkhram, Phra Nakhon, Bangkok 10200
Visiting Hours: 8 AM to 9 PM!
Fees: Entry is free since it's a public attraction!
Bamrung Muang Road
Another unique place in Bangkok is the Bamrung Muang Road. Built in 1863 during King Mongkut's reign, it was the second paved road in Bangkok after the Charoen Krung Road. While the Charoen Krung Road has gone on to become a major traffic road, the Bamrung Muang Road remains one of the Bangkok best kept secrets.
The road is unique because it has no footpath on the section between the Pratu Phi and the Giant Swing, and is lined by old shophouses.
This off the beaten track Bangkok road is called the "Street of Many Buddhas" and a great place to buy religious artifacts and souvenirs, especially statues of Golden Buddhas, bells, and candles.
Location: Phra Athit Rd, Chana Songkhram, Phra Nakhon, Bangkok 10200
Visiting Hours: All-day
Fees: Entry is free. What you buy depends on you!
Ancient City Siam Park
Another of the Bangkok hidden attractions is the Ancient City in Samut Prakan. This museum park was built by Lek Viriyapant in the shape of Thailand set over 200 acres of land. Although he initially planned for it to be a gold course, after seeing the sorry state of many historical sites, Lek turned the Park into a museum.
It was completed in 1963 and opened to the public in 1972. Experts from the National Museum of Thailand assisted with the construction of the replicas and ensured accuracy. It's said that if you had just a day in Thailand, a visit to the Ancient City will take you everywhere.
Location: 296/1 Moo 7, Sukhumvit Road, Bangpoo Mai, Amphoe Meung, Samut Prakan 10280
Visiting Hours: 9 AM to 7 PM
Fees: Adult Ticket 700 THB
Child under 14 years 350 THB
(*These ticket prices include a bike ride, tram ride, and boat ride)
For cars, expect to pay 400 THB extra
Take pictures in scrapped planes
If you're an aviation enthusiast, wandering around an airplane graveyard might become your favorite secret things to do in Bangkok. This businessman who owns this yard started storing junked planes since 2010 in order to sell them as scrap.
The planes have been stripped off the seats, TVs, overhead panels and other amenities and are just empty shells now. But you'll find a local Thai family has made their home in this hidden Bangkok attraction. They charge you anywhere around 200 THB to enter the scrap yard. But what's USD 6 when you can take some awesome pictures Boeing 747s and MD-82 jetliners.
Location: A short walk from the Wat Sriboonreung Ferry Terminal, Hua Mak, Bang Kapi District, Bangkok 10240
Visiting Hours: Day time
Fees: Approximately 200 THB
Visit the Shrine of Goddess Tubtim
One of the unique places in Bangkok is the Shrine of Goddess Tubtim. This shrine honors Chao Mae Tubtim, the female fertility goddess, and women visit here to offer her jasmine and lotus flowers when they're trying to conceive a baby.
As you enter the shrine the garden filled with clay figures of children gives way to the shrine filled with hundreds of phalluses. The phalluses at this Bangkok hidden secrets range in size from tiny to almost 6 feet tall and are made from wood, cement and other materials. The shrine is one of the hidden gems in Bangkok located right in the heart of the city in the Nai Lert Park which was formerly Swissotel Nai Lert Hotel.
Location: Nai Lert Park, Lumphini, Pathum Wan, Bangkok 10330
Visiting Hours: Daytime
Fees: Being a public shrine, entry is free!
Other Bangkok Off The Beaten Path Attractions
Dragon Temple or Wat Samphran
Definitely one of the unusual things to do in Bangkok, the Wat Samphran is a pink-colored 17-storey building that's encircled by a giant dragon whose belly you can walk through to get to the top.
Further reading: The weirdest temples in Thailand.
Visit the Papaya Vintage Shop
This quirky Bangkok off the beaten track shop is filled with antiques, old Vespas, and strange-looking figurines that look like old movie characters.
Ko Kret Island
Located about 20 km from Bangkok off the beaten path, the Ko Kret community lives and retains its traditional Mon artistry.
Thai Airforce Museum
Another Bangkok off the beaten path attraction is the Royal Thai Air Force Museum with a small collection of about 30 planes.
Samutprakaran Crocodile Farm
On the list of different things to do in Bangkok, this crocodile farm is home to over 100000 crocodiles over 300 acres of land.
Pak Khlong Talad
A 2 AM visit to the biggest flower market in Bangkok is one of the hidden things to do in Bangkok that will please your nose and your eyes.
Rod Fai Market
Another of the hidden gems Bangkok, this open-air bazaar was once set next to an abandoned railroad track. It's now located behind the Seacon Square Shopping Mall and has many vintage and antique knickknacks on sale.
So that's our list of unusual things to do in Bangkok off the beaten path. What are you going to add to your list for your upcoming trip to Thailand?
Pin For Later: