Thailand is one of the most frequently visited countries in the world. No wonder why: from the heavenly beaches to weird temples, and low prices- Thailand has it all. One of the reasons so many people love The Land of Smiles is… the food! Street food and Thailand snacks are what makes tourist fall in love with this country.
There are countless dishes and drinks that are worth trying in the Siam Kingdom, however, in this post, we will focus on the best snacks in Thailand that you can either eat or bring back home as a souvenir.
From the Thai snacks you can buy on the street to those you can get in 7-Eleven- we've covered it all!
Khanom Krok (coconut pancakes)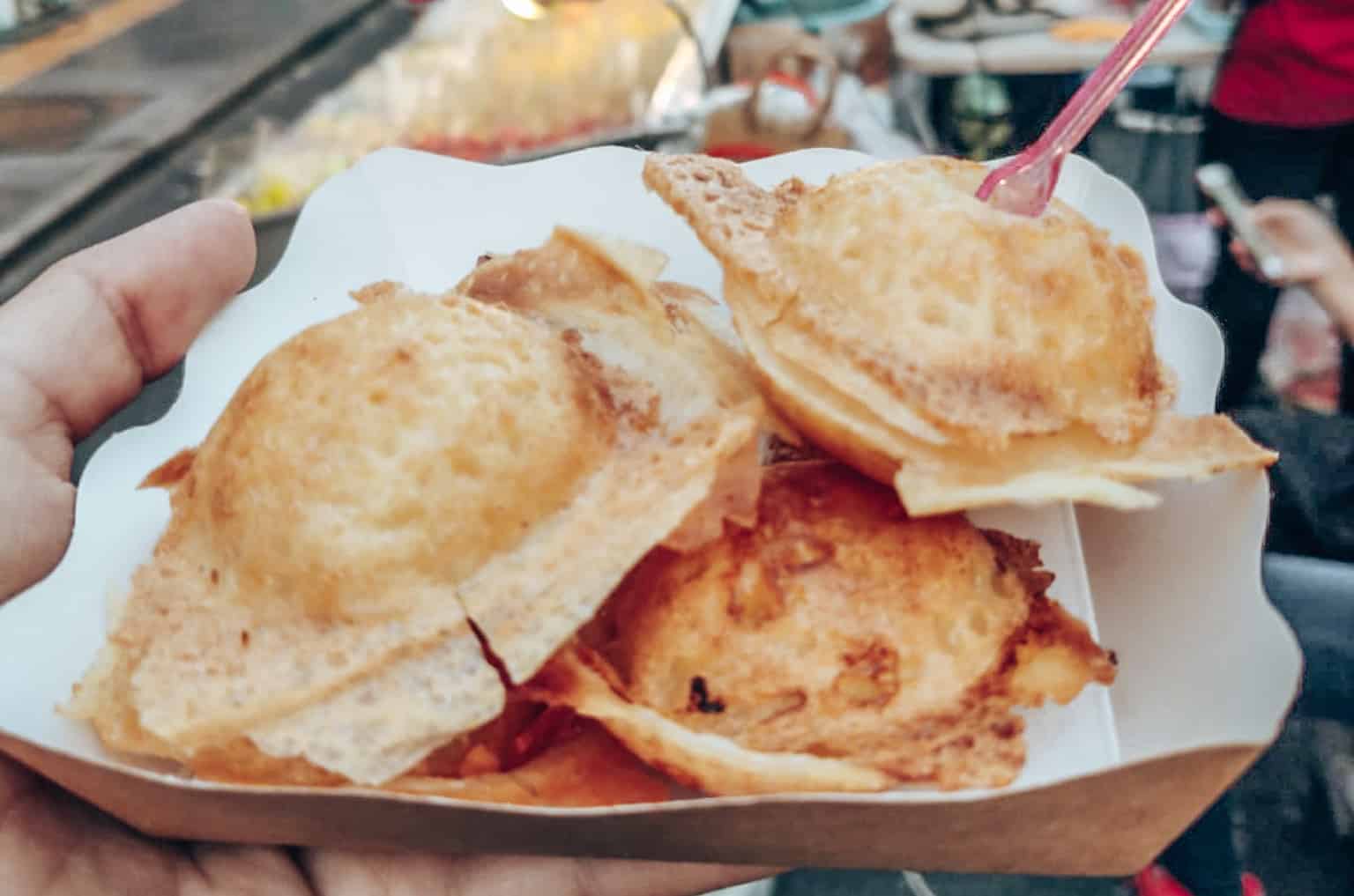 Deliciously sweet, a slight tang of salt and a gooey, yummy middle. It can only be khanom krok, the absolutely heavenly coconut pancakes and one of the best snacks in Thailand to try.
Usually, to be found at a hawker stall or street market (like the famous Or Tor Kor or Chatuchak in Bangkok) this traditional Thai dessert is made from rice flour, sugar and coconut milk, all wrapped together to create what must be one of the most delicious Thailand snacks.
Prepared in a slightly unusual way, usually, these miniature pancakes are concocted out of two distinct batters: a salty and a sweet which are fashioned into half-circular mixtures. These doughs are then sizzled in an indented frying pan which looks almost like a large cast-iron pan full of egg cups; luckily making these delicacies easy to spot as you're hunting the market lanes for a taste of them.
These delightfully soft (yet crispy) balls have been around since the 1300's and, over time have been adapted to include a number of 'toppings' or colorings or flavourants. Popular ones include pandan essence or even cilantro, with the best ones usually including a soft center of steamed sweetcorn or the nutty-tasting taro root.
Undoubtedly one of the most famous snacks to emerge from the already renowned food culture of Thailand, nowadays you can find khanom krok in nearby Myanmar, Laos, Cambodia, and Indonesia.
Pocky Thailand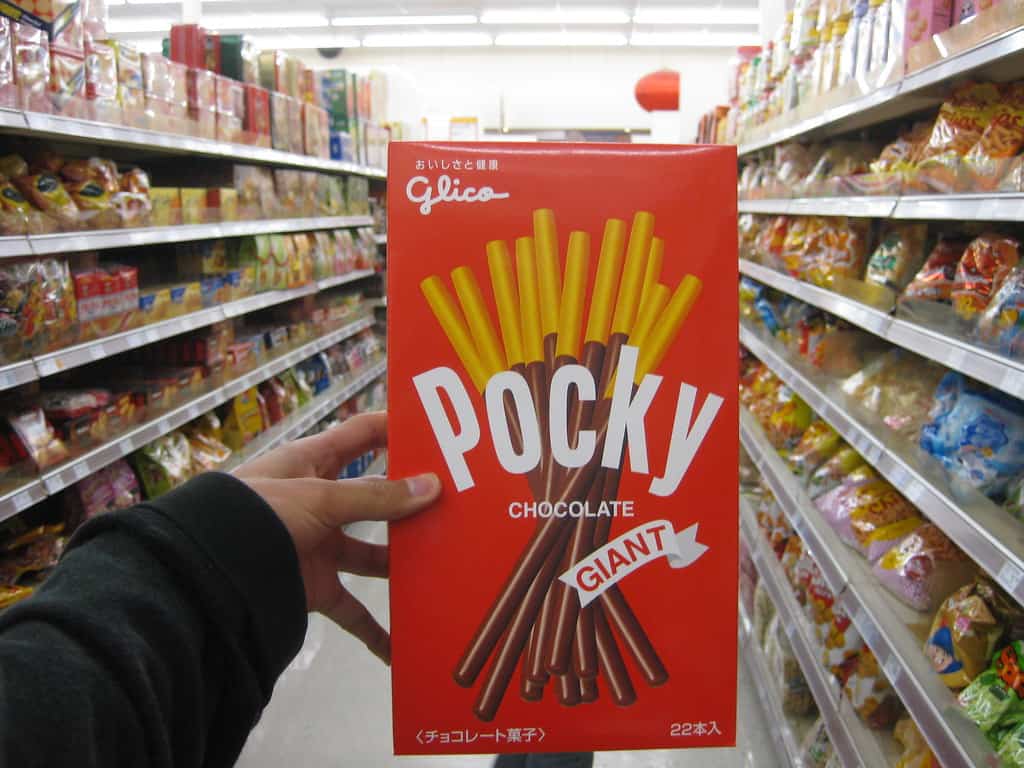 Originally from Japan, Pocky has become one of the best snacks in Thailand to try. Apart from the traditional chocolate topping, you can also get:
cookies & cream
matcha green tea
strawberry
mango
banana
and more
Pocky Thailand can be purchased in every 7 Eleven. It's a perfect snack to have on the go or pack to your backpack for a day trip.
Thai Custard-Filled Buns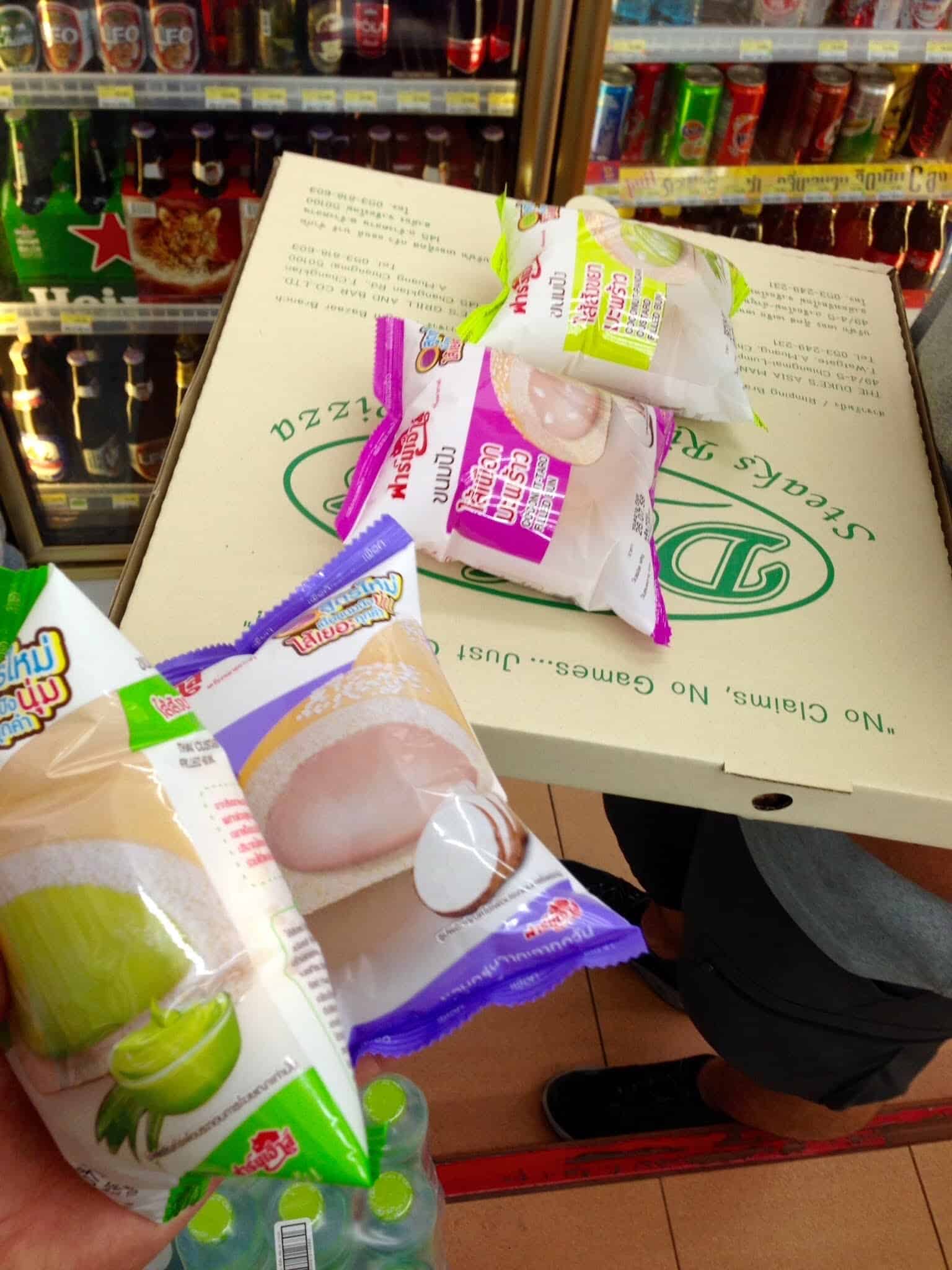 No matter if you are traveling to Bangkok, spending, 3 days in Chiang Mai, or you are simply following your 10 days in Thailand itinerary, be sure to try the custard-filled buns! These colorful and peculiar-looking Thailand snacks can be purchased in any 7-Eleven.
They are soft as a baby's bum and filled with different flavors of creamy custard. And while they're probably not the most nutritious snack in the world, the fact that they aren't deep-fried or glazed with sugar makes you feel like you're eating healthier.
There are many different flavors available, but some of them are kind of weird (I recommend staying away from the bean flavor). Arguably the best one is Thai custard flavor—the green one. That said, at only 10-15 Baht a piece, you won't feel guilty buying a handful of different buns to find your favorite flavor.
The best part is, you can find these in any 7-Eleven, the grocery stores that are located all around the country. So if you get a craving—whether day or night—you're never more than a couple street corners away from these balls of custardy goodness.
Durian Chips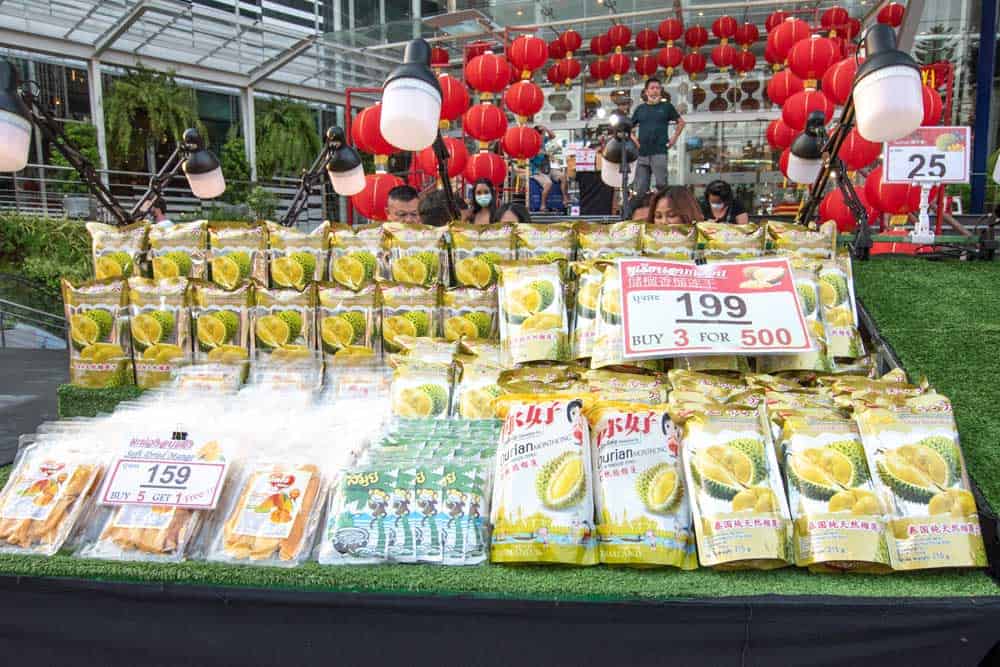 While traveling around Thailand, you would inevitably notice the stalls selling giant oval fruits covered in spikes. Behold the durian – the most controversial fruit in the world.
How can a fruit be controversial, you may ask?
While the locals call the durian "The King of Fruits", there is another nickname that fits it better – "The World's smelliest snack". It's the long-lasting and robust smell of the durian that makes it so divisive. And the fact that the durian smell brings different associations to people does not help its reputation. While some experience it like a mild tropical scent, others describe it as rotting onions or a gas leak.
Its smelly qualities made the durian banned from public transport, hotels, and taxis, but the crafty durian-loving Thai people found a way to enjoy their favorite snack anyways – they turned it into chips!
Made from immature fruits, the chips lack the strong odor of the fruit itself. They are similar in texture and flavor to the ordinary potato chips; the only difference is the sweet tropical durian taste. It's a ubiquitous Thailand snack around the Land of Smiles, and you can find it at every night market or 7/11.
It's also a perfect gift to take back to family, friends, and colleagues.
Shrimp Chips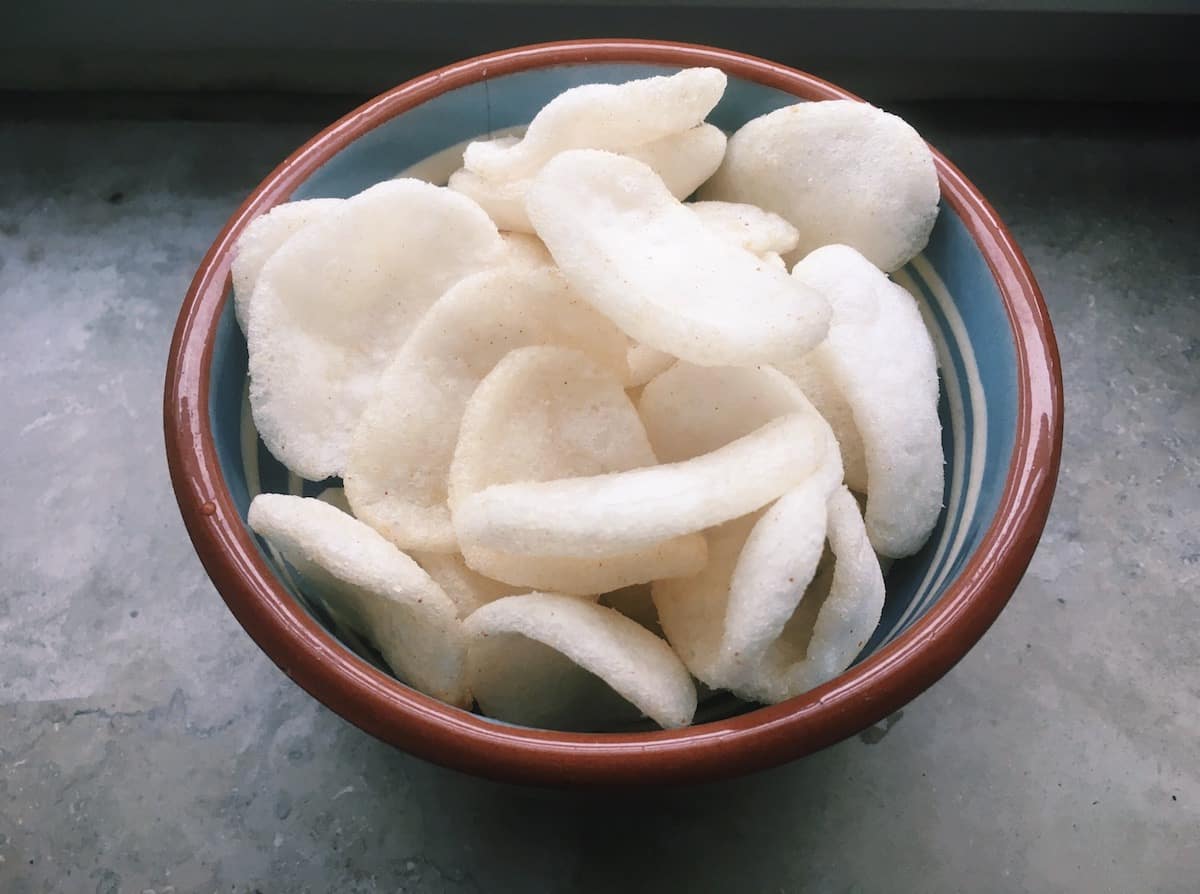 Thai people love their food, and there is so much to choose from. If you come to a restaurant or if you are wandering around supermarkets, you will be quickly overwhelmed by unique, and to most of us, unknown flavors, especially when it comes to chips. There are so many strange flavors that you need to feel adventurous just to try.
This is how I felt when I tried some of the most popular Thai chips. They might look like common potato chips, as we know them, but they are made from shrimps.
They usually have this pretty pastel pink color, but I have seen them also in different colors. You can easily buy them in every 7 Eleven store and other supermarkets.
Also, shrimp chips are usually served before your main meal and as crackers with your salad. I have to be honest, at first, I wasn't a big fan, but after a couple of times trying it, I started to get used to it. So if you are looking for the best snacks to buy in Thailand, make sure to try them. You will either love them right away or hate them.
Pineapple Sandwich Cookies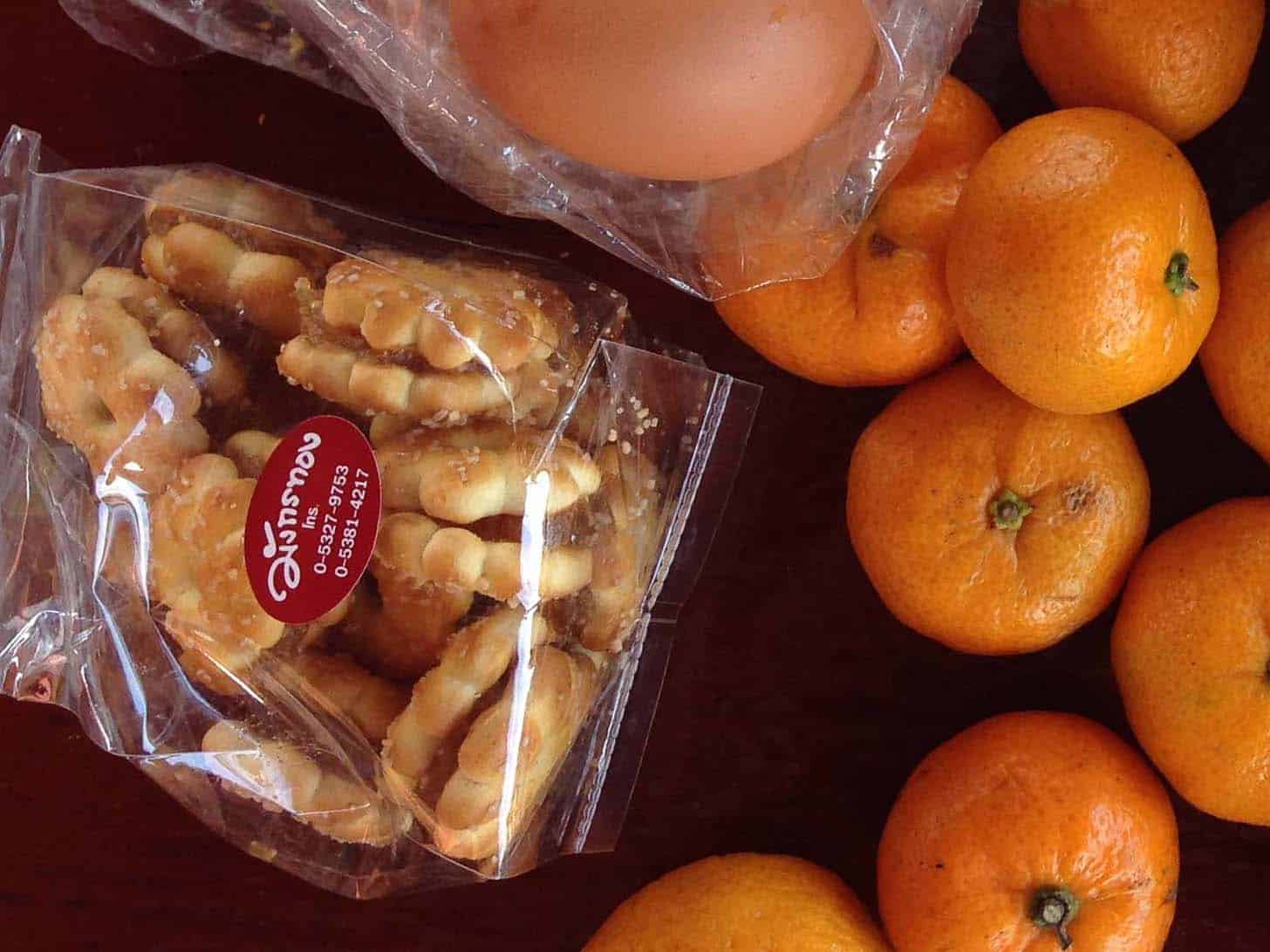 In many local Thai markets, you'll find cellophane bags with small, flower-shaped cookies inside. They don't look like anything too special so it's easy to pass them by, but take our advice and give them a try! They are one of the best snacks in Thailand to buy.
The cookies have a light, coconut flavor and are sandwiched around a rich pineapple jam for a tropical, sweet (but not too sweet!) and crunchy bite. They are perfect for snacking on the go or make for a sweet dessert! They taste much more like "real" pineapple than most cookies you can buy at stores in Western countries.
The best place to find them is at local markets, and sometimes they're even served alongside tea at after you have a massage at a spa. Whether you choose to indulge in a bag (or two!) during your trip to Thailand, or you choose to bring some home as a souvenir, these Thai pineapple cookies are sure to be a hit.
Fried Crickets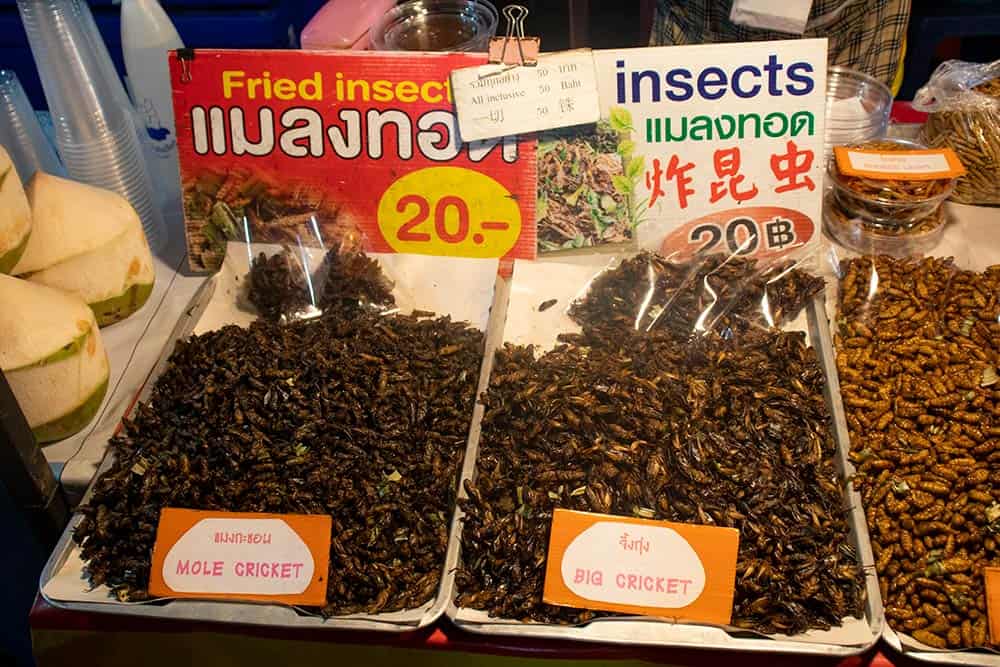 Fried insects are a staple part of the diet of many parts of rural Thailand. They are very healthy to eat, as they're a great source of protein.
Even though fried grasshoppers, scorpions, spiders, and crickets are not available on every Thai walking street, it's not that difficult to get them in Thailand.
Most tourists opt for crickets as they are the smallest of the fried insects for sale. They are fried in soy sauce and sold in small clear packets.
How do they taste? Surprisingly good! You can feel the protein rush as you swallow each mouthful. Read the full post about eating insects in Thailand.
Mango Sticky Rice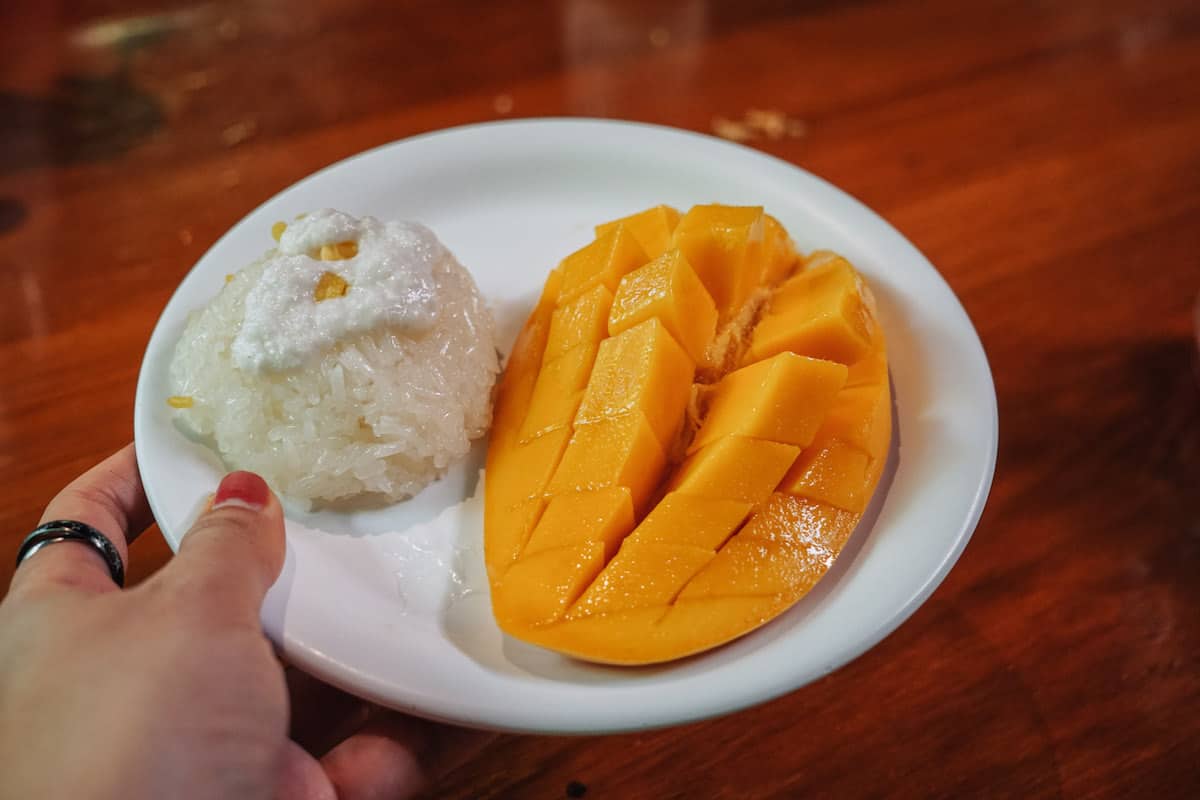 Mango sticky rice is a traditional and delicious Thai dessert and one of the must-eat Thailand snacks. The dish is made from long grains of sweetened glutinous rice which are cooked with thick coconut milk until they are tender, soft and fragrant, then served with chunks of ripe mango. The tastes are a mixture of sweet and salty and the combination is absolutely heavenly.
The dessert can be found all year round but is very common in March and April due to mango being in season. It is an extremely refreshing (and filling) snack to eat in Thailand's hot and humid climate.
As the dessert is popular with both locals and tourists, it is easily found across Thailand. A mango sticky rice set will cost around 30-50 baht from street food stalls, night markets and supermarkets, and around 150+ Baht in a high-end restaurant.
If you order mango sticky rice in a restaurant you might find it is served with extra toppings which could include crispy fried mung beans, coconut cream or roasted sesame seeds, and occasionally the sticky rice might be served in a little bamboo basket.
Make sure you order mango sticky rice, one of the best snacks in Thailand, during your trip as it is the perfect finish to a meal!
Thai Rolled Ice Cream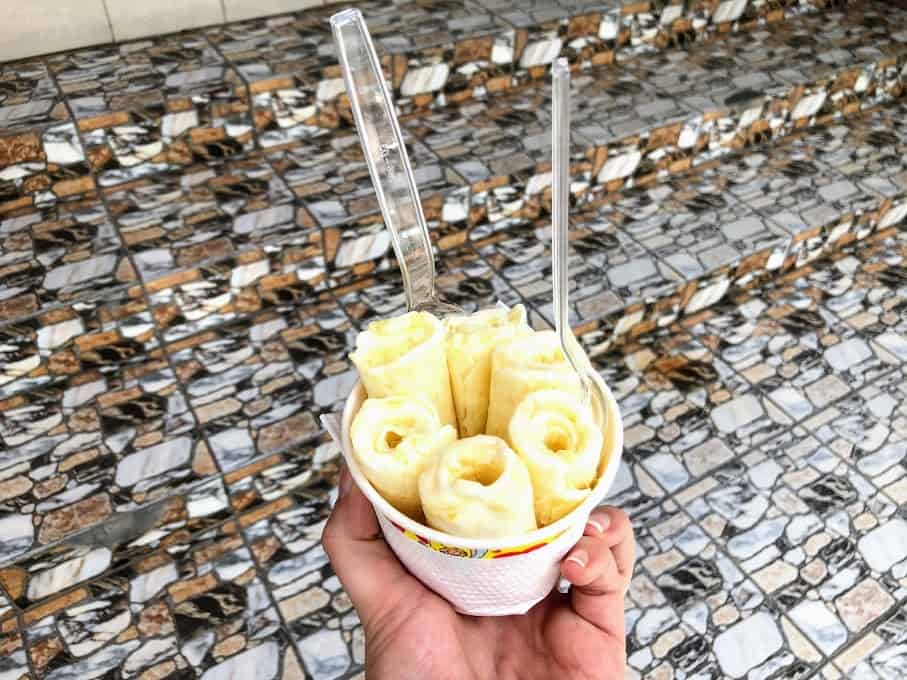 It's one of the most delicious Thailand snacks that you can have!
There is nothing better than eating a frozen dessert that is not only delicious but will help you cool off when it's so hot outside.
Thai rolled ice cream is made by a local vendor on demand out of milk, cream, sugar, and fresh fruits (banana, pineapple, mango, and many more to choose from).
They mix all the ingredients together on the special frozen plate. When it's ready, they simply spread it out and next carefully scratch to form cylinder-shaped rolls.
Pad Thai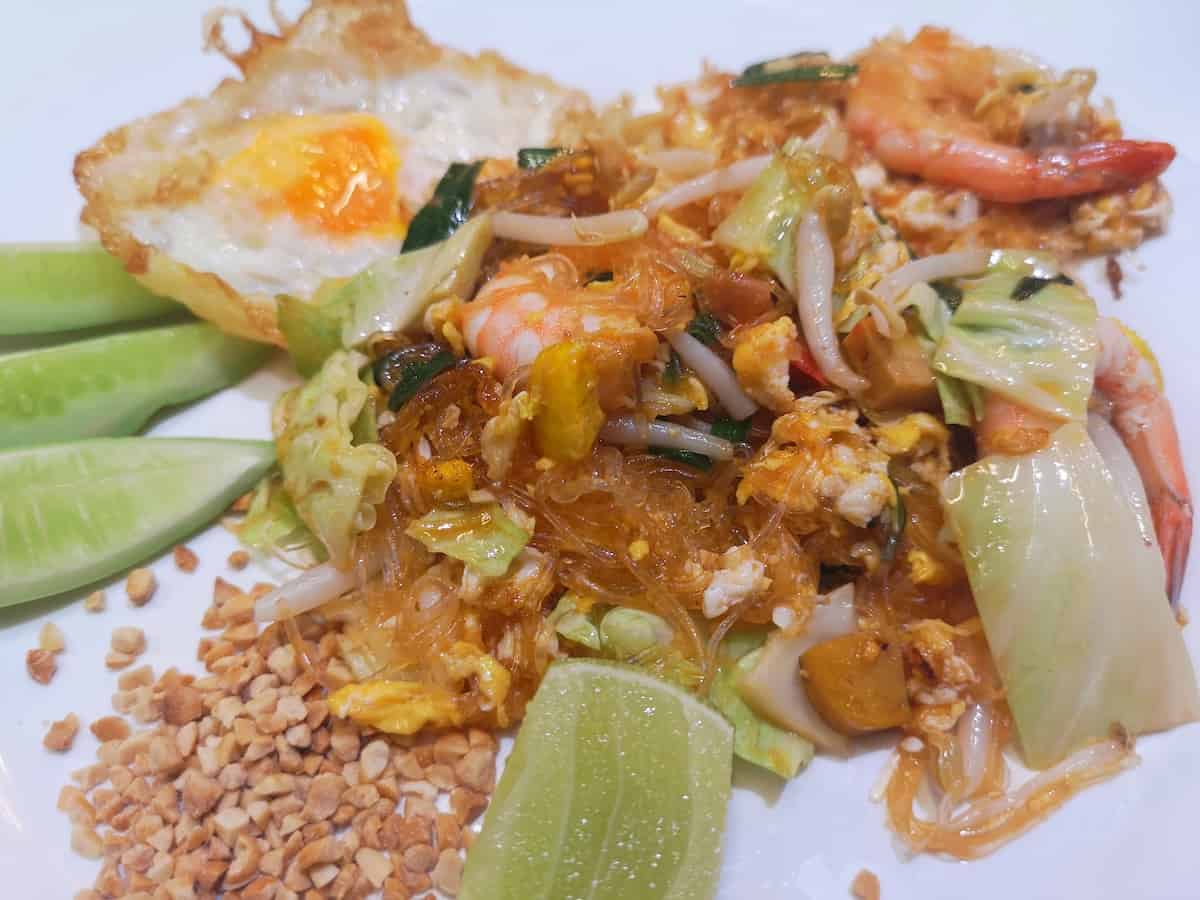 You literally can't leave Thailand without tasting this traditional Thai noodle dish and yes, it will be the best Pad Thai you ever had. You can find this dish not only as street food but also in almost every restaurant.
Pad Thai is made of rice noodles, a few light veggies, one type of protein (shrimp, chicken, beef, pork, tofu, etc.) and eggs. So it is also suitable for vegetarians. All the ingredients are tossed in a delicious Pad Thai sauce which is made of a sweet, savory, spicy blend. Served with fresh lime and crushed peanuts.
There is always a variety of ingredients from which you can choose so it's like building your own favorite Pad Thai.
Usually, you can choose the type of pasta, protein added to the dish, you can use as much lime juice and crushed peanuts as you like because they are added aside and if you want to you can add some extra
spices
.
Thai people are not like Italians and you can easily adjust Pad Thai suitable to your taste.
The normal price for Pad Thai shouldn't be cheaper than 60 – 120 ฿ (1.90 – 3.40$) if you find a Pad Thai then you probably shouldn't eat that. If you want to try making Pad Thai at home
here's a recipe
.
Thai Street BBQ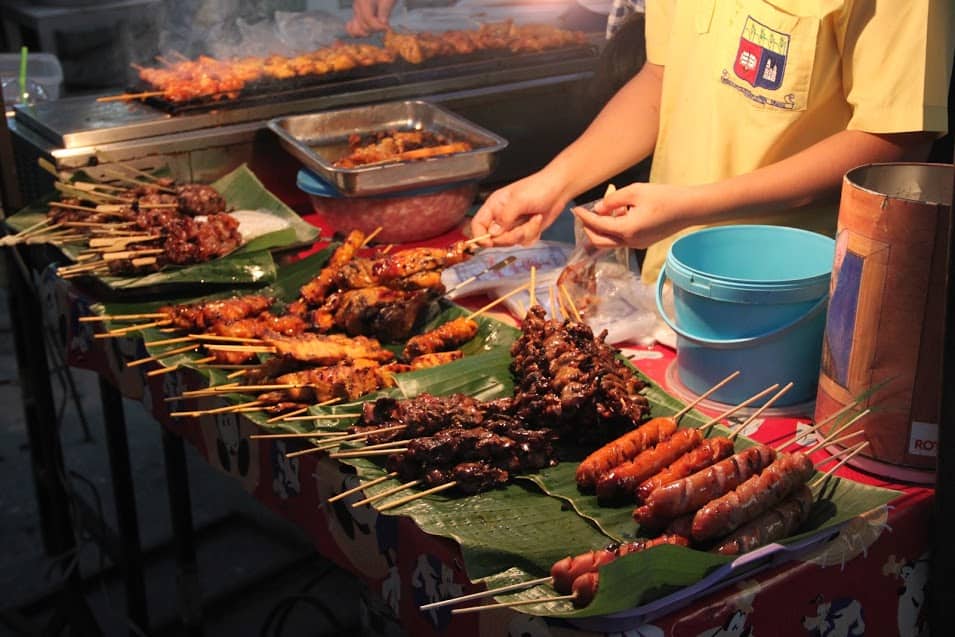 It's one of the best snacks in Thailand to have on the go.
Local vendors sell grilled meat all around the country, no matter if you are in the heart of the busy Bangkok, you are relaxing on Koh Larn island, or you are on your way to Pattaya.
For just 30-50 Bahts ($1-$1.5) you will get a yummy snack on the wooden stick that is not only full of flavors but also quite satiating!
If you want, the vendor can pack it up in the plastic bag that you can hang on your scooter.
Coconut Chips
They are SO good!
The chips are basically small pieces of dehydrated coconut covered with sugar. Hands down, it's one of my favorite Thailand snacks and I always bring at least 10 packs every time I am traveling from this country back to Europe.
There are many coconut chips brands available in Thailand, however, the one on the photo is definitely the best.
It's sweet and crispy enough to make it one of the best snacks in Thailand that you simply cannot miss during your trip.
Pin For Later:
Do you know any other Thailand snacks that are worth buying? Share them in comments!