Julian Alps Slovenia Lazy Guide: How to relax in Northwestern Slovenia
Julian Alps were the most beautiful mountains in the former Yugoslavia. When in 1991 and 1992 this country divided into smaller nations, the highest peak, Mount Triglav became a part of Slovenia. Triglav National Park is the absolute best area in this country! It is famous for hiking, trekking and mountain climbing but this post won't be about it. We've created the complete opposite- Julian Alps Lazy Guide!
You will find here the best places to visit in Northwestern Slovenia where you can go and don't get tired. If you are planning a relaxing vacation, you are traveling with elderlies, disabled or children, this lazy guide is perfect for you!
General Travel Tips for Triglav National Park
Travel by car
It is the easiest and the most convenient way to travel around Julian Alps and Slovenia in general. Public transport is possible as well but we are not here to get tired, right?
Choose the right time
The weather is really important when visiting Northwestern Slovenia! It is a mountainous area, so it may get really cloudy and rainy in there. We have been at Julian Alps on October and 50% of our stay was sunny. The other part was depressingly dark.
Be prepared for the changing weather
Even if you are visiting Triglav National Park in the middle of the summer, you need to have warm clothes with you. It is always cold at the top of the mountains, so pack an additional jumper to your car, just in case.
Choose the right place to stay
You can't truly relax if you are not staying in the right place. There are many hotels at Julian Alps that don't have free parking, have problems with WiFi or are located in the middle of nowhere.
We've been staying at Hotel Jezero close to the Bohinj Lake. It was perfect gateway to all the tourist attractions at the Triglav National Park. There is a swimming pool and spa area in the hotel. What's awesome, you can have half-board alimentation, so if you really are super lazy, you won't even have to leave the building.
Check out the latest hotel prices for Julian Alps—> click here.
INTERESTING FACT: 
Triglav is the only National Park in Slovenia. What's interesting,
admission to all natural sights is free of charge! You won't pay
anything for seeing waterfalls, mountains and lakes.
Best places to visit in Slovenian Alps
Julian Alps Slovenia Lazy Guide #1
Bled
Lake Bled is the most popular tourist destination in Northwestern Slovenia. No wonder why- this place looks like it was taken out of a fairytale! There are many things to do at Bled.
The town is famous from the beautiful lake with crystal clear water and the Church on the island in the middle of it. Of course, we cannot forget about the famous Bled Castle that is standing proudly over the lake.
You can easily drive around the lake with your car. Getting to the island church requires more effort. You can swim there by yourself or take a Pletna boat. The total cost including the admission to the church will be less than 20€.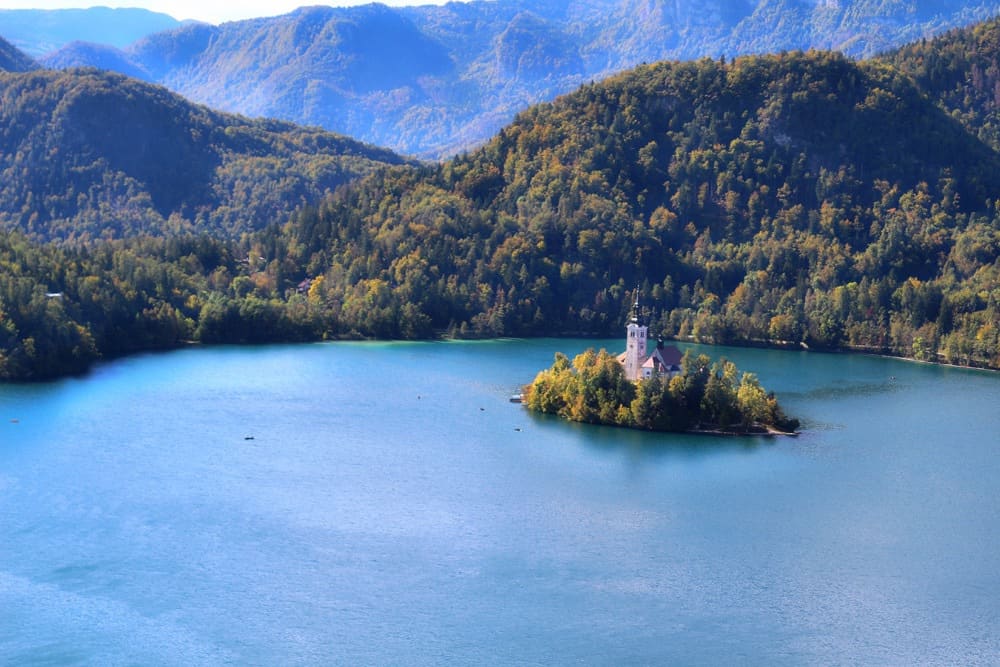 When it comes to the castle, you can drive almost to the top of it by your car. Then you need to walk for a while on the steep and sloping path. The admission to the castle is 10€ per person. There is not much to see inside of it but we absolutely loved the view from the top of the castle hill!
Here you can find all the important informations for one day trip to Bled.
Julian Alps Lazy Guide #2
Bohinj lake
Bohinj is a bigger sister of Bled. What's interesting, even though it is larger, it is definitely less popular than her. It is located at the Triglav National Park, just 15-20 minutes driving from Bled.
The lake itself is more than amazing. It is the most picturesque spot in Slovenia, so if you are into photography, you will love it!
There are two main buildings worth seeing close to the lake: Church of St John the Baptist and Church of the Holy Spirit that you can see on the picture below.
INTERESTING FACT: 
Did you know that Church of St John the Baptist is one of 
the most often photographed buildings in Slovenia?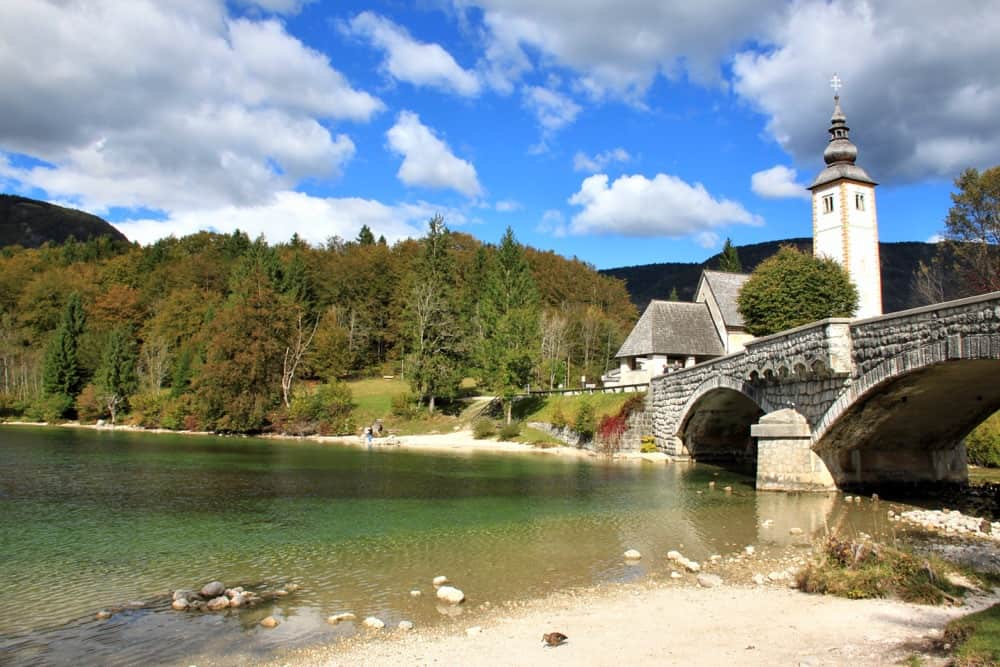 Julian Alps Lazy Guide #3
Mount Vogel
Vogel is almost 2,000 high and you can get to more than 1,500 metres by the cable car. It is wheelchair-friendly, so everyone can go there! The admission is 14€ both ways.
Mount Vogel is one of the most beautiful places that we have visited in Slovenia. You can see the higher peaks from it as well as the Bohinj lake.
There are few restaurants on the top, so you can eat there lunch or drink something hot to warm up!
If you want to go higher to the Orlove Glave, you can use the chairlift. Unfortunately, it wasn't operating when we were there. It is working in the summer, from the middle of June till the middle of September.
Few kilometres from Vogel, there is a Savica Waterfall. You can't drive directly to it though. After leaving the car at the parking (3€), you need to hike for about 20 minutes.
Julian Alps Slovenia Lazy Guide #4
Lake Jasna
Lake Jasna is located in Kranjska Gora, close to the Austrian border. You can drive there directly from anywhere in Julian Alps.
It is a lovely and peaceful place.. the water in the lake is crystal clear and its surrounded by the high mountains.
In the summer, you can even swim in Jasna!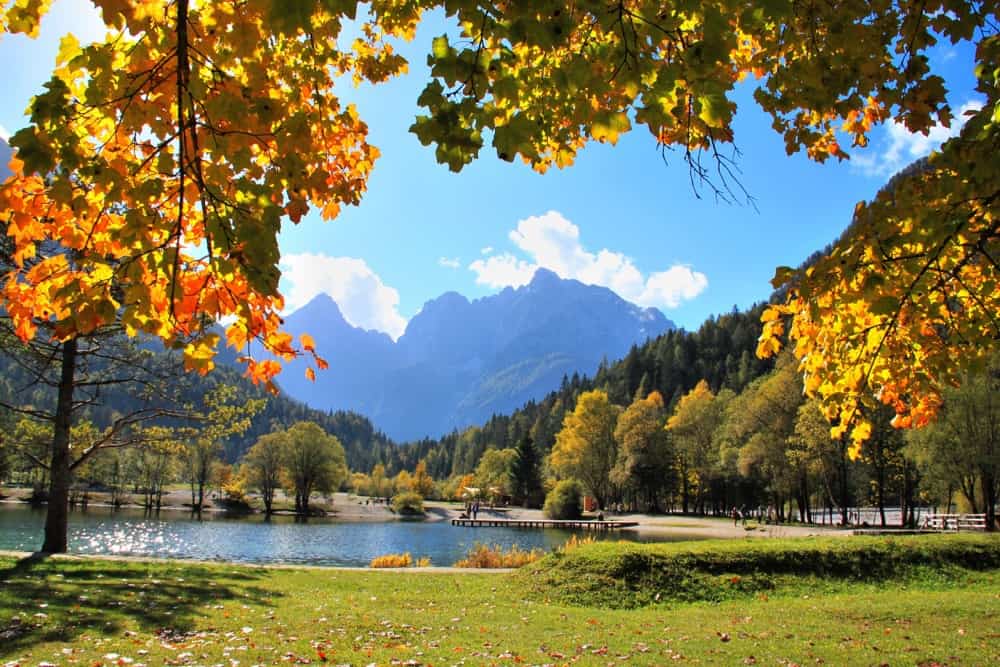 If our Julian Alps Slovenia Lazy Guide is too boring for you, check out the post about canyoning at Triglav National Park.
Disclosure: We want to thank Hotel Jezero for complimentary stay. All opinions presented in this post are honest and our own.
Disclosure: Yay for transparency! Some of the links in the article are affiliate, which means that if you book something by clicking on them, we will get a small commission with no extra cost to you. Your support helps this blog going.