Ah, Lviv. One of the best cities to visit in Europe. It has it all- from the amazing monuments and delicious food to the low prices. Although there are many awesome things to do in Lviv for the tourists, it's also a place you can actually live in for a while.
I'd call this city the European version of Hanoi in Vietnam. The prices are pretty much the same, there are many awesome cafes to work online or relax. Plus, Lviv is very close to the border with Poland (and European Union) which makes it easy to travel to.
What's interesting, Lviv actually belonged to Poland for centuries. After World War II it was incorporated into Ukraine.
Because Lviv was Polish for so long, it's very similar to Krakow, Torun or Warsaw.
Here's the map of all the places in Lviv I am writing about in this post:
How To Get To Lviv From Poland?
Direct Bus To Lviv
You can take the bus from any big Polish city like Warsaw, Krakow or Wroclaw directly to Lviv.
You can also travel to Przemysl (close to the Ukrainian border) and then take a bus to Lviv.
The bus ticket from Przemysl to Lviv costs more or less 30 PLN ($8). The journey lasts 2-3 hours, including waiting in the line on the border.
Train To Lviv
There is a direct train traveling to Lviv every day from many Polish cities including:
It's a night train with sleeping wagons that is arriving to Lviv in the morning.
If you prefer to travel in the afternoon, choose a direct train from Przemysl, Poland to Lviv. The travel time takes about 3 hours (just to compare, getting from Wroclaw to Lviv by train will take 13 hours).
You can't book the tickets online but you can buy them on ANY train station in Poland. The price depends on the route, the cheapest is to travel from Przemysl to Lviv (~$10 one way).
Walking Through The Poland-Ukraine Border
You can also take a bus from Przemysl to the border in Medyka, then walk through the border and take the bus (marshrutka) directly to Lviv from there. It's a hassle-free, fast, and the cheapest option.
If you are a European Union citizen, you don't need a visa to enter Ukraine.
TIP: It's worth to mention that Lviv Bus Station (Avtovokzal on Stryjska street) is situated quite far away from the city center. You can easily get there by taking the bus 3A. Leave on the last stop and you can walk directly to Rynok Square.
Safety Tips For Visiting Lviv
In general, Lviv is a safe city to travel to.
However, you should be really careful and watch all your belongings because pickpocketing is quite common.
In fact, in the past, there was an actual school of pickpockets in Lviv!
Pickpocketing is a real thing in Lviv. Trust me, I am talking from the experience. I've been raised close to the border with Ukraine, my great-grandma was born in the Lviv area. I've been traveling there since I was a child and I was well aware that I need to be cautious while in Lviv because I may lose my money quickly.
Still, I got robbed in Lviv. I was traveling on a public bus when someone stole my wallet. I realized a few hours later. When I reported it to the police, they were very helpful. They even managed to get back my wallet! Of course, it was empty.
I've been to 50 countries so far and I always VERY cautious. I've got robbed only once- in Lviv.
My dad lost his money in Lviv too. Twice.
So my tip is to not use a purse or wallet at all. Better put the money deep in your pockets or use anti-theft backpacks.
Best Things To Do In Lviv
Wander Around The Rynok Square
The most vibrant place in Lviv, with lots of cafes and beautiful tenement houses. The center of Lviv is actually listed as the Unesco World Heritage Site.
In the summer, you can hear the local musicians singing and playing.
Climb Up The Town Hall
If you want to see the beautiful, aerial view of Lviv and take some awesome photos, climb up the town hall that is located in the center of Rynok square.
Be sure to take water, as there are more than 400 stairs on the way to the top. The view is definitely worth it though.
Visit Lviv Latin Basilica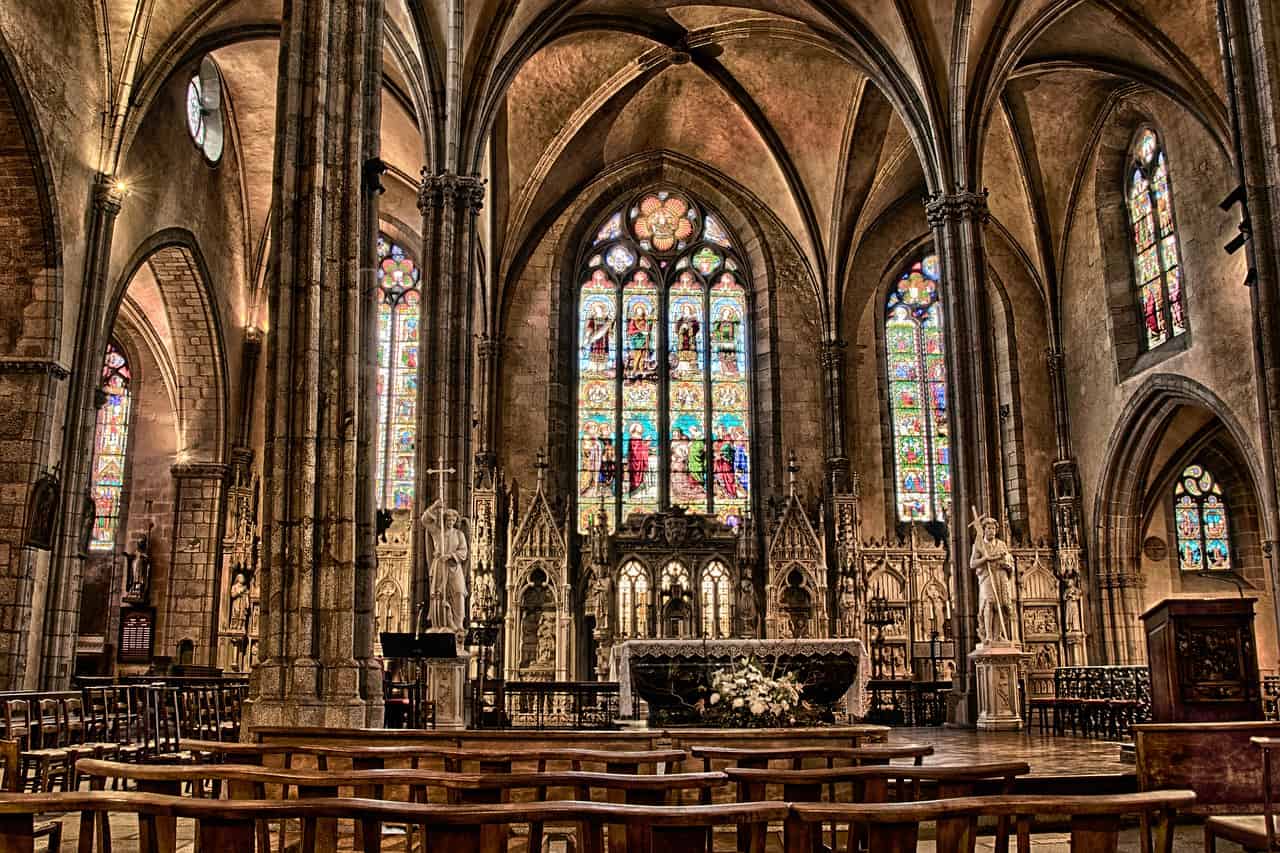 Getting inside the majestic Cathedral Basilica of the Assumption is one of the top Lviv things to do. Beautifully decorated, with impressive Altar and chapels, it's worth seeing for people of religions.
If you are Roman Catholic, be sure to attend a mass there.
Shop On Vernissage Bazaar
Vitcheva Square, close to Rynok
Hands down, it's the best place for shopping in Lviv! From the beautiful handicrafts to folk clothes, books, and souvenirs. You can buy virtually everything on Vernissage Bazaar.
Every time I am in Lviv I buy clothes there. If you like the folk style (like I do!), you will fall in love with this place.
See Ukraine's Biggest Cemetry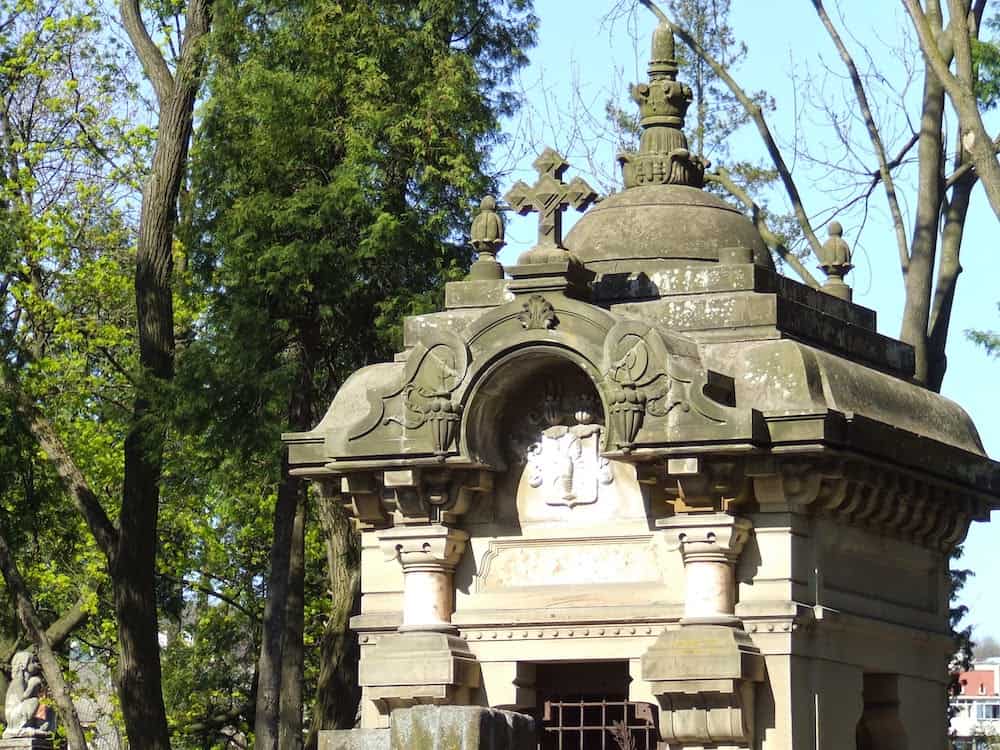 It may sound odd but visiting the Lytchakovsky cemetery is one of the best things to do in Lviv. Almost every tomb there is a unique piece of art.
It's the final resting place of many notable people including the poets Ivan Franko and Maria Konopnicka.
Fall In Love With Lviv National Opera
The building of opera in Lviv is considered one of the most beautiful in Europe. It's not only impressive from the outside but also beautiful inside!
Check out more info here.
Feel Like Alchemist In The Pharmacy Museum
You can go back in time and see how the drugstores looked in the past.
The Pharmacy Museum is located in the heart of the old town. Go there, as it's one of the best things to do in Lviv.
Take Photos Of Lviv's Street Art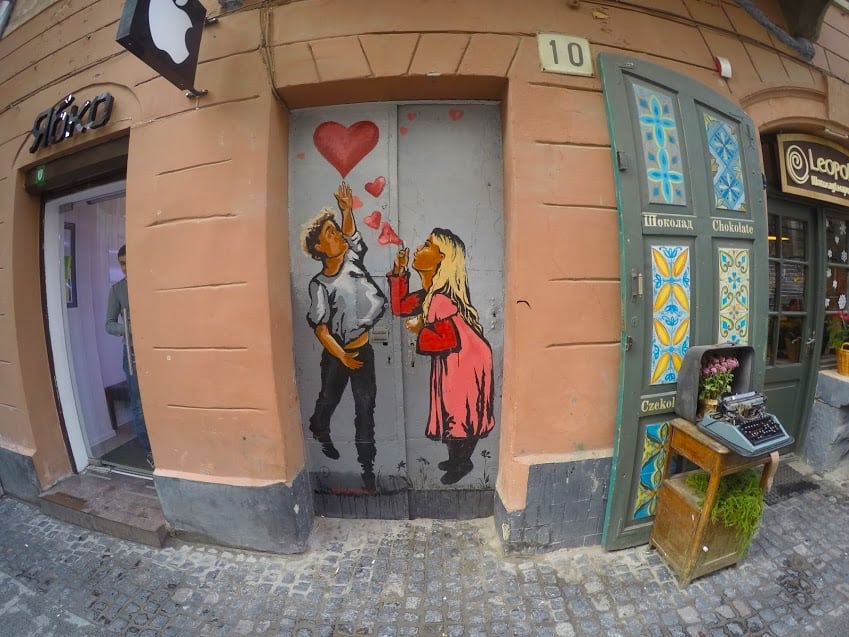 Street art is getting more and more popular all over the world. I find the one in Lviv particularly interesting. The paintings are beautiful, just take a look at the photo above.
If you want to discover the best murals in Lviv, join a street art walking tour.
Go Cafe Hopping
Did you know that Lviv is the coffee capital of Europe? No kidding, we can thank Yuri Kulczycki, a war hero for brewing the first coffee in Vienna in the 17th century.
There are many awesome cafes in Lviv with Atlas and Kredens being considered as the best ones.
Climb Up Lviv High Castle
Although there is not much left from the castle that was originally built in the Middle Ages, hiking up the hill is still worthwhile. Why visiting Lviv High Castle is one of the best things to do in Lviv?
The answer is simple: the views. High Castle is the highest point in the city which guarantees seeing a beautiful panorama of Lviv.
Check out the recommended tours to take in Lviv:
Visit St. George's Cathedral
This baroque pearl is located a bit outside the city center. Be sure to go there, as it's one of the top Lviv places to visit.
Impressive inside and out, it should be listed in every Lviv itinerary.
Eat!
I can't help mentioning to try Ukrainian food as one of the best things to do in Lviv. It's absolutely DELICIOUS and ridiculously cheap.
You will find awesome bars and restaurants all around the city. However, there are some that I can honestly recommend. Jump to the section below to find the best places to eat in Lviv.
Where To Eat In Lviv?
Bachevski Restaurant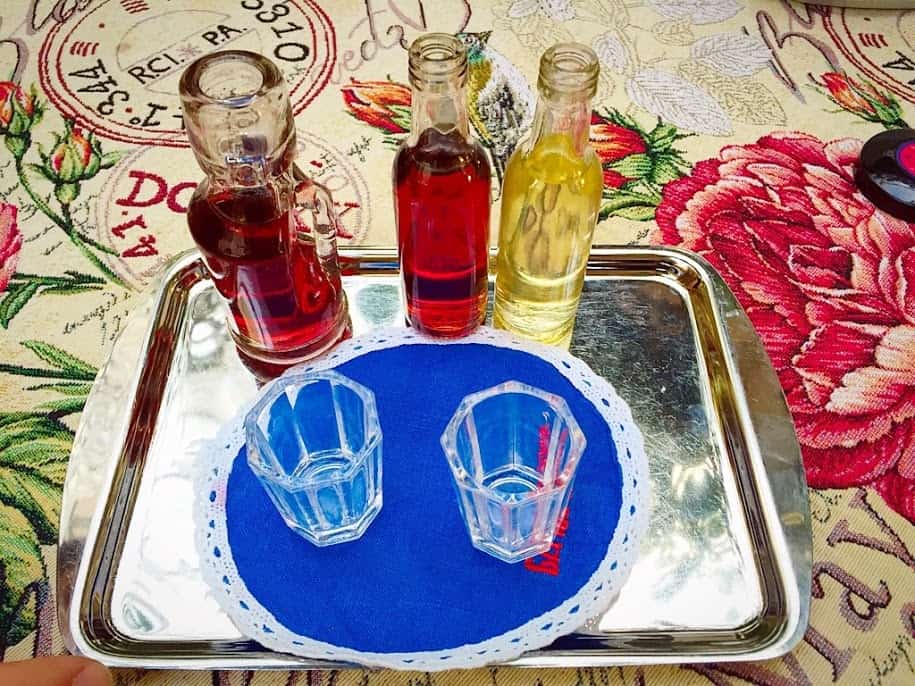 It really is the BEST restaurant I have ever been to. Each dish is a piece of art there. It not only tastes amazing but it's also delicious. Bachevski produces their own liquors and vodka, so be sure to try them while in the restaurant.
Plus, the prices at Bachevski are very affordable.
I highly recommend going there for breakfast. For about $5 per person, you will get access to the buffet with awesome food and even free alcohol!
Kryjvka
It's a hidden gem of Lviv. This restaurant is closed to the public, so we spend about 15 minutes to find it.
When you get to Rynok Square 14, you have to find the door and knock.
After saying 'Hvala Ukraine', you can get inside. But! You first need to drink one shot of vodka.
The food in this restaurant is not so good so I recommend going there for a drink only.
The First Lviv Grill Restaurant of Meat and Justice
Hell for vegetarians and heaven for all the others.
In this restaurant, you will find delicious meats and beers.
Kumpel
Go there to eat traditional Ukrainian food and drink home-made beer.
So good!
Where To Stay In Lviv?
I find Airbnb to be the best website to search for accommodation in Lviv. For just $20-$30 you will get a lovely apartment in the city center.
If you prefer staying in the hotels, check out the Modern Art Hotel or Sherlock Holmes Boutique Hotel.
Those traveling to Lviv in the summer may enjoy Kavalier Boutique Hotel. It has an outdoor pool where you can relax!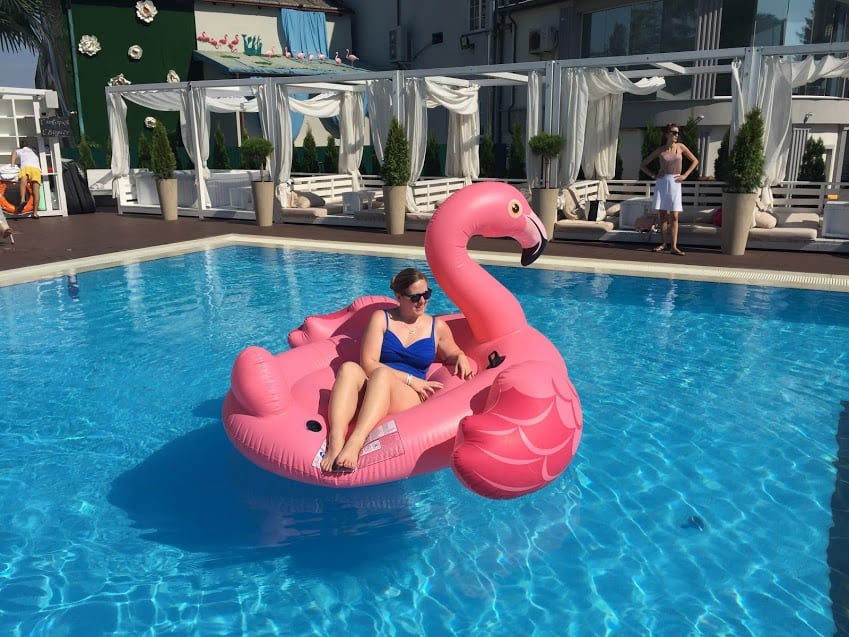 The most luxurious hotels in Lviv are Bankhotel and Grandhotel.
Pin For Later:
Did you enjoy reading my post about things to do in Lviv? Have some questions? Leave a comment below!