Low prices, sunny weather, friendly people, and delicious wine… What more can you expect from the perfect holiday destination? Even though Bulgaria has all of these factors, it's still not the most popular place to travel to. Too bad! This country is definitely worth visiting. In this post, we are giving you the most beautiful places in Bulgaria, on and off the beaten path.
Bulgaria is located in Eastern Europe, it's bordering with Greece, Turkey, North Macedonia, Romania, and Serbia. It has direct access to the Black Sea.
Everyone will find something for themselves in Bulgaria. If you want to relax on the beach, there are many awesome resorts in the country. Those who want to sightsee will enjoy the historic monuments Bulgaria has to offer. Finally, foodies will enjoy delicious Bulgarian wine and yummy Slavic food.
Here's the map of the most beautiful places in Bulgaria that you can find in this post:
Sofia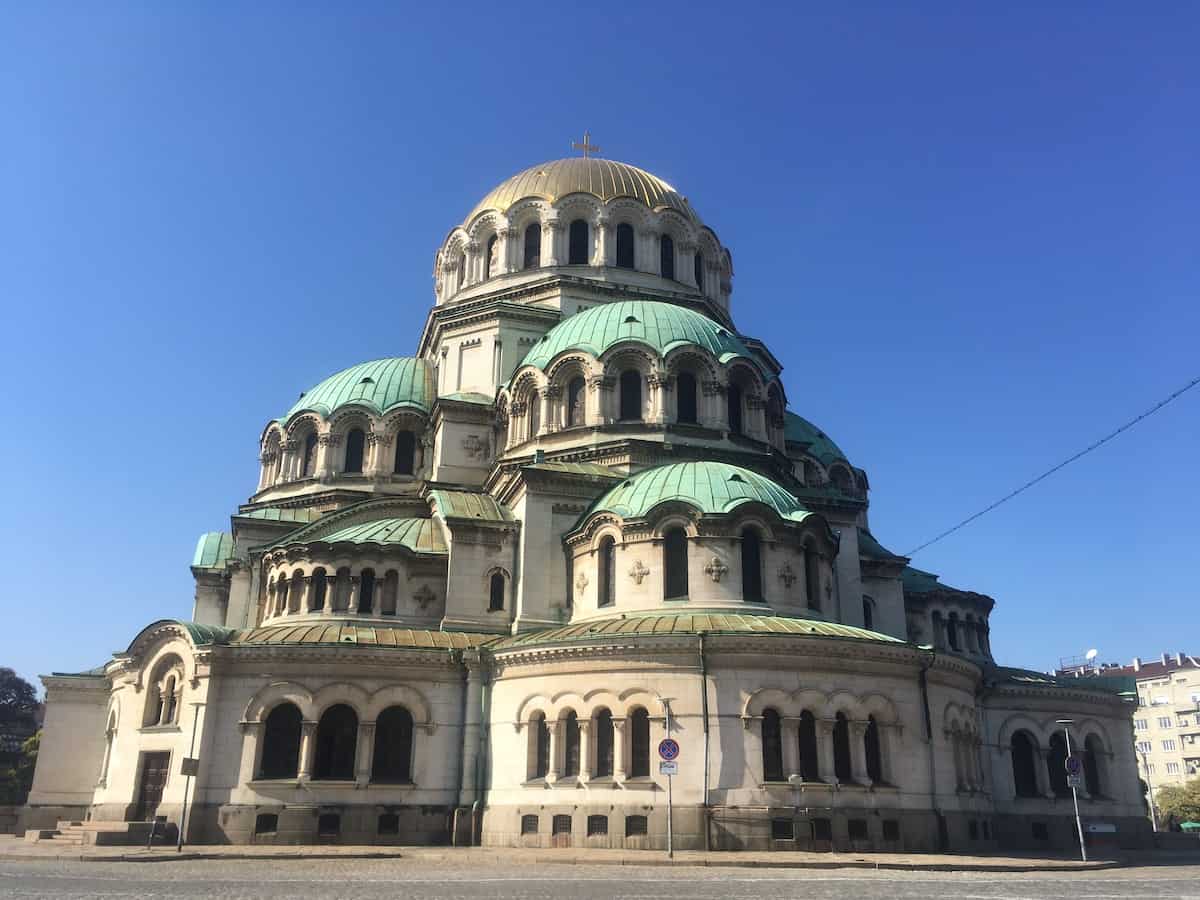 For most visitors to Bulgaria, everything starts and ends with the magnificent capital, Sofia.
Even in a country that boasts a huge variety of tremendous highlights (i.e. beaches, mountains, monasteries, etc.), this pleasant, photogenic capital manages to stand out among the alternatives. With a relaxed, welcoming atmosphere and an extremely walkable central area, Sofia is perfect for leisurely exploring and spectacular amateur photography.
Probably the most famous attraction in Sofia is the massive Aleksander Nevsky Cathedral, a gorgeously iconic symbol of Bulgaria and extremely picturesque from every angle.
Other highlights include the Boyana Church with its UNESCO World Heritage frescoes, the terrific remains of the Church of St. George, and the Roman ruins of the Amphitheatre of Serdica that sit in the center of urban Sofia like an amazing historical abscess.
Then, of course, there is the St. Sofia Basilica, a 4th-century masterpiece that gave the city its name and is the oldest active church in Sofia. The eerie tombs hidden below are definitely worth a look.
Wide and modern Vitosha Boulevard runs through the heart of the city and serves as the focal point for local life. Meanwhile, Sofia's quaintly classic tram system provides both cheap and convenient public transportation and great photo ops around every corner. Throw in a bevy of great parks and scenic plazas and Sofia is the kind of city that can stick with you long after you've left.
Plovdiv
Undoubtedly one of the most beautiful places in Bulgaria is the charming city of Plovdiv. Located to the south roughly 140-kilometers from the capital of Sofia, you can easily get there by car or by bus.
Plovdiv is recognized as Europe's oldest continuously inhabited city and is known for its rich cultural heritage. History lovers will enjoy learning about the Roman, Persian, and Ottoman influences throughout the city.
Explore the romantic pedestrian streets of Old Plovdiv, where you can admire the millennia-old architecture, Ottoman-era townhouses, and colorful buildings. There are countless iconic landmarks to visit, including the Dzhumaya Mosque, the Ancient Theatre of Philippopolis, and the Regional Ethnographic Museum.
Today, the Kapana neighborhood is the heart of the city and also its creative quarters. You'll find plenty of cozy cafes and restaurants, art galleries, as well as unique boutiques.
Check out Cu29 – this cafe/art gallery showcases new local artists from Plovdiv. Magura Street is a great place to pick up some local souvenirs, such as traditional Bulgarian belts and kukere masks. Lastly, be sure to enjoy some local wine and food during your visit. Some of the best restaurants include Pavaj, Raha Tepe, and Megdana.
Rila Lakes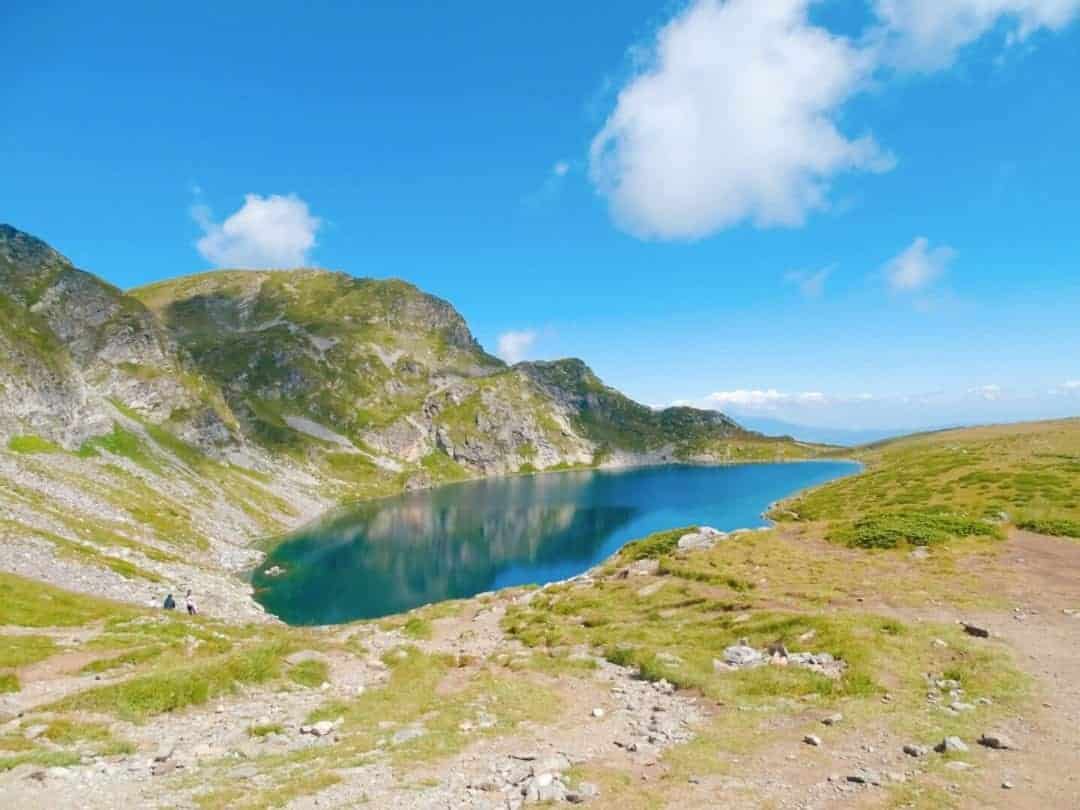 Rila Lakes is undoubtedly one of the best places to visit in Bulgaria due to its sheer beauty and fantastic hiking opportunities. Easily accessible as a day trip from Sofia, this collection of seven scenic lakes were formed by ancient melting glaciers.
You can hike around many of them, discovering lakes such as The Tear and The Kidney named after their distinctive shapes. Hiking in Rila National Park is a refreshing and beautiful experience due to its cooler elevated experience and crystal-clear springs that you can fill your water bottle from.
An easy hike is from the cable car drop-off point to The Kidney and back again. If you're keen for even more impressive views and don't mind a fairly intense incline, you can make it to the top viewpoint and look out over all seven lakes at once.
From Sofia, you can hike, take a public bus or a convenient return day tour to Rila National Park. It's recommendable to take the cable car from the parking area (€9 return) otherwise there's an extra 2-hour steep hike involved without any notable scenery.
Al Adzha Monastery
Al Adzha Monastery is a complex of buildings carved within the cave system close to Varna. It is 17 km both of the beautiful beach city and 3 km from the very touristy Golden Sand Beach Resort.
The monastery is surrounded by the Golden Sands nature park which makes the way and the experience very intriguing.
The cave monastery has been around since the 4th century A.D and the more conservative locals still consider this area and the hills around to be sacred.
The monastery, its multiple residential rooms, and three churches are painstakingly carved into an almost 40 meters high limestone rock which is then connected with external stairs. It really is a fascinating spot to marvel at human ingenuity.
The monks didn't just stop there. The monastery was named as such due to the Turkish word which means bright due to the brightly painted wall paintings and frescoes on its wall which mostly have been lost to time.
Al Adzha monastery is easy to reach by car or taxi and you can easily explore this beautiful wonder in a few hours. If you prefer to explore and enjoy the quietness that drew so many monks here go early in the morning and don't forget to put on some sturdy shoes with a good grip.
Pirin National Park
Pirin National Park is one of the most beautiful places in Bulgaria and a true paradise for hiking lovers. Encompassing the larger part of the Pirin Mountains, Pirin National Park is one of the three national parks in the country. Its highest peak is Vihren peak (2, 914), second highest in Bulgaria, and third highest in the Balkans. The park has been declared a UNESCO World Heritage Site in 1983.
Pirin is famous for its 118 glacier lakes, the largest and the deepest of them being Popovo Lake. In the area of Pirin Mountains, there are more than 1, 300 plants – rare, endemic, glacial relicts, and endangered. The oldest tree in Bulgaria is located in Pirin, too, Baikushev's pine, 1, 300 years old! While hiking, you can come across wild goats, falcons, and eagles.
For hiking lovers, there are many stunning trails across the national park. One of the most famous hikes is the one to the Vihren peak. Other interesting and panoramic peaks are Sinanitsa, Todorka, Muratov, Polezhan, Kamenitsa, and Dzhano, to name a few.
Most of the trails are signposted routes, well marked and you can easily follow them without worrying about getting lost. There are also several mountain huts and shelters in the Pirin National Park area where you can sleep, as well as get something to eat. Please note that some might not be managed during the winter. Even if they are not, they are left unlocked so people can use their facilities in case of emergency.
And while hiking is a great activity all year round, in winter, Pirin National Park is also an amazing ski destination. The town of Bansko that it's located at the foot of Pirin Mountain, is one of Europe's best ski resorts offering about 80 km of slopes.
Veliko Tarnovo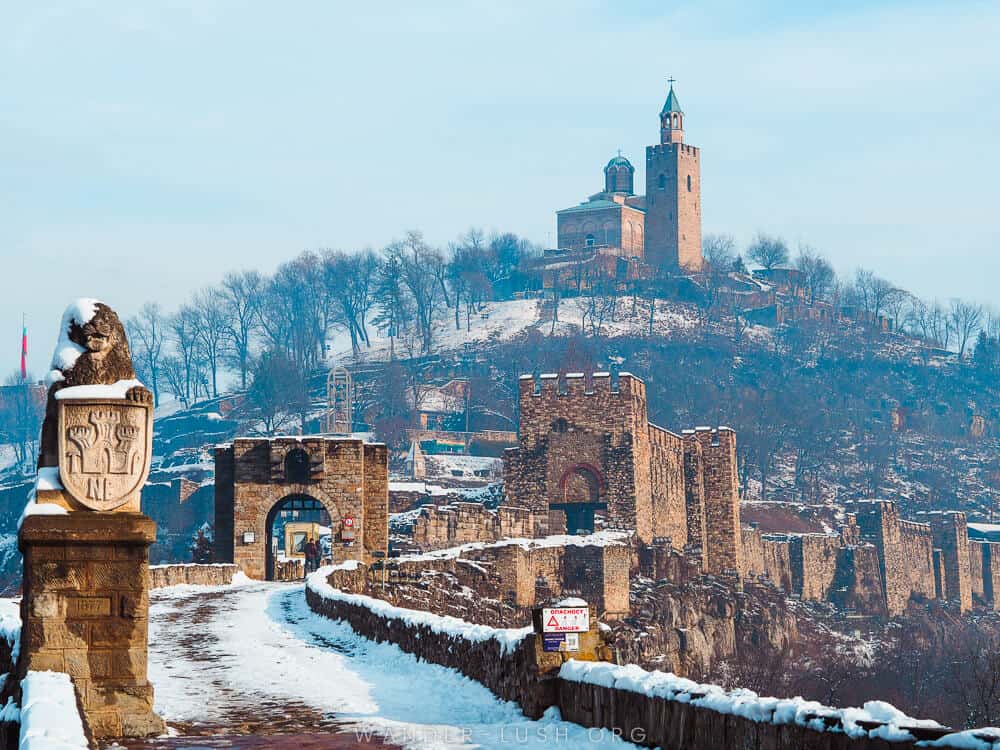 Veliko Tarnovo, the 'City of the Tsars', is a must-visit in Bulgaria. Its vernacular architecture and grand Tsarevets Castle make it an extremely picturesque city, especially in the wintertime when everything is cloaked in fresh snow.
Located in the country's north-west on the banks of the Yantra River, VT is easily reached by bus from either Sofia or Plovdiv in under 3 hours.
In the Middle Ages, Veliko Tarnovo was a major center of culture in Europe. For this reason, the city is flush with history and beautiful architecture. The old town, in particular, is known for its Baroque public buildings, cobbled streets, and ornate merchant's houses whose colorful steeped roofs creep up the hillside.
The grandest building – and main tourist attraction – in Veliko Tarnovo is Tsarevets, a fortified citadel that sits high on one of the city's three hills. Tsarevets was built during the time of the Second Bulgarian Empire and features a complex of churches, palaces, stone walls, and towers, all offering magnificent vistas of the city and river below.
For the best views of Tsarevets, head up the road to the small town of Arbanasi where you can look down on the fortress from the main road. For the prettiest views of Veliko Tarnovo itself, head to the main street in the upper town. Here, you'll find a row of restaurants and cafes, all with balconies overlooking the horseshoe bend in the river.
Melnik
Melnik is a vibrant small town in the Southwest of Bulgaria near the border with Greece. Officially, it's the smallest town in Bulgaria with only 385 inhabitants.
Bulgaria's most known wine is produced in Melnik – it's the heavy dark red kind, made here already during the Middle Ages and exported abroad. The town experienced the biggest boom from the 13th century on. You can find many examples of houses built during that era, as well as ruins of churches, which Melnik had 70 of! From the time of the nationalist movement, several stunning houses can be explored as ethnographic museums. Visit e.g. the 260 years old Kordopulov House of a local merchant.
You can taste the wine in many wine cellars that open their door to visitors. Every restaurant in Melnik is well stocked with local wine too since it's a point of national pride.
Melnik has another unique sight worth traveling for – the so-called Melnik pyramids. They are unique sandstone formations created by heavy rains and erosion, which did its work on the sensitive sand and clay materials in the ground. Up to 100m high and fully accessible to the public, they provide quite some adrenaline-filled views of the landscapes around. Near there you can also come to admire the medieval Rozhen monastery.
Rozhen Monastery is a tiny town in Melnik that has excellent sights. You can use such an opportunity to learn more about Bulgarian revival architecture and even taste their mouth-watering pastry. You need not worry about getting lost as you can book a private tour guide. Additionally, you will get a pick-up and drop off in the hotel you are staying in. It is advisable to check for the right weather and make bookings.
For further exploration, you will have a range of options to choose from. You can go on bus tours to other cities in Melnik. After wine tasting, you should consider visiting local restaurants and enjoy sumptuous food delicacies. You can also take a cultural tour, and a historical tour to learn more about the city's culture.
The Rhodope Mountains have excellent picturesque views. The booking fee is around $35. While there, you can both engage in activities such as kayaking, bike riding, and hiking and later on sit in a restaurant for local food and drinks.
Research on the various tours available and check for inclusions. Some tours will include breakfast, depending on how early you depart and also provide for lunch. They can also include entry fees. All this falls under the booking fee. Things they exclude include your expenses such as a medical emergency, tips, drinks, and flight tickets to and from your destination. In case of cancellation, you can get refunds.
You can get to Melnik from Sofia either by driving a car (2.5 hours) or hopping on a bus, which leaves every day at 2 pm and takes about 4 hours.
Balchik
You might have heard that Bulgaria has quite a coastline with many seaside resorts, but one of its jewels is a small town called Balchik. It's a port-town set on a few levels, it doesn't really have a beach but still receives a lot of tourists each summer.
Why? Mostly because of the Botanical Gardens and Queen Mary's Palace Complex.
For a brief time, between 1913 and 1940, Balchik and the northern part of the Bulgarian coast were part of the Romanian Kingdom.
Queen Mary of Romania fell in love with the town and had a summer residence built right by the sea. Balchik Palace and Bran Castle, the most famous castle in Romania, were her favorite residences. It is called a Palace, but it is a beautiful villa with both Bulgarian and Islamic influences.
The Queen had artistic inclinations, so Balchik also became a popular destination for the painters' community. Both Bulgarian and Romanian artists still frequent Balchik every year in search of beautiful landscapes.
The famous Botanical Gardens are part of the same complex. The terraced gardens have 600 different species, a rose garden at the lower level, a cacti area, and a beautiful tulips garden at the highest level.
The easiest way to visit the complex is to start from the higher entrance and make your way down level by level to the Palace.
Bansko
Bansko is a small mountain town located two hours from Sofia. Ideal for hiking and cycling during summertime, it's also a ski resort destination during winter. Bansko is definitely a destination for adventurers.
There aren't many indoor activities available in this small town. Lots of expats and digital nomads choose Bansko as a home base since it's affordable and close to the mountains. In fact, you can just walk up to the mountain from the town.
When you think of Bansko, imagine barbecues in the mountains, spa and sauna sessions, and relaxing times at the hot springs. Bansko may be a small Bulgarian town but you can experience the culture and try lots of outdoor adventures while you're there.
When in Bansko, you can try traditional Bulgarian food in local restaurants or opt for Bansko specialties such as Kapama, Banski Chomlek, or Starets. Every restaurant has a typical vibe and you can even enjoy some Bulgarian music during your meals.
On Sunday morning, head to the old town and visit the food market. You can get spices, pickles, fresh eggs, fruits, and vegetables there. You can also walk around the old town to purchase souvenirs or handmade goods.
Bansko should be on your itinerary especially if you're doing a road-trip across Bulgaria. You can also organize a transfer or take the bus to reach Bansko.
If you're looking for a charming beach town in Bulgaria far away from the craziness of popular resort beach towns like Sunny Beach and Golden Sands, which are often overrun by drunken tourists in the summer months, look south: to Sinemorets, specifically! Sinemorets is near the
best beaches in Bulgaria
and is quiet, affordable, and beautiful.
This lovely beach town is near the Turkish border — in fact, drive just 15 minutes to the small village of Rezovo and you can actually see Turkey and a large Turkish flag on the other side.
Sinemorets is a well-kept secret amongst Bulgarians (one I learned from living here in Bulgaria!) and it doesn't have much international recognition, but that's one of its best charms. While the town of Sinemorets is very small, there are several great restaurants serving fresh seafood.
Restaurant Horizont has the best fish soup on the coast, and Trastikite also has very nice seafood. There are also plenty of guesthouses, including the charming Guest House of Sinemoria, my recommendation for where to stay.
Sinemorets is surrounded by two beautiful beaches: Veleka Beach, which has a river running through it straight into the ocean, and Butamyata Beach. Both have small beach bars selling drinks, and Butamyata Beach has some restaurants as well as it is the more touristic beach.
If you're in search of a wilder environment, hike from Butamyata Beach to Lipite Beach, a clothing-optional quiet beach only accessible by foot. Another wild beach in the area is Silistar Beach located between Sinemorets and Rezovo, which is an absolute stunner.
Rila Monastery
Rila Monastery is one of the biggest attractions in Bulgaria and an easy and popular day trip from Sofia. The monastery, located around 120 km from the capital, is a place of great historical and religious value for Bulgaria and a UNESCO World Heritage Site.
It was named after hermit Ivan of Rila who lived in the nearby caves in the 10th century. Even if the first monastery was established here in the 14th century, the stunning building we can admire today dates to the mid-19th century when it was rebuilt after the fire.
The place is famous for its stunning external frescoes – they are bright, colorful, and rich in decorations, with some interesting themes like the devil walking with a man on a chain. Even if the complex is rather small, it is visited by around a million tourists each year.
Inside you can visit the Nativity of the Virgin church, the tower of Hrelja from the 14th century (the oldest building in the complex), and the History Museum. Just behind the monastery complex, you can find restaurants if you get hungry, there are also a few souvenir shops.
Keep in mind that this is still a working monastery with some 60 monks living there so visit the site with the respect. The easiest and affordable way to get from
Sofia to Rila Monastery
, besides the car, is by the organized transfer that will take you directly to the complex gate.
Pin For Later:
Did you enjoy this post about the most beautiful places in Bulgaria? Let us know in the comments below!