Tenerife Sightseeing – Top Things To Do In Tenerife In 3 Days
The mother gem of the archipelagic Canary Islands, Tenerife is its largest and most populated out of its seven groups of islands. Located off the coast of Western Sahara and Morocco, Tenerife promises eternal sunshine with its all year round tropical weather. There are plenty of tours in Tenerife offered by tourist agencies, from Tenerife walking tours, Tenerife food tours, or simply Tenerife sightseeing tours.
If you're wondering how to get to Tenerife, don't worry. Getting into the South Tenerife airport from any destination is a breeze with the Norwegian, TUI, Easy Jet, and Thomas Cook Airlines servicing the route. If you feel like taking a slower and more relaxed route, there is a ferry run by Transmediterrenea or a bevy of luxury cruises to choose from headed to the Islas Canarias.
Tenerife is a place where many Europeans choose to spend their winters in, so when it comes to things to do in Tenerife in winter you will be spoiled for choice on what do in terms of recreational Tenerife activities. We are sure that you will have fun in this bustling coastal town, with its nice mix of a party vibe and natural beauty, as much as we did.
This versatile island is surrounded by lush forests, breathtaking landscapes, hidden coves, and pristine beaches. There really is so much to explore and plenty of things to do in Tenerife, in this island paradise, so be sure to keep your camera ready to take a snap of the panoramic vistas and document your exciting adventures.
I have been to Tenerife Island several times now and each time it doesn't disappoint me. I made this three-day itinerary that covers the best places to visit in Tenerife to help travel junkies appreciate this place I have grown to love like a second home.
This schedule is perfect for travelers who have busy lives and thus have limited vacation time. On the other hand, if you have more free days, you can easily stretch the activities and make your stay in each site longer so you can relish the experience. How many days you'll spend in Tenerife depends on you, as the island offers plenty of things to do.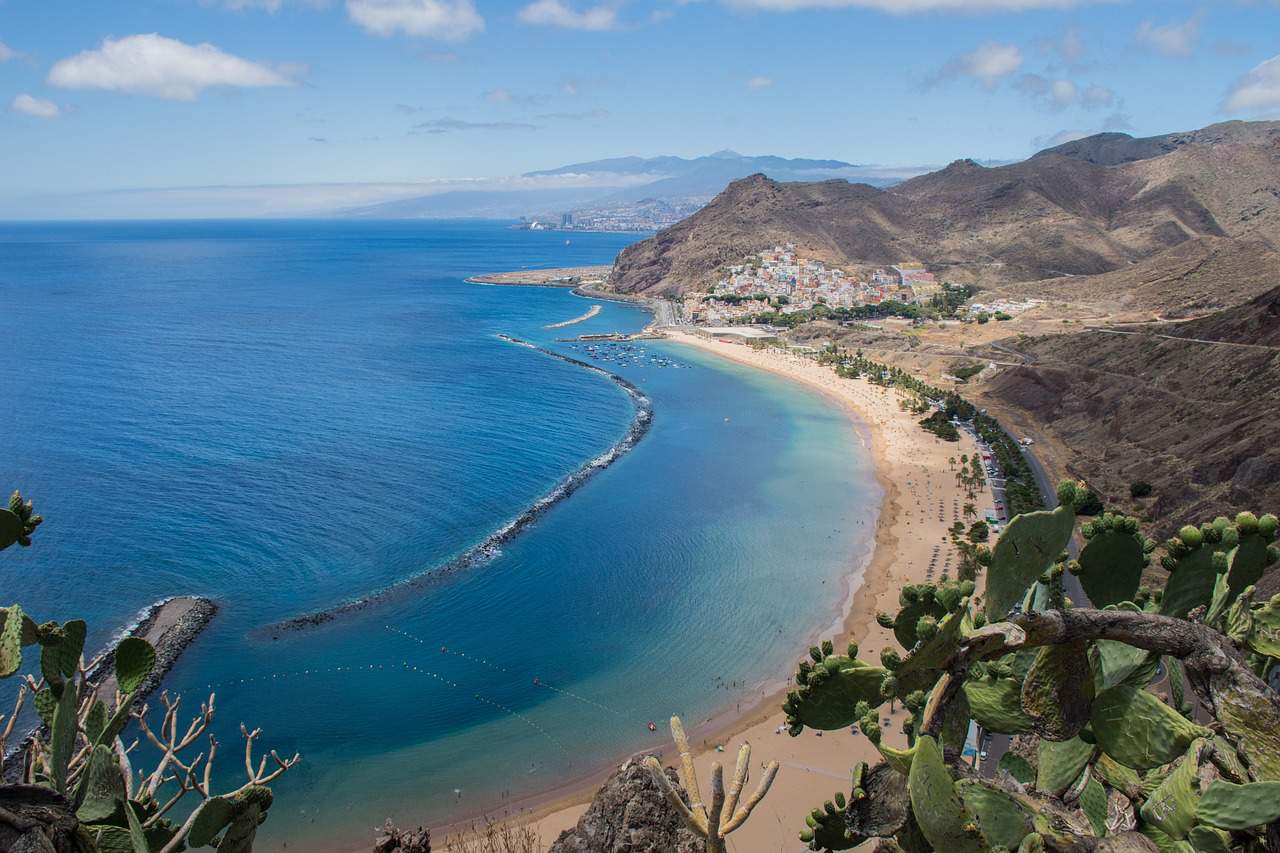 Day 1 of 3 Days in Tenerife Itinerary
1. Visit the Teide National Park
When in Tenerife, the Teide National Park which is the heart of the island is a must-visit for all who come to its shores. This park is the largest park on the island and is considered one of the most honored attractions being a proud Unesco World Heritage Site. It is the most visited location in the whole of Tenerife with close to three million people visiting the almost 19,000 hectares it occupies each year. Dubbed as one of the 12 treasures of Spain, the Teide National Park is home to the highest peak of Spain, the Mount Teide or Teide Volcano.
This outdoor beauty is best enjoyed by walking or hiking, with the many trails fit for different levels of fitness. If adventure is up your alley, you can easily opt to do mounting climbing. At night, stargazing is one of the must-dos because the fresh and pollution free atmosphere allows the spectacular night sky to shine. It's also one of the most romantic things to do in Tenerife for couples. You only pay extra if you choose to view it from The Observatory. And of course, picture taking is another must in the very Instagramable Los Roques De Garcia, which are interesting rock formations that run from the south to the north of the park. The most popular of these natural formations is the Roque Cinchado.
Getting There
Day trips to the national park are popular at various Tenerife tours. You can easily rent a car to go up the mountain if you are used to driving in steep and winding conditions. If not, hire service with a competent drive to get you there safely. Another option is to use the Titsa Bus Company and cable car route. There are several routes when using this option because it hinges on which part of the island you are coming from.
How Much Time to Allot
Since the park is huge with several different interesting sites to see and various activities to do, a day is not even enough to explore the whole place. A day or two would be best to be able to enjoy all of this park's amenities. However, if you are pressed for time, one whole day should be enough to cover all the main high lights.
Budget
The amount of money you'll spend hinges on what you want to do. The official Tenerife currency is Euro. If you choose to go there with a driver, expect to spend more than a hundred Euros per person. If you choose the Titsa Bus and Cable Car combo the price is 37 Euros. The cable car alone from the base of the mountains will set you back 27 Euros for adults and 13.5 Euros for children.

Insider Tips
As this is mostly outdoors, wear comfortable clothes that you can layer. In that way, if you get too hot, you can easily take off a layer to cool down. Don't forget to wear comfortable shoes. It is best to be hands-free as you go on your adventure, so a backpack filled with extra clothes, wipes for freshening up, a canister for water, and other personal essentials would be the best choice.
Remember: if you use the cable car and Titsa bus combo, make sure to come down the mountain earlier to catch the last bus at 4 pm. Do not get confused because the last descent of the cable car is at 5 pm.
2. Side Trip to See the Teide Volcano
Officially known as the Teide-Pico Viejo stratovolcano, this peak is the third tallest and largest ocean-island volcanic structure in the world. Its last eruption might have happened in 1909, but its jet puffs of steam from time to time make the world realize that it is still alive and active.
Another name for this volcano is the Teide Mountain, as it sits proudly in the Teide National Park. Spanning 3,718 meters in height, it is the tallest mountain in Spain. The unique atmospheric conditions that this mountain provides constantly change the textures of the landscape around it. Hardened lava flows and interesting rock formations are the typical sites to see in the area of Mount Teidi.
Getting There
Since this sits in the complex of the enormous Teide National Park, getting here is the same as in the aforementioned category. By car or by bus is the way to get to the Mount Teide Area. You can also book a guided tour to Teide Volcano. However, if you want to go up to the summit, you can either hike by foot if you're the adventurous sort or take the cable car.
How Much Time to Allot
If you're thinking of scaling the entire mountain by foot, then you better start early and plan to be there until early evening. If you're only there in Mount Teide for a quick photo op, then 2 to 3 hours should be more than enough.
Budget
Accessing the mountain by foot is free as you only have to rely on your own energy. However, a permit is required to hike it, which may cost you no less than 50 Euros. If you don't want to do it alone, you may need to hire a guide which will cost you around the same amount. The cable care leading to the summit is only 27 Euros for adults and 13.5 Euros for kids.
Insider Tips
Be sure to go there early because the views are breathtaking in all directions. One site is the Gran Canaria and the other site offer a look of La Plama, El Hierro, and La Gomera Islands. To note, paragliding is popular here in this mountain attraction with numerous lunch sits offering gear and guidance for a price. Restaurante Bambi near the base of Mount Teide is a popular place to get refreshments.
3. Santa Cruz de Tenerife
This is the popular capital city of Tenerife, sitting on the north-east coast of the island. It was once named as the best places to live by The Guardian. This port city has a rustic charm with its well-preserved old buildings that speak a lot about the town's culture and history.
The colonial Church of the Inmaculada Concepcion and the baroque-neoclassical Palacio de Carta are popular places to take snaps as a backdrop. The Museum of Nature of Man is situated in the Old Civil Hospital where there are interactive displays to keep you entertained. The most iconic building in this town is The Auditorio de Tenerife designed by Santiago Calatrava located along the Avenue of the Constitution.
Getting There
No matter where you are staying at in Tenerife, you can book a guided tour to Santa Cruz. There are two other ways to get here, either by plane or by bus depending on which area you are coming from. Noteworthy, there is a city view hop on hop off bus and train tour that can easily take you around the scenic spots of the town.
How Much Time to Allot
Seeing the iconic spots and taking snaps should only take about half a day. But if you want to do some other attractions, then prepare to stay longer.
Budget
Budget will depend entirely on the activities you want to do. Some museums around town such as the Military Museum is free of charge. The Parque Maritimo Cesar Enrique, which is a maritime museum, is only 2.5 euros to enter.
There is a Palmetum Botanical Gardens, which showcases one of the largest gardens in Europe focusing on palms, has a minimal entrance fee of 3 Euros. If you feel like swimming, then the very beautiful beach at Playa de las Teresitas is worth a visit.
You'll only have to pay for the fare to get there. This man-made paradise stretches for one long mile along the coast. There is a diving point here, which you can avail for a fee. You can even water ski or feed stingrays in the sea.
Insider Tips
Do not forget this. This is the best tip to remember regarding this town. It is a MUST see during the Carnival. It is the second largest carnival in the world next to Rio.
Day 2 of 3 Days in Tenerife Itinerary
1. Siam Park
This Thai inspired water park that opened in 2008 is a must-see for it is internationally-acclaimed status. Owned by Loro Parque and opened by the Princess of Thailand, this largest water park in Europe occupying 18 hectares is set against a unique backdrop of Thai-inspired architecture. From impressive water slides to meandering rivers, and numerous jet streams of water, an adventure awaits all those who enter its doors.
Getting There
This is located in the town of Adeje, in the South of Tenerife. It provides a free double-decker bus service. Guests can be picked up and dropped off in these three locations: Los Cristianos, Playa de las Americas, and Costa Adeje.
How Much Time to Allot
This park is open from 10 am to 6 pm all year round. Spend the entire time in the park to get the worth of the ticket price. With many things to do and enjoy, you won't feel the passing of the time.
Budget
Siam park one day ticket for adults is 38 Euros and child is 26 Euros. It is more budget-friendly to avail of the entrance and lunch combo with adults costing 52 Euros and the child costing 36 Euros. Skip the lines and book your tickets online.
Insider Tips
The world's largest dragon statue can be found in Siam Park. This also boasts of the largest man-made wave in the world so be sure not to miss it. Bring ample supply of SPF so that you don't get burned under the heat of the sun. Food and drinks are not permitted into the park, but you can buy them at their many cafeterias situated around the complex.
2. Playa Las Americas
After spending the entire day in Siam Park, head on over to the nearby Costa Adeje for the famous Tenerife nightlife. By the beachfront, there are restaurants and bars that offer delicious Tenerife food and cocktails to help you unwind.
If you're in the mood for something fancy, you can even opt for the famous Tenerife wine tour, where you get to taste the best wines Canaria has to offer. The most notable of the establishments in the Costa Adeje is strip is the Playa las Americas, which is a holiday resort that offers a club, lively bars, spas, and other relaxing amenities which you can choose from.
Day 3 of 3 Days in Tenerife Itinerary
1. Loro Parque
This park is one of the primary reasons that tourists go and visit Tenerife Island. This zoo bagged Trip Advisor's Traveler's Choice Award as the Best Zoo in Europe. On top of that, it also received the award for being the second best zoo in the entire world. And it's not hard to see why it garnered such prestigious awards! Its environment is nestled against a dense tropical palm grove, which really sets the ambiance of the zoo. It is home to a diverse collection of animals with around 350 different species. It is popular for its killer whale show and penguin arena.
Getting There
The fastest way to get to Loro Parque from Tenerife South is via the Express Bus Transfer to Puerto de la Cruz. This one-way express transfer takes 1 hour and 20 minutes. If you use the standard Tenerife bus tour, prepare to kill 3 hours on the road.

How Much Time to Allot
In the winter season starting on November 1, the park is open from 10 am to 5 pm. During the summer season starting on May 1, the park is open from 10 am to 6 pm.
Budget
Single entry adults cost 37 Euros, children 6-11 costs 25 Euros, and children 0-5 enter for free. Choosing the one with a bus transfer to Tenerife South with Express round way transfers are 50.50 Euros for adults, 33 Euros for children 6-11 years old, 19 Euros for 2-5 years, and free for 0-1 year old.
Skip the lines and book your tickets to Loro Parque online.
Insider Tips
This park is best-enjoyed hands-free so be sure to take a back bag or a cross body bag with you. Since animals abound, insect repelling lotion will be a good idea. Remember to dress in layers, so you can easily adjust to the environment.
2. Puerto de la Cruz
After spending the entire day in Loro Parque, head on over to the nearby Puerto de la Cruz for some sightseeing. This area is known for its dark volcanic sand beaches. By the ocean, Lago Martianez is a popular saltwater pool complex that you may want to enjoy. Rustic architecture abounds from the 17th century Customs House to an 18th century Bateria de Santa Barbara. Take quick pictures with these iconic gems before dinner.
Accommodations are not a problem in Tenerife. For budget travelers, there are many to choose from the popular ones being Ashavana Hostel and Casa Blanca Tenerife Sur. For those who have a budget to splurge on luxury living, you can't go wrong with the popular Ritz Carlton at Abama. For couples looking for romance, Hotel San Roque or Hotel Suite Villa Maria is the place to be. With this extensive guide, all you have to do now is pack your bags and join us in one of my favorite Canary Islands—Tenerife is nothing short of terrific.
Author: Nick Dean
Pin For Later: