Top Things to Do in Mai Chau Valley & Travel Tips
After spending a few weeks in Hanoi, we wanted to see something more than just this vibrant city. After a quick research, we stumbled upon Mai Chau Valley located in Hoa Binh province in Northern Vietnam. This rural area seemed like a perfect place to relax and get to know the local people. We loved the photos of the rice fields, that's why instantly decided to make a trip from Hanoi to Mai Chau Hoa Binh. The village is located only 3-4 hours of driving from the capital of Vietnam, so we agreed on staying there for one night.
There aren't many tourists in Mai Chau and we really loved it! Most people prefer to visit Sapa, Ho Chi Minh city, Mekong Delta or Ha Long Bay when they are visiting Vietnam.
Mai Chau is not that crowded and that is one of the reasons why it's an awesome destination. You can watch people working on the rice fields, cows or oxen walking with no chains or herdsmen's supervision. What can be more beautiful than meeting with locals? With people who are friendly, smiling and happy that tourists are visiting their village?
We really loved this place and we hope to come back there in the future. There are some things that you need to know before going to Mai Chau tough. Below you will find the best things to do in Mai Chau Vietnam, recommended places to stay, Mai Chau facts, and much more.
What's the best time to visit Vietnam and Mai Chau?
May Chai weather is different throughout the year. It may get really cold and rainy at Mai Chau valley, that's why it is really important to choose the right time for traveling there.
If you like hot, sunny weather, visit Mai Chau on October, November, March, April or May.
June to September is also a good choice but because of the monsoon season, it may be raining very often.
December, January, and February are the coldest months to visit Mai Chau. But don't worry if you plan to go there in winter! We were in Mai Chau in the middle of January and from the picture below you can see that it was pretty warm.
Remember that the valley is beautiful all year long but not every weather in Mai Chau is good for biking or hiking.
What to Do in Mai Chau Vietnam?
Buy local products
Mai Chau village is charming and idyllic. People living there are friendly and nice. We, tourists, love places like this. That is why we should support their local economy and culture.
Mai Chau with Starbucks, McDonald's and shopping malls won't be the same. It will lose their charm and beauty…
Buying things like hand-made scarves from local women is a great way to support the Mai Chau community.
Go biking
For us, Mai Chau is best seen by bike. Morning cycling through the rice fields was one of the best Mai Chau activities that have tried. Most hotels have free bikes, so you don't need to worry about getting them. There are many Mai Chau biking tours available as well.
You don't need to be fit for cycling, as the land is quite flat in the village.
Book your Mai Chau bike tour in advance—> here.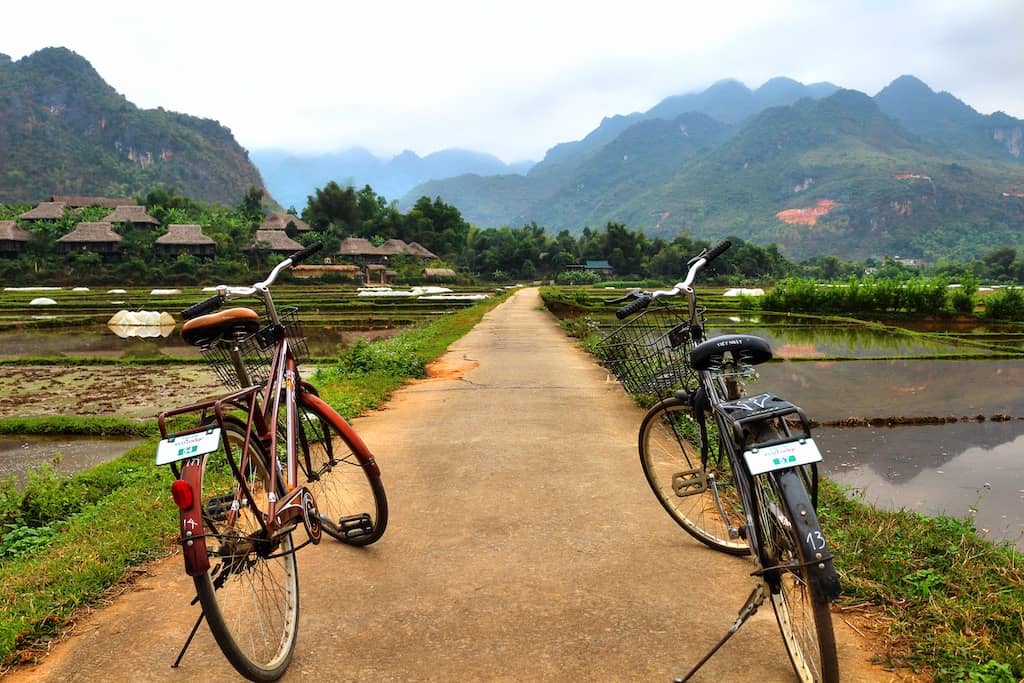 Go hiking or trekking
Mai Chau is where you can take some of the best hikes in Vietnam. Wandering around the rice fields and local villages (Cun Pheo, Ban Buoc, Hang Kia, and more) may be a highlight of your trip to South East Asia. You can also take a Mai Chau trek to the mountains.
If you have enough time, visit Chieu Cave (1,000 steps cave), Cuc Phuong National Park or Pu Luong Nature Reserve.
See recommended trekking Mai Chau tour–> here.
Try local food
Mai Chau people are descendants of immigrants from Thailand. Two main tribes White Thai and Black Thai are the biggest populations of Mai Chau.
We are totally crazy about Thailand and Thai food, that's why we loved everything we ate in Mai Chau.
Rice, noodles, and soups are delicious there. You should also try Vietnamese oranges from the local orchards. They are so sweet and tasty! They also don't have any preservatives that make them really healthy.
Take as many photos as possible
The valley is a great spot for photography lovers. Or even for those who don't know how to take a good photo. You don't need to have any skills, Mai Chau is beautiful enough that every picture you will take there will be outstanding.
Mountains, rice fields and the local villages are just calling to be explored!
If you are a social media freak (just like us), buy Vietnam SIM card to be able to share your photos any time you want. It doesn't cost much (less than $10) and it's really useful.
It is not difficult to find 3G in Mai Chau but LTE or 4G is something you should forget about.
Take a photo of the valley from the above.
The village of Mai Chau is situated in the valley. When going from Hanoi, you should stop on the top of the mountain before going down to the village. It's where you can get the best Mai Chau valley view.
Ask your driver to stop when you see the beautiful view like on the picture below.
Where to stay in Mai Chau?
It is really important to choose the right place to stay in Mai Chau. Here are the recommended accommodations:
For budget travelers
Mai Chau homestays are probably the most popular places to stay in the village. If you are looking for a Mai Chau hostel and you are traveling on a budget, consider staying at Little Mai Chau Home Stay. A single bed in the dormitory costs there less than $10 for a night. Double room is slightly more expensive, about $15.
Check out the latest prices for Little Eco Homestay Mai Chau–> click here.
For a family/group of friends
If you are traveling in a group, check out Sol Bungalows Mai Chau. For now (April 2019) they offer the biggest Mai Chau villas that can accommodate up to 6 people.
Check out the latest prices for Sol Bungalows Mai Chau–> click here.
For luxury travelers
Our choice was Mai Chau Ecolodge Vietnam, mainly because it's located in the middle of the rice fields. It's was our first stay in a place like that. We didn't even know what is eco lodge. It turned out to be an accommodation/hotel that doesn't impact the environment that it's located in. In this case, Eco Lodge Mai Chau haven't destroyed the rice fields but became a part of them.
We absolutely loved resort Mai Châu Ecolodge (although the lodge is pretty big, they don't like to be considered as a 'resort')! It is both luxurious and eco which is a very rare combination.
All the bungalows are 100% natural. They are mainly built of wood and stone. The main goal of Mai Chau Ecolodge Hoà Bình is to support the local economy and take care of traditions.
If you will be traveling during the hot season, you can also use the lovely Mai Chau Ecolodge swimming pool to relax even more.
Check out the latest prices for hotel Mai Chau lodge—> click here.
For everyone
Mai Chau Nature Lodge (aka Mai Chau Nature Place or Mai Chau Sunrise Village) has all you can possibly need from a perfect accommodation. It's quite similar to Mai Chau Eco Lodge but it's cheaper, and a bit less luxurious. They offer single beds in the dormitories and private rooms as well. Mai Chau Valley View hotel or Mai Chau Sunset Boutique hotel are other places worth recommending.
Check out the latest prices for Mai Chau Nature Lodge–> click here.
You can also check other hotels in Mai Chau area:

How to get to Mai Chau from Hanoi?
There are many ways to get to Mai Chau. Here are your options:
1. Bus Hanoi Mai Chau
If you want to save your time and avoid scams, book your ticket online. We've been ripped off in Vietnam way too many times to risk taking a random bus Hanoi to Mai Chau. When booking online, the ticket costs approximately $17, and the journey takes about 5 hours. If you change your plans, you can get a full refund up to 24 hours before the journey.
Save your time and book your bus from Hanoi to Mai Chau online–> here.
2. Private transfer Mai Chau from Hanoi
This is the option we chose. It was really convenient! We've been picked up directly from our hotel and arrived to Mai Chau after about 3,5 hours. The next day, we traveled by a private car from Mai Chau to Hanoi as well.
The cost is approximately $100, one way. You don't pay for the number of travelers but for the car. If there is four of you, it will be just $25 per person, $8 more than for a bus.
Avoid the hassle and book your private transfer from Hanoi to Mai Chau–> here.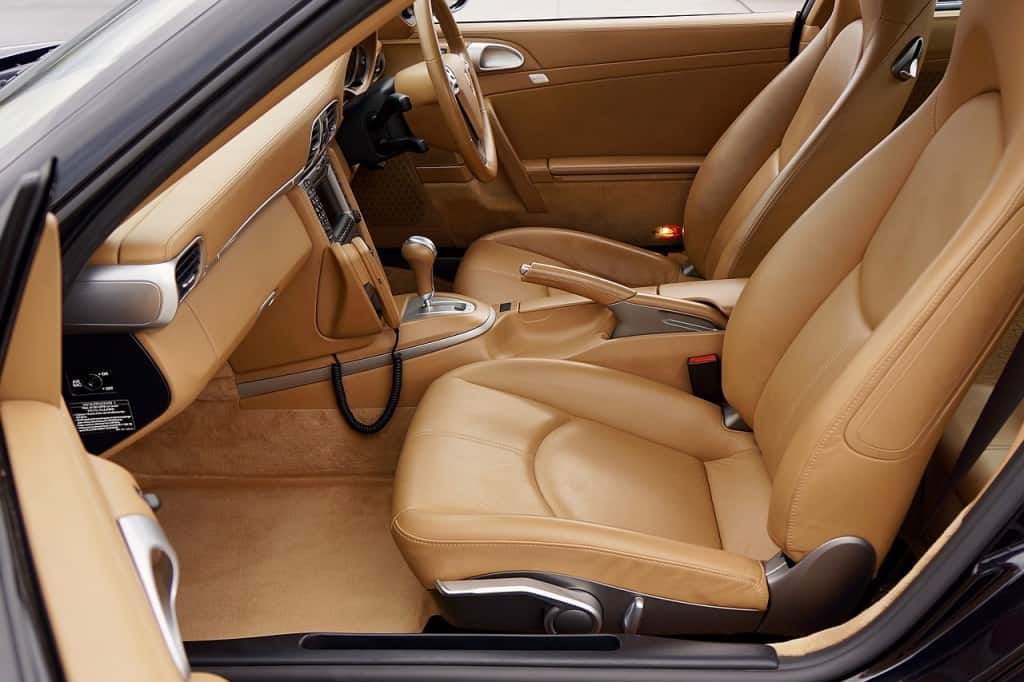 3. Mai Chau tour from Hanoi
You don't need to organize everything by yourself. There are many Mai Chau tours from Hanoi available. Here are the recommended ones:
Mai Chau Day Trip from Hanoi
It's the cheapest option although, we think Mai Chau deserves more than just a few hours. It's good to stay there for at least one night. If your time is limited though, this trip is worthwhile.
Book your Mai Chau tour 1 day online–> here.
Mai Chau 2 Days 1 Night Trip from Hanoi
This tour is a perfect combination of Mai Chau trekking, sightseeing and relaxing. You will have a chance to meet with local people, explore the rural areas of Mai Chau, and get back to Hanoi the following day.
Book your Mai Chau Hanoi 2 days 1 night online–> here.
Mai Chau 3 Days 2 Nights Tour from Hanoi
If you want to truly relax, spend 3 days in Mai Chau. You will have a chance to stay with a local family, cook with them, and watch their everyday life. The activities during this tour are awesome, they include fishing, farming, and trekking.
Book your Tour Mai Chau Hanoi 3 days 2 nights online–> here.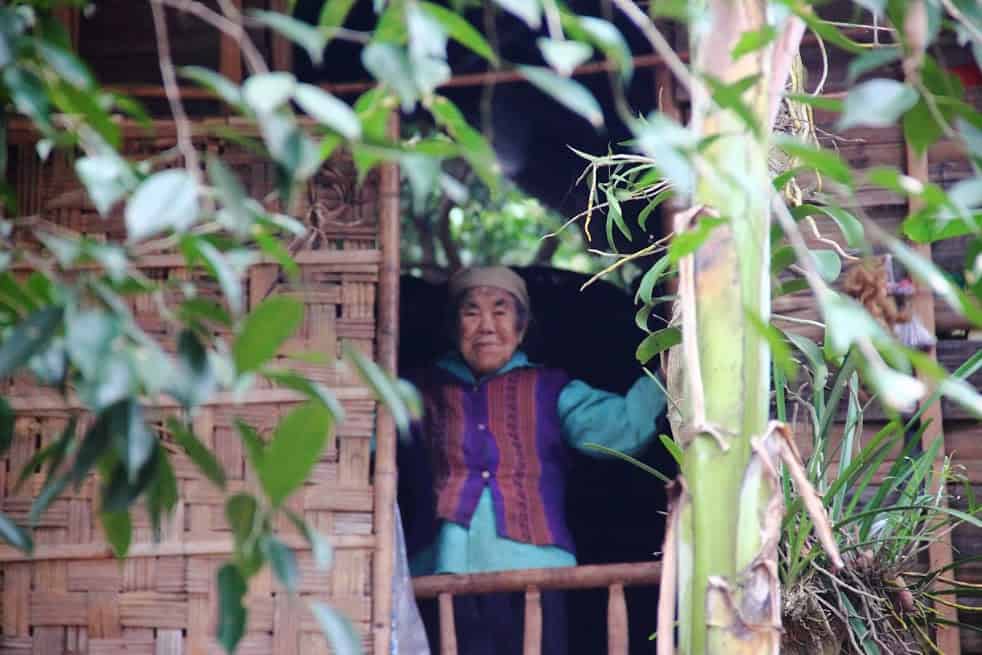 What to pack for Vietnam Mai Chau?
The most popular thing to do in Mai Chau is cycling and hiking, so be sure to pack comfortable clothes.
If you are traveling during the hot season, take sun-cream and hats. Sun may be very strong in Mai Chau.
During winter, you will need a jacket or sometimes even a hat, scarf and gloves.
Sunglasses will be useful all over the year, especially if you are planning to spend a lot of time outdoors.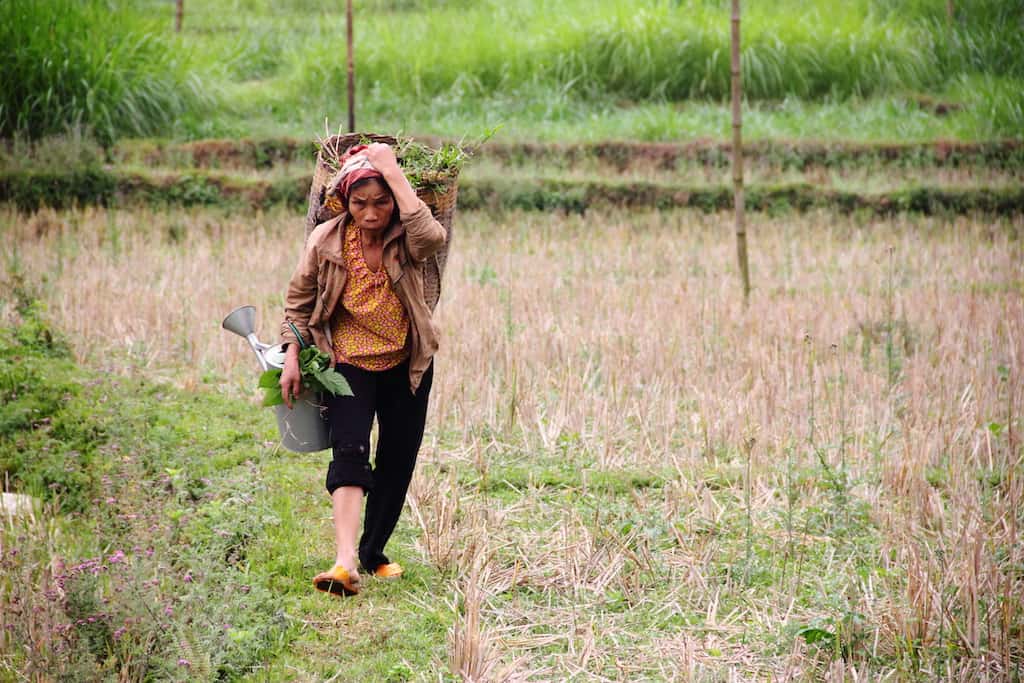 Mai Chau Facts
When you are traveling to a new place, it's good to know something about it. Here are the most important Mai Chau facts:
The population of Mai Chau is 48,570.
Mai Chau district covers an area of 520 km² / 200 square miles.
Mai Chau is located 135 km/ 84 miles from Hanoi.
And 65 km / 40 miles from Hòa Bình, the capital of the province.
Mai Chau is situated 400 m / 437 yards above sea level.
There are 7 Ethnic Minority groups in Mai Chau, including White Thai, Zao, H'Mong, Muong, Hoa, Tay, and Viet.
Until 1993 Mai Chau was an isolated farming community, not visited by tourists
The lowest temperature recorded in Mai Chau is 5,7ºC (42.26 °F).
Mai Chau is situated 250 km / 155 miles from Vietnam's highest mountain- Phan Xi Păng/ Fansipan (3143 m/ 10 312 ft above sea level).
Mai Chau borders were established in 1957.
There are 4 main villages that are the best to visit in Mai Chau: Na Tang, TòngĐậu, Cha Long and Van villages.
Mai Chau Valley Vietnam Travel Tips
Country
Vietnam
Currency
Vietnamese Dong (VND)
Weather Mai Chau
Hot & sunny--> October, November, March, April, May
Rainy--> June, July, August, September
Cold--> December, January, Ferbuary
Best Mai Chau tours
Search for the best deals here.
Best Mai Chau hotels
Find your romantic Mai Chau accommodation Booking.com .
What to pack Vietnam?
Clothes suitable for the weather, passport, Multicurrency Card.
Vietnam sim card
Buy online here.
VPN Vietnam
Buy online here
Travel insurance Mai Chau Vietnam
The best one is by World Nomads.
Take enough medicines.
Mai Chau is a small village, so don't expect to find a doctor or a good drug store there. The nearest hospital where they speak English is in Hanoi, 4 hours drive from Mai Chau.
Take all the medicines you may need to use. Be prepared for everything! Painkillers are must-have. Remember that the most common sickness for tourist in Asia is stomach illness. Take some antidiarrheal and anti-emetics drugs just in case.
Have enough time.
We have been told that Mai Chau is pretty close from Hanoi. We thought that it will take 3 hours to get there.
But… of course, it took longer. There was a traffic jam and we made some stops on the way. At the end of the day, it's South East Asia! Everybody has time for everything, and that's what is beautiful about it. Don't rely on the scheduled time. If you need to be back in Hanoi at the exact time, come back one day earlier to avoid unnecessary stress.
Take enough cash.
If you rely on paying by card or withdraw a little amount of money every day to cover your expenses, you will be disappointed. It's hard to find ATM in Mai Chau Vietnam area, so bring cash to avoid the hassle.
Mai Chau valley Vietnam is arguably the most beautiful place in the country. If you want to see stirring rice fields, tranquil scenes and the real everyday life of Vietnamese people, you should definitely go there. If you wonder whether to go to Mai Chau or Sapa, you should think first about your expectations. Mai Chau is a hidden gem, a non-touristy place. If you want to experience something unique, that should be your choice. Sapa is similar but it's getting really crowded recently. It's also a bit more expensive.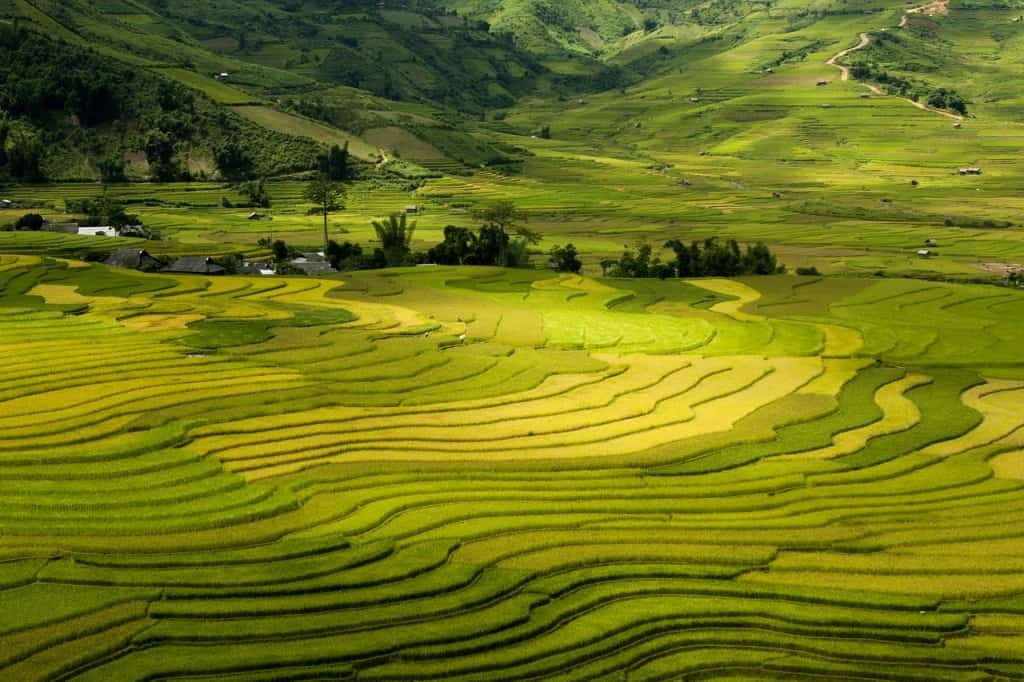 We fell in love with Mai Chau and has been dreaming to come back there ever since we left. It is so different than hectic and busy Hanoi. It's a place where you can unwind, unplug, relax and forget about the worries of everyday life. Be sure to visit this wonderful place during your stay in Vietnam.
Pin For Later:
Disclosure: We want to thank Mai Chau Ecolodge for a complimentary stay. All opinions presented in this post are honest and our own.