How to bargain in Vietnam? Best tips.
How to bargain in Vietnam? Not many travellers are good bargainers – let's face it. We all tend to pay whatever we are quoted without even trying to haggle. In fact, it's not an easy task and it requires a lot of different skills that not many possess. You have to know how to approach the seller, how to talk to him/her and how to move your body/gesticulate in order to lower the price. 
Unfortunately, Vietnam is the land of it. If you don't know how to fight for each dong, then you may end up spending way too much money than you were planning. The good news is that it's a part of Vietnamese culture so everyone feels satisfied and privileged when a traveler at least tries to bargain. Moreover, it does not take much time and you have to keep smiling to make the whole process nice and smooth. At the end, you will make your dreams come true and be proud of lowering the price sometimes 10 times. 
In this post I am sharing a few easy, but extremely important, haggling tips so you know how to start your experience when visiting Vietnam:
Tip 1: Learn basic Vietnamese words
This helps a lot when replying to "Hello! Hello! Wanna buy watch? Only $10!" Knowing at least 3 words in Vietnamese can make the seller impressed by your language skills and willingness to learn their language. Thus, write done a few phrases such as "Hello", "Too expensive", "How much?" and practice a lot when bargaining. 
Tip 2: Your approach
Your approach towards locals is extremely important here. Be friendly, respectful and keep smiling, but at the same time stay confident. The reason being, locals don't like cocky attitude, but they love confident and friendly travellers. You need to always remember to respect the local culture. One of the interesting facts about Vietnam is that Viets eat very loud (munching and belching is normal here). Even though it may be disgusting for you, you need to remember that you are only a guest in their country. You need to get used to the local customs.
Tip 3: Check how much locals pay
When walking around the local market, make sure you pay attention to what locals pay (it's important to learn the numbers in Vietnamese). Keep observing locals. That will give you an idea of how much you should be paying and how much you are asked to pay. Most of sellers sometimes feel awkward and embarrassed for trying to rip off foreigners, so they might either give you the same price or even lower it down a bit.
Tip 4: Always pay the exact amount of money you are asked for
This is very important! Remember to always pay the exact amount of money that is quoted by the seller. No more, no less. It's typical for locals in Vietnam to give you the wrong change. Why? It's very easy to confuse 10.000 with 100.000 dong notes, especially when you get distracted by locals. Thus, checking your change twice is a very good idea. 
Tip 5: Don't argue
If you don't agree on the offered price, just walk away and say goodbye. Once you start arguing, nobody in the market is going to serve you. What is more, they will call you names (in Vietnamese) and look at you in a very disrespectful way.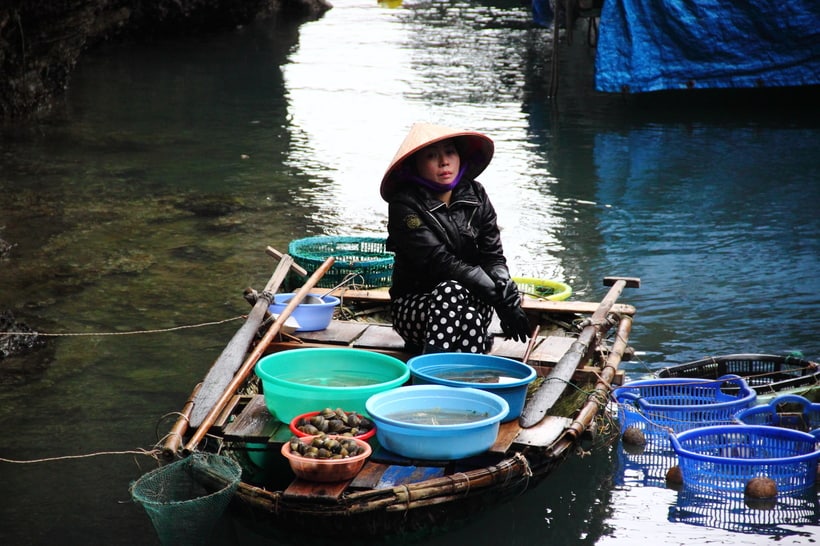 If you don't like bargaining, then you may head to local supermarkets where you can see the prices. No haggling there. It takes some time to get used to it, but it's a nice experience and adventure that you will remember forever!
Disclosure: Yay for transparency! Some of the links in the article are affiliate, which means that if you book something by clicking on them, we will get a small commission with no extra cost to you. Your support helps this blog going.