Planning A Trip To Vietnam: 50+ Expert Vietnam Tips for Beginners
Planning a trip to Vietnam? Good for you! This country for sure has a lot to offer to everyone. However, there are some things worth knowing before traveling. Check out this ultimate guide with Vietnam travel tips to make sure you will have a trip of a lifetime!
Basic Things To Know While Planning A Trip To Vietnam
What Are The World Heritage Sites In Vietnam?
The most popular world heritage site in Vietnam is Halong Bay.
The others are:
Hội An, Huế,
the Imperial Citadel of Thang Long,
Mỹ Sơn,
Phong Nha-Kẻ Bàng,
Citadel of Hồ Dynasty
Tràng An.
What Are The Most Useful Vietnam Travel Tips?
Count your money carefully!
Vietnamese often inflate the prices for tourists. You will probably be charged double or triple of what you should have if you are not careful enough.
How Long To Visit Vietnam?
It depends on where you want to travel and what is your budget. If you have enough money for plane tickets, you can see the best places in Vietnam in 2 weeks.
If you plan to travel by public transport (bus or train) one month is a minimum.
What Is Vietnam Electrical Plug?
Vietnam has a traditional 220V – 240V plug. It is used in most European, Asian, Afrian countries and Australia.
Speaking English In Vietnam. Do Vietnamese People Speak English well?
It depends. But mostly yes, almost everyone knows the basics of the English language. You probably won't have any problems with communication.
What Are Vietnam Visa Rules?
For most countries, Vietnam has no visa-on-arrival. The first option is to get it in the Vietnam Embassy in your country.
The second and more convenient choice is to apply for visa online. You will pay online and get the approval letter that will allow you to receive a visa on arrival.
Vietnam Visa Extension. How To Extend Vietnamese Visa?
It's actually pretty simple. You can do it in big cities like Ho Chi Minh or Hanoi. All you need to do is pay. If you have a monthly visa, you can extend it for another month. If you have a visa for 3 months, you can extend it for another 3 months.
It is impossible to stay in Vietnam longer than that period of time. You can extend visa twice, so you will have to leave the country, apply for the new visa and then come to Vietnam again.
Where To Buy Made In Vietnam Products?
To be honest, you can buy them everywhere.
Vietnamese people are very good sellers, so they will offer you something all the time.
Vietnam – DIY Or Via Travel Agency?
Definitely do it yourself! You will be able to see more and get to know the local culture.
It is safe to travel through Vietnam, so you have absolutely nothing to worry about.
When To Visit Vietnam?
Vietnam is beautiful all over the year, so any time is good! The best time to visit this country depends on where exactly you want to go. The weather is different in the south and in the north.
What are the perfect months with good weather everywhere? March, April or May.
What is Internet Speed In Vietnam?
Surprisingly good! The Internet works great everywhere in Vietnam.
How To Use Mobile Internet, Local SIM Card And Cell Phone In Vietnam?
It's very easy. You can buy a local SIM card everywhere in Vietnam (including airports). The seller will always help you to change the card and teach you how to use it.
Money In Vietnam
What Are The Prices In Vietnam?
Vietnam is one of the cheapest countries in South East Asia. The price of accommodation and food is really low. For a hotel with good wifi, AC and private bathroom in Hanoi, you will pay about $20 for a night.
A meal would cost $2-$3. One of the most important Vietnam travel tips is that this country is good for a party- the beer, alcohol, and cigarettes are very cheap.
How Much Money Will I Need In Vietnam?
It depends on how long are you going to stay in this country and what are your requirements. Vietnam is very cheap. You can easily find a double room with private bathroom for $20. A bed in a dormitory would cost about $5.
If you want to travel on a budget, you will need about $15-$20 for a day.
In Which Currency Do You Pay In Vietnam? Should I Pay In Dollars Or Dong?
You can pay either in Vietnamese dong or American dollars. It really doesn't matter, these two currencies are acceptable everywhere in Vietnam.
Keep in mind that it's officially illegal to pay in other currency than dong in Vietnam. almost nobody cares about this rule though.
Money In Vietnam – Cash, Cards & ATMs
ATMs are available everywhere in Vietnam. It's safe to withdraw money directly from your bank account.
Most places (hotels, shops, restaurants) accept credit card payments. But not all of them! It's always good to have some cash with you.
What Is ATM Withdrawal Limit In Vietnam?
It depends on the bank. It's about 8 million dongs (about $350).
Transportation In Vietnam
How To Get Around Vietnam?
Open Bus Vietnam is probably the most convenient way of getting around Vietnam. It works like a hop on hop off bus.
You can stop in one city, explore it and then take another bus to go somewhere else. Brilliant!
How To Get To Vietnam?
The easiest and most convenient way is to travel by plane. There are plenty of international flights to Vietnam. The two biggest airports are in Hanoi and Ho Chi Minh City (HCMC/ Saigon).
You can also travel to Vietnam by bus or train from neighboring countries like Cambodia, China or Laos. It's a cheaper option but not as comfortable as a plane.
What Are Taxi Fares In Vietnam?
In a perfect world, taxi fare would be the same everywhere in Vietnam and there will be no scams. Unfortunately, it's not how it works in the real world.
Taxi fares are different and not every taxi driver would use a meter to give you the best price. One of the best Vietnam travel tips is to always set a cost of the ride before you get to a taxi. And don't forget to bargain.
What Is Online/e-ticket Booking System For Vietnam Railways?
it's very easy to buy a train ticket online in Vietnam. You just need to visit this site, choose the date, the route, and the seat. Payments are also processed online.
What Is The Best Location In Vietnam?
That's a very difficult question! If you want to travel off the beaten path, head to Mai Chau and Northern Vietnam in general. It's a hidden gem of Vietnam and only a few tourists visit this place.
If you are a digital nomad or simply want to experience Vietnam city life, head to Hanoi or Ho Chi Minh. Be sure to visit Halong Bay and Sapa as well.
How Is The Traffic In Vietnam? It Is Safe When Travelling By Bike Or Motorbike?
Traffic jam is a huge problem in big cities (Hanoi, HCMC) of Vietnam. I wouldn't recommend anyone to try to ride a bike or motorbike there.
It's a good idea to use these modes of transport in less crowded places like Halong Bay though.
Safety In Vietnam
Vietnam Travel Agencies – Can I Trust Them?
Yes, you can. Vietnam is like any other country in the world, so you probably won't have any bad experience in using travel agencies' services.
What Are Vietnam Popular Scams?
Unfortunately, scams are very common in Vietnam. The most popular is doubling or tripling the price for tourists. So always remember to bargain in Vietnam!
Is It Safe In Vietnam?
Vietnam is a safe country. Unfortunately, pickpocketing is quite common in Saigon, Hanoi, and other touristic areas.
What Do You Think About Keeping Valuables In Room in Vietnam?
I think it's fine. I left valuables in our hotel rooms and nobody robbed me. Of course, it's always a good idea to keep everything in safe deposit boxes.
Things To Do In Vietnam
What To Do During Two Weeks In Vietnam?
It depends on what is your budget. If you have enough money, you can book domestic flights in Vietnam to be able to travel fast. Traveling across the country is too time-consuming for such a short period of time.
We have been in Northern and Southern Vietnam and we definitely like North more! Hanoi, Sapa, Mai Chau are beautiful places and (in my opinion) much better than Mekong Delta or Ho Chi Minh city.
What Is The Best Place For a Honeymoon In Vietnam?
Definitely northern Vietnam: Mai Chau or Sapa. These are very relaxing places, great for the honeymoon.
What To Do In Hanoi?
1 Day In Hanoi
Spend your time in an Old Quarter area. Try local food, visit Ho Chi Minh's Mausoleum and Vietnamese Women's Museum.
3 Days In Hanoi
Here's where you can go:
Ho Chi Minh's Mausoleum
Vietnamese Women's Museum
Museum of Ethnology
See the Puppet show at Thang Long Water Puppet Theater
Temple of Literature and National University
Hoa Lo Prison
7 Days In Hanoi
A week is a lot of time in Hanoi. You will be able to see all the best places in Hanoi. You should Visit Ho Chi Minh's Mausoleum, Museum of Ethnology and Vietnamese Women's Museum. In the evening see the Puppet show at Thang Long Water Puppet Theater.
Visit a Temple of Literature and National University. Go to Hoa Lo Prison. Take awesome pictures od Ho Chi Minh Presidential Palace Historical Site.
Where Is The Best Place To Enjoy Coffee in Ha Noi?
There are many awesome cafes in Hanoi, especially in the old Quarter Area. I created a list of our favorite in a separate post. You can read it here.
What To Do In Ho Chi Minh City?
1 Day In Ho Chi Minh City
See the Notre Dame cathedral and stroll around the Old French Quarter.
3 Days In Ho Chi Minh City
See the Notre Dame cathedral and stroll around the Old French Quarter. Ask your hotel to help you book a one-day trip to Mekong Delta.
What To Do In Halong?
1 Day In Halong
Take a one-day cruise to Halong Bay. There are plenty of offers of trips like this at local travel agencies. You can also ask your hotel to organize a trip for you.
3 Days In Halong
Take a 1 or 2-day cruise at Halong Bay. Rent a motorbike and drive around to take some awesome photos!
7 Days In Halong
We spent a week in Halong and I think it's just too much. If you still have the possibility to change your plans, spend less time in Halong. 3 days is definitely enough.
TET – Vietnamese New Year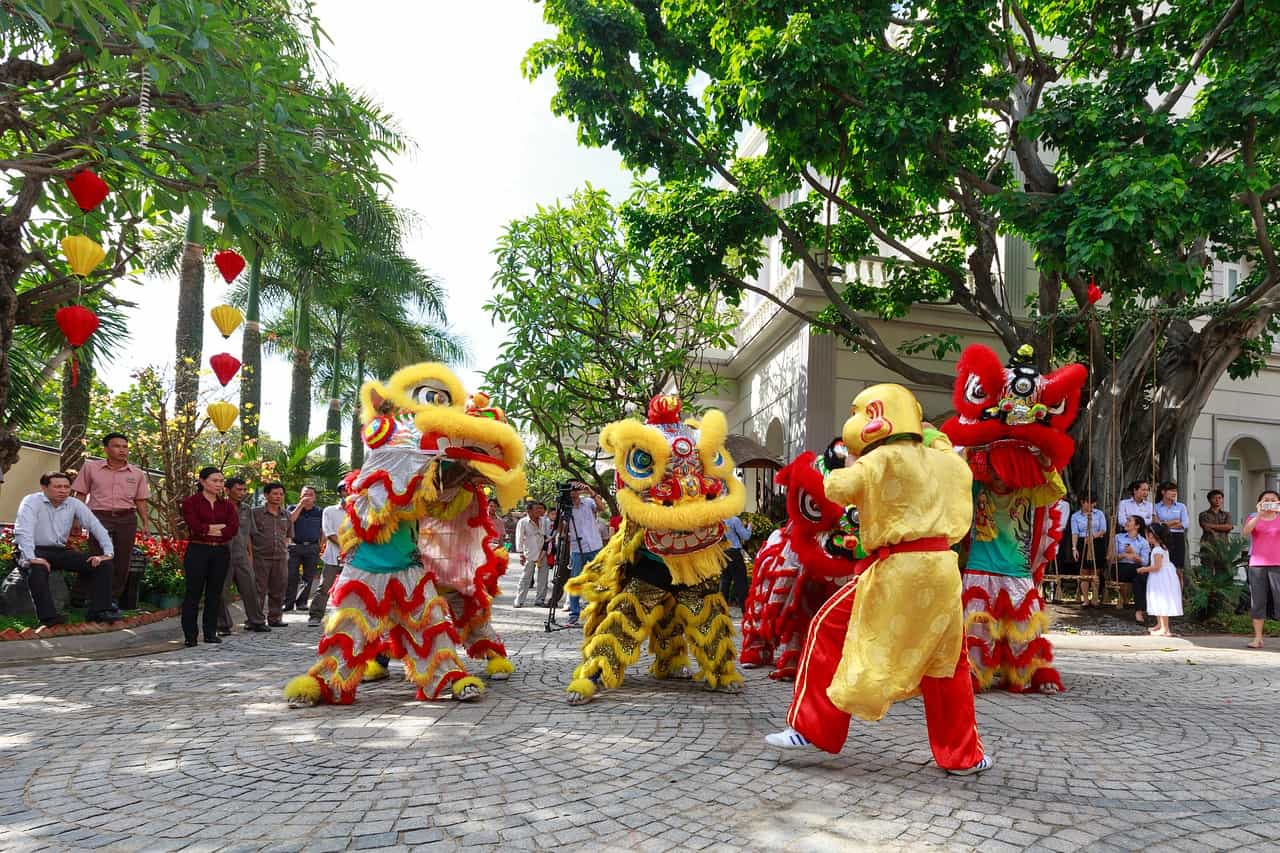 Tet Festival & Perfume Pagoda Festival – Should I Visit Vietnam At These Dates?
Yes! It's great to watch Vietnamese people celebrating the New Year. We've spent the entire TET in Hanoi and it was great.
Even though it's a big holiday, most shops and restaurants are open in touristic areas. Unfortunately, the prices are always higher during TET. One of the best Vietnam travel tips is to always bargain to get the best price!
Where To Go During Tet? What Are Vietnam Travel Tips For TET?
If your Vietnam tour is during TET, that's great because you will have a chance to experience traditional Vietnamese celebrations. In Hanoi, it's best to spend this time in the Old Quarter area. At midnight there is a big firework show that cannot be missed!
Where To Stay During Tet In Vietnam?
The best is to stay in popular tourist destinations, like HCMC or Hanoi. Regardless of TET, you will still be able to sightsee, go to restaurants and have fun.
When Do Things Get Back To Normal After TET?
It will take about a week or two for things to get back to normal after TET. One of the best Vietnam travel tips for this is to just enjoy your stay and celebrate this time with local people.
Food In Vietnam
What To Eat In Vietnam?
There are many restaurants in Vietnam, so you won't be hungry there for sure.
Some local specialties are
Bun Cha (meat, noodles, veggies and delicious soup),
banh mi (Vietnamese sandwich),
Pho (world-famous Vietnamese soup),
Eggnog coffee (delicious coffee with egg).
Where To Eat Dog In Vietnam?
Yes, it's possible to eat dogs in Vietnam, no matter how disgusting it may sound to you. Dog meat is actually quite popular there, so you won't have any problem finding a restaurant with this 'delicacy'. Just look for words Cho Meo which means dog meat.
What Are The Best Vietnamese Snacks?
My favorite snacks are the sweet ones: Banh ran (fried mini rice donuts) and Me Xung Hue (delicious sweet snack with peanuts). The full list of Vietnamese snacks and dishes you can find here.
What Are The Rules/ Safety Vietnam Travel Tips For Eating And Drinking?
Tap water in Vietnam is not drinkable. So don't drink it. It is advised to use bottled water to wash your teeth as well.
Unfortunately, Vietnam is not the best country when it comes to hygiene. Local restaurants are quite dirty and we even found a hair in our food twice. My advice is to choose only super clean restaurants, even if you have to pay a little bit more.
Food Delivery And Pizza Delivery In VN.
Yes, it is possible to order food online in touristy areas of Vietnam (Hanoi, HCMC, etc.)
Use this website. It's not perfect though. Delivery is often late or you won't get exactly what you want.
Pin For Later: