The capital of Slovenia has so much to offer that I am not sure where to start. Maybe with telling you it has one of the most unique Old Towns in Europe (with Tallinn as a runner-up)? Or maybe that it is so small that you can easily see Ljubljana in one day? One way or another, it is a place worth visiting! Keep reading to discover the best Ljubljana itinerary for 1 day.
It's hard not to fall in love with this city. Ljubljana is like a perfect combination of Slovenia, Croatia & Italy, with the bridges and canals like those in Venice. There is something magical about this place. You could spend hours walking around the Old Town, eating gelato and simply relaxing.
Did you know that Ljubljana is called The Green Capital of Europe? No wonder why- it is one of the most peaceful cities I have ever been to.
What To See In Ljubljana In One Day?
Local time in Ljubljana:
Here's the map of places in 1 day in Ljubljana itinerary that you can find in this post:
1. Visit Ljubljana Castle
The castle is definitely one of the best places to visit in Ljubljana in one day. It is visible from any place in the city. The good news even though it is located on the hill, everyone can go there!
There's a funicular railway that will get you directly to the top of it. The return ticket costs 4 euro.
Skip the line and book a guided tour to the Ljubljana castle online here.
You can also take a short hike up the hill. The way is beautiful! You will walk surrounded by unspoiled Slovenian nature.
The castle itself is nice but not spectacular. What we liked the most is the view from the hill! If the weather is good, you can see the amazing Julian Alps which are located over 100 kilometers away. How awesome is that?
Check out a day trip to the Julian Alps from Ljubljana
2. Walk to the Cathedral of St. Nicholas
Ljubljana Cathedral is the most important church in the city. It was built in the 18th century and has beautiful doors made of bronze.
Even though the Cathedral of St. Nicholas looks amazing from the outside, you will probably enjoy its interiors even more. The baroque decorations are breathtaking and mysterious. There are no tickets to the church, the admission is free of charge.
3. See Mestni Trg & Town Hall
TIP: There is a Telemach store located in front of the Town Hall. You can buy there Slovenia SIM card to have unlimited access to the Internet on your phone! It may be helpful even if you have just 1 day in Ljubljana.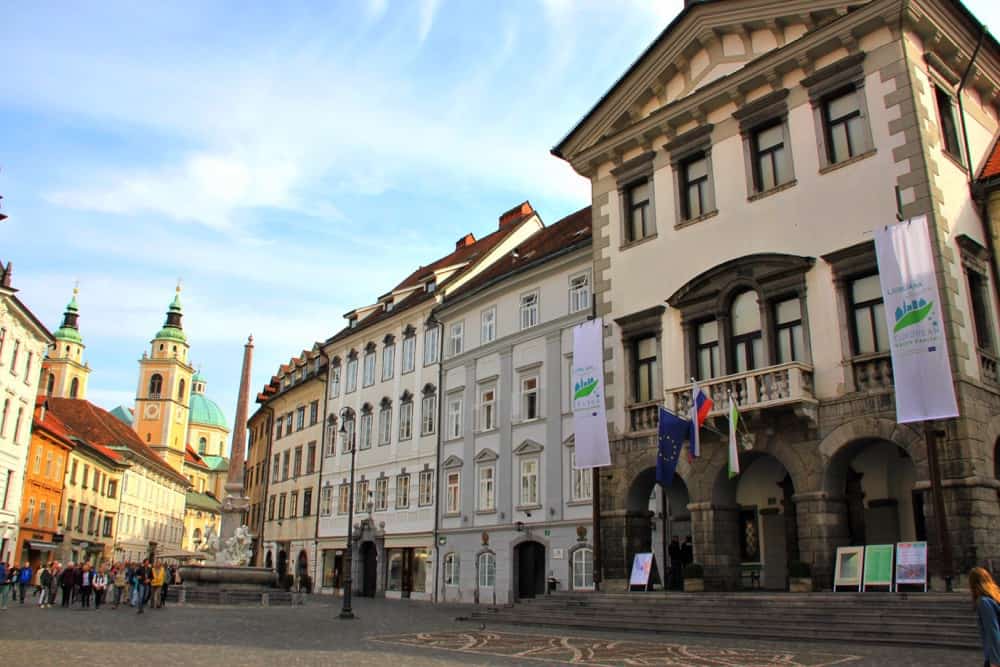 Town Square (Mestni Trg) is one of the oldest places in Ljubljana. It was the center of the town in the Middle Ages. The original buildings that were standing there we destroyed by the Earthquake in the 16th century.
They were replaced by the new ones later on. The most famous of them all, Town Hall, was renovated in the 18th. It is a beautiful example of a baroque architectural style.
Be sure to take a closer look at Robba Fountain. Three men with jugs symbolize the main rivers of Slovenia: Ljubljanica, Krka, and Sava.
Town Hall is the starting point of most of the Ljubljana walking tours. Joining one of them may be a good idea to get the most of Ljubljana in one day.
Pick the best Ljubljana walking tour here:
4. Walk Through The Triple Bridge
One of the best things to do in Ljubljana in 1 day is walking through the Triple Bridge. They connect the Old Town with the new part of the city and are located close to Prešeren Square.
Three Bridges are the landmark of Ljubljana. In 2012, they were even an official logo of Google, when everyone was celebrating the 140th birthday anniversary of its architect, Jože Plečnik.
5. Walk Around the Prešeren Square and visit the Franciscan church
Prešeren Square is the most vibrant place of Ljubljana. Its name originates from the statue of France Prešeren (Slovene poet) that is standing in the center of the square. Be sure to add this spot to your 1 day Ljubljana itinerary!
The tall, reddish Franciscan Church of the Annunciation is another landmark of Prešeren Square. This baroque church stole my heart and I kept coming back there almost every day throughout our stay.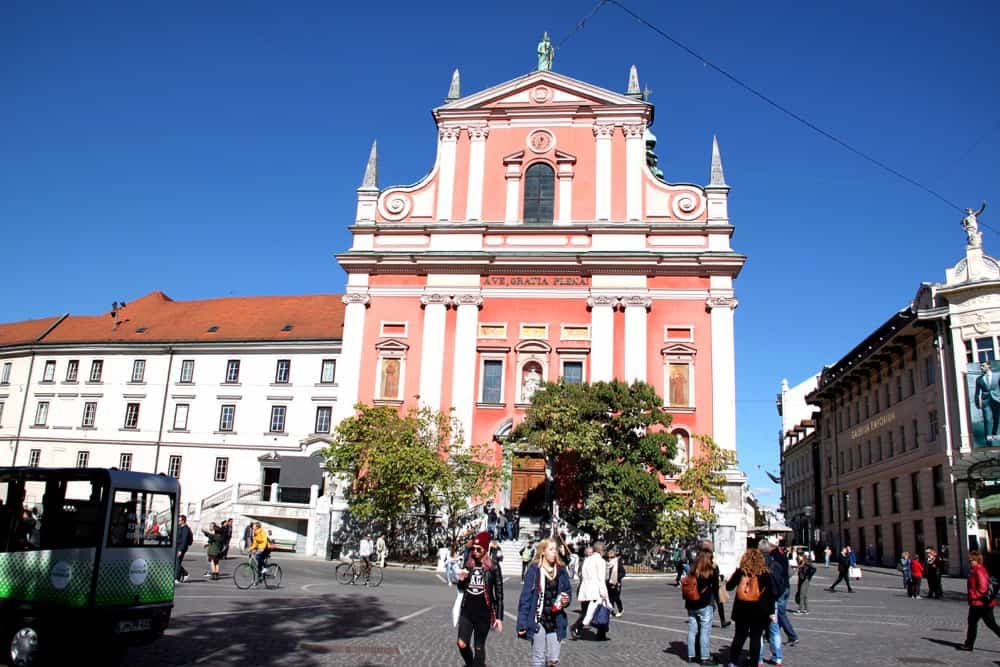 6. Have Lunch At Cankarjevo Nabrezje
If you wonder where to eat in Ljubljana, there is no better place. Along the Ljubljanica river, there are many restaurants and cafes. This area is always full of people. Some of them are sitting at the canals, some at the beer gardens.
Cankarjevo Nabrezje it's where you can find the best food in Ljubljana. Even if you are not hungry, it is worth to go there and take a relaxing walk along the river.
CLICK here to book the best Ljubljana food tour.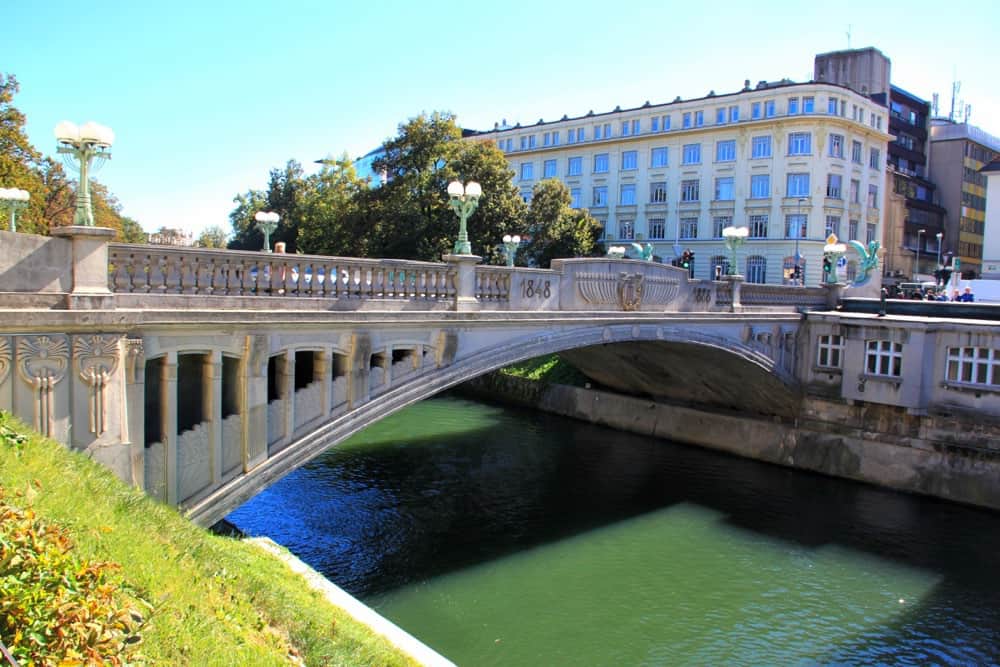 7. See Slovenska Filharmonija & Kongresni trg
Kongresni trg (Congress Square) is one of the most peaceful areas of Ljubljana's Old Town. There are two main reasons why it is worth going there. The first is to see the beautiful building of the Slovenian Philharmonic Orchestra.
The second is to take some awesome photos of the castle. If you love photography, you will probably agree that it's one of the best areas of the Old Town in Ljubljana!
8. Visit Ljubljana Museum of Illusion
Visiting the Ljubljana Museum of Illusion is a perfect alternative for those of you who are not interested in history. If walking around the Old Town is too boring for you then, you will enjoy this place. It's also a great museum for families traveling to Ljubljana with children.
The admission (8 euros) is quite high compared to other places like this. The museum is small and you will see everything in 50 minutes or so.
The Ljubljana Museum of Illusion may not be world-class but it is definitely nice enough for the small country of Slovenia. Going there is one of the fun things to do in Ljubljana in winter when it's too cold to spend the entire day outdoor.
9. Visit Metelkova Street or head to Ljubljana Zoo
If you are traveling to Ljubljana with kids, go to the zoo. Adults will probably enjoy Metelkova more.
Metelkova street
The street called Metelkova is unique on a global scale. It may be the best place in your 1 day in Ljubljana itinerary.
Metelkova is called the City in The City, the independent area that doesn't belong to anyone. It is full of street art, graffiti, weird sculptures, and people of all subcultures.
The rule of Metelkova is simple:
You can be whoever you want, dress and look the way you want to, and we still won't judge you.
So it may be quite shocking to visit this place for the first time: you will see people riding the weird, double bicycles, having green hair, and wearing clothes that you won't find in any stores.
You will see shoes hanging on the wires and hear 8 different kinds of music, including Jazz, Psychobilly, Rock, Punk rock, Heavy metal Techno and more. (It is NOT loud at Metelkova! The music is played inside the buildings). Metelkova is definitely the best place to experience Ljubljana nightlife.
Metelkova has a very interesting history– in the past, this place belonged to the Yugoslavian army. When this big country divided into smaller areas, the government of newly formed Slovenia didn't know what to do with this place.
People started squatting there. They also organized nice events and Metelkova slowly became the cultural center of Ljubljana. The government tried to do something with this but after protests of the Slovenian people, it gave up.
In the heart of Metelkova, there is one of the coolest hostels in the world- Celica. We've been lucky enough to stay there. Keep on reading to find out what it's like to live behind the bars!
IMPORTANT INFORMATION:
Even though Metelkova is considered an independent area, it is NOT TRUE that everything is allowed there. It is not a good idea to do drugs there. If you want to smoke weed in Ljubljana or break any other law, don't do that at Metelkova. Don't do that at all.
We saw many undercover policemen who were walking around this street, especially at night. They stopped us once to check our IDs. If you don't want to get in trouble while traveling abroad, think twice before doing anything illegal.
It is TRUE though that it is a very safe place. We've been staying at Metelkova for almost a week and we haven't seen any fights or crimes. Even when we were walking there after midnight, we felt very safe. That's why it's a great place to go to experience Ljubljana nightlife.
Looking for more fun things to do in Ljubljana at night? Book Pub Crawl Ljubljana tour!
Ljubljana Zoo
Zoo in Ljubljana is a great alternative to any Ljubljana walking tour. Even though it is not big, we really liked it.
If you are traveling to Ljubljana with kids, the zoo is one of the top places you should go to. Visiting places where animals are kept in cages is always controversial… All we can say is that the animals at Ljubljana's zoo have great conditions of living and they are taken good care of.
Where To Stay in Ljubljana?
Best places to stay in Ljubljana for trendsetters & budget travelers:
Hostel Celica is the most interesting place that we have ever stayed in. It has an awesome location: in the former prison at Metelkova street (city inside the city, I am writing about it above).
The rooms are actually the cells, so you can truly experience how it is to live behind the bars. You don't have to be afraid though- you can unlock it whenever you want.
Every room has a separate door, so you don't need to worry about privacy. Celica is called the 5-star hostel because it literally has all the facilities you need: free and fast WiFi, clean shared bathroom, good breakfast, perfect location, and awesome staff.
Check out the latest hotel prices for Hostel Celica—> click here.
Where to stay Ljubljana? Nice hotel for everyone:
This is a perfect place to stay for everyone. The rooms at Meksiko are stylish and have a beautiful design. The hotel is situated 10 minutes' walking from the Old Town.
There are many restaurants and shops around Meksiko, so the location is just perfect. The breakfast is delicious.
What we loved the most about Meksiko is that it has all the facilities that we needed. The WiFi was fast and stable, so we could work online and talk with our family on Skype without losing the signal. The room was really cozy and the bed was super comfy.
We love hotels like this! Our stay was flawless.
Check out the latest hotel prices for Hotel Meksiko—> click here.
Best places to stay in Ljubljana luxury travelers:
Grand Union is one of the most famous hotels in Slovenia. It is 111 years old and has the best location in Ljubljana: in the heart of Old Town, right behind the Franciscan church and Prešeren Square. If you are looking for a Ljubljana hotel with a pool, it's your place to go.
Even though it is a four-star hotel, we think it deserves 5 stars. Why?
First of all- because of the location. Secondly, because of the amazing interiors. Last but not least… breakfast! It was honestly the best that we had during our 3 weeks stay in Slovenia. Gluten-free bread, milk without lactose, fresh vegetable & fruit smoothies will satisfy even the most demanding tourists.
If you are looking for the best breakfast Ljubljana, go to Grand Hotel Union! Even if you are not staying at this hotel, go there to start your day with some delicious food.
The hotel is one of the biggest in Ljubljana but it won't take away your privacy. Even though it is located in the heart of the Old Town, it is very quiet in the room at night.
The WiFi at Grand Union is really fast, there is a parking, swimming pool and wellness area available for the guests. We absolutely loved this hotel!
Check out the latest hotel prices for Grand Hotel Union—> click here.
If you don't want to stay in any hostel or hotel, check out Airbnb Ljubljana (click to get $36 off of your first booking). You will definitely feel like home when staying at one of the apartments Ljubljana. Having the kitchen where you can cook and more than just one room is a great idea, especially if you are traveling in a group.
Find your best apartment Ljubljana here.
How To Get Around Ljubljana In One Day?
Walking
It's arguably the best way to see Ljubljana in one day. The capital of Slovenia is quite small, so you can easily get everywhere on foot.
Ljubljana Bikes
This eco-friendly option is great, especially in the summer. Ljubljana Bikes (BicikeLJ) are really cheap. The registration costs just 1 euro. The first hour of biking is free. There are more than 50 bike stations in Ljubljana, all located 300-500 meters from each other.
You can register in the BicikeLJ system here. The credit card is required, as they need 350 euros of deposit in case you don't return the bike. More about Ljubljana Bike here.
Interested in joining Ljubljana Bike Tour? Book it online here.
Ljubljana Taxi
Unfortunately, there is no Ljubljana Uber. If you want to travel by taxi, you just need to use the local providers. The full info about the Ljubljana taxi can be found here.
Car Rent Ljubljana
Even though this one day in Ljubljana itinerary won't require traveling by car, you may consider taking one of the day trips from Ljubljana afterward. You will need a car for that.
Search for the lowest car hire in Ljubljana here.
Ljubljana Public Transport
The main Ljubljana bus station and Ljubljana train station are located next to each other (Trg Osvobodilne fronte Square). You can get there to everywhere in the city, or travel somewhere else (to Piran, Vienna, Trieste, Bled, Zagreb, Budapest or even Venice).
If you decide to use Ljubljana public transport to get around the city, you will be probably traveling by bus, as there is no subway in Slovenia.
It's very easy to use bus Ljubljana. All you need to do is get an Urbana Card (for 2 euro) and top it up with up to 50 euro. This Ljubljana card can be purchased in many places in the city, including Tourist Information Centers, post offices, kiosks, hotels, and more. Urbana Card works just like the Navigo Pass in Paris or Oyster Card in London.
Tips For Spending 1 Day In Ljubljana
| | |
| --- | --- |
| Country | Slovenia, European Union |
| Ljubljana currency | Euro |
| Ljubljana best time to visit | April-October |
| Ljubljana Taxi App | Taxi Metro |
| Cheap car rental Ljubljana | Rent Cars |
| Money exchange Ljubljana | At the airport or in the city center. Use Multicurrency Card to reduce the fees. |
What To Buy In Ljubljana?
1. Handmade goods:
2. Food:
What's The Best Time To Visit Slovenia?
The country is great to visit all year round. The weather is good from April to October, so that would be the best time to visit Ljubljana.
There are many things to do in Ljubljana in summer, that involve walking, biking, and spending time outdoors.
What Are The Things To Do In Ljubljana When It's Raining?
Go for a day trip to the neighboring cities or countries (follow the link to read about the best day trips from Ljubljana).
If you want to stay in the city, go to the museum. Here you will find a list of the best museums in Ljubljana.
If you are traveling in a group, go to the Escape Room Ljubljana. It's so much fun there! You will be locked in the room and have just one hour to escape. In order to find a key, you will need to solve many riddles.
Last but not least- when the weather is not good, you can always do some shopping! Buy souvenirs, clothes, or food. Here you can find an interesting Ljubljana shopping guide.
What To Eat In Ljubljana?
Burek
It's popular in many countries in Europe. This fast food Ljubljana can be found in many places in the city. Burek is a pastry filled with minced meat, cheese, or vegetables.
Gelato
Ice cream in Ljubljana is one of the best we have ever eaten! It's probably because Ljubljana is located so close to Italy.
Bar Fetiche is our favorite place to eat gelato in Ljubljana.
More about the best food in Slovenia here.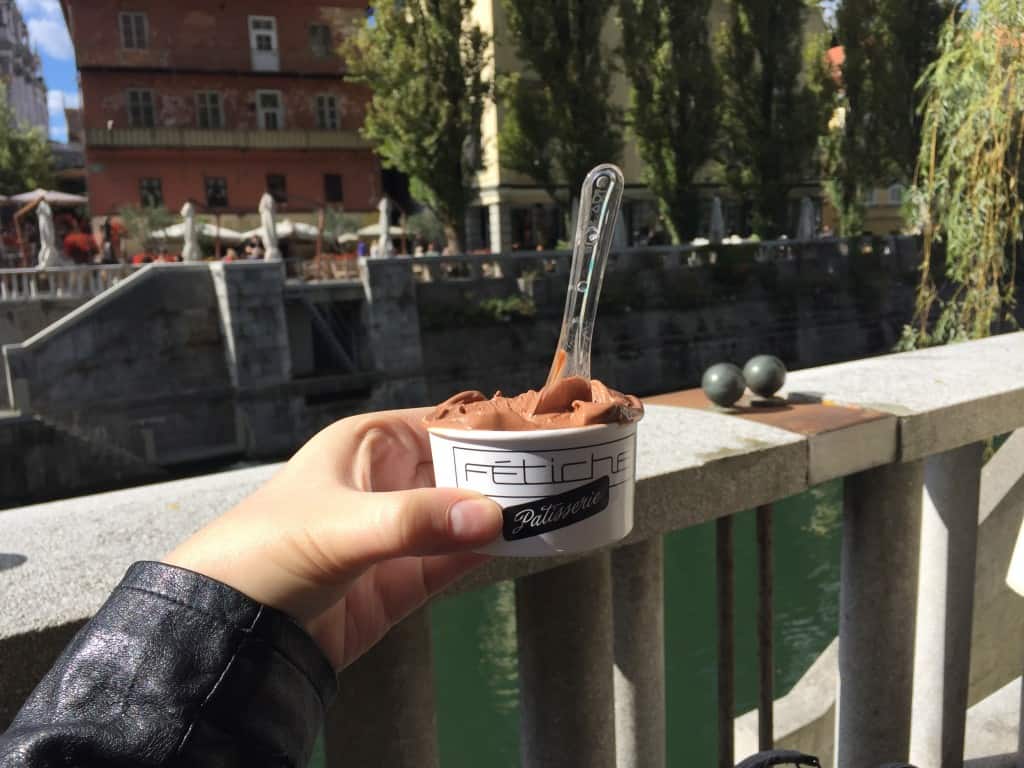 Best Tours In Ljubljana
Just like in Venice, it's impossible to take the Ljubljana bus tour. Most of the important tourist attractions can't be reached by any vehicle. Maybe there will be a Ljubljana sightseeing bus in the future but for now, here are the best tours in the capital of Slovenia:
Castle & City Walking tour
The capital of Slovenia in a nutshell. You will visit all the Ljubljana top sights in just 2 hours, and pay less than $20.
Book Ljubljana City Tour here.
2. Ljubljana beer tour
Try 6 Ljubljana craft beer, play games, have fun, and listen to beer-related stories. Everything is in one place, no need to do any pub crawling.
Book the Ljubljana beer tour here.
3. River cruise / Ljubljana boat tour
While in Ljubljana, you need to cruise along the Ljubljanica river! The best option is to combine it with the walking tour. After 1,5h of sightseeing, relax on a boat and enjoy the beautiful view of the city.
Book the Ljubljana boat tour here.
4. Ljubljana wine tour
You will be surprised by how delicious Slovenian wine is. Not only you will have a chance to try it during the Ljubljana wine tour, but you will get to know the history of the region as well.
Book the Ljubljana wine tour online here.
More recommended tours in Ljubljana:
Pin For Later:
Disclosure: We want to thank Hostel Celica, Hotel Meksiko, and Grand Hotel Union for a complimentary stay. All opinions presented in this post are honest and our own.