Riga is the capital of Latvia and the biggest city in the country. It is situated by the Baltic Sea and approximately one-third of Latvians live there. Don't think Riga is a big city though- the population of it is less than 700,000 which is similar to Las Vegas in the US or Phuket in Thailand. Just to compare- it is 1⁄4 of Rome and 1/10 of Washington, DC. There are many awesome things to do in Riga though!
Despite its size, Riga has a lot to offer to the travelers. Amazing art nouveau buildings, rich history, delicious food, and beautiful nature are what make tourists love this city. Keep on reading to discover the best places to visit in Riga, recommended Riga excursions, the best places to stay in Riga, and more!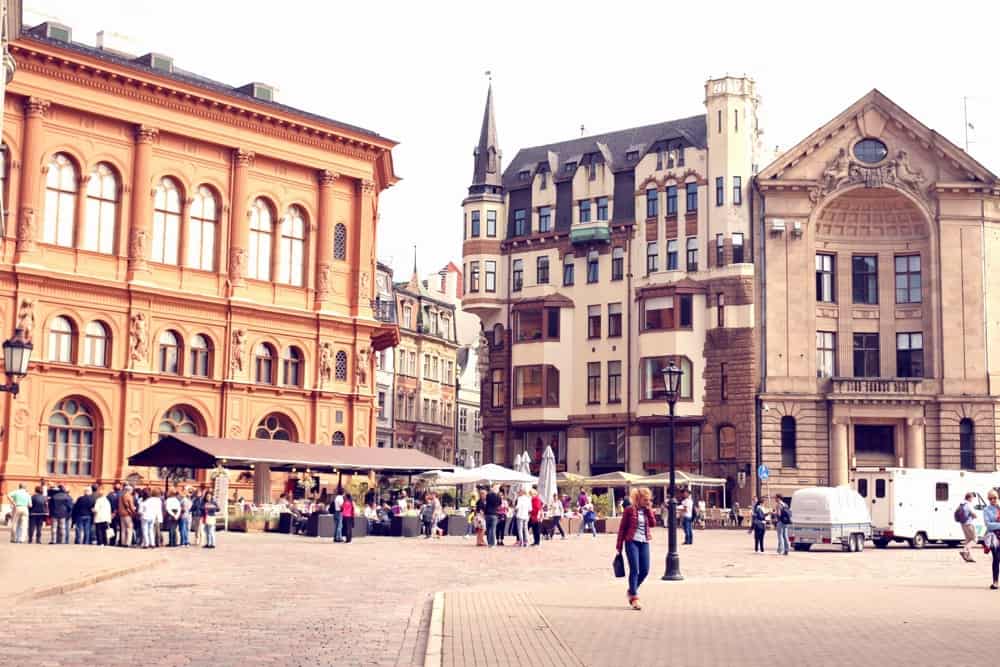 What To See In Riga?
Current time in Riga:
Top things to do in Riga #1
Latvian Academy of Sciences
The building of the Latvian Academy of Sciences has a typical Soviet design and architecture, exactly the same as Palac Kultury in Warsaw or State University in Moscow. It's one of the top things to see in Riga.
The reason why it is worth to go there is the observation deck situated on the 17th floor. For 5 euro you can get the top of the building and take some amazing panoramic photos of Riga.
TIP: Even though the Latvian Academy of Sciences is one of the best places to visit in Riga, go there only when the weather is good. You won't see much from the top of the building on a cloudy day, so it will be a waste of time and money.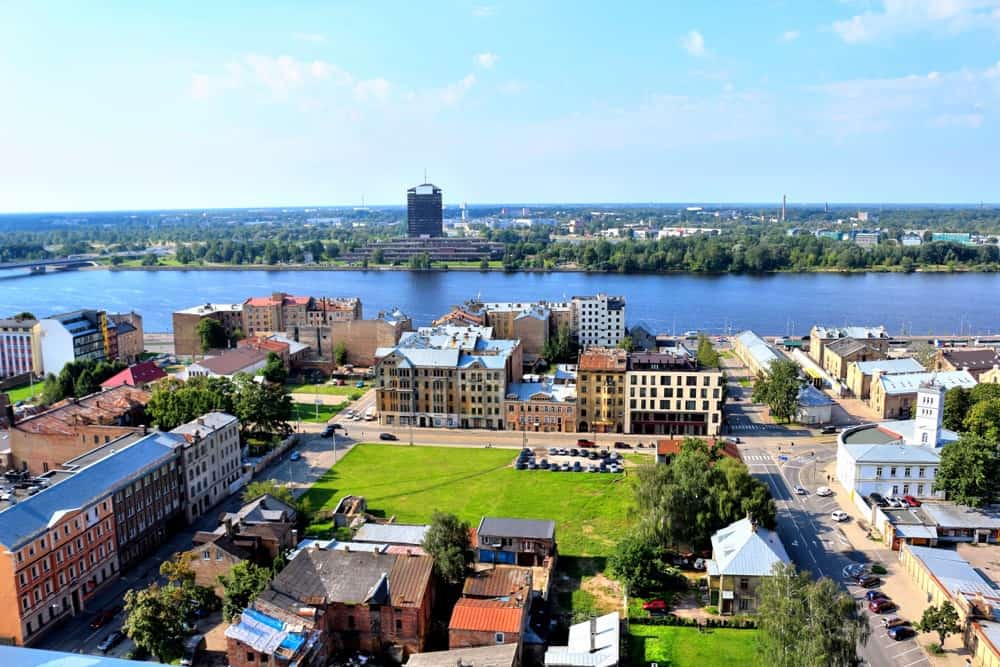 Riga things to do #2
The Three Brothers
The Three Brothers are the most beautiful buildings in Riga. They are connected and each of them represents different architectural styles: Dutch Renaissance, Dutch Mannerism, and Baroque.
According to the legend, they were built by the three brothers. The truth is that it is not possible. The oldest dwelling house was built in the 15th century and the youngest in the 17th. It is believed though that they were built by the members of the same family.
TIP: This point of interest is one of the top places to visit in Riga. After taking the photos of the Three Brothers, be sure to get inside and visit the Latvian Museum of Architecture which is one of the best museums in Riga!
Top things to do in Riga #3
Riga Town Hall Square
Town Hall Square is quite small but really lovely! It is one of the most popular Riga sights. You can find there:
Tourist Information Centre,
famous Blackheads House (owned by unmarried German tradesmen living in Riga)
Town Hall,
The Statue of Roland
The new Museum of the Occupation of Latvia.
So many attractions just in one place! When the weather is good, you can see musicians playing beautiful songs at the Town Hall square. The atmosphere of this place is incredible and can't be compared to anything else in Riga.
TIP: Visit the Tourist Information Centre and get a free map of the city. Riga sightseeing is so much easier when you know where to go!
Book your Old Town Riga Walking Tour here.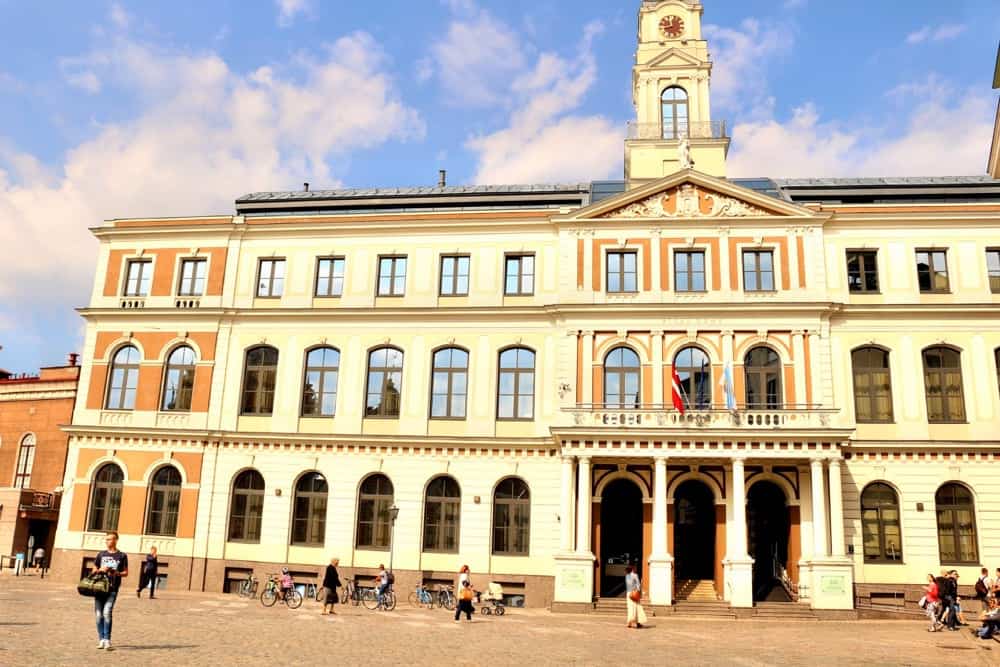 Top things to do Riga #4
Central Market
Central Market is a truly local place! It is situated very close to the Old Town, and going there is my personal favorite for things to do in Riga. You can buy there literally EVERYTHING- food, clothes, shoes, cigarettes and more.
The prices are very low and you can always bargain to make it even lower. Central Market is truly local so it's better to explore it with Latvian. You will have a chance to try traditional Riga food, drinks, and visit the secret places of the market.
Book your Central Market guided tour online here.
TIP: There are many pickpockets at the Central Market. Be sure to keep your money & documents in a safe place.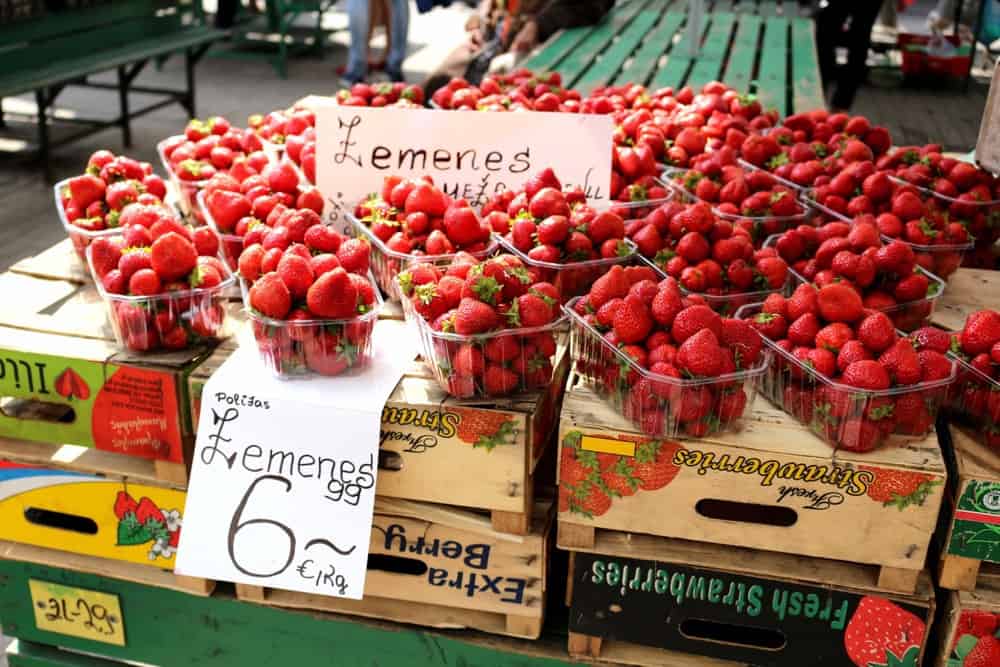 Riga things to do #5
St Peter's Church
St Peter's Church is beautiful, high and monumental. It is one of the best tourist attractions in Riga but still, the entrance fee is quite ridiculous. Paying 3 euro to get inside the sacral building is just too much. And 9 euro to get to the tower is way too expensive.
It wasn't really worth its price. So my advice is to go there, take some photos from the outside and don't bother getting inside the church.
TIP: With the Riga Travel Card (you can buy it online or at Riga Tourist Information Centre), you get a 50% discount for visiting St. Peter's Observation Platform.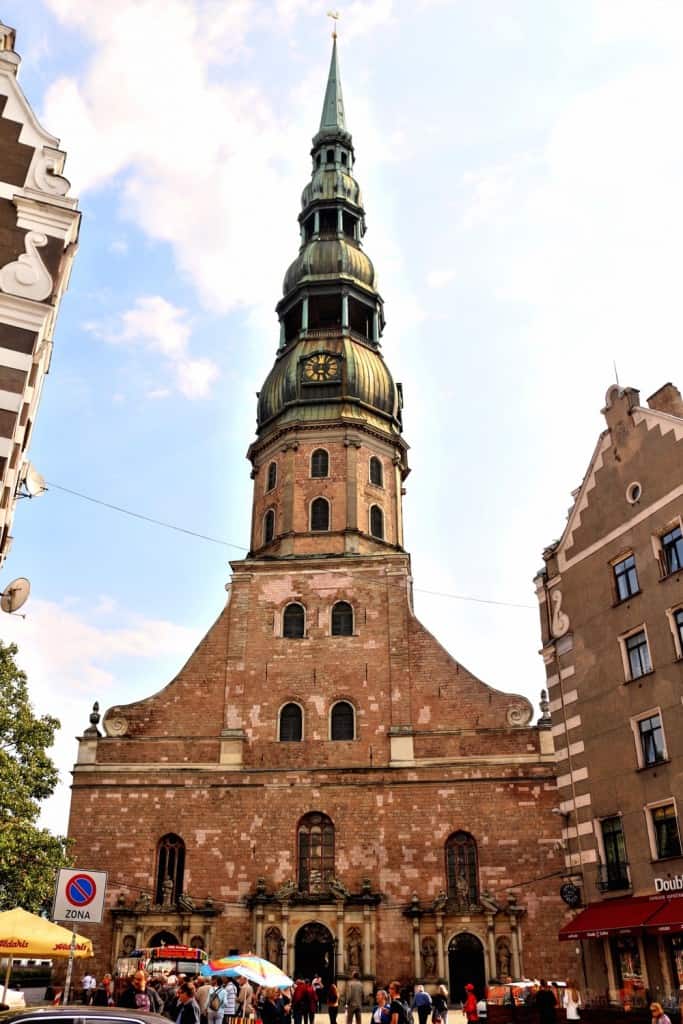 Top things to do Riga #6
Nativity of Christ Cathedral
Nativity of Christ Cathedral is my favorite church in Riga. It is situated on the outskirts of the Old Town but it is really worth to go there. It is the largest orthodox church in Baltic countries (Lithuania, Latvia, and Estonia).
The cathedral looks beautiful both from the inside and from the outside.
TIP: Nativity of Christ church is quite close to the Freedom Monument.
Riga things to do #7
Freedom Monument
The Freedom Monument is one of the top Riga places to visit, as it's arguably the most important monuments in the city.
It was built in memory of the soldiers who died in the battle for independence, less than a hundred years ago. It is considered as the symbol of free, independent and sovereign Latvia. What's beautiful, there are always two soldiers there who are protecting the monument. It's the metaphor & the sign that the government and army will always guard the independence of Latvia.
TIP: Be sure to visit the Freedom Monument at the full hour between 9 am and 6 pm to see the guards changing.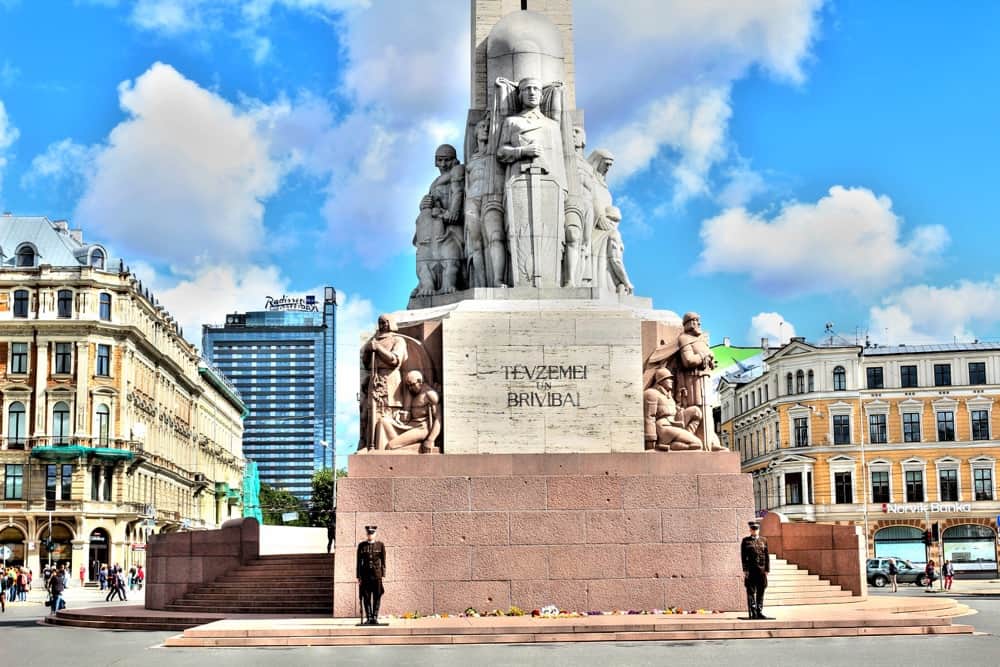 Top things to do Riga #8
Riga Cathedral & Dome Square
Dome Square is a vibrant place, full of cafes, restaurants, and people. It is perfect to visit both during a day or at night.
The main attraction of the Dome Square is the Cathedral that is one of the top places to see in Riga. It is the landmark of the city, built in 13th century.
TIP: Dome Square is the best meeting point in the city. It's where likely that your Riga city tour will start there.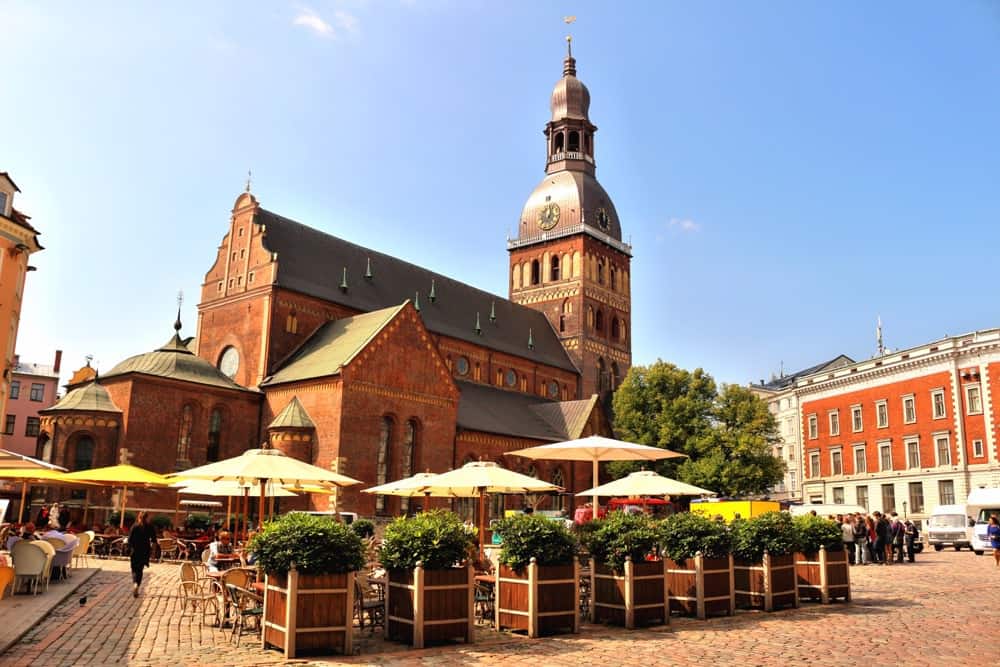 Top things to do in Riga #9
Riga Ghetto and Latvian Holocaust Museum
A ghetto is not a fun place… But it is still worth visiting! This Riga museum was established in memory to all the Jews that were killed by Nazis during World War II. Going there is arguably one of the best things to do in Riga.
TIP: Visiting the Latvian Holocaust Museum and Ghetto is one of the free things to do in Riga. There is no admission fee but the donations are more than welcomed (suggested amount is 5 euro).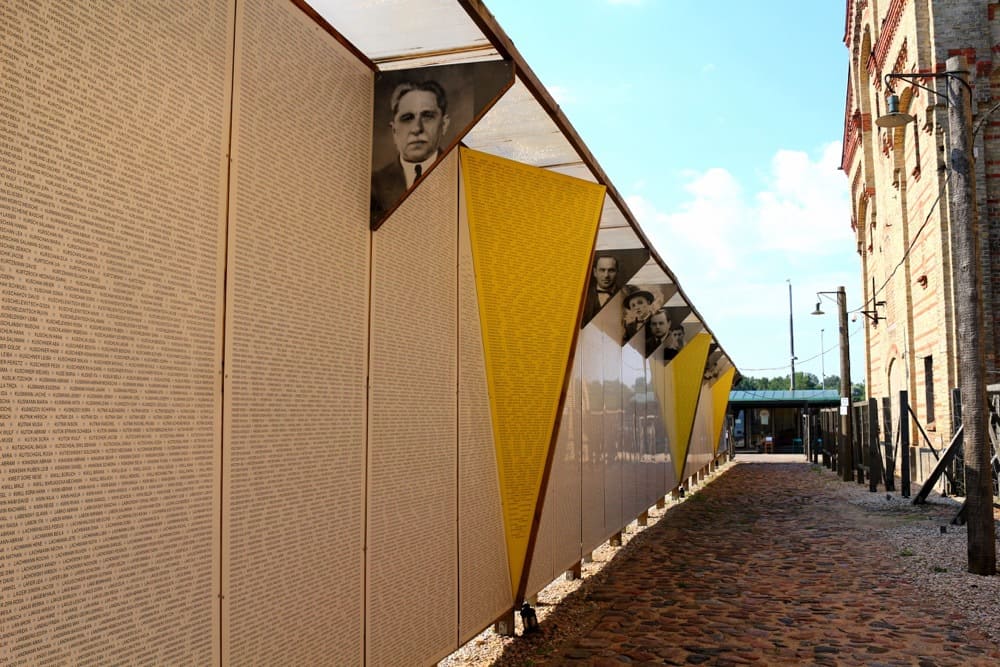 Top things to do Riga #10
River Cruise
Riga has a nice river and canals that go through the most important places in the city.
A river cruise is a must-do in Riga, and an amazing idea to spend a relaxing time. There are many Latvian companies that offer river cruises: you can take them during a day but also in the afternoon to watch the sunset.
TIP: Take your camera! You can take photos of Riga from a completely different perspective.
Book your Riga cruise online here.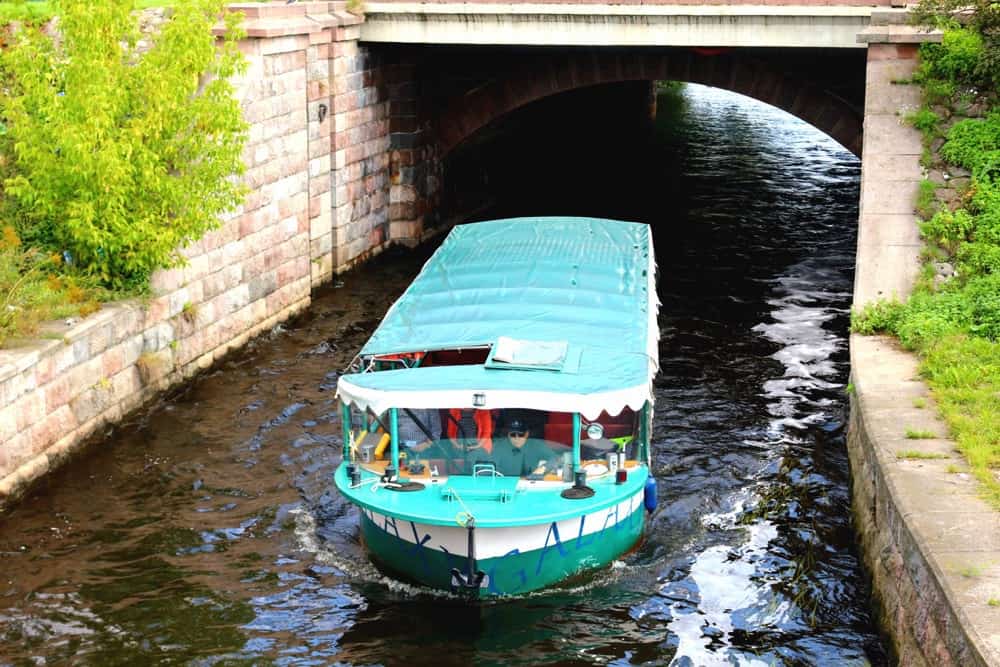 Riga Travel Tips
Don't know how to get to Riga? Check out the best direct flights to Riga.
Country
Latvia
Riga currency
Euro
Best time to visit Riga
April-October
Riga taxi app
Taxify (click for the first free ride). There is no Riga Uber.
Riga taxi number
+371 20 008 500
+371 60 008 383
+371 22 330 330
Car rent Riga
Find the best here
Money exchange Latvia
At the airport or anywhere in the city. Use Multicurrency Card to reduce the fees.
Travel insurance Latvia
Buy online with World Nomads
Riga tourist map
Available here.
Be Ready For The Changing Weather.
Riga is situated by the Baltic Sea, so the weather in the city can change really fast. The sun may be shinning beautiful and then suddenly it may start raining.
It is good to always have a raincoat with you, just in case.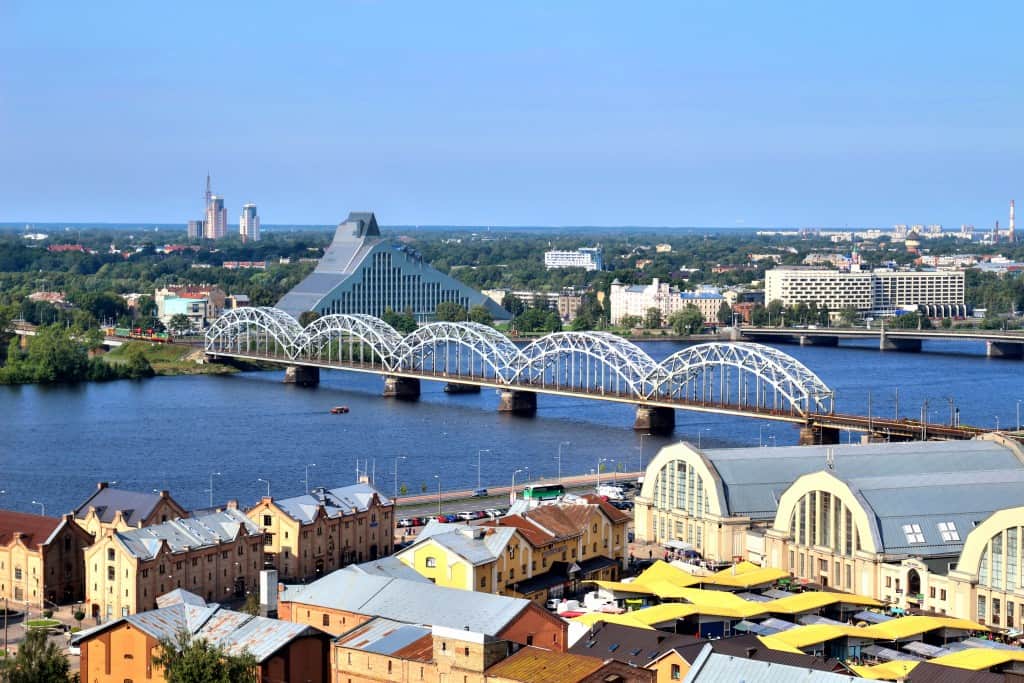 Find The Best Places To Eat In Riga
Check out this post about the best restaurants in Riga. If you don't meat, read about the best vegetarian restaurants in Riga.
Recommended Riga Tours
Riga Walking Tours
The best way to explore the old town of Latvia's capital city is to join one of the Riga walking tours. If you are interested in architecture,
discover Art Nouveau style
of Riga's Old Town.
If you are looking for some thrill, and want to experience Riga nightlife at the same time, consider joining a
ghost tour
.
Arguably the best option is to take a
private old town Riga walking tour
with an organ music concert.
Skip the lines and book your Riga walking tours online here:
Riga Food Tour
If you want to taste the best food in Riga, get to know the Latvian culture, and be taken to the truly local places, join Riga food tour. You can mix it up with sightseeing, combine with beer tasting or focus entirely on food.
Riga food tour online here:
Riga Bus Tour
If you are, just like us, a lazy traveler, join the Riga sightseeing bus tour. You will be taken to all the important points of interest in the city. It's up to you whether you will stay in a bus for the entire time, or leave to explore the specific tourist attraction.
Skip the lines and book your Riga bus tour online here.
Best Day Trips from Riga
Riga to Jurmala
If you want to relax on the beautiful, long, white-sand beach while in Latvia, there is no better place to go than Jurmala. It's located just 40 minutes driving from Riga, so it's a perfect destination for a day trip.
You can easily get there by Riga public transport (more info here), or book one of the private tours from Riga to Jurmala.
Riga to Tallinn
It will take about 4-5 hours to get from Tallinn to Riga and vice versa, no matter if you are traveling by car or Riga Tallinn bus. Even though the distance is not that close, this day trip from Riga is still worthwhile.
Tallinn is absolutely beautiful! The capital city of Estonia has an amazing Old Town, and its medieval architecture is completely different from the one in Latvia.
It's better to stay in Tallinn longer than for just one day but if your time is limited, a day trip is doable. You need to take an early morning bus from Riga to Tallinn, to be there before the midday. After a few hours of sightseeing, take a bus back.
There is no direct Riga to Tallinn train, so if you want to use public transport, your only option is bus.
Book your Riga Tallinn bus online here.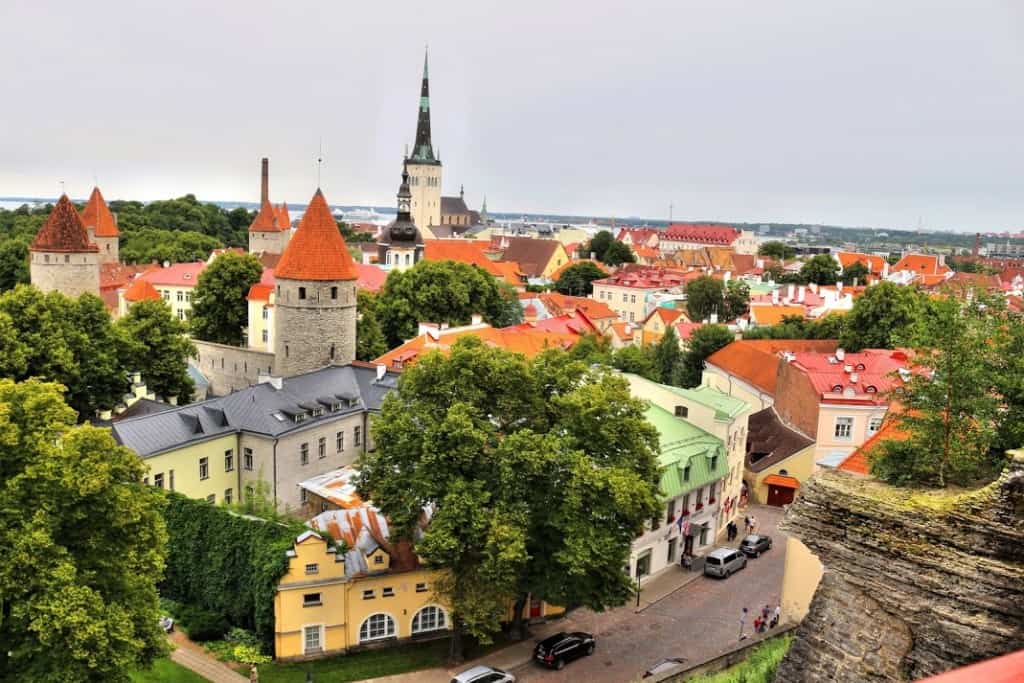 Riga to Tartu
Tallinn is not the only place worth visiting in Estonia. The second biggest city, Tartu is beautiful as well.
There are many things to do in the city, including wandering around Old Town, visiting Estonian National Museum, and seeing the iconic Kissing Students fountain. The easiest way to get there is by taking Riga Tartu bus or travel by car.
Book your bus from Riga to Tartu online here.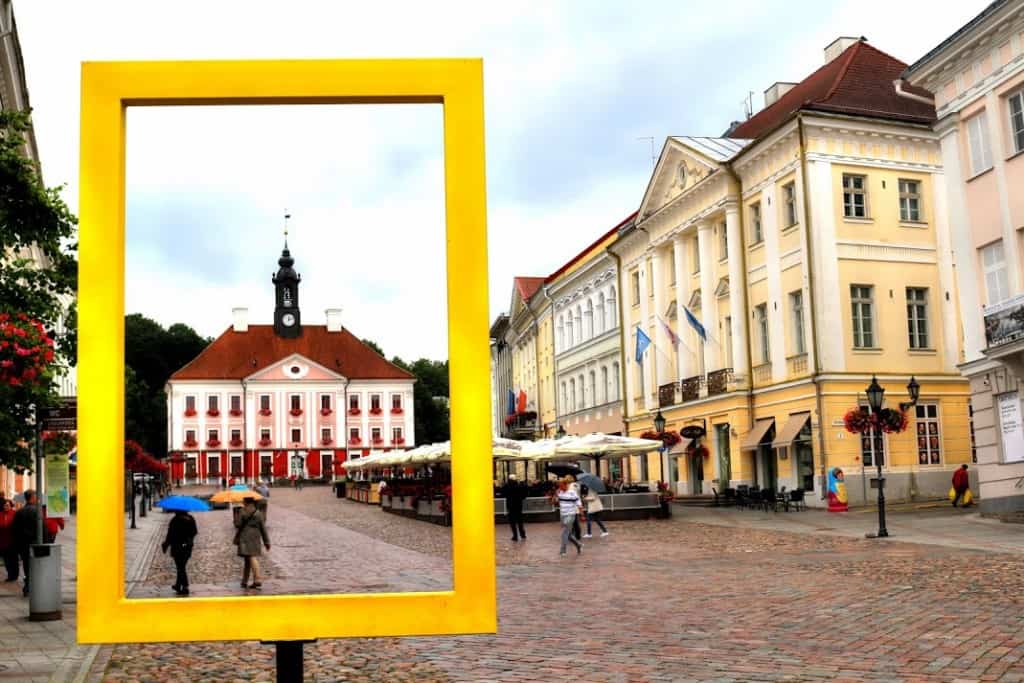 Riga Vilnius
The third of the smallest Baltic states, Lithuania, is definitely worth visiting. It's pretty subjective but in our opinion Vilnius is simply more beautiful than Riga. In contrary to Tallinn and Riga, it's located on the mainland, far away from the Baltic Sea.
You will need about 4 hours to get from Riga to Vilnius. If you leave Riga at night / early in the morning, you will have enough time for Vilnius sightseeing, and coming back to Latvia in the same day. If you want to use the public transport, the best is to take the Vilnius Riga bus. There is no direct Riga Vilnius train.
Book your Riga to Vilnius bus online here.
Even though you can organize this day trip by yourself, it's so much easier to join a guided tour from Riga to Vilnius. You will have a chance to visit the famous Hill of Crosses on your way.
Book your Vilnius Riga online here.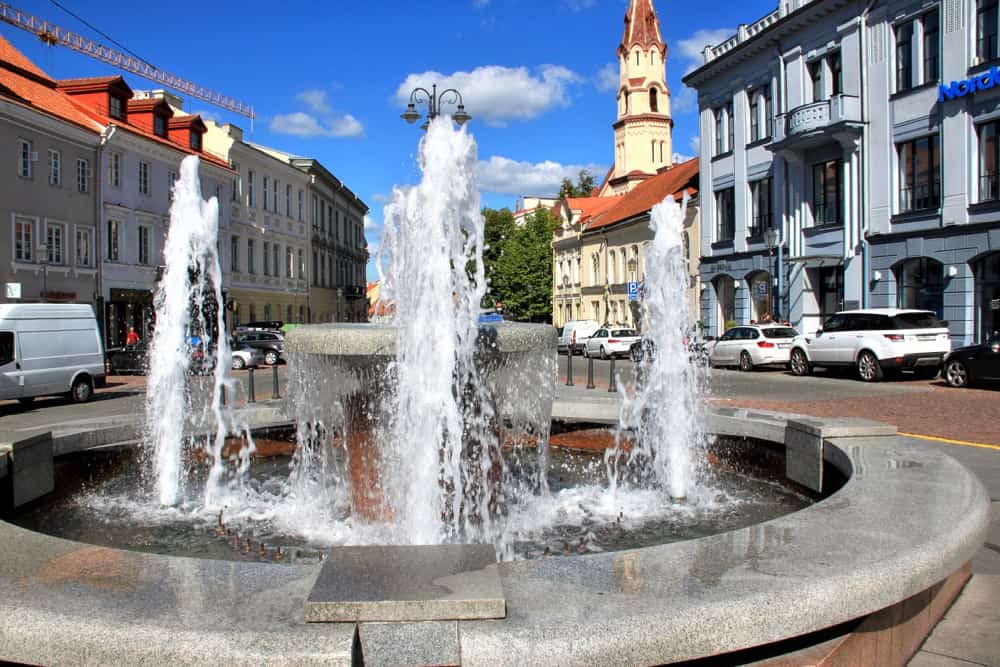 Riga to Kaunas
Kaunas is Vilnius's little brother, it's the second-largest city of Lithuania. There are plenty of things to do there, including visiting the castle (the photo below), wandering around the old city, and Ninth Forth.
Driving there is very easy. If you prefer traveling by public transport, take a bus from Riga to Kaunas. There is no direct train between these two cities.
Book your tickets for bus Riga Kaunas online here.
Where to Stay Riga?
Budget-friendly hotel
Riverside Hotel Riga is the lovely 3-star hotel, situated only 15 minutes from the Old Town. You will find there everything that you need: comfy bed, good WiFi and the parking. The breakfast is delicious and the staff will make you feel like home.
Check out the latest prices for the Riverside Hotel Riga–> here.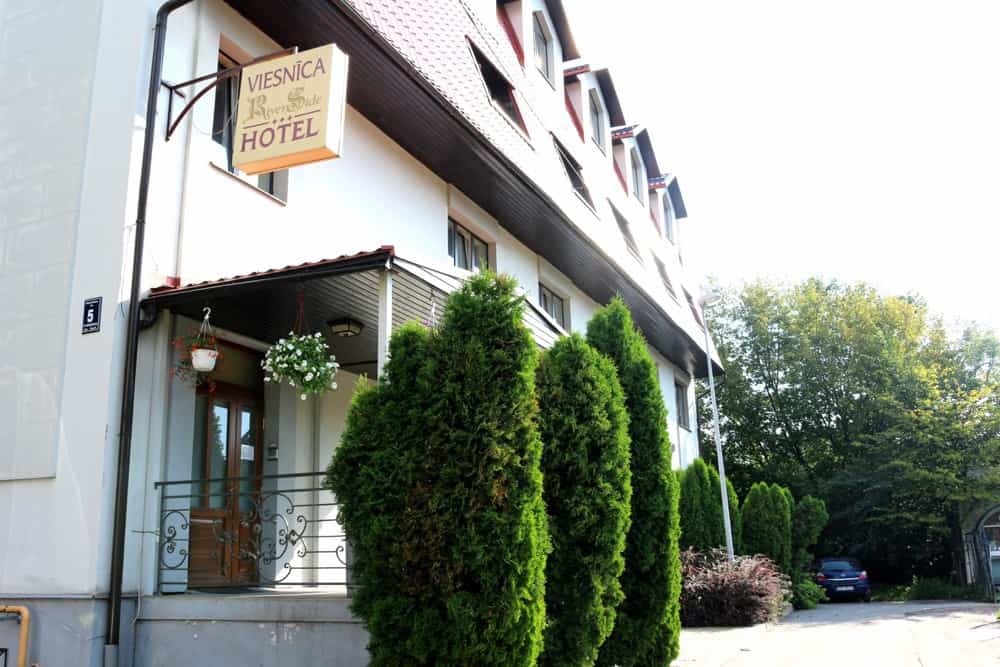 Riga spa hotel
If you like a boutique, luxurious hotels, consider staying at Gallery Park Hotel & Spa (our full review here).
It's located in the heart of the city, and it's a must-stay for all the history and art lovers. There are many Riga activities around, so you will have everything you need at your fingertips.
Check out the latest prices for Gallery Park Hotel & Spa–> here.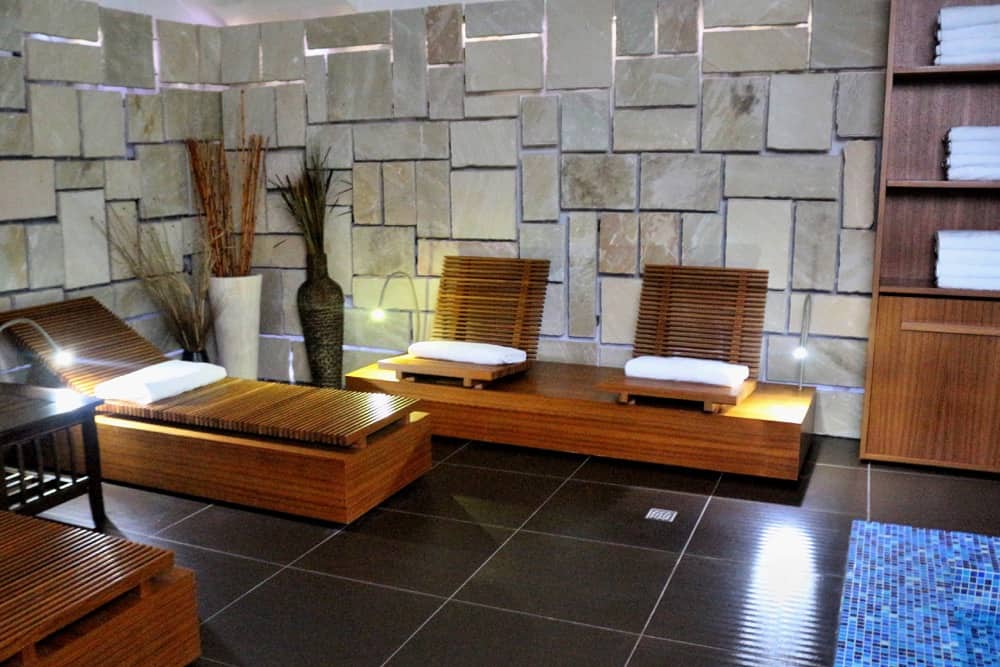 Riga airport hotel
If you are looking for hotels near Riga airport, check out Sky High Hotel Airport. It's a cozy and budget-friendly place, located right next to the airport, you can easily walk there.
Check out the latest prices for Sky High Hotel Airport–> here.
Pin For Later:
Disclosure: We want to thank Riverside Hotel and Gallery Park Hotel & Spa for complimentary stays. All opinions presented in this post are honest and our own.