Sometimes you just want to take a break from everyday life and fly to Paris for a romantic holiday. But Paris isn't always within your budget or possible at short notice. That's when you can explore some romantic getaways in the US to go with your partner or loved one to rekindle that spark.
If you're looking for some of the best vacation spots in the US for couples for that perfect honeymoon or anniversary celebration; there are many awesome places to choose from. You won't miss Paris when there are so many romantic and beautiful destinations close to you. To keep the flame burning, we've put together a list of the top romantic getaways in USA.
Here's a map of all the destination you will find in this post:
Since the article is quite long, check out the table below to see all the romantic getaways in USA put together in one place. You can browse this table and sort it.
If you have enough time for longer read and want to see some amazing photos of the romantic destinations in the US, scroll down!
| Name | Prices | Best things to do | Geography | State |
| --- | --- | --- | --- | --- |
| Mobile | $ | Visiting museums | City, seaside | Alabama |
| Grand Canyon | $$ | Hiking | Desert | Arizona |
| Big Sur | $$ | Hiking, relaxing on the beach | Seaside, mountains | California |
| Death Valley | $$ | Hiking | Desert | California |
| Napa Wine Country | $$$ | Wine tasting | Mountains | California |
| Palm Springs | $$ | Aerial tramway ride, admiring architecture and art | Desert | California |
| San Diego | $$$ | Cruises, water sports, relaxing on the beach | Big city, seaside | California |
| San Francisco | $$$ | Walking the Golden Gate Bridge | Big city, seaside | California |
| San Luis Obispo | $$ | Hiking, seaside | Seaside, mountains | California |
| Santa Catalina Island | $$$ | Water sports, relaxing on the beach | Island, seaside | California |
| Santa Cruz | $$ | Water sports, relaxing on the beach | Seaside | California |
| Aspen | $$$ | Hiking, winter sports | Mountains, town | Colorado |
| Amelia Island | $$ | Relaxing on the beach, golfing | Island, seaside | Florida |
| Clearwater Beach | $$ | Water sports, relaxing on the beach | Seaside | Florida |
| Miami | $$ | Relaxing on the beach, water sports, wildlife tours | City, seaside | Florida |
| Savannah | $ | Visiting downtown | Coastal city | Georgia |
| Saint Simon's Island | $$$ | Relaxing on the beach | Island, seaside | Georgia |
| Hawaii | $$$ | Hiking, relaxing on the beach, food tasting | Islands | Hawaii |
| Lake Tahoe | $$ | Trekking, hiking | Mountains, riverside | Nevada/California |
| Las Vegas | $$$ | Gambling in casino, partying | City, desert | Nevada |
| New Hampshire | $$ | Hiking | Mountains | New England |
| Rhode Island | $$ | Admiring architecture, relaxing on the beach | Seaside | New England |
| Cape May | $$ | Admiring architecture, relaxing on the beach | Seaside | New Jersey |
| Santa Fe | $ | Food tasting, admiring architecture | Big town, mountains | New Mexico |
| Finger Lakes Region | $$ | Hiking, sailing | Lake district | New York |
| Hood River | $$ | Hiking, water sports | Riverside, mountains | Oregon |
| The Oregon Coast | $$ | Relaxing on the beach | Seaside | Oregon |
| Charleston | $$ | Visiting downtown, carriage ride | City, seaside | South Carolina |
| Myrtle Beach | $ | Relaxing on the beach | Town, seaside | South Carolina |
| San Antonio | $ | Riverside walk, food tasting | Big city, riverside | Texas |
| Seattle | $$$ | Wine tasting | City, seaside | Washington |
| Lake Geneva | $$ | Water sports in the summer, winter sports in the wintertime | Town, lakeside | Wisconsin |
| Wisconsin Dells | $$ | Water parks visit | Riverside, town | Wisconsin |
West Coast Romantic Getaways
Saint Simon's Island, Georgia
Okay, this one isn't one of the most popular romantic getaways in USA but Little Saint Simon's Island is a tourist paradise off the coast of Georgia. Only 32 guests are allowed to stay on the island per night. With 7 miles of beach and 11,000 acres of land all to yourselves, this is the perfect setting to explore your loved one. Ahem, I meant to explore the island. Wink wink!
For those who'd rather stay on the main Saint Simon's Island and just want to visit here, day trips cost $95 plus taxes. It's really worth to go there as it's one of the best vacation spots for couples in the US.
To look for accommodation on Saint Simon's Island, click here.
The list of USA romantic getaways won't be complete without mentioning Hawaii! It's definitely one of the best vacation spots in the US for couples.
While there are many awesome places to explore in Hawaii, Kauai is probably the best area to go for a romantic trip. Secluded beaches, azure skies and natural surroundings are ready to entice and enthrall anyone who visits this romantic Hawaiian Island. Ranked 2nd in the US News report for best Romantic Destinations in the US and also the 2nd for the best honeymoon destinations in the US, Kauai is definitely not a cheap place to go. Rooms can cost as much as USD 500 a night.
Check the cheapest Hawaii airfares and Hawaii holiday packages
Santa Catalina Island, California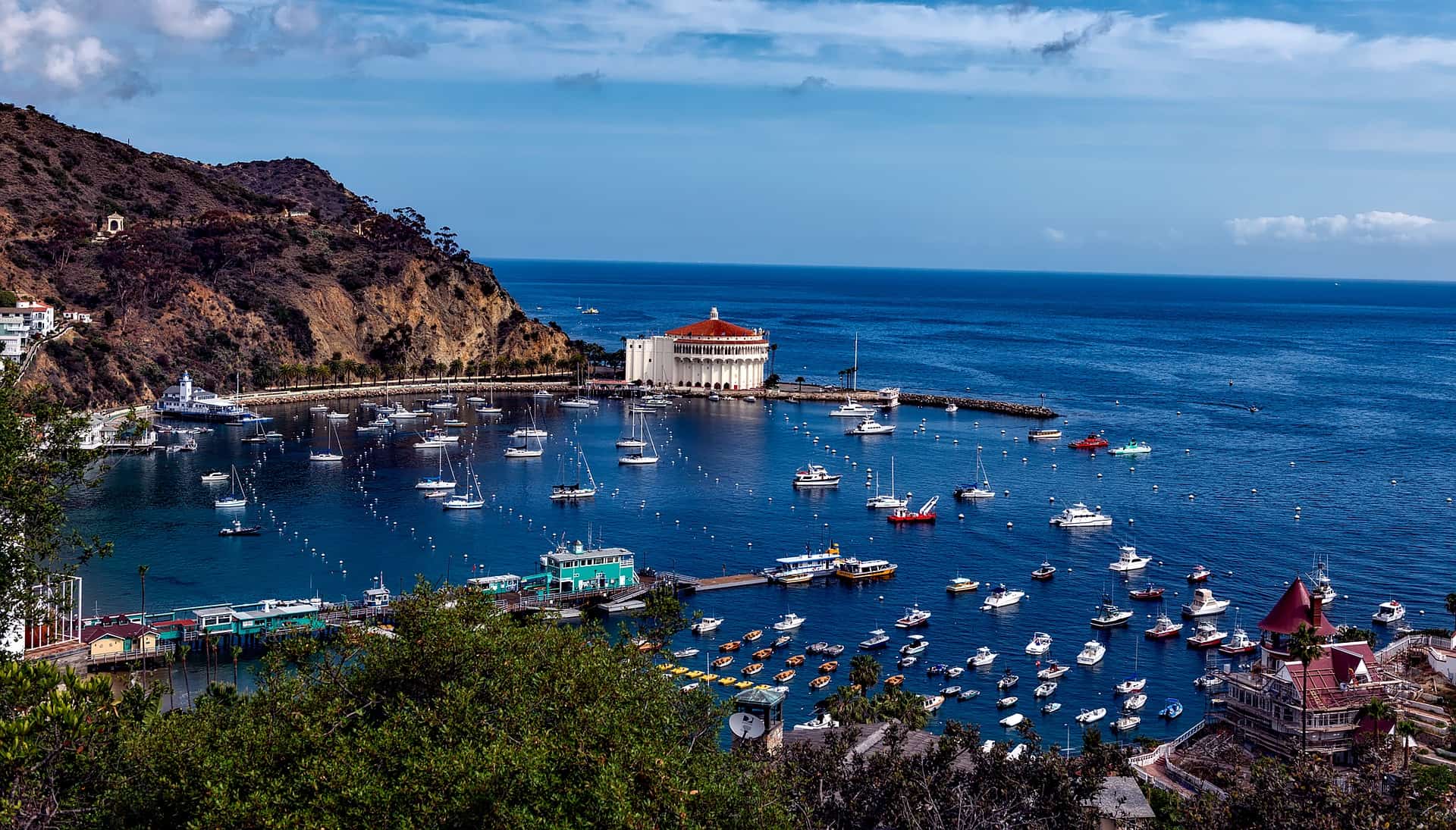 Catalina Island is a perfect idea if you are looking for romantic getaways in the United States. It's actually known as the "Island of Romance," from the song "26 Miles Across the Sea".
The island is a quick one-hour boat ride from Long Beach, San Pedro, Dana Point or Newport Beach to the town of Avalon.
Catalina has many romantic treasures for everyone to experience. One of the most popular things to do is to rent a golf cart and explore the island. Bring along a picnic lunch and visit the Wrigley Memorial & Botanic Garden. This spot is considered one of the most romantic spots on the island and has one of the best views of the island and pacific ocean.
If you visit during the warm summer months, Catalina has clear water that is great for snorkeling. Those who don't feel like jumping to the water can take a
glass-bottom boat tour
. Another must is a
visit to Catalina's Casino
, which is their most iconic building where you can see a movie or take a tour and learn about Catalina's history.
Hotel St. Lauren
is a pink craftsman-style inn that has great views and a romantic vibe. Some of the highlights are the rooftop with lounge chairs and a perfect spot to watch the sunset. They also have a garden patio with a fountain and fire pit. Breakfast is included in the stay.
Big Sur, California
Big Sur, California is one of the best romantic getaways in USA. It's definitely not one of the cheap USA holidays, but breathtaking views, lovely atmosphere, and many awesome things to do, it's a perfect place to go for every couple.
If you are looking for the best places to stay in Big Sur, CA, check out the Post Ranch Inn. It features mountain and beach views, outdoor showers, fireplaces, cliff-top fireplaces and everything you need to let love bloom.
Santa Cruz, California
Santa Cruz is a perfect romantic getaway USA because it's everything that makes California great wrapped up into one little town.
The heart and soul of Santa Cruz is the Pacific Garden Mall in the historic downtown. There you'll find eclectic shopping including vinyl record stores and hometown favorite Verve Coffee. That's just the beginning, of the cool things to do in Santa Cruz.
The Santa Cruz beachfront runs from Natural Bridges State Park (where the monarchs migrate too in the winter!), past the lighthouse and surfing museum (first surfing in California), to the historic wharf and boardwalk.
If you're looking for a romantic dinner, try Dolphin Restaurant at the end of the pier. It's the perfect place to catch the sunset over the water while watching the lights of the boardwalk sparkle on the shore. Also, the sea lions hanging out at the end of the pier are super cute.
Santa Cruz not only has miles of sandy beaches but redwood forests too. You can take the Roaring Camp Railroad from the beach to the forest or plan a hike through the hundreds of miles of trail surrounding the town. You can even explore the Mystery Spot, where the laws of nature may or may not apply.
Santa Cruz is a little bit funky, very much romantic, and absolutely California.
San Diego, California
If you're looking for the ultimate romantic US getaways where it is impossible to get bored, then look no further to the lovely coastal city of San Diego, CA. Located in Southern California only a few miles north of the Mexican border and about a 3-hour drive from Los Angeles, San Diego is blessed with year-round sunshine and warm weather.
Because it is such a vast and lively city, there are numerous things to do in San Diego that are sure to bring out the romance no matter your personality. Strolling along the beautiful seaside in the upscale La Jolla area is ultra-romantic, as is watching the surfers as the sun sinks below the horizon at Sunset Cliffs Natural Park in Point Loma.
The charming Coronado Island is also a super romantic spot, boasting one of the best beaches in the city. Even if you're not staying there, take the time to explore the beautiful Hotel Del Coronado, an iconic landmark of Coronado Island and San Diego. If you're feeling nostalgic, head to the classic seaside theme park in Mission Bay, Belmont Park. Here you can ride a classic wooden roller coaster or enjoy playing games in the many arcades.
If you're looking for a romantic meal, San Diego has an incredible culinary scene where you can share a memorable dinner with your partner. The city also has a thriving craft beer scene and is surrounded by wine country, so you can spend a day exploring these things as well.
All in all, if you're looking for the USA romantic getaways, then San Diego is an excellent choice.
San Francisco, California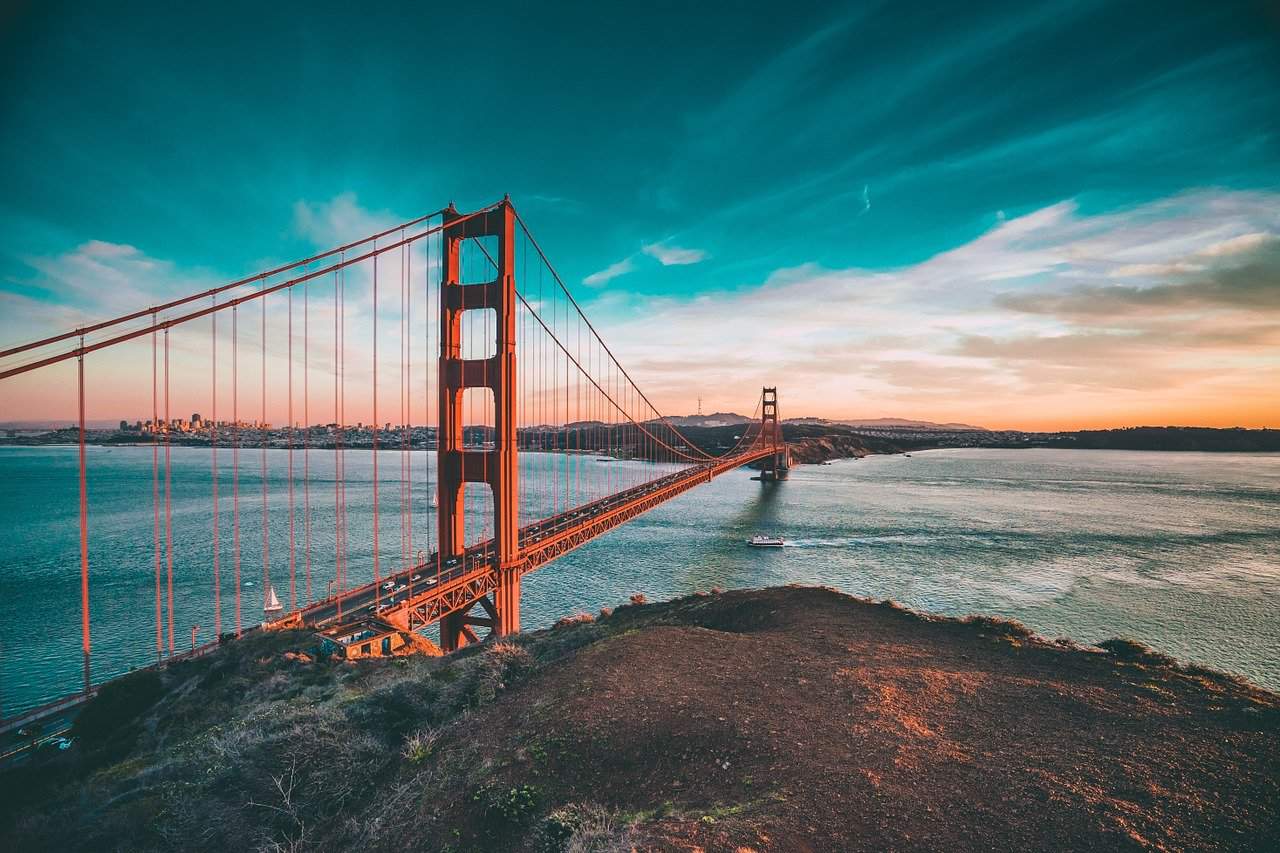 San Francisco is one of the most romantic cities in the United States. No wonder Tony Bennett sang that he left his heart in San Francisco.
There are so many romantic things to do in the city, both on land and on water. If you are a "land" couple, you can visit the beautiful San Francisco Botanical Garden and explore other attractions within Golden Gate Park. Then head North-East and take a stroll, hand in hand, around the unique areas of the city like the crooked Lombard Street, Fort Mason, Crissy Field and if you have enough stamina – walk across the Golden Gate Bridge.
When you are near the Lombard street don't forget to stop by Ghirardelli Square for famous chocolate. If you like adventures on the water a romantic bay cruise is a must. There is a variety of them offered by several boat companies departing from Embarcadero piers, from a Sunday champagne brunch to a sunset cruise.
In the evening attend one of the renowned performances at the multitude of San Francisco's artistic venues. Are you a fan of opera, ballet, Broadway musicals? You can find a great performance to your liking in San Francisco.
But most importantly, don't forget that San Francisco is a foodie paradise. Taste delicious cuisine in multitudes of great restaurants. Depending on your budget, you can dine at places like Gary Danko (chic) or Myriad Gastro Pub (more affordable).
Best area of town to stay in is either Union Square or close to Embarcadero.
San Luis Obispo, California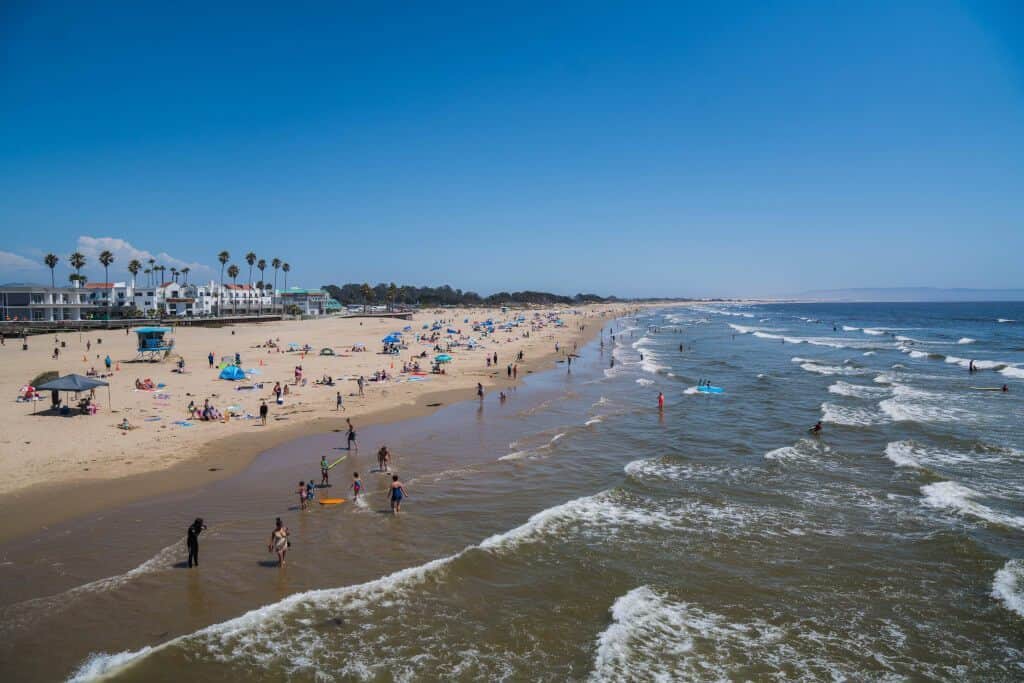 San Luis Obispo on California's central coast is one of the best vacation spots in the US for couples who love cute cities and outdoor adventures. There are so many things to do in San Luis Obispo that you could easily spend a weekend or full week getaway here enjoying all there is to offer…and you will certainly want to visit again!
Downtown San Luis Obispo is an especially delightful place for a romantic date night. There are lots of cute restaurants and coffee shops here, including the delicious and classy Novo Restaurant & Lounge which features a beautiful creekside patio.
The weekly Thursday night Farmers' Market is also a wonderful time to enjoy strolling along the streets of downtown, exploring the outdoor market, and enjoying live music.
If you're looking for adventure on your romantic vacations in the US, there's plenty to enjoy both in San Luis Obispo and along the nearby beaches. Hiking along the bluffs in Montaña de Oro and watching the waves or exploring the tide pools is a popular favorite, as is kayaking in the Avila or Pismo Beach areas. And of course you can't miss enjoying a romantic sunset over the iconic Morro Rock in Morro Beach!
But if you're looking for somewhere to relax, you also can't go wrong with spending time at the nearby Avila Hot Spring or going wine tasting at one of the many popular wineries, such as Kelsey See Canyon Vineyards. So whether you're looking for relaxing romantic vacations in USA or something with a little more adventure, San Luis Obispo is a place you will not want to miss for your next getaway!
Palm Springs, California
If you are still looking for the romantic getaways in United States, consider visiting Palm Springs, CA. Resurging in popularity over recent years, with a new sheen of urban chic, Palm Springs makes a fantastic destination for couples.
No matter if you are searching for the anniversary trip ideas in USA, or you simply want to spend a nice weekend with your partner, this place won't disappoint you. Along with nature, you'll find hip bars, mid-century modern architecture, and trend-setting restaurants there. For lazy downtime, there are also plenty of laidback resorts, ideal for pool time and togetherness.
Couples looking for the new 'it' destination can stay at the Kimpton The Rowan hotel, a cornerstone of the downtown revitalization project initiated by the city. One of the best places to stay in Palm Springs, its design aesthetic is both contemporary and art-centric, and, as the sole hotel in town with a rooftop pool, it has a happening poolside scene and is a good place for a romantic rooftop cocktail during sunset hour.
For some bonding spa time, the Two Bunch Palms resort in nearby Desert Hot Springs has both outdoor thermal pools and top tier spa treatments.
If your idea of romance is more active, you can hike at Indian Canyon, up in the San Jacinto Mountains or just set out from near the city centre on the Palm Springs Museum Trail.
As far as other things to do in Palm Springs go, one of the best activities is to ride the Palm Springs Aerial Tramway up into the San Jacinto Mountains. As the largest rotating tramway on the planet, the two-and-a-half-mile ride offers both vast views of the desert and closeups of cliffs, giving you a smooth uphill ride into togetherness.
Wine Country, Napa, California
What better way to find a way to your loved one's heart than with food and wine? Napa Valley is definitely on the top of the romantic getaways USA list.
Start a day with champagne breakfasts, then go to one of the private tours or hot air balloon rides. You can't get more romantic than proposing mid-air or in century-old cellars.
Seattle, Washington
With the mountains, the water, and the green trees, there's a reason Sleepless in Seattle (and countless other romantic movies) have been set in Seattle.
Arguably the most romantic spot in Seattle is the Waterfront. Couples can take a ride on the Seattle Great Wheel (they even have a VIP gondola), enjoy fresh oysters at Elliott's or The Fisherman's Restaurant and Bar, and top it off with the Wings Over Washington experience.
For evenings, Seattle has a lot of independent breweries, a few wineries, and lots of delectable restaurants. Try the Pink Door for incredible Italian food that comes with a burlesque show! Or head to the almost hidden Can Can for a cabaret show!
And don't get me started on romantic Seattle hotels. Couples can stay in the Edgewater Hotel (famous for when the Beatles fished out of the window), the Upscale Inn at the Market (just steps away from Pike Place Market), or the iconic Fairmont Olympic Hotel.
Since Seattle is known for being a huge coffee city, couples can lazily stroll from coffee shop to coffee shop sampling all the specialty drinks.
And there are so many amazing brunch spots all over the city. A few favorites include Palisade, Café Campagne, and Super Six.
Yes, there is a bit of rain in Seattle, but don't all good romantic movies have epic kissing in the rain moment?
Cannon Beach and Newport, Oregon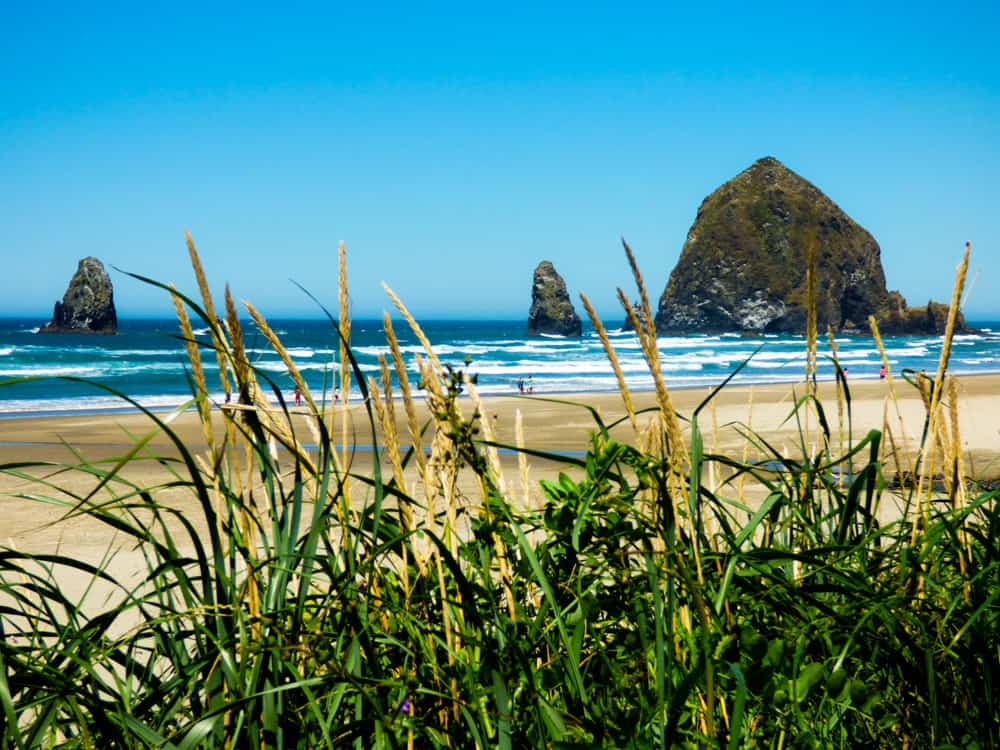 The Oregon Coast is one of the best destinations for the romantic getaways USA. Imagine stunning coastal drives, cozy beach cottages, crashing waves, fresh ocean air, sunset strolls along the sand, and quaint restaurants serving up the freshest seafood with views to die for. Romance is literally all around.
The Oregon coast is full of charming beach towns, some of the bests are Cannon Beach and Newport.
Chances are you've seen images of the iconic Haystack Rock at Cannon Beach which provides a beautiful backdrop for a selfie kiss after a romantic walk. If you tire of the beach the town itself is full of boutiques and art galleries to browse and is in fact known as one of the best art towns in the USA.
Romantic accommodations and dining are also in abundance. The Stephanie Inn and the Ocean Lodge have incredible views and luxurious rooms with fireplaces and jetted tubs. For a romantic dinner try the Wayfarer for seafood with a view or Newmans at 988, a converted beachside cottage with a French-Italian inspired menu.
Newport is the largest commercial fishing port in the state but it's also one of the prettiest towns on the Oregon coast. There are two parts to Newport, Historic Bayfront and Nye Beach.
Historic Bayfront feels like stepping back in time with its fun eateries, storefronts, and attractions. Nye Beach is quieter and newer with quaint boutiques and cafes. Our choice for a romantic stay would be one of the privately rented cottages or B&B's. For dinner try the waterfront Clearwater or the charming OVE Northwest.
East Coast Romantic Getaways
Charleston, South Carolina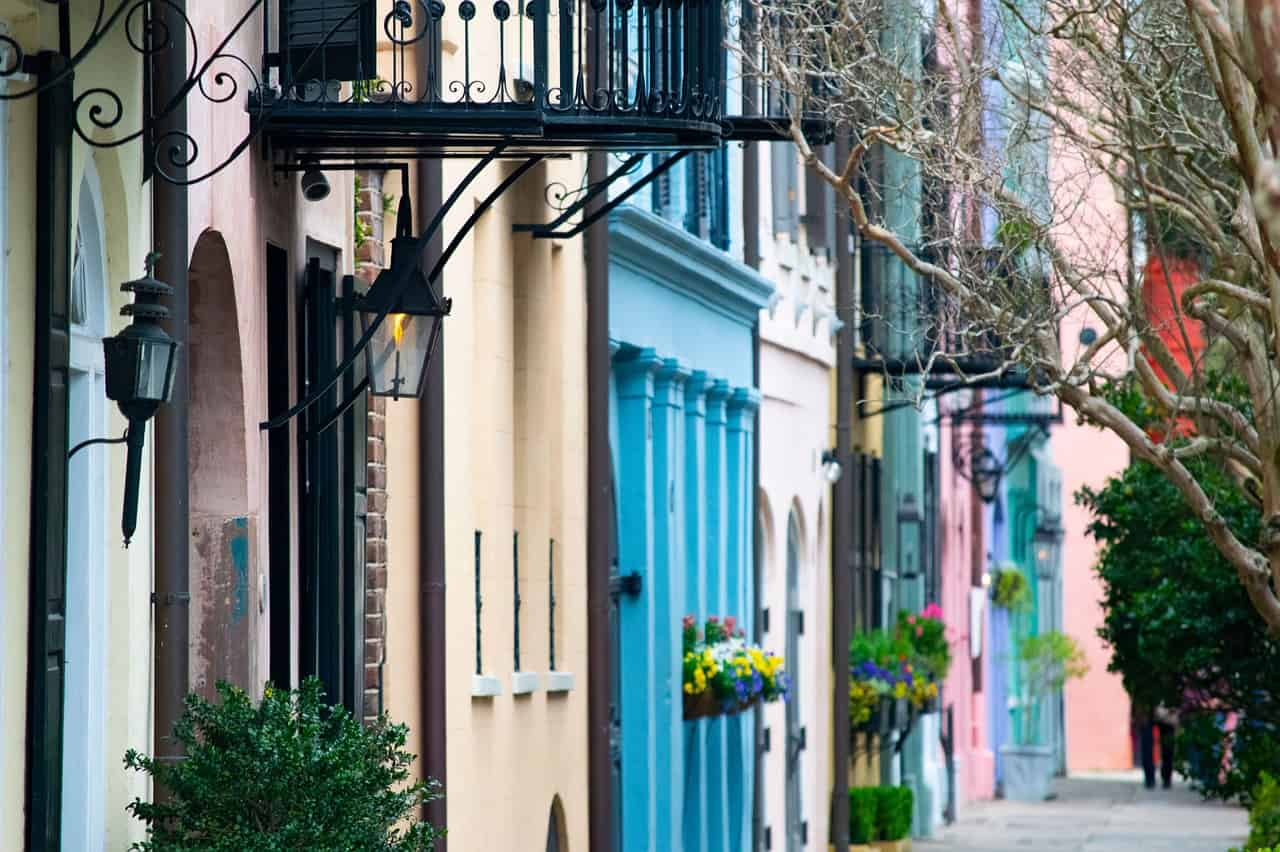 Spanish moss dripping off of huge oak trees, cobblestoned streets, breezes off the harbor, gas lanterns, horse-drawn carriages, bubbling fountains…beautiful scenes everywhere you turn. Charleston, SC is one of the most romantic places in the US. It will overwhelm you with its southern charm, mystique, and glamour.
If you really want to splurge the Wentworth Mansion is the place to stay. It is one of the most romantic and beautiful hotels in the city. It was a huge mansion that has been converted into a boutique hotel perfect for couples. The rooms are large and elegant with high ceilings and parquet floors. Some even have the original gas fireplaces.
Charleston is packed with delicious restaurants and you will have so many from which to choose! One of the best is the Charleston Grill which serves low-country food with a contemporary spin. Their atmosphere is white-tablecloth casual and they often have live jazz music playing.
Some of the horse-drawn carriage companies in Charleston offer private rides for two which would be a wonderful way to see the city with the love of your life. Or you might choose to take a sunset stroll hand in hand on the Battery. This is a waterfront promenade with oak trees and benches and views of Fort Sumter and the Sullivan Island Lighthouse.
Charleston is as thick with romance as the gardenia scented summer air.
Myrtle Beach, South Carolina
Myrtle Beach is a popular destination in South Carolina, roughly two hours' drive northwards of Charleston. It's one of the top romantic getaways in the US.
What could be more romantic than a barefoot stroll, hand-in-hand on the broad expanse of beach that gives this destination its name? The Residence Inn Myrtle Beach Oceanfront offers spacious sea-facing guestrooms and quick access to the sand. A trip to Myrtle Beach State Park is a way of enjoying intimate insights into the wildlife of the region.
A VIP ride in the SkyWheel offers an elevated perspective over Myrtle Beach and its hinterland.
The region is renowned for its delicious seafood. The Aspen Grille is an option for a fine-dining experience including crab cakes, a local delicacy. Shrimp and grits is popular go-to in many restaurants. That's certainly the case at the Claw House at nearby Murrell's Inlet, where several jewelry designers have stores.
A stroll in the Brookgreen Gardens, where sculptures as much as flowers are part of the draw, represents an alternative to walking on the sand.
For a final night blowout with cocktails and live music, swing by Lulu's at Barefoot Landing.
Clearwater Beach, Florida
Looking for romantic weekend getaways East Coast? One of my favorite spots is Clearwater Beach, Florida. To find blue-colored ocean water, you typically have to travel somewhere outside of mainland USA, like the Caribbean islands, because the ocean color in the states most often appears dull and grey.
The water in Clearwater Beach, however, is a lovely turquoise! It's actually the bluest water I've seen anywhere in the USA, and that's probably why Clearwater Beach is consistently ranked as the number one beach in America. The water is also warm, shallow, and free of large waves, so it's an ideal location for couples to swim without worrying too much about safety.
You can actually swim with manatees in the wild at this beach! They came into shore and swam around us for several hours, occasionally getting close enough to brush up against our legs.
Manatee sightings and dolphin sightings are both incredibly common at this beach, and there are even Clearwater Beach dolphin cruise tours that make a perfect romantic activity for couples.
Sunsets at the pier are also spectacularly breathtaking, so I highly recommend staying in a Clearwater Beach hotel near Pier 60 during your vacation. You'll be in the perfect spot to go for a romantic walk along the beach with the pier and the setting sun providing a beautiful backdrop!
Miami, Florida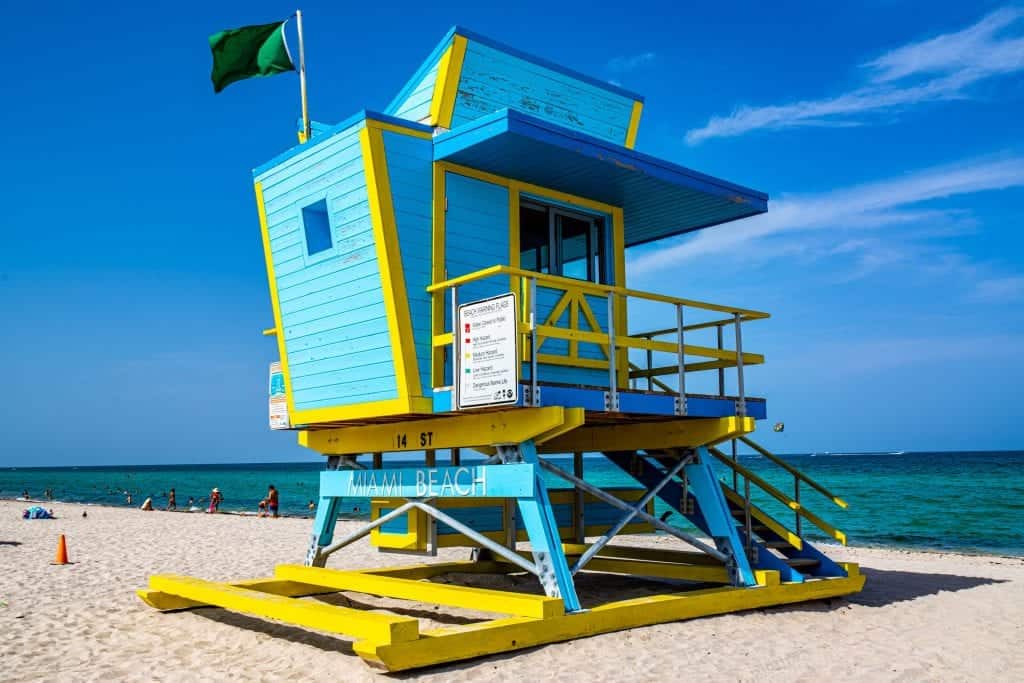 The beaches of the Caribbean Sea are among the most iconic honeymoon and romantic getaway destinations in the world. And to experience all they have to offer, you don't even need to leave the USA!
A long weekend in Miami (or longer!) makes the perfect romantic getaway in the United States and is packed full with opportunities to both relax with your beloved and to head off on an exciting adventure together.
While you're in Miami, be sure to stroll hand-in-hand past Miami Beach's famous Art Deco buildings, relax together on South Beach, admire street art in Wynwood, soak in the views at South Pointe Pier, and eat your way through Little Havana.
If you and your sweetheart are the outdoorsy types, consider hitting the water on a jet ski or kayak, or even heading a bit out of town to explore the incredible Everglades National Park.
Foodie couples will love diving into Miami's food scene, luxury seekers will find plenty of spas to spoil them, and cultural travelers will find plenty of interesting museums, exhibits, and historical points of interest to captivate them in Miami.
Whatever kind of romance you are your partner are looking for, Miami has something to offer- all with a backdrop of a stunning, sparkling sea.
Amelia Island, Florida
Text about the Amelia Island contributed by Cris Vanthul from Wander Florida
Amelia Island
, near Jacksonville on Florida's northeast coast, is considered one of the most romantic places in the US for couples to enjoy on a getaway. The island measures 13 miles long and is flanked by mysterious tidal marshes to the west and the mighty Atlantic Ocean to the east.
The European part of Amelia Island history dates back to the very first
Spanish
and French explorers in the 1500s. The island was home to a Franciscan mission in the 1600s as well as several forts. Amelia Island offers couples a variety of things to do together, including exclusive resorts, miles of uninterrupted beach, eco-adventures, and historic places to explore.
Amelia Island attracts couples year-round with its laid-back ambiance and beautiful resorts. In the Amelia Plantation area, near the south end of the island, couples discover lushly-landscaped grounds that transport one to a time of few worries and pampered opulence, including unique boutiques and posh spas.
To enjoy nature, try an eco-tour or rent kayaks from one of the island's outfitters. Kayaks are a perfect way to explore the tidal marshes and see the birds, fish, and mollusks up close. For a unique adventure, try horseback riding on the beach.
At the north end of the island, nature-loving couples can camp at Fort Clinch State Park, as well as fish, go trail cycling, or hike one of the nature trails.
History buffs will also love the island. Kingsley Plantation on nearby Fort George Island has the oldest plantation house in Florida and tells the unlikely love story between the plantation owner and the slave he freed and married. In historic Fernandina Beach, enjoy the beauty of cobblestone streets lined by historic buildings. The historic Amelia Island Lighthouse is also open for tours on Wednesdays and the grounds only are open on Saturdays.
One of the things couples enjoy together the most is eating out, and Amelia Island offers a wide assortment of culinary delights. Enjoy the area's world-famous fresh seafood at Marina Seafood Restaurant overlooking the riverfront. For a romantic, candlelit dining experience, try Le Clos, a French restaurant housed in a cozy 1906 cottage.
Another wonderful place to try is Burlingame. Offering modern American dishes, Burlingame exudes an intimate, sophisticated ambiance. For an award-winning treat, Salt at the Ritz Carlton can't be beat. This fine-dining establishment holds a spot on Open Table's 2019 100 Most Romantic Restaurants in America.
New Hampshire, New England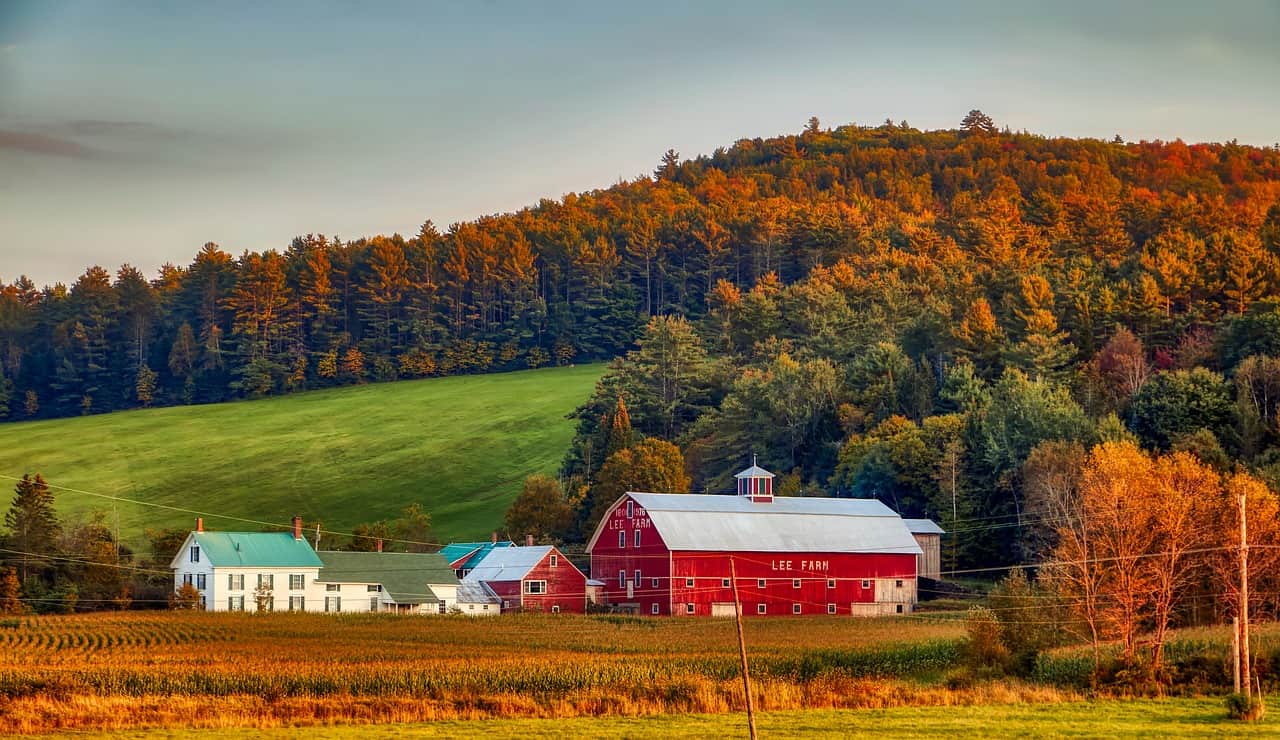 There is nothing more romantic than taking a fall getaway with your loved ones. The crisp temperatures with gorgeous fall colors around will definitely make you two snuggle. And what better than seeing the fall colors in New Hampshire in Northeast of the USA for this autumn getaway.
There are plenty of places in New Hampshire to explore but my favorite for couples is the White Mountain National Forest region especially in the autumn season. For a perfect fairytale moment with your partner, you must drive through Kancamagus highway. There are sections on this drive where tree tunnels turn completely orange giving a surreal feeling.
Another fun activity to do in White Mountain Forest is riding the Cog train to the top of the summit. As the trail ascends up the hill you can get an aerial view of the fall foliage in the National Forest. Once you reach the top of the summit you can see the clouds roll by you, a very romantic setting I say. There is a café on top of the summit if you want to grab a hot chocolate and enjoy the view from up here before descending back.
There are a few small towns surrounding White Mountain Forest such as Conway, Lincoln, and Twin Mountain which makes for a perfect spot for accommodation. I recommend staying in a Bed & Breakfast in one of these towns to enjoy your private space. Also, highly recommend having brunch at 'Munroe's Family restaurant' and dinner at 'The Common Man'.
Newport, Rhode Island, New England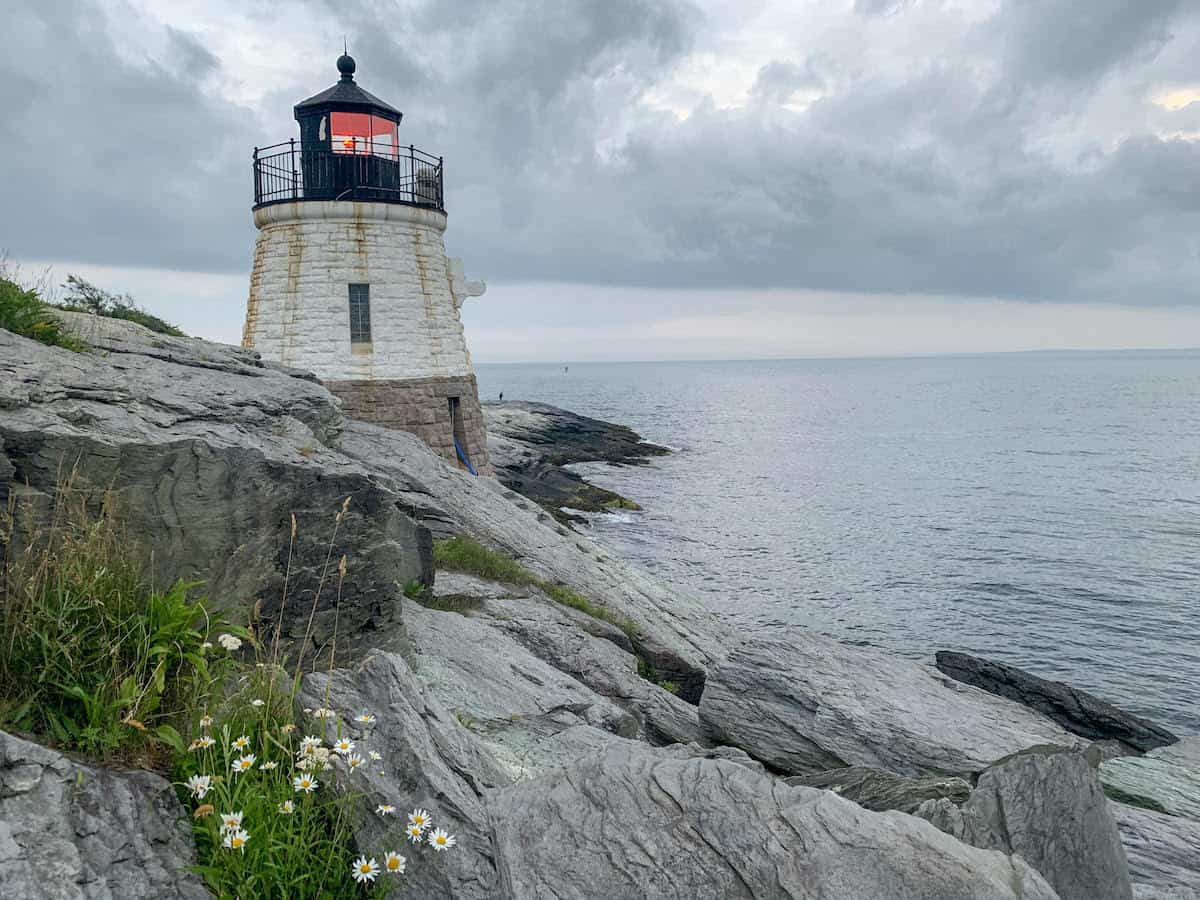 Not only is Newport, Rhode Island a New England town settled on a rocky coastline, it is also steeped in colonial and modern US history. The combination of history, relaxation and adventures will make any couple happy.
You can spend your time in Newport relaxing in any of its spas, shopping along historic Thames Street or on its many wharves or eating world-class food from spots such as Castle Hill Inn or The Mooring. Or you can relax on its beaches, hitting up a clam shack to try a Rhode Island quahog. You can also catch a lighthouse tour from the docks.
If you are into history, you can visit the US' oldest synagogue or Fort Adams. What is more romantic than touring the church where Jackie and JF Kennedy were married? Or being chauffeured in a classic car along Ocean Road to tour mansions of the Vanderbilts and Astors from the Golden Era?
Read on for more about how to spend a romantic day in Newport, Rhode Island on The Daily Adventures of Me and see why it is one of the most romantic cities in the United States.
Savannah, Georgia
Run, Forrest Run!
Who doesn't feel all warm and mushy inside while watching Jenny shout those lines in the movie Forrest Gump? For any fans of Tom Hanks, or for that matter, anyone who's in love with Southern accents and Southern charm, Savannah in Georgia is a must on the romantic getaways in the US list.
Tree-lined drives, amazing architecture, gourmet food, and rich plantations are perfect for wandering through on your relaxed stay in Savannah. If you are traveling with kids, there are many family things to do in Savannah, GA, too!
To look for a stay that oozes Southern charm, click here
Cape May, New Jersey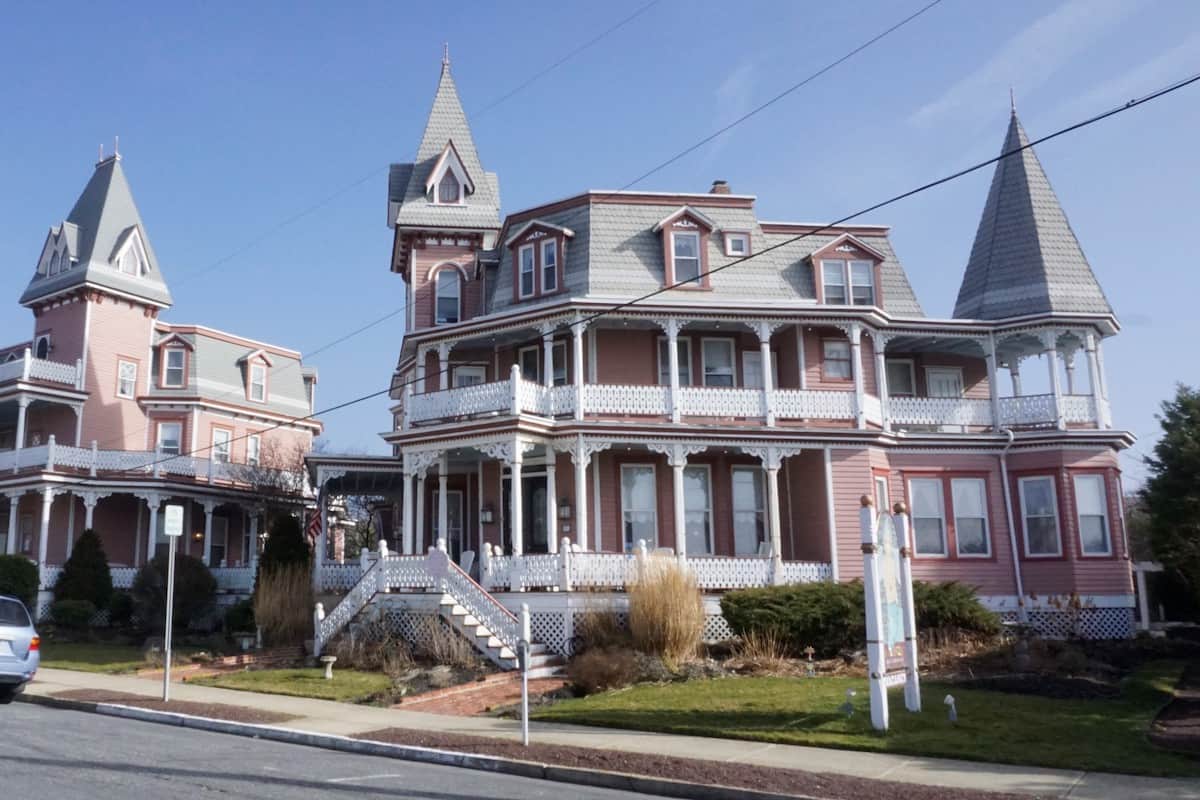 If you love the ocean and Victorian architecture, you and your sweetheart won't want to miss Cape May, NJ. Perhaps the best time to visit Cape May is in the off-season. September and October are perfect for your couple's romantic US vacations. The sunsets are outstanding. Plus, you'll find fewer crowds and lower costs.
This time of year, you can stay in a quaint bed and breakfast for a fraction of the price. Try the stunning Angel of the Sea. They offer great packages deals.
Year-round Cape May offers some wonderful dining experiences. A favorite among locals and visitors alike is George's Place. This former pizza joint turned Greek restaurant doesn't take reservations and there is always a wait. Get there before they open at 6 pm and you're likely to get a table. Or try them for lunch when they tend to be a bit slower.
Stroll hand in hand with your darling through the pedestrian mall in the center of town or along the promenade lined with lovely Victorian-era homes. Try to spot some dolphins from the shore as sighting are fairly common any time of year.
Perhaps the most romantic things to do include taking a carriage ride with your sweetheart or sipping a cocktail beside the fireplace in the Brown Room at the historic Congress Hall.
Other Locations For The Best Couple Vacations In US
Las Vegas, Nevada
With a vibrant nightlife, shopping and entertainment, the most famous city of Nevada has a little bit of everything. It's definitely worth going to Las Vegas, as it's where you can spend fun couple vacations in the US. Hot air balloon rides, mountain cycling, helicopter tours, lounges, bars, spas. You name it, Vegas has it! With so many things to do, it will be hard not to spoil your partner here.
To find your Vegas resting pad -> click here.
Grand Canyon, Arizona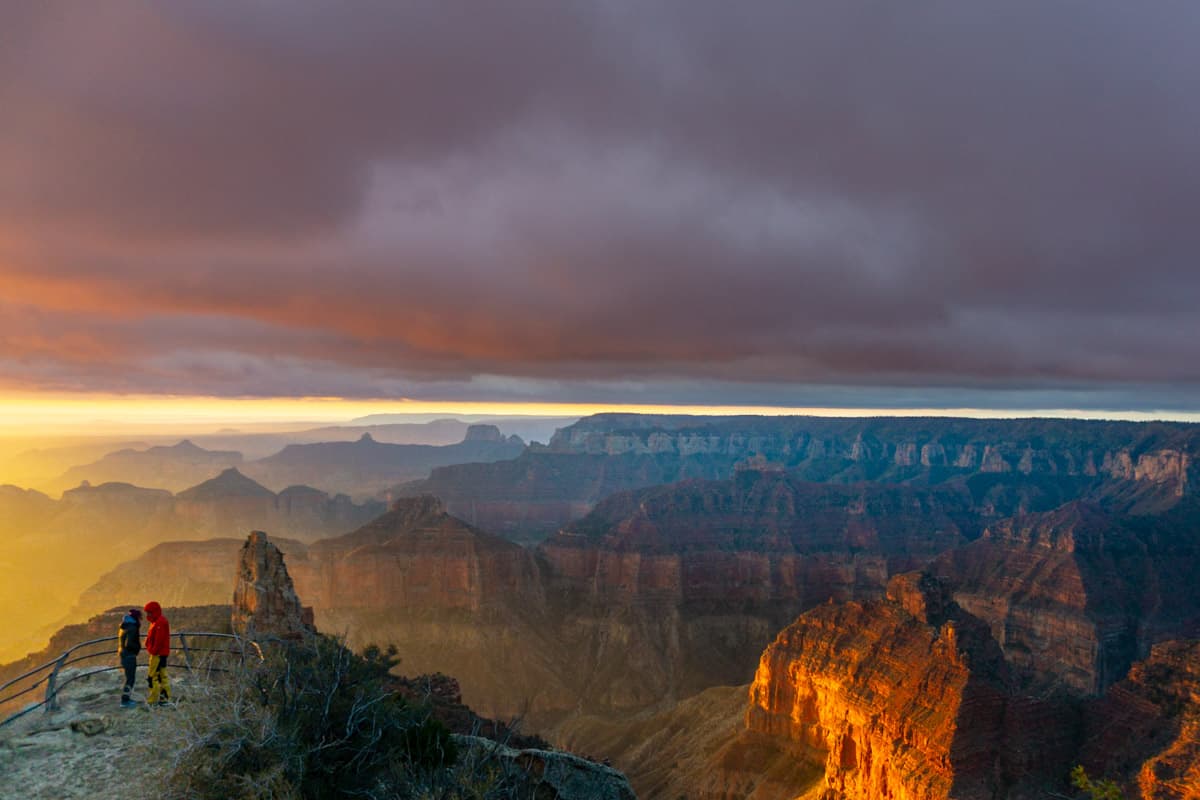 What better place to indulge in some romance than with outstanding views and some time unplugged in nature? The Grand Canyon is one of the most iconic natural wonders in the USA, if not the world. There's no better way to cuddle up than by watching a sunrise or sunset over the rim. There are two ways to access the Grand Canyon, either via the North Rim or the South Rim.
The North Rim offers seclusion and sees about 10-percent of the visitors that the crowded South Rim sees. The North Rim sits approximately 1,000 feet higher than the south side, so you'll experience the vastness of this jaw-dropping place in its entirety. Adventurous couples will love the unbelievable bird's eye views and amazing Grand Canyon hikes.
Catch a sunrise at Imperial Point, the highest spot on the canyon for breathtaking scenery and an amazing display of color. You can stay right on the rim at the luxurious Grand Canyon Lodge or opt to camp either in the park or just outside of the park.
The nearest town is Jacob Lake and it offers a few options for lodging. Take note that the North Rim doesn't have the full array of facilities as the South Rim. Also, since it's located higher up, it is typically only open from May 15th until October 15th due to snowfall.
The iconic South Rim is the perfect perch for nature lovers who want a bit more in the way of amenities and don't mind the crowds. Experience world-class hiking along or below the rim. Don't forget to check out all of the fabulous viewpoints and experience the sheer drops along this side of the canyon.
Base yourself right in the heart of the park in Grand Canyon Village or for more budget-friendly options stay in nearby Flagstaff. For adventurous couples, consider hiking down the canyon for a stay at Phantom Ranch. There's something for everyone in the Grand Canyon and nothing spells romance quite like a little adventure to remember with incredible views.
Hood River in Oregon
Rolling plains, rushing rivers and snowy white mountains; that's what you'll find in Hood River in Oregon. Wake up to picturesque painting-like views and walk through fruit-laden orchards.
Farm to table restaurants and craft breweries will ensure that you are both satisfied and in high spirits. And if you or your partner is an adrenaline junky, there's always mountain biking and windsurfing.
To find your perfect spot with a view of the mountains in Hood River, click here.
Death Valley, California
Death Valley National Park is a stunning place, which is just really hard to compare to any other place in the world. You just need to see it.
Death Valley's Badwater Basin is the point of the lowest elevation in North America – 282 feet (86 m) below the sea level.
It is also a place, where the highest air temperature on Earth was registered 134.1 °F (56.7 °C). It's a true land of
extremes. I am sure you will appreciate your car's air-con there. You can't really expect any greenery there, however, the desert sceneries are amazing and you will feel like being on another planet.
Now you are maybe thinking – alright, why is this place romantic? Just try to spend one-night camping in one of the Death Valley's campgrounds and you will not be asking again. This place is so remote from any civilization, that there is no light pollution whatsoever. We have never seen a more beautiful night sky than in Death Valley. Trust me, bring your lover there and you will spend the whole night star gazing. It never gets old and it's so romantic.
And what to see in Death Valley apart from the beautiful sky?
It is definitely the Zabriskie Point. You can see a very unique and colorful landscape formations there. The colors are particularly spectacular in the morning or late afternoon. Definitely visit Badwater Basin too – the lowest elevation point in North America.
If you plan any longer walks in Death Valley, always make sure to wear a hat/cap and bring enough water with you.
And where to sleep? You can go camping in one of the campgrounds inside the National Park. However, in the high season (May – September), it's usually very hot during the night, so it's not for everybody. Campgrounds also tend to fill up pretty quickly. We would recommend visiting Death Valley in the low season (October – April).
The temperatures will be lower and you will be probably the only ones in the campground (hey – that's romantic). If you don't like camping, the closest accommodation can be found in Panamint Springs.
Santa Fe, New Mexico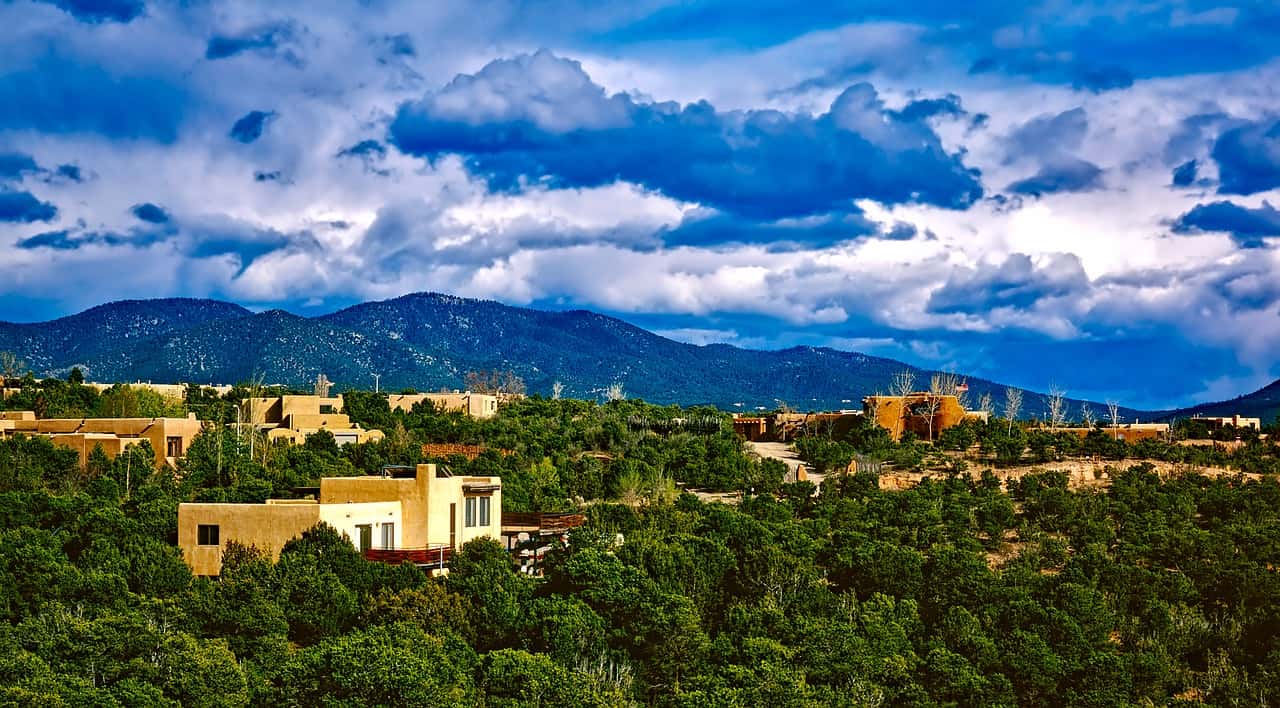 Once considered the wild wild west, now a quaint little town with art, culture, and delicious food just begging to be explored. Santa Fe is one of the best romantic getaways in the United States. It's the ideal escape for couples everywhere, whether its a quick weekend or a week-long adventure.
La Fonda on the Plaza
is an iconic hotel dating back to 1922 and conveniently situated downtown on the plaza with easy access to just about everything you might want to see or do. The historic Spanish plaza is dotted with trees and benches and surrounded by art galleries and craft vendors.
In Autumn the faint aroma of roasting chile is carried through the air truly transporting you to a different time and place entirely. Tia Sophia's and The Shed are some of the best New Mexican cuisine classic restaurants, serving up different types of enchiladas, burritos, house-made salsa & guacamole and always with the traditional question of "roasted red or green chile" to smother on every good dish to make it officially New Mexico complete.
Not even a stone's throw away across the plaza is the famous Georgia O'Keefe museum showing case her life's work and a bit of history. And if art is your thing than the most unique date of your life awaits you at the famous Meow Wolf interactive art exhibit guaranteed to bring out the inner kid in you.
As far as hidden gems go, Santa Fe is truly still undiscovered by many and is an easy choice for those looking to get away and reconnect in a cozy and truly scenic setting.
San Antonio, Texas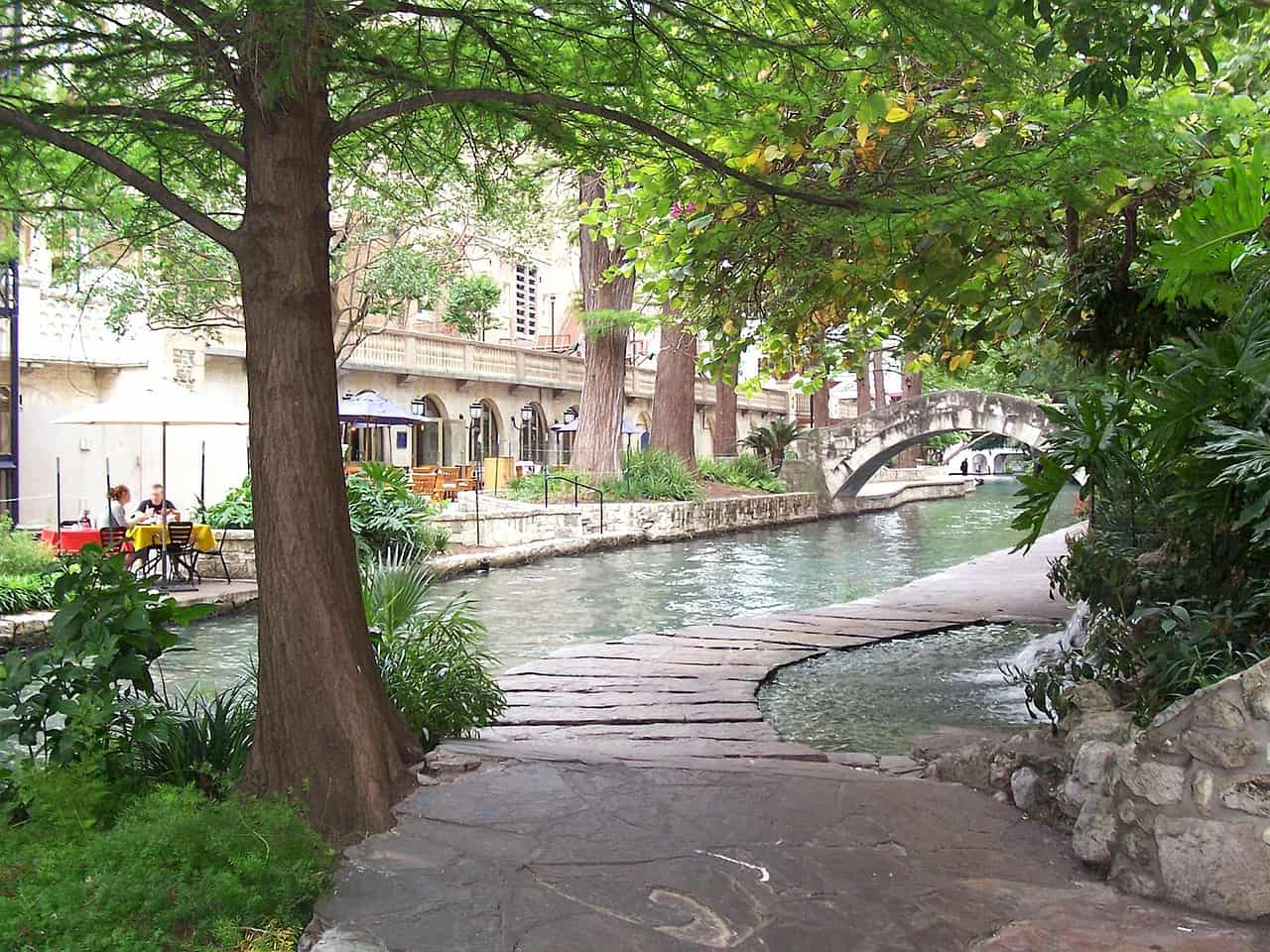 San Antonio is one of the most romantic places in USA. It has quaint streets and lovely greenery and is quite distinct from the metropolitan-feel of Houston and Austin. In addition to exciting festivals and events, San Antonio is known for its scenic man-made canal. As such, the city acts as a great getaway for any couple.
There are many things to do in San Antonio. From visiting the Alamo to the National Historical Park, the city is full of historical significance. For a more romantic outing, head towards the Market Square for a hearty breakfast and the Botanical Gardens for some alone time.
In the evening, visit the Riverwalk and take a stroll along this beautiful pedestrian promenade. The street is lined with cafes and shops. It also features plenty of restaurants with live music and performances. You can hop onto one of a river cruise and glide down the San Antonio River or sit by the banks and enjoy a glass of wine with your partner.
To make the experience more exciting, stay at one of the haunted hotels in San Antonio! From the Menger Hotel to Emily Morgan Hotel, the city is known for its strange encounters. This will definitely leave you and your partner with something to remember. Best yet, most of these stays are right beside the Riverwalk.
Finger Lakes Region, New York
Text about Finger Lakes Region contributed by Annick Lenoir-Peek from The Common Traveler
Looking for romantic places to visit in USA? Romantics will fall in love with New York's
Finger Lakes Region
. Named for the shape of the three main lakes in this area which Native American lore says that the Cayuga, Keuka and Seneca Lakes formed in the imprint of the Great Spirit's hand as he blessed the land. This area has quietly been attracting romantics for decades.
Head to the Watkins Glen State Park for a beautiful two-mile hike along the Gorge Trail. The moderate difficulty trail allows visitors to see 19 waterfalls of varying sizes, many within a half-mile from the entrance. Walk next to, above, and under several waterfalls which will leave you spellbound.
Keep the romance going by sailing beautiful Seneca Lake on the True Love Schooner. Featured in films of a by-gone era, the schooner provides a different view of the lush scenery and even more waterfalls while enjoying a glass of local wine.
The area is known for its wines. With its fertile soil and sunny slopes, perfect for grape growing, wineries abound. Wine lovers will appreciate scenic overlooks while enjoying wines from the many local wineries. Three different wine trails cover each lake in the area, so there are plenty to enjoy.
After a visit to the Finger Lakes, you'll leave with a new appreciation for the I Love New York slogan! If you want to spend more time in this area, read about the best romantic getaways in Upstate New York.
Lake Tahoe, Nevada / California
Lake Tahoe
is an amazing destination for the best couples vacations in US. Tahoe has incredible scenery plus cool things to do both in summer and in winter making it all the more popular with couples.
The drive around the lake is a must when you are here and a stop at Emerald Bay State Park is mandatory. Eagle Falls trek is popular with couples who like hiking. Secret Cove, Spooner Lake, and Taylor Creek are few other spots to visit.
Heavenly Gondola is another must-do for couples at Lake Tahoe to savor the beauty of the lake in an intimate setting. Depending on the season, activities like skiing, parasailing, tubing, scenic cruises, swimming and hot air balloon riding are popular at Lake Tahoe. You can even rent snowmobiles for an adventure in the snow at Hope Valley or Zephyr Cove.
Staying at resorts like Squaw Valley or Zephyr Cove has its own advantages like access to private beaches, romantic walks along the lake, dinner right on the beach. The resorts have custom-made packages with tons of activities ready for you to save time and jump straight into the adventures. Also, they have cruises leaving right from the resorts.
Wisconsin Dells, Wisconsin
Text about Wisconsin Dells by Paulina from Paulina on the Road.
Wisconsin Dells is one of the most romantic places to visit if you are located in Wisconsin. It's also a pretty interesting destination if you are looking for the best anniversary trips in US. Not only are there plenty of leisure options but also pretty interesting hotels for couples. It's thus the perfect place to spend a cozy weekend with your beloved one.
Most visitors are attracted to Wisconsin Dells due to its scenic location near the Wisconsin River and the glacially formed gorge that's famous for its picturesque sandstone formations. However, there are plenty of more
things to do in Wisconsin Dells
for any traveler's profile.
If you are a more active couple, I recommend visiting one of Wisconsin Dells' most fun attraction parks such as the water park or do a boat tour with your beloved one. If you want to get pampered with your couple, opt for one of the seemingly endless wellness opportunities, and get a couple massage. If you love being outdoors, rent a cozy waterfront cabin and spend a romantic weekend near the water.
Lake Geneva, Wisconsin
Lake Geneva is one of the most romantic resort areas in Wisconsin which is particularly popular among residents from Milwaukee and Chicago. It's considered also one of the
best day trips from Milwaukee
. When looking for romantic getaways in United States with your beloved one, Lake Geneva should definitely be on your list.
Whether you love nature, wellness or active outdoor activities, Lake Geneva has something for you. You might consider kayaking along the lake's shore followed by a romantic couple's massage at one of the countless spa resorts in Lake Geneva.
Lake Geneva is also the perfect place if you want to learn a new skill with your couple: why not taking a beginners golf course, a sailing class or a tennis initiation course. The Lake Shore path is another coveted activity to do with your couple.
After an eventful day, the restaurants of Lake Geneva wait with delicious food and romantic candlelight dinners for you. Most of them even boast views on the lake. Enjoy your romantic stay!
Mobile, Alabama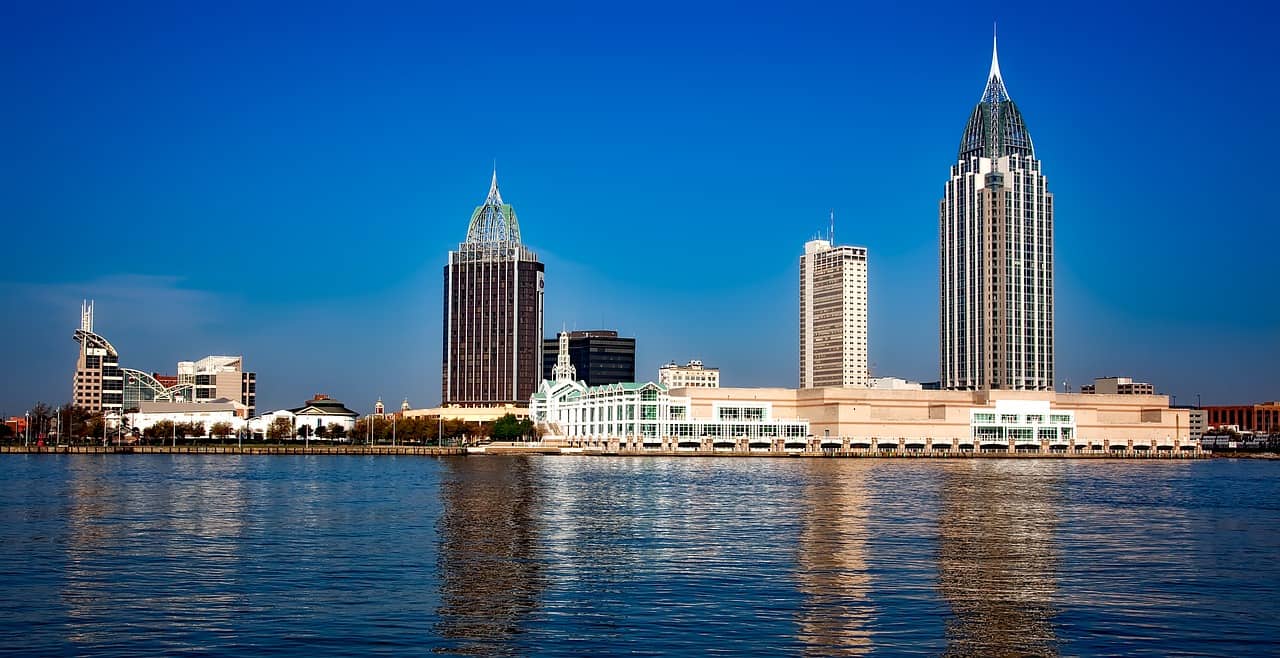 Sitting proudly in a quiet bay on the Gulf Coast,
Mobile, Alabama
is an often overlooked destination that's perfect for low-key romantic getaways USA. Downtown Mobile is full of stately antebellum mansions and tall oak trees draped in Spanish moss.
If you've ever been to
New Orleans
, then Mobile might look a bit familiar to you. The architecture is similar, with plenty of old brick buildings sporting wrought-iron balconies. That's because both Mobile and New Orleans were founded by the French, just a few years apart. In fact, Mobile is actually the older of the two and was the original capital of French Louisiana.
Mobilians love to tell anyone who will listen that they host the oldest Mardi Gras celebration in the United States. If you're here in a couple of weeks leading up to Easter, you can join in the festivities, which include lots of parades, beads, king cakes, and moon pies.
Mardi Gras in Mobile is a bit more subdued than in New Orleans, and it makes a great alternative to its louder, raunchier neighbor for couples who want to have fun together without the obnoxious party crowd. If you miss the Mardi Gras season, be sure to visit the Mobile Carnival Museum to see what all the fuss is about.
Another major event, which takes place only in Mobile, is the Azalea Trail Festival held in early spring. Local high school girls dress up like southern belles, and pink and white azaleas bloom all over the city. You'll smell the scent of love in the air!
Other worthwhile attractions that are open year-round include the USS Alabama battleship, Fort Conde, and several old historic homes that are open for visits. Plus, the gorgeous white sand beaches of Gulf Shores, Alabama are just a short drive away.
Aspen, Colorado
For city people who want a touch of that rustic life, there are a number of opportunities to unplug in Colorado. If you dig deep enough, you can immerse yourself in the country life while still enjoying the lap of luxury. At places like the Vista Verde Guest Ranch it's by choice! Guests who stay here enjoy horse riding, country food, and amazing panoramic views.
If you're an active couple, Colorado is the perfect place to bond with your loved one by hiking, climbing or camping. You could even participate in Donkey Races in Cripple Creek or High altitude sailing at Lake Dillon
And if it's winter and you're looking for a winter wonderland to wander in with your loved one, it has to be Aspen. Chalets paint beautiful pictures against the backdrop of the Colorado Rockies while you ski, skate or just build a snowman.
Did you like our list of the top romantic US getaways? If you've already applied for your visa for USA and you started planning affordable honeymoons in the US, look up your accommodation on HotelsCombined here. or on Airbnb here. – Register on AirBnB from our link and get free $20 credit.
Pin For Later:
Did you enjoy reading this post about the most romantic getaways in the United States? Let us know in the comments below!